Vauld Review
Vauld is a Singapore-based crypto platform that allows users to earn interest on hundreds of different crypto assets and borrow and trade. In this review, we'll be looking in-depth at all of Vauld's features, to find out whether the platform is safe, and a reliable way to make passive income online by investing your digital assets.
Vauld SuspenDs Withdrawals
On the 4th of July 2022, Vauld suspends withdrawals due to financial difficulties.
The Vauld management wishes to inform you that we are facing financial challenges despite our best efforts. This is due to a combination of circumstances such as the volatile market conditions, the financial difficulties of our key business partners inevitably affecting us, and the current market climate, which has led to a significant amount of customer withdrawals over $197.7 m since 12 June 2022 when the decline of the cryptocurrency market was triggered by the collapse of Terraform Lab's UST stablecoin, Celsius network pausing withdrawals, and Three Arrows Capital defaulting on their loans.
Vauld in Numbers
Vauld was launched as Bank of Hodlers in 2018 by Darshan Bathija and Sanjay Sony Kurian, but rebranded to Vauld in 2020.
As with other crypto platforms, there is not much information about Vauld on their website.
We could not find out how many investors use the platform or how much has been invested, even when we reached out to the platform.
Vauld offers different services, including crypto-backed loans with APR rates from just 7.5% for BTC, as well as the ability to trade your different tokens on the crypto exchange.
The platform currently employs 89 people, which we found out via LinkedIn. Vauld is registered in Singapore, but most of the team is working from India.
In 2021, Vauld raised $25 million USD in a Series A funding round led by the founder of PayPal, Peter Thiel's Valar Ventures.
The main investor behind Vauld is Pantera, an institutional asset manager known for investing in digital assets and Blockchain companies and has been operating since 2013.
Vauld Referral Code
We don't recommend using any referral codes for this platform as Vauld has halted withdrawals.
Vauld Requirements
To earn yield on your crypto, you have to fulfill certain requirements:
Be over 18 years old
Have a valid email address
Complete the KYC registration process if you are a resident of India
Most crypto lending sites require all users to undergo the KYC registration process, which involves filling out personal information and uploading documents to verify your identity.
However, Vauld is different in this regard.
Users only need to go through the KYC process if they wish to buy, sell, or trade coins using INR tokens.
For those that need to get approved, the process is relatively simple, and you can get approved within 30 minutes.
You will need to provide basic personal information such as your name, email, and phone number.
You will also need to provide proof of your address with a legal document such as a passport, Aadhar card, or Voters ID. On top of that, you'll need to provide your PAN card and a selfie.
Vauld is available to users in 160 countries, including the U.S.
Risk and Return
When depositing your assets on any crypto lending platform, you must know that certain risks may arise.
Any government deposit scheme doesn't insure deposits, and any account on a crypto lending platform is not a savings account and as such, should not be treated like one.
There is always the chance that you could lose part or all of your investment.
What Does Vauld Insurance Cover?
Vauld is insured by BitGo, which is the market leader in digital asset security. Your funds are insured for up to $100 million and the insurance covers your funds in the case of third-party hacks, copying, loss, or theft of private keys, insider theft, or dishonest acts by their employees or executives.
BitGo is used by most reputable platforms to provide peace of mind and protect users' assets.
Vauld itself is also in the process of setting up its own dedicated insurance fund. The way this will work is that a portion of the profits will be used to protect users against risks.
How Does Vauld Make Money?
Vauld turns a profit by lending loans to borrowers at a higher rate and taking a percentage of that to keep as profit, after paying interest out to users.
Is Vauld Regulated?
Vauld is not regulated as we write this review; however, the platform is in the process of getting licensed in Europe, the U.S., and Singapore, and aims to have this achieved within the next 6 months.
This would seriously increase the trustworthiness of the platform.
How Is Vauld Secured?
Vauld uses various security measures to ensure the safety of users' assets. The first method is multi-factor authentication, which Google Authenticator supplies.
The platform also uses safelisting addresses, which only allows users to withdraw funds to addresses they have previously marked as safe.
Funds are stored in a cold wallet, which means that they are stored offline, severely reducing the threat of a cyber-attack.
All funds are moved from your wallet into a centralized lending pool, which is stored by BitGo and insured for up to $100 million, which protects against cyber-attacks.
Overcollateralized loans also protect crypto assets.
The user remains the owner of their digital assets, which is reassuring as this is not always the case in the crypto lending space.
Your Return On Vauld
With Vauld, you can earn on over 200 different digital assets, although the rates are as low as 0.5% for some of these assets. You can see the crypto interest rates for some of the most popular coins below:
| | |
| --- | --- |
| BTC | 6.7% |
| USDC | 12.68% |
| ETH | 6.7% |
| USDT | 12.68% |
To earn the highest rates, users have the option to stake their assets for a fixed term of one month.
Interest is calculated daily and paid out weekly, except for assets locked into a fixed deposit term. The interest for these is paid at the end of the term.
You also can withdraw your assets at any time, including opting out of a fixed deposit scheme, which you can do without penalties.
You can start earning interest as soon as you deposit Vauld. The minimum deposit amount is just $1 worth of assets which makes Vauld an extremely accessible platform for all.
It's important to talk about fees, which can affect your profit.
Vauld does not charge fees for opening an account, maintenance, or withdrawal of your funds. However, network fees are charged for withdrawals, which vary depending on the network.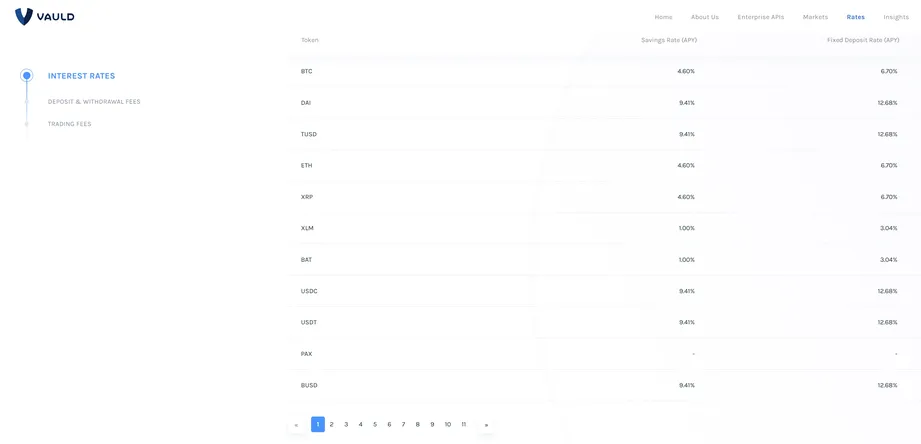 Is Vauld Safe?
Before depositing your assets on any platform, you should know who the team is behind the platform, as well as where the platform is located.
Who leads the team?
Vauld was co-founded by Darshan Bathija and Sanju Sony Kurian. Darshan is the CEO and has a background in investment banking, and Sanju is the CTO and has a background as a technology director for Kings Learning in Bengaluru.
LinkedIn tells us that the company currently has 89 employees.
Where is Vauld based?
Vauld is registered in Singapore which is where it is headquartered. The official address is 80 Raffles Place, #32-01 UOB Plaza, Singapore 048624. Vauld's product and tech office can be found in Bengaluru, India.
The office in India seems to be where most of the employees are based, as when we looked at their job openings, almost all were based in Bengaluru.
Are there any suspicious terms and conditions?
You should always make sure to read the terms and conditions before depositing your funds to ensure that you are happy with them.
Vauld does make sure its users are aware that they can lose money by investing or trading digital assets, in the terms and conditions.
Vauld can make changes to the terms and conditions at any time without informing the user. It is the user's responsibility to check the terms and conditions for changes. This is not in your best interest.
Potential red flags
While researching this review, we came across worrying reviews from users who have had their funds blocked and users who have issues withdrawing money from their wallet on Vauld. These same users have experienced frustrating support from the team, who are either unable to help or quick to blame the user.
What's Our Opinion Of Vauld?
Vauld is a user-friendly platform that makes investing in digital assets easy, even for beginners.
The app is available for iOS and Android, is simple and easy to navigate.
There is a wide variety of tokens available to earn interest on, and an even wider array of tokens to trade on, with new tokens added all the time, which is the main selling point of Vauld.
The interest rates Vauld offers are competitive versus other similar platforms, and users can increase their returns by investing their deposits for a fixed term.
With the ability to purchase tokens on the platform as well as borrow money using your own coins as collateral, the Vauld platform really does have everything in one place.
Another reason investors enjoy using Vauld is the lack of fees for depositing, maintaining, and withdrawing from their accounts.
While the platform is not transparent about its statistics, the founders do take part in interviews which increases trust in the platform.
Another way Vauld is increasing trust is in its endeavors to become regulated, not just in one country this year, but throughout Europe, Singapore, and the U.S., all within the next six months.
This plan seems too good to be true in the current regulatory environment.
Although Vauld is relatively new, so far there has been no loss of users' funds, and no hacking issues on the platform.
However, due to some users having issues accessing their funds, we would advise caution when depositing assets on the platform.
Usability
Let's have a look at what type of products Vauld is offering.
Vauld Crypto Interest Account
Earn interest on: BTC, USDT, ETH, USDC, and more.
Vauld supports over 200 digital assets, including BTC, USDC, ETH, and USDT. However, some of these cryptocurrencies only allow users to buy, sell and trade rather than earn interest and withdraw.
Vauld has recently added 238 new tokens, and selected tokens have integrated Binance Smart Chain.
Of these 238 tokens, users can deposit, withdraw, and earn interest on 85 of them, while the remaining 153 are available for trade only.
Tokens using BSC offer reduced network fees, and Vauld is working on introducing more tokens with the same integration. Over time, Vauld intends to convert some of the trade-only tokens into full tokens, and the team will decide which of these to convert based on user requests.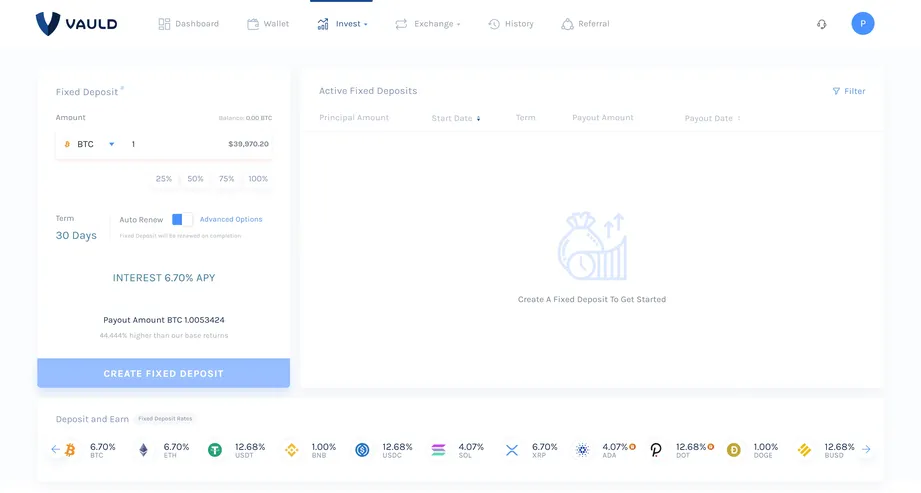 Vauld Loans
Users can also take out loans on the platform backed by the crypto assets they already possess. The LTV ratio for these loans is 66.7%. These are short-term loans with a typical repayment time of 30 days. The minimum amount you can borrow is $1000, and you can pay back the loan at any time throughout the repayment period.
A dedicated pool of funds is allocated for lending, which is what is lent out to borrowers.
Vault maintains a float from this pool in order to deal with withdrawals and payout interest.
Investors do not need to worry about the loans Vault lends to borrowers, as they are over collateralized by at least 150%. On top of that, as they tend to be repaid within 30 days, so the risk is extremely low.
When it comes to earning interest on your assets, Vauld offers Automatic Investment Plans (AIP), which makes investing easy for beginners by dividing up your investment amount into small amounts and investing across a period of intervals in order to reduce the volatility of the market on your investment.
AIPs can help you to earn passive income without having to do much planning with your assets.
Another function of this feature is to allow users to create Crypto Baskets to invest on the platform.
Users can create their own basket or choose from a predetermined selection.
Another helpful feature to mention is the Buy The Dip feature, which allows users to set a specific value for particular crypto, which will make a purchase automatically on your behalf when the market value falls to the value you have determined.
Exchange/Swaps
Vault has its exchange, allowing users to buy and trade their crypto assets immediately.
You can earn interest on your tokens while you are in the process of trading with them, and the user-friendly app makes it easy to exchange your tokens, wherever you are. The liquidity pool is deep at over $50 million for trading.
There is also the option for inexperienced traders to use the Instant Swap function to trade between different currencies with a fixed rate for a limited time. This is a simple tool, which works well for those trading small amounts of assets.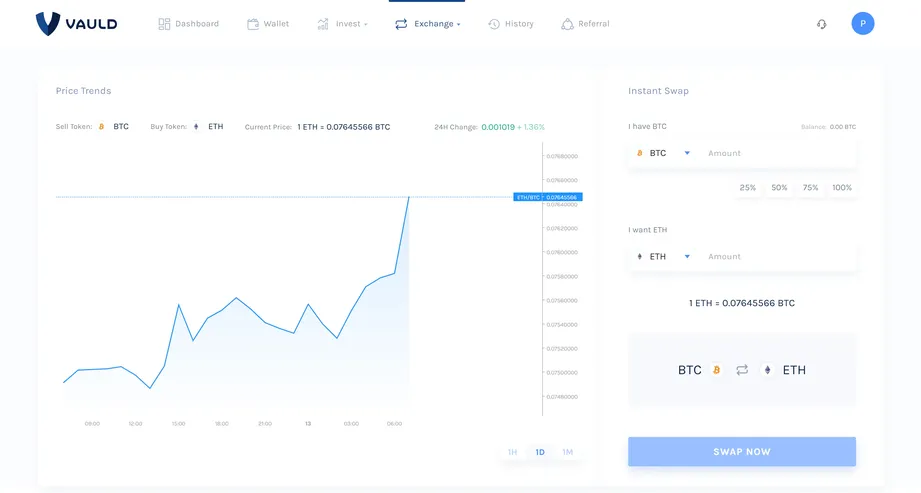 Vauld's Trading Pro
More experienced traders and those trading larger amounts of assets can use Pro Trading, which includes many features that Instant Swap doesn't, such as market depth data, a visible order book, and limit/market orders. Pro Trading aims to secure the best price in an ever-changing market.
When it comes to trading tokens, there are the makers and takers fees to think about. On Vauld, some digital assets are available to trade with no makers fee, such as USDT, and takers fees range upwards from 0.05%. Saying that, most assets have a 0.1% takers fee.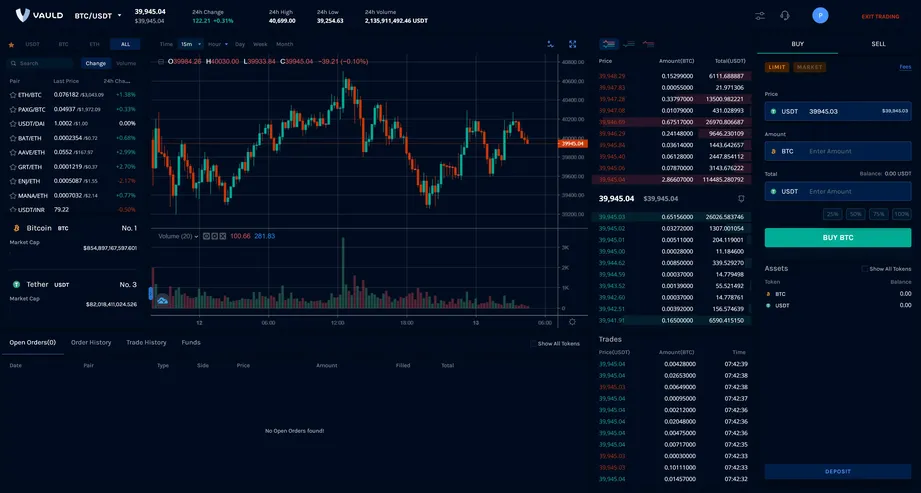 How Fast Can You Withdraw Your Money?
Withdrawals are limitless and happen instantly with Vauld. The only exception is large withdrawals, over $100k, which need to be manually verified.
Vauld also charges no fees for withdrawing your funds; however, you will need to pay a transaction fee, which varies depending on the network.
Support
Vauld has a live chat system on the website, which we didn't find very helpful.
While we received sufficient answers to some of our questions, the wait times were long, over an hour, and for some questions, we were given information that was later clarified as false.
Users can also reach the team via email at hello@vauld.com; however, this email address is well hidden on the website, and most users would not find it.
We also did not receive a response to our email. There is no phone number to contact the team on.
Users who have a fundamental question may find the FAQ section helpful, covering a wide range of topics, and Vauld also uses Telegram.
If you are a serious investor, with more than USD 10,000 invested on the platform, you will gain access to a premium support service complimentary of Vauld. This service allows you to schedule calls with the team and sets you up with your account manager.
Vauld Review Summary
In summary, while Vauld is saying all the right things and offers excellent returns on many different coins, you should be cautious of any platform where its users struggle to access their assets.
Vauld provides many different safety features and aims to be regulated in many other countries by the end of the year. Still, if you choose to deposit on the platform, you may wish to deposit a small amount to test the platform before investing more significant amounts.
Key takeaways from our Vauld review:
Some users have issues withdrawing funds
Competitive interest rates
Over 200 assets available to trade
Be aware that Vauld has suspended withdrawals, so transferring more funds to the platform is not suggested.