VIAINVEST Overview
VIAINVEST is a Latvian Peer to Peer (P2P) lending platform that lists unsecured personal and business loans backed by a buyback guarantee. Investors can earn up to 12% interest annually. Low availability of loans, however, often leads to cash drag which lowers investors' returns. Find out more about this platform in our VIAINVEST review below.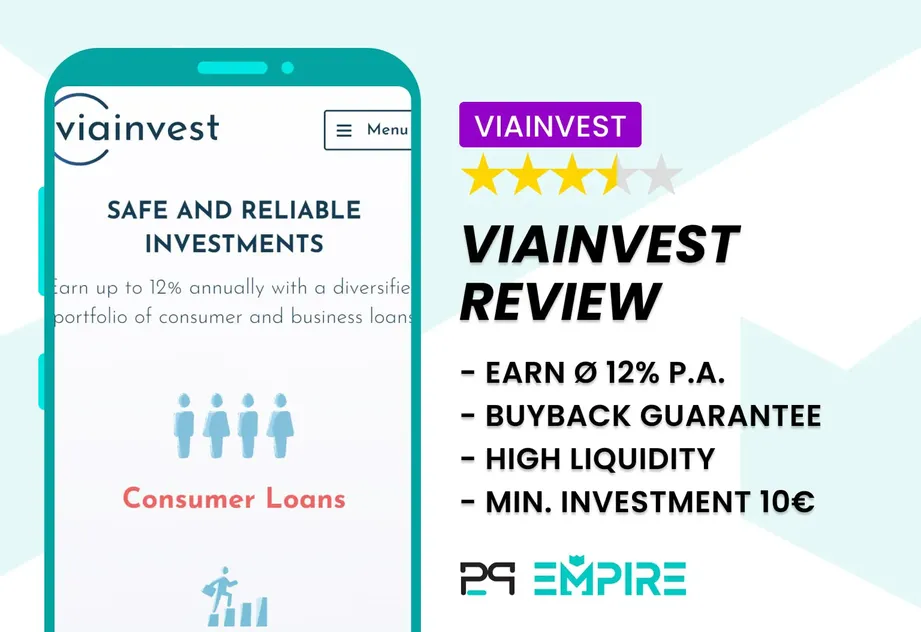 ⭐ Learn more about our rating criteria
📧 Stay up to date with our newsletter
Prefer to watch a video? Here is our VIAINVEST review for 2021
VIAINVEST in Numbers
It's always good practice to have a look at the platform's statistics before investing. If you can't find any stats, it probably means that the platform isn't transparent with their numbers which could be a potential red flag. That is, however, not the case with VIAINVEST, who have been very willing to share all stats besides their investors' earnings.
As you can see, VIAINVEST has attracted more than 13,000 investors, which is an impressive number. We can also see that the average portfolio size is more than €4,000, which is higher than on many other platforms such as Fast Invest. This means that investors on VIAINVEST aren't afraid to invest higher amounts of money.
A positive aspect worth mentioning is that VIAINVEST provides financial reports, audited by the Latvian auditor BDO. Not many P2P lending marketplaces provide audited reports.
VIA SMS Group made €2.76 M profit in 2018. The audited consolidated report for 2019 should have been published in the end of July 2020, however, until now, no report has been released.
When we reached out to VIAINVEST to gather the total amount of earned interest by their investors, the platform would not disclose this information.
We believe that P2P lending platforms should be as transparent as possible. Not disclosing this information to actual investors is something that should be considered when comparing P2P lending platforms.
VIAINVEST Promo Code
Many P2P lending platforms offer sign-up bonuses or cashback for new investors. This is usually a small amount that is added to investors' accounts.
VIAINVEST does sometimes run monthly cashback campaigns.
Currently, there's no VIAINVEST promo code that would give you an additional investment boost. If VIAINVEST launches another cashback campaign, we will update our VIAINVEST review accordingly.
Start earning money on VIAINVEST!
Or explore other cashback bonuses!
VIAINVEST's New User Requirements
In order to invest on VIAINVEST you need to meet the following requirements:
Reside in Europe
Have a European bank account
Be over 18 years old
No EUR bank account? No problem
The minimum investment amount on VIAINVEST is currently only €10 and you can use SEPA transfers to deposit funds to your VIAINVEST investor account.
Please note that the bank transfer to your bank account might take up to two days. Make sure to upload a copy of your ID in compliance with the KYC (know your customer) regulations. This is especially important when withdrawing money from VIAINVEST.
VIAINVEST also gives you the choice to register as a business, if that's something you are looking for.
Risk and Return
It is extremely important to be aware of the risks that come with investing on a particular P2P lending platform. As an investor, you should be aware of the protection scheme for your investment.
Unsecured Short-Term Loans
On VIAINVEST you're primarily investing in unsecured short-term loans that are backed by a 30-day buyback guarantee and you can expect to gain interest of up to 12% per year.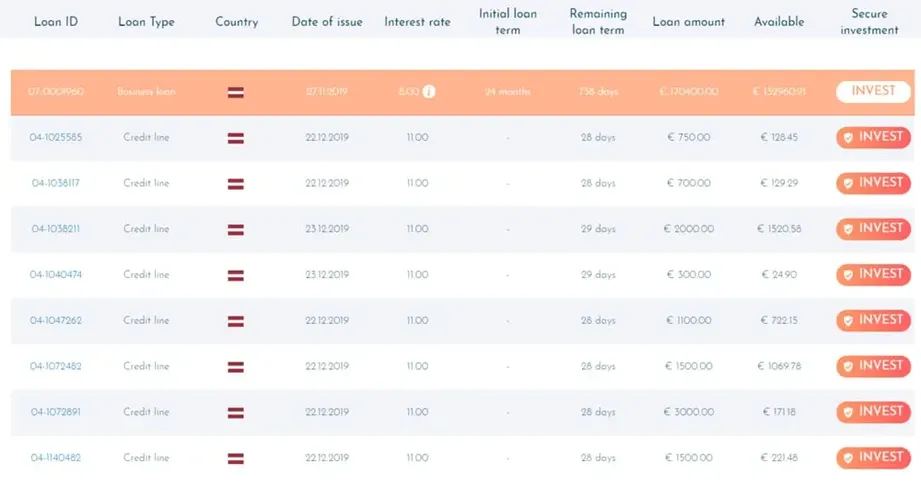 All the listed personal loans on VIAINVEST are from sub-companies of the VIAI SMS Group. The P2P lending platform is, therefore, an efficient way to finance those loans. Bondora, Robocash, Moncera, Lendermarket or TWINO follow a very similar business model.
Credit Lines
VIAINVEST uses P2P investors to fund credit lines for their short-term lending products such as VIASMS.lv or SAVA.card. Credit lines are typically short-term lending products with a loan amount of up to €3,000.
Business Loans
Lately, VIAINVEST also started listing business loans that are, however, not secured by the buyback guarantee. When reading the project description of the only two business loans that are currently listed on VIAINVEST, we could not find any information about the collateral.

Business loans on VIAINVEST seem to come with an added bonus that might be paid to investors at the end of the loan period, should the project exceed the expected sales amount.
As an investor, you should not be influenced by a potential promise of a bonus in 24 months in case the expected sales amount exceeds the planned capitalization rate. For most investors, this compensation model only adds more complexity when evaluating the risk of P2P investments.
Cash Drag and Diversification Issues
Cash drag is a very common issue within the P2P lending industry. Many platforms - such as Robocash, Twino or even Mintos - struggle to list enough available loans on their P2P lending sites to meet the high demand from investors.
This is often the case during normal market conditions. The problem causes that you cannot invest and earn interest. VIAINVEST is one of the platforms where investors have experienced temporary cash drag in the past.
Even though VIAINVEST allows you to diversify across five countries, due to the low availability of loans, you might find yourself in a position where you won't be able to achieve proper diversification. If that's the case, you can look at the current diversification options with PeerBerry or TWINO.
Cash drag occurs when the demand for investment opportunities surpasses the current supply of loans.
Tax Deductions
VIAINVEST is one of the few P2P lending platforms that automatically deduct tax from their investors' capital gains.
Most other platforms provide investors with an income statement which is used as an attachment for their annual tax report so that they pay tax on income from P2P investments in the country of their tax residency.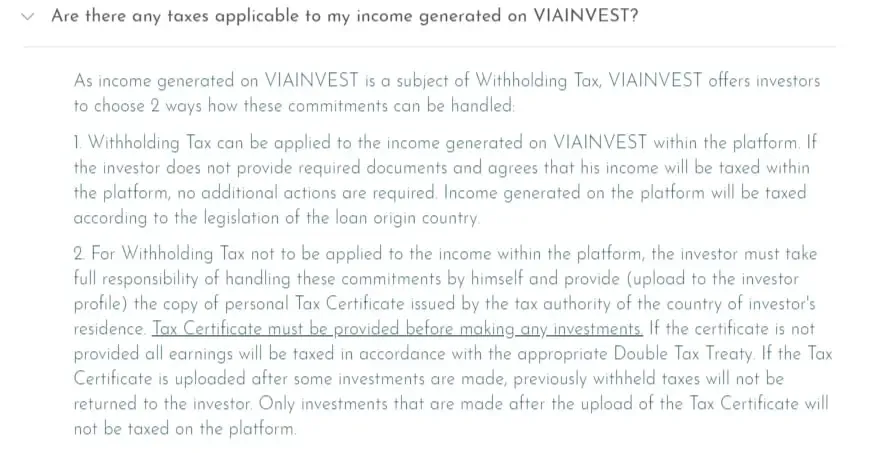 VIAINVEST's automation of tax deduction tends to only add complexity to your investing. For example, if you want to avoid the taxation of your investments in other countries and the possibility of being hit with double taxation in your own country, you need to submit a tax certificate.
Furthermore, the implementation of this rule means that investors who want to invest in loans from the Czech Republic or Spain will be taxed unless they provided a tax certificate before investing in those loans. In this scenario, VIAINVEST is referring to local laws and regulations for income generated within those countries.
VIAINVEST isn't withholding taxes for Latvian, Swedish, and Polish loans.
Also, note that withholding tax is naturally lowering your returns on VIAINVEST. It will become even more complex if you invest on various platforms that follow different regulations.
This taxation rule is unique to VIAINVEST, so if you want to avoid it, we'd suggest to either invest in loans from Latvia, Sweden or Poland or have a look at other platforms such as Debitum Network or IUVO Group that don't withhold taxes.
Is VIAINVEST Safe?
VIAINVEST has been around since 2016. The platform is operated by its parent company VIA SMS Group, which is a profitable lending company operating in five European countries. VIA SMS Group was founded in 2009.
We at P2P Empire conduct our due diligence about the team, as well as the platform's terms and conditions, to get a better overview of our legal rights and about the people managing our investments.
Who Runs the Company?
VIAINVEST is run by Eduards Lapkovskis, who is also a Member of the Board at VIA SMS Group, which is the parent company of the VIAINVEST investment platform. On VIAINVEST's website, Eduards is listed as the Member of the Board for the VIAINVEST platform as well. According to his LinkedIn profile, he is responsible for supervising all business processes, financial planning, and decision-making.
Eduards has been with the company since 2010, and previously he worked for several years in the banking industry in Russia.
Who's the Company's Legal Owner?
VIA SMS Group's main shareholder and co-founder is Deniss Sherstjukovs, who is also involved with day-to-day business and product development.
Our research found that there is also a second shareholder Georgijs Krasovickis, who happens to also be a Member of the Board.
Are There Any Suspicious Terms and Conditions?
Having a look at the T&C should be part of your due diligence. VIAINVEST's user agreement is only 15 pages long, so it shouldn't take too long for you to wrap your head around the most important clauses. Here is a summary of our research.
Clause 4.6 - Storage of Funds
Your uninvested funds on the platform are stored in separate bank accounts, and they do not belong to VIAINVEST's property.

This gives you good legal ground in case you should encounter any difficulties with withdrawals. In section 4.4, VIAINVESTs claims that the company shall process your withdrawal request within two business days.
Clause 7.10 - Liability
P2P lending isn't risk-free, and the P2P lending marketplace VIAINVEST isn't liable for any losses that occur from investing on the platform.

This is a common clause that's used by every P2P lending site. Please educate yourself about the risks as well as the business model of the investment platform and evaluate whether the returns are worth it before signing up and investing your money.
Clause 11.2 - Secondary Market
VIAINVEST's T&C also accommodates for the case when you decide to sell back your claim.

VIAINVEST does not have a dedicated secondary market as you might be familiar on other P2P platforms.
However, the P2P marketplace allows you to resell long-term loans which have been extended. You can resell your claims as soon as they hit 120 days. In order to initiate this trade, you will need to "initialize buyback" by clicking on a dedicated button under the individual loan within your investment portfolio.
Clause 15.5 - Amendments
VIAINVEST gives you 30 days to reject any proposed changes related to T&C, with the only exception being amendments to the current price list. The platform shall inform you about the amendments to their fee structure at least 10 days in advance.

This setup is fair, as some of the platforms do reserve the right to change any terms and conditions without prior notice.
Do Investors Have Access to Individual Assignment Agreements?
Investors on VIAINVEST have access to an individual assignment agreement. It's even mentioned in their terms and conditions.

You can view your investment agreements for every single investment under My investments. All the investments are available as PDF.

Another positive aspect worth mentioning is that you can view a template of the assignment agreement prior to registering and investing. Many P2P lending sites do not offer you this level of transparency.
Curious about what else we look at when conducting our research?
With our ✅ workbook, you will be able to spot red flags 🚩 and protect your investment.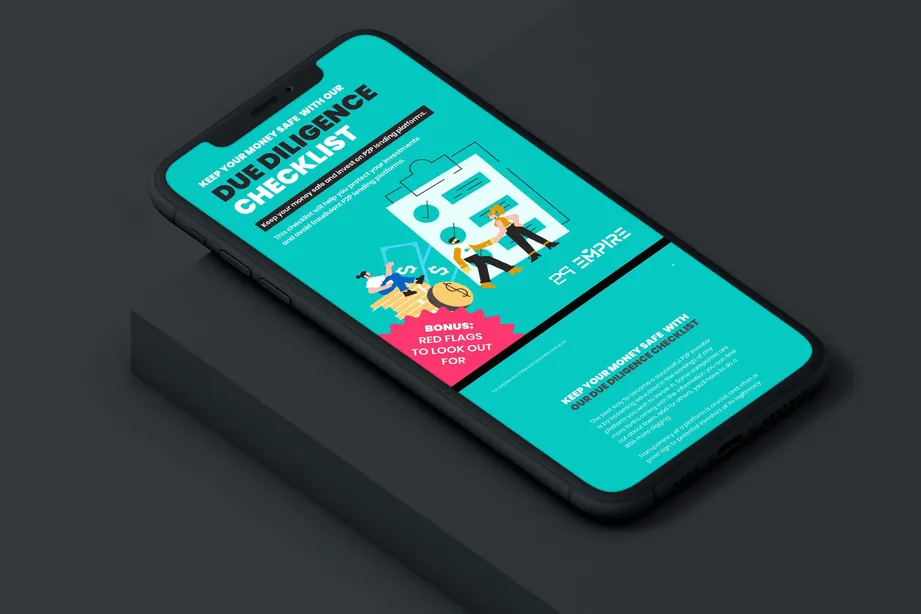 Protect Your Money!
Potential Red Flags

Currently, we have no knowledge about potential red flags.
Learn more about possible red flags here.
What's our Opinion of VIAINVEST?
Overall our simple due diligence did not yield any suspicions. The platform's T&C's are straightforward and fair in comparison to what we have read on other P2P platforms. This gives you solid legal ground in case you should ever need it.
Investing in VIAINVEST will lower your risk exposure in weak lending companies on Mintos and other marketplaces. VIAINVEST is an established P2P platform backed by a lender with a solid track record.
We have currently an active portfolio on VIAINVEST and so far we haven't experienced any issues apart from the fact that loans get extended on a constant basis which means that we can't access our funds on the platform. The 30-day buyback guarantee works like expected and we haven't encountered any delays.
We have reached out to VIAINVEST and requested an interview with the management. Unfortunately, the platform isn't interested in talking to P2P Empire.
Ready to earn money on VIAINVEST?
How User-Friendly is VIAINVEST?
The tax deduction issues are something you should keep in mind when investing on VIAINVEST.
The P2P platform consists of useful and basic features that you might already be familiar with if you invest on other P2P lending sites.
You can either invest in available loans manually or automate your investments based on your preferences.
Auto Invest
This platform's Auto Invest tool is a great feature that you are most likely already aware of. Setting up your Auto Invest on VIAINVEST is very simple and it will only take you a few minutes. You can choose between various settings that should be aligned with your investment strategy.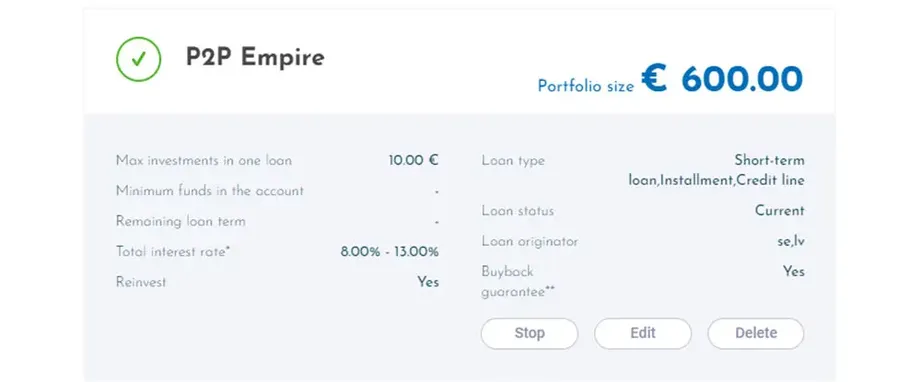 Here is a sneak peek into our VIAINVESt portfolio. We prefer to invest only in loans from Latvia and Sweden.
As soon as you confirm the loan agreement and save your Auto Invest, VIAINVEST will automatically invest your funds in currently available loans that match your criteria.
How Fast Can You Withdraw Your Money?
In case you want to withdraw your money from VIAINVEST, you'll need to wait until the end of the investment period as there is currently no secondary market where you can sell your investment.
Most of the microloans do, however, have a loan period of about 30 days and so you will be able to access most of your investments within that time.
Many of the loans on VIAINVEST are Credit Lines which means that they can get extended at any time which affects the liquidity of your portfolio.
Exception for long-term loans
If you happen to invest in long-term loans (or loans that have been extended) for over 120 days, you have the option to initiate a buyback function. In this case, the loan originator will repurchase the claim from you and you will get your money back to your investment account.
If liquidity is important to you, investing on platforms that list short-term loans is currently the best solution. Products such as Mintos' Invest and Access or Bondora's Go and Grow that promise high liquidity aren't always reliable and often by using them you'll often expose yourself to higher risk.
VIAINVEST's Customer Support
VIAINVEST's customer support is very responsive; whenever we've contacted them we've received an answer within a few hours.
You can reach the customer support team via their website's live chat or by sending them an email on support@viainvest.com. You can also give them a call on +371 66102939 during weekdays from 8 am to 5 pm (Fridays until 4 pm).
VIAINVEST Review Summary
VIAINVEST is a reliable and established P2P lending marketplace. VIAINVEST is one of the few P2P lending sites that offer a 30-day buyback guarantee on all of your investments. VIAINVEST is a suitable P2P lending platform if you want to invest in loans from Latvia and Sweden.
Key Takeaways from our VIAINVEST review:
Very good liquidity
The buyback guarantee is backed by a profitable lending company
No payment delays or withdrawal issues
Delayed financial reports
We suggest that you have a look at the current availability of loans before you deposit your funds on VIAINVEST. Your goal should always to keep your money invested.
Ready to start earning money on VIAINVEST?
Or explore other P2P lending sites.
FAQ
How is my investment on VIAINVEST protected?
Your investment on VIAINVEST is protected by a 30-day buyback guarantee. In case the borrower is late with their loan payment, the loan originator will repurchase your claim for the outstanding amount with the accrued interest.
What's the minimum investment amount?
The minimum investment amount on VIAINVEST is only €10 which allows you to diversify your portfolio across a high number of loans.
Is there a secondary market on VIAINVEST?
There is no secondary market on VIAINVEST at the moment. You need to wait until the end of the loan period or hold out for the activation of the buyback guarantee and until your claim is repurchased.
Does VIAINVEST offer an Auto Invest feature?
Yes, VIAINVEST offers the possibility to automate your investment based on your preferences and financial goals. Do note, however, that the Auto Invest feature only works when there are enough available loans that match your criteria.