VIAINVEST Overview
VIAINVEST is a Latvian Peer to Peer (P2P) lending platform that lists unsecured personal and business loans backed by a buyback guarantee. Investors can earn up to 12% interest annually by investing in asset-backed securities. Low availability of loans, however, often leads to cash drag which lowers investors' returns. Please find out more about this platform in our VIAINVEST review below.
⭐ Learn more about our rating criteria
📧 Stay up to date with our newsletter
VIAINVEST's New User Requirements
To invest on VIAINVEST, you need to meet the following requirements:
Reside in Europe
Have a European bank account
Be over 18 years old
Fill out the appropriateness questionnaire
No EUR bank account? No problem
The minimum investment amount on VIAINVEST is only €50, and you can use SEPA transfers to deposit funds to your VIAINVEST investor account.
Please note that the transfer to your bank account might take up to two days. Make sure to upload a copy of your ID in compliance with the KYC (know your customer) regulations. This is especially important when withdrawing money from VIAINVEST.
VIAINVEST also allows you to register as a business if that's something you are looking for.
Risk and Return
Awareness of the risks of investing in a particular P2P lending platform is essential. As an investor, you should be mindful of the protection scheme for your investment.
Investing in ABS
VIAINVEST has recently become a regulated investment firm, meaning you won't invest in assignment agreements or claim rights but in asset-backed securities.
An asset-backed security is a financial instrument that consists of a bundle of loans with similar characteristics.
There are no substantial benefits for investors investing in ABS instead of loans. The risk of a particular investment in a bundle of loans remains the same.
Unsecured Short-Term Loans
On VIAINVEST you're primarily investing in short-term unsecured loans backed by a 30-day buyback guarantee and you can expect to gain the interest of up to 12% per year.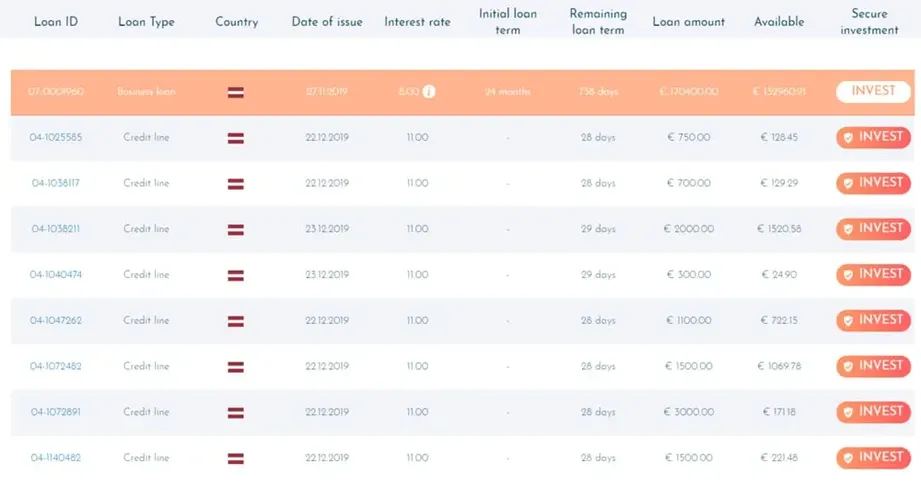 All the listed personal loans on VIAINVEST are from sub-companies of the VIAI SMS Group. The P2P lending platform is an efficient way to finance those loans. Bondora, Robocash, Esketit, Lendermarket or TWINO follow a similar business model.
Credit Lines
VIAINVEST uses P2P investors to fund credit lines for short-term lending products such as VIASMS.lv or SAVA.card. Credit lines are typically short-term lending products with a loan amount of up to €3,000.
Business Loans
VIAINVEST also lists business loans in limited availability that are not secured by the buyback guarantee. When reading the project description of the only two business loans currently listed on VIAINVEST, we could not find any information about the collateral.

Business loans on VIAINVEST seem to come with a bonus that might be paid to investors at the end of the loan period, should the project exceed the expected sales amount.
As an investor, you should not be influenced by a potential promise of a bonus in 24 months in case the expected sales amount exceeds the planned capitalization rate. For most investors, this compensation model only adds more complexity when evaluating the risk of P2P investments.
Cash Drag and Diversification Issues
Cash drag is widespread in the P2P lending industry, especially on smaller platforms.
This is often the case during normal market conditions. The problem is that you cannot invest and earn interest.
VIAINVEST is one of the platforms where investors have experienced temporary cash drag in the past.
Even though VIAINVEST allows you to diversify across five countries, due to the low availability of loans, you might find yourself in a position where you won't achieve proper diversification.
If that's the case, you can look at the current diversification options with PeerBerry or TWINO.
Cash drag occurs when the demand for investment opportunities surpasses the current supply of loans.
20% Tax Deduction
As a regulated investment firm, VIAINVEST is legally obliged to deduct 20% tax from your earnings on the platform. The tax rate can be deducted to 10% or 0% depending on the country where you are a tax resident.
For VIAINVEST to apply a lower tax rate, you must upload a verified tax certificate in your profile settings. Click here to find out which tax rate applies to you upon submission of the tax certificate.
If your country has a double-taxation agreement with Latvia, the taxes that you paid in Latvia will be deducted from the taxes you owe in your country. That way you won't be taxed twice.
For further details, consult a certified tax advisor in your area.
Is VIAINVEST Safe?
VIAINVEST has been around since 2016. The platform is operated by its parent company VIA SMS Group, a profitable lending company operating in five European countries. VIA SMS Group was founded in 2009.
We at P2P Empire conduct our due diligence about the team and the platform's terms and conditions to get a better overview of our legal rights and the people managing our investments.
Who Runs the Company?
VIAINVEST is run by Eduards Lapkovskis, also a Member of the Board at VIA SMS Group, the parent company of the VIAINVEST investment platform. On VIAINVEST's website, Eduards is also listed as the Member of the Board for the VIAINVEST platform. According to his LinkedIn profile, he supervises all business processes, financial planning, and decision-making.
Eduards has been with the company since 2010, and previously he worked for several years in the banking industry in Russia.
Who's the Company's Legal Owner?
VIA SMS Group's main shareholder and co-founder is Deniss Sherstjukovs, who is also involved with day-to-day business and product development.
Our research found that there is also a second shareholder, Georgijs Krasovickis, who also happens to be a Board Member.
Are There Any Suspicious Terms and Conditions?
Having a look at the T&C should be part of your due diligence. VIAINVEST's user agreement is only 15 pages long, so it shouldn't take too long to wrap your head around the most important clauses. Here is a summary of our research.
Clause 4.6 - Storage of Funds
Your uninvested funds on the platform are stored in separate bank accounts and do not belong to VIAINVEST's property.

This gives you good legal ground in case you encounter any withdrawal difficulties. Section 4.4, VIAINVESTs claims that the company shall process your withdrawal request within two business days.
Clause 13.2.3 - Liability
P2P lending isn't risk-free, and the P2P lending marketplace VIAINVEST isn't liable for any losses from investing on the platform.
This is a standard clause that's used by every P2P lending site. Please educate yourself about the risks and business model of the investment platform and evaluate whether the returns are worth it before signing up and investing your money.
Clause 9.1.3 - Amendments
VIAINVEST is entitled to unilaterally at any time amend and supplement the
valid order execution procedure without notifying the Customer.
Curious about what else we look at when conducting our research?
With our ✅ workbook, you can spot red flags 🚩 and protect your investment.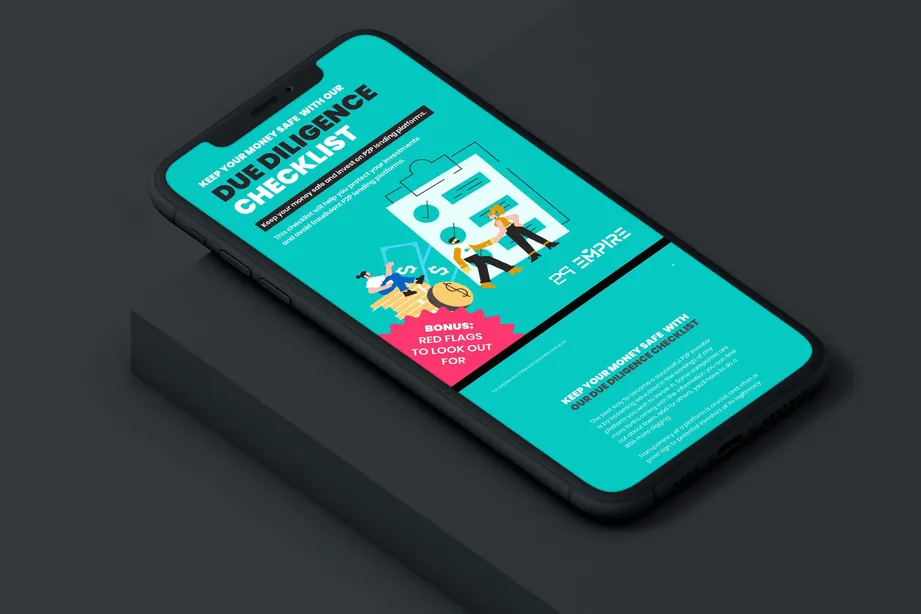 Protect Your Money!
Potential Red Flags
VIAINVEST can amend the terms anytime without notifying the users
The platform has removed the "initiate buyback" button from its credit lines
VIAINVEST has amended the Auto Invest settings for investors without prior consent
The buyback obligation is not being honored
Learn more about possible red flags here.
What's our Opinion of VIAINVEST?
Overall our due diligence did not yield any suspicions. The platform's T&C's are straightforward and fair compared to what we have read on other P2P platforms. This gives you solid legal ground in case you should ever need it.
We have extensively tested VIAINVEST in the past, but the platform's usability and lack of liquidity didn't yield the best experience. The platform is outdated, and many loans get extended for several months, limiting the portfolio's liquidity.
As VIAINVEST moved to asset-backed securities, the platform has discontinued the buyback option for its previously listed loans, meaning investors' funds are stuck in "credit lines," which can be extended indefinitely.
The platform failed to inform investors whether the offered "credit lines" would eventually be repaid.
VIAINVEST also amended the auto invest settings of its investor base without prior consent to investments in ABS with a duration of 180 days.
The platform's interface fails to display important information, and many users are frustrated by the incompetence of the platform to provide clear answers about the changes from loan assignments to asset-backed securities.
There are certainly much better platforms in the space that offer a modern platform and higher returns without the hassle of providing tax certificates.
We have reached out to VIAINVEST and requested an interview with the management. Unfortunately, the platform isn't interested in talking to P2P Empire unless we can provide free exposure.
Usability
The tax deduction issues are something you should keep in mind when investing on VIAINVEST.
The P2P platform consists of valuable and essential features that you might already be familiar with if you invest on other P2P lending sites.
You can either invest in available loans manually or automate your investments based on your preferences.
Auto Invest
This platform's Auto Invest tool is a great feature you are most likely already aware of. Setting up your Auto Invest on VIAINVEST is very simple and will only take a few minutes. You can choose between various settings aligned with your investment strategy.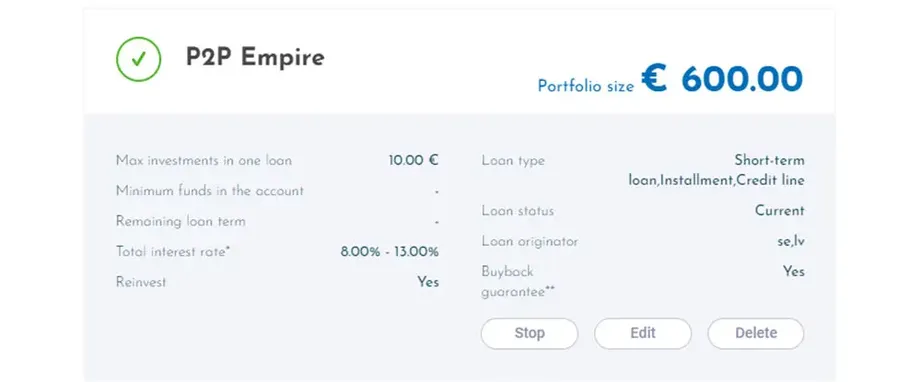 Here is a sneak peek into our previously active VIAINVESt portfolio, which is no longer active.
In 2022, the minimum investment per asset-backed security is €50.
Liquidity
If you want to withdraw your money from VIAINVEST, you'll need to wait until the end of the investment period as there is currently no secondary market where you can sell your investment.
While most of microloans have a loan period of about 30 days, you should not expect to be able to withdraw money within that time.
Many of the loans on VIAINVEST are Credit Lines, which can get extended at any time, affecting your portfolio's liquidity. Commonly, a loan can be extended for another 6 or 8 months, and you won't be able to exit your positions.
Exception for long-term loans
If you invest in long-term loans (or loans that have been extended) for over 120 days, you can initiate a buyback function. In this case, the loan originator will repurchase your claim, and you will get your money back to your investment account.
If liquidity is important to you, investing on platforms that list short-term loans is currently the best solution. Products such as Bondora's Go and Grow that promise high liquidity aren't always reliable. Using them will often expose you to higher risk.
VIAINVEST's Customer Support
VIAINVEST's customer support is very responsive; whenever we've contacted them, we receive an answer within a few hours.
You can reach the customer support team via their website's live chat or by sending them an email at support@viainvest.com. You can also call them on +371 66102939 on weekdays from 8 am to 5 pm (Fridays until 4 pm).
VIAINVEST Review Summary
VIAINVEST used to be a reliable and established P2P lending marketplace. The platform was one of the few P2P lending sites offering a 30-day buyback guarantee on all your investments. In 2022. the quality of VIAINVEST's services deteriorated. Many investors reported significant red flags which suggest that the platform might not be the best fit for you.
Key Takeaways from our VIAINVEST review:
Outdated platform
No withdrawal issues
Lack of liquidity
Unaudited financial reports
VIAINVEST is failing to meet its obligation toward investors, so we suggest our readers consider some of the better P2P lending platforms instead.