Crypto.com Earn Overview
Are you keen to earn interest on your crypto? If so, you have likely heard about Crypto.com Earn which is a service from one of the largest crypto sites in the world. Crypto.com lets you deposit your cryptocurrency in exchange for interest payments. In this Crypto.com Earn review, you will find out whether it's worth it to deposit your crypto on a crypto interest account and what type of risks you should consider when doing so.
Is Crypto.com safe? Find out now.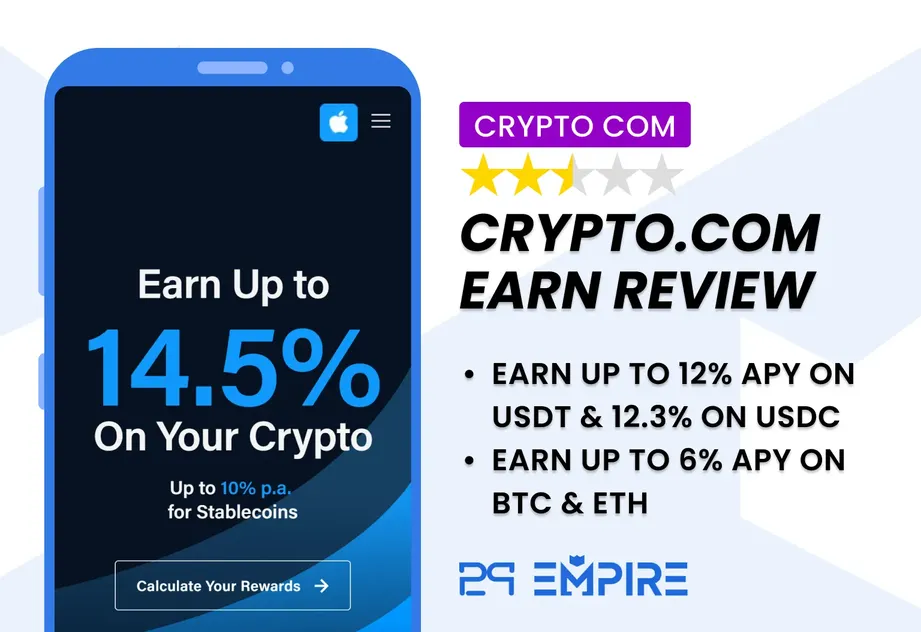 ⭐ Find the best bitcoin lending platform.
Crypto.com in Numbers
If you've read our other P2P lending platform reviews, you might know that when performing our due diligence, the first thing we check out is the site's statistics page and create a table with all the important figures.
Unfortunately, we couldn't find either a statistics or an About Us page on the Crypto.com website, so this review's table is looking pretty bare...
Crypto.com is one of the largest crypto exchanges in the world. The company also offers the Crypto.com credit card which is the most widely accepted credit card issued by a crypto company.
Crypto.com uses credit cards to generate revenue through its own Crypto.com token (CRO).
The company claims to currently serve more than 10 M customers from all over the world. While this is a very impressive achievement, we aren't as impressed with the disclosure of important statistics.
Learning more about the financials of the company, the average portfolio size (at least the amount of deposits for Crypto.com Earn), and the total earnings from this service, would certainly bring more transparency to anyone interested in earning interest on their cryptos.
This is something many crypto lending platforms, including YouHodler and Celsius, can improve on.
Crypto.com Referral Code
Crypto.com does offer a referral bonus for new users. In order to get this bonus, you will need to sign up with our special Crypto.com referral code y62e7sruhs and stake enough Crypto.com tokens (CRO) to be eligible for a Ruby Steel credit card.
In short, you need to hold at least $400 in CRO tokens in your Crypto.com wallet to be able to get the red Ruby Steel credit card and redeem your Crypto.com sign-up bonus of $25 in CRO.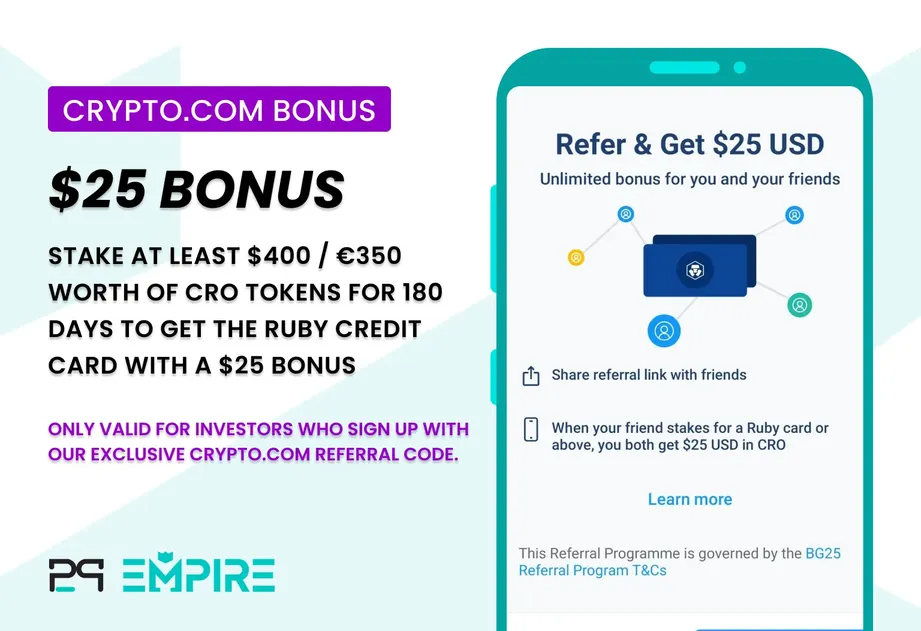 In order to get the CRO tokens you can either buy them with a credit card or trade them for other cryptocurrencies directly in the Crypto.com app.
In order to get your Crypto.com bonus, you will need to either download the app with our partner link or type in the Crypto.com referral code during the signup process. After you have purchased at least $400 or €350 worth of CRO tokens, you can stake them for at least 6 months to be eligible to order the Ruby Credit Card.
Staking your crypto will lock your tokens for a specific time in exchange for added benefits and a free credit card with free perks and no fees.
Note that in order to get your bonus, you will need to confirm your registration email and verify your identity within 72 hours.
You can find all available cashback bonuses here. Using our BlockFi referral code will give you $10 in BTC. With our Celsius referral code, you can get 40$ in BTC for free.
Crypto.com Requirements
To use the Crypto.com app you will need to download it from the Google Play Store or Apple Store. Alternatively, you can also download the Crypto.com mobile wallet as Crypto.com doesn't store your coins on the exchange.
To be able to do that you will need to:
Be over 18 years old
Have a valid ID or passport to verify your identity
Have a mobile phone to take a selfie and use the mobile apps
Pass the KYC procedure
Verify your email address
The signup process on Crypto.com is very simple and we managed to do it within 15 minutes.
Risk and Return
First and foremost you should distinguish between Crypto.com Earn and Crypto Compound Lending through the decentralized wallet on your phone (DeFi Earn).
Both products offer different features and securities which you should evaluate prior to depositing your crypto with those services.
When lending your crypto via DeFi Earn you don't rely on a third-party custodian but instead, manage everything through your app. The number of supported coins on DeFi Earn is also more limited in comparison to Crypto.com Earn.
In this Crypto.com review, we will be mainly focusing on the Crypto.com Earn product which is a centralized feature that allows you to "stake" (lock) your crypto for a specific amount of time in exchange for interest.
As soon as you deposit your cryptos on your Crypto.com wallet in your mobile app (not the DeFi wallet), you don't own your private keys anymore which means that you are no longer the owner of your coins.
Crypto.com doesn't disclose what they do with your digital assets as they are not a typical crypto lending platform, our guess is that they use it to increase the liquidity of their trading platform and generate more income through the fees they charge to their traders.
We will be covering the terms and conditions of Crypto.com Earn later on, but first, let's have a look at the returns that you can expect by staking your cryptos.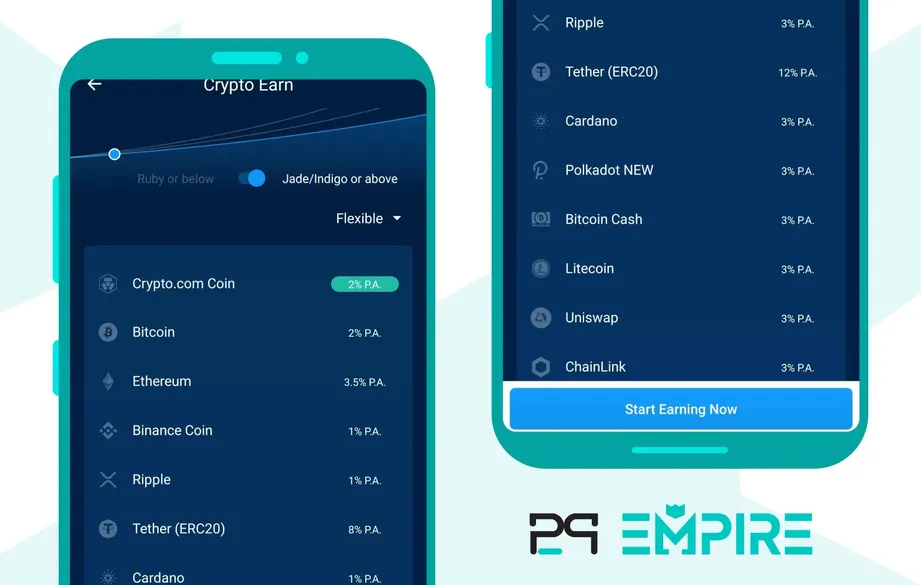 The interest rates from Crypto.com Earn depend on two factors:
Your amount of CRO tokens
The lock-up period (Flexible, Fixed for 1 month, Fixed for 3 months)
In your Crypto.com Earn App interface, you are able to review the current rates, based on your current holdings of the CRO tokens.
Note, that the interest rates vary depending on the amount of CRO tokens that you are holding. If you are interested in receiving the interest rate that applies for Jade/Indigo Credit.com Credit Cardholders, you will need to stake at least $4,000 / €3,500 worth of CRO tokens.
To review the rates for anything below this amount, you need to untick the radio button in your app.
Now, if you don't hold any CRO tokens and you don't want to lock your coins, you can use the flexible plan which offers the lowest interest rates.
For Ruby Cards or below
| Coin | Flexible | 1 Month Term | 3 Month Term |
| --- | --- | --- | --- |
| Crypto.com Coin | 2% p.a. | 4% p.a. | 6% p.a. |
| Bitcoin | 1.5% p.a. | 3% p.a. | 4.5% p.a. |
| Ethereum | 2.5% p.a. | 3.5% p.a. | 4.5% p.a. |
| Binance Coin | 0.5% p.a. | 1% p.a. | 2% p.a. |
| Ripple | 0.5% p.a. | 1% p.a. | 2% p.a. |
| Tether | 6% p.a. | 8% p.a. | 10% p.a. |
For Jade & Indigo Cards or above
| Coin | Flexible | 1 Month Term | 3 Month Term |
| --- | --- | --- | --- |
| Crypto.com Coin | 2% p.a. | 4% p.a. | 6% p.a. |
| Bitcoin | 2% p.a. | 4.5% p.a. | 6.5% p.a. |
| Ethereum | 3.5% p.a. | 4.5% p.a. | 5.5% p.a. |
| Binance Coin | 1% p.a. | 2% p.a. | 3% p.a. |
| Ripple | 1% p.a. | 2% p.a. | 3% p.a. |
| Tether | 8% p.a. | 10% p.a. | 12% p.a. |
Note that Crypto.com supports around 30 different coins. The interest for the flexible plan can change at any time prior to any notice and the interest payments are repaid on a weekly basis.
What's also interesting is that the Crypto.com Earn feature doesn't allow compound interest, meaning that all of the interest is repaid on your Crypto.com hot wallet.
What is also worth mentioning is that you need to deposit a minimum amount of every currency in order to be eligible for the Crypto.com Earn feature. This is something that the competing crypto lending platform Celsius Network isn't demanding.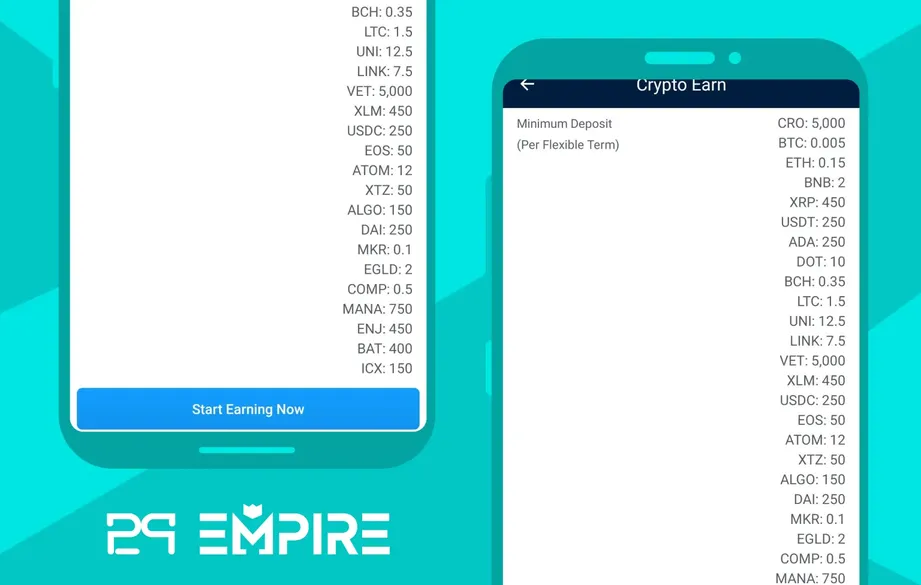 Staking your cryptocurrency with Crypto.com Earn is obviously not risk-free. As the cryptocurrency is not legal tender and it's not backed by FDIC or any other insurance, there is always the risk that you will lose your money.
The counterparty risk is even higher with Crypto.com as the company isn't publicly sharing its financial reports so you cannot evaluate the financial health of the platform.
Is Crypto.com Earn Safe?
In this section of our Crypto.com Earn review, we will be looking at the management, the legal setup as well as the terms and conditions of the Crypto.com Earn feature.
Who leads the team?
Crypto.com is led by the CEO and Co-founder Kris Marszalek who has been engaged with various startup companies from Hong Kong in the past. Crypto.com is also based in Hong Kong.
The Crypto.com website seems to be frequently changing the name of their legal company. Currently, the company is operating under the FORIX DAX KY Group which is incorporated in the Cayman Islands.
The group is also known to operate under MCO Malta DAX Limited, Foris LTD, MCO Pay Limited, MCDO Digital Assets, Foris Asia Pte Ltd.
The platform doesn't publicly share the address of their headquarters. According to some sources, Crypto.com is based in Sai Wan, Hong Kong Island, Hong Kong.
Our guess is that Crypto.com used their entity in the Cayman Islands to generate the CRO token. Their branch in Switzerland was used to raise $26 M through their token sale event.
Crypto.com restricts the usage of their service to residents of countries where they have some legal setup such as Malta, Switzerland, and Hong Kong (onshore).
What regulatory requirements should you consider?
You can use Crypto.com in all countries apart from Switzerland, Hong Kong, Malta and the state of New York.
We are not aware of any license from a regulatory body which would decrease the counterparty risk. Crypto.com as many othe crypto platforms are "self-regulated", which means that they are following the highest security standards to ensure safe usage of their products.
According to Crypto.com, the platform stores all fiat from U.S. users on regulated custodian bank accounts. If you are from the U.S., your fiat is covered up to $250,000 by the FDIC.
While for fiat, you as the user remain the owner, for crypto it's not the case if you store your currencies on the Crypto.com App wallet.
In this scenario, the owner of your coins is Crypto.com which stores your coins on a cold storage which is insured up to $360 M. The custodian of your crypto is Ledger.
Are there any suspicious terms and conditions?
You should certainly read the terms and conditions of Crypto.com Earn to fully understand your rights.
We read it all, and here are a few important points worth mentioning:
By using the Crypto.com Earn Fix Plan, you are not able to withdraw your crypto before the maturity date
The interest for your Flexi Plan may change at any time
You alone are responsible for the taxes
Crypto.com reserves the right to terminate your access to Crypto Earn
The digital assets in your Crypto Earn account are not protected by any insurance
Crypto.com can amend the terms and conditions at any time
Crypto.com may freeze your account for an indefinite period of time
By using Crypto.com Earn you are accepting the clause that you might lose your money and that Crypto.com isn't responsible for your losses.
That is the case with any peer-to-peer lending platform or crypto lending platform. By investing your fiat or coins you are always taking certain risks.
If your goal is to keep your crypto safe, we recommend storing your crypto on a hardware wallet like 🔒 , which is one of the best wallets out there.
Potential Red Flags
Crypto.com can freeze your account at any time as you are not the owner of your coins
The platform may change terms and conditions at any time
The platform prohibits the usage of their companies from users that are residents in their onshore markets
Crypto.com isn't transparent about their legal address or their complicated legal setup
What's Our Opinion On Crypto.com?
Crypto.com is without a doubt one of the largest companies in the crypto space, offering a wide range of services. The platform makes most of their money by charging their users fees on their crypto exchange.
The platform is trying to capitalize on everything related to crypto. The Crypto.com ecosystem is expanding and many of the platform's features are directly connected to the Crypto.com credit card or their CRO tokens.
Like Celsius Network, Crypto.com also uses the utility token to generate further income. You can trade the CRO token on various exchanges such as Bittrex, Kucoin or directly on Crypto.com.
The platform is offering a wide range of services. Crypto Earn might sound like a good option to earn additional income on your crypto. Note, however, that by using the Fixed Plan you have no option to liquidate your assets in the case of a market crash.
To be able to benefit from higher interest rates, you would need to stake a large amount of CRO tokens which again, will cost you at least $3,500. The Flexi Plan on the Crypto.com platform isn't as lucrative as, let's say the interest on other crypto lending platforms like Celsius or BlockFi.
Crypto.com also doesn't disclose what they are doing with your coins when you stake them with Crypto.com Earn.
If you are part of the Crypto.com ecosystem and are using the Crypto.com credit card, it might be worth a try to put some of your holding (not all of them) into the Crypto.com Earn feature.
In the case, where you are completely new to crypto or you are using a different exchange, it's not really worth it to sign up to Crypto.com just for the "Earn" feature.
Do you appreciate this review? Invite us for a coffee ☕
Usability
Crypto.com is one of the apps in the crypto space with most of the features. The app is primarily an exchange, however, you can also use it in connection with your Crypto.com credit card, earn interest with Crypto.com Earn or even get a loan when depositing your crypto as collateral.
Apart from the Crypto.com app, the platform also offers a decentralized mobile wallet.
When it comes to the usability of the Crypto.com Earn feature, it is quite straightforward:
You choose your CRO staking level
You choose the flexi or fixed plan for 1 or 3 months
You choose the coin on which you want to earn interest
You deposit the minimum amount on your Crypto.com Earn space
You earn weekly interest on your principal until the end of the agreed period
When using the fixed plans, you are not able to withdraw your money prior to the end of the period. As mentioned above, you also do not benefit from the compound interest as the interest is paid out to your Crypto.com wallet. After the end of the savings period, your principal will be returned to you and if you wish to extend your savings period, you will need to set up another plan.
What's also worth mentioning is that Crypto.com is only available as a mobile app. So if you are interested in managing your crypto on your PC monitor, Crypto.com isn't the best fit for you.
Liquidity
The liquidity of your investment on Crypto.com depends on the service that you are using. If you just trade crypto, you can liquidate your position immediately. If you are using the Crypto.com Earn feature you can withdraw your coins after 1 or 3 months by using the fixed plan.
The flexi plan allows you to withdraw your coins anytime.
Note, that by staking your crypto you might not be able to sell your coins in the case of a market crash, which can lead to significant losses of the value which won't be covered by the very low interest that you get in exchange for depositing your crypto on Crypto.com.
Support
As with many other crypto lending platforms, Crypto.com isn't famous for their support. The platform offers a dedicated Help center and you can also resolve your issues by using the live chat function on their website. The typical response time is one day.
Alternatively, you can also contact the support by dropping them an email at contact@crypto.com.
Crypto.com Review Summary
Crypto.com is a multipurpose app that enables you to use various services in the crypto space. The Crypto.com Earn feature allows you to even earn interest on your deposits. As with any other crypto exchange, the platform takes a maker and taker fee. Be aware that you will have to pay a withdrawal fee when moving your digital assets from your Crypto.com wallet.
Key Takeaways From Our Crypto.com Review
Easy to use
Complex reward scheme
Minimum deposit limits
Fixed lock-in period
Lower interest rates
If you are already using Crypto.com, you might as well try their "Earn" feature. If you are completely new to crypto and you are looking for a way to earn interest on your crypto, Crypto.com could be an option for you.
Ready to earn passive income on your crypto?
FAQ
Is Crypto.com legitimate?
Crypto.com is a Hong Kong-based company with ties to legal entities in Malta and Switzerland. The platform offers a high level of security which helps to keep your digital assets safe.
Is Crypto.com CRO coin a good investment?
The CRO token fluctuates in price based on the current market conditions. During a crypto hype, this coin increases in value. Be aware that while you can trade the coin on various exchanges, you can only use it on Crypto.com or benefit from the growth of the price. The CRO token is a much more speculative investment and not something you should keep for the long run.
Is Crypto.com a Chinese company?
Crypto.com is based in Hong Kong with offices in Singapore, Switzerland, and Malta. Note that the jurisdiction in Hong Kong can be very different from your home country, which might impact the safety of your assets on the platform.
Does Crypto.com report to the IRS?
The 1099-K form will be filled with the IRS and you will need to pay taxes on the taxable income from trading cryptocurrencies.