Bulkestate Overview
Bulkestate is an Estonian P2P platform that offers real estate investments. Since 2016 more than 10,000 users like you have earned over €2 M in interest. Investors can invest in mortgage-backed with an average loan term of 12 months and an annual return of 14.75%. Keen to find out more? Read our Bulkestate review.
Bulkestate in Numbers
We wanted to have a look at Bulkestate's stats but the data we needed wasn't available on their website, which gave us the perfect excuse to get in touch and request the information required.
Luckily, Bulkestate got back to us within a few hours.
Despite having over 10,000 users, Bulkestate is one of the smaller P2P lending platforms. Real estate platforms like EstateGuru and Crowdestate have well over 50,000 investors each.
Bulkestate doesn't publicly share its financial reports. The platform provided us with unaudited reports for 2017 and 2018.
However, they asked us not to reshare those documents as they are currently collaborating with an accounting company to publish audited financial reports for the past few years.
From the documents we have received, the platform made a profit before taxes of €55,000 in 2017 and €155,000 in 2018. We have no data for 2019 and beyond.
Bulkestate isn't transparent about its financial performance nor does the platform do a good job when it comes to informing the investors about loan updates.
Bulkestate Cashback Bonus
Currently, Bulkestate does not provide any promo codes or cashback offers for new investors.
See the full list of cashback bonuses in our dedicated section.
Bulkestate New User Requirements
Bulkestate accepts investors that are over 18 years old and in possession of a European bank account. Note, you need to transfer funds to the partner bank of Bulkestate in euros in order to invest on the platform.
If you don't have a EUR account, we suggest signing up for a border Transferwise account or setting up an account with the trustworthy German digital bank N26. You can view the bank details in your Bulkestate user interface under withdrawals.
Important things to note: the minimum deposit on Bulkestate is currently €50, the transfer might take up to three business days and withdrawals can take up to five days.
Risk and Return
As with every P2P lending platform, you should know what kind of loans you're investing in and whether they are secured or not.
Mortgage-Backed Loans
When investing on Bulkestate, you invest in mortgage-backed loans. Second rank mortgages aren't common on this P2P lending site. In the rare occasion when the loan-to-value (LTV) is very low, a second rank mortgage might get accepted as collateral.
The average LTV is around 56%, which is also lower than most of the average metrics on EstateGuru or Crowdestate.
As you might already know, the lower the LTV ratio, the lower the risk.
You should keep in mind that Bulkestate doesn't publish any financial report about its operations. Furthermore the information surrounding the loan updates is not sufficient for most of the investors. Despite investing in mortgage-backed loans, the recovery of the debt can be very time-consuming which is causing a lot of frustration amongst P2P investors.
How Bulkestate Operates
When it comes to risk assessment, Bulkestate collaborates with some of the largest real estate agencies in Latvia. Additionally, they have their own in-house real estate and finance analyst.
Even though Bulkestate is registered in Estonia, they operate from their headquarters in Riga, Latvia.
Registering in one country but operating in another is a setup that is trending amongst baltic P2P lending sites. Crowdestor follows the same strategy.
Keep in mind that Bulkestate isn't a regulated platform which is increasing your risk.
Safe Storage of Investors' Money
In terms of platform risk, Bulkestate stores investors' money in separate bank accounts which are not used to fund operations of the platform.
In case the borrower is delayed with their payments by more than 15 days, the P2P lending platform will contact the borrower to find a quick solution. Bulkestate has the right to terminate the contract immediately if the terms and conditions are broken. In this case, Bulkestate works together with the legal bureau FORT, which is also used by Mintos.
Loans on Bulkestate usually pay back the interest as well as the principal amount at the end of the loan term. Sometimes projects offer monthly repayments, however, this isn't the rule in most cases.
Because you won't get regular interest every month, the compound interest effect is slightly lower compared to investments in short-term loans on platforms such as PeerBerry or Robocash.
Returns
In terms of returns, you can expect to earn between 14% and 15% on average per year (if the loans get repaid). It all comes down to the projects you want to invest in.
As we write this Bulkestate review, there is only one project available to invest in. The minimum investment amount on Bulkestate is €50. Creating a fully diversified portfolio on Bulkestate might take several weeks or months, depending on your investment amount.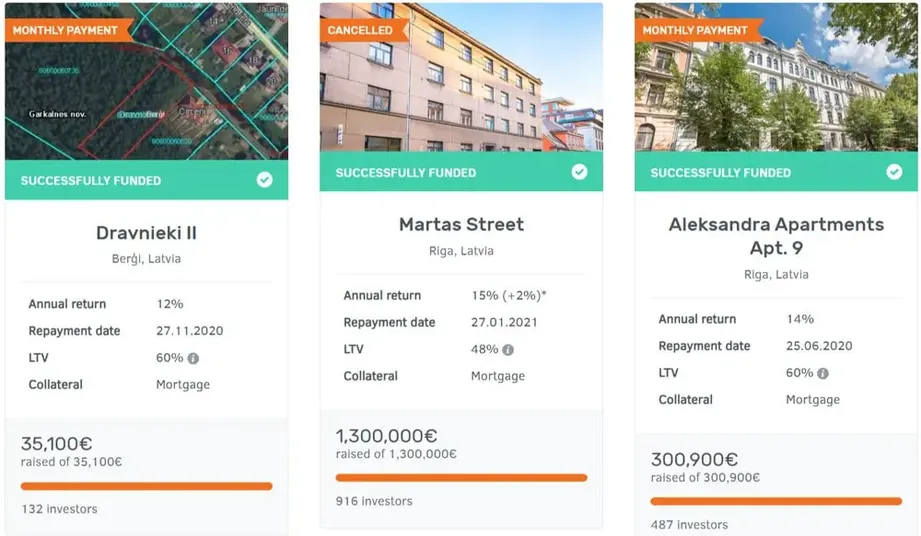 Is Bulkestate Safe?
Who Leads the Company?
Bulkestate is led by its CEO and co-founder Igors Puntuss. He has been with the company since 2015. Igors has long-lasting experience in the real estate sector. Before he co-founded Bulkestate he worked for four years at Rigas Namu Parvaldnieks, which is a company that manages residential housing around Riga.
Who Owns Bulkestate?
Bulkestate was co-founded by Igors Puntuss and Karlīna Skalberga. According to Bulkestate's support both have 50% ownership of the company.
Unfortunately, there is no mention of Karlīna on the team page on Bulkestate. This leaves us with the impression that Karlīna isn't involved with the operation of the platform.
👉 How to Conduct Your Own Due Diligence in 10 Minutes
Are There Any Suspicious Terms and Conditions?
We also recommend reading through the terms and conditions to get familiar with the contract. Let's have a look at some of the more important clauses on Bulkestate.
Clause 4.9 - Withdrawals
According to clause 4.9, the user may at any time request to withdraw their positive balance from Bulkestate.

This should give some legal ground in case Bulkestate would postpone any withdrawal payments.
Clause 8.2 - Separated Funds
In section 8.2, Bulkestate states that your claims aren't included in Bulkestate's assets.

This is a good sign, as this means that in case Bulkestate goes bust, you still have your claims against the borrower. Bulkestate also keeps your funds on the platform separated from Bulkestate's business bank accounts.
Clause 10.4 - Liability
As with any P2P lending site, Bulkestate isn't liable for any loss that you might occur by investing in real estate projects.

After all, this is valid for any P2P investment regardless if its in real estate or short-term consumer loans.
Clause 14.5 - Amendments
In section 14.5, you learn that investors will be informed about any changes in the terms and conditions, 30 days prior to the actual change.

We evaluate this clause as very positive since many other platforms might change the terms and conditions and put the investor at a disadvantage without any legal obstacles.
Do Investors Have Access To Individual Loan Agreements?
Investors can review the cession agreement in their "My Investments" section.
👉 Is Peer-to-Peer Lending Safe?
During our due diligence, we haven't noticed major red flags. Bulkestate's Terms and Conditions are transparent.
What's Our Opinion About Bulkestate?
Bulkestate is a less interesting alternative to other platforms. While the crowdlending site is fairly easy to use, the availability of loans is rather limited and the debt recovery process is unusually long.
Most of the projects are funded within a few hours, which means that you don't have time to do proper due diligence of individual borrowers. Bulkestate also doesn't share any data about the project until it's publicly available for investors.
As soon as the project is funded, investors can't view the project description anymore. While the platform offers a dedicated section about project updates, the information here is regularly outdated.
We have invested on Bulkestate but our loan got delayed for more than 6 months which means that we can't exit our position as there isn't a secondary market.
Bulkestate is not very fast in recovering the debt, even though the loans are often backed by a mortgage. The platform is also not transparent about the performance of its loan book which is why we can't recommend Bulkestate.
Usability
Bulkestate offers very basic functionalities. If you find Mintos or Bondora overwhelming, you will like the user interface on Bulkestate.
Bulkestate's Auto Invest
While Bulkestate does have an Auto Invest feature, is the most basic one we've ever seen… and trust us, we've seen a lot.
You can only set up the following criteria:
Investment amount
Interest rate
Loan term
Unfortunately, the issues with this Auto Invest feature don't stop there…
You should also know that the tool uses the first-come-first-serve principle, meaning it does not guarantee that your funds will be invested. The first investors to set up their Auto Invest will have the priority when investing in individual projects.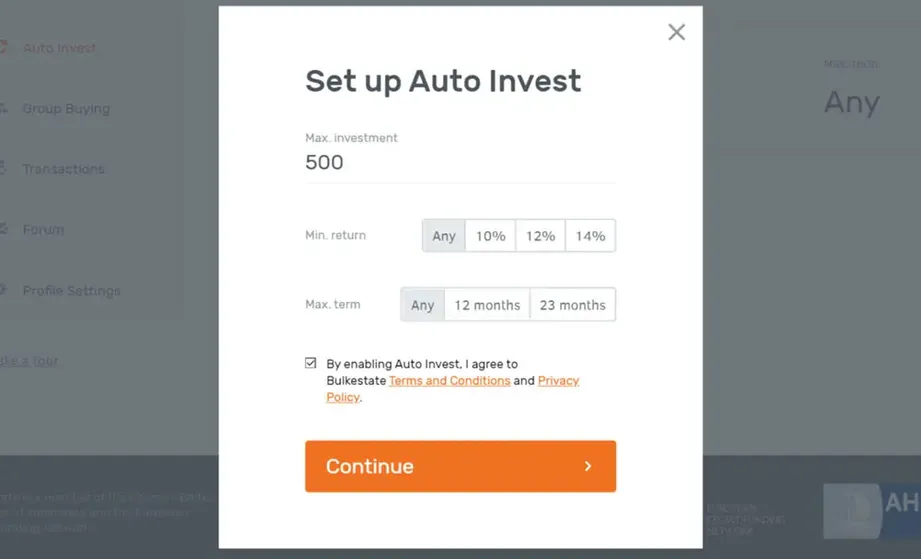 Bulkestate's Auto Invest isn't particularly useful for starters that want to first invest manually and evaluate individual projects before automating their investment strategy.
Troublesome Manual Investing
If you want to invest manually on Bulkestate, you won't be happy.
You can't get familiar with the characteristics and terms of the real estate project, as the project description together with the evaluation report is only visible during the "funding period" or for invested investors.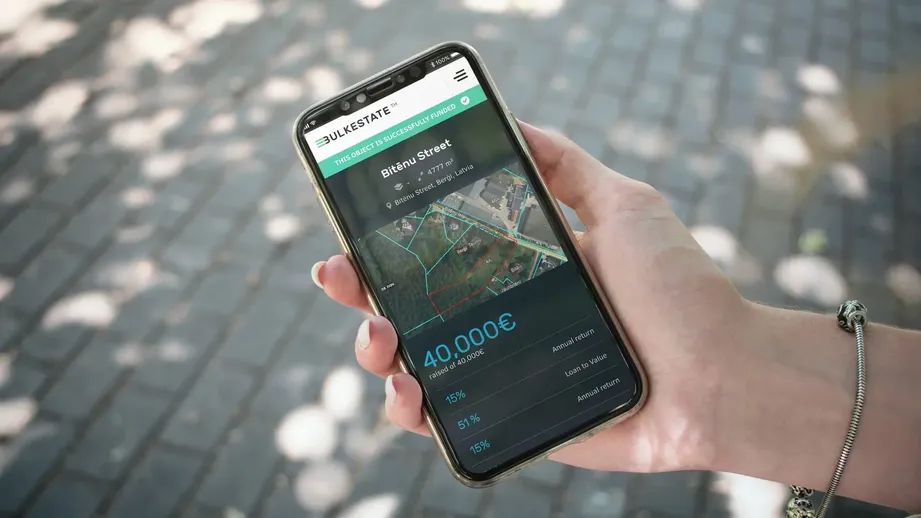 The demand for investments on Bulkestate is higher than the current supply. The real estate projects are funded within minutes as most investors have set up their Auto Invest.
This means that you don't have time to access the platform before the project is funded so you can make your own evaluation.
Group Buying
Bulkestate offers a unique service that is yet to be implemented in any other P2P lending platform. Due to their expertise and good relationship with real estate developers, Bulkestate gives users the possibility to invest directly in real estate.
Let's use an example of a building owner deciding to sell all of the apartments within their building.
Bulkestate can list those on their platform for a discounted price.
Sounds amazing, right? Well, there's a small catch: this deal is only valid if all of the apartments get sold.
But, even so, this unique service often allows investors the chance to get their hands on incredible discounts of more than 20% while investing in real properties.
Where can we sign up?!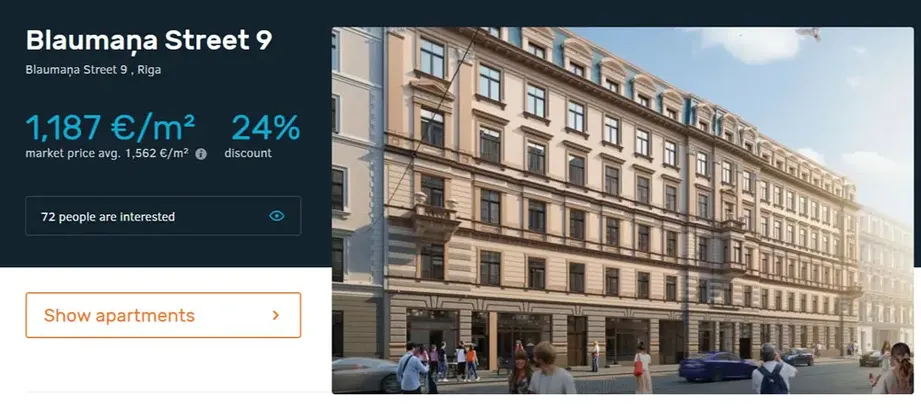 Liquidity
Looking for an early exit?
Bulkestate isn't the right P2P platform for you. There aren't any 'guarantees' or tools that allow you to sell back your claim in case the borrower is late with their payments.
There's also no secondary market where you can sell your investments.
The only way you can withdraw your money is to wait until the end of the loan term.
On the rare occasion that the borrower repays the loan earlier as anticipated, investors receive the accrued interest. In these cases, the minimum amount of accrued interest investors will receive is three months.
If you are looking for P2P lending products that allow you to withdraw your money instantly, have a look at Bondora's Go and Grow. You can also choose to invest in short-term loans on platforms such as Swaper or PeerBerry.
Bulkestate's Customer Support
Having decent customer support is essential when choosing the right P2P lending platform.
At the end of the day, the platform stores and manages your hard-earned money. In case you have any issues or questions, you want to have a responsive partner that helps to resolve your request.
There isn't a live chat function on Bulkestate; however, you can get in touch with the platform via email. We received an answer within a few hours.
Bulkestate was also keen to share financial reports and information about the average loan portfolio which isn't publicly available on their website.
Bulkestate Review Summary
Bulkestate is not a very interesting real estate platform. Higher interest and lower LTV are two reasons why some investors are investing on Bulkestate. Our experience with Bulkestate has not been very positive as the performance of the loan book is rather poor. The transparency surrounding the platform's financial situation is also something that is lacking.
Main takeaways from our Bulkestate review:
Not very transparent
Poor portfolio performance
Limited diversification
Short track-record
Bulkestate is suitable for you if you like investing in property-backed loans on EstateGuru and are looking to further diversify your portfolio. Keep in mind, however, that the loan performance on Bulkestate isn't any better than on other platforms.
Not quite convinced yet? Try other P2P platforms instead.
FAQs
Is Bulkestate good for diversification?
The diversification on Bulkestate is very limited and the loan performance is rather poor which is why it's not a suitable platform for investors who are looking to diversify their portfolios with the goal to decrease the investment risks.
What is LTV?
LTV stands for Loan to Value. In the real estate niche, this represents the ratio of the loan to the estimated value of that property on the market. Most of the loans listed on Bulkestate have a loan value of 55%.
How is Bulkestate different from other platforms?
Bulkestate offers you the possibility to invest in small amounts in a variety of real estate loans but also buy real estate directly for a discounted price.
How is my investment protected on Bulkestate?
Your investment on Bulkestate is protected by a mortgage that covers the loan principal and the accrued interest.