EstateGuru Review
EstateGuru is Europe's most popular and reliable P2P real estate platform. Since 2014 the platform has paid out €58 M in interest to over 154,000 investors. You can invest in property-backed loans with an average return of 10.42%. How? Find out in our EstateGuru review after five of investing on the platform.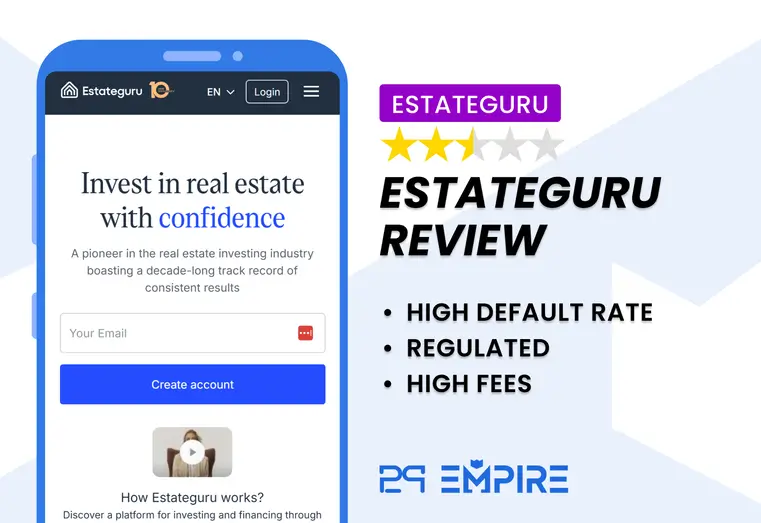 Pros
Well-developed crowdlending platform
Solid risk management
Liquid secondary market
Individual bank account from Lemonway
Cons
Not suitable for short-term investors
2% secondary market fee
35% early exit fee
€1 withdrawal fee
High default rate in Germany and Finland
Click on the video below to learn more about our experience with the platform.
Watch our latest EstateGuru review here:
EstateGuru in Numbers
Are you thinking about joining EstateGuru?
We strongly suggest reviewing EstateGuru's statistics page. It gives you a good idea about the platform's track record, and simultaneously, you can retrieve valuable insights from EstateGuru's loan book.
Navigate to EstateGuru statistics page, click on the "Outstanding Portfolio" tab, and select individual countries in the dropdown field to get a quick overview of how the loans are performing in their respective countries.
Adjusting the investment strategy based on the performance of the outstanding loans is the key to success on EstateGuru. Here are additional resources that might help you define your investment strategy on EstateGuru.
🧾 Is EstateGuru withholding taxes?
EstateGuru does not withhold taxes. You must declare your earnings in the country where you are a tax resident. EstateGuru lets you download tax statements that you can add to your annual tax report.
Evaluating the platform's loan portfolio's track record and historical performance is good practice when investing in crowdfunding platforms.
The default rate of EstateGuru's outstanding portfolio is currently at 23.34%. So far, the platform has recovered more than 30% of the defaulted loans and a 9% return for investors.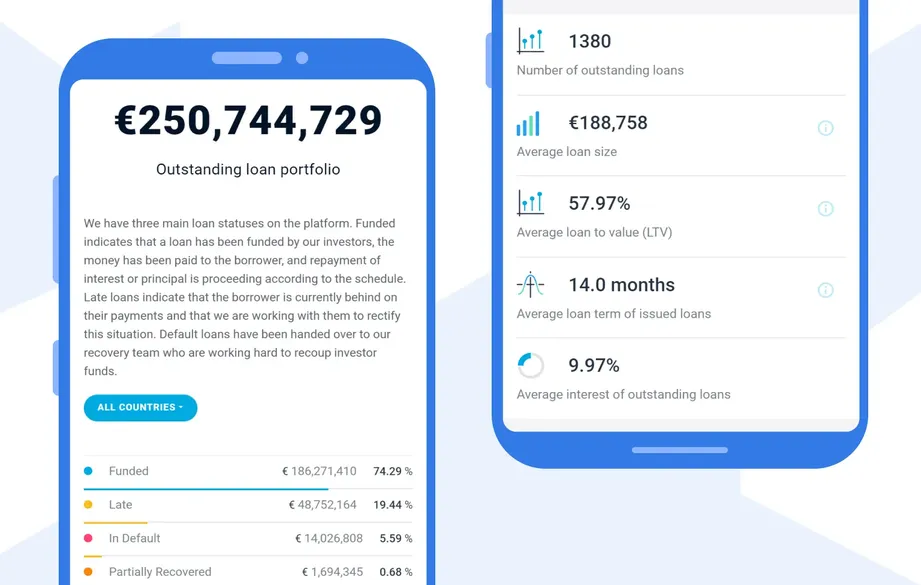 To gather more details about the current default rate and the performance of the outstanding portfolio, head over to EstateGuru's statistics page.
The average recovery period is historically around ten months. This isn't, however, valid for the defaulted loans in Germany, where the expected recovery date is expected to be in 2025.
EstateGuru is also providing annual insights into its audited financial report by Ernst and Young. During our visit to EstateGuru in 2022, the management confirmed that the company had invested significant earnings into growth which is why EstateGuru reported a loss of €2 M in 2021.
Only a handful of platforms offer this additional trust factor. Many of the P2P lending sites do not provide audited financial reports.
EstateGuru Referral Code - Earn 0.5% EstateGuru Bonus
New investors on EstateGuru are eligible to receive an EstateGuru bonus. This is how the EstateGuru referral code works:
With our exclusive EstateGuru referral link, you will receive a 0.5% cashback bonus, calculated from your average portfolio size after the first 90 days of registration.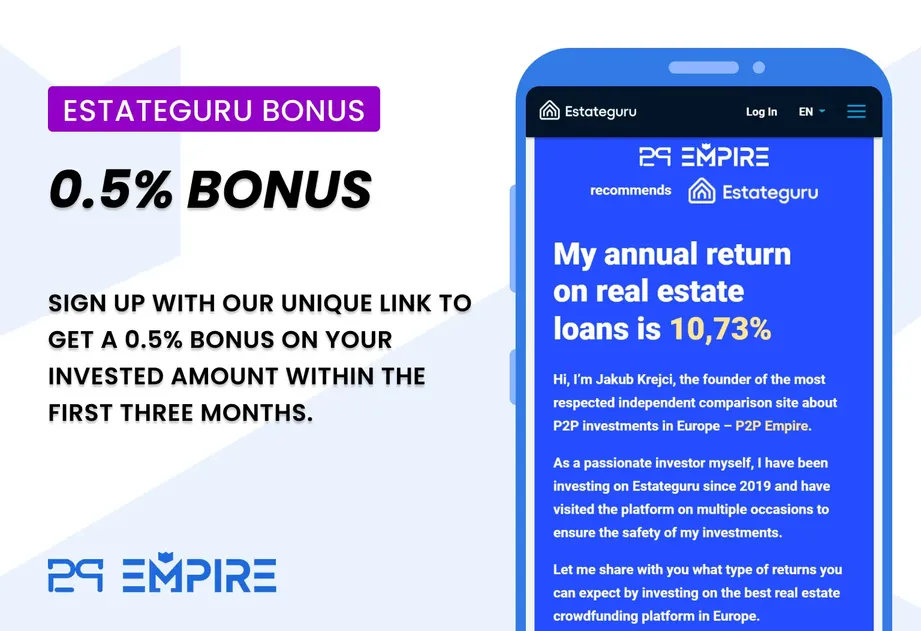 Sign up and invest now to get your 0.5% EstateGuru cashback bonus.
You do not need to type in our regular EstateGuru referral code during your registration to receive this bonus.
Ready to get that 0.5% EstateGuru bonus?
EstateGuru's User Requirements
To sign up on EstateGuru and invest in property-backed loans, you need to pass the following new user requirements:
Be over 18 years old
Have a European bank account
That's it!
If you don't have a bank account yet, we recommend N26. We use this bank ourselves when testing various P2P platforms. The transfer of funds usually takes no longer than one or two days. If you are from a Non-European country, you can use a borderless account from Wise to invest in EstateGuru. Note that you need to have your IBAN to be eligible to register on EstateGuru.
No EUR bank account? No problem
You can invest on EstateGuru even if you reside outside of Europe as long as you have a European Bank account which is required to deposit funds to your new Lemonway bank account offered by EstateGuru. This increases the safety of your uninvested funds on the platform.
EstateGuru offers significantly higher returns than most P2P lending platforms from the UK or the U.S., which makes it an attractive alternative.
Keen to earn 11% interest per year?
Risk and Return
Are you wondering whether investing on EstateGuru is safe? Let's have a look at the securities.
Secured Investments
The most significant advantage of investing on EstateGuru is that a mortgage secures your investments.
This protection scheme is much more valuable than any buyback guarantee found on Mintos, Esketit, or Lendermarket.
While a first-rank mortgage often backs your investments, there is no 100% guarantee that you won't experience a loss at some point. Investing in high-yielding loans is not like putting your money in your savings account.
Analyze the EstateGuru portfolio to find out how to optimize your investments, and decrease the default rate, or keep reading to learn about EstateGuru.
Why can EstateGuru offer up to a 12% interest rate on secured loans? Let's find out in this video:
During every due diligence process, the risk team of EstateGuru evaluates the profitability of the real estate deal. The platform analyzes the borrower's "exit plan" and considers whether the borrower can repay the loan with the accrued interest.
Most borrowers on EstateGuru are experienced developers who buy or build properties and sell them with a hefty profit. During our talk with the Co-Founder and Head of Risk and Innovations, we learned that it's common to earn a 30% profit per year by investing in real estate deals. This is, of course, subject to market conditions.
Most of the borrowers lend only about 50% of the required funds, which means that with a 10% interest rate, the funding cost for the borrower is only around 5% per year. The potential profit of the renovated or constructed property can easily cover the funding cost on EstateGuru.
Assess the Risk Yourself
If you are cautious about money, you want to invest on EstateGuru and inspect every project before investing manually. It's not required, but it's good practice for those ready to become serious about investing on EstateGuru.
Professional Investors on EstateGuru
It's also no secret that EstateGuru is onboarding institutional investors that invest millions of euros alongside retail investors. This significantly improves the platform's credibility as institutional investors conduct a much more complex due diligence than most retail investors.
Risk Management
EstateGuru is the most professional crowdfunding platform in Europe. This fact is supported by its professional risk management process.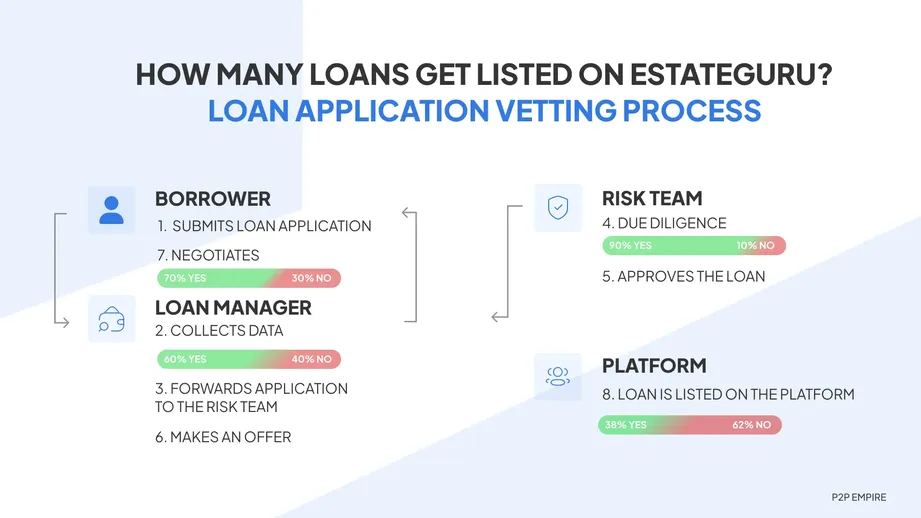 Here is the process that EstateGuru follows for every loan listed on the platform.
Every project listed on EstateGuru comes with a valuation report from certified real estate valuators. Multiple team members review all the collected documents before the credit risk committee approves the loan.
This strict vetting process is also why EstateGuru has a good track record in loan recoveries.
Keep in mind that even this process isn't bulletproof. There are still some risks that could materialize and impact your return.
Is EstateGuru Safe?
Are you wondering who's behind the platform and whether the terms and conditions are legitimate? We have done the homework for you. Check out our results.
Watch our on-site due diligence at EstateGuru's headquarters in Tallinn:
Who Runs the Company?
EstateGuru is founded by Marek Pärtel and Kaspar Kaljuvee. Mr. Pärtel is currently the board chairman, and Mr. Kaljuve is leading the department of Risk Innovations and Risk projects.
EstateGuru's CEO is Mihkel Stamm, which has been with the company since its inception.
Who is the Company's Legal Owner?
CEO and co-founder Marek is joined by Mr. Kristjan-Thor Vähi, who currently acts as a passive co-founder within the platform.
Other partners and co-founders also include Mr. Marko Arro (responsible for the financial side) and Mr. Kaspar Kaljuvee (who takes care of the risk side).
Are There Any Suspicious Terms and Conditions?
Are you ready to read through 25 pages of fine print? No? We thought you'd say that, so we've done it for you, and here's what we found.
Clause 12 - Debt Collection Explained
During our investment journey on EstateGuru we have talked to various people from the management, including Andres Luts, the Chief Risk Manager at EstateGuru. If you are interested in learning more about debt collection, you can watch our interview here.
It's good to see that this process is also mentioned in EstateGuru's terms and conditions.

Here is one of the funded projects we have had the chance to visit during our on-site due diligence in Tallinn.
Clause 4.5 - Storage of Funds
EstateGuru currently stores your funds in EstateGuru's bank account, which is separated from other companies' business accounts.

EstateGuru confirmed that it's currently working to introduce dedicated IBAN accounts in partnership with its partner Lemon Way. Most investors have already received a new IBAN account, which increases the safety of uninvested funds.
Clause 15.1 - Amendments
EstateGuru can amend the terms and conditions without prior notice.

This is one of the few things we dislike about EstateGuru.
Fortunately, EstateGuru listened to our suggestions, and from now on, you will be notified about any changes when logging into your account.

While EstateGuru won't notify you in advance, it's certainly a good step towards being even more transparent with you.
Do Investors Have Access to Individual Loan Agreements?
Investors on EstateGuru do have access to individual loan agreements. You can view them in the Documents section of your investor's account.

When completing our due diligence of EstateGuru, we did not find anything extraordinary or suspicious about EstateGuru's team members.
Curious about what else we look at when conducting our research?
Potential Red Flags
Potential breach of internal processes by the management team in Germany in 2020/2021
Learn more about possible red flags here.
What's Our Opinion about EstateGuru?
We have been investing in EstateGuru for several years and even met the team in Tallin twice to visit some real estate projects and talk to the management.
EstateGuru is a legitimate business with a proven track record and a large team, so we continuously increase our investment in EstateGuru.
The platform has an excellent track record, despite facing many challenges in 2023, mainly due to it's defaulted loans in Germany.
Remember that loans can default on any platform; at some point, EstateGuru might not recover all of the loan principal.
In most cases, EstateGuru has always managed to retrieve the outstanding balance with a positive return for you.
That's exceptional, so we have used EstateGuru as one of our primary P2P lending sites for more than four years.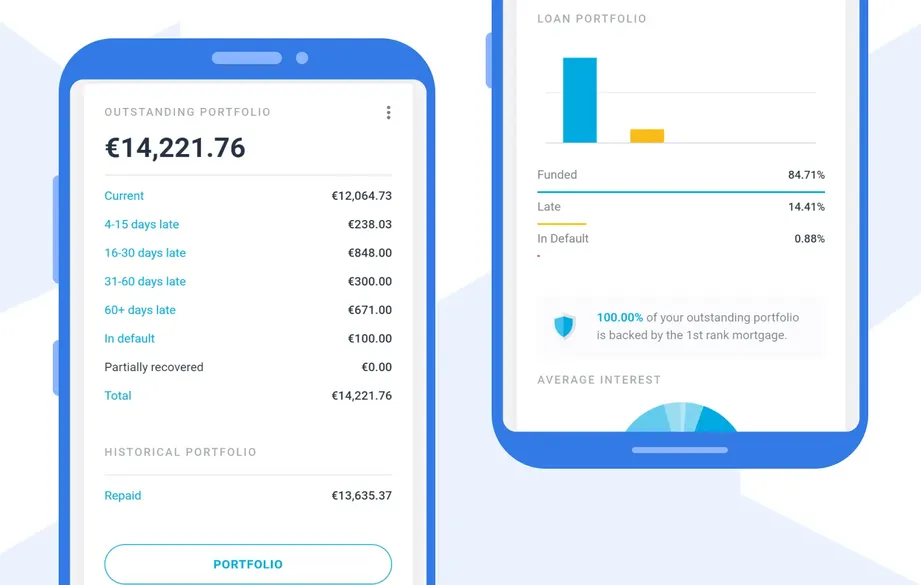 Here is a sneak peek into our current EstateGuru portfolio. Our portfolio has grown to more than €14,000.
Our portfolio is well-diversified, and all our investments are backed by a first-rank mortgage.
We invest only manually on EstateGuru, which allows us to vet individual projects and allocate funds according to our risk profile. Our focus are projects from the Baltics.
Using automated investment strategies can lead to increased delayed or defaulted loans from Finland or Germany.
EstateGuru is a suitable platform for more advanced investors who don't mind spending a few minutes per month to analyze potential investment opportunities.
If your goal is to diversify your portfolio across mortgage-backed loans, EstateGuru is an excellent option.
The platform has plenty of available loans to invest in, so you won't be suffering from cash drag, as it is often the case on other platforms.
Based on our long-lasting experience with EstateGuru, the platform's track record, and numerous talks with the risk management team, we can confirm that EstateGuru offers the best risk and return ratio for European investors interested in investing in secured loans.
Ready to join as well?
Usability
Regardless if you are starting out or already investing on other platforms.
Investing on EstateGuru is simple and intuitive.
You can either invest manually or set up your Automated Strategy and let the tool do the work for you.
Automated Investment Strategies
EstateGuru has recently upgraded its Auto Invest and introduced a new way to diversify your portfolio with Automated Investment Strategies.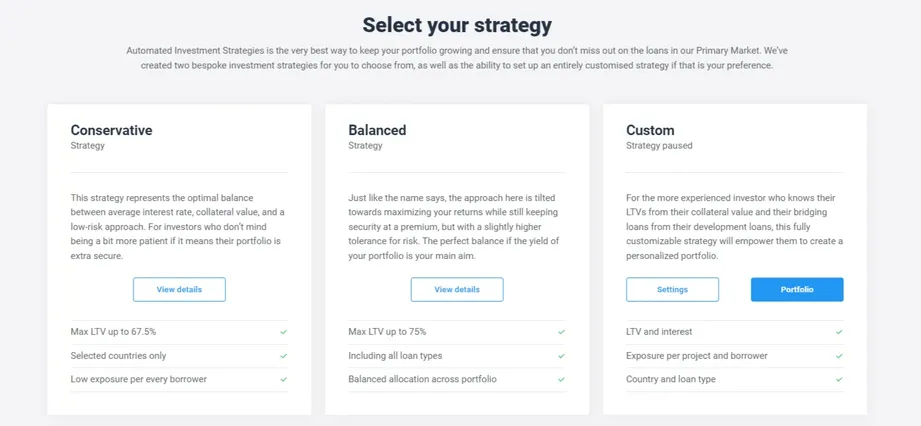 You can choose between three strategies:
Conservative
Balanced
Custom
Conservative Strategy
The pre-defined conservative strategy will diversify your portfolio across loans with the following characteristics:
LTV up to 67.5%
Only Bullet (incl. Annuity) Loans
No Stage Loans
Only bridge loans, business loans and development loans
Only Loans from Estonia, Germany, Finland, Lithuania, Latvia
Max. exposure per loan can be customized
Only first-rank mortgages
Up to 18 months
Our Thoughts On The Conservative Strategy
The conservative strategy is suitable for investors who regularly deposit a few hundred Euros per month on EstateGuru and prefer stable lower returns from projects with a lower risk (and LTV). This strategy avoids multiple investments in stage loans, which lowers your risk significantly. You can also easily control the exposure into a single loan. The downside of this strategy is that you can't exclude loans from certain countries where the default rate tends to be higher.
Balanced Strategy
The balanced strategy suits investors who prioritize higher returns and lower cash drag. It comes with the following pre-defined settings:
LTV up to 75%
Stage Loans are included
All Countries are included
Max. exposure per loan can be customized
Any loan securities are accepted
Up to 60 months
Our Thoughts On The Balanced Strategy
The balanced strategy includes all countries, including markets such as the Netherlands and Spain, where EstateGuru is just starting. Using this strategy, you will invest in multiple-stage loans, increasing your exposure to a single project. It's a strategy that will diversify your portfolio across all projects, significantly increasing your risk. To lower the risk within this strategy, we suggest keeping the max. exposure to a single loan at €50.
Custom Strategy
The custom strategy is the improved Auto Invest with new settings that let you define the exposure to a single project and individual borrowers.
The most significant benefit of all strategies is that you can use them with minimum exposure to a single loan from €50.
Which One is the Best Strategy?
This depends on your risk tolerance. Based on our experience with EstateGuru, we would either suggest the conservative or the custom strategy, where we would exclude stage loans and limit the exposure per borrower. If you want to take control of the risk, manually investing is the best approach.
Watch this video to pick the best strategy for you:
Investing on EstateGuru Manually
EstateGuru's basic Auto Invest won't let you control your investments if you invest lower investment amounts. Here are some points you should evaluate when choosing your own loans on EstateGuru.
All eight factors will help us determine whether the particular real estate investment fits our investment strategy on EstateGuru.
Our EstateGuru Strategy
We use EstateGuru to invest in property-backed loans for around 12 months. This helps us diversify our risk within the P2P lending industry as we also invest in the business and microloans on other platforms. Most of the loans in our portfolio are chosen manually. We are very conservative in evaluating investments from Germany and Finland, as those tend to have a higher default rate in recent months.
Our Evaluation Methodology
Interest Rate
While we look at the interest rate, it isn't a significant factor on EstateGuru as most projects offer annual yields between 10% and 12% anyway.
Loan-to-Value
What we prioritize is the LTV (loan-to-value). The lower the LTV, the lower the risk of default. According to EstateGuru, the real estate market would need to drop by 50% to 60% for the investors to lose their investments (in case the property would need to be liquidated, which is unlikely). We aim to fund projects with an LTV of less than 70%.
Project Stage
In the next step, we look at the stage of the project. Construction companies expect to take loans in stages in the real estate development industry as they don't need the entire loan amount at once. If we have already invested in the same project but in a different stage, we only invest more into the same project if we haven't spotted any past delayed payments from the borrower.
You can look up your late loans in your portfolio.

In which exact stage you invest doesn't matter. If the loan defaults, all the stages will likely default and after the collateral is sold, investors will be repaid proportionally rather than chronologically.
Loan Period
We aim not to commit our capital for too long, so we only fund projects for 12 months or less.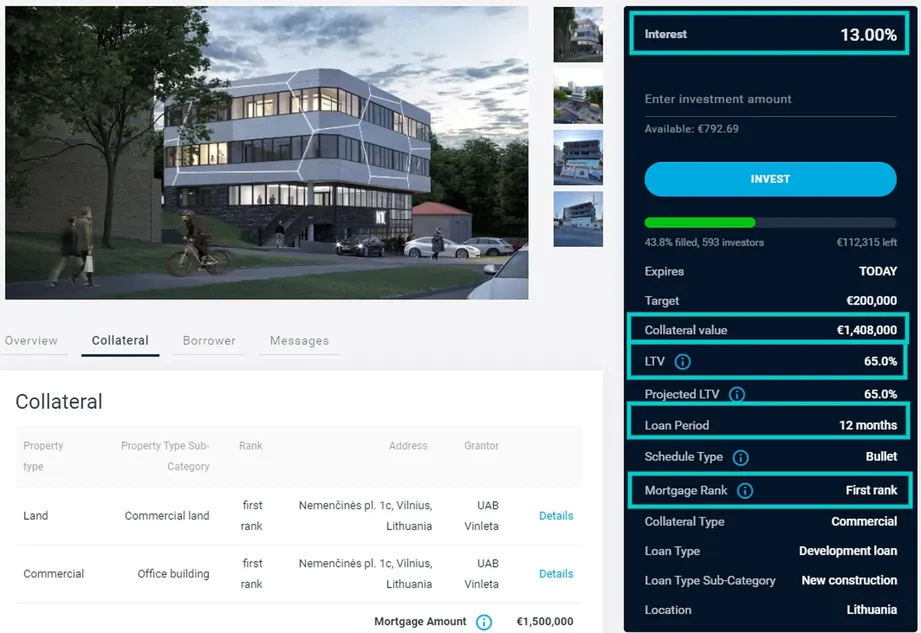 Mortgage Rank
Always look at the collateral value and the mortgage rank. We exclusively invest only in first-rank mortgages. We don't see a reason to invest in second-rank mortgages.
Valuator
The risk of your investment in real estate is always reflected by the valuation of the property, which is why you better look into the company that is evaluating the collateral.
In this case, the evaluation was done by Inreal, a licensed real estate company from Lithuania. Do a quick Google search about the validator to ensure it's a legitimate and licensed company.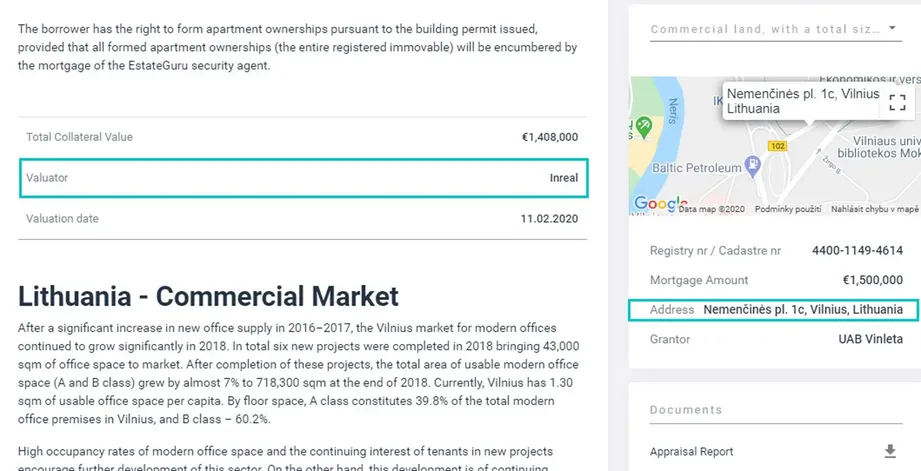 Licensed real estate agencies mostly do the collateral (securities) evaluation. Those documents, together with the borrower information and the business plan, are double-checked by the EstateGuru risk team (Credit Committee), who also sets the loan terms.
Location
Location is often the most critical value-adding factor. Our strategy is to invest in metropolitan areas as the properties close to cities tend not to lose as much value during an economic downturn as in the countryside.
You should research the property's address, which serves as a mortgage, and verify whether there is a good connection to the city.
More experienced investors might also consider excluding certain countries where the default rate is historically higher. Finland or Germany could be two countries to exclude, depending on your risk tolerance. We recommend analyzing EstateGuru's loan book to understand the performance of the platform's loans.
Borrower's History
Would you like to borrow money from a company that had difficulties paying back in the past? Let's hope not. Have a look at the borrower's history to see whether you can spot any delays or defaults.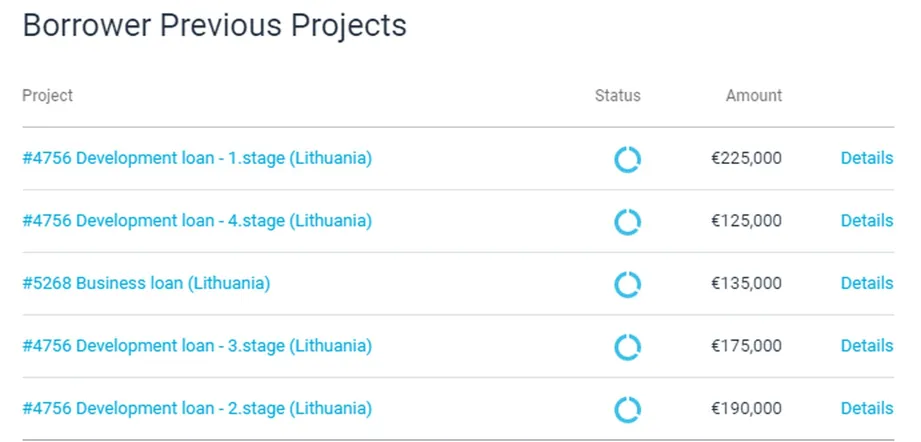 Unfortunately, if you haven't invested in previously funded projects by the same borrower, you won't be able to see the loan details. What you can see, however, is the status icon. If it's blue, it means there are no delays. If the icon has an orange part, the loan is delayed. The red icon represents a defaulted status.
It might appear like a hassle to evaluate real estate projects, but you can do your evaluation in less than five minutes as soon as you get the hang of it. This process will significantly increase the control over your investments as compared to using the Auto Invest.
You want to know where you invest your money, right?
The downside of not using Auto Invest is that you might limit your diversification.
You might also encounter cash drag if you end up with uninvested funds in your account. To compensate for this, you can increase the minimum investment amount to €300 or €500, depending on your total portfolio amount.
If you can spend ten minutes per week evaluating your real estate investments, we suggest doing so.
Investing on the Secondary Market
The strategy mentioned above applies to manual investments on the primary market, meaning you invest directly in newly originated loans.
EstateGuru has a dedicated secondary market, which you can use if you have uninvested funds in your EstateGuru account.
A secondary market is where you can sell or buy investments before the end of the investment period.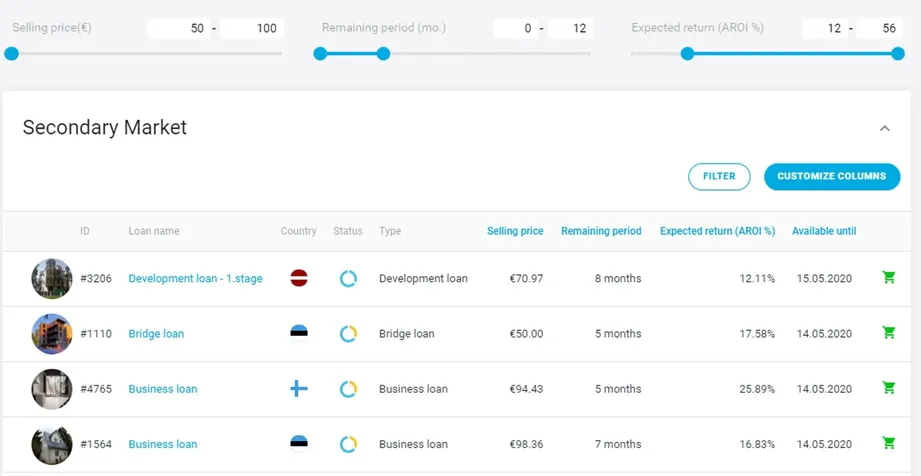 You can use filters to sort offers based on your preferences (your investment strategy). You can also sort the columns as you wish.
You will get additional information about real estate investment if you click on the small shopping cart icon.
You can only buy the entire investment on the secondary market and not a part of it. If someone sells an investment for €1,740, you must buy the total amount.

You should also look at the "seller expected earnings" and "buyer expected earnings" and match this with the loan updates.
In this scenario, the borrower cannot repay the loan, and EstateGuru is taking over the collateral.
While it seems like a good deal since the end of the loan term is within two weeks. The loan principal's actual recovery can take months, making the "buyer expected earnings" a blurry estimate. Likely, you won't receive the loan principal at the end of the official loan period if you invest in this loan.
Investing in the secondary market certainly takes more time. If you spot a good deal where the likelihood that Borrower will repay the loan in time is very high, you can use the secondary market to increase your yields.
The secondary market could also be helpful if there aren't enough loans available on the primary market. EstateGuru has also just introduced a feature that allows you to buy bulk investments on the secondary market.
There is currently no Auto Invest feature for the secondary market, so manually investing is time-consuming. The return on time spent doing your research might not be worth it.
How Fast Can You Cash Out?
Now it's time to look at how fast you can withdraw money from EstateGuru.
Do you think about liquidity when choosing their P2P lending platforms?
No? You should, though!
With EstateGuru you usually commit your money for at least 12 months. You have, however, the option to use the secondary market and cash out before the end of your investment period.
Note that if your personal default rate is high, the liquidity of your investment is limited. The more defaulted loans in your portfolio, the lower the liquidity of your assets.
Selling on the Secondary Market
You can sell your investments for a premium or discounted price. Sellers and buyers should know that this isn't a trading platform and that you will be charged a 2% fee if you sell your investments.
Buyers also cannot sell their claim within 30 days after purchase.
To sell your claims on the secondary market, you must go to your portfolio and click on the shopping cart next to your investment claim.
Next, you can use a slider to adjust your discount or premium. Your investment will be listed on the secondary market by clicking Sell My Claim.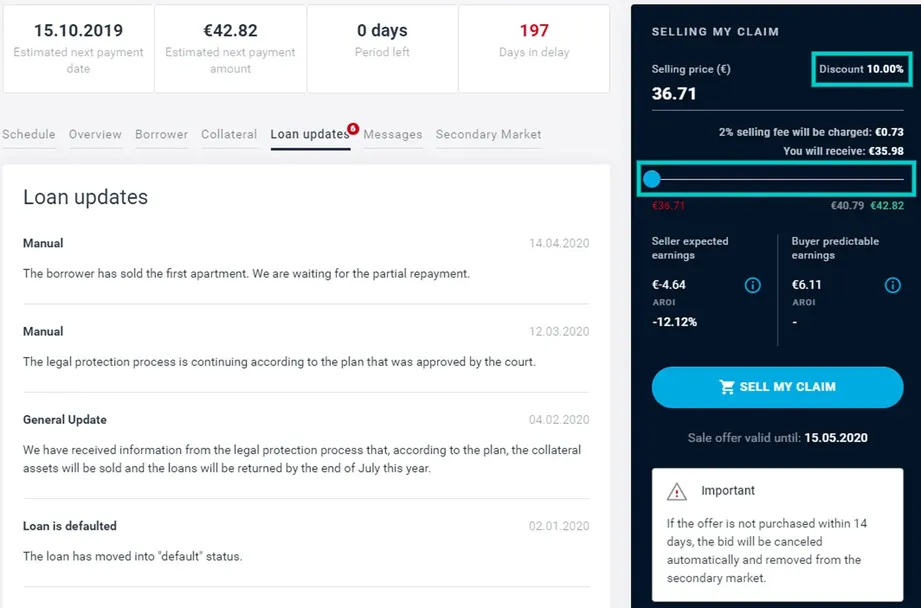 Note that your offer on the secondary market is only valid for 14 days. EstateGuru also applies a selling fee of 2%. In our case, it would be €0.73 if we decide to sell our investment and reinvest the capital into new loans.
A 2% fee won't break the bank if you need to withdraw your investments fast.
You should also remember that you might fail if you plan to sell defaulted loans. Investors have little appetite to buy off defaulted loans, so you might need to wait until the loan is recovered.
Early Exit Option
EstateGuru has recently introduced an option allowing you to exit selected investments for a 35% discount immediately.
You can now sell your investments from Latvia, Lithuania and Estonia by selecting them in your portfolio section and selling them immediately instead of listing them on the secondary market. EstateGuru will repurchase your assets from EstateGuru's limited reserve fund.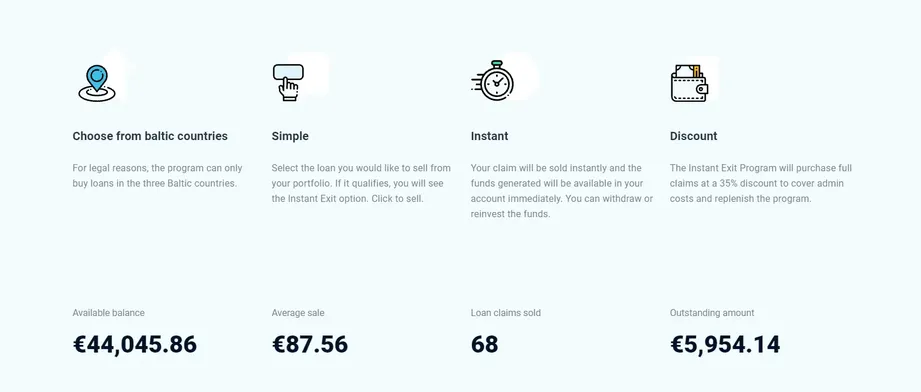 How does the Instant Exit Option work?
Select the claims from the Baltics that you wish to exit immediately
Click on "Sell Immediately" instead of listing them on the secondary market
If there is enough money in the reserve fund, the tool will sell your investments and EstateGuru will add the remaining balance to your account
The Instant Exit Program will purchase entire claims at a 35% discount
This "Instant Exit Feature" lets you immediately liquidate some of your investments. Apart from the 35% discount, there are no further fees. Remember that this option should be used only as a last resort due to the high exit discount.
EstateGuru is the first crowdfunding platform that offers an instant exit option. This increases the liquidity of your portfolio and enables fast withdrawals.
Do you enjoy this review? Invite us for a coffee ☕
EstateGuru's Customer Support
EstateGuru's customer support is excellent.
When we reached out to EstateGuru to verify information or explain specific features in more depth, EstateGuru got right back to us.
The team responded within 24 hours, but they were also keen to meet us during our trip to Tallinn to show us some of the projects they were working on. EstateGuru's CEO is always very open to join us for an interview and answer critical questions.
There aren't many P2P platforms in Europe that are as transparent with their investors as EstateGuru.

We're confident you won't be disappointed with EstateGuru's customer support as long as you can manage your expectations.
EstateGuru Review Summary
EstateGuru is the best real estate P2P platform in 2023. Our experience investing in mortgage-backed loans on EstateGuru has been very positive. EstateGuru offers relatively safe investments that can earn you, on average, 10.42% interest annually.
Main takeaways from our EstateGuru review:
Legitimate platform
Mortgage-backed investments
Excellent risk assessment in the Baltics
Professional debt collection
Are you still with us? Sign up on EstateGuru and get a 0.5% cashback bonus. It only takes 2 minutes.
Ready to become a real estate investor?