Afranga Review
Afranga is a Bulgarian P2P lending platform that allows you to invest in consumer loans from the Bulgarian lending company StikCredit. This recently launched P2P lending platform offers you the chance to earn 12% interest per year by investing in loans secured by a buyback guarantee. Find out more about Afranga in our in-depth review.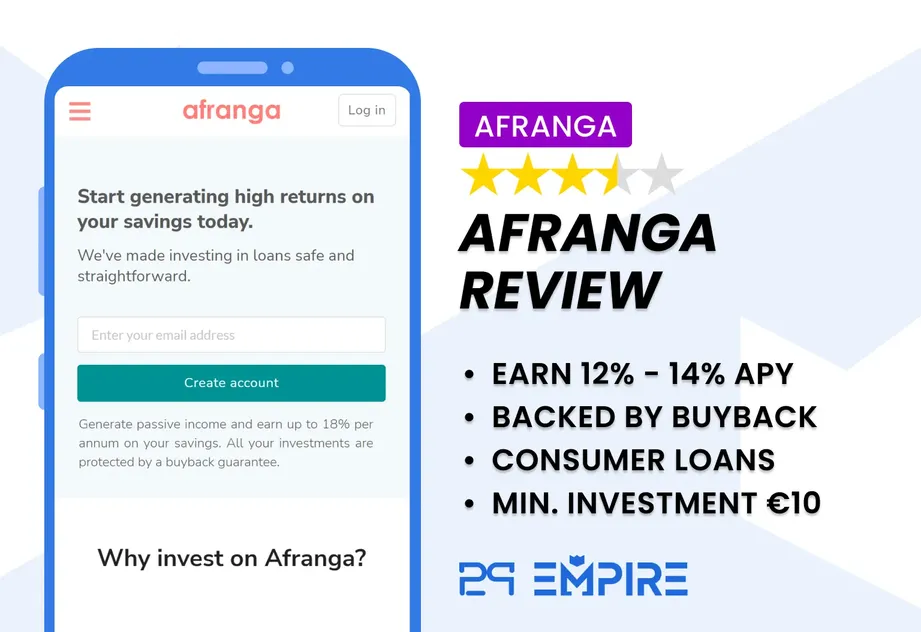 Do you prefer to watch a video? Here is all you need to know about Afranga.
Pros
Reliable buyback and group guarantee
High interest rates
Easy to use
Cons
Frequent cash drag
Limited diversification
Afranga in Numbers
Afranga launched its operations in early 2021, making it one of the newest P2P lending platforms. The platform is backed by the Bulgarian lender Stikcredit, well-known amongst experienced investors.
Stikcredit started its lending operations in 2013. The company focuses exclusively on lending money to Bulgarian borrowers. The lender issues short-term loans as well as installment loans with a duration of up to 24 months.
Currently, Afranga is listing installment loans with a loan term between 5 and 10 months and an interest rate of 12%.
The effective APR for installment loans is between 39% and 49%. This is a relatively conservative interest rate for borrowers compared to many payday loan lenders in and outside of Bulgaria.
Stickredit AD is licensed and regulated by the Bulgarian National Bank.
Afranga Bonus
Afranga is not offering any cashback bonuses for new investors as the company's funding needs are fulfilled with the current investor base.
Afranga's User Requirements
You need to meet certain requirements to earn interest by investing in loans on Afranga.
Be over 18 years of age
Have citizenship in an EU / EEA country
Have a bank account in an EU / EEA country
Be resident in a country that has equivalent AML/CFT standards, like in the European Union
Pass the verification process
Afranga is listing loans in EUR, so we recommend depositing money from your EUR account to avoid currency exchange fees. Afranga advises only to transfer EUR to your account. If you don't have a EUR account, you can open a free EUR bank account with Transferwise or N26.
Risk and Return
The risk and return ratio is the most important metric that you should consider when investing in loans. When investing on Afranga, you are currently only funding loans from Stikcredit, which means that your diversification is very limited to just one lender in one market.
As mentioned in the previous section of our Afranga review, Stikcredit is a well-established lending company with a decent track record.
Buyback Guarantee
Like many other competitors such as Lendermarket, Moncera, VIAINVEST or TWINO, Afranga also offers a 60-day buyback guarantee.
If the borrower is delayed with its payments for more than 60 days, Stikcredit will repurchase the claim back from you and repay the loan principal and the accrued interest.
This guarantee is directly connected to the financial performance of the lender as well as the quality of its portfolio.
Let's look at some additional data that will help you to evaluate the buyback guarantee.
Financial Reports from Stikcredit
Afranga was happy to provide us with audited financial reports for 2019 and 2020. Remember that the reports are from the Stikcredit lender rather than the platform, as Afranga only launched in 2021.
| Financial Report | Profit |
| --- | --- |
| 2019 | €1.67M |
| 2020 | €2.3M |
As you can see, Stikcredit managed to be profitable even during challenging times when many other lenders struggled due to the COVID-19 pandemic in 2020.
You should also pay attention to the percentage of the loan book funded from P2P investors and from its balance sheet.
Stikcredit is well known in the industry, and the lender used to fund its loans via various marketplaces.
Is Afranga Safe?
If you are considering investing in loans, you should thoroughly research the platform's management and the terms and conditions.
Who Leads the Team?
Afranga is currently led by the COO Yonko Chuklev. Yonko was previously the CFO of a company producing protein balls. He also gained experience in Acuris Risk Intelligence, a London-based company that analyzes user data. Last but not least, Yonko has also worked as an Investment Analyst at Innimmo, a consulting firm in Sofia, Bulgaria.
The core team consists of four more employees responsible for Marketing, Support, and the development of the platform.
Who Owns the Platform?
Afranga is funded by StikCredit and owned by Stefan Topuzakov, Kristian Kostadinov and Svetlin Nikolov. The company was founded in December 2020.
Are There Any Suspicious Terms and Conditions?
Whether you are a pro or just a beginner, it's essential to understand the rights when investing in loans fully. To be safe, you should read the terms and conditions before depositing any funds on any platform.
Storage of Funds
When depositing your funds on Afranga, the money will be stored in segregated bank accounts. This is a standard procedure for most marketplaces.

Amendments
Afranga may amend its terms and conditions as with any other platform. The platform will inform you about changes five days before the new terms take effect.

While you can't review the loan agreements as an unregistered user, you can simply sign up for free and head to the primary market to review the documents. Verifying your identity is not required if you just want to look at the assignment agreements between you and the lender.

Potential red flags
Currently, we are not aware of any red flags.
What's our Opinion of Afranga?
Afranga makes an excellent first impression. We have had a few emails back and forth with the support to verify and confirm specific numbers.
The platform ticks many boxes we look for when evaluating P2P lending sites. During our research, we haven't found any suspicious information about the company or its lending partner.
The lender's reports are audited and prepared following the IFRS. The company has been operating on the market since 2013 and has been profitable in the last two years.
While the diversification of your portfolio is very limited to loans only from Bulgaria, the quality of the loans could be much higher than many of the loans listed on more popular marketplaces like Mintos or Bondora.
Frequent Cash Drag
While Afranga is a reliable platform for many investors, the supply of loans is typically lower than the demand from investors, causing a cash drag.
"Cash drag" means that your funds will remain uninvested as there aren't enough investment opportunities available. This means you won't receive any interest for your deposits to Afranga's account.
If you prefer to earn a stable income on your funds, we suggest reading our Esketit review to learn more about increasing your return while earning monthly interest payments.
Usability
Afranga is a very user-friendly platform. The design is clean and you can easily navigate to all the essential information that you might require. It's much easier to navigate than IUVO's platform, which is also a marketplace from Bulgaria.
Auto Invest
As with most P2P lending platforms, Afranga also offers a tool to automate your investments. The Auto Invest feature is intuitive and takes less than one minute to set everything up. Simply define your preferences and activate your Auto Invest strategy.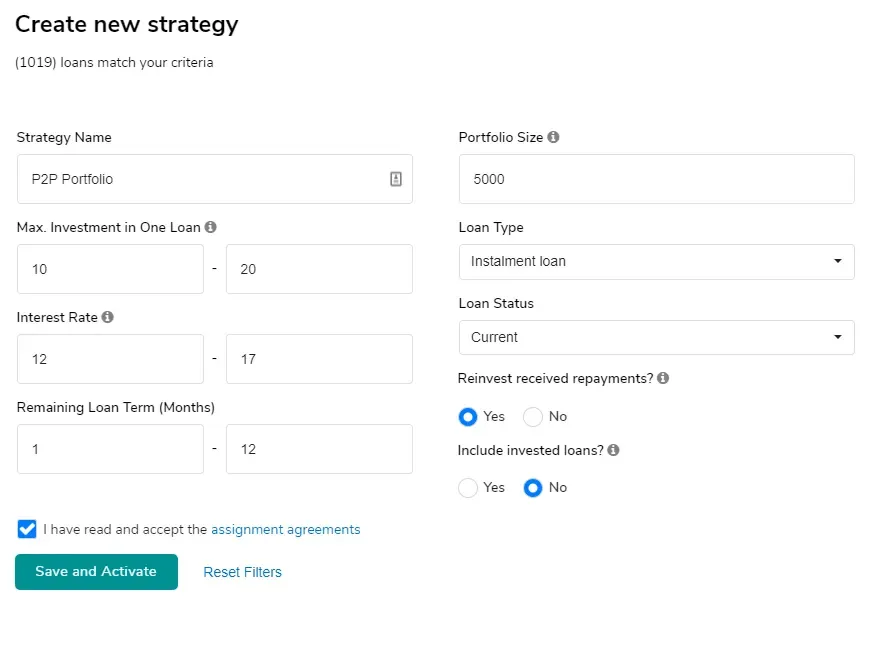 🧾Does Afranga deduct taxes?
Afranga does not charge any taxes on your earnings in Bulgaria. You can see a summary of your account in your dashboard. When you file your taxes in the nation where you are a tax resident, you may download an account statement that you can submit to your tax authorities.
Liquidity
Afranga has a secondary market available. To sell your investments, navigate to My Investment and choose the loans you wish to sell.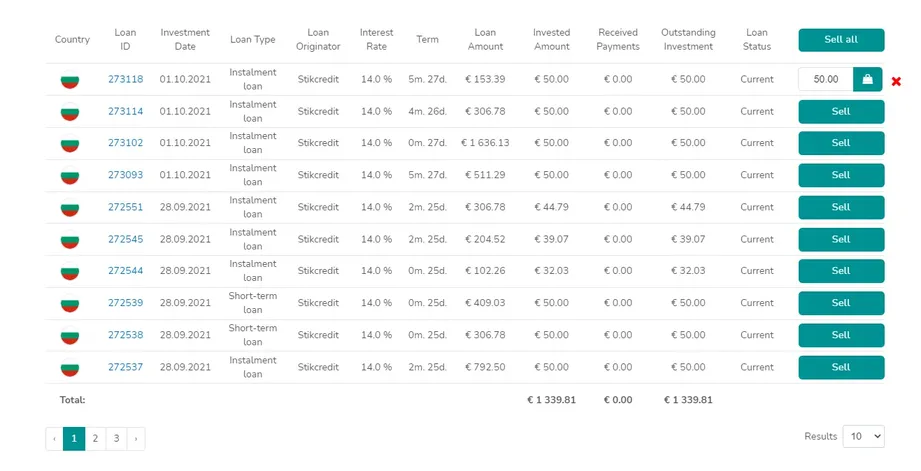 After you have selected your loans, you have to confirm your choice.
In the next step, you will be forwarded to the secondary market view, where you can define the premium or discounts for your loans.
The period until your loans are sold depends on the loan amounts and the current demand on Afranga. Some users have reported that they could sell some loans within one day.
As we are writing this Afranga review, there is no fee for the secondary market.
If you expect to receive accrued interest for your loan, you will have to wait until the loan is repaid.
Support
Afranga's support is very responsive. The platform answered our questions within 24 hours. Afranga didn't hesitate to provide further details that are not publicly available on the website, which we appreciate.
You can reach out to Afranga during business hours at support@afranga.com.
Afranga Review Summary
Afranga is a smaller P2P platform that lists loans from Stikcredit, a profitable lending company in Bulgaria. By investing in loans on Afranga, you will earn up to 12% interest per year, making it the highest return on investment compared to other P2P lending platforms.
Main Takeaways From Our Afranga Review:
Regulated and profitable lender
60-day buyback guarantee
High-interest rate
Responsive support
If you are looking for ways to invest in consumer loans from Bulgaria, Afranga is currently one of the best options.
Ready to earn interest on Afranga?