Debitum Network Review
Debitum Network is a Latvian P2B lending marketplace. You can invest in business loans, backed by a personal guarantee, collateral, or a buyback guarantee. Since 2018 more 2,900 active investors earned over €400,000 by investing on Debitum Network. Is Debitum safe? Find out in our Debitum Network review.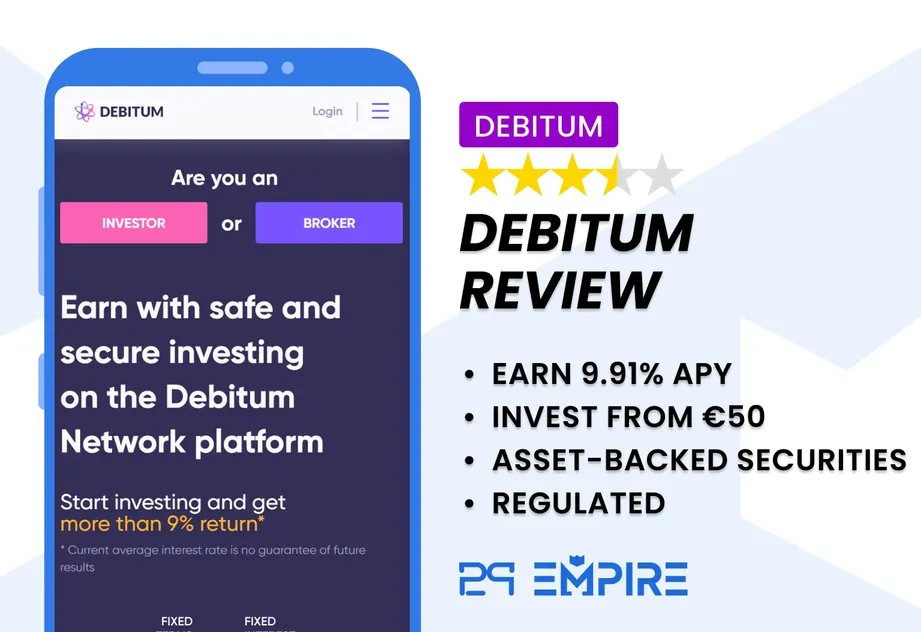 Debitum Network Bonus
If you've invested on a P2P lending platform before, you might be familiar with their cashback bonuses. Usually, you can use a special promo or referral code to receive a sign-up bonus. Often you'll need to deposit and invest a certain amount of money to claim your bonus, and this is also the case with Debitum Network.
€10 Cashback Bonus
If you sign up to the Debitum Network platform with our referral link and invest a minimum of €250 you'll receive a bonus of €10. Note that the bonus will be only added to your account if you leave the money invested for a period of 90 days.
But that's not all.
1% Cashback Bonus
New investors are able to receive a 1% cashback bonus on their first investments over €1,000 in assets with a loan duration of at least 90 days.
You do not need a referral code to receive your bonus; simply register with our referral link.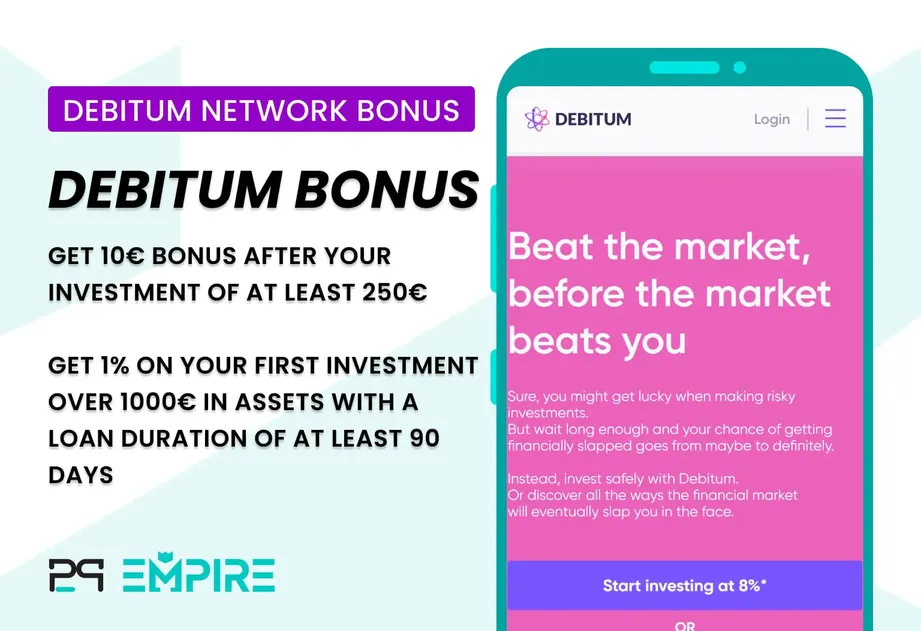 Ready to invest on Debitum Network?
Debitum Network Requirements
You can sign-up on Debitum Network as a private investor or as a company. The only requirements are that you're over the age of 18 and you have a bank account in your name.
During the registration you'll need to provide:
Copy of your ID or passport
Information about your financial situation
Email address
Transferring Funds
You need to pass the verification process in order to transfer funds to your account. Debitum Network accepts funds only in EUR. We suggest using bank transfers as there are no fees connected to SEPA payments.
No EUR bank account? No problem
Deposit only €500 and start earning interest right away!
Risk and Return
When evaluating P2P lending platforms, we always look at the securities provided by the borrowers, loan originators, and the platform itself.
Debitum Network offers investments in financial instruments that include business loans as well invoice financing. The new investment vehicles are also called Asset-Backed Securities (ABS).
What is ABS?
Asset-backed security (ABS) is a financial instrument backed by a pool of loans. Debitum created the ABS to ensure a fixed-term, fixed-income instrument for the investors. It's worth noting that all ABS come with a buyback guarantee like it was the case in the past with investments in loans.
The pool of loans (ABS) on Debitum has always the same characteristics. It could be just loans that are categorized as factoring, trade finance, business loans or car leasing. While the category is identical, there can be differences in maturity and nominal values (loan amount).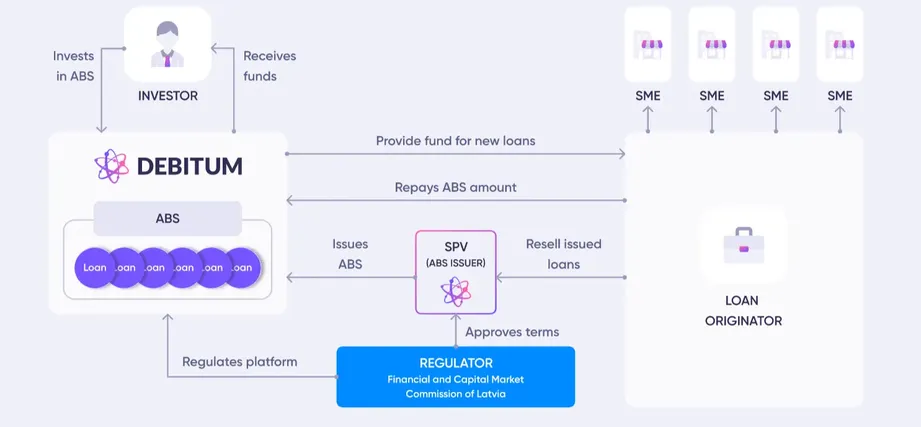 Have a look at this graphic that explains what is an ABS.
The reason why Debitum (and many others) have moved from "claim rights in loans" to "asset-backed securities / notes", were the requirements by the Latvian regulator. The local regulation introduced new rules for P2P lending marketplaces which meant that those companies now have to switch to a different investment structure that offers investments in financial instruments. Apart from the fact that the platform is now "regulated" in Latvia, there is no significant increase in safety. Investors are still exposed to default risks that might occur due to non-performing assets.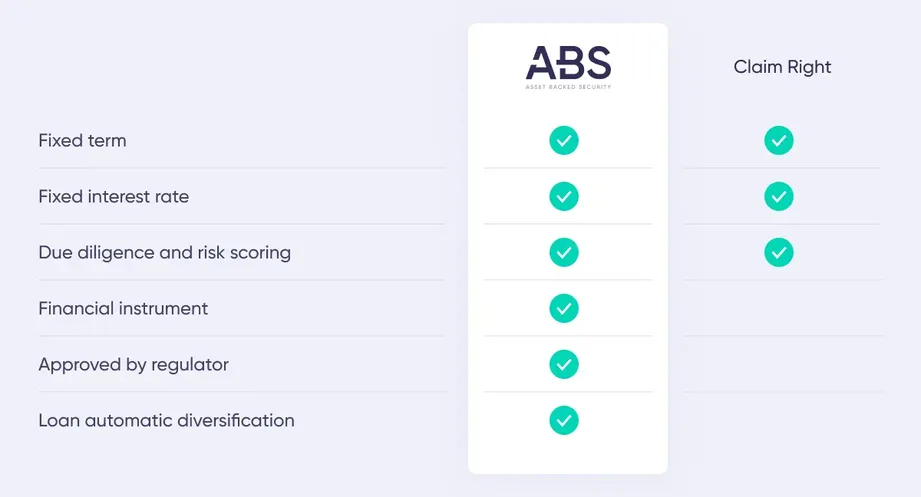 Loan Originators
Debitum is a P2P marketplace or better P2B (peer-to-business) marketplace, which means that the platform offers financial instruments (pool of loans) from various lenders.
Those loan companies are handpicked and closely monitored by Debitum Network.
In fact, Debitum Network claims to vet their applicants so thoroughly that only 10% are accepted to list their loans on the platform.
Working with loan originators will bring additional risks to your investments which are hard to evaluate from your perspective.
Debitum Network collaborates with four loan originators at the moment:
Chain Finance from Lithuania
Evergreen Capital from Estonia
Flexidea from Latvia
Triple Dragon from the UK
If you want to get more information about each loan originator, just head to the loan originator section at the footer of the platform and select the company you're interested in.
Note that the availability of financial instruments from individual loan originators is subject to change.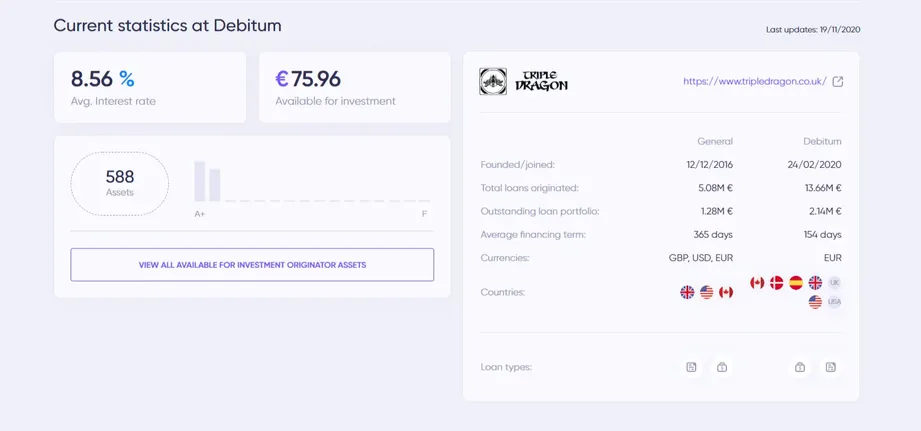 So what's so special about Debitum Network?
In fact, Debitum Network is the only P2P lending site, that was able to spot the poor performance of a lending company and act on it before it went out of business. This cannot be said about Viventor or Mintos.
The protection of your P2P investments is Debitum's top priority.
The platform's biggest strength is the monitoring of its loan originators. Debitum uses third-party risk assessors such as Scorify, Coface, and CRIF as well as their own internal analysis to review and monitor the performance of your investments.
Buyback Guarantee
The majority of loans listed on Debitum Network are protected by a buyback guarantee that is provided by the loan originator.
How does Debitum Network's buyback guarantee work?
If the borrower is late with the loan payment by more than the agreed number of days (which is usually 90), then the loan originator repurchases your claim against the borrower for the remaining principal, alongside the outstanding interest.
Additionally, if the loan repayment is late by more than the grace period (which is typically 15 days), you are eligible to receive a penalty rate on top of the interest.
Meaning the buyback guarantee covers loan principal, accrued interest, and late penalty fee.
Additionally all the financial instruments secured by some additional collateral, which means that the risk for you should, in theory, be lower than investments in unsecured personal loans on platforms like Mintos, PeerBerry, or Robocash.
While this is all really promising, there are downsides to investing on this platform.
Debitum Network usually lists loans with an interest of 8-12%, and a loan term up to two years, and as we conduct this review. Keep in mind that the loan availability can fluctuate and that there is no secondary market.
As we're sure you're well aware: lower risk often results in lower returns. That's something you should always keep in mind when investing in P2P loans.
Is Debitum Network Safe?
You should do your own due diligence when choosing a new P2P lending platform.
Why?
Well, you only have to look at the short-lived platforms Kuetzal and Envestio to see what can go wrong when you don't do your research...
We dug a bit deeper than most financial bloggers when doing our Debitum Network due diligence, and this is what we found:
Who owns Debitum Network?
Debitum Network is founded by three Co-Founders Martins Libert, Donatas Juodelis and Justas Šaltinis.
All of them are connected to the Latvian factoring company Factris, which acquired another invoicing company Debifo back at the beginning of 2019.
Debifo was actually also one of the loan originators listed on Mintos. You can view their old financial reports, before the acquisition with Factris, here.
Martins is still the Director of Inntec which is a software company that helped build the technology for the P2P lending platform Debitum Network.
According to the Latvian business registry, both companies Factris and Inntec are located at the same address and neither have any secured debt.
According to the LinkedIn profile of the two co-founders Donatas Juodelis and Justas Saltinis, they are no longer active in the development of the Debitum Network.
The third co-founder Martins Liberts is popular for its interviews and talks about blockchain within the finance industry.
Who leads Debitum Network?
Sergei Demchuk has joined Debitum Network as the company's new CEO in November 2019. Sergei has been replaced by Mr. Henrijs Jansons in February 2022. According to his LinkedIn profile, he is also the Co-Owner of Manchester United. Previously he worked as a product developer for Creditreform and doFinance.
Are There any Suspicious Terms & Conditions?
Debitum Network gives you the opportunity to view their terms and conditions as well as the assignment agreement before signing up.
We had a look through the contract to see if we could spot any red flags. Here is a quick overview of what we've found:
NB: While we have read many P2P lending contracts, and we're experts in this field, it's worth noting we're not trained in law and we don't provide any financial or legal consultation.
Clause 10.11. - Deduction of Your Funds

The above clause is vague. We're not sure under which circumstances a user would cause loss to the platform, to other users and originators.
Clause 10.3. - Risk of Default
As expected, the terms include a clause to warn you that they could lose all of their invested funds.

Clause 4.6. - Storage of Funds
A rather positive clause is 4.6., where Debitum Network clearly explains that users' funds are saved on segregated bank accounts. In case the platform goes out of business, you should be able to access their funds as they aren't connected to the company.

Clause 14.3 - T&C cannot be changed without prior notice
If you have read our guide about how to not get scammed by P2P lending platforms, you know that reserving the right to change the T&C without prior notice is a big RED FLAG.
Luckily Debitum Network isn't one of those platforms. The P2P lending site gives you 10 days to review and accept the new terms and conditions.
In fact, Mintos has the exact same setup when it comes to changing T&C. Unfortunately Mintos isn't very good in honoring it.

Potential Red Flags
Currently, we are not aware of any red flags
Learn more about possible red flags here.
What's our opinion about Debitum Network?
We have started testing Debitum Network in the spring of 2020. Our investment in the platform has always performed well and we did not experience any defaulted loans.
The platform does an excellent job of monitoring the performance of its lending companies.
Based on our recent conversation with Debitum's founder Martins Liberts, we are convinced that Debitum Network is a good fit for P2P investors who are looking to invest in secured business loans.
Do you enjoy this review? Invite us for a coffee ☕
Debitum Network's Usability
Debitum Network's platform is very easy to use.
Due to the change in investment structure, the platform's Auto Invest is currently not active.
In order to invest in asset-backed securities on Debitum, you will have to invest manually.
Investing manually on Debitum is simple. Just navigate to the primary market ("Invest") via the navigation on the top of the page and select one of the financial instruments.
What's worth mentioning is that most of the ABS are paying interest on a monthly basis, which improves your cash flow.
>Click on individual ABS to review further information or invest in them directly.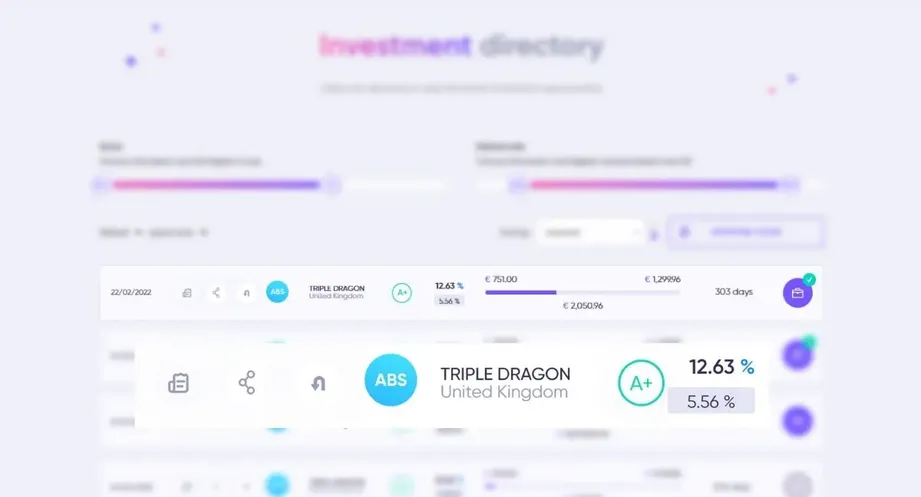 Enter your investment amount (min. €50) and confirm your investment action.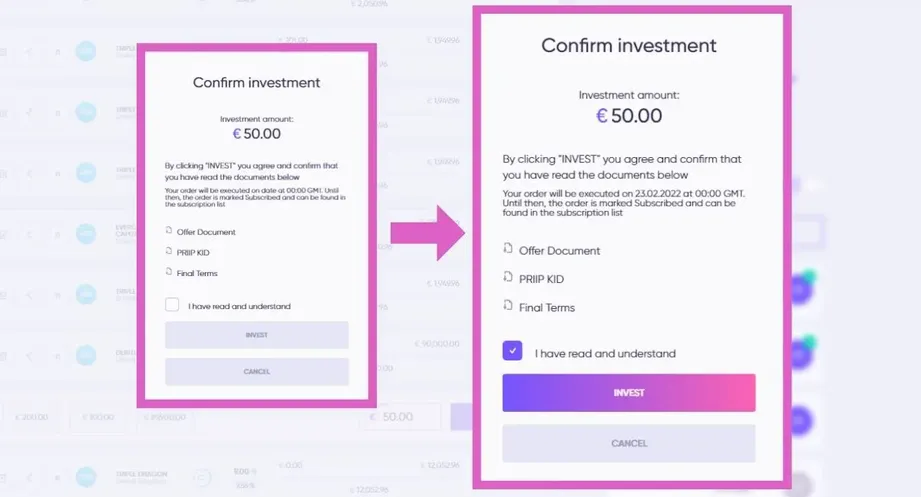 Your investments will be shown under "My Investment" view in your dashboard. Now you can lean back and track the performance of your ABS.
Debitum's ICO and the DEB Token
More experienced investors know, that Debitum Network has participated in a Token Generation Event. The platform sold DEB Tokens (utility tokens) to contributors. The funds from this fundraising event were used to build the platform and expand the business.
According to Debitum's white paper, the platform aimed to solve the credit gap for SMEs. The founder confirmed that the platform still follows this goal.
If you want to learn more about the ICO as well as about the utility plans for the DEB token, we suggest watching our entire P2P talk.
Taxes
Since Debitum Network is now a regulated entity, the regulator requires the company to withhold a tax of 20% on investor's interest repayments.
This applies for:
Non-Latvian residents
Private investors (if you invest as a company, no tax will be withhold)
Investments in ABS
To avoid paying taxes in Latvia, you can apply for a tax-relief status, given the situation that you can provide a residence certificate as well as a dedicated signed tax-relief application that you can download in your dashboard. If all documents are approved, Debitum won't be withholding taxes from your earnings but you have to declare your income and tax it in the country where you are a tax resident. The tax-relief status is valid for 5 years.
How Fast Can You Withdraw Your Money?
Before signing up to a platform, you should be aware of how long it would take to withdraw your entire portfolio.
While Mintos or Bondora's Go & Grow offer you great liquidity with their Invest and Access or Go and Grow products during normal market conditions, most platforms don't.
So, how does it work on Debitum Network?
Well, for starters, there's no secondary market on Debitum Network that would allow you to sell your investments to other investors.
Unless you have enough DEB tokens to liquidate your investments.
Instead, you can only withdraw your money from the platform if you're at the end of the loan term, you receive early repayment, or if the buyback guarantee kicks in.
The loan period on Debitum Network ranges from only a few days to up to two years, and two years is quite a long time to wait if you want to withdraw your money earlier than initially planned.
Having no access to early withdrawals should not be a k.o. criteria, as most your goal as a P2B investor should be to invest long-term on Debitum Network.
Support
Debitum Network has an extensive FAQ section that will answer most of your questions. If you can't find the answers, you can reach out to them via email support@debitum.network.
In fact, we tested the support of Debitum Network on several occasions. The support is very responsive when it comes to answering questions regarding the usage of the platform.
Addressing more in-depth questions takes more time.
Debitum Network Review Summary
Debitum Network is an interesting P2B marketplace that is very easy to use. The performance of Debitum's loans is better than on many other peer-to-peer platforms. Our experience with Debitum has been positive so far. The platform is regulated by the Latvian regulators which increases the trust in the platform's services.
Main takeaways from our Debitum Network review:
Excellent due diligence and monitoring of lending companies
Easy to use platform
Suitable for conservative investors
Transparent communication
If your goal is to invest long-term with a P2B marketplace that puts your interests first, you will be very happy with Debitum Network.
Ready to invest on Debitum Network?
FAQs
Is Debitum Network safe?
According to Debitum's customer support, so far none of the P2P investors ever lost any money. All the delayed loans were repurchased by the loan originators.
Is there a sign-up bonus for new investors?
New investors on Debitum Network, that sign-up with our referral link and invest at least €250 over the period of 90 days will receive a €10 sign-up bonus.
Does Debitum Network offer a buyback guarantee?
All ABS on Debitum Network are secured by a 90-day buyback guarantee. Investors will receive the remaining principal, penalty fee as well as accrued interest.
How do I invest on Debitum Network?
If you are over 18 years old and hold a European bank account, you can register on Debitum Network. During the registration process, you will need to answer a few questions and verify your identity. Then, you can start investing with as little as €50 in a single loan!