TWINO Review Summary
TWINO is a suitable P2P lending site for short-term loans. The P2P lending platform offers an auto investment and a secondary market. The user interface is very intuitive. You can expect to earn around 10% interest per year by investing in loans from the TWINO Group.
Key Takeaways From Our TWINO Review:
Easy-to-Use P2P lending platform
Frequent changes in management
18% of funds are stuck in Russia
Good support
If your goal is to invest on profitable lending companies that can protect your investments, TWINO is certainly a good option for you. Join us by investing on TWINO and start earning money online.
What Is TWINO?
TWINO is a Latvian P2P lending platform founded in 2009. Since then, the P2P platform has paid out more than €12 M in interest to more than 24,000 investors. By investing in unsecured loans with a duration of up to three months you can earn up to 12.6% interest per year. Read our TWINO review to learn more.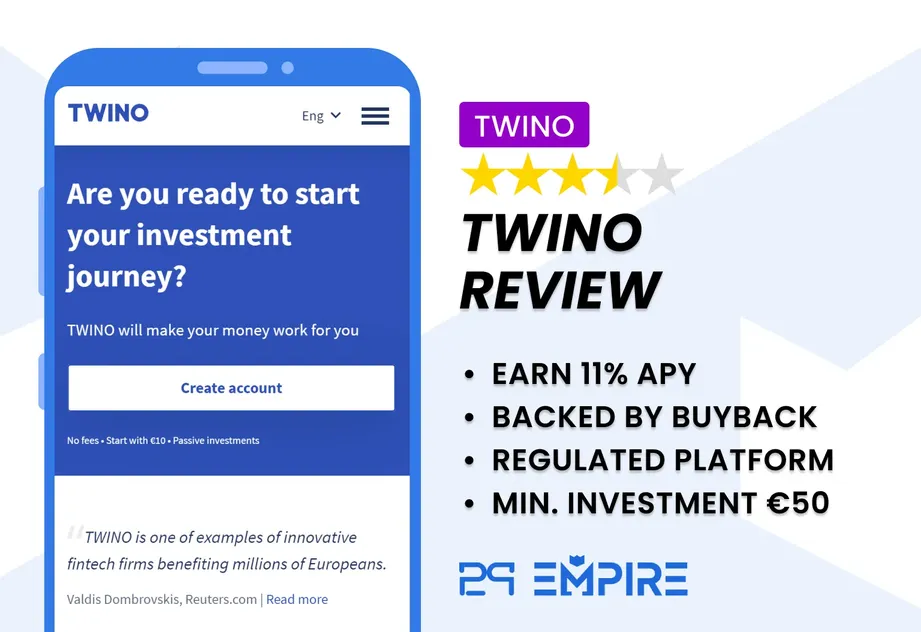 TWINO In Numbers
If you have read our previous reviews, you must have noticed that we love numbers, and so should you if you want to increase your income. Have a look at the following TWINO statistic to get a better idea about the platform's past performance.
TWINO is certainly not a newcomer in the P2P lending space. The TWINO group has been around for more than 10 years. Since its inception, TWINO originated more than €1.2 billion in unsecured loans.
While the lending company has been around for some time now, the P2P lending platform was founded just in 2015.
According to TWINO's statistics, more than 25,000 investors made in total over €13 M in interest.
The typical investor has an average portfolio size of around €2,000. The good news is, that the average interest rate is increasing for both short-term and medium-term loans. Due to the impact of the current pandemic, the availability of loans is higher than usual.
TWINO is also one of the few P2P platforms that list their financial reports on their website. It's important to point out that their reports are audited by BDO Assurance, a Latvian auditor. Most platforms do not provide audited financial reports.
TWINO Promo Code
TWINO offers a €50 bonus for anyone who uses our exclusive TWINO promo code. Explore more bonus offers in our sign-up bonus section!
Get your bonus!
TWINO's New User Requirements
Ready to join TWINO?
There are only a few requirements that you should keep in mind:
Be over 18 years old
Reside within the EEA (European Economic Area)
Have a European citizenship (Non-EU citizens are not accepted)
You can also sign up and invest with your business if that's something that interests you.
The process is very simple. You only need to answer a few finance-related questions and upload a valid identification document.
It shouldn't take you more than five minutes.
No EUR bank account? No problem
Risk And Return
Earning more than 10% interest per year by investing in unsecured consumer loans isn't risk-free.
This is why you should always get familiar with the protection scheme that the P2P lending platform offers.
First of all, let's have a look at the loan types that TWINO funds.
93% of the loans on TWINO are unsecured short-term consumer loans.
7% of the investment opportunities are business and real estate loans.
Financing for SMEs is mostly secured by the personal guarantee of the borrower. This means that there's no collateral like that found on P2B platforms EstateGuru or Crowdestor.
Read our EstateGuru review and Crowdestor review to get familiar with those platforms.
If a private borrower decides not to pay back the loan, TWINO will take care of the debt collection.
To protect your investment, TWINO introduced two protection schemes:
TWINO's Buyback Guarantee
If you have invested in loans on different platforms before, you might be familiar with the buyback guarantee.
Investments that are marked with the buyback guarantee badge (which looks like a shield with a 'T' on it) are secured by TWINO.
This means that, in the case of your loan being delayed for more than 60 days, the platform will repurchase your investment and pay you the outstanding loan amount as well as the accrued interest and late payments fees.

It's important to highlight that TWINO will refund the accrued interest as well.
TWINO is not a P2P marketplace such as PeerBerry, Mintos, Viventor or Iuvo Group .
The buyback guarantee on those P2P marketplaces is covered by the loan originators. TWINO isn't a marketplace but a finance group with several loan originators.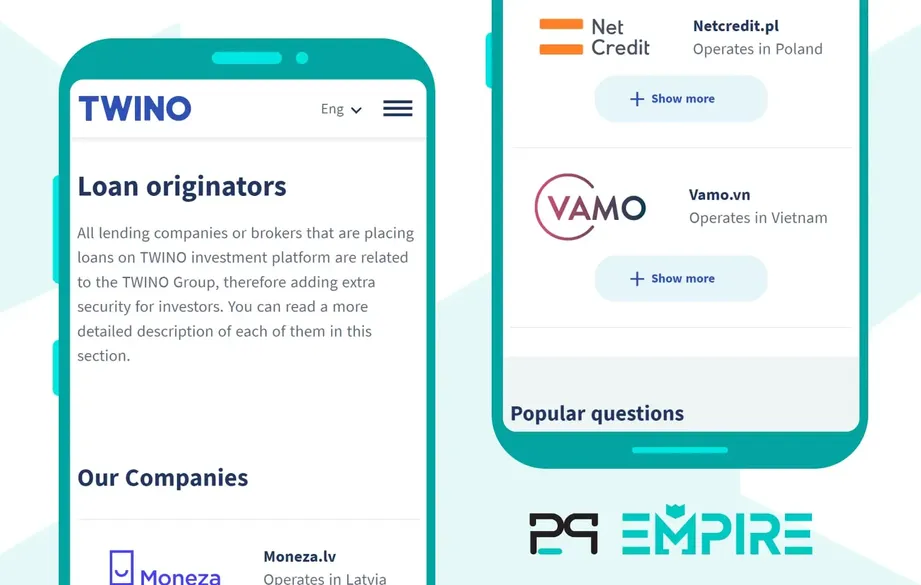 You can learn more about TWINO's loan originators directly on TWINO's website.
We have been investing on TWINO since the beginning of 2020 and so far, TWINO managed to fulfill all the obligations towards P2P investors. This isn't something we can claim about Mintos.
TWINO Payment Guarantee
Investments marked with the payment guarantee badge (PG) are fully secured by TWINO. This means that if the borrower fails to repay the loan, TWINO will pay back the interest as well as the monthly principal amount as per the original loan repayment schedule. This also means that you don't have to wait 60 days.
Is TWINO Safe?
If you have been following our work on P2P Empire, you know by now, that we read the terms and conditions of every platform and do our own little background check about the key management of the company. Here are our findings of TWINO.
Who Runs the Company?
TWINO used to be operated by its CEO Anastasija Oleinika who also joined one of our podcast episodes. The role of the CEO is currently occupied by Helvijs Henšelis.
Who is the Company's Legal Owner?
TWINO is founded and owned by Armands Broks. Armands got his MBA from the Stockholm School of Economics in Riga.
According to the financial report from 2019, Armands Broks owns 100% of the company. He regularly appears at fintech conferences and networking events. To get an idea of what Armands day looks like, you can view this short video by Forbes Finnland.
Are There Any Suspicious Terms and Conditions?
TWINO's user agreement is only 11 pages long, so let's dive right into it.
Clause 4.14 - Withdrawals
In section 4.14, you learn that TWINO needs to process your withdrawal request within two business days.

Unfortunately, there is no mention of segregated bank accounts in TWINO's T&C. The only mention of how TWINO is storing your funds is found on TWINO's FAQ page.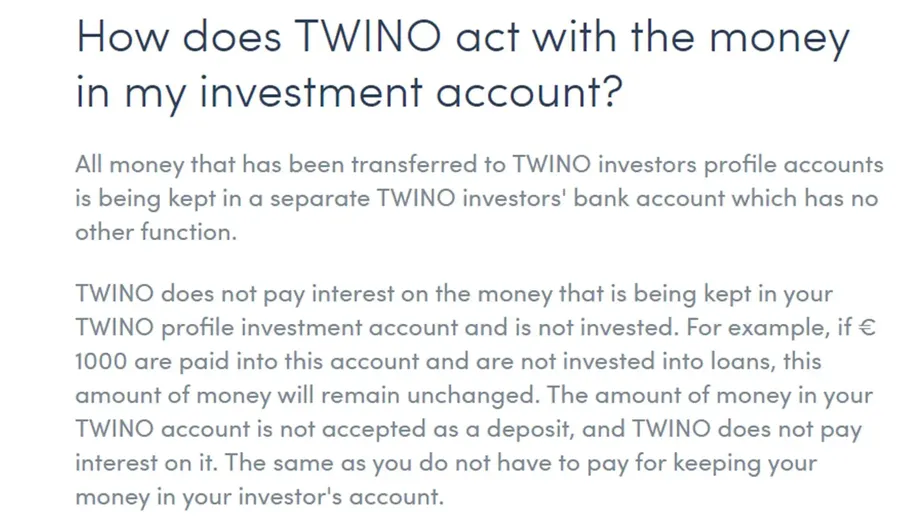 This means, that TWINO stores your funds on the separated bank account which belongs to SIA TWINO. Those funds may be distributed to other TWINO Group accounts for the purposes of funding loans.
From our dialogue with TWINO we learned that TWINO's account balance is always at least twice the amount of investor's uninvested funds. Any withdrawals should be therefore covered within two business days.
TWINO is currently in the process of obtaining the IBS license in Latvia, which will make the storage of investor's funds on TWINO even more transparent and secure.
Clause 11.7 - Liability
Every investor is liable for their own actions and there is no guarantee that the borrower will be able to repay your investments. This is specifically mentioned in section 11.7. As with every P2P investment, you as the investor bear the full risk.

Clause 14.2 - Amendments
Unfortunately, TWINO reserves the right to amend the T&C at any time without prior notice, unless the changes refer to changes around the claim servicing charge. Those will be announced 10 days in advance.

We are not big fans of this clause. You should be always notified about any changes in advance.
Do Investors Have Access to Individual Loan Agreements?
If you have registered or invested you do have access to TWINO's assignment agreement. If you're using TWINO's Auto Invest you have the chance to view the assignment agreement before activating the Auto Invest. You can also view the template here.

You can view the assignment agreements for all active and repaid investments under My Investments → Agreement Number.
Curious about what else we look at when conducting our research?
With our ✅ workbook, you will be able to spot red flags 🚩 and protect your investment.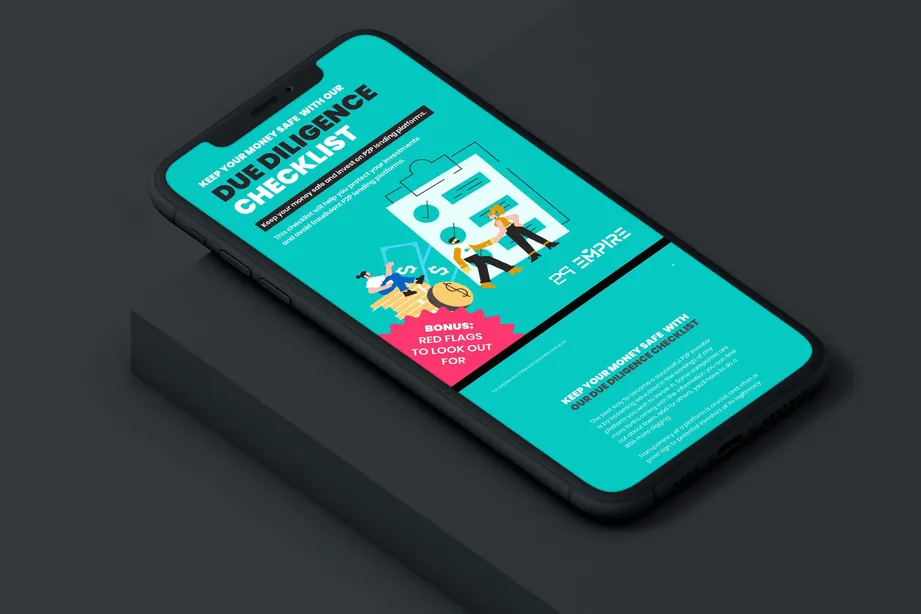 Protect Your Money!
Potential Red Flags
Terms and conditions can be changed without prior notice
Information about the safety of the funds isn't mentioned in the terms and conditions
Learn more about possible red flags here.
How User-Friendly is TWINO?
In terms of usability, TWINO is one of the leading P2P lending platforms in Europe.
You can count on features such as the portfolio builder, secondary market, cashflow forecast, and income statement reports.
When compared with other European P2P platforms, TWINO has one of the most aesthetic dashboards.
It also shows you your interest income, information about your investments, and the portfolio state that displays data about your investment protected by the earlier mentioned protection schemes.
TWINO Auto Invest
One of the most useful tools any P2P lending platform can have is an Auto Invest feature.
P2P lending doesn't need to be a time-consuming task. You can automate most of your investments with TWINO's Auto Invest feature. Simply define your investment strategy and the system will invest your funds in loans that match your preferences.
Most of the P2P lending platforms that offer investment opportunities in personal loans have a similar feature.

We suggest setting your Auto Invest settings broadly otherwise you might encounter cash drag. This means that your criteria wouldn't match the currently available loans which results in uninvested funds on your TWINO investor account.
TWINO's App
TWINO is also one of the few platforms that offer a fully functional native mobile app for Android and iOS.

The app gives you exactly the same functionalities you'll get while using the browser web app. Additionally, you can set up notifications and track your portfolio from anywhere.
We must admit that we have never used it. The desktop version of the investment platform is sufficient for our needs.
How Fast Can You Withdraw Your Money on TWINO
When investing in P2P loans you should keep in mind that some P2P platforms, particularly, those in the real estate or business loan niche, might lock your capital for an extended period of time.
This isn't usually the case with TWINO as most of the loans are short-term.
With TWINO, you also have the option to sell your investments on the secondary market without any additional fees or discounts.
Selling back your investment is possible for the face, discount or premium value of the investment.

Withdrawing your money from TWINO shouldn't take longer than a few days, however, the exact time depends on the size of your portfolio.
If you are looking for instant withdrawal options, have a look at features such as Mintos' Invest & Access or Bondora's Go and Grow. Do note, however, that neither features will allow you to control your investment preferences and the withdrawal function only works during "normal market" conditions when the demand for investments is higher than the supply.
TWINO's Customer Support
TWINO's support is semi-responsive; you can expect to receive an answer within three business days of contacting them.
We have been in touch with TWINO several times and the support was always on point.
TWINO's interface is currently available in three different languages - English, German and Latvian - and if you struggle with English, don't worry, TWINO has international customer support.
The easiest way to get in touch with the team is to send an email to info@twino.eu