Robocash Review
Robocash is a (peer-to-peer) P2P lending platform registered in Croatia. The platform's primary focus is to fund short-term loans secured by its 30-day buyback guarantee and an annual yield of up to 13%. Robocash was founded in 2017, and since then, it has paid out more than €11 M to more than 28,000 investors. Is Robocash safe? Find out more about this platform in our Robocash review.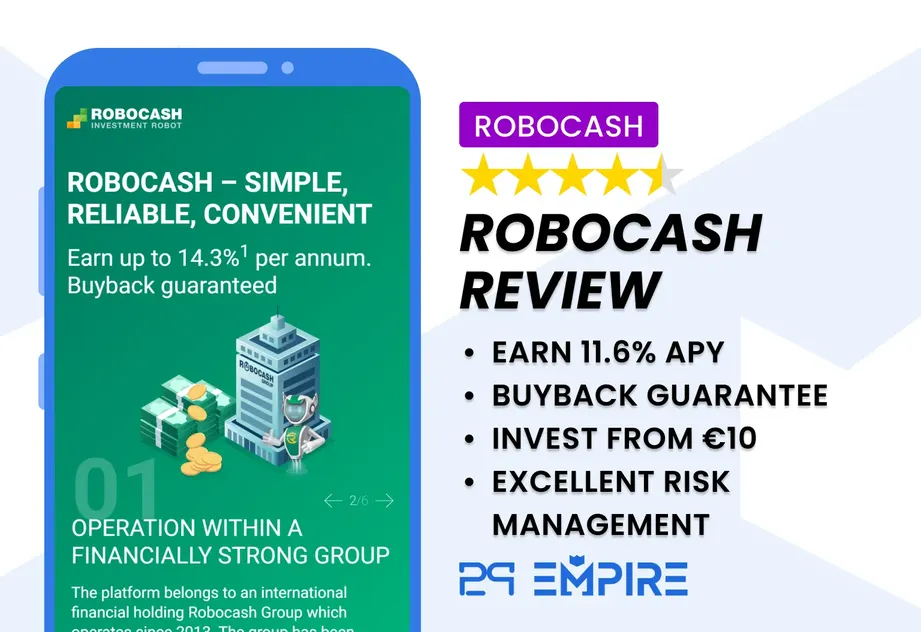 Pros
Reliable buyback guarantee
Backed by a profitable finance group
Secondary market
Cons
Manual investments are not supported
Limited diversification
Website looks outdated
Do you prefer to watch a video? Here is all you need to know about Robocash.
Robocash in Numbers
The difference between Robocash and other P2P platforms is that you can invest in unsecured p2p loans from other markets.
Currently, you can invest in loans from Kazakhstan, Spain, Singapore, Sri Lanka, and the Philippines. Additionally, Robocash funds loans only from the Robocash Group. The group has reached profits of around $28 M in 2021.
As you can see, the availability of loans is subject to market conditions. Robocash is funding many of its lending companies from its balance sheet. Not every lender under the Robocash Group lists its loans on the Robocash investment platform.

Most of the loan books on the platform consist of loans from Singapore and Kazakhstan.
As part of our Robocash review, we have also recorded a podcast episode with the Chief of Operation in Kazakhstan, in which we covered the lending practices of Robocash in this market.
What's worth mentioning is that Robocash as a platform isn't as big as P2P marketplaces such as Mintos or PeerBerry, which also list short-term personal loans. This does not mean Robocash is not good enough; right the opposite.
The platform is very transparent, and so far, none of the investors have ever lost money on Robocash.
Are you wondering how Robocash compares to PeerBerry? Check it out here.
Robocash Referral Code
Many P2P lending platforms offer a sign-up bonus, special promos, or cashback for new investors.
With our unique partner link, you will be able to get a 1% cashback bonus on your investments on Robocash within the first 30 days after your registration.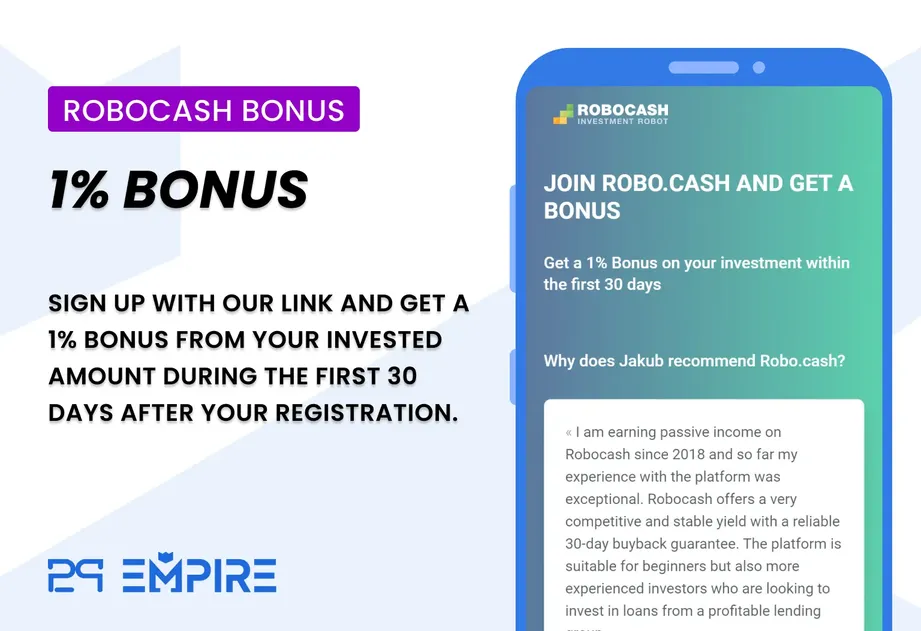 There is no need to type in any Robocash Referral Code to increase your return by 1% during the first 30 days after your registration. Simply sign up with our referral code to claim your bonus.
If you invest €30,000, you will get €300 for free after 30 days.
Robocash's Loyalty Bonus
All investors of Robo.cash have an opportunity to earn up to 1.3% in addition to the current rate of 13%. You will receive 0.3%, 0.5%, 0.7%,1% and 1.3% to the basic interest rate when your total portfolio balance reaches €5,000, €10,000, €15,000, €25,000 and €50,000 accordingly.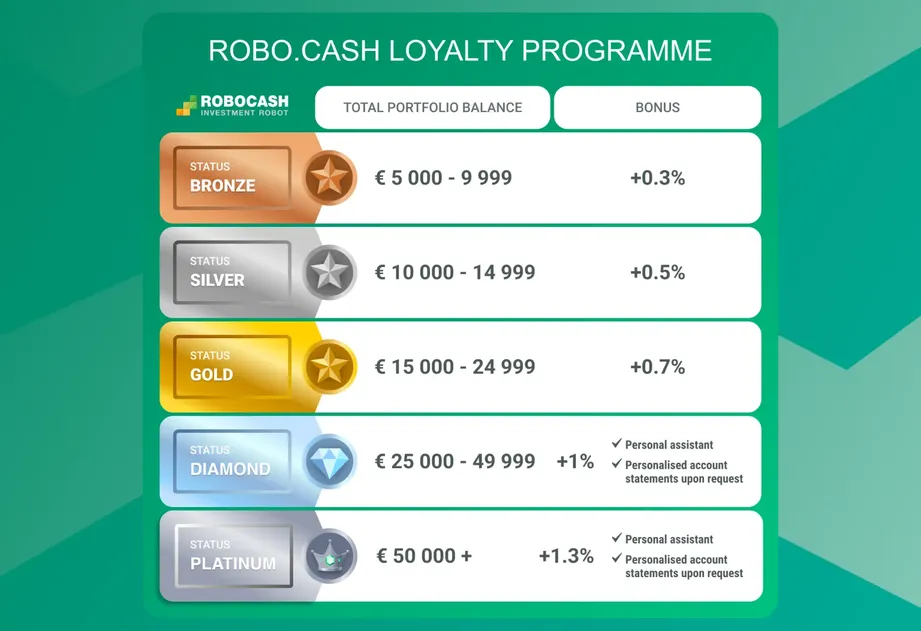 Get up to 14.1% interest on Robocash
New User Requirements
To be able to invest on Robocash you'll need to meet the following requirements:
Be over 18 years old
Have a European bank account in your name
Reside within Europe
No EUR bank account? No problem
If you don't have a bank account in euros, your deposit will be exchanged for euros at the current exchange rate. Please ensure you send your money from your Wise EUR account for Robocash to accept.
Risk and Returns
When investing in P2P lending, you want to protect your investment. To do this, you need to evaluate the ratio between the risks and the returns.
So, let's look at the risks and returns to see if Robocash is the right platform for you.
As with most P2P lending platforms that list microloans, Robocash also offers a buyback guarantee.
Robocash's Buyback Guarantee
The buyback guarantee on Robocash is different from many other P2P lending platforms. While platforms like Esketit and PeerBerry offer a 60-day buyback guarantee, Robocash's period is only 30 days.
You don't have to wait two months until the buyback guarantee gets activated to receive your money back.
Another benefit of this feature is that the loan originator pays back the outstanding amount and the interest for the delayed period.
This is exceptional - most loan originators on Mintos don't fork out for both.
This means your money on Robocash is continuously earning interest, even though the borrower is late with its payments.
Robocash Interest Rates
Robocash has also recently updated its product line. The P2P platform now offers interest rates that are dependent on the loan period of your investment.
As of right now, Robocash has increased the interest rates by up to 13% per year.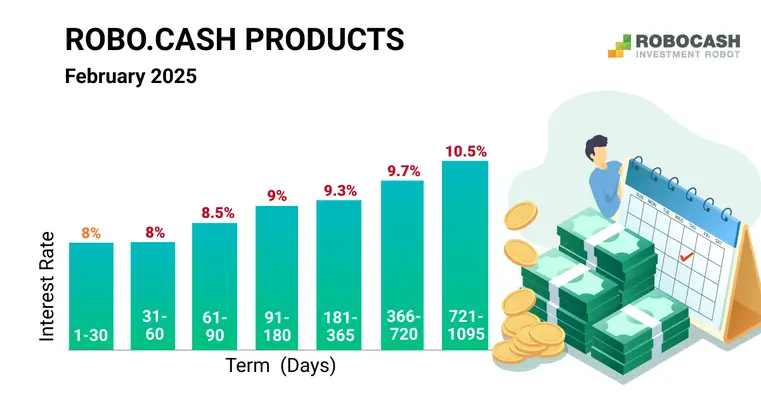 Is Robocash Safe?
Many P2P investors ask whether their investment on a specific platform is safe.
In 2020, several seemingly legitimate platforms ceased their operations. Investors lost millions of euros. In [year] there are still scams that you should avoid.
There is no guarantee that this cannot happen with any platform.
However, you can increase the chances of making the right investment decision by conducting due diligence about the platform you plan to invest on.
Let's have a look at our background check of Robocash.
Who Runs the Company?
Sergey Sedov founded the Robocash investment platform. His role as the CEO of the Robocash Group has been recently replaced by Natalya Ischenko, who was promoted from COO.
Natalya has 20 years of experience in the banking and auditing sector.
Ready to get personal with Robocash? Watch our latest P2P talk to understand the Robocash Group better.
Who is the Company's Legal Owner?
Sergey Sedov is the legal owner of seven companies within the Robocash Group, including the Robocash Investment Robot, where you can invest in consumer loans originated by Robocash's loan originators.
Are There Any Suspicious Terms and Conditions?
We always read through the terms and conditions to decrease the chance of fraudulent behaviors. We look mainly at the following clauses:
Are the user's funds segregated from the company's funds?
Does the platform inform the users about changes in T&C in advance?
Are there any other T&C worth mentioning
Let's look at what we found in Robocash's T&C.
Clause 4.9 - Storage of Your Funds
In section 4.9, Robocash informs you that all your funds are held in a bank account separated from Robocash's property. It's also worth noting that you won't earn any interest if you do not invest your funds.

This clause gives you good legal ground if the platform decides to disable withdrawals or introduce limits to withdrawing and depositing funds. However, a dedicated IBAN account like you get on EstateGuru would increase the safety of your funds even more.
Robocash currently uses the 3 S Money payment provider to process your deposits and withdrawals. It's important to note that while Robocash has ties to its operations in Russia, investors' funds don't transact through this country as they are directly transferred to Robocash's headquarters in Singapore.
Clause 14.5 - Amendments
In section 14.5, you learn that Robocash reserves the right to change T&C with prior notice of 60 days.

This is great news as many P2P platforms don't notify users before changing the terms and conditions.
Do Investors Have Access to Individual Loan Agreements?
While most investors ignore the assignment agreements, it gives you excellent legal ground in the worst-case scenario, where the platform goes out of business.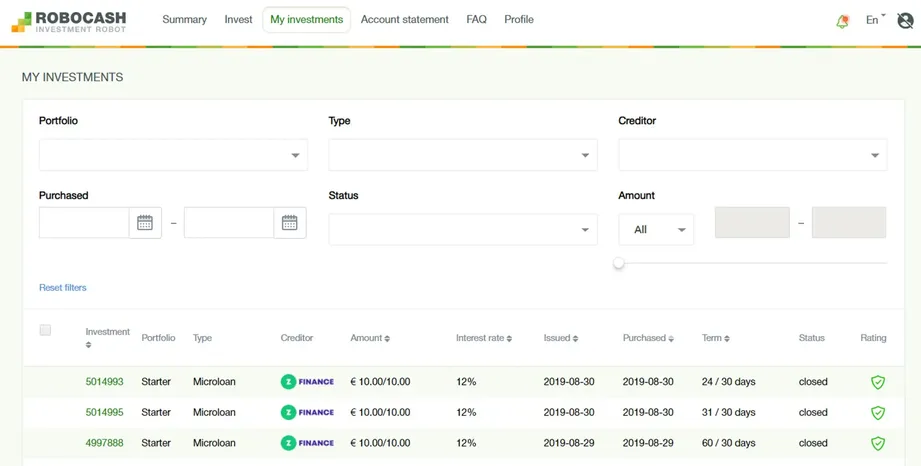 You can download all assignment agreements under My investments → Investment number. All agreements are available as Microsoft Word Documents rather than PDF files.
Robocash also allows you to download the entire loan book.
Potential Red Flags
We are currently not aware of any red flags.
Learn more about possible red flags here.
What's our opinion of Robocash?
Our background check of Robocash's management and their terms and conditions did not yield many suspicions, which increased our trust in Robocash's investment platform.
We joined Robocash first in 2018 and invested money to test the platform. We were pretty happy with the performance and increased our stake significantly in 2021.
While we encountered some cash drag back in 2019, this issue has been resolved, and there are no reports of investors facing any cash drag in the past two years.
Our portfolio on Robocash is currently more than €15,000, with an annual yield of 11.72%.
We believe that Robocash is a legit platform. The platform regularly shares the consolidated audited annual report for the Robocash Group, highlighting the impressive performance and growth of their lending business in various markets.
Here is a sneak peek into our portfolio on Robocash. We have been investing on the platform without any problems since 2018.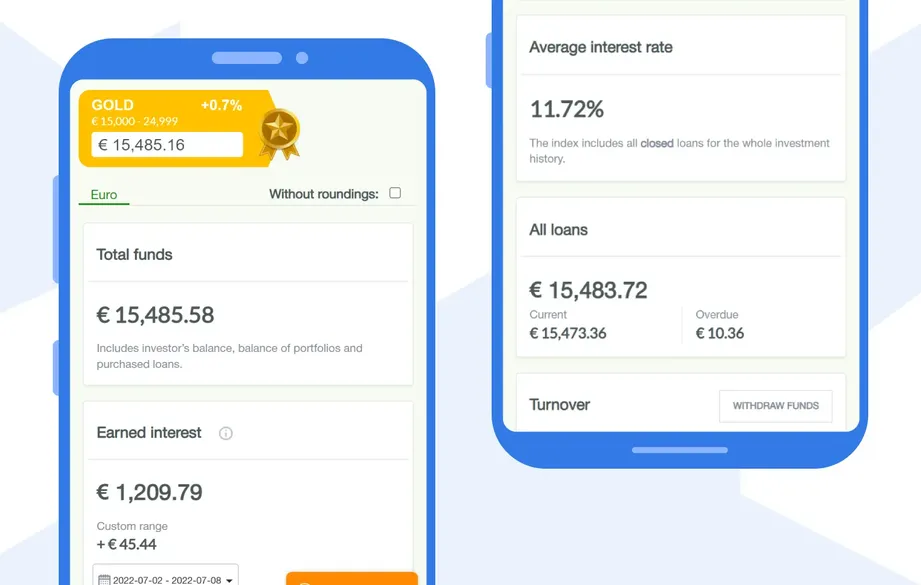 Robocash's Usability
Robocash is very easy to navigate, and even if you are just starting out with P2P lending, you won't have a problem getting around.
Auto Invest
Robocash doesn't allow you to invest manually.
You must deposit your money and set up your Auto Invest before investing in loans.
The minimum investment amount per loan is only €1, which makes it much easier to diversify your portfolio than on platforms like Reinvest24 or Heavy Finance, where the minimum investment €100 per project.
What you should keep in mind, however, is the availability of loans from individual lenders.
You can define which loans you prefer to invest in your portfolio settings.
Robocash's Auto Invest allows you to define your:
portfolio size
minimum and maximum investment amount
interest rate
investment period
loan originator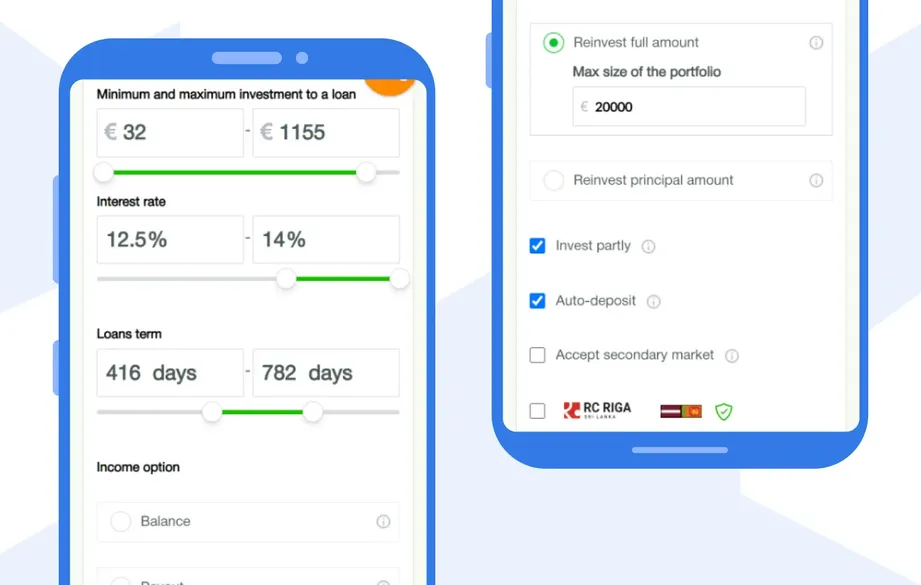 Our Robocash Auto Invest portfolio allows us to invest in all lending companies that list loans with a loan duration of up to 400 days. We are currently only invested in loans from Singapore. We have also extended our investment term to increase the return of our portfolio on Robocash.
Commercial Loans From Singapore
Experienced investors have likely noticed that Robocash's loans from Singapore are never delayed. The reason for this is the loan type. By investing in Robocash's commercial loans in Singapore, you are investing in Robocash's development in South East Asia. You are lending money directly to Robocash instead of funding borrowers' loans. The money is partially used to fund Robocash's loan book in India and Vietnam as well as the development of the digital bank in the Philippines.
🧾Does Robocash deduct taxes?
Robocash does not charge taxes on your profits. You can download account statements from your dashboard, which you may submit to the tax authorities where you are a tax resident when you file taxes.
Liquidity
Liquidity is another factor you probably don't think about, but it's essential.
We never know when there will be a financial downturn or other investment opportunities you're interested in, but we know that you'll want quick access to your capital when these times occur.
Robocash offers a secondary market for all of its investments, meaning you can sell your investments and exit the platform within a few days.
Investing on P2P marketplaces or P2P lending site that fund short-term loans make your investments more accessible.
Robocash managed to fulfill the obligation, and there are no reports of investors who had bad experiences with Robocash's liquidity. You don't need to pay attention to pending payments, suspended lenders, or funds in recovery.
Robocash was also one of the platforms that did not struggle during the COVID-19 outbreak in 2020. The group made over $20 M in profits last year while fulfilling all obligations toward investors. In 2021, the finance group made a profit of $28 M, and even in 2022, the platform still manages to fulfill its obligation towards investors despite the economic challenges caused by the conflict in Ukraine.
Robocash's Customer Support
The customer support is quite responsive.
Any queries we've had have been answered within 48 hours. You can get in touch with them via email (support@robo.cash) or give them a call on +385 1344-58-18. You can also fill out their contact form, and the team will get back to you as soon as possible.
Even though Robocash is a small P2P platform registered in Croatia, the platform does provide decent support most of the time.
The best way to connect is to use Robocash's Live Chat function directly on the website.
Robocash Review Summary
Robocash is a solid P2P lending platform that's very easy to use. The P2P lending site regularly reports about the performance of its portfolio, which improved our experience with Robocash. If you are looking for a stable return of more than 11% per year, Robocash is the right fit for you.
Key Takeaways from our Robocash Review:
Easy-to-use platform
30-day-buyback guarantee
Backed by a profitable finance group
Limited diversification
Robocash is currently listing loans with an interest of up to 13%, which makes any investment on Robocash very attractive. Sign up now and start earning money.
Ready to invest on Robocash?