Iuvo Group Review Summary
Iuvo Group is an attractive alternative if you want to invest your money mainly in profitable loan originators in Bulgaria. The 30% Skin in the Game by the lending companies also adds additional security to your portfolio.
Key Takeaways From Our Iuvo Group Review:
Non-transparent statistics
Attractive investment opportunities in loans from Easy Credit, iCredit, VivaCredit
Limited diversification due to the high exposure of Easy Credit loans
Good support
No development since 2020
Lost funds are not being communicated with investors
While we have invested on IUVO in the past, we don't have any exposure on the platform as of [year] as there are better options on the market.
You can learn more about how we invest in P2P loans on our P2P lending portfolio page.
Are you looking to invest in loans from Bulgaria?
What Is Iuvo Group?
Iuvo Group is a Bulgarian P2P lending marketplace registered in Estonia. The P2P lending site lists loans from 11 loan originators, mainly from Bulgaria, Romania, Poland, Spain, and North Macedonia.
You can expect annual returns of 9.2% by investing in loans between 1 and 12 months. Ready to start earning money? Read our Iuvo Group review first.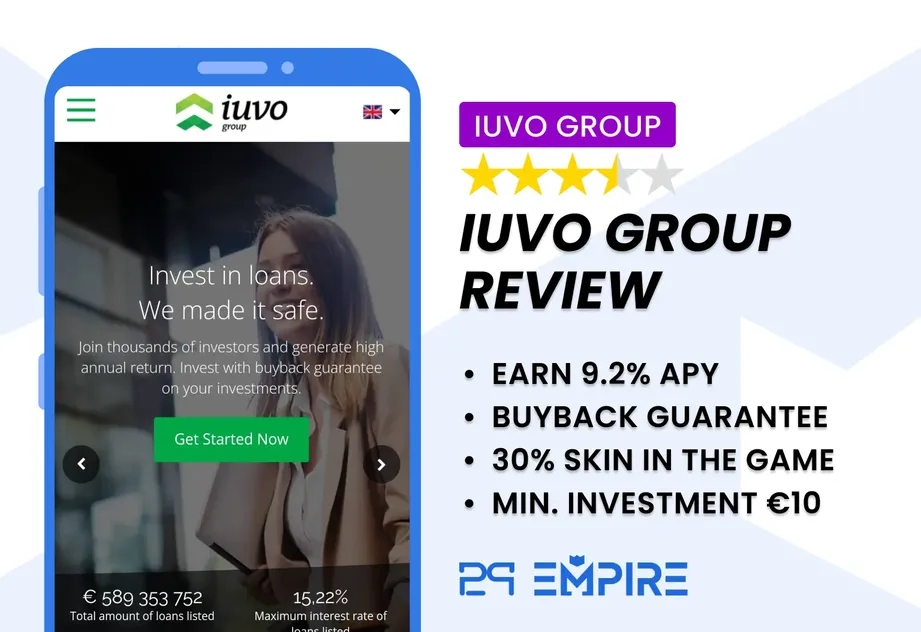 📧 Stay up to date with our newsletter
Pros
Established P2P Lending Marketplace
A broad variety of loans
Reliable buyback guarantee
Cons
The secondary market is not very liquid
Lower yields
1% secondary market fee
Not much transparency about defaulted or suspended lenders
Here's our IUVO Group review from 2021 as a video:
Iuvo Group Bonus
Iuvo Group offers cashback bonus offers to all active investors. To get your welcome bonus, you must sign up with our exclusive partner link and invest at least €100. You must keep your investment active for at least 60 days to receive a 0.75% cashback bonus up to €150.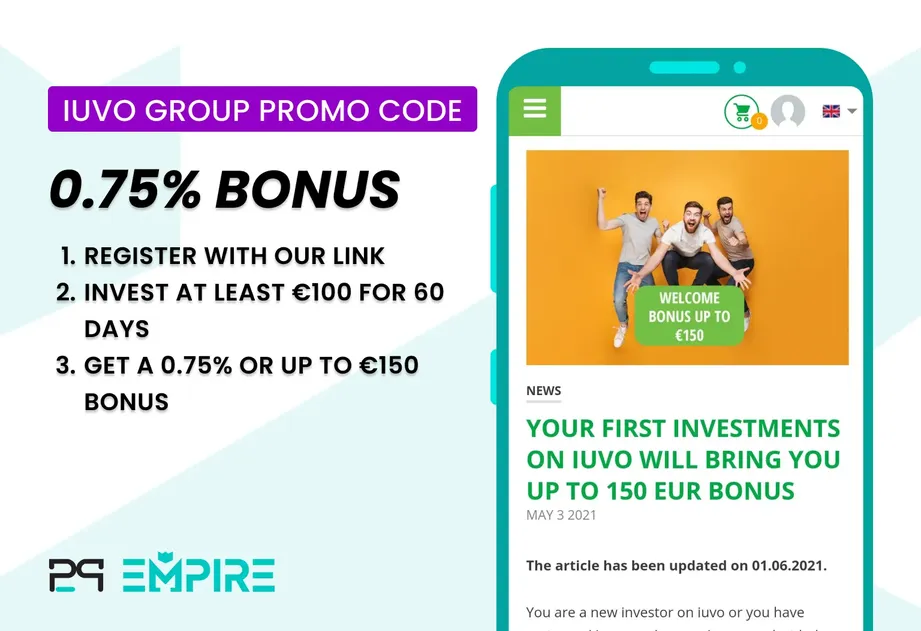 This IUVO bonus is valid only for readers of P2P Empire. You don't need to type in any IUVO Group Promo Code to get your bonus. Your registration will be automatically associated with the mentioned bonus terms.
Get up to 1% or €500 Bonus
Add and invest more than €2,000 for at least 60 days to get a 1% bonus of up to 500€. You cannot decrease your balance for at least 90 days to obtain this bonus. This offer is a recurring bonus. You can use it up to four times to increase your investments on IUVO. Learn more about it in our dedicated IUVO Bonus section.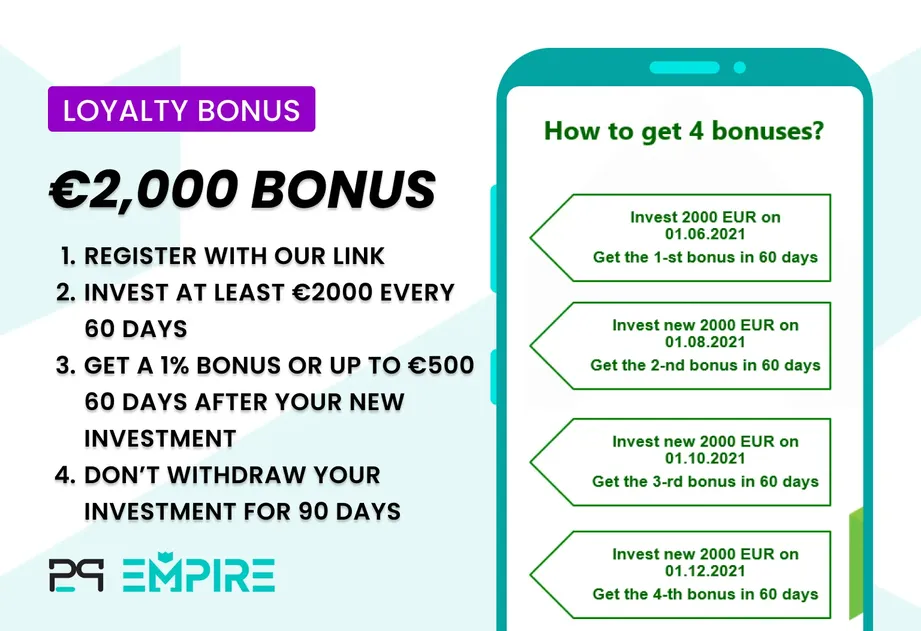 Earn 9.2% interest on Iuvo Group
New User Requirements
You can sign up and invest on Iuvo Group from all over the world.
The only requirements are:
Age 18 or older
Bank account in your name within the European Union
If you don't have a bank account, don't worry. You can open a free bank account with the digital bank N26.
No EUR bank account? No problem
You can also use money transfer services such as Currencyfair, Currencycloud, Easychange, Trustly, Paysera, or Revolut.
The cheapest way is to use the classic bank transfer. You can transfer money in three currencies Bulgarian Lev, Euro, or Romanian Leu.
We have transferred funds in EUR to their Paysera account in Lithuania and the money arrived within one business day.
Ready to join us and register on Iuvo Group?
Risk and Return
Investing on the P2P marketplace operated by the Iuvo Group comes with certain risks.
Buyback Guarantee
All the loans listed on Iuvo Group are protected by the 60-day buyback guarantee, which means that the loan originator (lending company) will repurchase your investments if the borrower is late with its payments for more than 60 days.
You will also receive a "late fee" for delayed payments.
Collateral as a Security
Some loan originators on Iuvo Group offer investments in secured loans. Those loans are typically secured by a car or mortgage. The amount of secured loans on Iuvo Group is rather limited and it's always subject to availability.
Watch our latest interview with the CEO of IBANCAR Alex Melis to learn more about our favorite loans on IUVO.
Note that loans from IBANCAR are not always available. Make sure to set up a dedicated auto invest portfolio not to miss them. You can also purchase loans from IBANCAR on the secondary market.
Iuvo lists loans from a variety of lending companies. EasyCredit is, without a doubt, the most prominent lending company on IUVO.
Easy Credit is an established loan originator from Bulgaria. The company was founded in 2005 and currently employs more than 4,000 employees. In 2019 Easy Credit made €18.8M in profits. The Bulgarian National Bank regulates Easy Credit. You can look at the audited financial report from Easy Credit here.
As you will likely invest the majority of your investment on Iuvo Group in Easy Credit loans, you should also know that the loan originator has 30% skin in the game, meaning that the company funds at least 30% of the loan from their resources which increases the safety of your investments as the lender is interested in recovering the debt.
This is the case for any loan originator listed on Iuvo Group.
By investing in Easy Credit loans you can expect an annual interest between 5% and 12%, which is low compared to competitors such as Mintos, PeerBerry, or Esketit.
Keep reading to learn more about Iuvo Group.
Is Iuvo Group Safe?
When investing your money, you want to ensure that the platform won't run away with it, right?
If so, you want to have a look at the team behind the platform as well as on their terms and conditions. We have done the work for you, and here is the result of our due diligence of Iuvo Group.
Who Leads The Team?
Iuvo Group was founded by Ivaylo Ivanov, who left IUVO in 2022. The new CEO of IUVO Group is Blagovest Karadzhov, who has previous experience with the telecommunication provider Vivacom.
Get to know the founder in our latest interview
Who Owns The Platform?
Iuvo Group is owned by the Bulgarian Easy Asset Management Group, which Stanimir Vassilev and Nedelcho Spassov co-founded. The CEO of the financial group is Antonia Sabeva.
Easy Asset Management operates several financial services in Bulgaria, including brands like Easy Credit, iCredit, and Viva Credit, all loan originators on Iuvo Group.
Keep in mind that while IUVO is a registered company in Estonia, the platform is actually being operated from Sofia, Bulgaria.
Are There Any Suspicious Terms And Conditions?
You should review a few clauses before signing up for a P2P lending site. Here is a short overview of the most important terms and conditions:
Clause 3.4 - Storage of Funds
In section 3.4 of Iuvo Group's terms and conditions, you will learn that your funds are stored separately from their own funds.




This is a common practice of P2P lending sites registered in Estonia. A red flag will be if the information about the storage of the funds is not mentioned.
Clause 3.9 - Withdrawals Within 5 Days
As soon as you request a withdrawal of your positive balance in your investment account, Iuvo Group will transfer the money within five business days.

Clause 5.7 - Liability
You should know that the P2P lending platform will not refund you if the borrower fails to repay its debt. While there is a buyback guarantee, it's not provided by the platform but by its loan originators.

In a situation where the loan originator cannot cover the buyback guarantee, you will lose your investments if the borrower fails to repay its debt.
Clause 15.5 - Amendments
If you have read our previous P2P lending reviews, you know that we don't like it when platforms can change their terms and conditions as they wish.

In the case of Iuvo Group, the platform may announce any changes to its terms and conditions at its own discretion, meaning they don't have to give the user notice.
Do Investors Have Access To Individual Loan Agreements?
Unlike on Fast Invest, you have access to individual loan agreements. Simply navigate to "My investments" in the menu on the left and click on the document for the particular investment (claim).

Curious about what else we look at when conducting our research?
With our ✅ workbook, you will be able to spot red flags 🚩 and protect your investment.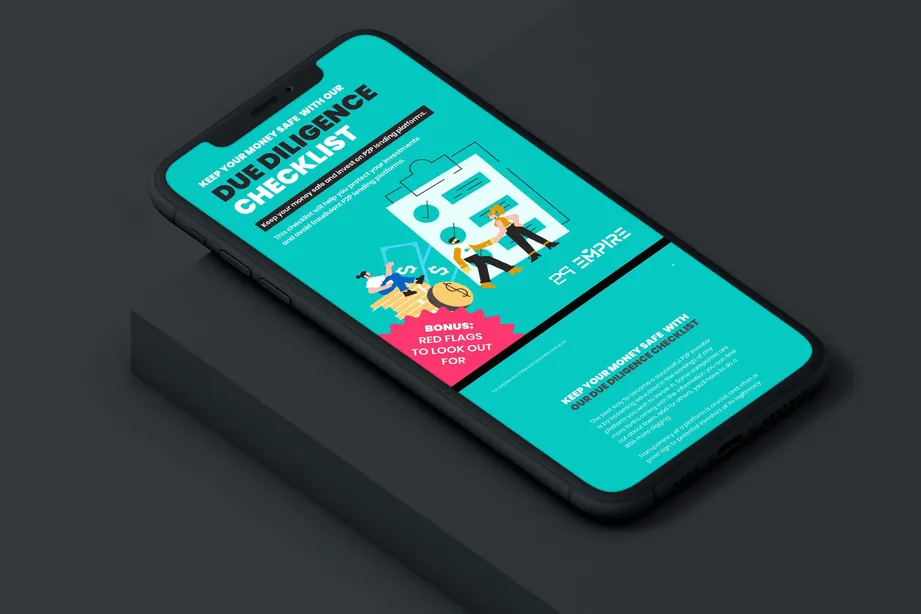 Protect Your Money!
Potential Red Flags
Currently, we aren't aware of any red flags.
Learn more about possible red flags here.
What's Our Opinion About Iuvo Group?
In our opinion, Iuvo Group is a legitimate P2P marketplace.
The platform is very transparent when sharing information about their loan originators, such as financial reports or regular performance updates.
We recommend to always having a look at the monthly updates which you will find on the blog to get an idea about the current performance of the loan book.
The platforms' terms and conditions are comprehensive and we haven't spotted any red flags.
The CEO has relevant work experience and has been leading the platform since its launch.
The platform is owned and operated by a large financial group experienced in the Bulgarian lending market. The group owns several lending companies, debt collection firms, IT companies, and the P2P marketplace which provides part of the funding.
All the loan originators on Iuvo Group also provide 30% Skin in the Game. You won't find that on any P2P marketplaces, including Mintos, PeerBerry, or Bondster.
While the average interest on Iuvo Group is slightly lower, this also reflects the safety of your investments.
We are pleased with our Iuvo Group review, which is why we have invested on the P2P marketplace ourselves.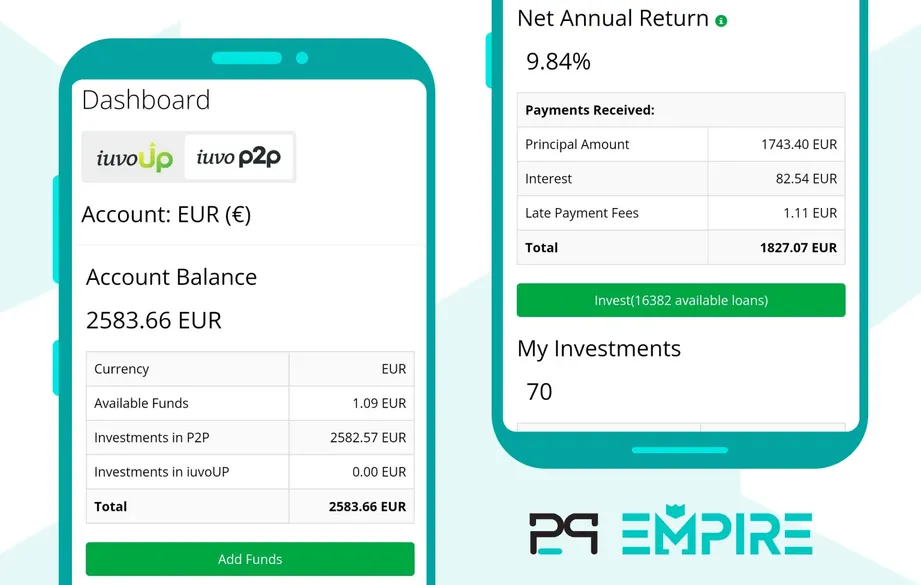 As you can see, we have some skin in the game in the platform ourselves. We use IUVO to expose our P2P lending portfolio to the Spanish car loans from IBANCAR. These type of assets offer 9,50% interest per year and all loans are secured by cars, significantly improving the loan book performance.
The availability of loans from IBANCAR is limited, so we suggest purchasing loans from IBANCAR on the secondary market for par value (0% premium) so you don't need to wait until new loans are listed on the platform.
IBANCAR loans come with a loan period of up to 3 years, which means that you can secure a fixed interest rate for a more extended period. This results in reduced cash drag and hence higher returns.
How User-Friendly is Iuvo Group?
Are you a newbie? Don't worry. Iuvo Group marketplace is straightforward to use.
You can count on features such as the portfolio builder, secondary market, cashflow forecast, and income statement reports.
On Iuvo, you have access to the:
Primary Market, where you can invest in loans manually or have a look at the currently available loans that match your criteria
Auto Invest allows you to automate your investments based on your predefined criteria
Secondary Market that allows you to buy and sell your investments from or to other investors
My Investment section gives you an overview of your currently active investments
Account statement that gives you the data that is required for your annual tax reports
Currency exchange that allows you to exchange your currency and invest in Bulgarian lev
Most of Iuvo Group's features are very intuitive. If you haven't invested on any other P2P lending platform before, it will take time to get familiar with the tools.
Auto Invest
Iuvo's auto-invest allows you to define many loan variables. Unfortunately, it doesn't tell you how many loans match your criteria, meaning if your selection is too strict, you might suffer from cash drag (no loans will match your criteria and your funds remain uninvested, which is terrible).
To avoid this situation, use the filter options within the primary market to get an idea of how well you can spread your investments across different loan originators.
As we mentioned at the beginning of our Iuvo Group review, most loans on this platform come from Easy Credit, meaning you won't be able to diversify across a higher amount of lending companies.
If you are not sure in what type of loans you should be investing, loans in EUR from EasyCredit and IBANCAR are good starting point .
Easy Credit is by far the most dominant lending company on Iuvo Group.
When choosing our Auto Invest settings, we keep factors such as the buyback guarantee, skin in the game, and profitability of the loan originator.
We are also invested in car loans from IBANCAR as this increases the safety of our investments
Currency Exchange
Nearly 40% of all available loans on the Iuvo platform currently are not in Euros but other currencies such as the Bulgarian lev or Russian ruble.
Iuvo gives you the option to exchange your Euros into other currencies, you should know, however, that this increases your currency risk.
We at P2P Empire don't invest in other currencies as this makes the returns of our investments unpredictable as we expose our investments to currency risk.
🧾Does IUVO Group deduct taxes?
IUVO Group doesn't deduct any taxes from your earnings on the platform. The platform allows you to generate a profit statement in EUR, meaning you can submit it as additional documentation to your tax authorities when you file your taxes.
How Fast Can You Withdraw Your Money?
80% of Iuvo Group's loans have a loan term between 3 and 12 months, meaning the only way to withdraw your funds before the maturity of the loan is to sell it on the secondary market.
The ability to sell your investments on the secondary market depends on the current market situation.
When a higher number of investors are trying to exit their investments, the chances that you will be able to sell your loans on the secondary market without a discount are low.
The average discount for sell-offs on the secondary market in 2021 was 4.42%.
To sell your investments fast, you will need to offer a discount, which will lower your returns and in some cases, you might even lose money.
It's up to you to decide whether to sell your investments or not. We recommend only doing so when you can foresee that the loan originator will go out of business. This is usually hard to predict as you don't have access to the company's business operations.
You should also know that Iuvo Group charges a 1% fee from your investments that you sell on the secondary market.
Fast Liquidity with IUVOSave
IUVOSave is IUVO's alternative product to savings accounts with a fixed annual rate.
IUVOSave offers you the opportunity to earn 5% to 6% per year on your deposits while being able to withdraw them anytime. You can either lock your capital for 3 or 6 months while still being able to withdraw up to €10,000 per month for a 1% admin fee.
IUVOSave is suitable for investors looking for fast liquidity and don't mind the lower returns. It's also a good option for investors who don't want to bother choosing individual lenders and monitoring the loan book performance.
Support
Iuvo Group's support is very responsive. We reached out to Iuvo Group and the support got back to us within one day with all the requested information. You can either send them an email or use their Chat function and they will get back to you.