Nexo Office Raided by Bulgarian Police in Wide Investigation
Investigators have alleged that Nexo is involved in money laundering and violating global financial sanctions against Russia. According to independent reports published by a Bulgarian newspaper, the exact location of Nexo's owners is unclear. The head of the investigation assumes that the CEO, Antoni Trenchev is in Dubai.
Nexo Review Summary
Nexo is a crypto lending platform that offers up to 36% interest on your deposits and promises to withdraw your money anytime. The company spent a fair amount of resources building a reputable platform; however, there are some misconceptions regarding their statements about licenses and regulations, which exponentially increase your risk of depositing your money on Nexo.
Key Takeaways From Our Nexo Review:
Not regulated
Transparency issues
Misleading information about Nexo's license in Estonia
Possible connection to the market manipulation
You should fully understand the ins and outs of your investments. Nexo failed to address our questions, so we suggest investing in more transparent crypto lending platforms.
Some users might wonder whether Nexo is in trouble. You won't know until it's too late. Several other crypto lenders claimed to safeguard users' assets minutes before they froze investors' accounts and stole billions. There is no guarantee that this won't happen with Nexo as well.
Compare Platforms
What Is Nexo?
Nexo is one of the leading crypto lending platforms that offer investment opportunities in crypto-backed consumer loans. Depending on the crypto you deposit, you can get up to 36% annual interest, paid daily. Nexo is one of the biggest crypto lending platforms operating without oversight. Find out whether Nexo is legit in our Nexo review.
Do you prefer to watch a video? Here's a short review of Nexo:
Remember that the crypto lending space is developing rapidly and that some information in the video might be outdated.
Warning
NEXO operates in a grey area without any regulation or oversight. The company acts as a bank without any banking license. Evidence suggests that the platform is using shady business practices to generate revenue.
Please be aware that our review primarily focuses on Nexo's Earn Product - the crypto interest account and doesn't consider other recently introduced products such as the Exchange, Nexo Pro, and Nexo Card.
Nexo in Numbers
If you are a loyal follower of our P2P lending reviews, you know by now that we emphasize using every platform's statistics to get the first impression of its track record.
On Nexo's website, you can find some of the main data; however, you won't find anything substantial.
This allowed us to reach out to Nexo and test their customer support. Here is what we found out:
While Nexo was founded in 2018, the company behind Nexo, Credissimo, is an established player on the Bulgarian lending market with over 12 years of experience.
But more about Credissimo later.
According to Armanino's attestation, Nexo currently manages $2B worth of crypto assets.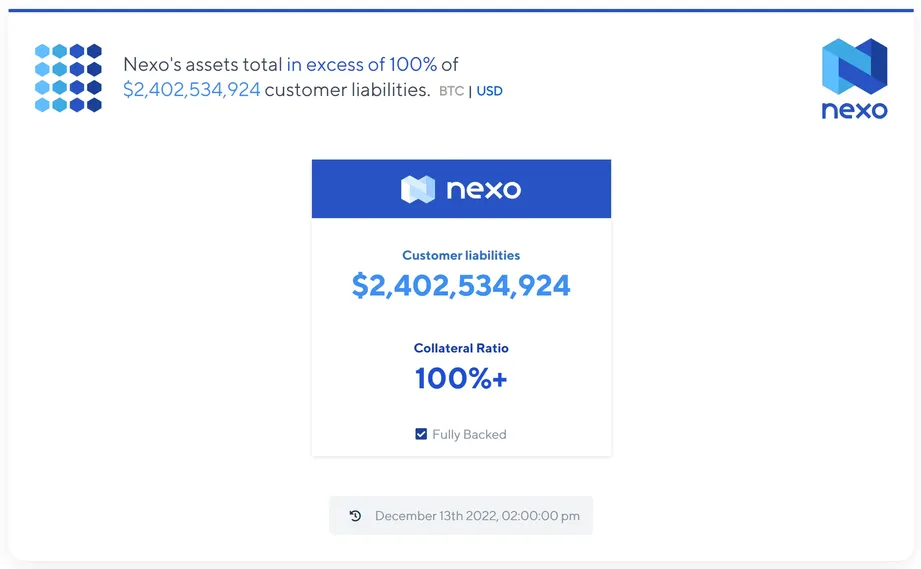 Nexo Promo Code
Are you looking for a promo code or an additional cashback bonus? Nexo is offering bonuses for new investors at the moment. However, we strongly suggest not to use this platform as the risk and reward ratio on Nexo is incorrect.
Nexo Requirements
Nexo used to accept users from any jurisdiction outside of Estonia and Bulgaria. Recently, when the regulators in the U.S. announced that Nexo is falsely claiming to be a licensed and regulated platform in the U.S., the company announced to depart the U.S. market and offboard U.S. clients.
The requirements to use Nexo's earning products are:
Be over 18 years old
Have a valid email address
Not be a resident of the U.S.
To top up your Nexo account, you must pass the verification process, which consists of two steps.
Basic Verification
You must fill out your contact information and phone number during this process. Nexo will send you a text message that you must type in on your screen to pass the primary verification. The basic verification allows you to make cryptocurrency withdrawals up to $100,000, which isn't relevant for you if you're just an investor.
Advanced Verification
To top up your Nexo account with one of the supported cryptocurrencies or fiat money, you need to pass the advance verification, where you are asked to provide a copy of your ID document, passport, or driving license.
Once you are verified and activate the 2FA (two-factor authentication), you can top up your account. Currently, Nexo offers top-up options in Euro or Stablecoins backed by the USD. Top-ups with cryptocurrencies are only available for borrowers using the crypto credit line.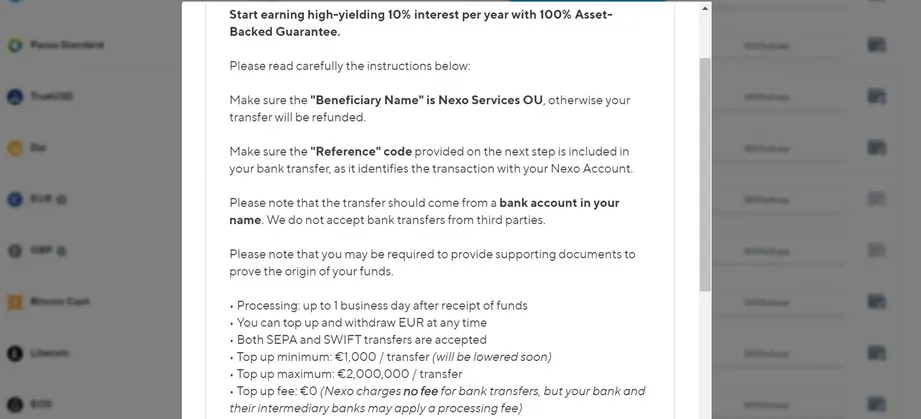 You start earning interest as soon as you top up your Nexo account. The transfer can take up to three business days.
Note that the minimum deposit amount on Nexo is €1,000 in fiat, which is relatively high compared to other crypto lending platforms. Alternatively, you can also deposit stablecoins or cryptocurrencies. We have tested Nexo with a 100USDC, and it worked.
Nexo's investors are private individuals, businesses, institutional investors, and crypto exchanges.
👉 Find the best crypto interest account!
Risk and Return
If you decide to deposit your funds on Nexo and benefit from Nexo's crypto interest account, you are essentially transferring the ownership (private keys) of your crypto to Nexo, which will lend your assets to borrowers who provide crypto as collateral.
Crypto lending always comes with a risk, and most investors don't realize all the possible dangers as they mainly focus on high yields.
Let's look at the protection you are offered when depositing your assets in Nexo's crypto interest account.
Secured by Crypto-Assets
After you have deposited your crypto to Nexo's wallet, the company will lend it to borrowers, which may be traders, exchanges, or other institutional investors.
The platform claims to always take sufficient collateral from borrowers to avoid bad debt. This means that if someone wants to borrow FIAT or crypto, that person or entity has to provide collateral worth more than the loan amount.
Who lends money on Nexo?
Most retail borrowers on Nexo are crypto traders or people who speculate on the future value of various cryptocurrencies. Most people in need of money will likely use their credit card or take a personal loan instead of borrowing money from Nexo, where the collateral is required.
The main benefit for borrowers using Nexo is to borrow money for a relatively "low" interest "without" liquidating their assets.
With Nexo, borrowers who own cryptocurrencies can benefit from its digital value while offering it as collateral. There is no need to liquidate the assets if the borrower needs to borrow money.
So what's the catch?
Borrowers who want to borrow money must provide twice as much value in crypto assets.
Simply put, if a borrower wants to borrow $10,000, he or she needs to transfer crypto worth $20,000 at the time. The LTV, in this case, is 50%.
The credit line can be repaid anytime.
In case the value of the crypto assets drops, the borrower will be asked to pay back a certain amount of the loan or increase the value of crypto assets to match the LTV of 50%.
In case the value of the crypto asset drops by more than 47%, the assets will be immediately sold, and the loan will be repaid.
This is of great advantage for the depositor as it guarantees the protection of their investments. The limits are even stricter for Nexo's competitor CoinLoan, where the LTV is maxed at 70%.
Drawbacks for borrowers
If the value of crypto plummets within a brief period, it can become very frustrating for the borrower.
Many borrowers reported that the Nexo system sold their crypto-assets without giving them enough time to react and repay the loan or increase the collateral.
As NEXO can amend the terms and conditions anytime, there's undoubtedly room to scam borrowers since the crypto loan platform isn't regulated and doesn't even have a lending license.
When borrowing crypto from Nexo, you won't get any legal loan agreement, and Nexo isn't listing the entity you are borrowing from. This means that legally you have no idea where the money is coming from.
Nexo uses a net of shell companies in various jurisdictions while deceiving users about being regulated. The platform also refuses to address critical questions about its services.
Nexo's Insurance
Like many crypto companies in the space, Nexo also partners with Ledger Vault, Bakkt, and Fireblocks and uses their custodian services which are insured by Lloyd's of London and Marsh and Arch.
According to Nexo, Ledger insures digital assets for up to $150M, while Bakkt provides coverage for up to $125M.
Note that Nexo doesn't disclose on its website whether the insurance is pooled for all partners of Ledger's and Bankkt's who use their custodial services. There is also no information about what exactly the insurance should cover.
Nexo users should, therefore, not rely on any insurance promoted by Nexo.
Nexo also used to collaborate with BitGo; this seems not the be the case anymore.
Not Your Keys, Not Your Coins
As with any crypto lending platform such as CoinLoan or MyConstant, by transferring your crypto to Nexo, you are no longer the owner of your coins as you don't own the private keys anymore.
Nexo can do whatever they want with your digital assets; there's no guarantee that you will see them again, as it's precisely specified in Nexo's terms and conditions.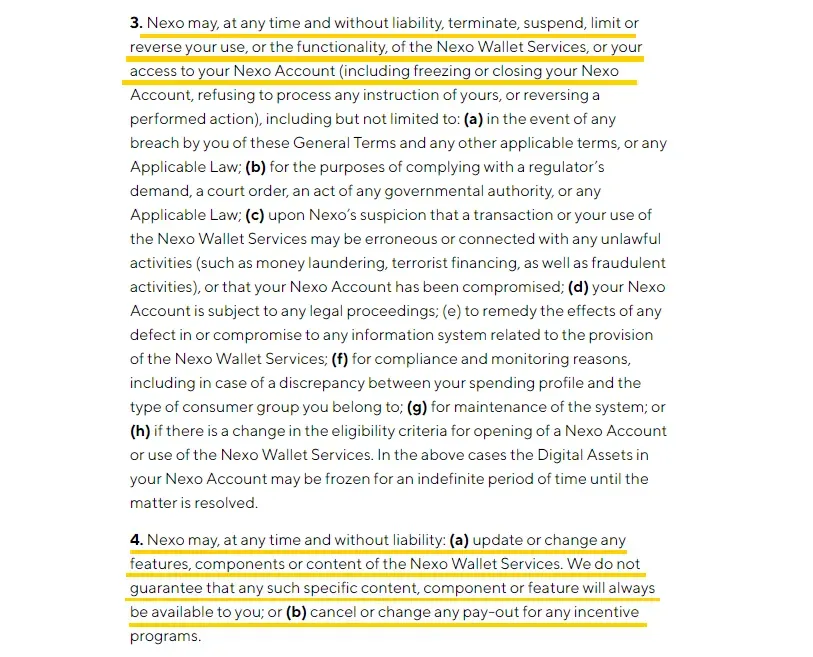 Some Nexo users report withdrawal issues, increasing the risk of investing in a Ponzi scheme.
Before depositing your digital assets on Nexo, you should consider the risk. The risk of lending your crypto to a centralized platform is much higher as you can't control the counterparty risk and cannot evaluate Nexo's business model.
We suggest taking full responsibility for your money and storing it in a safe hardware crypto wallet where you own the private keys.
We store our digital assets on 🔒 which is the best and most affordable way to keep your crypto safe.
Be savvy & keep your cryptos safe with Trezor.
Rates on Nexo
| Supported Fiat Currencies | Supported Cryptos |
| --- | --- |
| EUR, USD, GBP (yield only on stablecoins) | BTC, ETH, NEXO, AXS, DOT, AVAX, KSM, ATOM, NEAR, RUNE, FTM, MATIC, APE, BNB, SOL, ADA, GMX, XRP, LTC, BCH, XLM, TRX, EOS, LINK, PAXG, AAVE, USDT, USDC, BUSD, DAI, USDP, TUSD |
When depositing your funds on crypto lending platforms, you typically deposit money and earn interest on your deposits. Most crypto platforms offer you only to earn interest on digital currencies and not fiat deposits (EUR, USD, GBP). CoinLoan and Nexo were the only platforms offering you to earn interest on your fiat deposits. In mid- 2021, Nexo only changed its claims to offering interest on Stablecoins.
The annual yield highly depends on the currency you deposit, the staking option as well as the loyalty tier.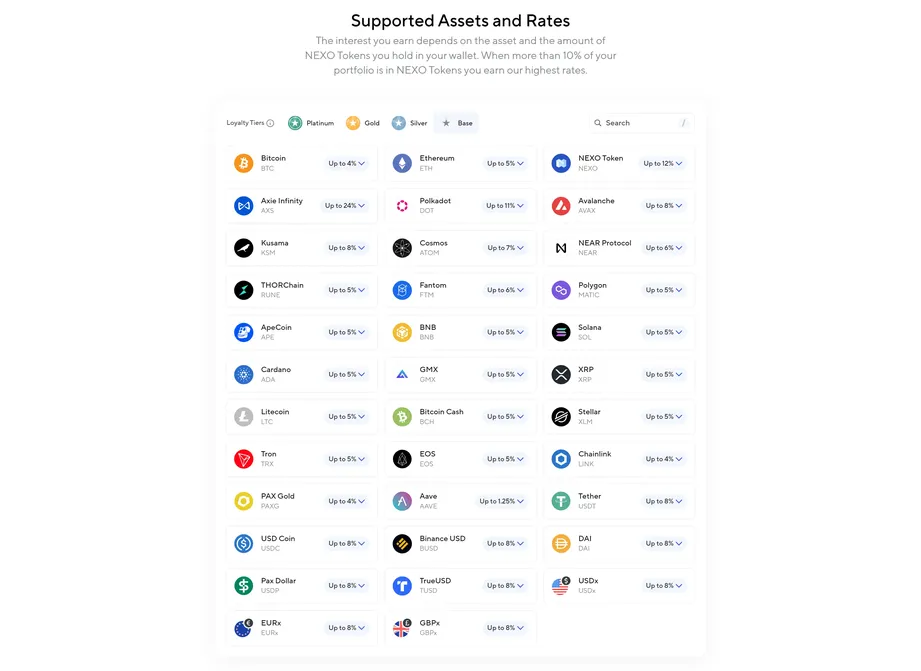 Users who want to earn the highest rates will have to increase their exposure to NEXO's token to 10%. The platform offered the option to pay out the interest in-kind or in NEXO with a higher rate.
Nexo Token
Nexo is also a crypto platform with its token. As an investor, you can buy Nexo tokens which act as "dividend stocks". In 2020, Nexo distributed over $2.4M amongst Nexo token holders.
This is another way to earn extra income apart from your daily interest as a lender. In addition, you can use the token to increase your interest earnings from your crypto deposits.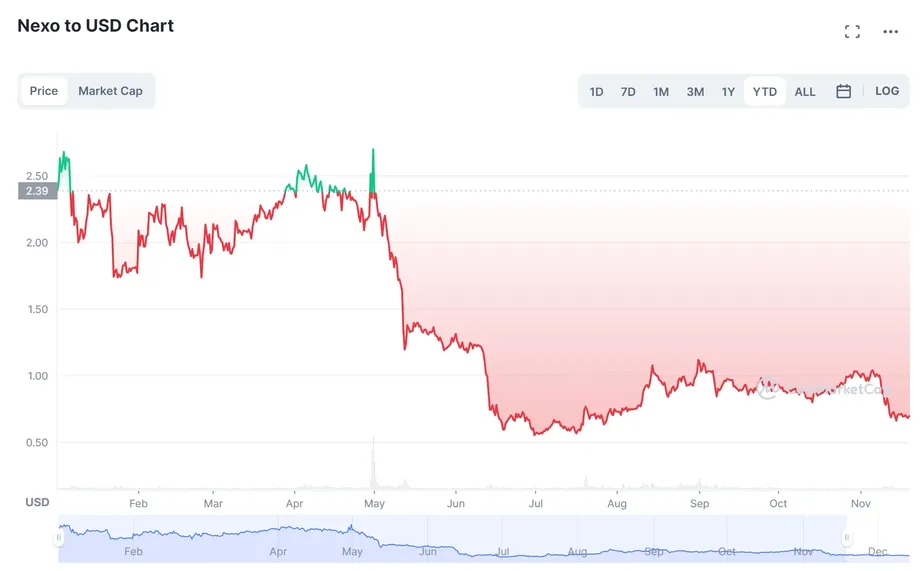 The goal of the NEXO token was to fund NEXO's development and get more users hooked into NEXO's ecosystem. The platform pumped the token's price with various marketing campaigns and giveaways. At its peak, the token's price was at $3.9. Currently, the token is trading at $0.6. Users holding on to these digital assets are exposed to significantly higher volatility. Outside NEXO, this token is essentially worthless.
We at P2P Empire like to look behind the marketing statements, which is why we conducted our due diligence about Nexo and its terms and conditions. Continue reading to find out more about Nexo.
Is Nexo Safe?
Investments in crypto-backed loans are a relatively new alternative, so many investors are suspicious of investments they know little.
This is mainly supported by Nexo's lack of transparency within the crypto lending space.
Let's have a look at Nexo.
Who leads the team?
Unfortunately, there is no team page on Nexo's website; however, we could find some information about the owner and co-founder of Nexo during our quick Google search.
Kosta Kantchev is the legal owner and co-founder of Nexo. Nexo also confirmed that he oversees the company's daily operations. Kosta is also the co-founder of Credissimo, the loan provider that helped shape Nexo's P2P lending platform. Credissimo is also one of the lower-rated loan originators on the popular P2P lending marketplace Mintos.
Antoni Trenchev is the second co-founder and is currently the CEO of Nexo. You can watch several interviews with him on Bloomberg, which promotes his bitcoin price predictions. Antoni Trenchev is a former member of the parliament in Bulgaria.
What's the relationship between Credissimo and Nexo?
Credissimo is a more prominent loan operator in Bulgaria. Since its inception, the Credissimo Group has financed loans worth €200 M. Credissimo's financial report for 2021 isn't publically available. Nexo is built based on the experiences of Credissimo's activities and is known as a completely separate legal entity. Nexo doesn't provide any audited reports.
Nexo offers loans backed by crypto-assets to borrowers in 200 jurisdictions except Estonia, Bulgaria, and now the United States of America.
We are not aware of any regulators who would allow these types of lending practices. In addition, you are not entering into any loan agreement with Nexo's companies, so any "claims" about lending licenses in the US were entirely irrelevant.
Is Nexo regulated?
Nexo's incorporation and organigram aren't publicly available, so let's look at some of Nexo's companies and how the platform was initially founded.
The likely first company behind Nexo's platform was Nexo OÜ from Estonia (founded in 2018). Nexo claimed that the platform operated by Nexo OÜ (now dissolved) was a licensed and regulated financial institution in the Republic of Estonia by the Ministry of Economic Affairs and Communications.
The truth is that Nexo was only registered as an Estonian company in the field of "administrative and support services". Nexo did not have a lending license in Estonia, nor was it regulated by the Estonian authorities.
Nexo's claims about being regulated in Estonia were lies.
Also, Antoni Trenchev didn't seem to be the company's representative (board member), as you can verify yourself in the business registry.
Nexo's branch in Estonia is currently in liquidation (2022).
Another 🚩 red flag we spotted is that William Arthur Vesilind has joined Nexo's management board. This person was the executive director at TrustBuddy, a P2P lender known for stealing clients' money. This person was removed from the board shortly before Nexo decided to wind down its Estonian branch. You can review the entire history of this entity here.
Why is Nexo's website registered under Nexo Capital Inc with an address in the Cayman Islands?
We had difficulty finding Nexo's address, as none was listed on the website. We dug deeper and discovered that the website is registered in the Cayman Islands. We asked Nexo why this is the case, and here is their reply.
"We conducted our Token Sale from a Cayman Islands SPV. That was done for tax optimization reasons."
In the terms and conditions, you will find the reference to "Nexo's group of companies". Unfortunately, Nexo doesn't provide any information about its incorporation structure.
We have found out that Nexo is using various shell companies to provide "services" in different jurisdictions.
While Nexo brands itself as a London-based company, the core team of Nexo is located in Sofia, Bulgaria, and NDS EOOD operates the branch which is again owned by NEXO JSC ("Нексо" АД).
Nexo is also operating a shell company under Nexo AG in Switzerland, Nexo Financial LLC in London, Nexo Financial LLC in Delaware, Nexo Services UAB in Lithuania, and Nexo Inc. in the Cayman Islands.
Under what jurisdiction does Nexo operate?
"Nexo Services OU operates under the Estonian jurisdiction. The Nexo Group has evolved substantially during the past year, but compliance with the relevant regulatory frameworks remains at the heart of everything that Nexo does." - This was Nexo's response in 2020.
According to Nexo, "the company has very competent and well-seasoned in-house professionals in the legal and compliance departments (three Certified Anti-Money Laundering Specialists from ACAMS) that work with reputable law firms to build their risk models."
Are there any suspicious terms and conditions?
Nexo's terms and conditions differ from typical terms of other European P2P lending sites.
The website isn't liable for any results from using the platform, which means you agree to lose your money to Nexo.

We couldn't find any information about amendments or how your funds are stored which is another red flag 🚩.
The only information we've found out is that if you deposit Euros to your Nexo account, you're sending your money to a bank account of the InCore Bank AG in Switzerland. (This was the case in 2021.)
You should expect Nexo to change the terms and conditions anytime without prior notice.
No services in Bulgaria and Estonia
Nexo was registered in Estonia, and the founder has roots in Bulgaria. The platform restricts any usage of its services in those countries.

This means that no one from Nexo's offshore markets can use the platform and prosecute the company.
Potential Red Flags
No public information about Nexo's management team
No information about how your funds are stored
No information about the legal address of Nexo (so you can't legally pursue them)
Nexo's former board member is connected to TrustBuddy (scam)
No information about the modification of terms and conditions (Nexo changes terms and conditions as it suits them)
Nexo offers lending services across the world while claiming to be regulated
Nexo isn't offering its services in Estonia and Bulgaria to not be prosecuted (onshore markets)
Nexo used to promote interest on fiat deposits without a banking license which was illegal (currently, everything is exchanged into stablecoins)
Nexo OU (one of Nexo's former shell companies) was not regulated in Estonia while claiming to be regulated
Nexo does not provide any loan agreements for borrowers
There is evidence that suggests that Nexo is behind ZEUS Capital LLC Fraud (Chainlink Short)
What's our Opinion of Nexo?
During our research, we found a lot of alarming information which put investors' deposits at risk.
Nexo also claims that their reports are audited by Deloitte, even though we couldn't get our hands on them 🚩.
Nexo offers higher yields than the competition. In addition, you could earn interest on fiat deposits which no one else (apart from CoinLoan) is suggesting. Nexo does not publicly reveal its business model.
You can be assured that the company is likely engaged with "crypto-backed loans," possibly yield farming, rehypothecation, and other trading activities.
While Nexo refers to several licenses on their website, Nexo didn't resolve any of our questions. Their terms and conditions lack information about future amendments, how your funds are stored and managed, or even basic information about the legal entity responsible for Nexo's services.
Nexo can refer to any terms and conditions.
Nexo also didn't provide any links to their "financial license." After we had conducted our due diligence, we found that Nexo or Credissimo was never licensed to offer loans to consumers in Estonia.
The Estonian Financial Supervision Authority has confirmed this.
Previously the Financial Supervision Authority published a public warning about Nexo's lack of licenses, which has been unfortunately removed on the order of the Estonian highest court of justice.
This suggests that the information on Nexo's website was misleading (until Nexo decided to remove the advertised license from Estonia from its website).
Nexo also fails to educate its investors about their legal address, which is a clear sign of shady operators that want to avoid any possible legal disputes.
The risk of losing your deposits on Nexo is high, and this risk could materialize at any time.
There is also evidence that Nexo is behind ZEUS Capital, a company that spread damaging accusations about LINK to drive its price down.
Additionally, a well-conducted report suggests that Nexo had a short position on Chainlink (LINK), which indicates that Nexo is engaged in market manipulation. Kapital Insights, one of few independent media outlets in Bulgaria, reported that several former employees confirmed Nexo's engagement in speculative trading strategies.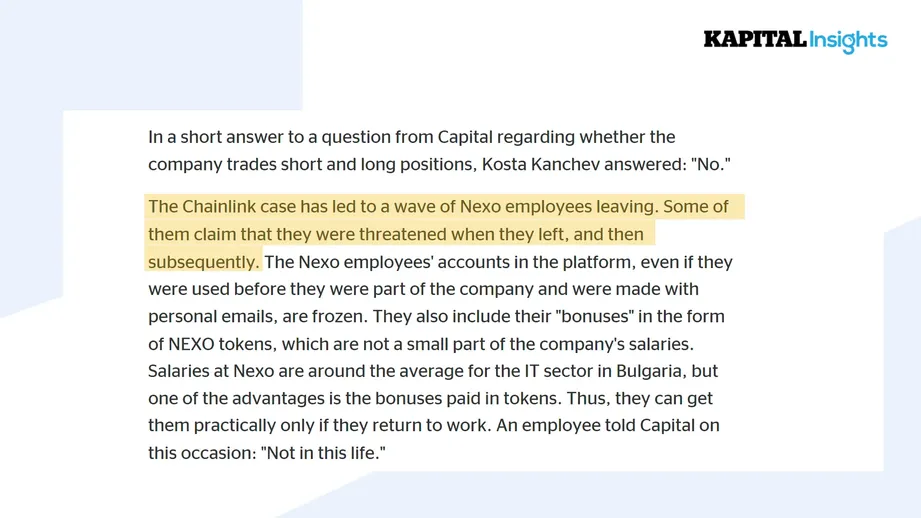 The report is available only for registered users.
Nexo's Reputation
Nexo is, without a doubt, a technologically well-developed platform. The company spends a huge amount of money on promoting its services.
From buying airtime on Bloomberg to investments in crypto magazines such as Decrypt.com, Nexo has managed to control its narrative in the media.
The platform's resources allow controlling the information about the crypto lender on the internet, including reviews on rating sites such as Trustpilot or community management on Reddit. Nexo is also often promoted by crypto influencers, who are ready to ignore all the red flags for a referral commission.
While Nexo is continuing to fight any controversial information and dismiss any criticism, the company's dubious and often inaccurate claims and lack of any transparency about its risk management and business model are reasons to stay away from this website.
Do you appreciate this review? Invite us for a coffee ☕
Usability of Nexo
Nexo's platform is made for borrowers and lenders. You can use one account to deposit cryptocurrencies, lend fiat money, or deposit your Euros and earn interest.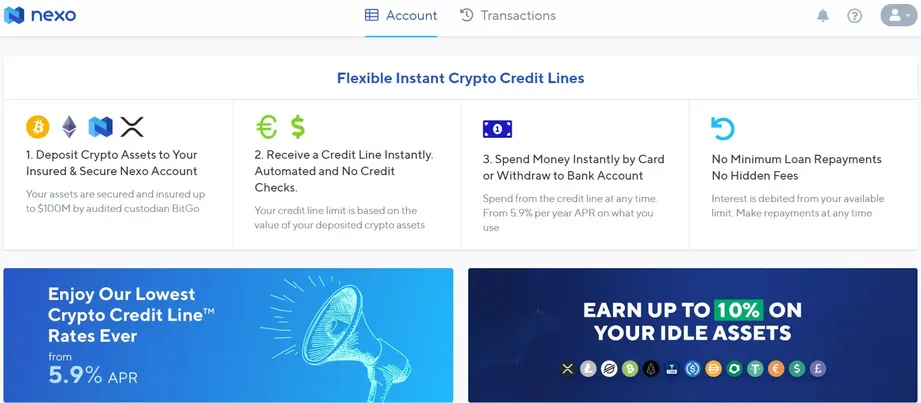 It's nothing like using more traditional P2P lending sites such as EstateGuru or PeerBerry, where you can invest in individual loans.
You will start earning the promoted yield as soon as you top up your account and deposit fiat or cryptos. The interest on Nexo is paid out daily, which you won't find on many other platforms.
Staking
You will need to hold a particular percentage of your digital assets in NEXO tokens to earn higher interest.
Nexo has four loyalty segments, Base, Silver, Gold, and Platinum.

Keep in mind that the NEXO token may significantly damage the performance of your crypto portfolio. The price of NEXO has been down 75% since January 2022.
Exchange
Nexo has recently launched its exchange, where you can trade supported cryptos, stablecoins, and fiat. The exchange is another source of income for Nexo as the platform aims to distance itself from the Earning and Lending products.
If you think trading on a crypto lending platform is a good idea, we recommend comparing the rates and looking at the spread, which is usually not in your favor.
How Fast Can You Withdraw Your Money?
Nexo promises to offer instant withdrawals for your investments.
This isn't something you should rely on. Nexo reserves the right to delay your withdrawals, and you accept those terms as you deposit your cryptos.
Note that many users may face issues when requesting a withdrawal on Nexo. The withdrawal speed is highly dependent on the transfer volumes on the blockchain.
As no financial institution regulates Nexo, you have no rights should Nexo avoid paying back your crypto.
Support
We have been in touch with Nexo's support and exchanged a few emails, as a lot of information isn't published on Nexo's website.
Unfortunately, after a few emails, the dialogue died. If you have questions, we highly encourage you to get in touch with Nexo via their live chat or email. You can then decide for yourself whether the answer is trustworthy to you.
Do Your Own Research
As the crypto lending space is developing rapidly, some information might be outdated. We strongly encourage you to verify any information in this post and do extensive due diligence on any project you plan to invest in.
Keep Your Crypto Safe
If you choose to deposit your crypto assets on any crypto-earning platform, you should be aware that you are essentially losing access to your private keys. If you prioritize the safety of your assets over a potential return, it's highly recommended to store your assets on a secure crypto hardware wallet such as 🔒 as this is the only way to keep ownership and control over your crypto.