Haru Invest Review
Haru Invest is a crypto wealth management app based in Singapore that offers high yields of up to 25% on your crypto deposits. In this review of Haru Invest, we will dive deeper into the platform and explore some of the risks associated with this type of investment. Is Haru Invest safe? Let's find out in our Haru Invest review.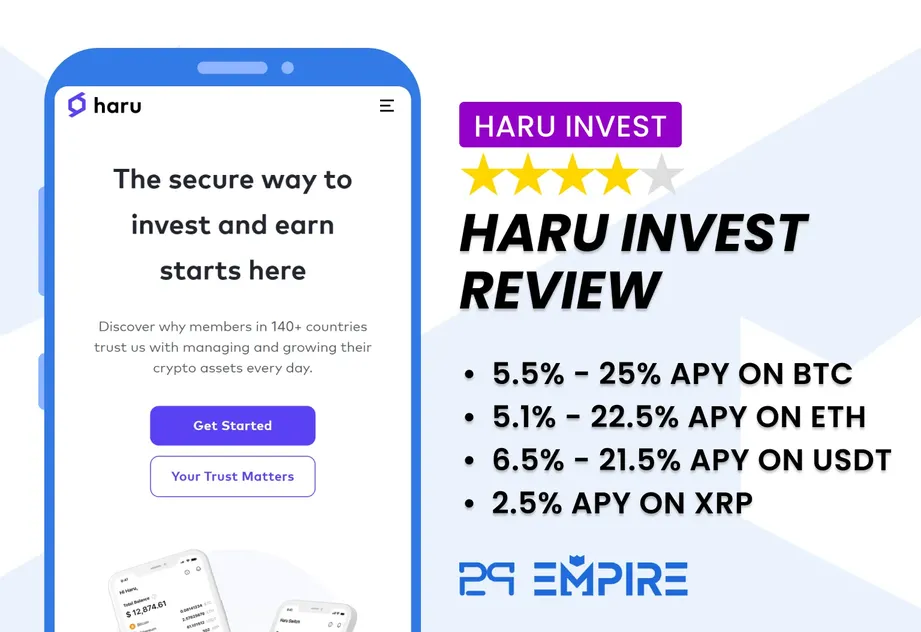 ⭐ Find the best bitcoin lending platform.
Haru in Numbers
Haru was launched in 2019 as a business unit of the blockchain fund Block Crafter which is based in South Korea, and approved as a crypto asset management fund in the British Virgin Islands.
Haru itself doesn't publish any statistical information that would give you an idea about the platform's track record. There is no information about the number of active users or the funds under management. We were, however, able to retrieve the annualized average returns for the Haru Explore product which hovers between 15% and 20% p.a.
Haru Promo Code
Haru Invest offers a dedicated referral code for our readers. Simply type in the Haru Invest referral code P2PEMPIRE during your registration to claim a 0.2% bonus on top of the interest rate for the Haru Wallet Earn and Earn Plus products.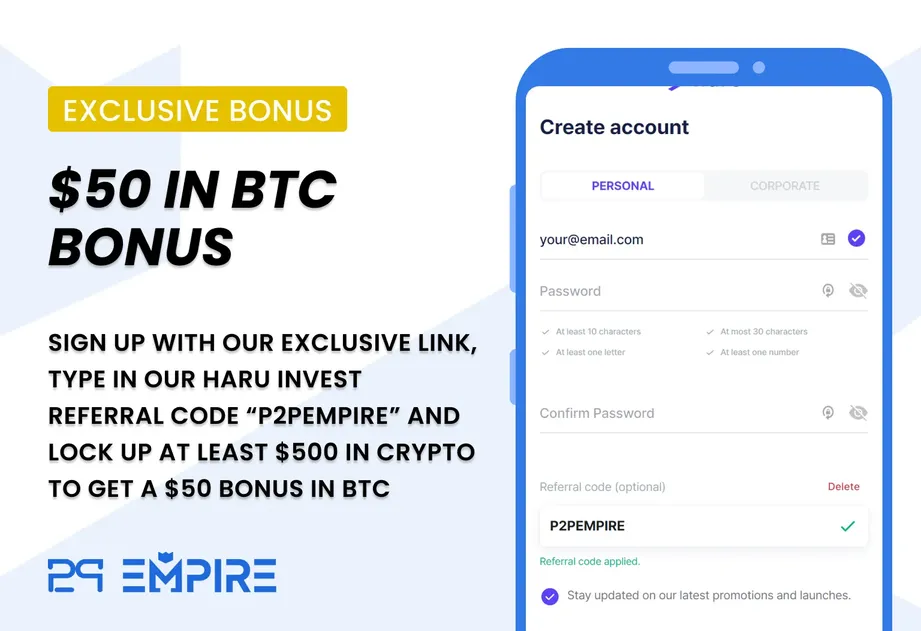 Ready to get your Haru bonus?
Haru Invest Requirements
In order to deposit your crypto on Haru, you must meet the following requirements:
Be over 18 years old
Verify your phone number and email address
Pass the KYC process (submit personal information including proof of address, a copy of your ID, and a selfie)
Only after you have done all of the above steps can you deposit crypto on your dedicated crypto wallet on Haru.
Risk and Return
Many similar platforms in the crypto world promote yield on crypto deposits as a "risk-free" type of investment.
It is often compared to traditional bank deposits, which is obviously not the case at all.
Haru Invest is slightly different from other competitors in the crypto-lending space. The platform doesn't use lending activities as a way to generate yield.
Instead, Haru uses your funds and deploys them in their in-house algorithmic trading tools.
Midas Investments is also following a high-yielding business model.
Haru's business model is the following some of the following "yield generating strategies":
Arbitrage Trading (target: 7% - 17%)
Algorithmic Hybrid High-Frequency Trading (target: 25% APY)
Algorithmic Fiat-Future Market Trading & Hedging (target: 22.5% APY)
Algorithmic Future-Future Market High-Frequency Trading (target: 21.5%)
Yield Farming (in-app liquidity pool)
Haru also makes some money through the spread of its crypto swap feature. In terms of fees, you can expect the following withdrawal fees: 0.0001 BTC, 0.005 ETH, 1 USDT.
There is also a performance fee of 15% from profits if one of your chosen strategies within the Earn Explore product segment exceeds a return of 15% per year.
Lower yields make sense as your investment is protected by collateral, which isn't the case with many other P2P lending sites that fund payday loans or unsecured consumer loans.
While the platform promotes "risk-free arbitrage trading" on its website, this is something that should be taken with a grain of salt.
There is no "risk-free" yield of more than 25% per year.
Trading volatility with leverage or trading the spread on the price difference across various exchanges is not simple, nor "risk-free".
While their copy on the website is clearly misleading, at least Haru does inform its users in the terms and conditions that they may lose their deposits.

In terms of in-app security, the platform provides a 2FA and your assets are stored on cold storage, which is provided by BitGo, a reputable custodian.
At the time of reviewing the platform, Haru doesn't provide a feature where you can whitelist your withdrawal addresses, as is the case on some other platforms, such as Celsius or CoinLoan.
Now that we have covered some information about the platform's business model and basic safety features, let's have a look at the platform's return.
Haru only offers yield on three digital assets: Bitcoin, Ethereum and Tether USD.
The yield that you get depends on the product that you choose.
Haru Earn Rates
Haru Earn (Wallet) is a simple "savings account" type of product, with instant liquidity and no lock-up period. You are receiving daily compound interest directly to your Haru wallet. This is the lowest-risk product with great flexibility and competitive rates that Haru Invest is offering.
You will earn the following rates:
6% APY on Bitcoin
6% APY on ETH
7.1% APY on USDT
Keen to explore all crypto interest accounts? Navigate to our guide about the highest-yielding crypto interest accounts.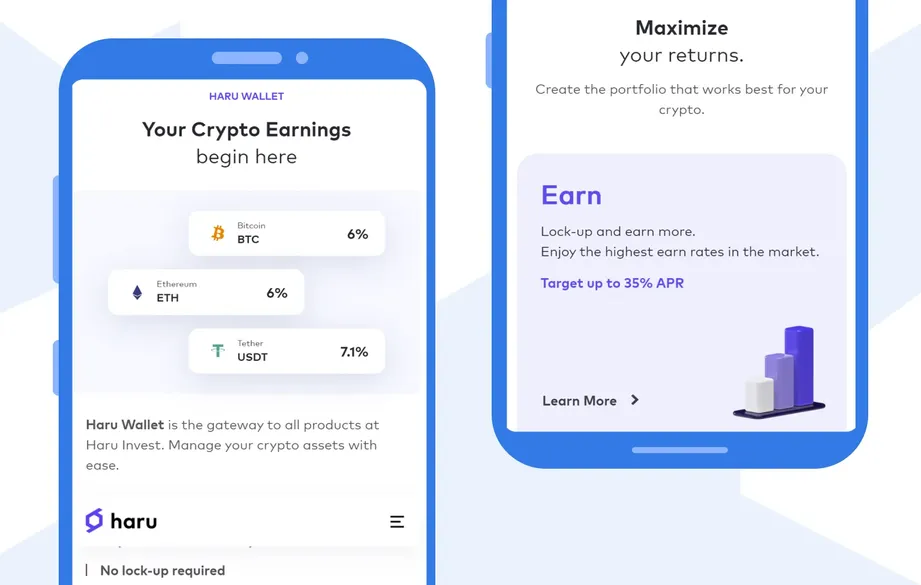 Haru Earn Plus
The Earn Plus product offers stable daily interest payments with a yield of up to 17% per year. The lock-up duration of your assets for this product varies from 15 to 365 days.
Here is an overview of the rates that you can expect to earn on Haru Invest, based on your lock-up period:
| Coin | 15 days | 3 months | 12 months |
| --- | --- | --- | --- |
| BTC | 6.8% | 12.4% | 17% |
| ETH | 6.8% | 11.9% | 15.5% |
| USDT | 7.9% | 13.6% | 17% |
As you can see for yourself, the platform pays out up to 17% APY if you lock-up your Bitcoin for 1 year.
Compared to the competition, Haru offers some of the highest yields on the market.
Haru Earn Explore
The Earn Explore segment consists of various investment strategies that payout the yield on a biweekly basis.
The yield is dependent on the asset type (crypto) as well the lock-up period which ranges from 1 to 12 months.
The platform offers three different products which we have mentioned before:
"Earn like the best"
Target Rate (annual): 25%+
Asset type: Bitcoin
Investment period: 3 Months +
Strategy: Algorithmic Hybrid High-Frequency Trading
"Surf the volatility"
Target Rate (annual): 22.5%+
Asset type: Tether USD
Investment period: 1 Month +
Strategy: Algorithmic Fiat-Future Market Trading & Hedging
"Beyond staking"
Target Rate (annual): 21.5%+
Asset type: Ethereum
Investment period: 3 Months +
Strategy: Algorithmic Future-Future Market High-Frequency Trading
As you can see, Haru uses catchy names to make their high-risk, high-frequency algorithmic trading strategies more appealing to the common folks.
Be aware that you are risking your principal by participating in Haru's Explore product.
For the Haru Wallet and Earn Plus products, Haru uses less risky strategies such as arbitrage trading, where they automatically exploit the gaps between two spot markets - basically buying and selling simultaneously on two exchanges.
What's worth noting is that the minimum deposit to enter the Haru Explore strategies is extremely low, so you can start using it from just 10 USDT.
You should also know that the Earn Explore product doesn't promise a specific return but simply gives an estimate of what's the targeted yield. You can consult the "performance history" section to get an idea of how a specific strategy has performed in the past.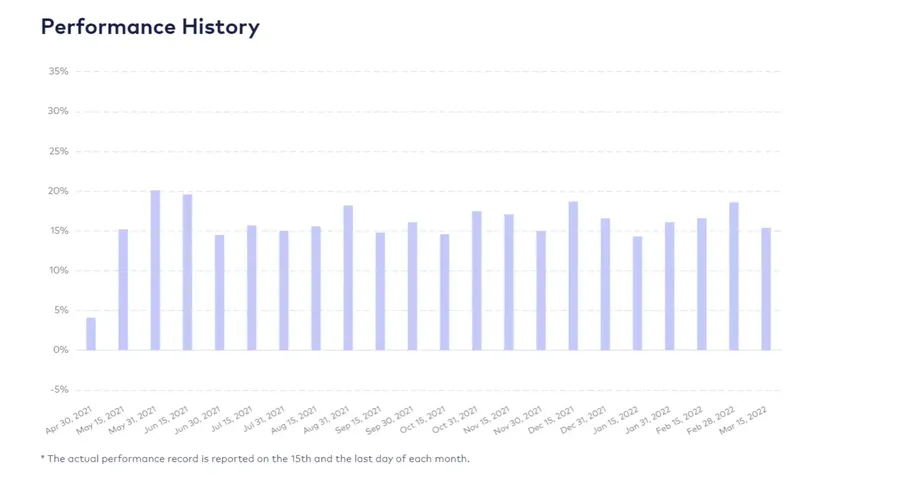 Keep in mind that this is just a simple chart, with no audits or proof of any kind.
Is Haru Safe?
Let's explore some of the platform risks that you should be aware of.
Who Owns Haru?
Haru is part of Block Crafters which is a blockchain-type company that's active in the area of crypto banking and crypto fund management.
The group consists of various business units including, Haru, Block Crafters Capital, Block Crafters Acceleration, Block Crafters Consulting, and D.Street.
From our chat with the support of Haru, we found out that Block Crafters is headquartered in Seoul, South Korea. The exact location is: 17F 327, Gangnam-daero, Seocho-gu, Seoul, Republic of Korea.
This is also the location from where the team behind Haru is operating, despite Haru being registered in Singapore (38 North Canal Road, Singapore 059294), which is the official HQ of the Haru business unit.
You should know that Haru is a platform that connects users with Block Crafters Capital, which is the business unit that does the actual "asset management" (algorithmic-trading).
Who leads the team?
Haru is led by the CEO Hugo Lee. You can review his LinkedIn profile here. Our quick background check of Hugo, didn't yield any suspicion of scams or fraudulent behavior in the past.
Unfortunately, there is no introduction of him or the team on the website, which means that you have to explore an external resource such as LinkedIn.
Where is Haru based?
Haru's official HQ is in 38 North Canal Road, Singapore 059294 while the team is operating from 17F 327, Gangnam-daero, Seocho-gu, Seoul, Republic of Korea.
Are There Any Suspicious Terms and Conditions?
When reviewing the terms and conditions, we did not spot any major clauses that differ from other crypto management apps.

What's worth noting is that the platform may change the terms and conditions anytime without prior notice.
In the terms of conditions, you will also find a list of restricted countries that you won't be able to sign up from. The list mainly includes countries in the Middle East, Africa, and some countries in the Caribbean.
As expected, there is also a clause that says that Haru is not responsible for any losses that might occur and that you might lose all of your deposits.
There is no clause regarding the transfer of ownership of your assets to Haru. During our chat with the support, the team confirmed that they "consider that the assets belong to the users" and not the platform.
Potential Red Flags
Currently we are not aware of any potential red flags.
Learn more about possible red flags here.
Our Opinion of Haru Invest
Haru offers a high-risk and potentially high-reward investment opportunity for crypto holders. Like all the other competing platforms, Haru is also not regulated by anyone, nor does the platform provide any relevant statistical information or audited financial reports.
This is something that you should consider when deciding whether to deposit your crypto on Haru or not.
From a usability perspective, the platform offers yield only on three crypto-assets, which is a rather low number in comparison to other crypto-lending platforms.
The offered yield on Haru is very high, but it certainly comes with a risk and lower liquidity as you are required to lock in your crypto assets in order to obtain the highest yield.
If you are a risk-friendly crypto hodler, then you might as well expose yourself with a small portion of your crypto holdings on Haru.
Be aware, however, that you might lose your assets, and that no specific yield is guaranteed. That's particularly the case with Haru's Explore strategies
Do you appreciate this review? Invite us for a coffee ☕
Usability
From a usability standpoint, Haru doesn't provide anything that would take your breath away.
The KYC requires you to provide proof of your address which is often not the case on other platforms unless you transact FIAT.
Haru doesn't support FIAT transactions nor can you buy crypto on the platform, which makes us wonder what type of services Haru requires your proof of address for.
Haru Switch
Haru offers a swap feature which is called Switch. This tool allows you to swap between the three supported cryptocurrencies.
Keep in mind that there is a spread and a swap fee that you will have to pay. Those fees are visible during your swaps. The swap fee ranges between 0.05% and 0.9% per swap.
Haru's swap features support the market as well as limit orders.
The Switch feature also enables you to participate in yield farming and provide liquidity to the community pool in exchange for yield.
This Switch Pool targets a 35% interest rate per year. You can select your own assets but you have to commit them for at least 3 months.
"Farming"
Target Rate (annual): 35%
Asset type: All assets
Investment period: 3 Months +
Strategy: Liquidity Provider to community-driven swap pool
To learn more about this strategy, we suggest informing yourself directly on the Haru platform.
Haru Freeze
While some platforms in the industry offer their own utility token, which is a way to lock the user into their ecosystem, Haru offers an alternative to this strategy which they call Haru Freeze.
Haru Freeze is a product that includes two collectibles, Frost and Crystals.
By purchasing those "digital collectibles", you will boost your rates and lower your fees on Haru.
You can purchase these perks within the Earn Plus product.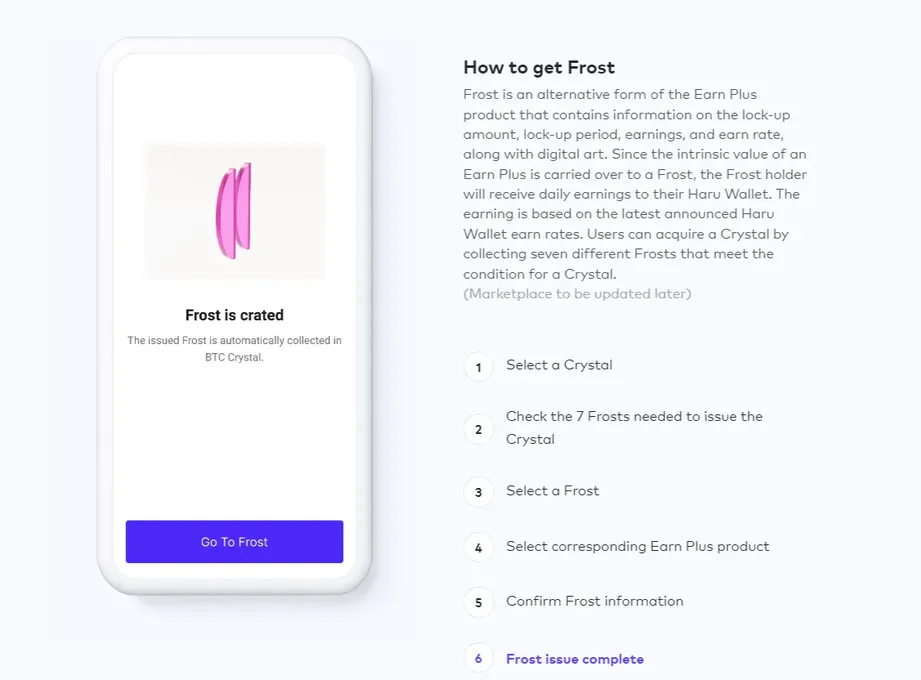 Liquidity
If you are not participating in any specific products that Haru is offering, you are receiving a very competitive yield on your crypto holdings by keeping them in your Haru wallet. You can access those funds anytime.
Haru reserves up to 24 hours to process your withdrawals (uncommitted funds). The support team informed us, however, that typically they process it faster (within 10 hours).
As you might have noticed already, Haru offers also products that lock up your crypto for a specific amount of time in exchange for a higher yield.
Some of the products on Haru could be compared to Crypto.com's Earn product, where you also need to stake your coins in exchange for a higher yield.
The fact is, however, that you cannot withdraw your funds anytime. Should the market drop and you want to liquidate your assets, you won't be able to do so if they are locked on Haru.
Alternative crypto-lending platforms like YouHodler or CoinLoan offer lower yields but you can exit your position instantly (YouHodler or Celsius), or within 24 hours (CoinLoan).
Support
Our experience with the support was very good. We used the platform's live chat option and Haru's support was able to answer all of our questions and provide additional clarity to some of the information that we could not find on the website.
The response time during business hours was around 5 minutes.
Haru Review Summary
If you are an experienced crypto trader or holder, Haru might be a product to consider. If you are not familiar with the world of crypto, Haru's products and services might sound surreal to you. While Haru is offering high-risk investment opportunities that yield up to 35% interest per year, you should be wary of the associated risks.
Key Takeaways From Our Haru Invest Review
Highest yield in the CeFi segment
Responsive support
Complex KYC
High Risk Trading Strategies
If you think that Haru is a good fit for you, you can give it a go with a smaller portion of your crypto holdings.
Ready to earn passive income on your crypto?
If you think that you would prefer to explore other crypto-lending platforms with a more transparent business model, head over to our crypto-lending platform comparison.