Ledn Review Summary
To summarize, Ledn offers solid interest on bitcoin holdings, and, considering neither of the co-founders has a background in fintech, they have built a successful platform that is going from strength to strength.
Unlike some of the other shady competitors like Nexo, Ledn is operating under the Federal laws of Canada, which increases trust in the platform.
Main Takeaways From Our Ledn Review:
Loans are backed by bitcoin
Tier system yields low interest
Operating under Federal laws of Canada
If you want to earn more than 5% on your Bitcoin holdings, Ledn is a worthy platform to consider.
Ready to let your money work for you?
What Is Ledn?
Ledn is a Canadian crypto lending platform with a twist. It's the first platform of its kind, offering bitcoin-backed mortgages, as well as the ability to earn interest on, or trade digital assets.
This crypto lending platform also offers the ability to amplify your bitcoin earnings through its B2X service.
In this Ledn review, we'll be looking at all of the services Ledn provides, to give you an insight into whether this innovative platform is safe and worthwhile, for both those wanting to earn a passive income through interest and those borrowing a loan.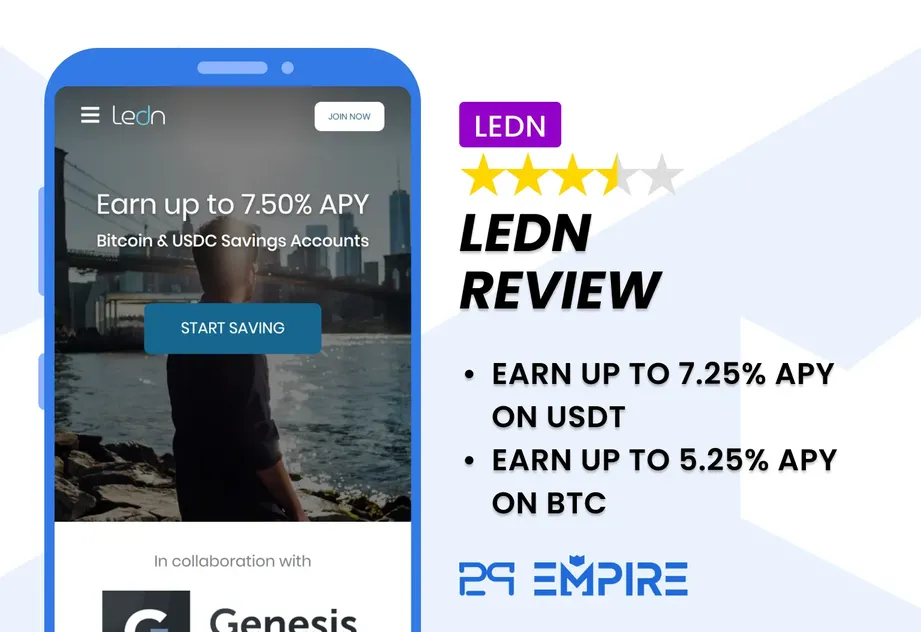 Ledn In Numbers
Ledn doesn't make a lot of its statistical information available, however, we know that the platform is currently managing over $1.7 billion in assets, which is a massive increase of over 4000% since Q3 2020.
Since that same quarter, Ledn's user base has grown almost 10x, with 44% of its loan clients being residents of Latin American countries.
By the end of Q1 2022, Ledn will be targeting over $100 million in Bitcoin-backed mortgage originations. The platform has recently secured $70 million in its series B funding and has 23 investors according to Crunchbase, which brings its overall valuation to $540 million.
Ledn Bonus
If you are looking for free money, the referral program by Ledn offers you $10 in USDC after you use our referral link and deposit at least 75 USDC in Ledn's Savings Account for 15 days or longer. This deposit must be made within 30 days of opening an account.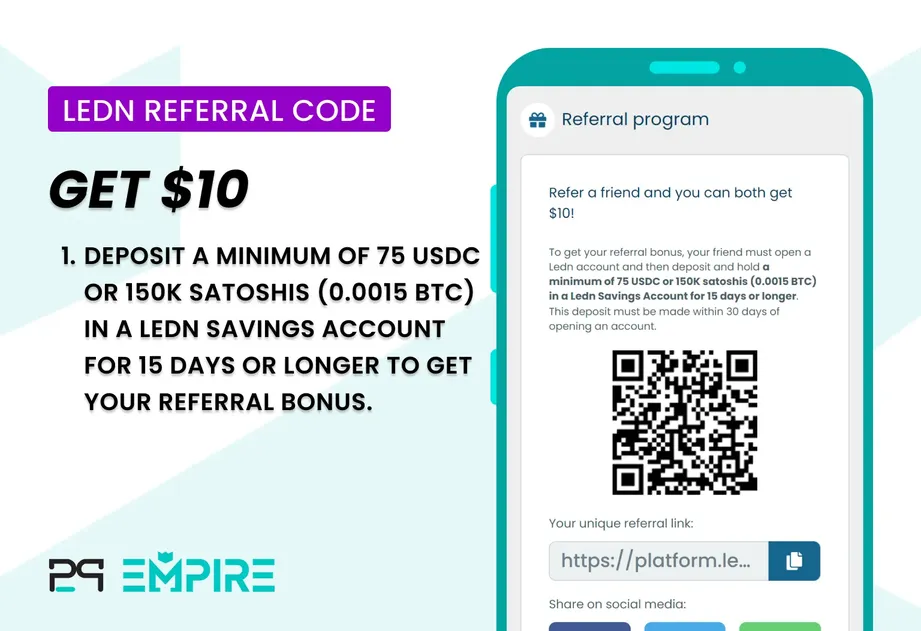 Ready to get free crypto?
Ledn Requirements
For those wanting to open a Ledn Savings Account and earn interest on crypto, the requirements are as follows.
Be over 18 years old
Have a valid email address
Pass the KYC verification process
The requirements you need to meet in order to apply for a bitcoin-backed loan are the same as those above, but you will also need to provide your bank account details for funding. Ledn does not perform a credit check before issuing loans.
In order to pass the KYC verification process, a user must submit their personal information, including name, address, phone number, etc, as well as a government-issued ID, such as a passport or driver's license.
You'll also need a photograph of yourself holding said ID and proof of address, with a document such as a utility bill or bank account.
Ledn is available in 127 countries including the U.S. Some U.S. states are not accepted, and these are: Alabama, Connecticut, Hawaii, Kentucky, Louisiana, New Jersey, New York, Texas, Washington, Washington D.C.
Risk And Return
It is important to mention that earning interest through a crypto savings account can be risky, even if you have done your due diligence on a platform.
You should not treat a crypto savings account as an ordinary savings account, as there is the possibility of losing your assets.
When borrowing a loan, you need to ensure you are able to pay back the amount borrowed as well as the interest. With bitcoin-backed mortgages, there is always the chance that if cryptocurrency were to crumble, you would risk losing your home.
What Does Ledn's Insurance Cover?
There is no deposit protection insurance policy, such as CIDC or similar in place when users deposit their crypto assets into a Ledn Savings Account.
Cryptocurrency accounts are not insured by any government either, so if the platform gets hacked or goes out of business, there will be no one to help you recover your funds, and you will likely lose some or all of your digital assets.
How Does Ledn Make Money?
Ledn is lending your money to institutional investment firms such as Genesis Capital. The crypto lending platform takes a cut from the generated yield and forwards the remaining interest to you.
In the terms and conditions, the platform informs the user that they may rehypothecate users' funds, which is not always in a users' best interests, as they lose ownership rights, and the platform can use their assets however they see fit.
This clause in the terms and conditions states that "Ledn may receive compensation in connection with lending or otherwise using the Digital Assets in our business".
We have requested more details from Ledn and we will update our Ledn review as soon as the platform gets back to us.
Is Ledn Regulated?
Being a Canadian-based crypto loan platform, Ledn is incorporated under the Federal Laws of Canada.
Although trading cryptocurrency is legal in Canada, digital assets such as bitcoin are not classed as legal tender.
We aren't aware of any licences that would be applicable for Ledn.
How Is Ledn Secured?
Ledn has several measures in place to ensure the security of your assets. The platform uses BitGo as its custodian, similar to many other crypto-lending platforms.
BitGo provides wallet protection, and uses several different factors to keep your money safe, including multi-signature security, and 3-key management.
Ledn uses 2FA as another security measure, as well as giving users the opportunity to enable address safelisting, to only process withdrawals to addresses they have already predetermined as safe.
All data is encrypted, which should give users some peace of mind when submitting their personal information on Ledn.
Ledn does not perform credit checks on users' who wish to borrow a loan. In order to lower the risk, the loan-to-value ratio for a bitcoin-backed Ledn loan is 50% to ensure there is enough collateral in the case of a default.
Your Return On Ledn
You can currently earn interest on only 2 assets, BTC and USDC. With BTC, you can earn up to 5.25% APY, and 8% on USDC.
| Coin | APY |
| --- | --- |
| BTC (Tier 1: < 0.5 BTC) | 5.25% |
| BTC (Tier 2: > 0.5 BTC) | 2% |
| USDC | 8% |
When it comes to bitcoin, Ledn works on a tier system, meaning you will earn less interest, the more bitcoin you have.
Tier 1 is between 0-0.5 BTC, which is when a user earns 5.25%.
For amounts greater than 0.5 BTC, users only earn 2% APY, which leaves these rates looking less attractive.
USDC is not included in this tier system, and stable coins earn up to 8%, regardless of the amount you have.
Is Ledn Safe?
While the safety of a crypto lending platform cannot be guaranteed, there are several aspects of the business you can look at to determine whether a platform seems trustworthy, including who is behind the platform, and where it originates.
Who leads the team?
Ledn was co-founded by Adam Reeds and Mauricio Di Bartolomeo. Adam is the CEO and has a background in energy and infrastructure, whereas Mauricio is the CSO, and has a background in sales and marketing.
Ledn has 54 employees and is currently hiring to expand the team.
Where is Ledn based?
Ledn is based in Toronto, Canada, and is regulated and incorporated under the Federal Laws of Canada.
Are there any suspicious terms and conditions?
Although it is easy to scroll through and accept terms and conditions, it is important to read through the terms when opening a crypto account. Here are some of the terms that we found suspicious.
Consent to rehypothecate

It is not within your best interests to allow a platform to rehypothecate your money as you lose any control of your assets.
No Investor Protection Fund
Your digital assets are not protected by any insurance scheme, which means that by depositing your assets on the platform, you accept the risks involved, and acknowledge that you might lose your funds.
This is a standard clause used by all crypto lending platforms.
Potential Red Flags
We are currently not aware of any misleading statements.
Our Opinion Of Ledn
Ledn is certainly an innovative crypto platform. The returns on its savings accounts are not as high as other platforms, however, there are ways to increase your bitcoin holdings, through the B2X feature.
Ledn offers the world's first bitcoin-backed mortgages and doesn't penalize users for repaying their loans early.
All loans have a 12-month loan duration and there is no monthly payment, users simply settle their loan repayment at the end of the term.
This platform has an app, both for iPhone and Android users, which is available to download from the relevant app stores for free.
When it comes to trading, although there are only 2 supported assets, Ledn states that more crypto assets will be available to trade soon, which may mean the supported assets for earning interest increase over time too.
The platform is growing at an exponential rate, although Ledn doesn't make information on the number of users it has public, we do know it has grown 10x since Q3 2020, and users seem to have nothing but positives to say about the platform.
Ready to let your crypto work for you?
Usability
With Ledn, you can earn interest on 2 assets, as seen below.
Earn interest on BTC, USDC
By opening a savings account on Ledn, you can start earning interest immediately without a minimum deposit amount.
There are no fees associated with using this account either, only a withdrawal fee, which covers the miners fees on the Bitcoin Blockchain.
Users can earn up to 5.25% interest on BTC, and 8% on USDC, although the rate for BTC is dependent on the amount you have deposited in your account.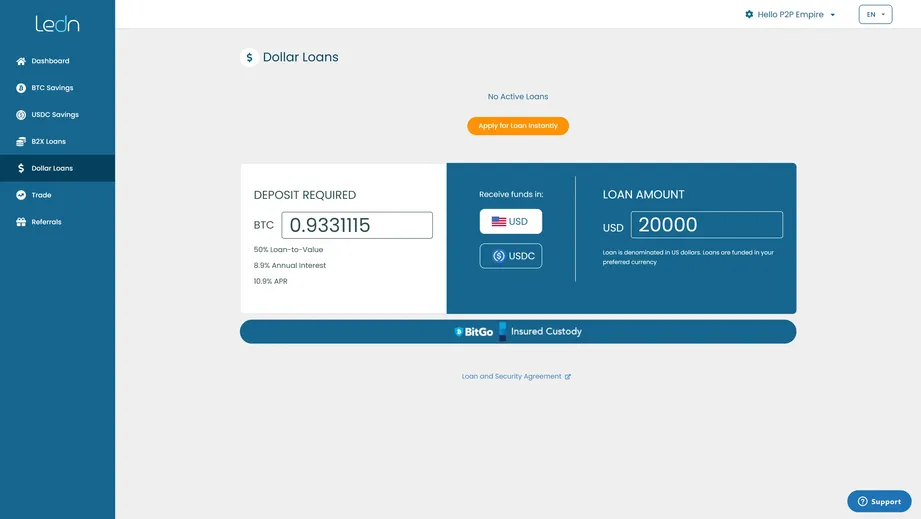 Another feature of Ledn is the offering of bitcoin-backed loans, which allow users to buy or finance properties by using bitcoins.
The loans Ledn provides are attractive to users for many reasons, one of which is that the loan can be paid back at any point during the loan term without penalties. There are also no monthly payments, so the loan can simply be settled at the end of the loan term. Speaking of loan terms, all loans provided by Ledn have a 12-month duration.
Users are charged an interest rate of 9.5% on loans, and all loans have a loan-to-value (LTV) of 50%.
Something to consider before borrowing a bitcoin-backed mortgage is that if the price of bitcoin decreases significantly, you'll be asked to deposit more funds or pay down some or all of your balance. If you're not able to do this, Ledn can sell your bitcoin collateral to cover the outstanding loan balance.
Users can also make use of the B2X service offered by Ledn.
Leveraged Lending
The purpose of this service is to allow users to increase the bitcoin they hold. The way this is done is through a bitcoin purchase and a bitcoin-backed loan.
Through this service, users can double their bitcoin holdings. This feature is simple to use and you can use the bitcoin you already hold in your Ledn Savings Account.
Another perk is that the application process is almost instantaneous.
The repayment of the bitcoin borrowed works exactly the same as other Ledn bitcoin-backed loans, meaning the loan term is up to 12 months and the total balance can be repaid at any point without penalties. The administration fee for this service is 2%, and the annual interest rate is 8.9%.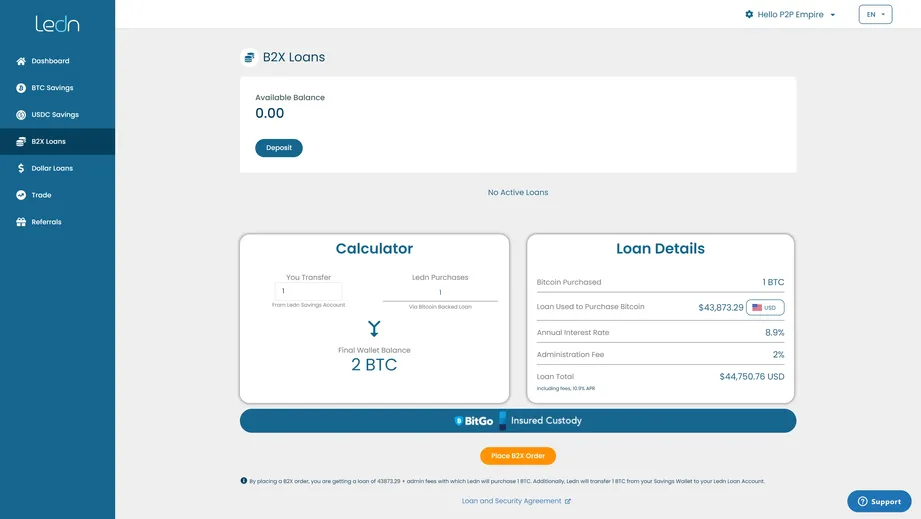 This feature is designed for those who can see the value of bitcoin increasing over time, and simply want to hold more of this crypto asset.
The full value of your original bitcoin is used as collateral. It does carry some risks, as although bitcoin can increase in value, it can, of course, decrease as well, and if this happens, Ledn may ask you to deposit more collateral in the form of bitcoin or pay down some of the loan.
The following countries have restrictions in place that prevent them from using this feature: Iran, Libya, North Korea, Syria, United States, Africa, and Uruguay.
The B2X feature reminds us of YouHodler's Turbocharged feature. We suggest using those types of leveraging tools with extreme caution.
Exchange/Swaps
On Ledn, there is the ability to trade your crypto assets. The platform currently supports BTC and USDC, however, there are plans to support more assets in the future.
Users can earn interest immediately after their trade is executed, and there are no trading fees.
There is a maximum single trade limit of $2 million USD and a total trade limit of $5 million USD per day.
Ledn is currently not available in the following U.S. states: Alabama, Connecticut, Hawaii, Kentucky, Louisiana, New Jersey, New York, Texas, Washington, Washington D.C.
How Fast Can You Withdraw Your Investments?
You can withdraw your money at any time on the Ledn platform.
Withdrawals take between 24-72 hours to be processed and deposited in users' accounts. Users can withdraw up to 1,000,000 USDC and up to 100 BTC every 7 days.
Until recently, the only fees for withdrawals were for the USDC Savings Account, which charged 10 USDC per withdrawal to cover the miner's fee.
However, as of February 1st, the 10 USDC fee has been upped to 35 USDC per withdrawal which is quite expensive.
Ledn reasons that until now, the platform has been covering most of the costs of users' withdrawals, and in order to continue to have a sustainable business model, their withdrawal fees need to reflect the real cost of the transaction.
Support
Ledn doesn't have a live chat option on the website; however, there is the option to fill out a contact form. Users' can also contact the platform via the email address support@ledn.io. When we reached out via email, it was answered within 24 hours.
There is also an FAQ section of the website that is very useful for answering popular questions.