Nibble Overview
Nibble is a new P2P lending platform that launched in February 2020. The platform is registered in Estonia. However, the team operates from Barcelona, Spain. On Nibble, you can invest in consumer loans with annual interest between 8% and 12%. A buyback guarantee backs all loans. Don't invest in Nibble until you read our comprehensive review.
⭐ Learn more about our rating criteria
📧 Stay up to date with our newsletter
Nibble in Numbers
Investing in a P2P lending platform with no performance is always risky. Nibble was only founded a few months ago, and while its parent company has been around for a while, Nibble itself doesn't have any track record.
Therefore, you should be extremely cautious.
As we write this Nibble review the number of loans funded is very small.
Nibble does not provide any dedicated statistics page as the platform does not have much data to date.
All the loans on Nibble are originated from Joymoney, a company owned by a Russian firm, IT Smart Finance holding group.
The audited financial report of IT Smart Finance doesn't give much information and Nibble couldn't answer our questions regarding the profitability of individual loan originators either.
Nibble Promo Code
Nibble is one of the P2P lending sites that offers a cashback bonus for new investors.
If you join the platform and invest money, you will receive a 1% cashback bonus from your investments during the first 90 days after registration. The cashback bonus is slightly higher than what you will get on most other P2P lending platforms.
Note that before signing up with Nibble you should be aware of all the risks. A cashback bonus of 1% should not be the only reason to join Nibble.
Nibble Requirements
In order to invest in Nibble, you need to be over 18 years old and reside in Europe. While Nibble doesn't inform its users about the necessity of having a European bank account, we are quite certain that you need to have one to comply with the anti-money laundering laws.
No EUR bank account? No problem
In order to get access to all the functionalities of the platform, you need to pass their verification process.
Risk and Return
Investing in microloans on new platforms is connected to risks. You basically invest in unsecured payday loans backed by a buyback guarantee.
While Nibble emphasizes the "buyback guarantee", which is provided by the loan originator, you should know that this concept is only as good as the financial situation of the loan originator - which Nibble doesn't provide.
You should be fully aware that Nibble isn't responsible for any losses that you might occur by investing in loans on the Nibble platform.
In fact, they aren't even reliable for the legal information on their platform.
How come? Keep reading.
Is Nibble Safe?
To avoid P2P lending scams you should do your own due diligence before signing up and investing on any P2P lending site.
As this is rather time-consuming, we have done the homework for you, and here are our results:
Who Leads the Team?
Nibble's CEO is Marina Smirnykh who's also employed by IT Smart Finance. Before she joined the company, she worked in large Russian banks such as Home Credit Bank and Sberbank. Since 2014, she has been leading Joymoney which quickly gained traction within the Russian consumer lending market.
Who Owns the Platform?
According to Nibble's website, Nibble was founded by Maxim Pashchenko. We haven't found much information about him apart from that he is also connected to Joymoney and IT Smart Finance.
We reached out to Nibble to bring more clarity into the shareholder's structure. Unfortunately, no one came back to us.
Are There Any Suspicious Terms and Conditions?
The safety of your investments is your priority, isn't it?
In that case, we suggest you pay attention to Nibble's terms and conditions.
Limitation of Warranties
Nibble says that they aren't liable for any information they present on their website.

It's not the first and probably neither the last P2P lending site, that has a similar clause in their Terms and Conditions.
This is extremely risky and gives you absolutely no legal ground when things go sideways.
You are basing your investment decisions on the information that you have access to. If Nibble gives you wrong information and you lose money, the platform isn't liable.
Clause 5.4. - Your Obligations
In case law or regulation applies to Nibble or any part of the agreement, you shall agree to any changes to the contract.

Nibble's terms and conditions aren't in your favor. Nibble isn't a regulated business which means that the platform can use this clause at any time and you aren't protected against it.
Missing information
Nibble's terms and conditions aren't complete. Here is what's missing:
No information about how investor's funds are stored
No clear information about changes to terms and conditions
No information about individual loan agreements (or a template of the contract)
Curious about what else we look at when conducting our research?
With our ✅ workbook, you will be able to spot red flags 🚩 and protect your investment.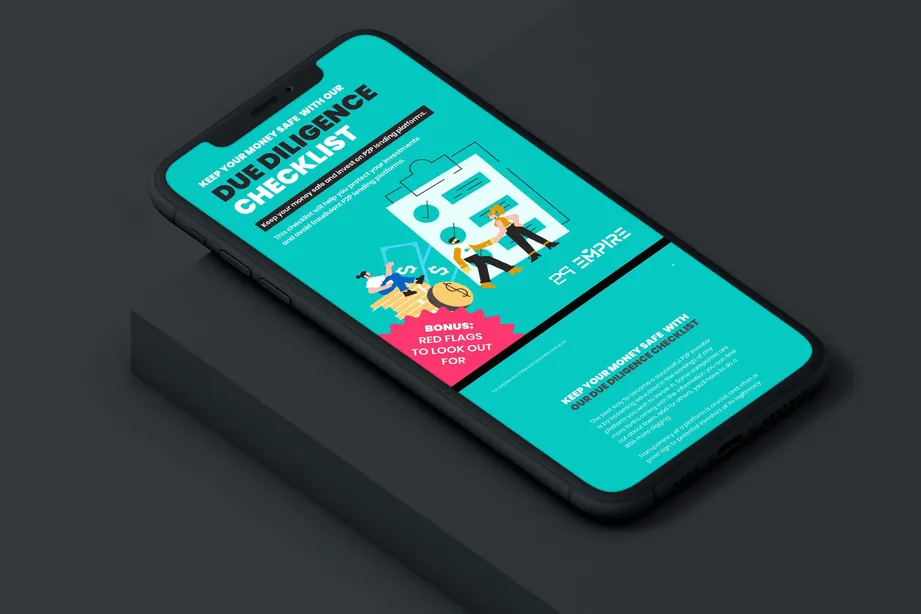 Protect Your Money!
Potential Red Flags
Nibble isn't liable for the legal information presented on the platform nor the accuracy of it.
Nibble does not inform the user about how its funds are stored or about the time it takes to withdraw the funds
Nibble doesn't inform the user about the terms that apply when the terms and conditions are amended.
What's our Opinion About Nibble?
After reviewing the website, we decided to not invest in Nibble.
Apart from the above-mentioned red flags we also didn't find financial data of all loan originators.
Furthermore, the translation of the website is very poor and full of grammatical errors.
This certainly doesn't improve the trust in Nibble's services, regardless of who is backing it and how "well-performing" the parent group is. The poorly made voice-over of the video where Nibble's founder Maxim Paschenko presents the company also doesn't add any trust.

When reading the information on Nibble's website you get the impression that you can invest at least in loans from Russia and Spain.
Currently, this isn't true as you can only invest in loans from Joymoney in Spain.
This fact makes the financial overview of Joymoney in Russia, which you can find on Nibble's website, rather irrelevant as you can currently only invest in Spanish loans for which there is no financial report available.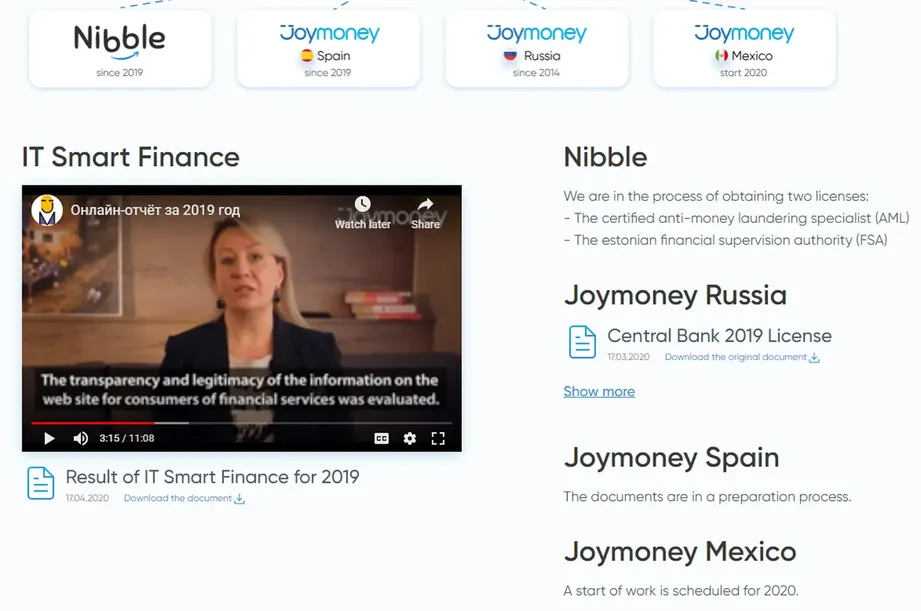 Nibble values transparency, professionalism, and innovation. According to our research, we cannot confirm any of these points.

The entire P2P platform feels like someone rushed to create a P2P platform to get quick access to capital without any plan or strategy to create some added value.
We have received many requests from Nibble to review their platform, however, after we have done so and sent them our questions to clarify certain information, no one got back to us.
We cannot give a positive recommendation about Nibble as there are plenty of more reliable platforms that you can choose from. Have a look at our list of the best P2P lending sites.
Still here?
Continue reading to find out more about Nibble.
Usability
When it comes to the usability aspect, you should keep your expectation for Nibble low, as the platform doesn't offer anything better than what you would find on other platforms.
Investing on Nibble
Nibble uses a similar strategy to Robocash, you cannot invest in loans manually. This means that the only way to invest in loans is via Nibble's Auto Invest.
For some of the platforms where the loan originator is the parent holding group, it doesn't make sense to allow manual investments.
Using Auto Invest to invest in loans is common within the P2P lending space, especially when it comes to investing in payday loans.
However, in the case of Nibble, the Auto Invest product doesn't provide any value.
Nibble's Auto Invest
Nibble's Auto Invest gives you three "seemingly" different Auto Invest strategies.
Long-term investment
Short-term investment
Trial investment
In reality, you are investing in the same short-term loans with a loan period of 30 days. The only difference between short-term and long-term investments is that you are reinvesting your interest and loan repayments.
In the P2P lending space, we typically define long-term investments in consumer loans, car loans, business loans, or real estate loans with a duration of 12 to 36 months. Investing in short-term loans for 36 months is certainly not a long-term investment by definition!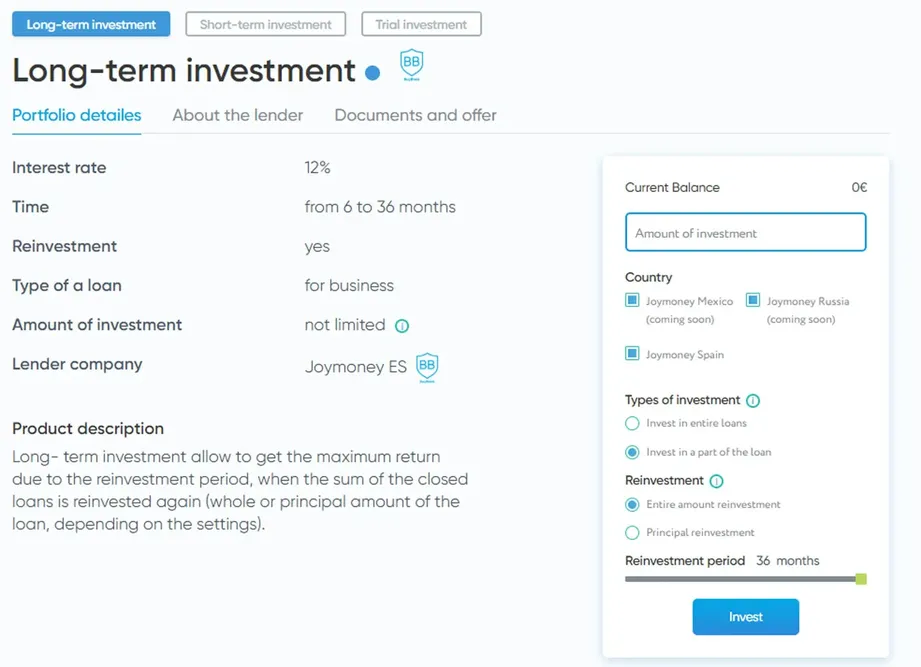 Loan Description and Settings
Nibble's loan description doesn't provide much information and the fact that payday loans are flagged as 'for business' is misleading.
The 'amount of investment = not limited' is also very unusual information that doesn't provide any value.
If you click on the 'About the lender' tab you would expect some financial analysis, instead, you will find a paragraph saying that your investment is secured by a buyback guarantee.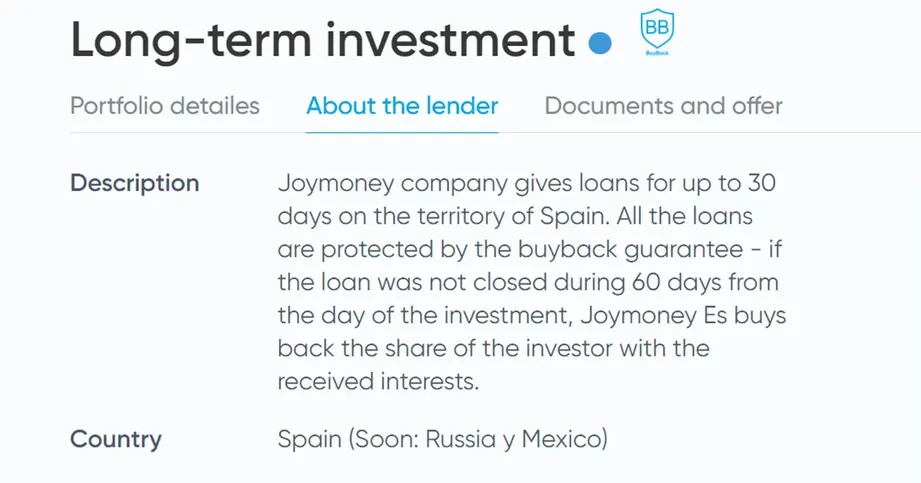 The 'Documents and offer' tab redirects you to the user terms instead of showing you the actual assignment agreement.
Another confusing feature is the Auto Invest settings. The fact that you need to have the option to invest in loan originators that aren't even available on the platform is a mystery to us.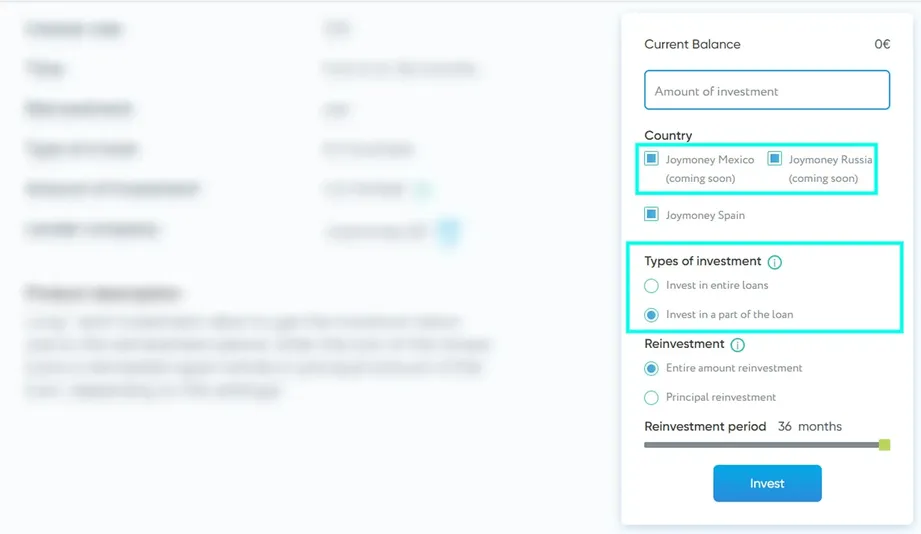 You should not invest in loan originators that aren't even presented on the website and don't publish individual financial reports, as this is extremely risky.
Why you need to choose between investing in the entire loan vs part of the loan is also something Nibble fails to explain.
Nibble's Auto Invest isn't something you should be comfortable using.
How Fast Can You Cash Out?
Wondering how fast you can withdraw money from Nibble?
Most of your portfolio should be accessible within 30 days which is the max. loan term for the loans listed on Nibble.
This period can be extended in cases where you invest in loans with a 90 days loan term.
In theory, your P2P investments on Nibble are more accessible as compared to real estate or P2B platforms.
Support
Nibble's support doesn't provide any value. If you are new to P2P lending, we would not suggest using any of Nibble's services or relying on the information that the site provides. Many aspects of the website are misleading.
Nibble Review Summary
Nibble didn't pass our due diligence process, which is why we can't give a positive recommendation to you. We have spotted several major red flags which you should keep in mind.
Main takeaways from our Nibble review:
Information on the platform is misleading
Customer support doesn't provide any value
Grammatical errors on the website
Several aspects of the terms and conditions are missing
If you want to start with P2P lending, there are several more established platforms that offer higher protection and overall a better product that you will enjoy.
Keen to try another platform?
Compare Platforms