EvenFi Review Summary
EvenFi is certainly a suitable P2B lending platform for more experienced investors who are looking for exposure in Italian and Spanish businesses. The low minimum investment amount of just €20 and the skin in the game are two unique features that set the platform apart from the competition.
Main Takeaways From Our EvenFi Review:
Regulated platform
Low min. investment amount
User-friendly
Non-transparent statistics page
If you believe that EvenFi is a good fit for you, you can sign up with the link below and get a €10 welcome bonus and 1% cashback bonus on your investments over €1,000 during the first four months.
Ready to let your money work for you?
What Is EvenFi?
EvenFi is a crowdfunding platform that offers investment opportunities in business loans with interest between 8% and 11% per year.
You can start investing from just €20 which means that everyone can start earning interest on EvenFi, regardless of the investment amount. Learn more about this unique platform in our in-depth EvenFi review.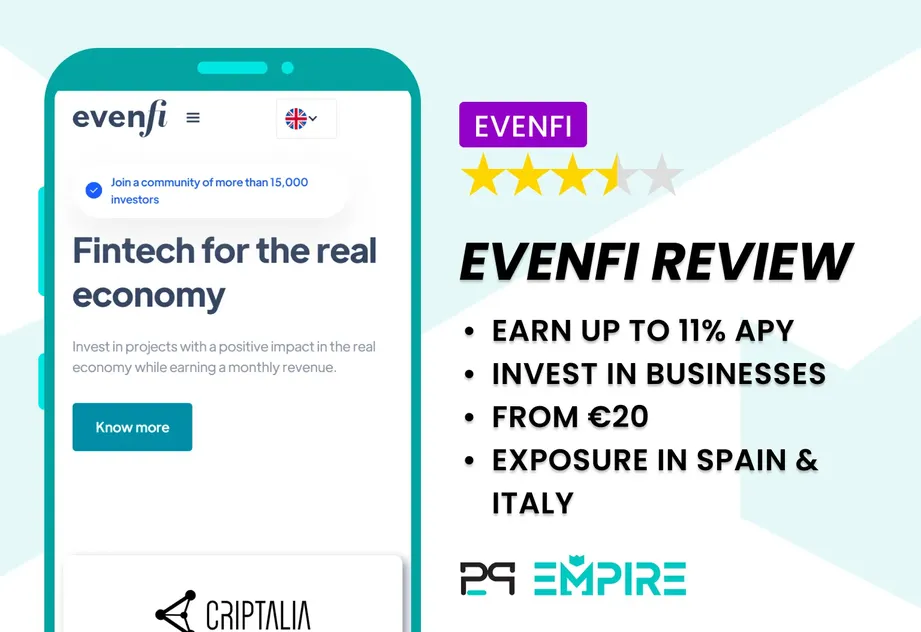 EvenFi Bonus
EvenFi typically doesn't offer bonuses for newly registered investors. However, at P2P Empire, we were able to negotiate an exclusive bonus for you. By signing up with our link and investing at least €1,000 you will get a 1% cashback bonus for four months as well as a 10€ welcome bonus.
This is one of the best bonus offers listed on our website.
EvenFi Requirements
In order to earn interest on EvenFi, you have to fulfill certain requirements such as:
Be over 18 years old
Have a European bank account in your name
Verify your email and pass the KYC check
No EUR bank account? No problem
EvenFi is a regulated crowdfunding platform with an Electronic Money Institution Licence. The platform is partnered with MangoPay to keep your uninvested money safe and separated from EvenFi's operational bank accounts.
Risk and Return
When investing on various crowdfunding platforms, you should always evaluate the risk and return of the listed investments.
A good practice is to ensure you check the legitimacy of the founders and the management of the company.
If the platform is regulated, as is the case with EvenFi, this has already been done by the regulators.
If the platform is not regulated, you have to do your own due diligence to avoid investing on a platform where the owners are just funding their own projects like on Crowdestor.
How are the loans secured?
P2B lending is risky as you are basically funding underbanked small and medium-sized companies.
In most cases, EvenFi lists loans that are used as working capital. Some of them include a guarantee from borrowers, but we haven't spotted any that come with collateral or a mortgage, which increases the risk for investors.
Skin in the Game
One point that is rather unique in the crowdfunding space is that EvenFi's co-founders and C-level executives invest their own funds into every single project listed on the platform.
This means that every new loan comes with a 3% to 5% skin in the game. That way, the platform, and its management team is also interested in recovering the debt from the borrowers.
Risk Evaluation
The performance of the loans on EvenFi are directly related to the risk assessment and monitoring of the borrowers.
Every loan on EvenFi is rated from A (low risk) to D (high risk).
The platform shared with us that the rating takes into account the size of the company and its key performance indicators such as the revenue amount, EBITDA, profitability, equity, leverage, external credit ratings, and access to financing.
Is EvenFi Safe?
EvenFi is a regulated entity. The platform is regulated in Spain by the CNMV as a platform for direct lending (Plataforma de Financiacion Participativa).
EvenFi is also an agent of electronic Money institutions in Italy. This is one of the stages before the platform can obtain the EMI (electronic money institution) license.
Who runs the team?
The team is led by the CEO and Co-founder Diego Dal Cero and the CTO and Co-Founder, Mattia Rossi.
The LinkedIn profiles of both Co-founders are quite impressive. Both have been with the company since the start of the operation back in 2017.
How is EvenFi funded?
The company is funded by angel investors and equity funds. EvenFi has raised €1.5 M in the first round and is currently working on the second funding round.
Are there any suspicious Terms and Conditions?
As we first conducted our initial research about EvenFi, we have pointed out that the terms and conditions were only available in Spanish. EvenFi quickly translated all the general terms as well as user terms, which is certainly something that investors will appreciate.
The terms and conditions include various risk disclosures, explanation of the platform's business model and measures to avoid conflict of interest.
In addition to that, a third-party Mangopay is responsible for keeping your money segregated from EvenFi's operational accounts, which is currently one of the safest options within the crowdfunding industry.
The terms and conditions also include information about the business continuality plan in the case where EvenFi would not be able to continue providing its services.
Our impression from the terms and conditions are positive and transparent.
Potential Red Flags
We are not aware of any red flags at the moment.
Our Opinion About EvenFi?
EvenFi is an interesting platform for investors, who are looking to support small and medium businesses in Spain or Italy in exchange for an net interest rate of 6.33% per year.
The platform offers everything that you could ask for: Auto invest, secondary market with 0% fees, low minimum investment amount and a responsive support team.
In addition to that, the platform is also revealing valuable statistical data, its latest financial report and on top of that the co-founders invest their own capital into every project.
The platform is regulated and is in the process to obtain an EMI license, which significantly decreases the risk that there's any shady business going on.
While there are a lot of positive points, there are also a few points that you should keep in mind.
With the internal return rate of 6.33% in 2021 EvenFi isn't competing well known-platforms such as EstateGuru or Reinvest24, who also offer mortgage-backed loans.
One should, however, also always look at the platform from different angles. Out of 120 projects on EvenFi only two are in recovery, which is less than on EstateGuru for example.
On top of that EvenFi is originating loans in Italy and Spain which is a great option for investors who are not looking for a higher exposure in Eastern European markets.
We believe that EvenFi is more suitable for experienced investors, who are looking for exposure in Spanish and Italian businesses and are ready to commit a higher investment amount.
During our research, we also had a call with the CFO of EvenFi, Federico Shaw who made a very professional and honest impression.
Usability
The crowdfunding platform is as user-friendly as most other crowdfunding platforms in Europe. You have access to Auto Invest, which enables you to automate your investment strategy based on a few criteria.
Auto Invest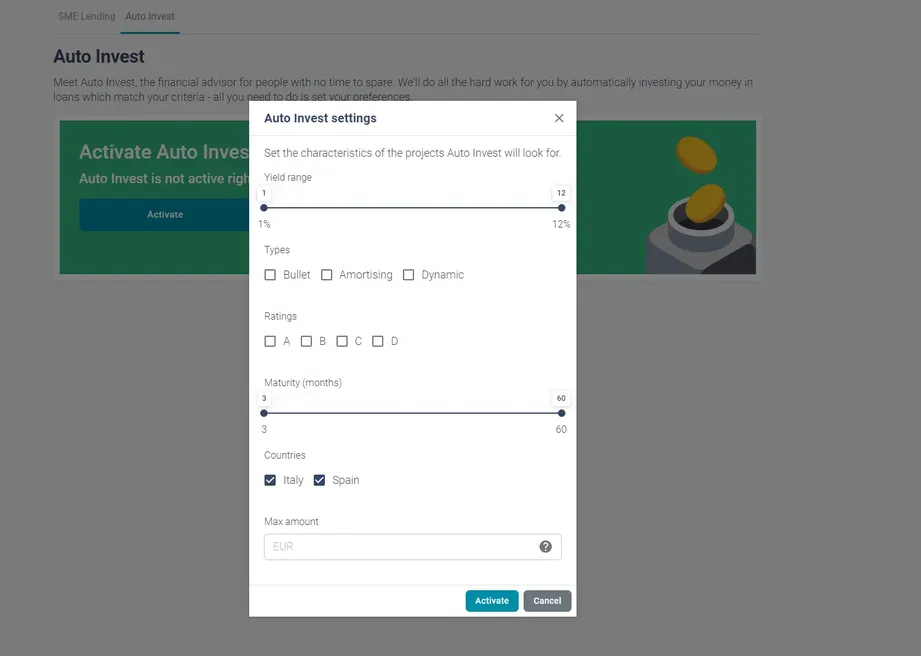 As you can see on the image above, you have the option to define the interest rate, loan type, ratings, loan term, and country.
Currently, EvenFi only offers loans in Italy and Spain.
EvenFi Projects
If you are just starting out investing in loans on EvenFi, we suggest you review every single project to get a sense of the loan types that EvenFi lists on its platform.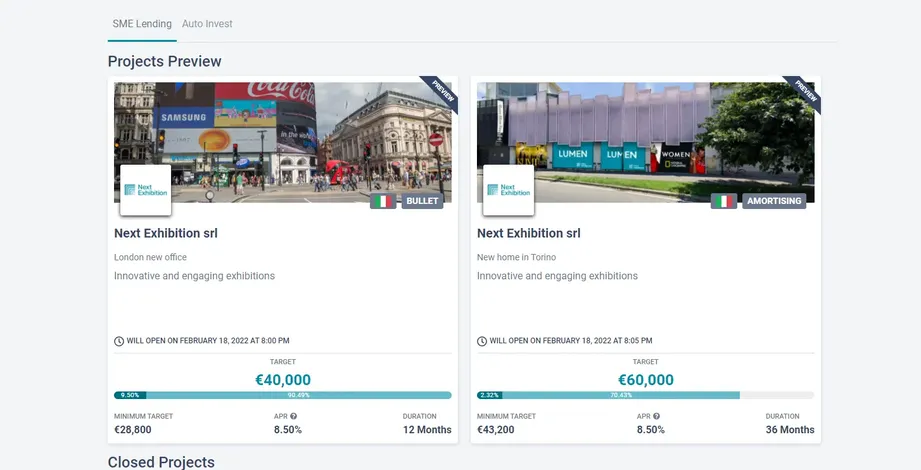 Right off the bat, you are able to review some key loan characteristics such as the loan amount, loan term, and interest rate.
By selecting one of the available loan offers, you can review additional information such as the loan repayment type and loan purpose.
Every loan comes with additional documentation which is useful if you want to verify the validity of the offered investment project.
What's slightly different from other European platforms is that you won't be able to find any information about how the loan is secured.
Several crowdfunding platforms in Europe offer business loans that are backed by some type of collateral or a mortgage. This isn't the case on EvenFi as you fund a different types of business loans.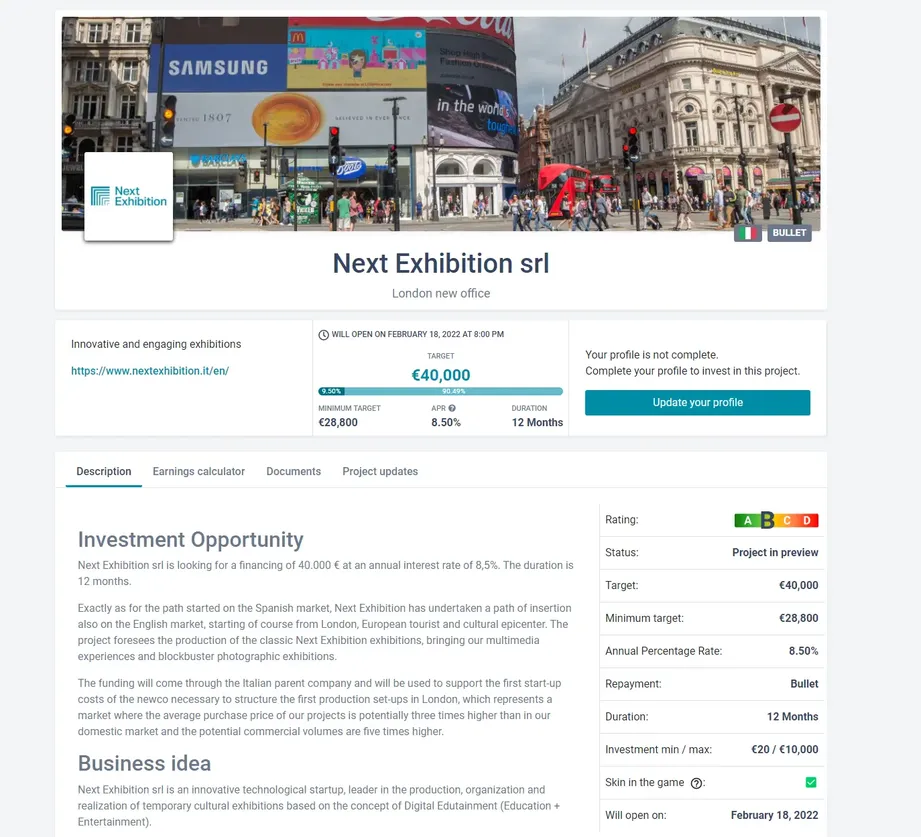 Apart from the auto invest and manual investment options on EvenFi, the platform also offers the possibility to download an account statement which will be handy when you report your earnings and pay taxes.
On top of that, EvenFi also offers a 2FA which increases the security of your account.
How Fast Can You Withdraw Your Investments?
When investing in business loans, you should decrease your expectation about the liquidity of your portfolio. At the end of the day, you are funding loans with a loan duration of up to 30 months.
EvenFi should certainly not be compared to savings accounts or products like Bondora's Go & Grow, where you have access to your funds almost instantly.
Secondary Market
If you ever experience a situation where you need to withdraw funds from EvenFi, you have the option to sell your investments on the secondary market at no extra cost. .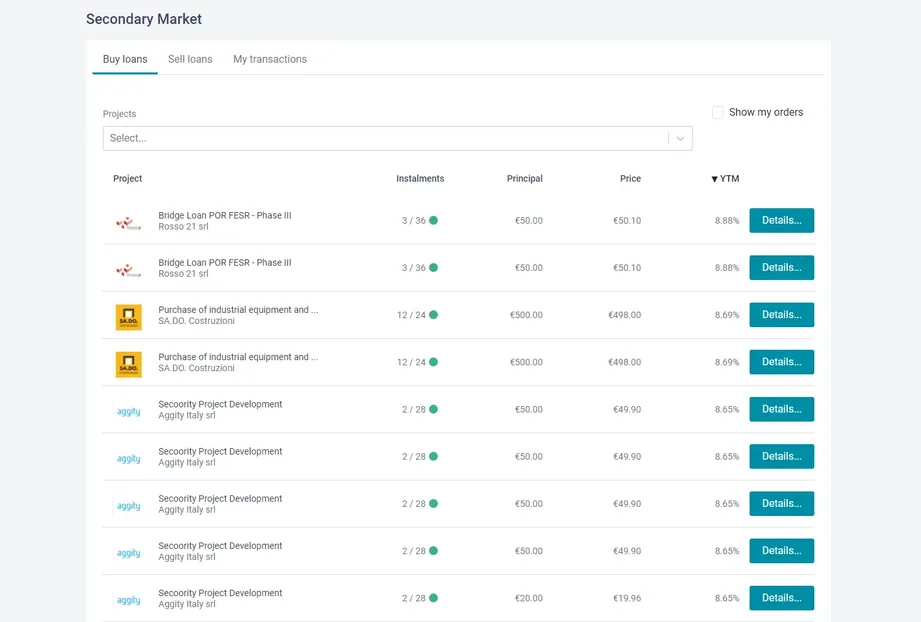 According to the information that we were able to retrieve directly from EvenFi, the secondary market is very liquid with a transaction volume of more than €5.6 M since December 2020.
The CFO shared with us that recently one investors who was looking to liquidate his loans, managed to exit a €13,000 portfolio within two weeks.
If you wish to participate on the secondary market, you can buy and sell loans starting from just €20.
Support
The support of the platform is quite decent. While the response time is not the fastest, the quality of the answers to our questions was sufficient. The platform has also provided the latest financial information in Italian, which you will find in the statistics section of our EvenFi review.