Reinvest24 Review
Reinvest is a popular Estonian P2P lending platform that allows users to invest in rental properties as well as development projects and real estate backed loans. The combined rental yield, coupled with the capital growth from investments, results in the platform boasting an average of 14.91% per year.
In this Reinvest24 review, you will find out how the platform works and whether you should consider adding it to your investment portfolio.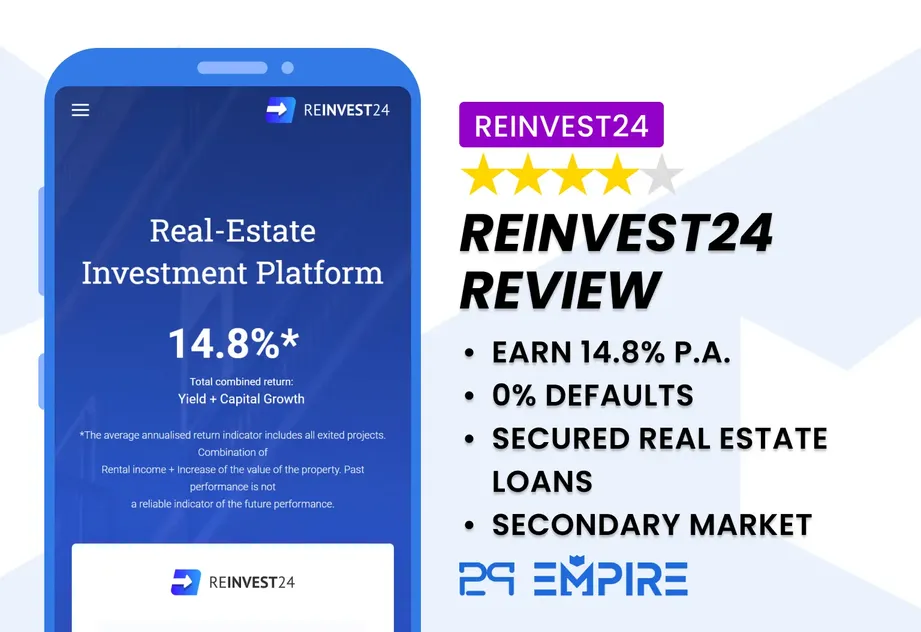 Wondering how Reinvest24 works? Watch our review of Reinvest24, where we share our earnings from rental deals on Reinvest24.
Reinvest24 in Numbers
Reinvest24 has a pretty good track record and an impressive portfolio performance. Since its launched the platform did not experience any defaulted projects.
As of today, Reinvest24 funded more than 149 projects with a value of more than €23 M. The average length of a loan is 9 months, and the annual effective return is currently at 17.24% which means that Reinvest24 offers the highest-yield real estate loans on the market.
Keep in mind that high yield comes with a higher risk. Pay close attention to the portfolio allocation, where you can learn more about how your portfolio may be exposed.

Reinvest24 Bonus
If you're looking for a Reinvest24 bonus, consider yourself lucky! We've negotiated a special Reinvest24 reward for new investors, whereby users who sign up with our link receive a €10 bonus... You're welcome!
When retrieving your bonus, you don't need to use a promo code, instead, the bonus will be added to your investment account as soon as you invest in one of the projects listed on Reinvest24. The minimum investment amount is €100.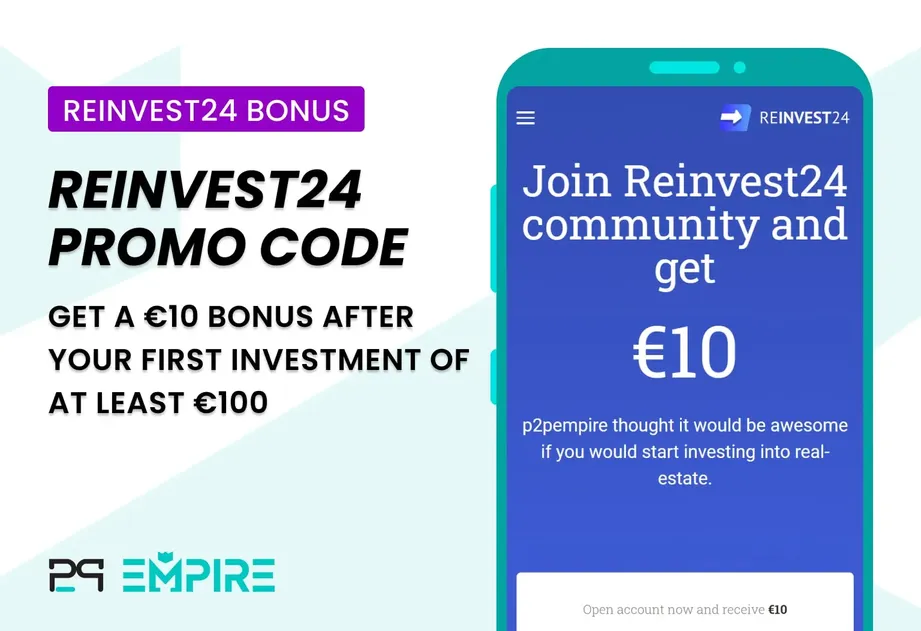 All good to go?
Reinvest24's New User Requirements
As with every P2P lending platform, new users need to pass the Know Your Customer (KYC) requirements in order to start investing.
When completing this, you will need to share your name, date of birth, country of residence, phone number, gender as well as a digital copy of your ID.
As soon as you've verified your email address, you'll be able to access the dashboard and available projects.
Depositing Funds
In order to deposit funds to your Reinvest24 investment account, you can use the standard bank transfer, which is free within Europe (SEPA transfers). While this option is free and simple, transferring funds might take around one business day.
No EUR bank account? No problem
Note that Reinvest24 charges a €2 withdrawal fee, in case you want to withdraw your balance.
Risk and Return
Before you invest your hard-earned money into any P2P lending platforms, you should fully understand the company's business model as well as the securities and risks connected to your investments.
While you might be familiar with popular real estates investment platforms like EstateGuru, Bulkestate, or Crowdestate, Reinvest24 is a little different from these.
Reinvest24 offers not only the chance to invest in real estate projects from Germany, Latvia, Estonia, Moldova, or Spain, the platform also allows you to invest in rental projects that yield a monthly cash flow.
Keep reading our Reinvest24 review for more details on how Reinvest24 works.
Reinvest24 finds properties that are up for sale and able to generate a monthly cash flow
The site then lists those properties on the platform, so that investors can fund the projects
Collectively, a number of investors provide the funds to purchase the property, and, in exchange, they receive a share of the property. (We know what you're thinking. What happens if the property doesn't receive any or enough funding? Well, the reserved funds are simply transferred back to investors' accounts).
Once the property is funded, a Single Purpose Vehicle (SVP) is created, which is a subsidiary company of Reinvest Holding that handles the management of the property
Investors receive dividends from the monthly rental income that are paid out by the SVP, according to investors' shares
If the property sells for a higher price, investors earn additional returns in the form of capital gains
The average return of investment from monthly rental income, as well as capital gains, is currently at 14.9% per year.
Thanks to the collaboration between Reinvest24 and the real estate development company Krisan, the platform is able to fund high-yielding real estate projects in Moldova. Those loans yield between 12% and 14% per year and are secured by a first-rank mortgage. The risk and return ratio on Reinvest24 is one of the best in the industry.
Investment Securities with Reinvest24
Reinvest24 collaborates with a collateral agent, the Estonian law firm Clarus OÜ. This licensed law firm puts a mortgage (with additional validation of 20% above the funding target) on the property in favor of Reinvest24 investors.
The SPV is responsible for paying out the rental income to Reinvest24 investors. If the SPV misses three consecutive rental payouts, the collateral agent has the right to take over the property, sell it and distribute the sales revenue back to the investors.
The security of your investment on Reinvest24 is very straightforward. There are no complicated agreements or buyback guarantees; your investment is often secured by a first-rank mortgage, which is held by an independent law firm.
Risks to consider
Recently, we have noticed that Reinvest24 is also listing projects where we couldn't find any evaluation reports. Those projects are not backed by a mortgage. Reinvest24 informed us that in certain markets the evaluation of the property is causing high costs, which would decrease investor's annual returns.
While we understand that in certain markets the legal costs to set up a mortgage are high, we would suggest that you do your own research about a dedicated property, before blindly investing in anything that is available as this might greatly affect the risk connected to your investments.
While Reinvest24 has a very good track record so far (0% defaults) you should keep in mind that the higher interest rate comes with an additional risk. Reinvest24 is currently not a regulated platform and you also don't get an individual assignment agreement like its the case with other crowdfunding platforms.
Investing in Moldova
Reinvest24 is constantly expanding into new markets to be able to offer secured and high-yielding projects to its investor base.
Many of the recent projects on Reinvest24 are originated in Moldova.
We have reached out to the CEO of Reinvest24 to learn about the investment opportunities in Moldova. Watch the full interview here:
Is Reinvest24 Safe?
At this point, you should have a good idea about the potential returns and securities resulting from investing in real estate properties through Reinvest24.
Before you sign up, redeem your Reinvest24 bonus, and invest money, we suggest conducting your own due diligence.
As this is a rather time-consuming task, we've done the heavy lifting for you. We've completed background checks on senior staff and sifted through Reinvest's contract, and presented our findings below:
Who Runs the Company?
Reinvest24 is led by CEO Tanel Orro, who has been with the company since its inception. Before working with Reinvest24, Tanel previously worked at LHV bank as a sales manager. Tanel has a team of at least 10 people who help him grow the platform.
Who is Reinvest24's Legal Owner?
The Reinvest24 platform is owned by Reinvest24 Holding, which is owned by JoinEstate OÜ (72%) and Kirsan (18%).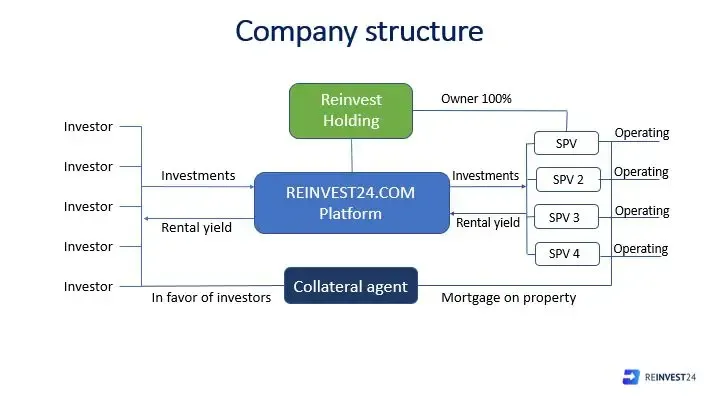 Are There Any Suspicious Terms and Conditions?
To avoid any unpleasant surprises when investing, we recommend having a look at any platform's terms and conditions before you invest there.
We don't need to tell you that reading a finance platform's T&Cs, word for word isn't a particularly enjoyable task. And it probably won't surprise you to hear that most investors and fellow P2P bloggers don't actually do this before they invest... But, at P2P Empire, we know the importance of doing this if we are to provide the best quality information to our investors.
We've gone through the company's terms with a fine-tooth comb, see our breakdown of our findings below:
16.1. Fees You Should be Aware of

Managing properties, maintaining the platform, dealing with contracts, and researching new investment opportunities all costs Reinvest time and money. So, yep, you guessed it! Reinvest24 needs to make money too. But how does the platform do this?Reinvest24 charges its investors a 1% fee of the principal investment amount.
This means that if you invest €100 into one project, the platform will charge you a €1 fee. Additionally, Reinvest24 also charges a 10% fee for managing the properties, which is deducted from the monthly rental income.
Reinvest24 also reserves the right to charge an administration fee if the property is sold.
The selling costs can vary, depending on the size and nature of the property, but usually, it's around 2-3%, which is similar to the fees attached to selling your own property.
Reinvest24 used to charge a 2% fee for transactions on the primary market. This fee has been recently reduced to just 1%.

If investors decide to exit investments early, they will be charged a VAT fee, which will be deducted from the sales revenue of the property.
It's important that investors are well-informed about the fee structure of Reinvest24, and we believe that this information should be more widely publicized, beyond its brief mention in the company's terms and conditions.
Other than the above-mentioned clauses, we haven't found anything that we think it's wholly necessary investors are aware of. As you know, the platform doesn't take responsibility for any losses resulting from investments, but this is a common thread with all P2P investments.
You should know that the Estonian crowdfunding space isn't regulated yet. But, thanks to the recent scams with platforms like Kuetzal and Envestio, the Estonian Financial Inspection is finally moving towards regulations. We're expecting official national and EU regulations to be implemented across Estonian crowdlending platforms by 2021.
Do Investors Get Access to Individual Investment Agreements?
Not all platforms give users access to the actual project loan agreements. Reinvest24 sent us an example of what an agreement looks like. As you can see, the agreement is only one page long, however, it's still considerably clearer than most loan agreements provided by other platforms.
Potential Red Flags
Some of the selected properties don't come with an appraisal report which means that investors cannot evaluate whether Reinvest24 is raising the needed amount
Learn more about possible red flags here.
Our Opinion About Reinvest24
Reinvest24 is an interesting project with potential. The platform started offering rental projects, where investors purchased the property which was rented out and later sold with capital gains.
Unfortunately, rental deals in the Baltics weren't as attractive for P2P investors as they preferred to get fixed interest as is the case with real estate loans, which is also the reason why Reinvest24 moved towards offering more and more real estate development loans.
The strategic collaboration with the real estate developer Kirsan opened many new opportunities to Reinvest24, which started funding some of Kirsan's high-yielding development projects in Moldova.
Currently, almost 90% of the funded projects on Reinvest24 are real estate loans rather than rental deals.
During our visit to Reinvest24, we had the chance to visit all of the currently available rental properties in Tallinn, Estonia. Investing in rental properties in Tallinn is very lucrative and the platform is able to source interesting premises that can be refurbished and sold with additional profit.
Due to the lack of interest from P2P investors, the platform is currently mostly providing investment opportunities in real estate loans with fixed interest rates and no capital gains.
Unfortunately, not many projects come with a dedicated appraisal report, which makes it difficult to evaluate the risk that comes with investing in those loans. This is something that the platform has to improve on in order to attract investors.
So far, investors have funded projects worth close to €24 M with no loss of capital. While investing in real estate loans can be lucrative it's certainly not risk-free. If you plan to invest on Reinvest24, we suggest that you study individual projects and pick the ones that fit your investment strategy.
Ready to invest?
Reinvest24's Usability
Reinvest24's tools are very intuitive; if you're active on platforms like Mintos or EstateGuru, you won't have any issues using Reinvest24.
Even investors that are just starting out with P2P lending will find the platform easy to use.
Properties
The Available Properties page is the most-visited section of the site. On this page, users can see the projects that are in the funding phase, those that have already received funding, and projects that have been successfully sold (or exited).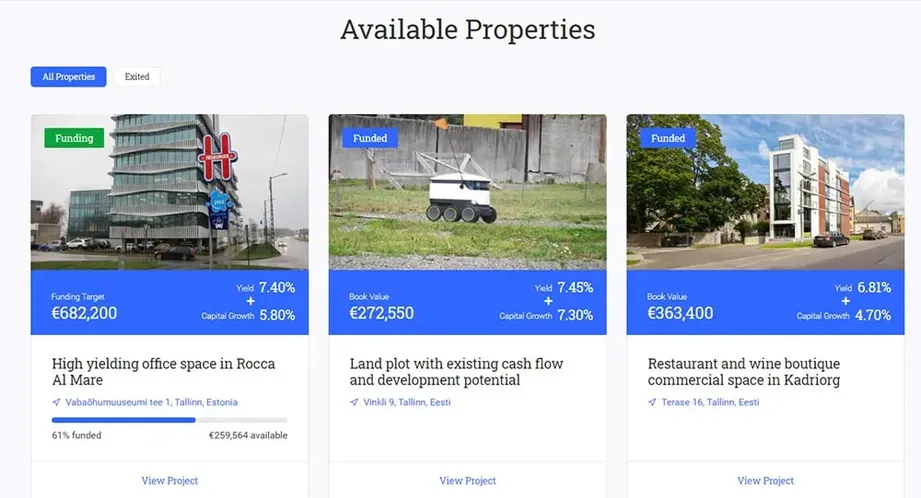 You can see basic information about the funding target, yield from rental income as well as the expected capital gain.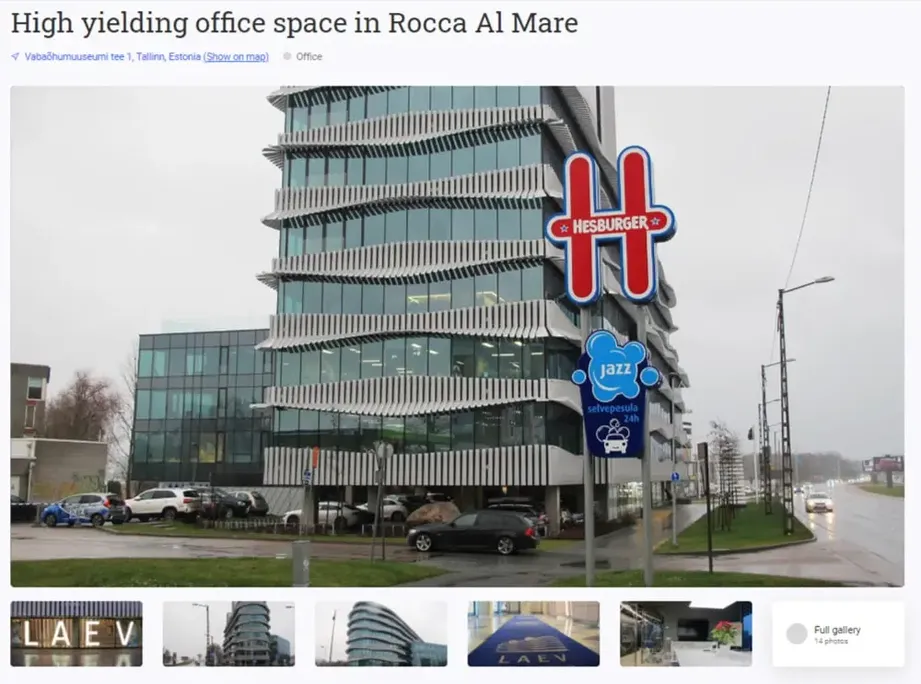 If you like the project, you can invest right away. Note that the minimum investment on the primary market is only €100 per project. If you decide to invest on the secondary market, the minimum investment is only 1€.
What's missing, however, are some investment agreements for individual projects.
Reinvest24 Liquidity
Liquidity is a very important aspect when it comes to investing in real estate loans. Investors tend to follow a rather long-term strategy when it comes to investing in real estate crowdfunding platforms.
Secondary Market
Reinvest24 has a dedicated secondary market where you can buy and sell investments from previously funded projects.
This significantly improves the liquidity of your investments on Reinvest24. The secondary market on Reinvest24 is built like a stock exchange. You can sell and buy shares of properties.
Buying shares is quite straightforward, you only need to navigate to Properties and then choose the tab Secondary Market. You can then view individual properties and buy a part of them. After each transaction, you will receive a confirmation email.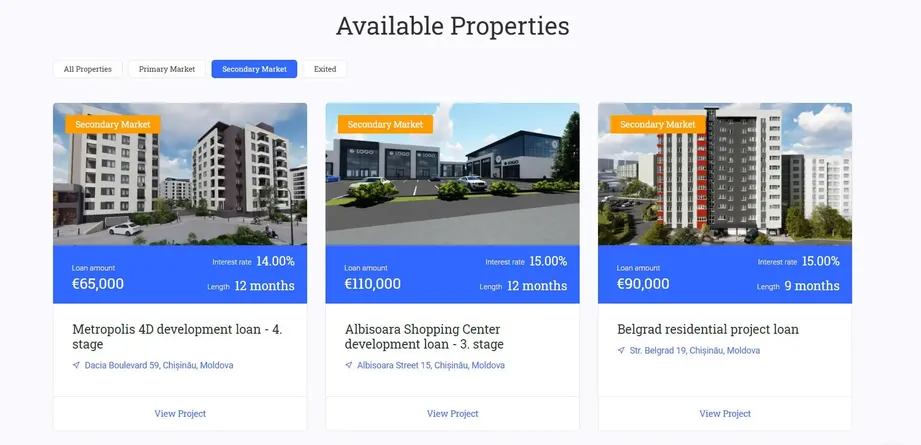 If you decide to sell your shares, you just view your properties and click on the sell button.

In the next windows, you are able to input the number of shares you want to sell and place your order.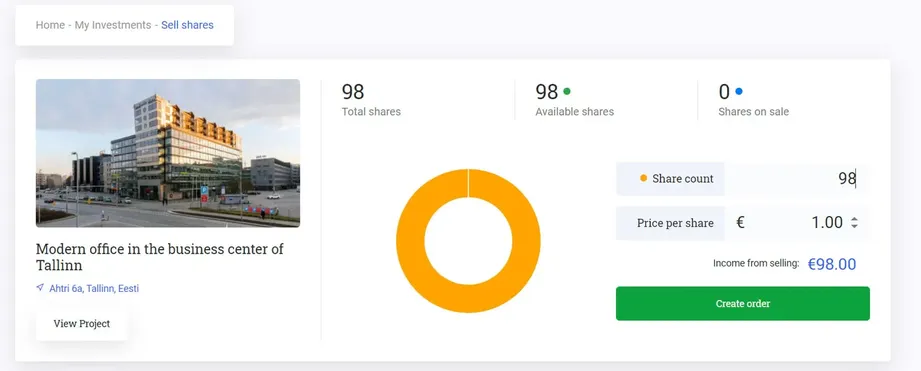 The unique benefit of the secondary market on Reinvest24 is that investors can buy and sell any amount of shares. On other crowdfunding platforms with a secondary market, you are most likely only able to buy or sell the entire investment. Your investments on Reinvest24 are therefore usually more liquid than on other platforms.
If you are someone who wants to have instant access to the capital, we suggest having a look at Bondora's Go and Grow product. Note, however, that you cannot compare this platform with the securities provided to you by Reinvest24.
Reinvest24's Customer Support
As before mentioned, we've been in touch with Reinvest's CEO, Tanel, when conducting our research on the platform.
So far, our experience with Reinvest24 support has been positive. Tanel was incredibly responsive to all of our questions about terms and conditions as well as the company's business model. Unfortunately, we can't say the same for all CEOs we've been in touch with.
If there is something we haven't covered in our Reinvest24 review, you can have a look at Reinvest24's FAQ section or get in touch with Tanel at support@reinvest24.com.
Reinvest24 Review Summary
Reinvest24 is an interesting real estate platform for experienced P2P investors. Reinvest24 offers investment opportunities in loans and rental projects. By investing in Reinvest24, you can easily earn up to 14% interest per year by investing in loans that are often backed by a mortgage.
Main takeaways from our Reinvest24 review:
Invest in rental deals and development loans
Led by one of the most transparent CEOs
Limited diversification
Reinvest24 is suitable for you if your goal is to diversify your real estate-backed portfolio with the highest possible yield.
If you want to invest in Reinvest24, don't forget to sign up with our link to secure a €10 bonus.
Ready to Reinvest24?
FAQs
What's the Minimum Investment Amount on Reinvest24?
The minimum investment amount on Reinvest24 is €100 per project, which is slightly higher than other real estate platforms like Bulkestate or EstateGuru. By investing on the secondary market, you can start with as low as only €1.
Does Reinvest24 Have a Secondary Market?
Reinvest24 has just recently launched a secondary market. You can now sell or buy your shares anytime without any long-term capital commitment.
Is Reinvest24 regulated?
Reinvest24 is registered in Estonia and is not regulated by any local authorities.
How is My Investment Secured on Reinvest24?
Your investment on Reinvest24 is secured by a first-rank (or second-rank) mortgage held by a third-party collateral agent.