Profitus Review Summary
Profitus is a promising platform that helps investors invest in Lithuanian real estate projects. Most of the projects on Profitus are funded with an LTV of below 70%, which makes the investments less risky.
Suppose you are looking for a reliable and regulated crowdfunding platform with exposure to real-estate-backed loans in Lithuania. In that case, Profitus is currently the best option on the market, with an excellent track record.
Main Takeaways From Our Profitus Review:
Regulated crowdfunding platform
Low LTV
Low default rate
Active only in Lithuania
Tempted to earn interest on Profitus?
What Is Profitus
Profitus is a small real estate P2P lending platform from Lithuania. When using Profitus, investors help to fund mortgage-backed real estate projects from Lithuania.
The investment term for most of the listed projects is between six and 18 months. On average, investors earn 9.88% interest per year. Find out more about this platform and whether it's a good fit for your investments in this Profitus review.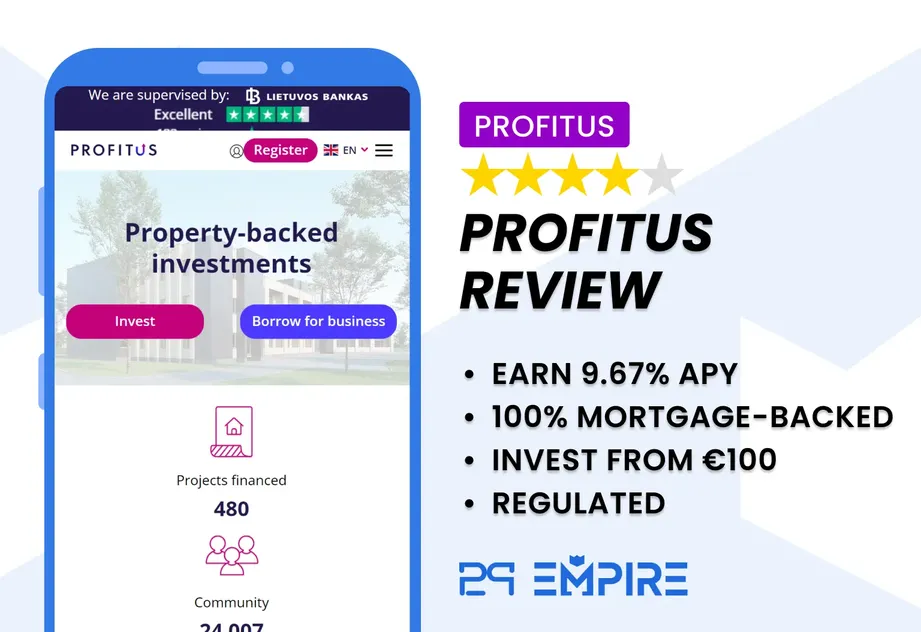 ⭐ Learn more about our rating criteria
📧 Stay up to date with our newsletter
Profitus in Numbers
We strongly recommend looking at the platform's statistics when looking for a new platform to invest in.
Profitus only started operating two years ago, and, as with any new P2P lending platforms, it will take some time for Profitus to build a track record and gain the trust of fellow investors.
Although Profitus shares some data about the number of investors registered to their site and the total loan value, we could not find information about investors' earnings or the average portfolio size, which is why we reached out to Profitus to request this data.
The Lithuanian P2P lending platform was keen to provide some additional data. As you can see, the average portfolio size is slightly lower than on many other P2P lending platforms such as PeerBerry, Bondster or VIAINVEST.
Read our VIAINVEST review to learn to get familiar with this P2P lending platform.
Unfortunately, Profitus does not publicly share its financial reports, which is a pity, as this would undoubtedly increase our and other investors' trust in the P2P lending platform. According to Profitus, the operator only shares their financial data with the Bank of Lithuania and the State Tax Invention.
Profitus Bonus Code - Get €50 for FREE
Profitus offers a dedicated sign-up bonus for newly registered investors who use the promo code P2PEMPIRE during the first investment.
How to claim the bonus?
First, you have to use our link to sign up on Profitus. Confirm your identity and choose a project you want to invest in.
Enter the desired investment amount that you want to invest and click on "Invest".
Enter our exclusive promo code "P2PEMPIRE" in the investment confirmation window.
The value of the gift voucher will automatically cover €50 of your investment.
Remember that this is an exclusive bonus offer for our readers here on P2P Empire. The bonus code is valid only for the first investment until 31 July 2022.
Ready to get €50 for free?
Profitus's New User Requirements
Profitus users can register either as private investors or as a company. To register, users need to be at least 18 years old.
The registration process is very straightforward, simply type in your name, email, and phone number and verify your email address. After verification, you will need to confirm your identity.
There are two ways you can complete this step.
Use the Know Your Customer (KYC) verification service, Ondato. When using this method, you must take a selfie and a photo of your passport or ID card.
After you have been verified (which, in our experience, takes no more than five minutes), you can top up your Profitus account.
To transfer funds to your Profitus investor account, you need to use the payment service, Trustly.

Note that Trustly charges a 1.53% fee for any deposits and withdrawals.

Unfortunately, Profitus does not offer the option to transfer funds via the free SEPA transfer, which many other platforms offer.
Profitus' Risk and Return
When investing in P2P loans or any other crowdfunding projects, you should be aware of the risks connected to your investment.
When investing on any platform, you always risk losing some if not all of your money. The probability of this situation occurring highly depends on several factors. One of these factors is the loan type that you choose to fund.
While many platforms like Mintos, PeerBerry or Robocash offer investment opportunities in unsecured personal loans, Profitus offers mortgage-backed investments, which means that a first-rank mortgage secures 100% of the loans.
How Does Profitus Protect Your Investment?
The risk of default is influenced by many factors, most of which investors have no control over. If you want to know more about the risks connected to the investment on Profitus, we suggest reading their PDF file.
Let's start by breaking down Profitus's protection scheme, so you get an idea of how your investment is protected...
Here are the companies Profitus collaborates with to increase the protection of your investments.
Bank of Lithuania, which ensures Profitus complies with national laws
Trustly, which manages investors' funds, because they are separated from Profitus's operational bank accounts
Sorainen, a law firm that helps to create contracts
Creditinfo, which completes risk assessment of real estate projects
Profitus uses data from registries and credit score companies like Creditinfo to assign a risk rating (either A+, A, A-, B+, B, B-, C+, C, C- or D) to individual real estate projects. Read more about how Profitus assesses the projects here.
You should know that Profitus only acts as an intermediary between the borrowers and investors.
When you invest in a project listed on Profitus, you close a loan agreement with the borrower, not the platform. This means that if Profitus goes out of business, by law, the assets (mortgage) remain with investors.
Profitus helps to facilitate those transactions and deal with the paperwork. It also allows investors to invest in Lithuanian real estate projects for as little as €100.
If the borrower fails to repay the debt, Profitus will initiate the debt collection process. The real estate will be sold and the revenue will be proportionately distributed among the investors.
How About the Returns on Profitus?
In terms of returns, the average interest rate investors earn from investing on Profitus is 9.88%, slightly lower than on platforms like EstateGuru or Crowdestate.
The reason for this might be the higher demand for investment opportunities, the lower interest due to higher securities, or lower loan-to-value (LTV).
The average LTV on Profitus is just 56%.
The returns are highly dependent on the projects you choose to invest in, however, overall the interest is slightly lower than it is on other market players.
Tax Deduction
You might be familiar with their tax deduction policy if you already have some experience with platforms like Heavy Finance or Viainvest.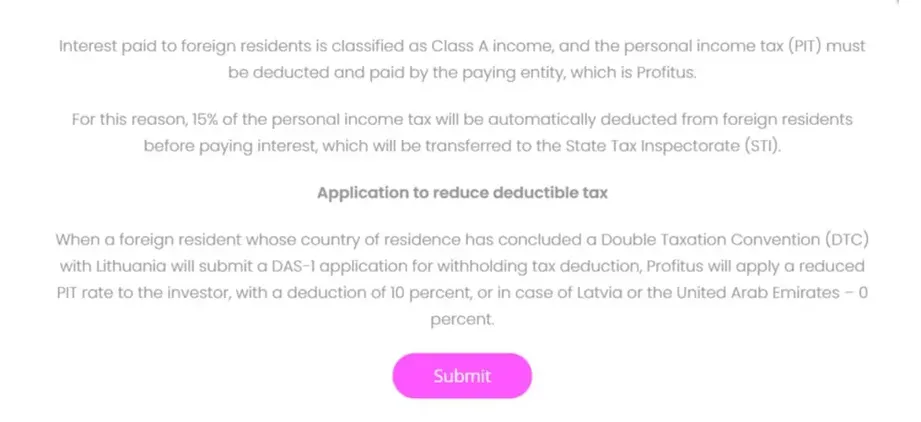 Like some competitor platforms, Profitus automatically deducts 15% from users' interest, unless they provide a special application to reduce the deductible tax.
Investors need to provide a document that proves their country of residence. Profitus will then send them a DAS-1 application that can be used to avoid the taxation of their investment.
Most P2P platforms do not withhold any taxes as the investors are responsible for reporting income from P2P investments.
Is Profitus Safe?
At P2P Empire, we aim to provide the most value to our readers, which is why we look at the management team, history, and the terms and conditions of every platform we review.
Who Runs the Company?
Profitus is led by the Founder and Director Viktorija Vanage, who has over 12 years of experience in the real estate industry.
During our research, we also found out that Viktoria co-founded the real estate agency Citus, which took 4th place within the Lithuanian real estate market within only a few years. You can read more about the company's success on Viktorija's CrunchBase profile.
According to Profitus's website, the company employs 21 people. The legal owners of Profitus is Viktorija and Mindaugas Vanagas.
Are There Any Suspicious Terms & Conditions?
At P2P Empire, we are pretty sure that most investors don't read the terms and conditions. And we don't blame you, it's a very laborious task... But, it is essential to understand your rights, especially when a third party is dealing with your money.
Let's have a look at the terms and conditions from Profitus to see if there's anything that new users should be aware of:

The first point is that Profitus holds your funds in separate bank accounts. While many platforms mention this in their marketing copy, it's good to see it referenced in Profitus's terms and conditions.
Profitus also mentions the legal process of debt collection. It is pretty straightforward, and you can read more about it here.

We also like that Profitus informs its users about any changes related to the contracts between the investors and the platform or borrowers.

As you might expect, Profitus, is not liable for any losses from investing on the platform. This is true of all P2P lending sites.
We have not found any suspicious terms and conditions. You can read the entire 12-page-long document here.
Do Investors Have Access to Individual Loan Agreements??
Before investing, you can read the project description and terms. You should also be well aware of the company's terms and conditions, which you can find here. As soon as the entire project is financed, the investors receive a loan agreement, which they can access from their investor's profile.
Profitus's Usability
Profitus is one of the most user-friendly real estate P2P lending platforms. Unfortunately, we cannot say the same about the platform's functionality.
If you have some experience with real estate P2P lending platforms, you might be aware of the issues that newer real estate platforms face.
In terms of usability, Profitus offers all you could ask for from a regulated crowdfunding platform in Europe.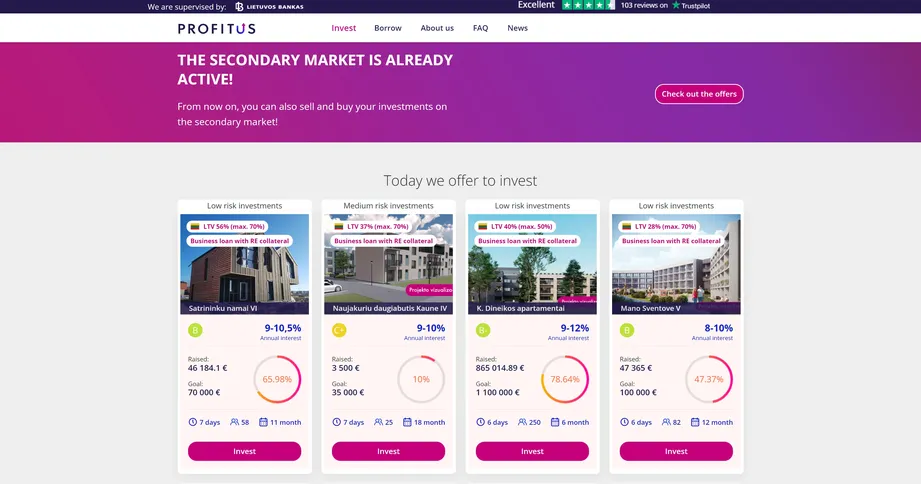 The investment website offers a primary and secondary market, where you can invest in various mortgage-backed loans manually or the Auto Invest, which is a tool where you can define your investment criteria and automate your investment process – a real-time saver if you ask us!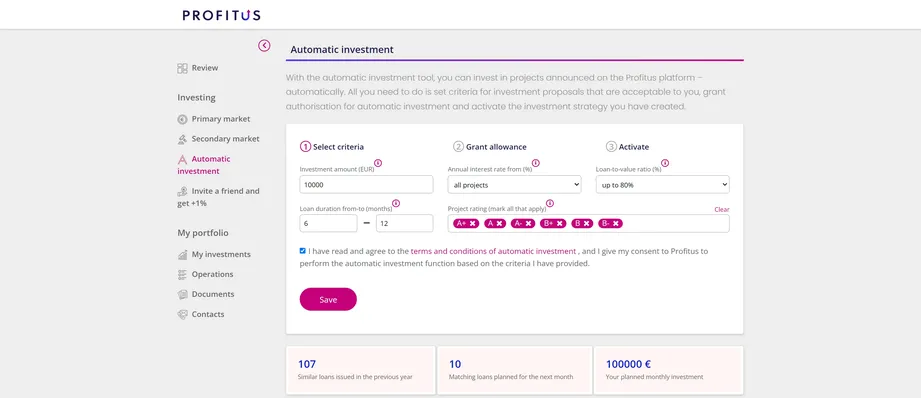 The Auto Invest enables you to define the investment amount, the desired interest rate, LTV ratio, loan duration, and the project risk ratings.
Below the main view, you can review the previously listed loans that match your criteria and the expected number of loans listed on the platform in the upcoming weeks.
🧾Does Profitus deduct taxes?
Profits is a Lithuanian platform legally obliged to deduct 15% personal income tax on your interest payments. If you are a non-Lithuanian resident, you can complete a DAS-1 form and reduce your taxes to 10% or 0%.
You can request the prefilled form directly from Profitus via their Live Chat. You will need to fill out the form and send it back to support@profitus.lt.
Remember that as long as your country of residence has a double taxation treaty with Lithuania, you won't be paying your income tax twice.
Any tax you pay in Lithuania will be reduced from the income tax you have to pay on your earnings in the country where you are a tax resident.
Profitus's Liquidity
In terms of liquidity, you can access your funds either at the end of the loan term, when the project has been repaid or when you sell your investments on the secondary market.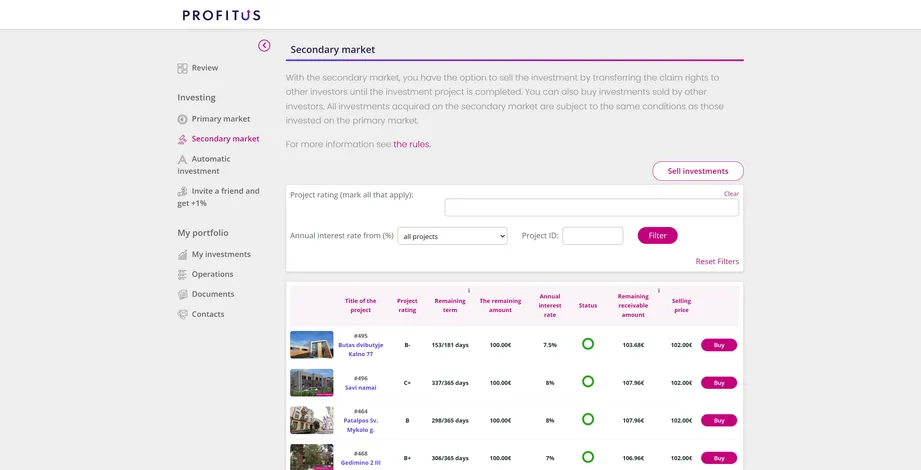 You can sell your investments with a premium or a discount anytime. Remember that Profitus charges a 2% secondary market fee for sellers. Buyers can buy discounted projects on the secondary market for free.
You should know that selling your portfolio might take a few days or weeks. The secondary market is an excellent option to liquidate your investments, should you need it.
If you want to be able to have access to your money, we suggest using other P2P lending platforms.
Esketit and Bondora are two platforms that allow you to instantly withdraw most, if not all, of your investments.
Profitus's Customer Support
Our experience, Profitus support, has been very positive. We have been in touch with the company several times, and each time the platform has provided all of the requested information within one business day. If you have any questions regarding Profitus, we suggest reading their FAQ section before contacting their support at info@profitus.lt