Lendermarket Review
Lendermarket is an Irish peer-to-peer (P2P) lending platform that lists short-term loans between 30 days and 53 months and interest between 12% and 14% per annum. A 60-day buyback guarantee secures all loans. The minimum deposit is only 10€, and you can diversify your investments across seven countries. Learn more about this newly founded P2P lending platform in our latest Lendermarket review.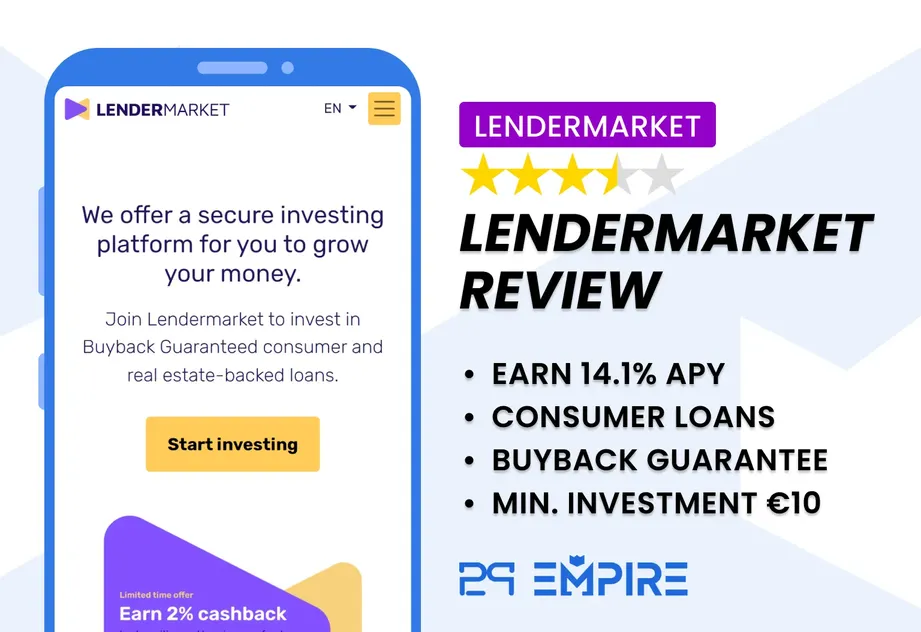 ⭐ Learn more about our rating criteria
📧 Stay up to date with our newsletter
Pros
Reliable buyback guarantee
High interest rates of up to 15% p.a.
Consolidated audited reports for Creditstar
Cons
No secondary market
Limited diversification
Many delayed loans
€50 minimum withdrawal amount
Get familiar with Lendermarket in our latest video review.
Lendermarket in Numbers
Before investing in any P2P lending platform, you should look at the platform's statistics. Statistics often help you decide whether or not you should invest in a platform.
Lendermarket was founded only in 2019, making it a very young platform compared to established market players such as Mintos, Bondora, or EstateGuru.
Lendermarket is listing most of the loans from the CreditStar Group. According to the financial report for 2021, the group made a profit of €5.8 M.
Young P2P Platform
Being new in the market makes the platform's position rather tricky, as it's hard to come up with a valuable unique benefit that isn't already offered by other platforms.
Many P2P investors tend to invest in more established platforms with a longer track record, limiting the potential investor base interested in joining Lendermarket.
The platform does not have a dedicated statistics page yet, so we contacted Lendermarket and requested additional information.
Average Portfolio Size
Currently, there are more than 10,000 registered investors on Lendermarket. The average portfolio size on this P2P lending platform is €6,800, which is more than on many other platforms.
The average portfolio size seems to be calculated from "active investors". Keep in mind that there are always registered users which haven't invested anything.
Lendermarket Bonus
By signing up with our link and investing on Lendermarket, the platform will give you a 1% bonus from your invested amount during the first 60 days after your registration. The cashback bonus will be paid to your account within five days after the bonus period.
Head over to our cashback bonus page to get an extra investment boost.
Ready to lend on Lendermarket?
Lendermarket Requirements
Lendermarket markets itself as a cross-border P2P marketplace. This is, however, valid only for investors that reside in the EEA (European Economic Area) and have a European bank account in their name.
Lendermarket also supports corporate accounts if you want to invest with your company. The registration process is straightforward. You only need to fill out some contact information and your ID card number. After you have submitted the registration form, you need to verify your email address and proceed to the biometric identification.
Online identification itself takes less than five minutes. You will be asked to photograph your face and your ID document. According to Lendermarket, account verification takes around 30 minutes during business hours.
Once the platform activates your account, you can transfer funds to your investor account. Currently, you can only deposit your funds with the SEPA transfer. The deposits, as well as withdrawals, are being processed within three business days.
Risk and Return
Lendermarket follows a similar business model to other P2P lending sites such as PeerBerry , Moncera , Swaper , Robocash , or Bondster. You are investing your money in unsecured microloans.Any collateral or mortgage doesn't protect your investment.
Like other P2P lending platforms, Lendermarket also offers a buyback guarantee.
Buyback Guarantee
If the borrower delays payment for more than 60 days, the loan originator will buy back your investment for the principal loan amount.
At the time, as we conducted our due diligence, the platform claimed on its website that the buyback guarantee covers penalties for delayed payments.
We could not find concrete information about the fee for delayed payments, so we looked at the loan originator details for Creditstar on Mintos. We found that Creditstar does not pay any delayed fees to the investors but it covers the accrued interest.
We confronted Lendermarket with our findings, and here is their reply: "This is something we should change on our website, as Creditstar doesn't pay penalty fees to investors."
We appreciate the honesty of Lendermarket's support. At the same time, it's sad to find more information about Creditstar on Mintos than on the existing P2P platform, which Creditstar owns.
Lendermarket's buyback guarantee does not come with significant benefits compared to buyback guarantees on other platforms.
Diversification
The diversification of your portfolio provides better protection than any buyback guarantees. On Lendermarket, you can invest in the Estonian loan provider Creditstar Group.
While you can support multiple loan originators, most of them fall under the Creditstar Group. However, the platform recently introduced a new loan originator - CREDORY, which means that Lendermarket's strategic plans are moving toward becoming a multi-lender platform.
CREDORY is an Estonian lending company specializing in issuing real-estate-backed business loans. Unfortunately, their website doesn't provide much information about the team behind the lender or any financial documentation, which you should consider during your due diligence.
Is Lendermarket Safe?
Lendermarket is a relatively young platform. Recent adverse events caused by fraudulent P2P lending platforms raised suspicious attitudes towards newly founded platforms.
While there is never a 100% guarantee that a P2P lending site is safe and trustworthy, there are specific metrics that you can look at to access the quality of the platform by yourself.
We looked at the team and read the terms and conditions of Lendermarket, and here is what we found.
Who leads the team?
Endrik Eller has been recently hired to take the role of the Head of Lendermarkt, while Omayra Roig has moved to Creditstar's operations.

Endrik was previously also a Product Manager at EstateGuru. Omayra has been with Lendermarket since the platform's launch back in 2019.
Two years ago, the platform was led by two people, in 2022, Lendermarket's team grew to 12 employees.
Get to know the CEO in our recent interview.
Who owns the platform?
It's incredibly tough to find any information about the owners or shareholders of Lendermarket.
We had to read the entire document about platform rules, to find out that Tauri Jaanson signed in as the director and Veiko Väli as a secretary.
Both of those people do not share any information about their roles at Lendermarket on their LinkedIn profiles.
We requested further information from Lendermarket, and here is what we found out:
Who is the legal owner of Lendermarket?
SA Financial Investments OÜ owns Lendermarket Limited OÜ – an Estonian holding company that is in turn wholly owned by Mr. Aaro Sosaar - the CEO of Creditstar Group. He is the ultimate beneficial owner of Lendermarket Limited."
Where can investors visit the offices of Lendermarket?
"Lendermarket's office is in Estonia, where the core team is located."
Again, we had to follow up to find the exact location.
"Lendermarket is sharing the office space with Creditstar on Lõõtsa 5, 11415 Tallinn."
What is the connection between Heimondo Limited and Lendermarket?
"Heimondo was the project name that the founding team of Lendermarket chose when the brand name was not decided. This team registered a company in Ireland called Heimondo Limited, which eventually was renamed Lendermarket Limited. In other words, Heimondo Limited was the legal entity's first name, and Lendermarket the new name it adopted."
Are there any suspicious terms and conditions?
We have read the platform rules, the privacy policy as well as the loan agreement, and this is what we found:
Clause 8.10
According to clause 8.10, investors should do their due diligence about any loan originators on Lendermarket. Also, investors accept that the Lendermarket does not question any information received from the loan originator.

This means that the platform does not do much due diligence on the loan originators but accepts all data on an "as is" basis.
We reached out to Lendermarket and asked for a comment:
"As in every agreement, all parties have rights and obligations. The Rules of the Platform are no exception. All parties must conduct due diligence before entering the contract and throughout its duration. Lendermarket is committed to protecting investors' interests and carrying out due diligence in its operation, however, this is not incompatible with investors conducting the corresponding assessment of our financial service."
Clause 18.3
Like any other P2P lending site, the platform distances itself from any liability for loss in connection to investors' activities on the platform.

In case the platform presents inaccurate data, they aren't liable for it. As an investor, you invest based on information no one is responsible for.
Clause 18.3.2 is quite confusing. Here is Lendermarket's explanation:
"The clause 18.3.2 states that Lendermarket is not liable for the use the investors make with the content displayed on the website. Lendermarket is liable for the content on their website, however, it's not liable for the use users will do of it."
Clause 12.1
In 12.1 you state that the lenders might lose their money if the borrower does not pay back the loan - does this not contradict the buyback guarantee?

This clause is so confusing that even the legal team of Lendermarket could not give us an answer. Omayra Roig from Lendermarket assured us that they would make it more comprehensive.
Do investors have access to individual loan agreements?
Verified investors do have access to loan agreements. You can view the PDF file when setting up your Auto Invest. We have reviewed the document, and here is what we found out.
Clause 3.3.4 - 3.3.5 Loan Agreement

Are you getting a headache when reading this? You are not alone. We asked Lendermarket to explain this to us.
Different clause, same response. The legal team could not find an answer to this.
Clause 6 - Loan Agreement
There is one positive aspect worth mentioning. Every investor has the right to cancel their auto investments within 14 days of setting up their Auto Invest.

Note that you need to follow a specific process. This is one of the few aspects many other P2P lending sites do not add to their loan agreements.
Other than this clause, the contract is very standardized.
Potential Red Flags
We are currently not aware of any red flags.
Learn more about possible red flags here.
Curious about other platforms? Head over to our ⚖️ P2P lending platform comparison to get a quick overview of the currently available platforms.
Our opinion of Lendermarket
Lendermarket is a high-yielding platform mainly targeting investors with somewhat higher risk appetite.
The platform doesn't provide much insight into its loan book portfolio, which makes it hard for investors to evaluate the current performance of the outstanding loan portfolio.
As many smaller P2P lending marketplaces, Lendermarket isn't profitable. While the founder of Credistar established Lendermarket, it aims to become a multi-lender platform, listing loans from other lending companies.
Investors on Lendermarket don't have any insights into Lendermarket's due diligence or risk management processes which means that you can't evaluate the platform's risk appetite.
Judging by the number of delayed loans from Credistar, investors can quickly evaluate the risk appetite of Lendermarket's largest loan originator, which is higher as the company is struggling to repay investors' money on time.
According to our research, Lendermarket's investors didn't lose any money so far, which means that the buyback guarantee is being honored. The platform is also heavily investing in becoming another "big" P2P lending marketplace. Only time will tell whether the platform's goals are achievable.
Remember that the platform is attracting new investors mainly thanks to its high-interest rate rather than improved transparency or increased protection of investors' investments.
Usability
In terms of usability, you will have the option to set up an Auto Invest or invest manually.
Auto Invest
The Auto Invest allows you to set up the total amount of your automated portfolio and the maximum amount you are willing to invest into one loan. The minimum investment is €10.
You can also activate the option to reinvest your earned interest and invest multiple times in already invested loans.
Investing in already invested loans is not recommended as this harms your diversification.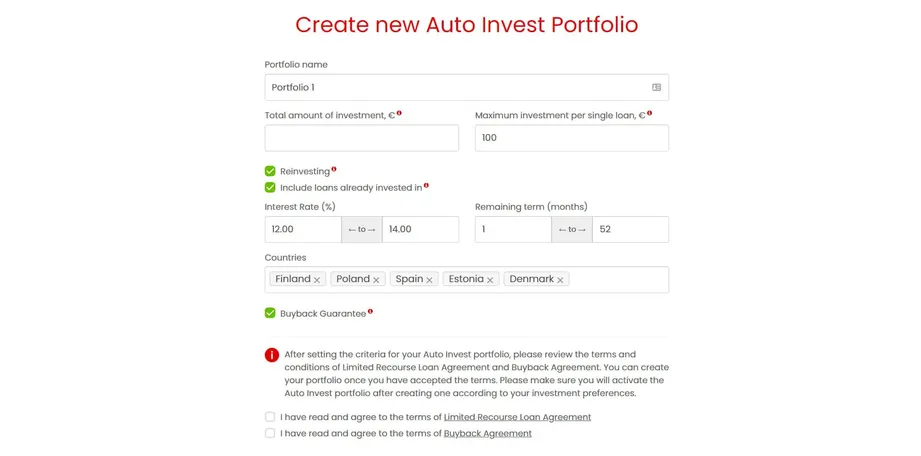 Furthermore, you can set up the loan interest and the loan term. Don't forget to include the countries and activate the buyback guarantee.
Before submitting your settings, read the loan agreement and buyback agreement to know what you are signing up for.
Investors can also download the income statements and tax reports directly from their profile pages.
At this point, you probably noticed that Creditstar is listing loans on Mintos and Lendermarket, so we asked Lendermarket:
How is it different investing on your platform in loans from Credistar as compared to investing in Creditstar loans on Mintos?
"One of the advantages of investing in Creditstar's loans in Lendermarket is having less risk and exposure than Mintos. Currently, Lendermarket focuses only on loans from Creditstar's operating entities, while Mintos has many originators. We'd like to think we can provide better Investor Support and communications via Lendermarket by focusing more on a single partner. The loans have a shorter term, are highly appreciated by investors, and have higher interest."
Investors should know that there are always two sides to a coin. While Lendermarkets reasoning makes sense to a certain extent, the added diversification that investors have on Mintos outweighs the logic easily. Recently, Lendermarket introduced a new lending partner, which means that investors will have more diversification options outside the CreditStar group. As a multi-lender platform, the argument of a "better Support" might not be valid anymore.
Liquidity
Some investors on Lendermarket reported that a significant part of their portfolios is often delayed.
While it is common to have delayed payments when investing in payday loans, it's not common to have 50% of the portfolio delayed consistently.
While Lendermarket isn't publicly sharing information about the performance of their portfolio, the platform informed us that the amount of delayed loans usually stands at around 20%. In 2022, many investors are reporting delayed loans of up to 90% from their outstanding portfolio on Lendermarket.
The Buyback Guarantee on Lendermarket also covers the accrued interest. Still, there is no late payment fee paid by the borrower (or at least the loan originator does not forward it to the investor).
While the liquidity on Lendermarket is better than on platforms where you typically invest for more extended periods compared to direct competitors, Lendermarket certainly has room for improvement.
Loan Extensions
It's worth pointing out that borrowers may extend their repayment schedule from time to time. The loans can be extended up to six times and up to 30 days per extension. These numbers are a maximum and do not mean that all loans are always extended by that time. This way, the lender doesn't need to initiate the buyback guarantee but simply extend the loan, significantly affecting the liquidity of the investor's portfolio on Lendermarket as the platform doesn't offer a secondary market. A 60-day loan can therefore be extended up to 240 days.
Support
The support team of Lendermarket has changed in recent months, and the quality has improved significantly.
While we cannot confirm any negative experience with the support we received, we suggest contacting them to create your own opinion. The response time is usually around 48 hours.
Lendermarket's CEO is also open to discussing essential questions from our community and some of the platform's challenges.
Lendermarket Review Summary
Lendermarket is a good option if you want to invest in consumer loans from Creditstar. A 60-day buyback guarantee backs your investment on Lendermarket. Note, however, that due to the young age of the platform, the diversification options are somewhat limited.
Main takeaways from our Lendermarket review:
Young P2P platform for loans from the Credistar Group
Limited diversification
Confusing terms
Small team
If you decide to try Lendermarket, do your due diligence and start investing with only a small amount to get familiar with the platform.
Keen to invest on Lendermarket?