Bullride Review
Bullride is a Norwegian start-up offering investors the to purchase e-scooters, which will be rented out through apps in various European cities.
The platform offers a marketplace where you can purchase an electronic vehicle and earn rental yield as passive income.
In this Bullride review, we will dissect the company's business model and reveal the risks connected with your investment, so you can determine whether Bullride is the right fit for you.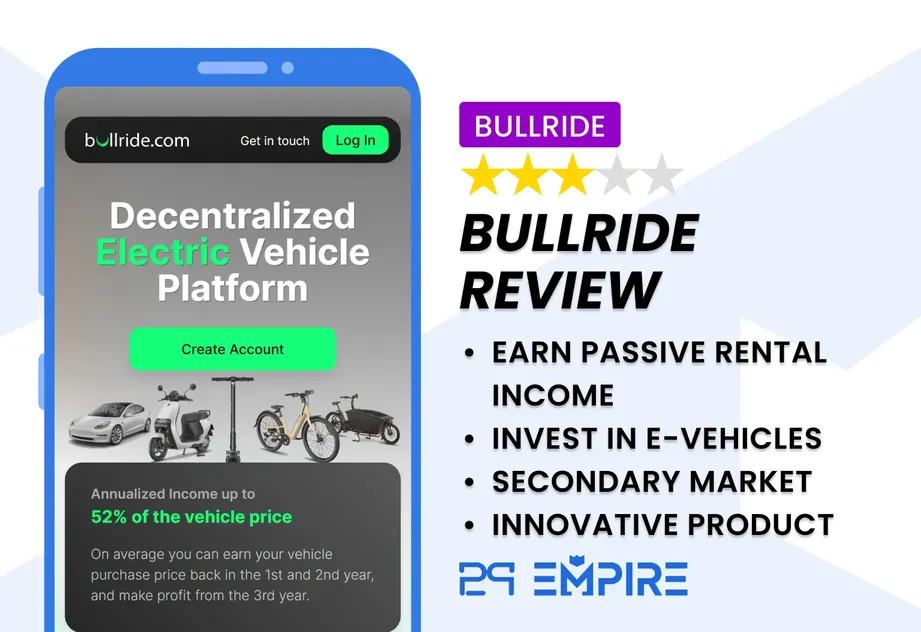 Pros
An innovative concept in the P2P lending industry
Secondary market
Potentially high return after three years
Cons
Profit generation after at least two years
Rental share decreases after three years
High initial investment amount
Lack of transparency
Bullride promo code
Bullride doesn't offer promo codes or cashback bonuses for new investors, but our readers can pre-order eMopeds from upcoming orders. The eMopeds are typically sold within just a few minutes.
Our readers that sign up with our link will get the chance to pre-order up to 50 eMopeds for order 015, which will go on sale on 11/02/2023 at 15:00.
The eMoped from FROG Ireland will be sold at €1,300, and the order per investor will be limited to max. 10 eMopeds per purchase.
Bullride in Numbers
Bullride is a startup that launched in 2020. Since then, they have deployed vehicles from 503 investors in various European cities in six countries. The total portfolio is worth €2.5 M.
As we write this Bullride review, the platform has completed 14 orders of e-vehicles.
Unfortunately, Bullride doesn't share any further performance-oriented statistics about the income in various regions with investors, which you must consider before joining Bullride.
Requirements
To be able to invest in e-vehicles on Bullride, you have to meet the following requirements:
be over 18 years old
have a debit/credit card to purchase the vehicles
bank account for income payments
Remember that you must pay between €1,100 and €1,300 on the primary market to purchase a vehicle.
Bullride doesn't allow multiple owners of one vehicle; hence, your initial investment amount per asset is higher than you might be used to on other platforms such as EstateGuru, Esketit, or the Income Marketplace, where you invest in loans.
Risk & Return
In this section of our Bullride review, we will dive deeper into the risk-related aspects and explain which factors impact your rental yield's income.
But first, let's explain the business model so you are fully aware in what type of product you are investing in.
Investment Process & Business Model Explained
Investors purchase the e-vehicle and pay with their debit/credit card
Depending on the order, every e-vehicle will be assigned to a pool of e-vehicles in a specific market
Bullride will lease the e-vehicle from you for a specific leaseback period (4 to 5 years)
After the order is sold out, the e-vehicles will be deployed on the street so they can start generating income
A portion of the revenue (rent share) generated by the entire fleet will be paid back to investors every month
The return on investment based on rental income is expected at around three years
The investor is earning passive income in the fourth and fifth year of deployment
While the owners bear the risk for the e-vehicle, Bullride is taking a cut from the rental income and commissions on the secondary market.
Investing in e-vehicles on Bullride means buying a moped or scooter that will be rented out in various locations. As an owner, you only have to provide the funding for the vehicle, and everything else is taken care of.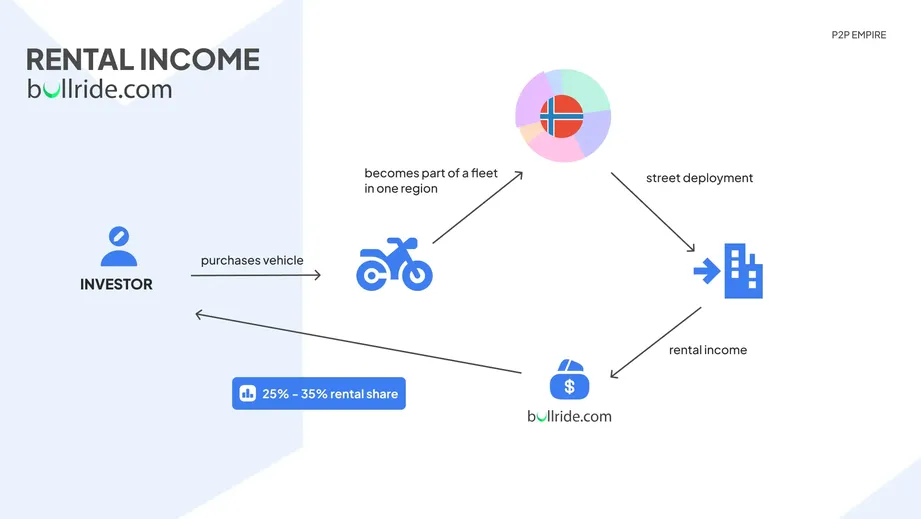 You should be informed that investing in e-vehicles isn't like investing in rental properties, which tend to increase in value over time. E-vehicles decrease in value every month, so you shouldn't expect any capital gain unless you sell the e-vehicle on the secondary market.
That is something you have to consider. The income for the first three years is meant to repay the purchasing price of the vehicle. After you "break-even" you start generating passive income, which can be up to 30% per year for the following one or two years until the e-vehicle is written off or decommissioned.
When investing in e-vehicles, you should be informed about the risk surrounding your investments. Here are a few risks to bear in mind.
Risks for Investors
Bullride is a startup that doesn't share any performance-oriented statistics with the public
The competition in various cities is growing, causing lower demand for your scooters or higher advertising cost
Regulation is emerging, which may limit the ability to rent out e-vehicles or ride e-vehicles
Bullride's servicing company defaults
E-vehicles in certain markets or regions might not be well-established, which may result in low demand from users
Charging of e-vehicles might get more expensive as the prices for electricity increases
E-scooters are often misused by users, which may increase the amount of decommissioned scooters in your fleet, lowering the rental income
Bullride promotes an annualized income of up to 52% per vehicle, but we took a more conservative estimate.
If any of the listed risks materialize, the return on your investment will decrease, and it will take longer for you to make a profit.
As an owner, you must trust Bullride to deploy your scooters in regions with high demand and low competition. Bullrides' ability to estimate the potential revenue in certain regions is crucial for you to make money.
There is no insurance on your e-vehicles, meaning the entire fleet's revenue decreases if the vehicles get damaged and decommissioned.
This means that even if your e-vehicle is no longer on the street, you still earn income, as the revenue is pooled from one fleet and paid out to investors according to the number of e-vehicles the investors own. That's how one of the risk of damages is being mitigated.
Income on Bullride
As we have already mentioned, the income is being pooled together based on the revenue from the entire fleet of which your scooter is part.
Depending on the region, the scooters are deployed on the street from March to November. This means they won't make income monthly as they are not operational during winter.
On top of that, the value of the scooter is decreasing every month, so that's something to consider as well.
When you break even on your investment depends on two factors.
the initial price
the market where your e-vehicles are deployed
Some investors use cashback credit cards to pay for the e-vehicle, which lowers their purchase price.
The regulation and trends in specific markets vary, meaning you might face more or less competition or regulation, which impacts the revenue.
We are no experts in the e-vehicle market, so we can't give you any recommendation or prognosis on the development in certain regions. But it is certainly a variable to consider, especially as you commit your funds for 3 to 5 years.
On the flip side, investing in e-vehicles comes with specific opportunities. More and more people are using subscriptions from Apps that allow users to rent their e-vehicles whenever needed.
This positively impacts Bullride's revenue as in Norway and Sweden; subscriptions generate 20% of monthly income.
If you believe in e-mobility, investing in Bullride's e-vehicles might be a lucrative investment in the long run.
Outside of e-scooters, Bullride also provides investment opportunities in other products, such as e-vehicles and perhaps e-cars and e-bikes in the future.
Is Bullride Safe?
Bullride is a start-up offering investments in e-vehicles. Investing in products from start-ups is always connected to risk. Let's dive deeper into the management and terms you should read before investing on Bullride.
Who leads the team?
The platform is operated by CEO Heiko Hildebrandt, who offers every investor a 20-minute discovery call if you would like to get to know him better.
Heiko is also the co-founder of Target Circle, an affiliate network that provides marketing tools for P2P lending platforms.
He is also the co-founder of Swup, an e-mobility app used to deploy Bullride e-vehicles on Norway's streets.
Mr. Hildebrandt is, first and foremost, a businessman. Despite receiving many complaints about scams that Target Circle was servicing (Grupper, Monethera, Kuetzal, Fast Invest, IBAN Wallet, and many more), the CEO didn't stop taking money from fraudulent platforms until they closed their campaign.
You should know that investing on any platform is connected to risk. Doing your own research and monitoring the news in the industry is essential to keep your portfolio balance positive.
Whether business partners of fraudulent platforms should be held accountable for providing marketing services is up to you to decide.
Who owns the platform?
The company behind Bullride is registered as Swup AS in Norway, which Trond-Adrian Frost and Lauri Mikael Sommarberg manage. Mr. Frost is also the current CFO at Target Circle.
Are there any suspicious terms and conditions?
We highly recommend reading the terms and conditions before joining any platform so you are aware of your rights.
Bullrides terms and conditions explain how the income is calculated and when it's added to the investor's account.
Additionally, Bullride shares how your deposited funds are managed.

You will also find information about how Bullride may accept cryptocurrencies as a form of payment and that any exchange fees are to be covered by the investors.
This is an indication that Bullride might accept crypto in the future.
You will also be able to read the clause that Bullride might close your account if you haven't owned any scooters for more than 12 months and have no positive balance on the account.
What's important to highlight is that Bullride won't compensate you if your e-vehicle is destroyed, lost, or stolen.

Another exciting clause is that investors may use Bullride Strategies, allowing them to sell scooters.

This feature isn't active yet, but it looks like Bullride got inspired by the features offered by Esketit.
Bullride also reserves the right to take over the ownership from you after a fixed period of three years. If Bullride informs you that your scooter will be decommissioned, you have five days to pick it up; otherwise, the ownership will be transferred to Bullride, and the company might use the decommissioned scooter for spare parts.

Apart from these terms, you should also be informed about what will happen if Bullride becomes insolvent.

We read through the entire 18-pages document here. If you decide to invest, we suggest reading it as well.
Potential Red Flags
We are currently not aware of any red flags.
Our Opinion of Bullride
Bullride is an alternative investment platform with a different approach to crowdfunding.
The goal of Bullride is to provide investors with a marketplace that would allow them to participate financially in the shared economy.
The idea of owning a revenue-generating asset isn't new.
Many readers know this concept from the real estate industry, where rental properties are purchased to earn monthly income.
Bullride offers a similar concept but with e-vehicles, which lose value over time.
Owning rental vehicles is interesting only if the risk is correct.
In the case of Bullride, the company is paying out only 25% and 35% of the rental revenue to investors within the first three years.
This means that 75% to 65% of the revenue is used to operate the rental business and cover the company's profit margin.
For certain fleets, the rent share decreases after the 3rd year to 10% to 15%, meaning the revenue decreases significantly after you finally break even.
This is, of course, "fleet specific," and you should inform yourself about the terms for the e-vehicle you are investing in.
Remember that by investing on Bullride, you are committing your funds for at least 3 to 5 years.
If you believe in e-mobility and think that you might be able to break even after two years, then Bullride might be worth a shot.
Investors should manage their expectations and understand that this type of investment comes with risk.
We haven't spotted any major red flags during our due diligence of the platform and the terms and conditions.
It's worth noting that the platform lacks proper statistics and an about page.
The platform offers only a generic homepage with a mediocre FAQ page which many investors will perceive badly.
Usability
Investing on Bullride is like buying goods on Amazon. If you have bought something online, you won't have any issues using Bullride.
After registering, you can navigate the primary market and see what's available.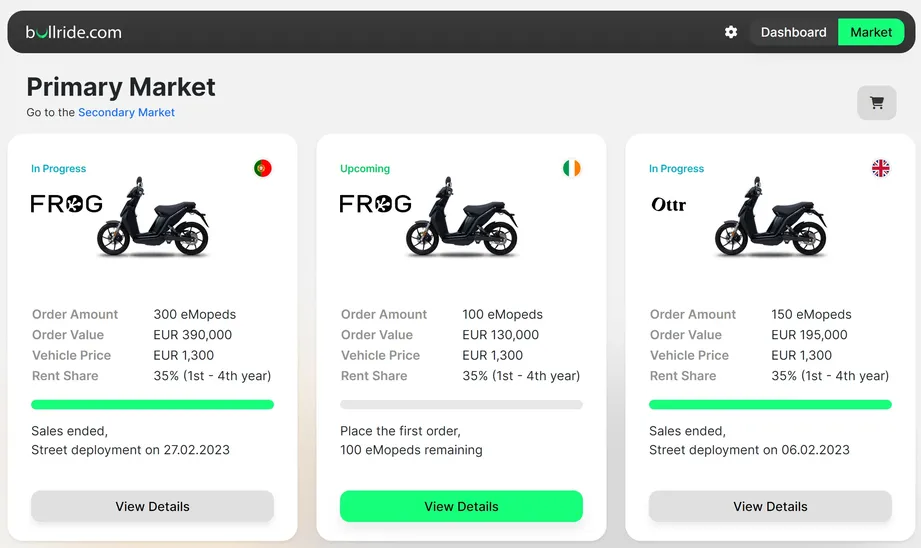 The projects tagged as "Upcoming" allow you to review the date when the order will be available to purchase.
The starting date is essential to pay attention to. Most e-vehicles are sold out within minutes, so if you want to grab one yourself, you should purchase them as soon as they become available.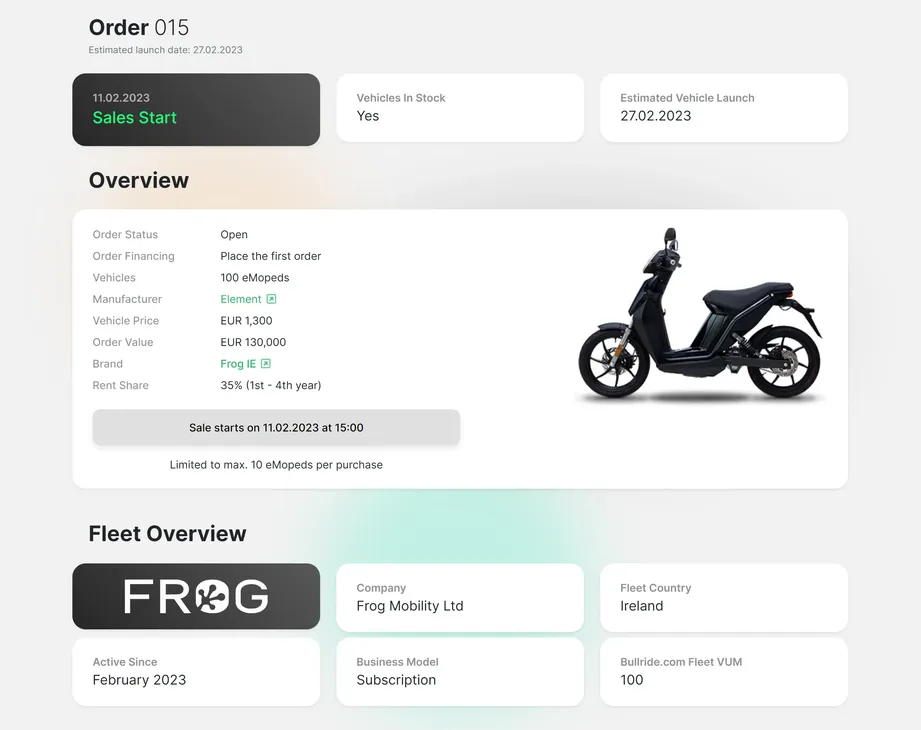 Our readers can preorder up to 50 eMopeds for the Order 015. This is only valid if you register with our link. That way, you can secure your eMoped without worrying that the e-vehicles will be sold out.
The price of the vehicle, as well as the rental share distribution and fleet country, are also essential variables to consider.
After you have purchased your vehicle, you will find all the information about the monthly income in your dashboard.
Liquidity
If you are looking for a short-term investment, Bullride isn't for you.
To potentially benefit from your investment, you will have to wait at least two to three years until the rental income reaches your initial investment amount.
Bullride offers no quick exit option, but you can offer your e-vehicle on the secondary market.
There is a €5 fee for sellers and a 5% fee for buyers. Note that a vehicle can be sold only for a maximum of 20% above its depreciation value.
Some users are purposefully buying vehicles quickly just to sell them at a premium price on the secondary market.
We would not suggest speculating with this strategy as you will always need to find a buyer to exit your investment unless you wait until the leaseback period is over or your vehicle is decommissioned.
An excellent option offered by Bullride is also the possibility to pick up your e-vehicle after the leaseback period.
If you want to earn passive income on short-term investments, we suggest reading our reviews of Robocash or PeerBerry.
Support
The CEO at Bullride does answer emails or questions on specific investor communities, but there isn't a helpful help section on the website, and the FAQ page seems outdated.
There is also little information surrounding the platform and its business model. The lack of transparency is certainly evident.
The platform's support per email response time is around 48 hours.
Bullride Review Summary
Bullride is a risky alternative new investment platform offering investments in rental e-vehicles. If you don't mind investing for a longer period and are aware of all the risks connected to your investment on Bullride, it could be an option to consider.
Main takeaways:
lack of transparency
innovative investment product
variable and predictable income
high demand from investors
Does Bullride sound good to you? If so, sign up now and pre-order your e-vehicles today.
Ready to invest on Bullride?
Or continue exploring other P2P lending platform reviews.