Capitalia Review Summary
Capitalia is one of the most transparent peer-to-business platforms in Europe. The business model is comprehensive, and the risk assessment transparency is beyond anything other platforms offer.
If you don't mind investing a higher minimum investment amount per project, Capitalia is undoubtedly a suitable option.
Main Takeaways From Our Capitalia Review:
Professional P2B platform
Extremely low default rate of just 0.07%
Suitable for high-net-worth individuals
Excellent functionality and support
Suppose you want to invest in sustainable business projects vetted by an experienced and professional lending company with no conflict of interest. In that case, Capitalia is the platform you should be using.
Ready to invest on Capitalia?
What Is Capitalia?
Are you considering investing on a professional and transparent peer-to-peer business platform with an average annual return of 12.36%? If so, read our Capitalia review to learn about one of the best investment options in high-yielding business loans.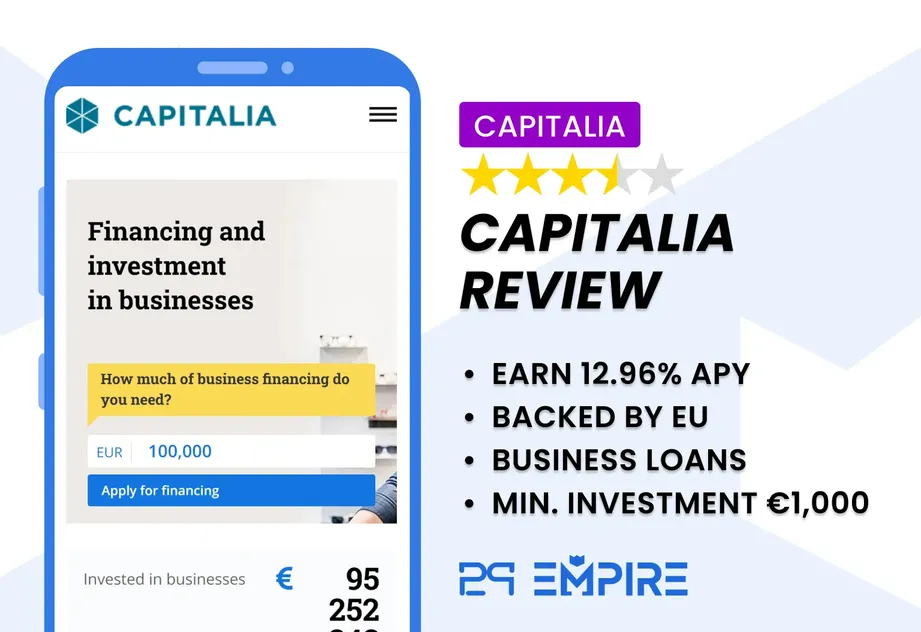 Capitalia Bonus
Capitalia doesn't offer any cashback bonuses for new investors. However, the platform offers attractive investment opportunities that are professionally evaluated, which sets it apart from other competitors in the peer-to-business segment.
Capitalia is an invite-only platform serving just a small number of investors. Readers of P2P Empire have a unique opportunity to join the platform and deploy their capital without passing the onboarding interview.
You will find all the currently available bonuses in our cashback bonus section.
Ready to earn interest?
Requirements for Investors
Capitalia aims to obtain a crowdfunding license from the Latvian regulator FCMC by the end of 2022. This means that the company needs to follow strict AML regulations hence the investment opportunities are currently available only for investors who fulfill the following requirements:
Be over 18 years old
Bank account in the EU/EEA
Passing the Veriff identity-check
Copy of your ID
No EUR bank account? No problem
Capitalia is currently regulated under the Alternative Funds Management license from the Latvian regulator. According to the latest information that the platform has provided, the company is also seeking a European crowdfunding license.
Investing in Loans
If you are looking for a way to top up your account, you won't be able to find it.
Capitalia is a professional lending platform that enables you to select dedicated loans and invest in them directly.
You will receive a payment note or "draw down notice" in your email inbox whenever you select a loan and define the loan amount.
This PDF document is a note to send money to Capitalia's bank account with the reference that you want to invest in a specific loan.
Every time you invest in a loan, you must send money to Capitalia with your specific personal code.
Account types
Capitalia offers three different types of accounts, with additional perks for retail investors.
The STANDARD free account will be sufficient for most investors as it provides access to an auto invest, to the secondary market, and it allows you to download tax statements and cash flow reports.
The PRIME account enables you to access additional research data and early access to some of the investment opportunities in bonds, equity, and funds.
The ADVISED account is a paid service that will be implemented shortly.
Risk and Return
Evaluating the risk and return ratio for peer-to-business platforms is typically complex due to the lack of information that most P2B platforms provide.
This isn't, however, the case with Capitalia, as the platform offers investors all the data required to make an educated investment decision. In addition to that, the platform is very transparent about its business model, which cannot be said about other players in the industry.
In the following section of our Capitalia review, you will learn all there is to know about the platform's business model.
Capitalia is a suitable crowdfunding platform for professional investors seeking exposure to vetted high-yielding loans.
Capitalia's Business Model
Capitalia offers a wide range of financial services for businesses, including loans, equity financing, company valuations, consulting, and the acquisitions and sales of companies.
Retail investors can invest directly into loans of Capitalia, which is the most profitable business segment for Capitalia.
Financing for small and medium enterprises
Capitalia is focusing on issuing underbanked SMEs that meet the following criteria.
Requirements:
Min. 12 months operation, on average, however, four years
Min. €10,000 turnover per month, average annual income €500,000
Tax debt cannot exceed one month's turnover
Business loans
The loans issued by Capitalia are often used to improve the cash flow, cover one-off expenses, refurbish the premises or grow the turnover.
Here is additional information about the characteristics of loans you can fund through Capitalia.
From €10,000 to €2M
Up to €50,000 without collateral
Loan period between 3 and 36 months
Amortization or bullet loans
The interest is between 6% and 18% per year
Securities
As a critically thinking investor, you should constantly evaluate the securities that come with a business loan. Here are some statistics which give you an idea about how your investment in loans on Capitalia is secured.
½ is backed by collateral
Personal guarantees back 99% of loans
5 out of 467 loans were issued without any securities
It's worth mentioning that the approval rate is currently between 25% and 28% of all monthly applications.
In addition to the securities discussed above, some projects are backed by the European Investment Fund.
Buyback Guarantee by the European Investment Fund (EIF)
Here are some of the characteristics of loans that the EU backs:
Microloans of up to €25,000
Loan term from 3 to 60 months
This segment of loans is offered at a reduced interest rate and no collateral requirements. The EIF and a personal guarantee from the owner back the loans.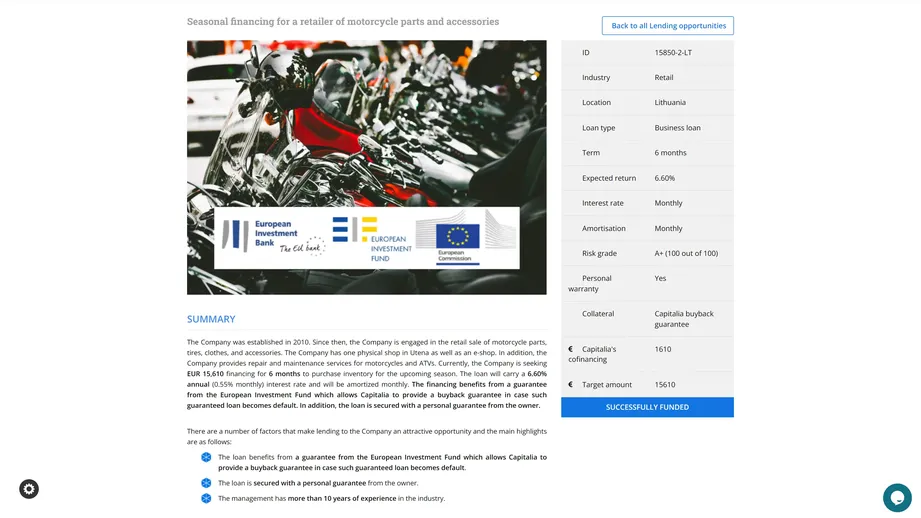 Requirements for borrowers to benefit from the EIF guarantee:
A private or public limited company registered and operating in Lithuania, Latvia or Estonia
Up to 9 employees
Annual turnover or balance sheet is not larger than €2M
The company does not work in any restricted sectors, such as the production of tobacco and alcoholic beverages, gambling, production and trade in weapons and ammunition, and other unethical business ventures.
The company is not subject to insolvency proceedings
EIF Guarantee Explained:
Loans secured by the buyback guarantee will be repurchased from Capitalia after 30 days when the loan has changed its status to default. The buyback guarantee covers 100% of the loan principal and accrued interest of 90 days.
The EIF guarantees to repay Capitalia 80% of the loan principal and unpaid interest of up to 90 days. Capitalia covers any losses from the remaining unrecovered part of the principal amount.
How does Capitalia make money?
Every investor should understand how the P2B platform is making money.
Fees for borrowers:
Business loans: 1-5% from the loan amount (min. €200); repeat customers get a 10% discount
Invoice purchasing: 0.6% - 1.5% from the amount, min. €20
Venture capital: 3% to 5% of the financing amount
Early repayment fee
Registration of pledge
Fee for amendments in loan terms
Fee for changes in mortgage agreements etc.
Fees for valuation reports
Additional Stats:
84% of the clients are repeat customers
€100,000 average loan amount
14 months average loan term
Risk Evaluation
Investments on Capitalia are suitable for more experienced investors, who can evaluate borrowers' financial data and the operational aspects of their businesses.
The platform evaluates more than 50 data points related to the risk of a business loan and categorizes every loan into various risk categories that directly impact the default rate.

The initial risk evaluation is essential to calculate the borrower's credit risk. What's a crucial part of every business loan is the monitoring of the financial performance of the borrower.
Such monitoring measures include, among other things, control of tax payment discipline, credit history, changes in official management and official registration information.
Capitalia also informs investors that the company does not provide financing to any businesses with a conflict of interest with any employees or shareholders at Capitalia.
On top of that, Capitalia is disclosing the fees and commissions earned from every business loan to the investors, increasing the platform's transparency.
Risk of Default
Keep in mind that while Capitalia applies vigorous credit risk assessments and monitors the performance of loans, there is always a chance that the loan defaults and the investors will suffer a financial loss.
There are multiple risks, such as Market risk, Operational risk, Credit risk, Collateral risk, and Liquidity risk, which do have an impact on the performance of a business and, by extension of that, on the performance of the loan itself.
You can minimize all the risk by investing in at least 25 loans with the exact same investment amount.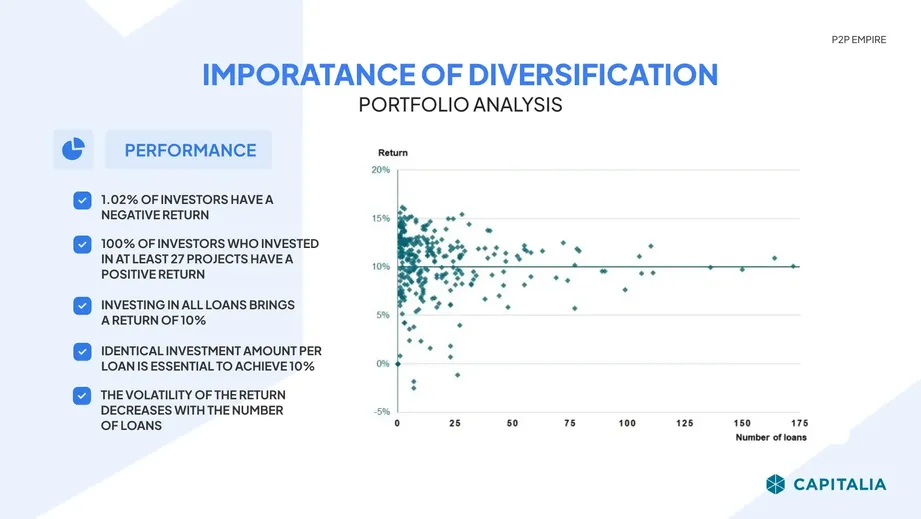 Investors who spread their capital across various loans and risk classes managed to achieve a return of more than 10% per year.
Is Capitalia Safe?
The risk disclosures and information related to evaluating the borrowers that Capitalia is sharing is beyond what most similar platforms provide.
Let's look at the company's management and the terms and conditions to which you agree as an investor.
Who runs the company?
Juris Grišins and his 13 colleagues run the platform. Juris is very approachable. We had an interview with Juris in 2021, when the company left the Mintos marketplace to launch its peer-to-business platform.
Capitalia is also following corporate governance standards by NASDAQ Baltic stock exchange, which means that there is a supervisory board with three council members, Mārtiņš Krūtainis, Andrejs Strods, and Peeter Piho.
The company is owned by Juris Grišins 83% (founder and CEO) as well as other company employees.
How is Capitalia funded?
The company is primarily self-funded. Currently, Capitalia has three active bond issuances. The rest of the loan book is funded through smaller and larger investors.

Are there any suspicious Terms and Conditions?
When conducting your due diligence, you must review the terms and conditions to be fully aware of your rights and obligations.
Loan Agreement
Capitalia gives you access to individual loan agreements, which increases the trust towards Capitalia, as the likelihood of Capitalia listing "fake" loans decreases significantly.

Amendments
The platform can amend the terms and conditions at any time, without prior notice, which is not beneficial to you.

You should also be aware that Capitalia might change specific terms, if this helps to recover the loan faster.

This means that you should allow some flexibility regarding the repayment schedule. Remember that P2P lending is not a savings account.
Default Risk
Capitalia informs its investors that there is a chance that a loan cannot be recovered. This means that you bear the risk of default.

This is a standard clause that every platform uses to protect itself from potential complaints from investors.
Potential Red Flags
The company may amend terms and conditions without prior notice
What's Our Opinion About Capitalia?
Capitalia is one of Europe's most professional peer-to-business platforms. The quality of the platform's information equals the standard that you might be used to by EstateGuru.
While the loan types on Capitalia differ as a mortgage doesn't back them, the platform provides much more information about its risk assessment. The low capital loss rate of just 0.21% represents the performance of Capitalia's loan book.
The terms and conditions are reasonable, and the company doesn't publish misleading marketing material, as is the case often with some of the competitors on the market.
If you appreciate that type of transparency and don't mind investing a higher investment amount, Capitalia is undoubtedly a good fit for you.
Usability
When investing in loans, you want to use a user-friendly platform with straightforward and intuitive navigation.
Capitalia offers everything you need to manage your investments in business loans.
A fully functional auto invest is available, and you can download an account statement, making reporting your income to your tax authorities hassle-free.
Auto Invest
Capitalia's auto invest enables you to define your investment criteria or choose some of the predefined diversification settings.
You can choose between the following strategies:
Very conservative (Expected return 8.42%)
Conservative (Expected return 8.42% - 12.07%)
Moderate (Expected return: 8.42% - 13.92%)
High return (Expected return 13.92% - 16.41%)
You can also define your criteria. Capitalia suggests investing at least €10.000, as the minimum investment amount is set at €1,000 per project.
To build a fully diversified portfolio with an average return of above 10%, we suggest allocating at least €25,000 and spreading the capital across various loans from different risk categories.
You can also define the share of loans within a risk category, a unique feature that most other Auto Invest tools don't offer.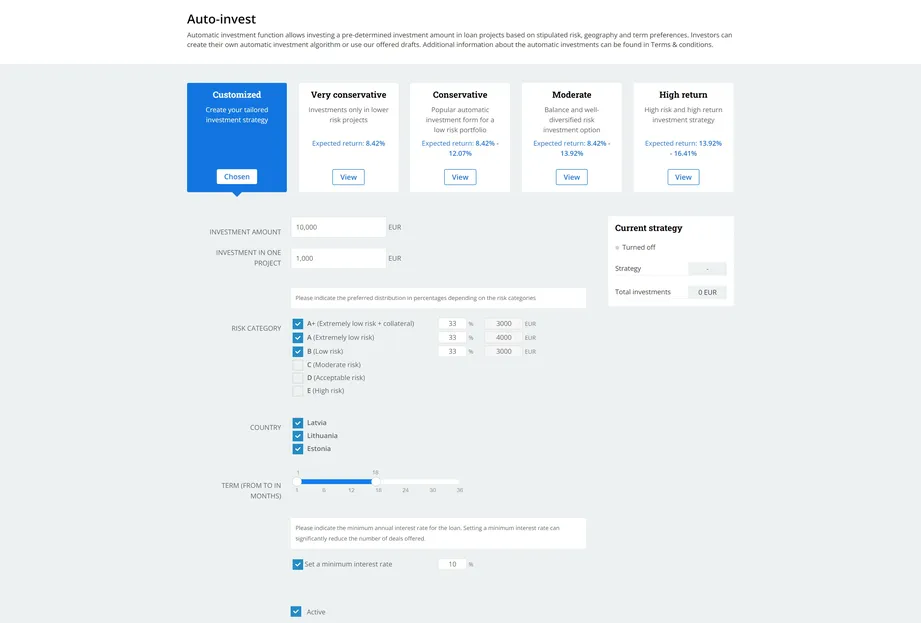 Remember that your strategy is directly linked to the "probability of loan loss" which we highlighted in the risk assessment section. While the loan issuance is growing, you should allow at least one or two months until your portfolio is well-diversified unless you speed up this process by investing on the secondary market.
🧾Does Capitalia deduct taxes?
Capitalia doesn't deduct your taxes from your earnings. You can download an account statement and a tax report for the chosen period, which you can submit to your tax authorities when you file your taxes.
Liquidity
Liquidity is essential, especially in the peer-to-business loan segment. Most business loans are issued for a loan period between 12 and 36 months. This means you should be fine by committing your money for this time.
Secondary Market
Capitalia offers investors the option to sell their loans on the secondary market before the end of the loan term.
This option increases the liquidity of your loan portfolio on Capitalia. On the other hand, you should be ready to pay a 2% secondary market fee if you decide to sell your loans.
Currently, Capitalia doesn't support discounts or premiums for secondary market listings. The fee is also charged only to sellers, meaning you can buy loans on the secondary market for free.
The secondary market was just launched a few months ago. The monthly transaction volume on the secondary market is currently at around €126.000 with over 60 trades.
Support
The customer support on Capitalia is very responsive and professional, which is a rarity in the P2B segment.
The level of professionalism is something we at P2P Empire appreciate a lot.
While there is a live chat option, we have communicated with the platform via Email, and the response time was always under 24 hours.
During our review process, we also had a call with the Chief Investment Officer, who answered all of our questions and objections without hesitation.