Swaper Review
Swaper is an Estonian Peer to Peer (P2P) lending platform that lists pre-funded unsecured consumer loans originated by the Wandoo Finance Group, the parent company of Swaper. Swaper offers a 30-day buyback guarantee as well as an Auto Invest feature. However, the downside of this platform is the small availability of loans.
Find out more about whether this is the P2P lending platform for you in our Swaper review.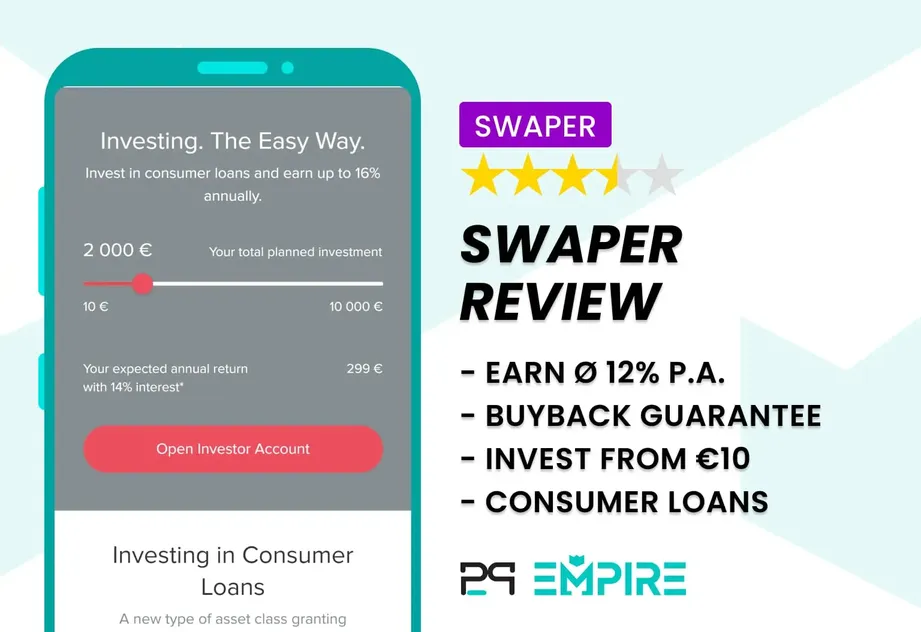 ⭐ Learn more about our rating criteria
📧 Stay up to date with our newsletter
Swaper in Numbers
Let's dive right in and have a look at Swaper's statistics. Fortunately, Swaper allows you to view relevant statistics on their website. Therefore, you don't need to search the internet to find basic information about the total loan value and earned interest.
If you want to learn more about Swaper's latest performance click on the latest financial report where you can learn more about Swaper's performance for 2019. The financial report for 2020 hasn't been released yet but the platform reports a net profit of €147,000 (unaudited).
Swaper Promo Code
Many P2P lending platforms offer new investors a cashback bonus or promo code. Swaper chooses a different bonus structure, which is similar to the rewards PeerBerry's investors receive.
Active investors with an average portfolio size of over €5,000 over three months are eligible to receive a 2% loyalty bonus. This is more than you'll receive on any other platform now.
You don't need any unique Swaper Promo Code to get your bonus.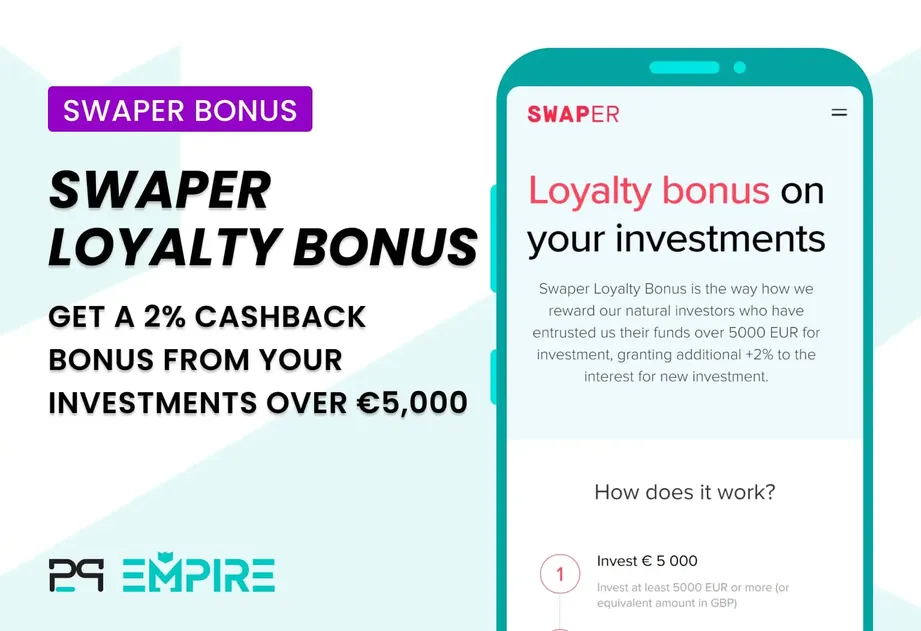 Is this ticking your investment boxes?
Swaper's New User Requirements
To sign up on Swaper you must be over 18 years old and reside within the European Economic Area. You also need to have a bank account from the country of your residence that is listed in your name. You can also open a business account with Swaper if that interests you.
No EUR bank account? No problem
Transferring money to Swaper is equally quick and easy; it only took us one day to transfer our money from our N26 bank account using a SEPA transfer.
Risk and Return
When investing in P2P lending you should be aware of the risks that come with it. Swaper has a very similar business model to Bondora. Both platforms list their loans on the marketplace rather than working with other loan originators. The primary way that Swaper differs from Bondora is that it offers a buyback guarantee.
Swaper's Buyback Guarantee
In cases where the borrower is late for their loan repayment by more than 30 days, the loan originator (Swaper) will repurchase the claim that you (the investor) have with the borrower. This includes the invested principal and accrued interest.
Swaper's buyback guarantee is the same protection scheme offered by Robocash, which follow the same business model but offers loans from different countries.
Is Swaper Safe?
That's one of every investor's most important questions before signing up and transferring funds to Swaper. In this section of our Swaper review, we will conduct due diligence about the platform's team and their terms and conditions.
Let's jump right into it.
Who Runs the Company?
Swaper was run by Danija Misus, who joined the platform as a project manager in 2017. In 2021, Swaper finally appointed a CEO - from now on, Indrek Poulokainen is in charge of the company's progress.
On Swaper's website, you can learn more about the loan originator - Wandoo Finance.
Who is the Company's Legal Owner?
Finding the legal owner of Swaper required quite some effort as their website doesn't provide any relevant information.
During our research, we found a name - Marina Tjulinova - in one of the Estonian business registries. She appears to be the platform owner and Danija confirmed this information.
Marina Tjulinova is the owner of Swaper Platform OU (Estonia), currently in the role of Head of Operations and an IT development company Neotech Development OU (Estonia).
The connection between Wandoo Finance and Swaper
Iveta Bruvele is the founder of Wandoo Finance SIA (Latvia) - the parent company of loan originators that acquire funding from Swaper.
Wandoo Finance SIA (Latvia) was looking for investments back in 2017, and Neotech Development OU (Estonia) was willing to provide it, for which the company became a shareholder of Wandoo Finance SIA (Latvia).
Marina Tjulinova is, therefore, a partial owner of Wandoo Finance.
Wandoo Finance launched Swaper SIA (Latvia) to provide funding for its loans. The company moved to Estonia for regulatory reasons, and that's how Swaper Platform OU (Estonia) came into place.
Are There Any Suspicious Terms and Conditions?
Look at what we found when reading Swaper's terms and conditions.
Clause 3.10 - Separation of Funds
In section 3.10, you can read how your funds are kept. We were not content with how Swaper phrased this clause as it was unclear that the funds are kept in segregated bank accounts.

We reached out to Swaper and Danija confirmed that Swpaer has two bank accounts. One for the funds of investors and the second for operational purposes. From an accounting perspective, investors' funds appear as Swaper liabilities on its balance sheet.
Clause 3.11 - Withdrawals
In section 3.11, you learn that Swaper shall fulfill your positive balance's withdrawal request at any time. This means that in case Swaper should encounter "problems" with withdrawals, they are legally in trouble.

It takes two business days to process your withdrawal request with Swaper.
Clause 4.4 - Liability
Like with any P2P platform, Swaper isn't responsible for any losses that might result from investing in loans through the platform.

This is a standard clause that you will find on any P2P lending site. There is always a chance of losing all of your investments.
Clause 6.9 - Amendements to T&C
Swaper gives you sixty days' notice before changing any T&C. This should give you enough time to review the amendments and evaluate how it can impact your investments.

We see this clause as something positive, as many platforms reserve the right to amend any T&C without prior notice, which puts the investors at a disadvantage.
Do Investors Have Access to Individual Assignment Agreements?
You can only view the assignment agreement before you invest manually or setup your Auto Invest portfolio.

After you have invested in one loan, you can view the assignment agreement under My Investments. You need to click on the small red arrow and download the document.

Unfortunately, Swaper does not provide a template of the assignment agreement to unregistered users, so you aren't able to review it before creating and verifying your account.
Also, the platform doesn't offer the availability to view loan agreements for already repaid investments, whereas other platforms give you this flexibility.
Curious about what else we look at when conducting our research?
With our ✅ workbook you can spot red flags 🚩 and protect your investment.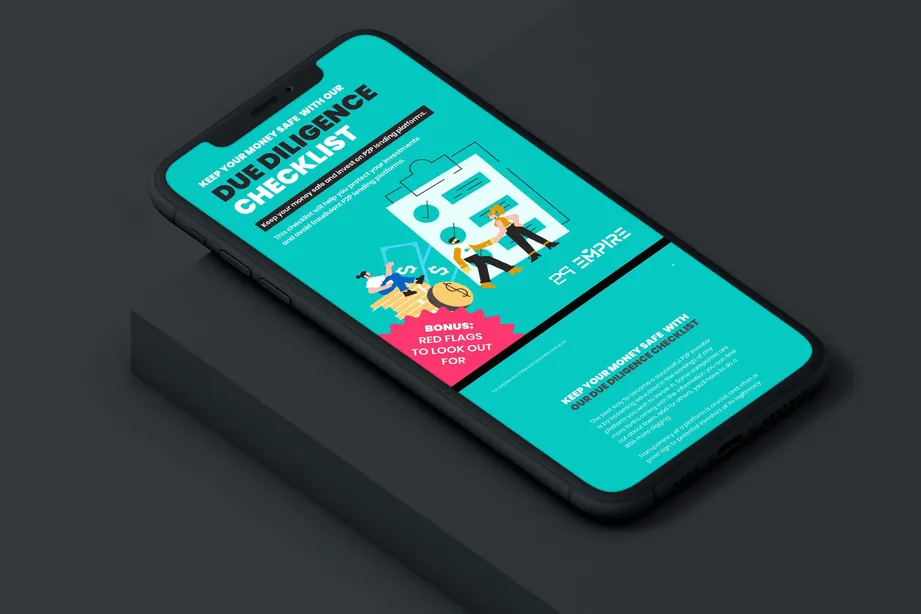 Protect Your Money!
What's our opinion about Swaper?
Swaper has been able to address some of our questions, for which we are very grateful. The company recently published information about the team and finally published the annual financial report for 2019.
While we appreciate that Swaper delivers on its promises, the platform is very slow in doing so.
In recent months, Swaper introduced a new CEO and teased a new product line. The Estonian company also increased its equity and ended up in 2020 with a profit of around €147,000.
In the latest letter from the CEO, Swaper also announced that the company would be aim to become regulated, which is why they also hired a specialist who will take care of this process. To date, nothing has changed.
Swaper is operating under the laws of Estonia, while being based in Latvia. What type of licenses Swaper will be aiming for is yet unclear.
Keep in mind that currently, you can only invest in loans from Poland and Spain, which are very competitive and yet not very regulated markets.
Curious about other platforms? Head over to our ⚖️ P2P lending platform comparison to get a quick overview of the currently available platforms.
Usability
In terms of usability, Swaper did a great job. The platform is aesthetically pleasing, with a modern look and all the essential features you'd expect. The navigation is intuitive and you can find everything you need within a few clicks.
The sign-up process is relatively easy compared to competitor platforms like Crowdestate or Fellow Finance, where you need to provide a complete financial overview before being accepted as an investor.
Auto Invest
Swaper, similarly to many other P2P lending platforms, gives you the opportunity to automate your investments. Setting up your Swaper Auto Invest feature takes no more than one minute. You can choose the following diversification options:
Portfolio size
Investment period
Interest
Investment amount per loan
Minimum account balance
Countries (Poland, Georgia, Denmark, Spain, Russia)
Loan characteristics
You can also choose whether to reinvest your returns. After you have defined your preferences, simply save your settings and let Swaper do the rest.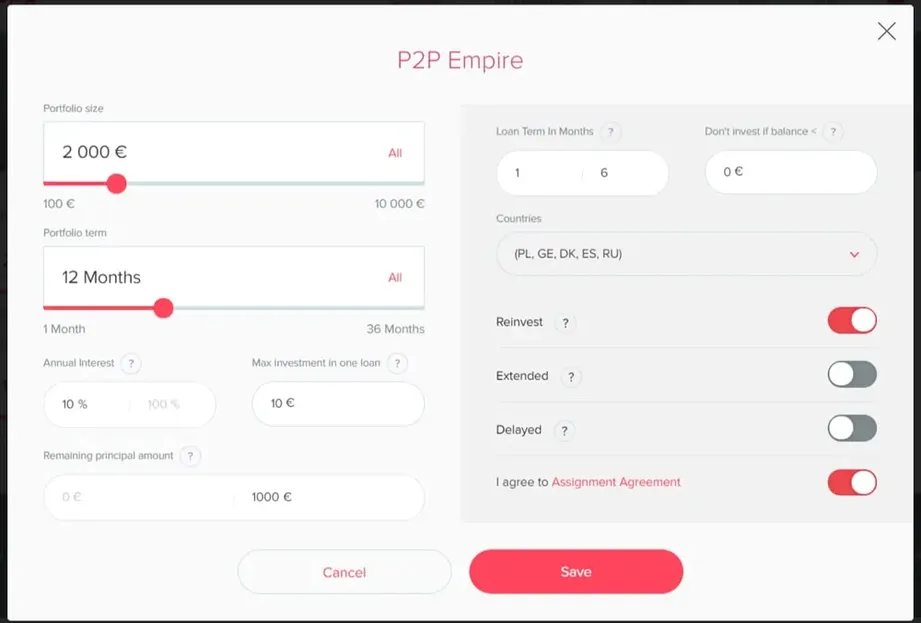 Swaper App
If you prefer to use native apps for Android and iOS, you can download the Swaper mobile app and manage your investments from anywhere. Swaper and Twino are two of the only P2P lending platforms offering their investors an intuitive mobile app.
🧾Does Swaper deduct taxes?
Swaper doesn't deduct taxes from your earnings. You can download an income statement for the chosen period, which you can submit to your tax authorities when you file your taxes in the country where you have your tax residency.
Liquidity
When it comes to P2P lending, many investors aim for the highest returns on P2B platforms like Crowdestor where you can earn up to 20% in interest each year. Many investors, however, don't consider these platforms' liquidity rates. High-yield investments are usually not known for high liquidity.
Secondary Market
Swaper makes withdrawing your money easy. You can simply sell your investments on the secondary market if you wish to withdraw your money before the end of the loan period. However, note that trading on the secondary market isn't something that you should practice regularly as you'll often sell your claims for a discounted price.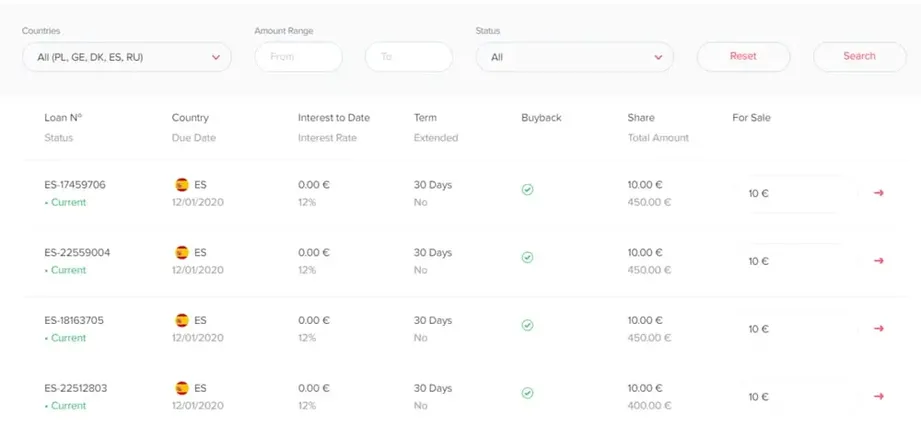 Swaper's Customer Support
Swaper's customer support is very responsive. When we contacted the team, they got back to us within one hour.
The best way to contact Swaper's customer support team is via the live chat on their website browser or by sending them an email on info@swaper.com. If you prefer to chat over the phone, give them a call from Monday through to Friday from 9 am to 6 pm.
Swaper Review Summary
Swaper is a P2P platform that is very easy to use. The loans offered on Swaper are short-term loans backed by a buyback guarantee. You might experience cash drag with Swaper as the platform's availability of loans is limited. However, the lack of transparency is something you will experience on Swaper.
Main takeaways from our Swaper review:
Lack of transparency
Easy-to-use platform
Responsive support
Unsecured loans with a 30-day buyback guarantee
Does Swaper sound like your kind of platform?
Or explore other P2P platforms.
FAQ
What's the minimum investment amount on Swaper?
The minimum investment in one loan is only €10, which makes it very easy to achieve good diversification.
How is my investment protected?
The only protection on Swaper is the buyback guarantee. The buyback will be activated when your expected loan repayments are delayed for more than 30 days.
Is there a secondary market on Swaper?
Yes, the Secondary Market on Swaper allows you to sell your investments, increasing your portfolio's liquidity.
Does Swaper offer an Auto Invest feature?
Swaper has an Auto Invest feature that will help you automate your investment strategy based on your predefined preferences.