NEO Finance Review
NEO Finance is one of the most regulated P2P lending platforms in Europe. The platform's goal is to be the safest option for P2P investors to invest in consumer loans from Lithuania. Since 2015 more than 13,000 investors have earned close to €12M in interest. In our NEO Finance review, find out more about this underrated P2P lending platform.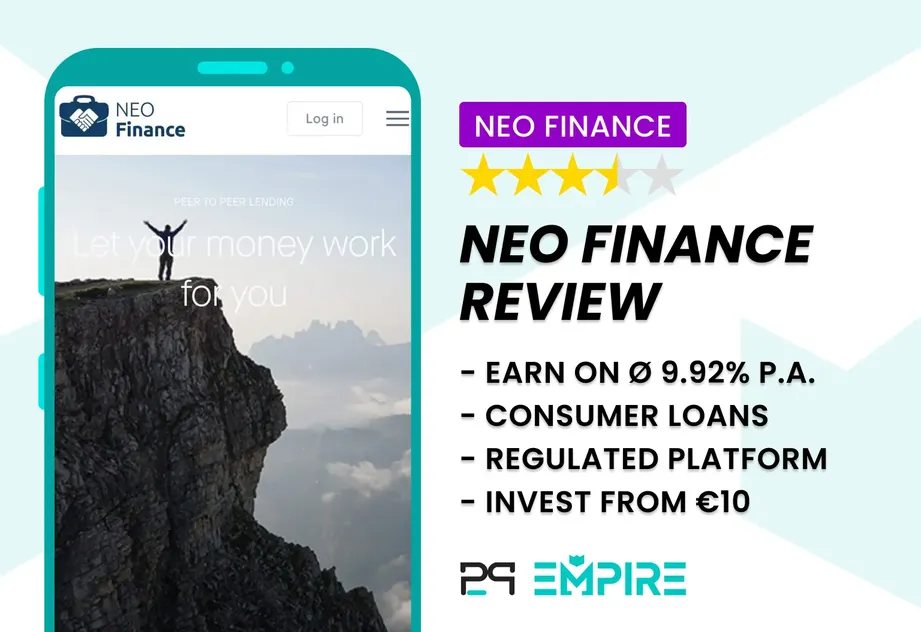 📧 Stay up to date with our newsletter
Find out why we believe NEO Finance is one of the best P2P lending platforms for experienced investors.
NEO Finance in Numbers
Regardless of whether you're just starting out with P2P lending or you've already invested on other European P2P lending platforms, you should always analyze the platform's statistics before signing up and investing your money.
NEO Finance is one of the most transparent platforms we reviewed in 2021.
As we write this NEO Finance review, we were able to retrieve most of the data directly from their statistics page, which is being updated on a regular basis. This isn't always the case with other P2P lending platforms that we have reviewed in the past.
The P2P lending site was willing to share its recovery rates with us.
After 24 months: 40.7%
After 36 months: 76.2%
Note that NEO Finance is listed on the baltic Nasdaq stock exchange which means that the company needs to obey specific reporting standards, which most of the P2P lending platforms don't follow.
NEO Finance's Requirements
Signing up on NEO Finance will take longer than on other platforms as the P2P lending site follows strict anti-money laundering regulations.
When registering on NEO Finance you'll need to insert the following information.
Your phone number (will be used to confirm the terms and conditions)
Email address (or Facebook and Google profiles)
Copy of your passport or ID card
Your selfie in real-time
After your account has been verified, you can transfer funds to your dedicated IBAN account at NEO Finance.
A dedicated IBAN account? Right.
NEO Finance is currently the only P2P lending site in our comparison that offers dedicated IBAN accounts for their investors. This increases the safety of your funds as your money isn't stored on the platform's accounts which is still the case with many big platforms such as Mintos or EstateGuru.
All of your funds are stored at the bank accounts of the Lithuanian Central Bank which is also the regulator of the NEO Finance peer-to-peer lending platform. NEO Finance has an unlimited electronic money license, which significantly increases the safety of your funds. When investing in loans on NEO Finance the money doesn't flow through NEO Finance's bank account but it goes straight from your IBAN account (at the central bank) to the account of the borrower.
Apart from the Electronic Money Institution License (EMI), NEO Finance has the peer-to-peer lending consumer license and the credit consumer lending licesens.
To transfer funds to your investment account, you need to make a SEPA transfer (bank transfer).
The cheapest option is to use a Euro bank account.
No EUR bank account? No problem
The transfer of our funds with our N26 bank account to NEO Finance took less than 24 hours.
Risk and Return
When reviewing P2P lending platforms, we always look at the protection schemes that come with investments. While real estate lending platforms like EstateGuru or Reinvest24 offer investment opportunities backed by mortgages, most consumer loan-oriented platforms offer a buyback guarantee.
Let's have a look at how NEO Finance protects your investment:
Lending To The Right Borrower
NEO Finance is a P2P lending platform that lends money directly to borrowers. It shouldn't be compared to P2P marketplaces such as Mintos, PeerBerry or IUVO Group, which act as middle-man between the investor and the lending company.
The main question you should be asking is: How does NEO Finance ensure high-quality borrowers?
Let's dive right in to the selection process:
NEO Finances follows internal guidelines and regulations according to the Consumer Credit Law.
Every borrower is scored in three categories (A, B, C) based on their creditworthiness.
NEO Finance looks at 30 personal criteria during the evaluation process.
Every borrower is checked through the Lithuanian credit database (historical and current loan data) as well as SODRA database (information about salaries) and credit bureau (currently outstanding loans).
Every borrower must have a regular income and work at the same employer for at least four months.
Want to find out about the loan performance based on individual categories? Have a look at the loan statistics below.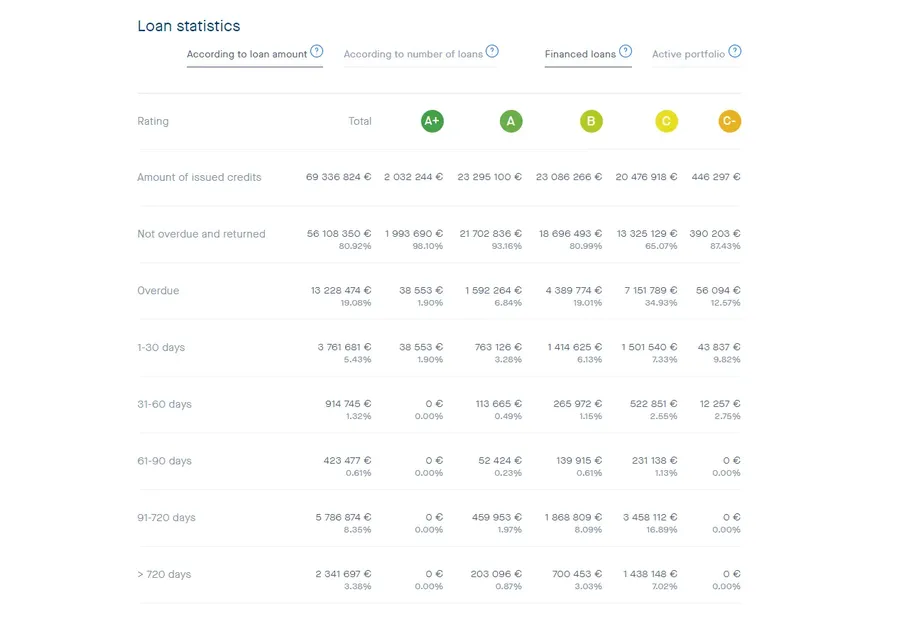 In case where the borrower has an outstanding debt, its rating will drop automatically to E. This would make the borrower not eligible to receive a loan. The data is retrieved from creditinfo.com.
Provision Fund
Provision fund is similar to a buyback guarantee as you might know from other P2P lending platforms. In the case of NEO Finance, this provision fund is optional, meaning you can select it but don't have to.
You activate the provision fund when signing the loan agreement
NEO Finance covers borrower's delayed payments
This sounds great, however, the provision fund comes at a cost. If you decide to use this provision fund, you'll need to pay a fee of 0.23% to 22.91%, depending on the borrower's credit rating.
This fee is reduced immediately after you enter the loan agreement. This means that you need to receive interest in order to make up for the fee to see positive returns.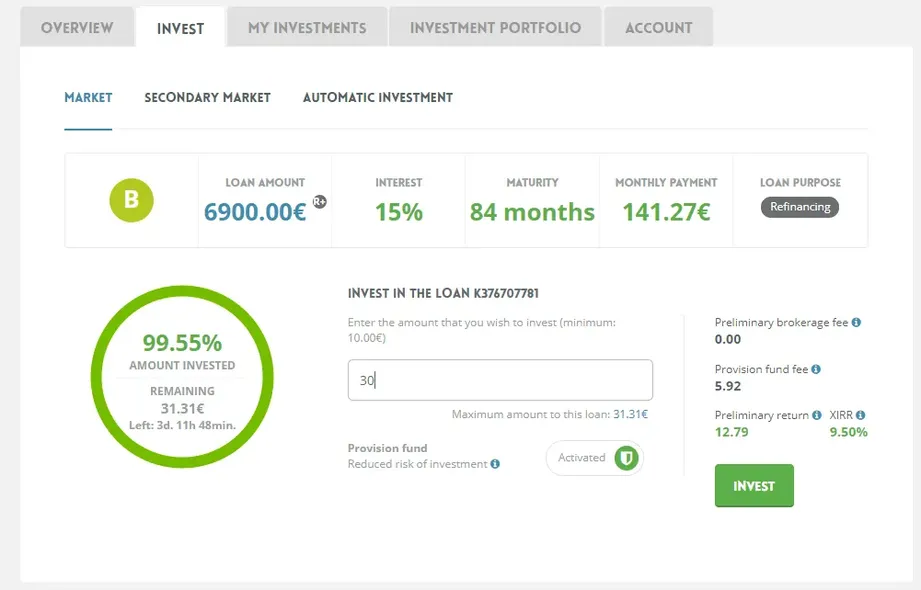 Here is an example of activating the provision fund on the primary market. On the left side, you can see the provision fund fee which is the fee calculated for the entire loan term (84 months). Below you can also see the annual interest rate which includes the provision fund fee.
What does it mean?
You can either choose the provision fund and make your investments more "safe" in exchange for a lower return. Or you can avoid the provision fund and get the full interest in exchange for a "higher" risk.
Please note, that the provision fund is not offered for loans with a risk score A+ as they are 100% covered by the buyback guarantee.
Buyback Guarantee
If you don't use the provision fund, NEO Finance's buyback guarantee kicks in after 60 to 130 days.
As soon as the loan defaults, the P2P lending platform will offer you to repurchase your investment for 50% to 100% of the current value depending on the borrower's credit rating.
A+ ratings will be sold for 100%
A ratings will be sold for 70%
B rated loans will be sold for 60%
C rated loans will be sold for 50%
If you reject the offer, the debt is transferred to the debt collection company or bailiff, where it can take up to two years to be recovered. The borrower covers all the expenses of the recovery.
How Much Do You Earn on NEO Finance?
This comes down to your investment strategy.
Here are the historical annual returns split into four investment strategies.
Safe investment: with the provision fund 👉 +3% and +8%
Small risk: without the provision fund but with the buyback 👉 +9% and +13%
Medium risk: without the provision fund and buyback option 👉 +14% and +17%
High risk: selling and buying investments on the secondary market 👉 -50% and +50%
Now you know how much you can expect to earn by investing on NEO Finance. It comes down to your own risk preferences.
Equally note-worthy is that, for non-Lithuanians, the platform will deduct income taxes from the interest you earn through investing in loans. Thanks to the double-taxation treaty your interest won't be taxed more than in your country of residence.
Is NEO Finance Safe?
Who Leads the Team?
The platform was led by Aiva Remeikienė, up to February 2021. Aleksejus Loskutovas is the new CEO of NEO Finance.
Who Owns the Platform?
If you want all the ownership details, head over to NEO Finance's Information Document here.
Happy with a brief summary?
The company's largest shareholder is UAB ERA CAPITAL, which has 74.94% ownership. Evaldas Remeikis and Aiva Remeikiené own this company.
The rest of the company's shares are detailed in the screenshot below: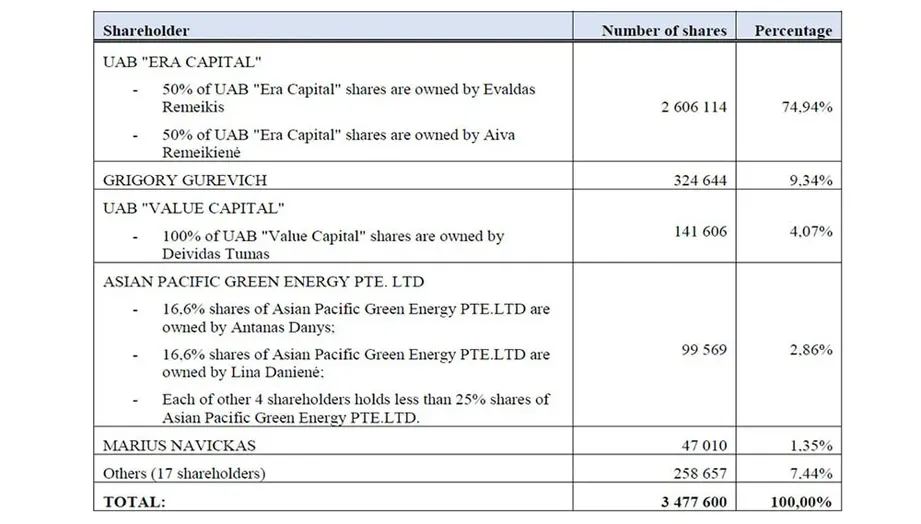 Watch our interview with the founder of NEO Finance Evaldas Remeikis and learn more about how the platform is regulated:
Are there Any Suspicious Terms and Conditions?
When reviewing P2P lending sites, we always have a look at the terms and conditions.
Here's a summary of what we found in the terms of use:
Only a person can create a NEO Finance account. Legal entities cannot invest on NEO Finance.
A borrower's solvency is accessed according to the rules provided by the Bank of Lithuania.
NEO Finance's terms also explain that the platform is not responsible for any losses resulting from users' investments on the platform.
All the other sections of the contract are quite straightforward. You can read the entire document here.
Do Investors have Access to Individual Loan Agreements?
You need to accept the loan agreement before investing on NEO Finance. You'll have to read through it when activating your Auto Invest or investing manually. The contract must also be signed via a code you'll receive on your phone.
You can find your loan agreements in your investor account under My Investments.
Curious about what else we look at when conducting our research?
With our ✅ workbook, you can spot red flags 🚩 and protect your investment.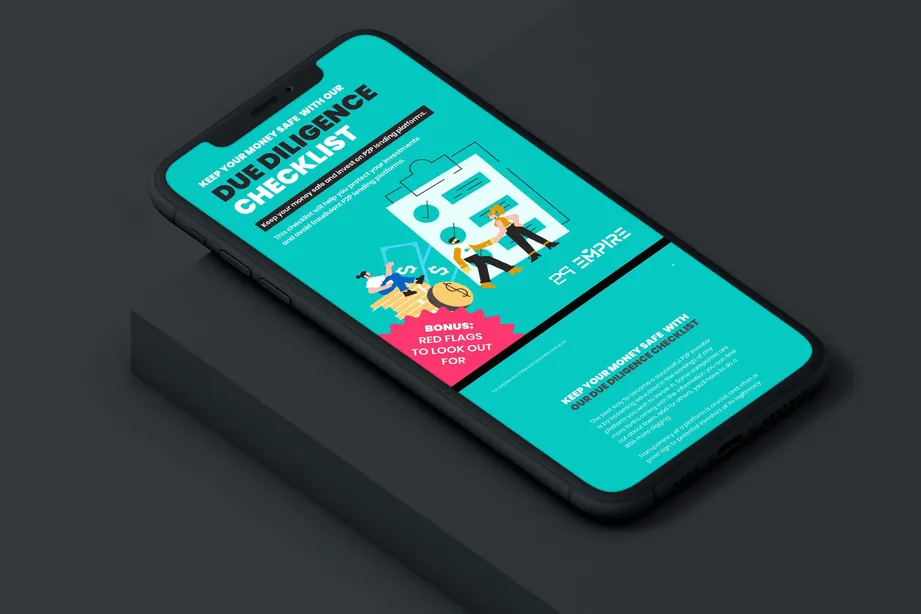 Protect Your Money!
What's Our Opinion About NEO Finance?
NEO Finance is one of very few regulated P2P lending platforms in Europe. The company is also listed on the NASDAQ stock market. Your funds are stored in a segregated bank account with your dedicated IBAN.
Additionally, your transactions need to be verified with an SMS code.
This grade of security isn't widespread in the P2P lending space.
The provision fund and the buyback guarantee offered by NEO Finance, are also unique among European P2P lending platforms.
NEO Finance is one of the most transparent platforms for sharing financial data about its borrowers.
What should also be mentioned is that NEO Finance is likely on of the least user-friendly platforms. It takes quite a while to navigate through the account, which decreases the experience with the platform.
In our latest P2P talk with the founder of NEO Finance, we learned that the platform is required by law to inform investors about all aspects of their portfolio, which is why the platform's usability is not as optimal as you will experience on other platforms.
In terms of development, there is a lot of room for improvement. The platform is quite complex to use and the platform's fees make the investing experience not very appealing for most retail investors.
On the other hand, if you are interested in investing in Lithuanian consumer loans on a regulated platform, NEO Finance is the best fit for you. You have to realize, though, that the net return will be likely between 5% and 10% and that it will take a few months to earn back the fee for the provision fund if you decide to use this feature.
Our real return on NEO Finance is at 5.39% per year and our current portfolio accounts for €502.
Curious about other platforms? Head over to our ⚖️ P2P lending platform comparison to get a quick overview of the currently available platforms.
Usability
On NEO Finance you can either invest manually or via the Auto Invest feature.
Auto Invest
NEO Finance's Auto Invest is intuitive enough to use it even if you have never used any other P2P lending platform before.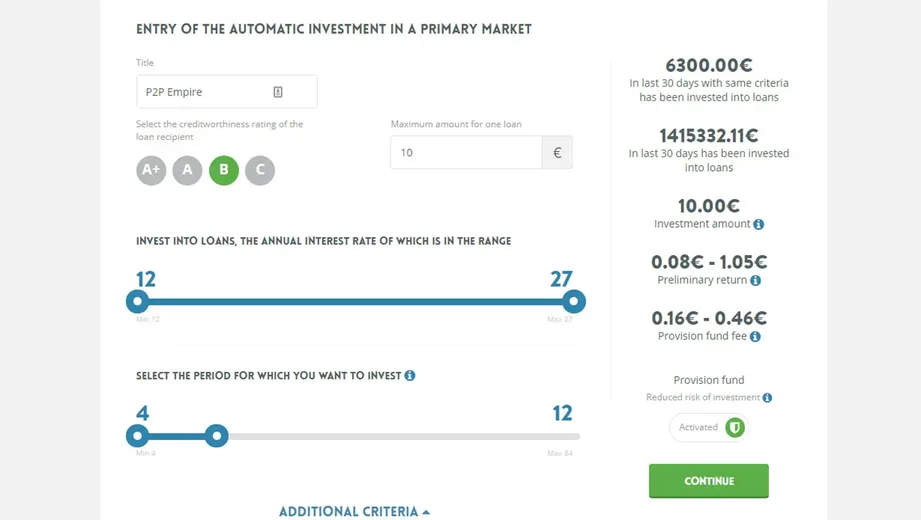 The basic Auto Invest settings allow you to define:
The title of your portfolio
Your minimum investment amount per loan
Interest range
Loan term
Provision fund
You can also further define specific criteria the borrower needs to fulfill, such as the purpose of the loan, education, age, assets, marital status, work experience, and income.
Note that any further selection will limit the number of loans that match your criteria, which can cause cash drag (uninvested funds in your account).
Manual Investing
NEO Finance also gives you the option to invest manually in loans. The P2P lending site is one of the few platforms that share more details about the borrowers.
You can view information about borrowers' income and current liabilities.
Having access to this information is something that helps to increase the transparency of the platform. Investors on Mintos, PeerBerry or Robocash only have very little information about who is lending their money.
Become a VIP Investor
NEO Finance offers loyal users, who invest a certain amount of capital, the possibility to sell their loans for a 10% better rate.
So, we hear you ask, what is the scale of the VIP program? Let us tell you!
Platinum: Active investments of more than €125,000
Gold: Active investments of more than €50,000
Silver: Active investments of more than €15,000
Bronze: Active investments of more than €5,000
🧾Does NEO Finance deduct taxes?
All interest paid to non-Lithuanian residents will be taxed with a 15% personal income tax, deducted by NEO Finance.
If your country of residence has a double tax agreement with Lithuania, you can submit a DAS-1 form and proof of tax residency to decrease the tax withheld to 0% or 10%.
If you live in one country with a double-tax treaty exemption with Lithuania, you do not have to pay the income tax twice. The tax that you have already paid will be taken away from the income tax that you owe in your country.
Please consult your local tax expert or contact NEO Finance directly for further information.
How Fast Can You Withdraw Your Money?
If your goal is to invest short-term, NEO Finance is not the best fit for you.
The platform does not allow for instant withdrawals unless you manage to sell your investments on the secondary market.
The average loan term is 51 months, meaning you will commit your funds for quite a long period.
Secondary Market
NEO Finance allows you to sell and purchase investments on the secondary market for a premium or discounted price.
Note, however, that a brokerage fee of 1% will be charged for the buyer as well as the seller on the secondary market.
The secondary market on NEO Finance isn't a place to trade your investments but rather a place to liquidate your investments if you can't wait until the end of the loan term.
NEO Finance shouldn't be compared to Mintos's Invest and Access tool Bondora's Go and Grow.
Withdrawing your money from NEO Finance might take several days, depending on the market situation. You can withdraw your investments faster if there's a big demand for investments.
If your goal is to be able to withdraw money earlier, we suggest investing on P2P marketplaces for short-term loans. Read our PeerBerry review to find out more about how it works.
Customer Support
The customer support team from NEO Finance is very responsive.
We have requested additional information from NEO Finance to create this in-depth and fact-oriented NEO Finance review.
The P2P platform came back to us with detailed answers to all of our questions within only one day.
You can either use the live chat function, the call function, or just send an email to NEO Finance with all of your questions.
NEO Finance Review Summary
NEO Finance is currently one of the safest P2P lending platforms in Europe for safeguarding your funds. You can invest directly into consumer loans issued by NEO Finance. Your uninvested funds are stored in your IBAN account, which is truly exceptional. However, our annual interest rate on NEO Finance is due to the mentioned fees at around 6% (XIRR).
Main Takeaways From Our NEO Finance Review
Transparent Due Diligence Process
Full Control Over Your Investments
Higher Interest
Low Default Rates
Regulated And Established the P2P Platform
NEO Finance is currently one of the best P2P lending platforms in Europe when it comes to the protection of your funds.
Note
We have no longer an ongoing collaboration with Neo Finance. Some of the content may be outdated.