Esketit Review
Esketit is a newly launched P2P lending platform owned by the multinational lending company CreamFinance. Currently, you can invest in loans from Mexico, Jordan, the Czech Republic, Latvia, or Sri Lanka with an average annual return of 13.36%. Is Esketit worth your investment? Find out in our in-depth Esketit review.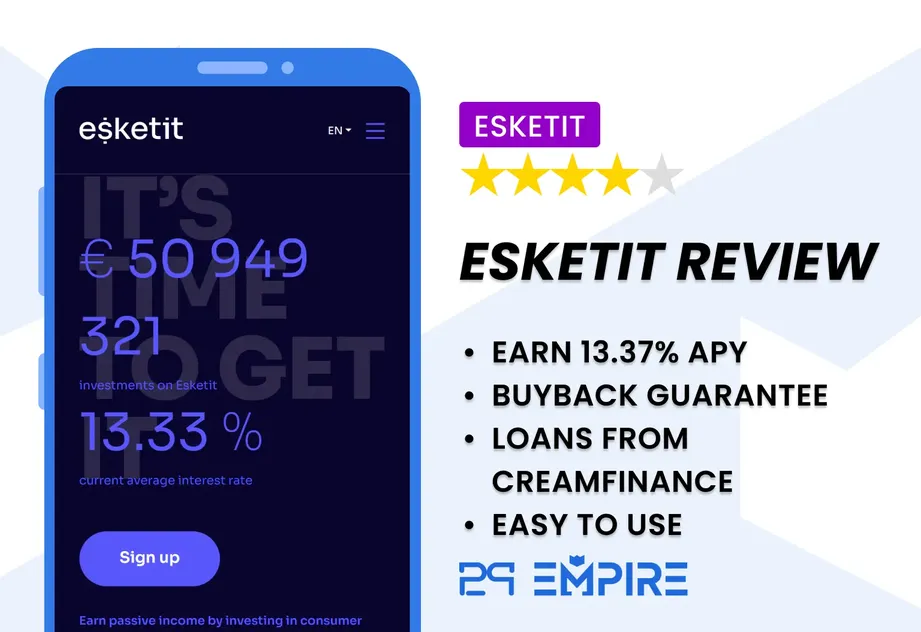 Pros
Reliable buyback and group guarantee
High interest rates
Modern P2P lending platform
Instant Exit Option
No fees
Cons
Limited diversification
Not regulated
Learn how Esketit works in our video review.
Esketit Promo Code
Esketit offers an optional Esketit promo code, which you can type in during your registration. This is, however, not required to get a cashback bonus. We have negotiated a 1% bonus for our readers on P2P Empire.
By signing up with our link, you will get a 1% cashback bonus from your invested amount during the first 90 days after your registration.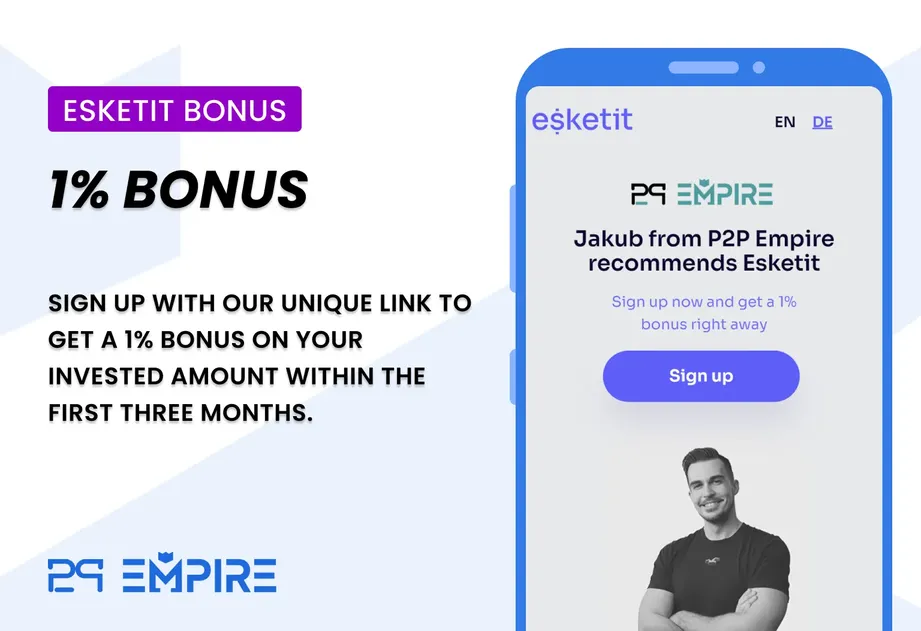 Loyalty Bonus
Esketit has recently launched its loyalty program, where you can increase your return by +1%.
If you invest more than €25,000, you will get +0.5% interest in addition to your annual return. If you decide to invest more than €50,000, you will get +1% on top of the standard rate.
Remember that the loyalty bonus is currently only valid for your investments in loans from Jordan.
Ready to get your Esketit bonus?
Esketit User Requirements
To be able to invest on Esketit, you need to fulfill certain requirements:
Be over 18 years old
Pass the KYC
Verify your identity
Verify your bank account (IBAN)
If you don't have a euro bank account with a dedicated IBAN, you can open a free bank account with N26 or Wise.
No EUR bank account? No problem
Stablecoins Deposits For Non-EU Investors
Esketit supports account top-ups with EUR or the stablecoins USDT and USDC via the Ethereum and Tron network, meaning you can earn interest on USDC deposits.
Every investor gets an ERC20 address to which you can deposit your crypto. Esketit will exchange deposits in stablecoins into fiat before investing.
The crypto wallet feature on Esketit is helpful when you don't hold a EUR bank account but are transferring other currencies to your platform's account. Investors don't pay any FX fee when depositing stablecoins on Esketit..
Risk and Return
Investing in loans is risky, and you might lose your money. Esketit offers a 60-day buyback obligation for all its loans. Loans from the lending companies in the Czech Republic, Spain, and Mexico come with an additional group guarantee.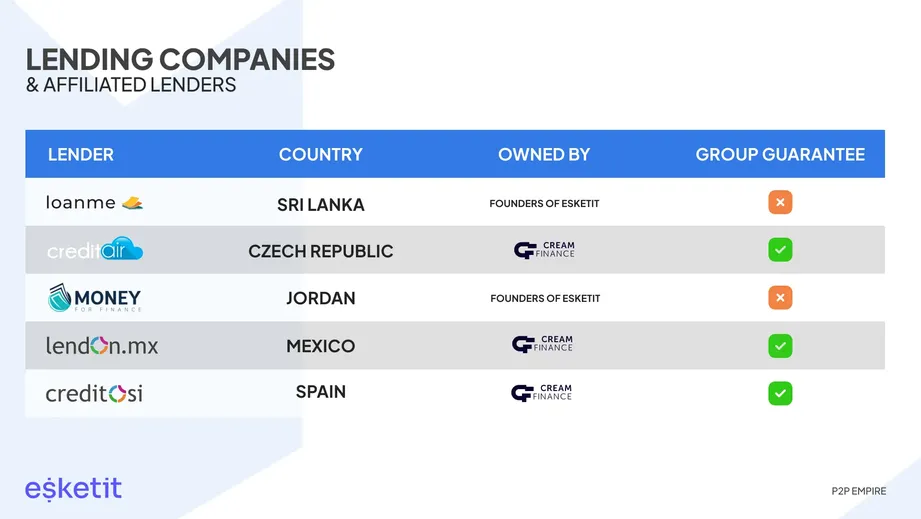 Buyback Obligation & Group Guarantee
The buyback obligation represents the promise of the lending company to repurchase your loan after the borrower has delayed repayment for more than 60 days.
The group guarantee represents the financial group's promise to fulfill the lending company's obligation in cases where the lender cannot cover the buyback obligation.
Keep in mind that the group guarantee does not affect all loans on Esketit and that Creamfinance only offers a group guarantee for its lenders. The lending companies in Sri Lanka and Jordan are not part of the Creamfinance group, but the same owners own them.
The buyback obligation and the group guarantee are directly related to the financial situation of the lenders or the finance group.
Let's look at some of the reports from Creamfinance Holding Ltd.
| Report | Net Profit/Loss |
| --- | --- |
| 2021 | € 3.403.510 |
| 2020 | € - 829.213 |
| 2019 | € 660.619 |
| 2018 | € 1.567.010 |
| 2017 | € - 385.150 |
It's worth noting that BDO audits all the reports in Cyprus, where Creamfinance Holding is legally based.
However, the Esketit platform is legally registered in Ireland but based in Latvia, with bank accounts in Latvia.
Creamfinance's Portfolio
Creamfinance also funds its loan book from Mintos and another crowdfunding platform in Japan. The company lists loans from its lenders from Latvia, Poland, and Spain.
Creamfinance has recently ended its operation in Denmark, where the regulator has imposed new rules on the maximum interest rate that Creamfinance can charge to borrowers (APR).
When reviewing the Mintos evaluation of their lending partners, Creamfinance doesn't get the best scores. The "cooperation structure" of their lenders in Spain and Poland is considered to be highly risky. The same is valid for loan performance in Spain.
During our talk at Creamfinance's headquarters in Riga, we learned that Spain is certainly a challenging market for Creamfinance. However, the lender sees good potential in Spain, which is why it will put more effort into improving its portfolio quality in this market.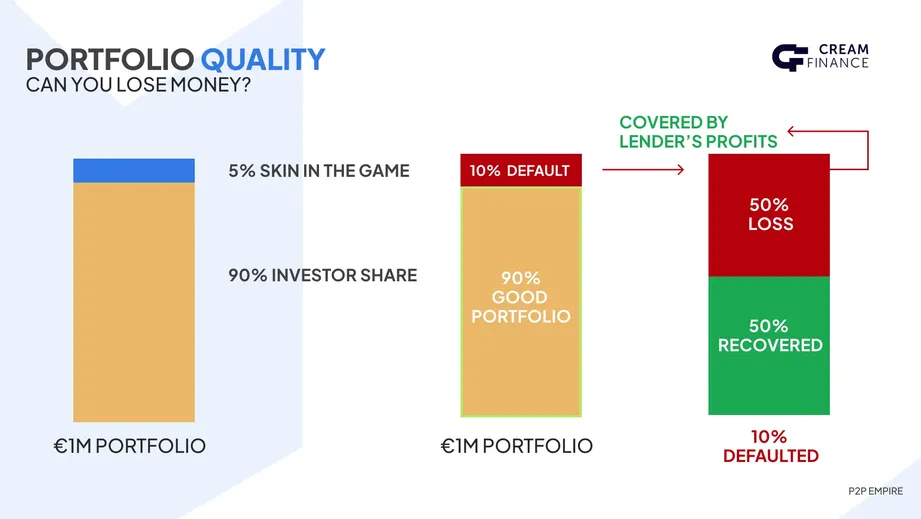 What's important to highlight is how CreamFinance handles its portfolio quality. The company sells bad portfolios to collection agencies in most European countries at a 50% discount.
The default rate of the lender's portfolio in established markets is typically below 10%. If we assume that 10% of the loans default, and the company sells the bad loans with a 50% discount, the net loss is around 5% from the loan book covered by the lender's profits.
Selling bad-performing loans is a standard process in the lending industry. It helps to keep the portfolio healthy.
Investing in Jordan
Jordan is an attractive market with interesting returns for P2P investors. Esketit currently offers 14% interest on investments in loans from Jordan. Let's have a closer look at this market.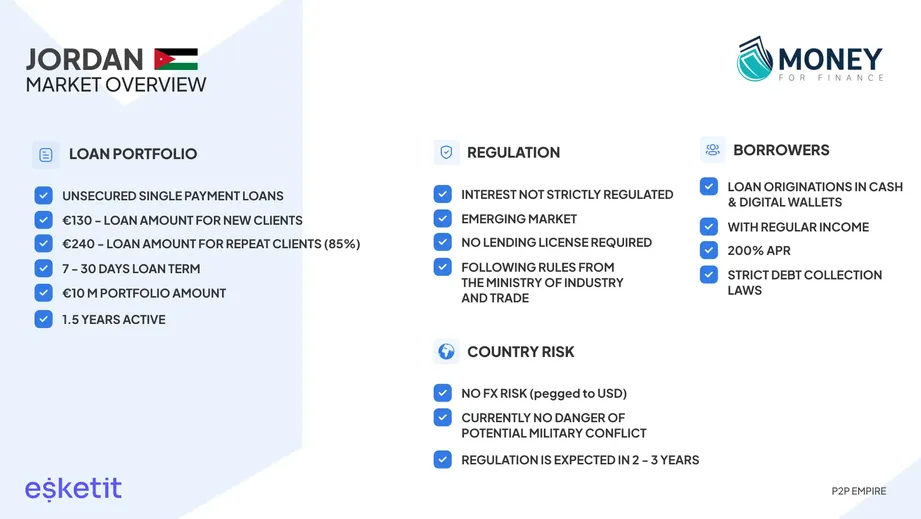 On Esketit, you can invest in unsecured consumer loans from the lender Money for Finance, which the founders of Creamfinance and Esketit own.
The lending company is issuing loans to new borrowers of up to €130, and repeated borrowers can get up to €240 for 30 days. It's worth pointing out that more than half of the borrowers extend the loan repayment period.
Money For Finance has been operating on the market for one and a half years and has built a portfolio of €10 M.
The default rates in Jordan are lower than in some European markets, where Creamfinance has been operating for years. This is due to the strict payment morals in the country.
Jordan is, without a doubt, an emerging market that always comes with certain risks. The company is following rules from the Ministry of Industry and Trade, and it doesn't need a lending license to issue loans in the country. Most of the loans are issued in cash to borrowers with regular income. The effective APR charged to borrowers is around 200%.
Regarding the country's risk, there is no currency fluctuation as the Jordanian dinar is pegged to the US dollar. Currently, there is no elevated political risk, and the lender expects some regulation within the next 2 to 3 years.
While investing in Jordan isn't risk-free, it can certainly be an attractive opportunity for many P2P investors to increase their return from P2P lending.
Additional Information: Audited Financial of Money for Finance in Jordan
The lending company Money for Finance has generated a loss in 2021, which has been covered by increased capital share from the board of directors. The loan portfolio of the loan originator is profitable monthly. The company is experiencing a default rate of only 5%.

Is Esketit Safe?
Investing on newly launched platforms with no track record is always riskier than joining more established platforms. Esketit's business model is similar to Moncera, Lendermarket, or Afranga.
The platform funds loans within the financial group to which it belongs. Let's have a closer look at the people behind Esketit and Creamfinance.
Get insights about the Esketit operation here:
Who Leads the Team?
Vitālijs Zalovs is the CEO of Esketit and, therefore in charge of the platform's operations. He has previous experience working at Mintos.
Get to know him better in our latest interview:
Who Owns the Platform?
Esketit is owned by the co-founders of the Creamfinance Group, Davis Barons, and Matiss Ansviesulis. Both gentlemen have an impressive track record of growing their company.
Are There Any Suspicious Terms and Conditions?
When using a P2P lending platform, you should always review the terms and conditions to ensure you know your rights and obligations.
Storage of Funds
Using Esketit, you will have to send your funds to Esketit's bank account. The platform doesn't provide you with individual IBAN accounts. According to the T&C's, your funds on Esketit are stored separately from the platform's funds.

Amendments
Esketit reserves the right to amend the terms and conditions at any time. The platform will inform you about any changes via email; however, it does not state the time frame you have to accept or decline those amendments.
Access to Loan and Assignment Agreements
The assignment agreement is not available for unregistered users; however, if you sign up, you can review a sample of that agreement by navigating to it on the primary market.

Potential Red Flags
Esketit may amend the terms and conditions before notifying you in advance.
What's our Opinion of Esketit?
As we write this Esketit review, there are currently only loans available from the Czech Republic, Jordan, and Latvia.
We suggest you check the loan availability before you sign up and invest to get an idea about the diversification options on Esketit.
We do not like that the site makes it appear like it's being operated from Ireland, while by using the platform, you agree to the terms and conditions of the Latvian Esketit company. The bank account to which you are depositing your money is also based in Latvia, where the core team of Esketit is based.
While Creamfinance is a well-established player in the global lending market, keep in mind the countless risks associated with investing in unsecured loans.
Regulatory changes might lead to losses for the company, which may negatively impact the performance of your portfolio.
A positive event for the investors on Mintos was that Creamfinance repurchased all the claims from investors before they shut down any new loan originations in Denmark.
If you join Esketit, you should understand the lender's loan performance in dedicated markets.
During our visit of Esketit, we had a chance to chat with the CEO, the two founders, and the team in charge of the operations in Jordan.
We gathered in-depth information about the lending business in Jorden, which convinced us to expose our portfolio on Esketit.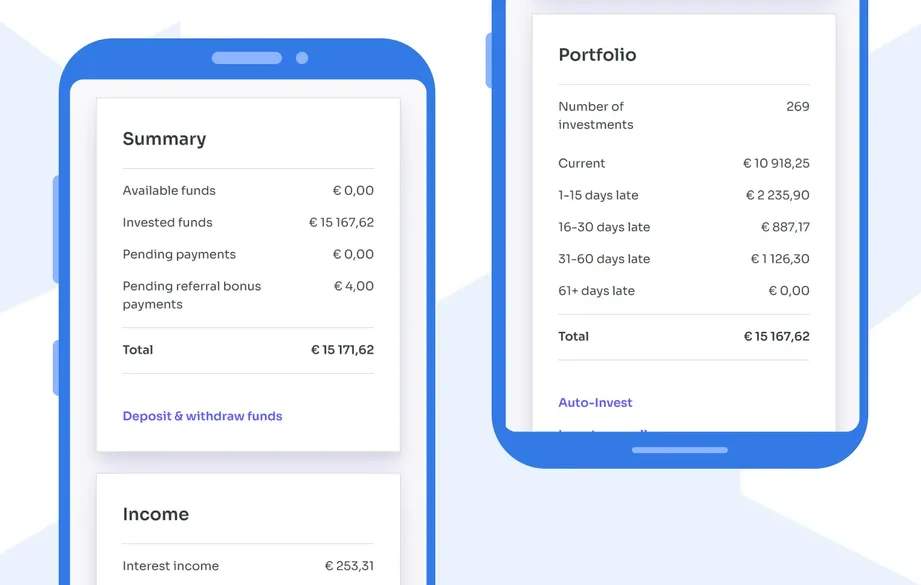 We earn 14% per year by investing in well-performing loans from Jordan. Keen to join as well?
Usability
In terms of usability, Esketit provides an Auto Invest feature, saving you some time when investing on this platform.
Auto Invest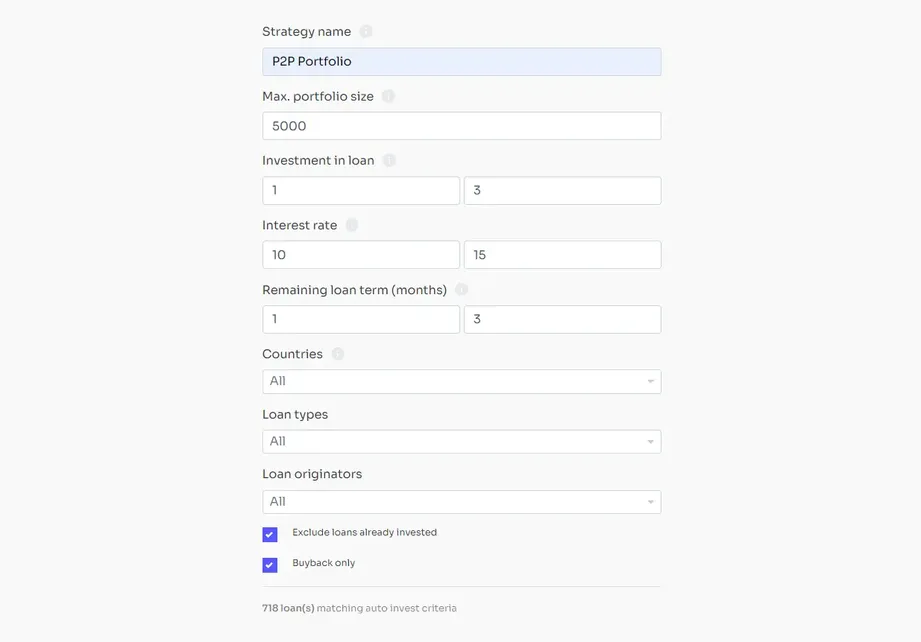 The Auto Invest feature allows you to define essential loan characteristics such as the loan amount, interest rate, remaining loan term, countries, loan types, or loan originators.
If you have invested on other P2P lending sites before, investing on Esketit will be very straightforward. The platform also allows you to invest in the primary or secondary market.
Keep in mind that the diversification, as well as the loan availability, is minimal.
🧾Does Esketit deduct taxes?
Esketit doesn't tax your earnings. Downloading income statements for tax purposes is possible in your dashboard, which you may submit to your tax authorities when you file your taxes in the nation where you are a tax resident.
Liquidity
Esketit does provide a secondary market that increases the liquidity of your investments. We have not tested it, so we cannot comment on the time it takes to sell your investments.
The secondary market allows discounts that should help you sell your investments faster.
As we conduct our Esketit review, there are plenty of loans on the secondary market with a discount of 20%. If you feel like taking the risk and investing in loans from Jordan backed by a buyback guarantee, Esketit's secondary market is the place to go.
Esketit Automated Strategies & Instant Exit
Esketit offers three automated pre-defined investment strategies that help you diversify your portfolio with just one click.
The Diversified strategy allows you to distribute your investments to all available loan originators.
The Jordan strategy allocates your investments only into loans from Jordan.
The CreamFinance strategy diversifies your investments across lenders that belong to the CreamFinance Group and offer the group guarantee.
All three strategies offer an instant exit option. You can create a strategy, click on "edit," and use the "cash-out" option to withdraw your funds, should you need it.

Remember that the "cash-out" option is meant to work mainly during normal market conditions. Other investors will have to have the same strategy activated for the feature to work. So, other investors will take over your loan investments when starting the "cash-out" option.
Support
Our experience with the support of Esketit has been positive. The platform provided us with answers to our questions within three business days. You can reach out to Esketit by sending an email to support@esketit.com.
Esketit Review Summary
Our experience with Esketit has been excellent so far. The platform is owned and run by the experienced founders of Creamfinance. Esketit offers up to 14% interest and a reliable Buyback guarantee backs your loans.
Main Takeaways From Our Esketit Review:
60-day buyback obligation
Higher interest rates as on Mintos
Operating from Ireland and Latvia
Limited diversification
If you believe that Esketit is a good fit for you, sign up with our link to get yourself a 1% cashback bonus.
Ready to let your money work for you?