GoParity Review
GoParity is an impact investing crowdfunding platform that provides loans for businesses funding sustainable projects.
All projects listed on the platform must be sustainable and follow the United Nations Sustainable Development Goals, which target 17 goals (SDGs), including gender equality, clean water and sanitation, and sustainable cities and communities.
Find out more about GoParity in our extensive review.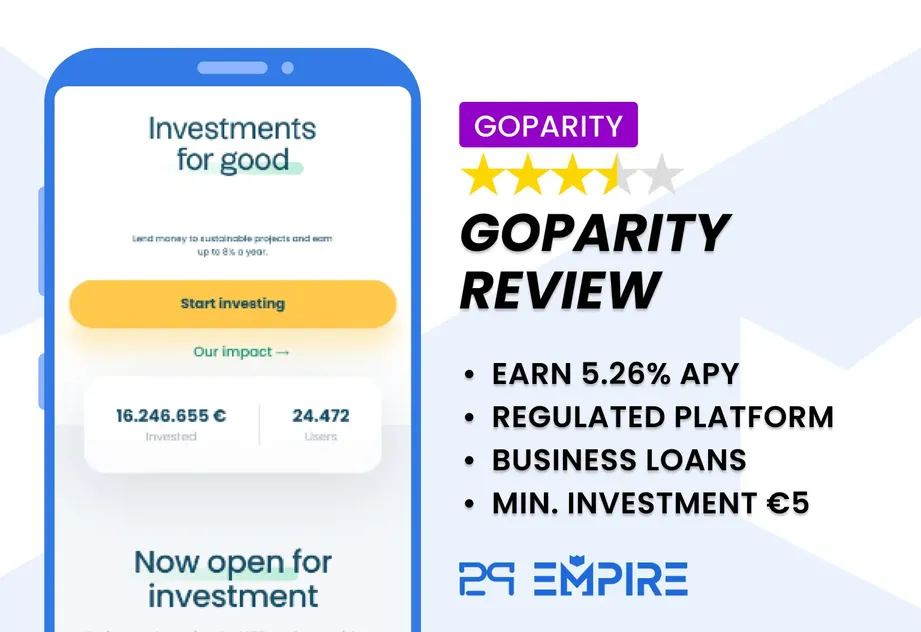 GoParity in Numbers
Let's first review some of GoParity's track record, which helps us to determine the real return for investors as well as the platform's achievements. ;
Here are some of the main statistics:
GoParity has enabled 22,757 tonnes of CO2 to be avoided per year, and 67,064 people have been impacted by the projects.
The platform has funded 153 projects since 2017, and the average interest rate is 5.26% per year.
In terms of the outstanding portfolio size, it's currently at €8 million, and the average interest rate of the outstanding loan portfolio is 5%.
The average maturity of a project is 3.6 years and so far GoParity has drawn in over €11 million in funding for its projects.
The GoParity platform has over 19,000 registered users from almost 50 countries.
The average LTV is 50%, however, GoParity does go up to 80% LTV on some projects, and even over in special cases.
When it comes to the number of loan applications that get approved, GoParity provided us with the statistic that until September 2021, 68% of loan applications were accepted.
The platform analyses each promoter (borrower) independently, and obtains risk reports from credit risk providers, but does not make this information publicly available.
You can educate yourself about more statistical data directly on the platform.
Requirements
In order to invest on GoParity, you must fulfil the following requirements.
Be over 18 years old
Have a valid email address
Pass the KYC verification process
Have a bank account within the EU/EEA
No EUR bank account? No problem
In order to complete the KYC verification, users will need to supply personal information including your name, date of birth, taxpayer number, and estimated net annual income, as well as a copy of an identity document such as a passport, driver's licence or national ID card.
The verification of your documents takes typically just a few moments.
Risk and Return
When evaluating any impact investing platform, it's important to do your due diligence by weighing up the risks and returns.
When it comes to how GoParity makes money, the platform is transparent about this.
It generates a profit by charging an initial set up fee to the funds raised by project promoters, as well as charging an ongoing fee on the standing debt for the duration of the loan term.
GoParity uses a risk assessment scale on the platform which ranges between A+ and D.
An A+ is a low-risk investment opportunity and the risks get higher all the way down to D which is the highest risk.
This risk assessment scale is defined by looking at the eligibility of the project, as well as the statistics of the business model to evaluate whether the loan is likely to default, and a technical evaluation which includes an evaluation of the project's financial viability.
How Are The Loans Secured?
It's important to find out how loans are secured in order to evaluate risk on a platform.
GoParity reduces the risk to the investor of the borrower being unable to repay the loan in several ways, including:
securing compensation via an equipment pledge
a financial guarantee from the legal representatives or parent company
co-financing by another company which ensures that should a default happen
Keep in mind that this varies depending on the projects. The financial guarantees from the legal representatives are not as valuable as pledges on assets.
Mortgage-backed loans on platforms like EstateGuru or Reinvest24 might therefore offer better security.
Is GoParity Regulated?
GoParity is regulated by the Portuguese Securities Market Commission (CMVM), which regulates crowdlending platforms in Portugal.
This is great news as this means that the business model and the processes have been approved by a regulator, which decreases the platform risk.
Due Diligence Process
GoParity is very selective about the types of projects it funds.
All projects have to fall under one or more of the 17 SDGs, however, the platform is most interested in funding projects that:
aim to end poverty
supply clean drinking water and sanitation
ensure access to sustainable and modern energy
create safe and resilient cities and communities
combat climate change
work towards sustainable ocean practises and
protect and conserve our terrestrial ecosystems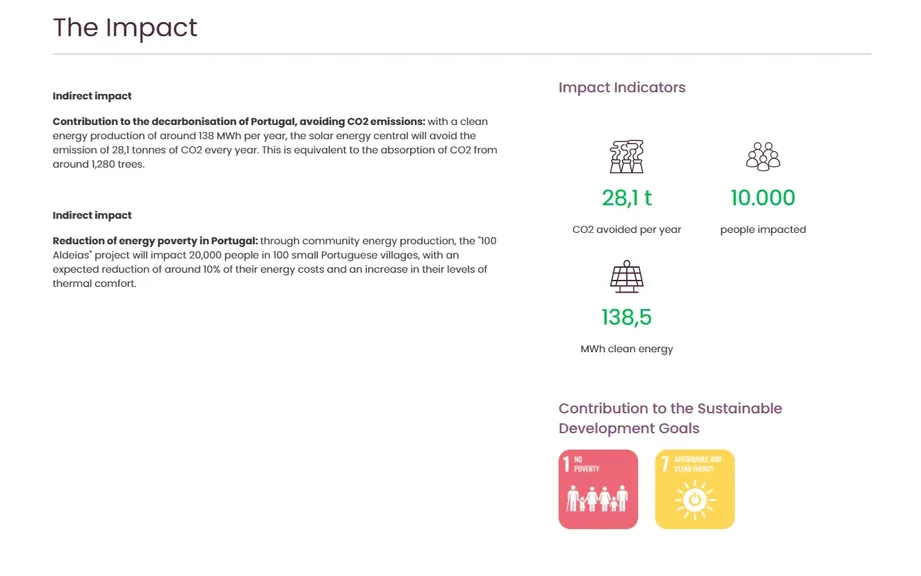 Once a project has been proven to fit within one of the sustainability categories, the fundraisers (borrowers) need to provide evidence that:
they are entitled to decision power within the company
they are not in debt with the bank
they have at least two years of registered activity
they are not defendants of a lawsuit containing material evidence
As well as this, GoParity also evaluates the companies financial stability to ensure they will be able to repay the loan and interest.
This is what makes GoParity a unique platform in Europe. There's no other platform that takes the sustainability of a project into account. If you want to support impactful projects, GoParity is the best place to do so.
How Is GoParity Secured?
In order to ensure the safety of your funds, you should always check the security features of a platform.;
GoParity uses MangoPay as the payment service provider, to manage all transactions, and perform KYC validation. There is also 2FA for withdrawals in order to ensure the safety of your money.
GoParity uses MangoPay as the payment service provider, to manage all transactions, and perform KYC validation. There is also 2FA for withdrawals in order to ensure the safety of your money.
When it comes to credit risk, GoParity also performs a rigorous risk assessment of internal procedures, as well as outsourcing risk reports from credit risk providers, in order to mitigate the risk of default.
How Much Do Investors Earn?
Investors on average earn 5.26% per year by investing in sustainable projects on GoParity.
The projects that are currently available to invest in on the platform range between 4.5% and 6%.
These figures are lower than investing on other crowdlending platforms, however, users are motivated to invest on GoParity because of the environmental impact of the projects, as well as the returns.
All of the loans on GoParity are amortized, meaning that as well as receiving monthly interest payments, your investment is paid back monthly as well, rather than at the end of the loan term. This isn't always the case on real-estate platforms.
This means that throughout the loan term, the default risk is diminishing as you are receiving the interest as well as the loan repayments.
In terms of minimum and maximum investments, the minimum investment for all projects is €5.
When it comes to the maximum users can invest, it depends on their annual revenue and on whether they are an individual investor or a corporate investor.
Individual investors with gross annual revenue below €70,000 are limited to a maximum investment of €3,000 per project, whereas individual investors whose gross annual revenue is above €70,000 can invest up to €24,999 per project. Corporate investors have no limitations on the size of their investment.
Is GoParity Safe?
As with any crowdlending platform, taking a look behind the scenes at the team that is building the platform, as well as where the company is based and the terms and conditions, is a good way to evaluate the safety of a platform.
Who leads the team?
The team is co-founded by 3 individuals, Nuno Brito Jorge, Luís Couto, and Manuel Nery Nina.
"
Nuno is the CEO of GoParity and has a background in business development and energy.
Luís is the COO and has a financial background with Santander. Lastly, Manuel is the CCO and has a background in project management.
The team is made up of 17 individuals with backgrounds ranging from finance to social science, marketing, biology, renewable energy, marketing, and engineering.
Are there any suspicious terms and conditions?
Currently, there are no suspicious terms and conditions.
Potential Red Flags
We know of no red flags.
Our Opinion Of GoParity
The GoParity platform is greatly suited to a particular type of investor.
Those who wish to invest in impactful projects and make a difference, rather than those who are driven by the returns would benefit from investing on the platform.
With such a positive impact on communities, GoParity is a different, and very much needed, type of crowdlending platform.
The projects fund disadvantaged communities and tackle environmental issues, and other sustainability issues, as defined by the United Nations.
When it comes to the functionality, the platform has a mobile app available for both iPhone and Android users which is available from the respective app stores.
The auto invest feature and a secondary market enable you to automate your investments as well as increase the liquidity of your portfolio.
GoParity makes investing accessible with just a €5 minimum deposit, which makes it easy for those with limited funds or beginners who are unsure about investing a large amount of money.
On the other hand, those who are focused solely on high returns will find better interest rates elsewhere, with returns averaging from just 4 - 8%.
Head over to our article about the best P2B platforms to learn more about how to increase your returns.
What you should keep in mind on GoParity is that the loan project maturity time is longer than on other platforms.
The investment opportunities currently listed on the platform have loan terms of between 5 and 7 years.
The platform is very limited when it comes to listing new loans.
Although it has funded 156 loans since it started operating in 2017. The platform has always at least 3 projects available for investment which means that you should not suffer from cash drag.
You will, however, have to be patient if you are planning to build up a larger investment portfolio on GoParity.
Usability
GoParity does have an auto invest feature, allowing users to automatically invest in new projects that fit predetermined criteria that they have previously set.
This is a great way for you to passively diversify your portfolio.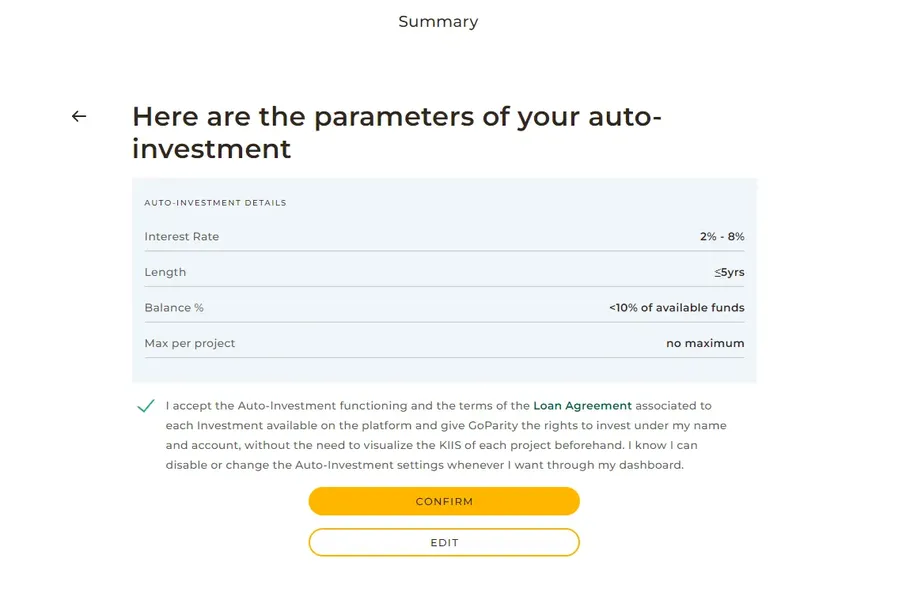 Alongside traditional loans, the platform offers convertible loans which allow the user to convert their investment into equity or shares of the promoter's organization.
That's quite unique within the crowdlending sector in Europe.
There is also a helpful simulation feature for those looking to invest.
You simply need to enter the amount you're looking to invest, select the project you're interested in, and the simulation tool will calculate how much interest you will earn over the loan period, as well as how much the monthly repayments which consist of your capital and interest will be.
It also provides a timeline of the loan and tells you which payment you will receive and when.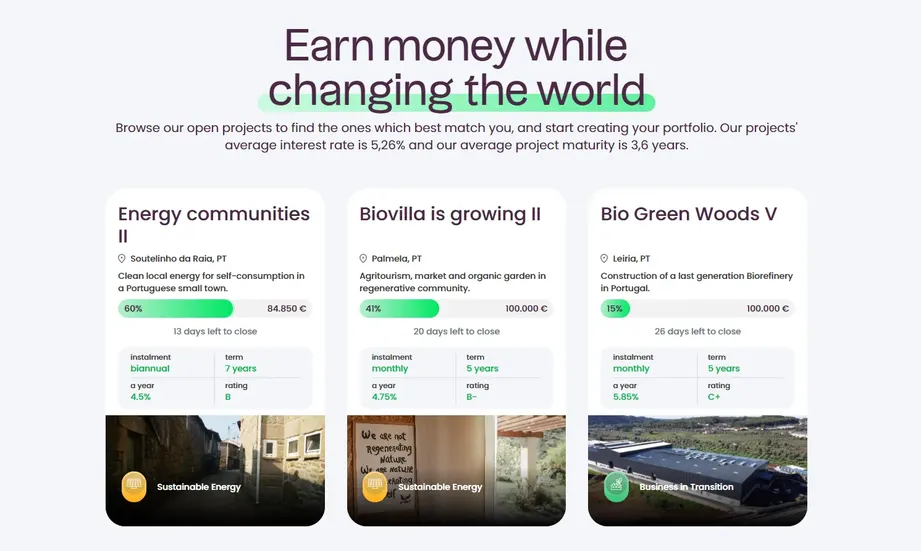 GoParity lists roughly 7 - 8 loans on the platform per month, and there are always 3 projects open.
In terms of the length of time it takes to fund a project, on average, projects are fully funded within 3 weeks
How Fast Can You Withdraw Your Investments?
It's easy to withdraw funds on GoParity.
Withdrawal requests before 3.30 pm CET are processed the same day, and those received after that time are processed the following day.
It can take up to 48 hours to see the money in your account.
The minimum a user can withdraw is €0,10, and withdrawals are free.
The only fees associated with withdrawals are for money that was never invested which comes with a 1% withdrawal fee.
Secondary Market
The platform also has a secondary market where users who have changed their minds on a project can sell their investment.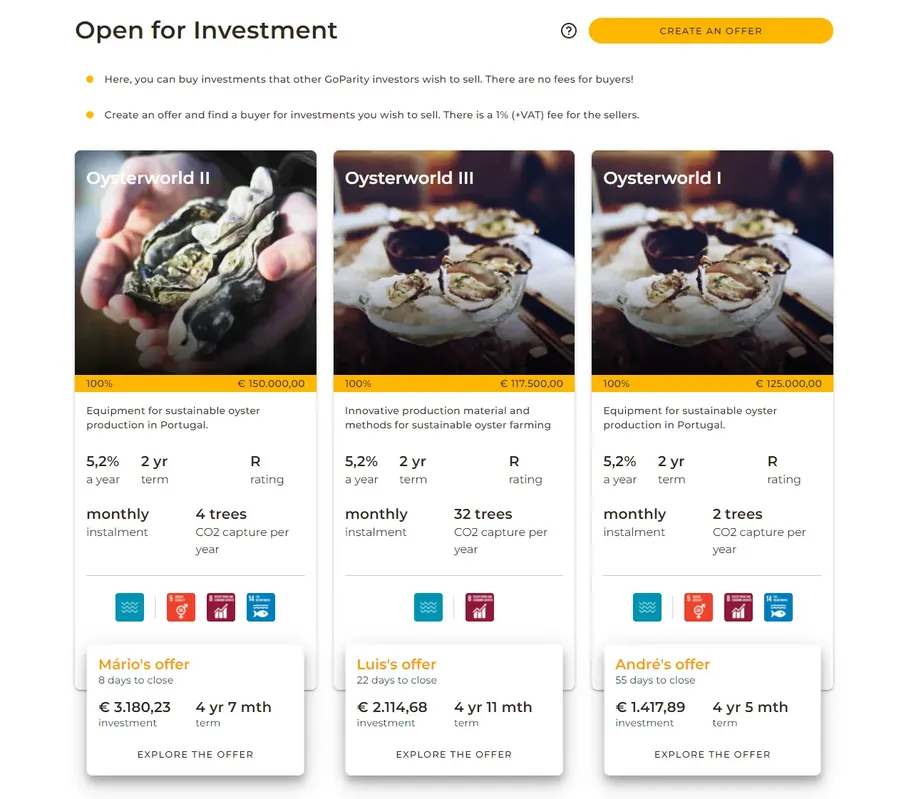 This is also a good opportunity for new users to invest in projects that have already closed.
Bear in mind, you must sell your entire investment, not just a portion of it.
You can also only sell your investments after 30 days. This feature comes with a fee of 1% taken by GoParity.
GoParity Support
If you need support when using GoParity, there are several options.
There is a live chat option available on the website, although it is not monitored 24/7. You can also email hello@goparity.com or contact the team by phone. There is also a FAQ section available on the website.
When we reached out to the platform, we found their support to be quite good, although a little slow at times. However, they provided us with detailed answers to our questions.
GoParity Review Summary
GoParity is a regulated and legitimate crowdfunding platform from Portugal. If you don't mind the lower returns and you are happy to fund sustainable projects, GoParity is the best option for you.
Key takeaways from our GoParity review:
Sustainable and impactful projects
Invest from only €5
Average returns of just 5.26%