LANDE Review Summary
LANDE is a Latvia crowdfunding platform offering investment opportunities in agricultural loans. The loans are secured by either land, crop, or machinery, which decreases the default risk. LANDE pays out, on average 12% interest per year, making it a suitable choice for risk-cautious investors.
We have been investing on LANDE since July 2023 and our experience with the platform has been satisfactory.
LANDE Finance is suitable if you want a higher-yielding investment with a lower risk.
Main takeaways from our LANDE review:
VIBAN accounts for increased protection
Secured agricultural loans
Unique protection mechanism
Excellent loan book performance
No cash drag and good loan availability
If you are happy to invest in high-yielding secured P2P loans from Latvia, Lithuania or Romania, sign up, invest, and get yourself a 1% bonus from your investments within the first 180 days.
Ready to join LANDE?
What is LANDE?
LANDE Finance (formerly LendSecured) is a crowdlending platform allowing you to invest in grain-based agricultural loans. Investing in secured loans and earning up to 12% annual interest sounds like a dream.
In this LANDE review, we will dive deeper into various aspects of agricultural loans so you can better evaluate whether LANDE is a good fit for you.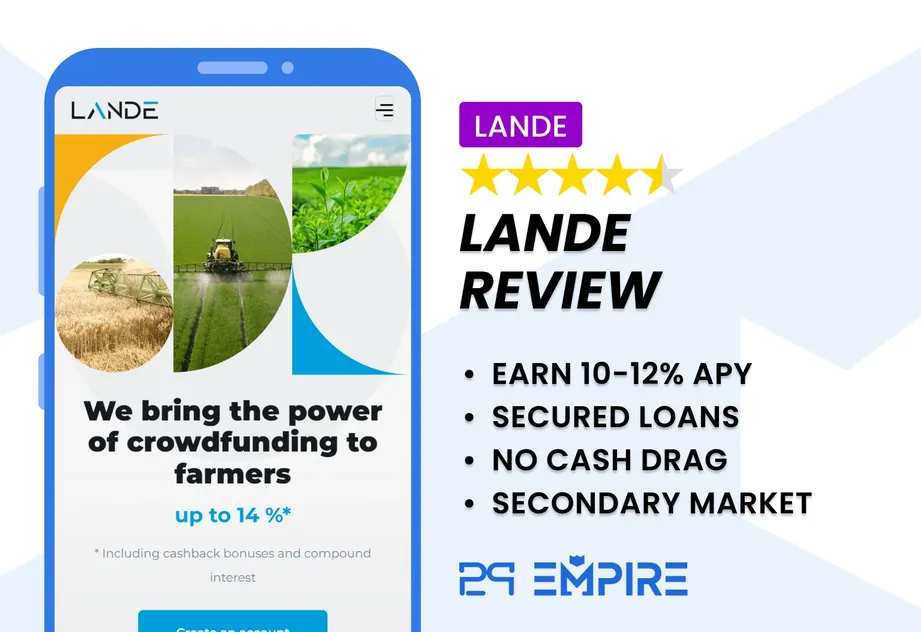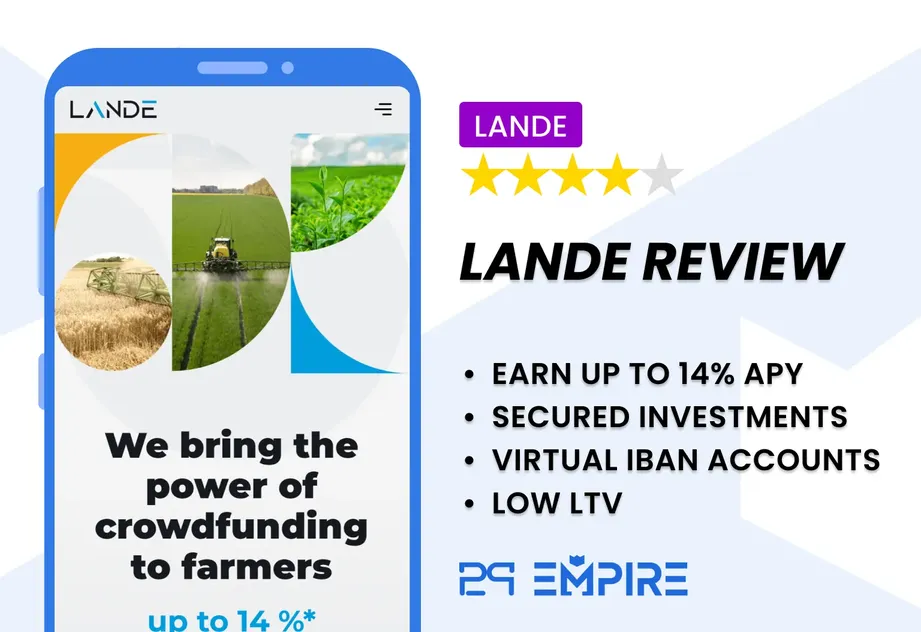 Pros
Secured investments
Good risk and return ratio
Secondary market
Virtual IBAN accounts
Low average LTV of 44%
One of the best-performing P2P lending platforms in [year]
Good loan availability
Cons
Not yet regulated
Limited diversification
Stock images for listed projects
Sometimes the website loads too slow
Are you wondering how LANDE works? Watch our LANDE review.
LANDE in Numbers
LANDE Finance is one of only a few crowdfunding platforms that offer publically available performance-oriented information about its portfolio of loans. LANDE has funded more than €12 M of loans with only a 0.8% default rate, which is better than most competitors.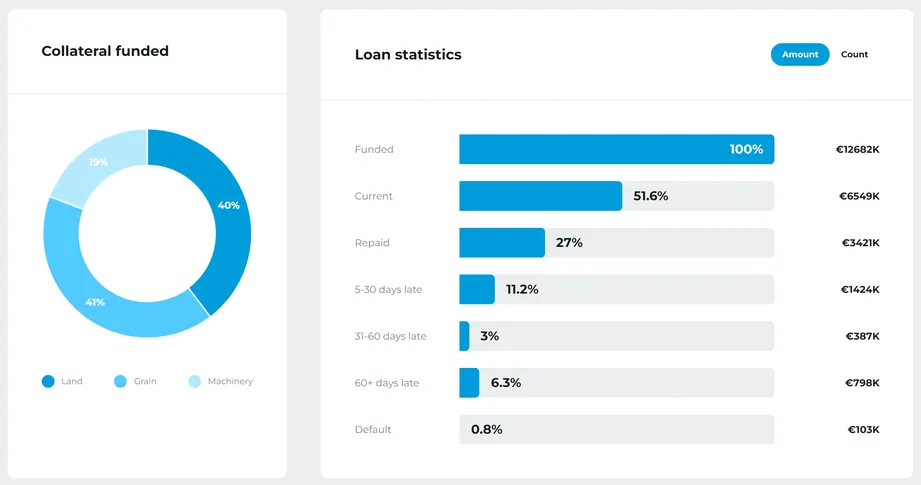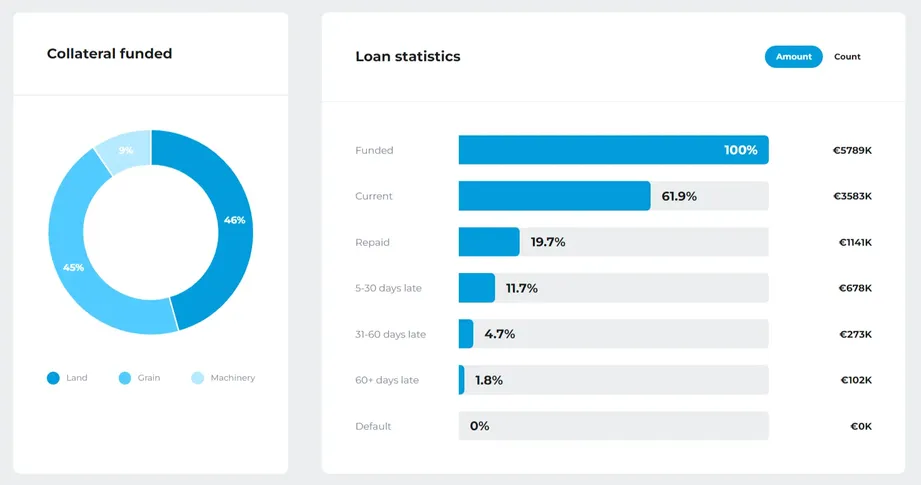 LANDE provides a dedicated statistics page, giving you insights into LANDE's loan portfolio performance. We highly recommend reviewing this page regularly to give you valuable insights into the development of LANDE's loan book.
LANDE Referral Code
When signing up to LANDE, you don't need to enter an optional LANDE referral code to redeem your bonus. This code will give you access to an additional bonus of 1% for each investment within 90 days of your registration.
We have, however, negotiated a better deal. By not using the LANDE referral code, you can sign up with our link and get a 1% bonus on your investments within 180 days of your registration.
This is a better deal as your portfolio will grow over time, and the bonus will too. If you want to invest in high-yielding agricultural loans backed by grain, click the button below to redeem your bonus.
Ready to get your LANDE bonus?
LANDE New User Requirements
To invest in agricultural loans, you must have citizenship in one of the European Economic Area (EEA) countries. Another requirement is to have a SEPA bank account.
Further requirements are:
Be over 18 years old
Fill in the KYC questionnaire
Provide a photocopy of your passport or driving license
Reside in Europe
The verification process on LANDE is straightforward and should not take longer than 24 hours.
You must verify your email address, add contact information, and a copy of your ID, but you are also requested to provide a copy of your passport or driving license.
After verifying your account, you can transfer funds to your virtual IBAN account with Lemonway. The transfer of funds takes between one and three business days.
Risk and Return
Investing in agricultural loans is certainly not risk-free. Typically, those loans are backed by heavy machinery, land, or crops.
While LANDE was earlier focusing on funding mainly grain-backed loans from Latvia, currently, the platform is funding agricultural loans also in Lithuania and Romania.
The loans on LANDE are smaller in size. The loan amount ranges between €4,000 to €60,000, with a loan term of 4 to 36 months and a Loan-to-Value ratio between 14% and 58%. The average LTV (loan-to-value) is at 44%.
When accessing the credit risk of individual loans, LANDE uses internal guidelines that include the following variables:
The creditworthiness of the borrower
Reputation on the grain market
Farming experience
Credit history
Tax debt
AML & KYC
Registered commercial pledges
Ability to repay the loan according to financial ratios (liquidity, leverage, profitability, capital)
Collateral
Planned harvest
Previous harvest
Grain price
LTV
LANDE is also evaluating various conditions, such as the purpose of the loan, which needs to be relevant to the farming business (working capital or purchase of machines or land).
LANDE provides an appraisal report from an independent evaluation company in cases where the loan is backed by land or real estate. Like on other platforms, those reports are not translated into English.
LANDE also informed us that the platform currently receives 700 to 1000 loan applications per month, of which only 5% to 6% are considered. Those projects are then further evaluated, and if they match LANDE's criteria, they are placed on the platform.
Grain Buyers
Grain buyers play an important role when it comes to the protection of investors' investments. LANDE signs a 3-way agreement with the borrower and the grain buyer, where the amount of sold crop and the price is agreed upon in advance.
Thanks to this 3-way agreement, the grain purchase will be first used to repay the loan before the farmer receives the remaining amount for the harvest sale.
LANDE informs investors that the platform signs those agreements only with reputable grain buyers with a track record of more than five years.
Insurance
In addition to the protection mentioned above, 92% of the crop is insured against storms, hail, or heavy rainfall that could destroy the crop. This further increases the quality of the collateral.
Regarding the return, most loans generate a yearly yield of 11% to 12%, depending on the borrower's credit risk.
Most loans are bullet loans, meaning that the borrower pays out the interest every month but the loan principal at the end of the loan term when the harvest is sold to the crop buyer.
Project Overview
Every project description provides some basic information about the characteristics of the loan, including the loan amount, term, and interest rate.
LANDE will also inform you about the borrower, the loan's purpose, and the collateral's value.
While LANDE doesn't provide specific risk evaluation reports for projects backed by grain, you have access to some of the data they use to estimate the risk and price of the loan.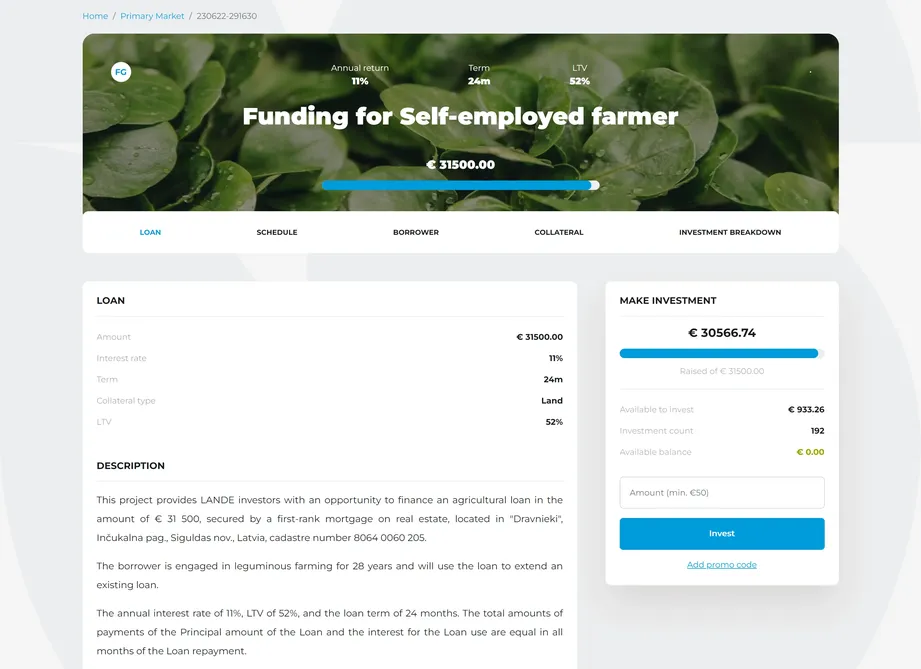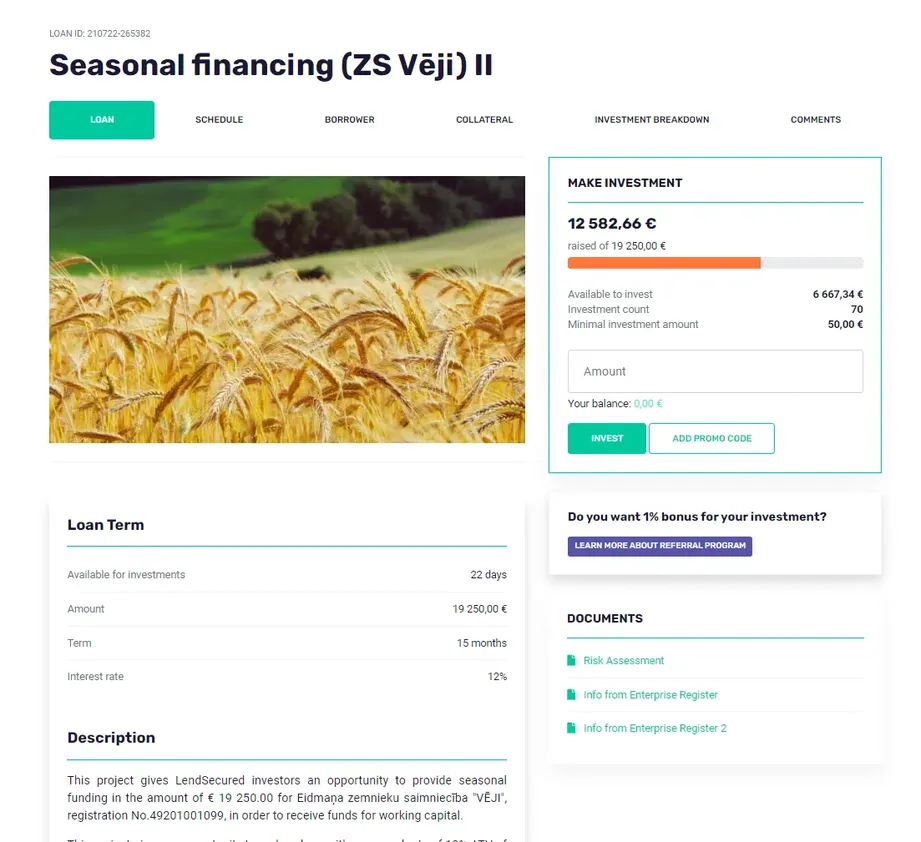 Is LANDE Safe?
When investing on any P2P lending platform, reviewing the background and experience of those who run the company is crucial.
Watch our visit to LANDE'S headquarters in Riga, Latvia, to learn more about who runs the organization.
Who Runs the Company?
LANDE is a brand of Secured Finance MGMT that Ņikita Gončars and Edgars Tālums own.
Nikita is also the co-owner of SIA Latvijas Hipotēka, which has received bad press in some of the media outlets in Latvia. The company was accused of unfair practices. We have reached out to Nikita for a comment. The company used the service to restructure high-interest payday loans and was successful in 90% of the deals. In cases where clients could not repurchase their houses, fair compensation was paid out. The service is not provided since 2018 and is not planned for the future. The media coverage is a result of organized competitor blackmail.
The CEO expanded on that topic and provided more clarification during our visit to LANDE's office in Riga.
Are there any suspicious Terms and Conditions?
Reviewing and understanding the terms and conditions and evaluating your risk using a dedicated P2P platform is essential.
Storage of Funds
LANDE offers a personal Virtual IBAN for every user that signs up on LANDE.
These accounts are stored at BNP Paribas and operated by the payment institution LemonWay. The beneficiary of all payments is LemonWay which executes the payments between investors and borrowers.
This is a better setup than transferring money to the platform's accounts which is then allocated to the investors' accounts.
Amendments
LANDE does not specify in their T&Cs the number of days before which you are notified about upcoming changes to terms and conditions.
LANDE informed us that you would receive an automatic email once the terms changes are made.
Loan Agreements
LANDE allows you to review a loan agreement template before registering on the platform. As soon as you invest in a project, the loan agreement is generated automatically, and you can review it in your "Portfolio" section.
What's Our Opinion About LANDE?
LANDE does a lot of things right. It provides a dedicated statistics page with performance-oriented data for everyone to review.
The Latvian crowdfunding platform has been outperforming most of its competitors in the Baltics while providing fair terms and high yields for investors.
Implementing virtual IBAN accounts for its users is also an excellent feature to protect your uninvested funds. That way, you eliminate the risk of embezzlement as your uninvested funds are segregated from the company's funds.
Investing in loans backed by an insured crop provides an excellent risk and return ratio, which isn't often the case when funding payday loans on other P2P platforms.
LANDE also signs a three-way agreement with the crop buyers to ensure the crop will be sold.
A downside of LANDE is the usage of stock images representing the currently available projects. The crowdfunding platform could replace the featured images for the listed projects with real photos, making the offers more authentic.
While there is room for improvement, the platform makes a solid impression on newcomers in the crowdlending space.
The CEO and his team also made an excellent impression during our visit to LANDE 's office in Latvia. We have been monitoring LANDE's development since 2019.
We are impressed by the features and vast available investment opportunities, especially as many platforms in the industry struggle with cash drag.
LANDE offers a solid alternative to other platforms, which may help you to decrease cash drag and invest your money at fair interest rates. This is also why we have invested in several projects on LANDE, backed by machinery or land.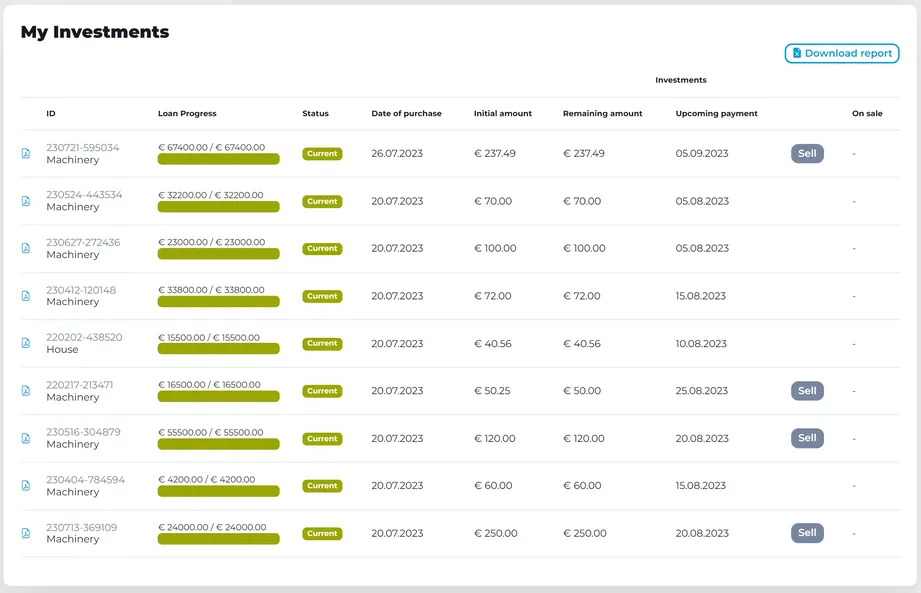 As you can see, all our projects are current and adequately secured. The interest is paid out monthly which increases the cash income from our P2P lending portfolio.
Keen to try out LANDE yourself?
Usability
LANDE is a relatively easy-to-use platform. You can get a quick overview of your portfolio performance with basic information such as the earned interest and the performance of your portfolio.
Auto Invest
LANDE has also launched Auto Invest, which allows you to automate your investments based on your preferences.
On LANDE, you can use the "basic" auto invest, which allows you to define the minimum investment amount, or use the "advanced" auto invest with slightly more options.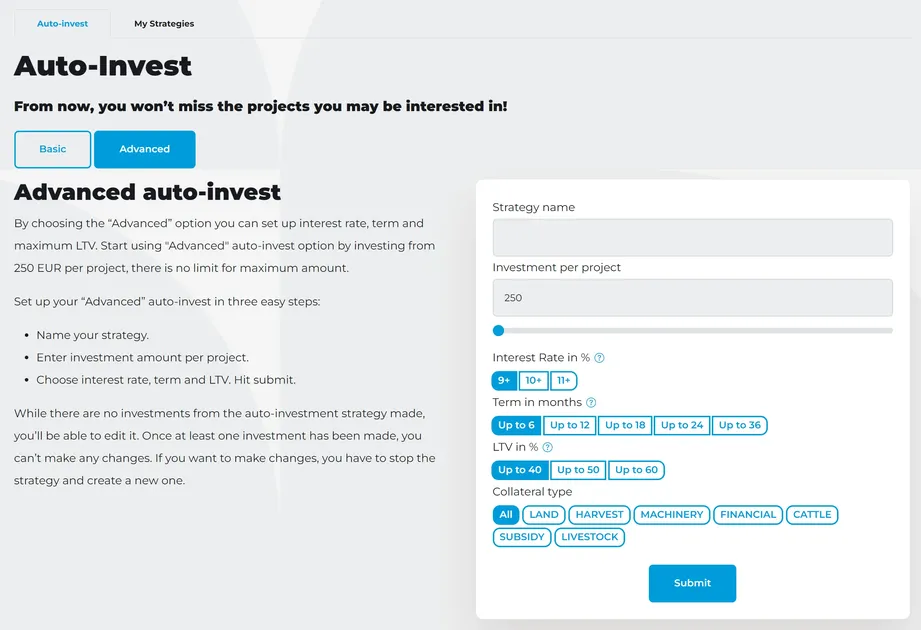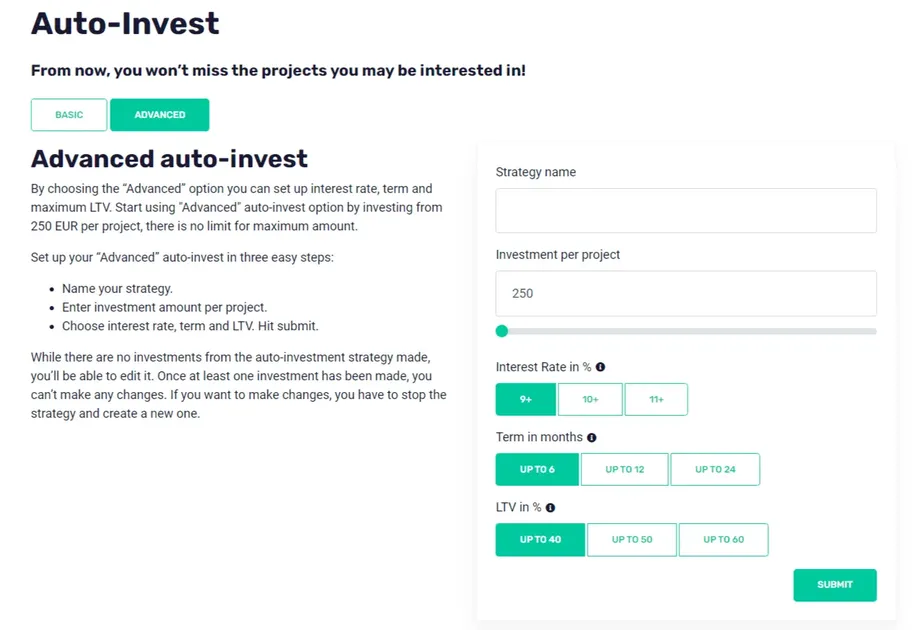 The minimum investment amount on LANDE's advanced auto invest is set to €250. You can define the interest rates, loan term, LTV, and collateral type. The option to automatically invest in loans from specific countries is not available yet.
If you are new to LANDE, manually investing in a few loans is also a good practice to understand how the platform works.
This allows you to review additional information about the borrower, loan terms, and collateral.
The platform uses stock photos for some of its project descriptions, which could be improved to represent the collateral backing the loan.
If you decide to invest manually, you do so from only €50 on the primary market or from €2 on the secondary market.
🧾Does LANDE deduct taxes?
LANDE does not tax your profits in Latvia. When you file your taxes in the country where you are a tax resident, you can download income statements from your dashboard, which you may submit to your tax authorities as required. Go to "Balance" in the menu and download the income statement.
How Fast Can You Withdraw Your Money?
Liquidity is something you should remember when investing in loans. The P2P platform offers a wide range of loan terms to choose from. Longer-lasting loans tend to offer a higher interest rate.
LANDE offers a secondary market where you can sell your investments before the end of the loan term.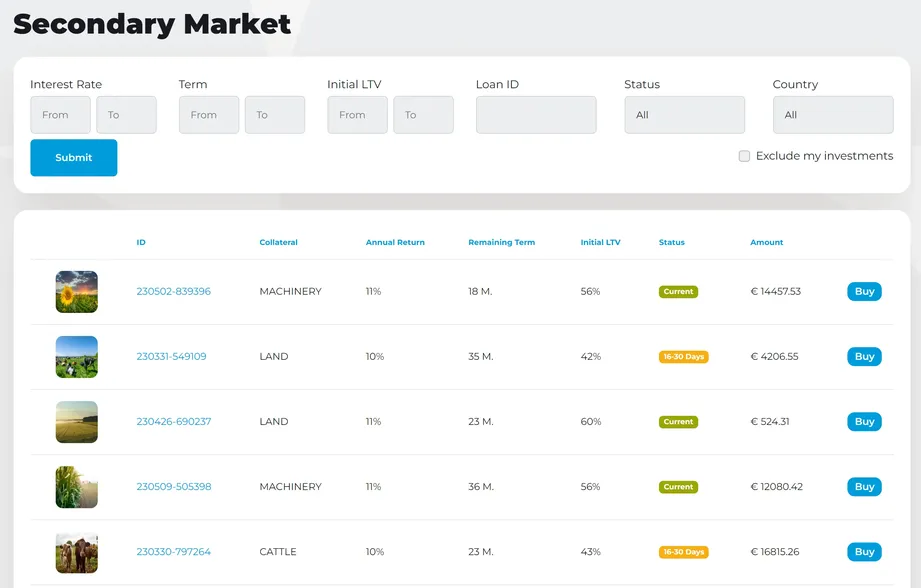 Our recent discussion with the CEO revealed that even larger portfolios can be sold within a few days.
The secondary market also enables investors to buy projects which have been partially repaid. This essentially lowers your investment risk. Watch the following clip that will explain how to use the secondary market to lower your risk.
Customer Support
We have been in touch with LANDE since the platform launched in 2019. We have exchanged several emails and even visited LANDE's office in Riga in the spring of 2022. Mid-2023, we interviewed the CEO to discuss the platform's latest developments. The quality of the answers was always sufficient.
If you have any questions, you can contact LANDE directly at info@lande.finance
LANDE Alternatives
LANDE Finance is an established platform with an impressive track record. Should you, however, seek better diversification or simply invest in loans from different regions, you can explore the following LANDE alternatives.
Heavy Finance
Heavy Finance is a regulated Lithuanian crowdlending platform that offers investments in agricultural loans. The platform's performance might not be as good as on LANDE but it enables you to invest in different borrowers that provide machinery or land as collateral. Heavy Finance is also active in other regions, which enhances your diversification. This platform is regulated by the European Crowdfunding Service Provider license,, which means it must publish audited financial reports, giving investors more financial insights. To learn more about Heavy Finance, read our Heavy Finance review.
Crowdpear
Crowpdear is a regulated crowdfunding platform offering investments in vetted real estate loans in Vilnius, Lithuania. The crowdfunding platform launched in early 2023 but managed to attract over €1.6 million from investors to fund its loan book. Crowdpear currently has one of the best-performing portfolios under management, meaning investors can earn passive income without dealing with payment delays or cash drag. Learn more about Crowdpear in our Crowdpear review.
InRento
InRento is another regulated crowdfunding platform from Lithuania that offers attractive investments in rental properties. A fixed monthly rental yield from well-secured investments is why InRento is one of the best-performing platforms in [year]. Learn more about InRento in our InRento review.