MyConstant Overview
MyConstant is a P2P lending platform that offers investments in crypto-backed loans. MyConstant claims that your investments are secured by collateral or a buyback guarantee. This makes you believe that you can't lose your money, but in the past, the platform has lacked transparency, which is a red flag. Are the platform's claims too good to be true? Let's find out in our MyConstant review.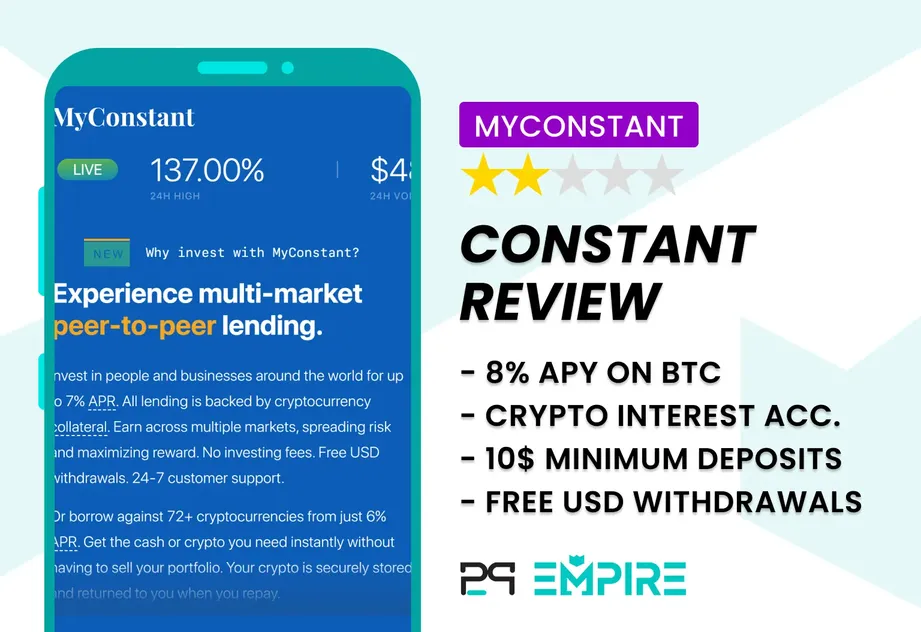 ⭐ Find the best bitcoin lending platform.
MyConstant in Numbers
My Constant has a dedicated statistics page, which provides more information than many other P2P platforms. From this page, we found out that My Constant has paid out over $2.3 million in interest.
On average, users invest in 15 loans on the platform and the average investment size is $1962. Users earn 7.12% on average and the platform has a recovery rate of 100%. Users are spread out worldwide, with a large proportion coming from the U.S, Brazil, and China.
MyConstant Bonus
MyConstant does not offer any bonuses for new investors; however, it pays out a hefty commission to promote this crypto-backed P2P platform. This enables the company to create a lot of positive buzz around its brand.
If you prefer to invest on a more transparent platform, head over to our cashback bonus section on P2P Empire to grab your P2P lending bonus for new investors. Using our BlockFi referral code will give you $10 in BTC. With our Celsius referral code, you can get 40$ in BTC for free.
MyConstant Requirements
MyConstant does not inform investors about the requirements they need to fulfill to be eligible for investing.
So here's what we found out:
You need to be over the age of 18
You need to pass the KYC procedure and upload a copy of your ID and proof of address
For the KYC procedure, you'll need to prove your identity with a copy of your ID, a photo of you holding said ID, and a proof of address. U.S users can expect the KYC process to take no more than 3 business days, but for those from other countries, it can take a little longer to get verified.
There's no requirement in terms of residency, but MyConstant only accepts deposits in USD or Crypto via wire transfer or direct transfer via ACH or Zelle.
Risk and Return
Investing in P2P loans is always risky, especially in the case where the platform fails to address even basic due diligence questions.
First of all, you should know that MyConstant is not a bank, deposit account, or regulated financial institution.
While the P2P lending site claims that overcollateralized assets protect your money, there's no guarantee that you will receive any interest or money back after you deposit funds.
So now, you know what kind of returns you can expect. Let's look at the risk factors.
On Constant, you don't have access to any borrower data. You know that the borrower needs to deposit its crypto-assets to get a loan. There's no credit scoring of borrowers. However, borrowing is backed by 200% collateral. If the borrower defaults, the collateral is sold to pay your investment back.
It's a very similar setup to P2P crypto lending sites like Nexo or Coinloan. All websites promote a "savings account" as an investment product, which is misleading.
P2P lending cannot be compared with savings accounts backed by bank deposit schemes as an asset class. Constant is an unregulated provider that allows you to invest in loans.
What Does MyConstant Insurance Cover?
The platform offers the MyConstant guarantee. While the platform is quick to let the investor know that this is not an insurance policy covering your funds, it provides some protection for users.
The MyConstant guarantee is a fund made up of cash and crypto stored across hot and cold wallets and worth $10 million.
It is set aside to repay investors in the case of theft or loss of your cryptocurrency, stablecoins, or USD while in MyConstant's custody or third parties related to MyConstant.
How Does MyConstant Make Money?
MyConstant lends investors funds to collateralized borrowers, liquidity pools, and decentralized exchanges. In return, the platform accumulates interest which it passes on to its investors.
You should know that MyConstant does engage in rehypothecation.
Is MyConstant Regulated?
MyConstant clearly states on its website that it is not a regulated entity. This means that neither the platform, government, or a third party will help you recover your funds if the company was hacked or disappeared overnight in a ponzi scheme.
Technically, the platform could run away with your money and you'd be left empty-handed. Cryptocurrencies can also be volatile, and there is a chance the market could crash.
How Is MyConstant Secured?
MyConstant uses Prime Trust as its custodial partner, an accredited US financial institution. It specializes in being a cryptocurrency and fiat custodian. All USD is held in multiple bank accounts by Prime Trust and has an indemnity limit of $100 million.
On the other hand, Assets are stored in cold wallets, again through Prime Trust or within a web wallet on a dedicated server that only the CEO and CFO have access to. This helps to protect your funds from inside theft.
MyConstant also uses 2FA to protect users from fraud but doesn't use whitelisted addresses. Whitelisting helps protect users by allowing them to only withdraw funds to addresses they've previously listed as safe.
Your Return On MyConstant
MyConstant offers the following four products:
A MyConstant account with 4% APR, unlimited and free withdrawals, and compounded interest every second without a minimum deposit - in this case, you invest in crypto-backed loans originated by Constant.
A direct investment account with an APR of up to 7% with a minimum deposit of $50 and an investment period of 30, 90, or 180 days. All loans are backed by crypto-assets, and you will earn between 6% and 7% APR, depending on the loan term.
An MCT investment account with 12% APR which pays out between 8% and 12% APR based on how long you invest your MCT. There are options to invest for 30, 90, or 180 days and support the MyConstant blockchain network.
A crypto investment account with APR of 12.5%. Instead of investing in USD, you are funding loans with your cryptocurrencies. You can lend in13 different digital currencies, including BTC, USDC, and USDT. Users can get the best returns from lending USDT and USDC, which both have rates of 12.5%.
It's worth noting that MyConstant will convert your USD funds into USD-backed stablecoins, which are then lent to borrowers. The borrower can then convert this into fiat currency and withdraw the money.
It's important to consider fees when talking about returns on a platform. High prices can eat into your profit, reducing your overall returns.
The platform is transparent about its costs, and there is no one size fits all approach to charging for withdrawals.
It is free to withdraw fiat and users can expect their money in 3-5 business days. Tether and USDT are charged based on the network. The cheapest network is BSC which charges 0.60 USD and the most expensive is ETH, for which the charge is 10 USD. For all other networks, there is a flat fee of 1 USD.
The platform charges fees for late payments, and for borrowing. The borrowing fee is 3.5%.
Is MyConstant Safe?
MyConstant has lacked transparency about its team in the past. It's good to see that we could find out more information about the company from the website on this occasion.
Who leads The Team?
MyConstant is led by the CEO and co-founder, Zon Chu. Zon has a history in the social networking and e-commerce, working in several roles, including full-stack development and project management. He worked for companies in both the U.S and Vietnam before co-founding MyConstant.
Crunchbase tells us that the company has between 51-100 employees, and the core team is introduced on the website's about page.
There was no information about Zon Chu or his leading team anywhere on the website, which was a red flag.
We're pleased to see the introduction of the team on the platform, which is an improvement.
Where is MyConstant based?
MyConstant's headquarters are located in Riverside California, at 21800 Opportunity Way, Riverside, CA 92518, USA.
The platform also has satellite offices in South East Asia, although we could noto gain more exact information.
Are there Any Suspicious Terms and Conditions?
As with any P2P lending site, we advise you to read and understand the terms and conditions. You should be looking at how the platform stores your funds, their liabilities, and rules when it comes to amendments within the terms and conditions.
Storing your Funds
According to MyConstant, your funds are stored at Prime Trust LLC, which is a licensed custodian.

That's a more secure approach as MyConstant is not licensed by the authorities to store digital assets.
Be aware, however, that as soon as you choose a dedicated savings product on the platform, your funds will be lent to borrowers so they aren't protected by the custodian anymore.
Liability
Constant is not responsible for any losses you might suffer from investing on the platform.

This is a standard clause that all crypto lending sites use. Therefore, you should take claims like "fixed return" or "safe investments" with a grain of salt. There are no guarantees that you will receive your money back.
Amendments to T&C
MyConstant may amend the terms and conditions at any point in time without prior notice.

This puts you in a disadvantageous position.
Rehypothecation
The platform can use your funds for rehypothecation.
Do you have access to individual assignment agreements?
We are not aware of any way to have access to individual assignment agreements. You are basically investing in a black box and hoping that Constant will deliver on its promises.
Potential Red Flags
T&C can be changed at any time
Learn more about possible red flags here.
Our Opinion of MyConstant
Anyone who has some experience in P2P lending and does their due diligence will conclude that the risk and return ratio of investing on Constant is not worth it even though crypto-collateral backs your investments. Other P2P platforms offer more for European investors and even investors from the U.S. who want to invest in P2P loans.
You can easily earn 10% APR by investing in a real-estate-backed P2P lending site like EstateGuru. A great way to start investing is PeerBerry, where you don't need to spend hours trying to find out who's behind the platform.
From an investor's perspective, MyConstant has nothing special to offer apart from referral commissions for publishers.
Although MyConstant has a TrustPilot review rating of 4.5*, when reading through the Trustpilot reviews about Constant, you will get the impression that they were written by someone who has no prior experience with investing.

Most of the 5* reviews about the platform came from users who had only registered one review and had no profile picture, which increases the chance of fake reviews. This also decreases trust in the platform.
We are left with the same impression when watching some of the testimonials on Constant's YouTube channel.
Be aware that several depositors reported major issues when trying to withdraw their assets. This is a huge red flag as it increases the risk of a Ponzi scheme 🚩.
Other platforms also offer more cryptocurrencies for users to earn interest on, whereas you can only earn on 13 crypto coins with MyConstant, including its own token.
Do you appreciate this review? Invite us for a coffee ☕
Usability
You can earn interest on 13 different cryptocurrencies on MyConstant, which you can see below.
Earn interest on USDT, USDC, BAT, BCH, BNB, BTC, DAI, DOT, ETH, LINK, LTC, MATIC, and SOL
The platform has its own MCT coin, which you can earn up to 15% for staking. There is the option to swap any coin into MCT on the platform, and you'll just 0.01% as a fee to do so.
Users may use the MCT coin to earn higher returns, get exclusive rewards, and qualify for cheaper loan rates. You can earn up to 8.4% on fixed-term investments with the MCT coin and receive a discount of up to 90% on swapping fees.
The MCT coin is available for U.S users to buy on PancakeSwap. Users outside the U.S can buy MCT directly on the platform through the crypto swap service.
MyConstant also can invest on its lending lottery, where users will earn just 1% APR with a minimum deposit of $100. The term length is 30 days, and users benefit from one "lottery" ticket per $100 they invest. Lotteries are drawn every day for up to $10 million.
MyConstant also provides institutional loans and personal loans for up to $10 million. The loans are backed by crypto assets and you can choose from over 80 assets to use as collateral.
Personal loans also have over 80 cryptocurrencies that can be used as collateral, and these can be combined to make up the total. The loan term is between 30 and 180 days, and you can expect to pay between 6% and 8% APR.
Exchange/Swaps
MyConstant does have an exchange where users can swap their crypto. There is a 0.1% fee for all trades and the platform supports over 70 different cryptocurrencies, including the most popular ones, such as BTC, ETH, USDT, and its own MCT coin.
It's worth noting that cryptocurrency swaps are final and non-reversible. If you wish to reverse a transaction, you will have to swap your digital asset again.
👉 Check out the currently best crypto interest accounts!
How Fast Can You Withdraw Your Money?
For fiat withdrawals, users can expect to wait 3-5 business days to receive their funds in their bank account.
For stablecoins, withdrawals of under $2,000 take just a few minutes, whereas withdrawals for over that amount are deposited into your account on the next business day.
For collateral withdrawals under $10,000, you can expect to receive funds within 1 hour, but for withdrawals equal to or exceeding $10,000, expect to wait 1-2 business days.
With a MyConstant account, you can withdraw your funds at any time. Crypto lending accounts also have no lockup periods. MCT staking is for 30,90 or 180 days. Direct investment accounts also have a lockup period of between 30-180 days, but you can choose the instant access option that only offers 4% but allows you to access your funds.
Customer Support
If you have any questions, you can email MyConstant's support at hello@myconstant.com. There is also a help section that addresses lots of FAQs and a live chat option on the website. Unusually, MyConstant has a public channel where you can see what issues others are contacting the platform for and a private channel.
MyConstant's support is available between 9 AM and 5 PM Monday-Friday, although you must be signed up to the platform to contact the live chat.
MyConstant Review Summary
In the past, MyConstant's lack of transparency has been a cause for concern. However, the platform has become more transparent in recent months, which gives us more confidence in the platform.
However, the platform does not offer anything special in terms of rates, and is comparable with other platforms such as BlockFi. On MyConstant, you will only earn 4% by investing your USD, although you can earn up to 12.5% by investing your cryptocurrency.
Main takeaways from our Constant review:
The platform acquires investors through referrals
MyConstant lacks transparency
MyConstant is not regulated
T&C can be changed without prior notice
After our in-depth review, we cannot give MyConstant a positive recommendation. Instead, we suggest you have a look at more established crypto lending platforms.
Keen to try out other alternatives?
Compare Platforms