Max Crowdfund Review Summary
To summarise, Max Crowdfund is an easy way to earn an average of 9.55% return by investing in real estate-backed loans.
The company follows a strict due diligence process but it doesn't share the performance of it's portfolio with investors.
Main Takeaways From Our Max Crowdfund review:
It makes investing in P2B loans accessible
Exposure in Uk, Belgium, Netherlands, Germany
The default rate is not revealed in the statistics
Minimum investment amount is only €100
Ready to become a real estate investor?
What is Max Crowdfund?
Max Crowdfund is an international real estate crowdfunding platform based in the Netherlands. The crowdfunding platform is developed by the real estate company, Max Property Group which was established in 2016, and the predecessor to Max Crowdfund was Dominium, which, despite being successful, had trademark issues that prevented it from continuing operating without a rebrand.
Max Crowdfund is the product of that rebrand, which is more than just a name change, as the platform is more advanced than the previous Dominium.
In this review, you'll find out whether this crowdfunding platform is transparent with its statistics, as well as whether investing in real estate-backed loans is a safe and easy way to make passive income.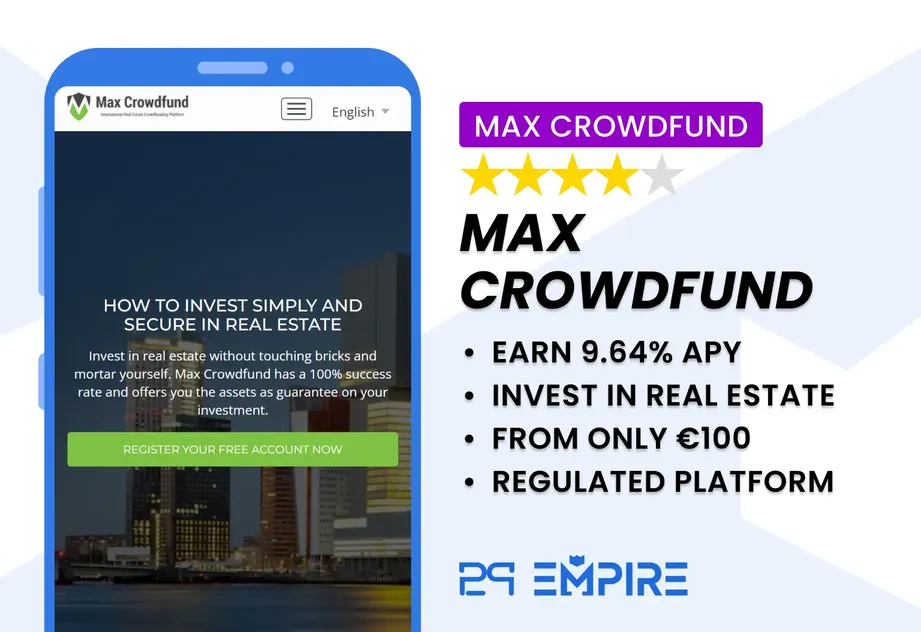 Max Crowdfund In Numbers
Max Crowdfund was launched in 2018 after the previously mentioned trademark issues, and currently has over 6,000 users on the platform, of which more than 900 are active investors, with a total of over €15 million invested in the platform.
The average interest of the outstanding loan portfolio is 9.53%, and the outstanding portfolio size is currently €14,246,900.
Max Crowdfund offers loans from several European countries, including countries such as Germany, the Netherlands, Belgium, and the UK. There are also currently no defaults.
Investors averagely earn 8.27% interest, and the average number of investments per investor is 5.8.
The average investment amount is €2672, and when it comes to fundraising, the average raise is €253,363, with an average publication of 8 days.
Max Crowdfund does not have a set maximum LTV, however, it is usually around 70-80%, and the platform provides valuation reports on each project.
It's refreshing to see that the platform does make a lot of its statistical information available, and this increases trust in the platform.
Max Crowdfund Bonus
Max Crowdfund does also offer attractive P2P bonus offers for the readers of P2P Empire.
Sign up with our link will and get a 0.5% cashback bonus on your invested amount during the first 90 days from your registration.
Ready to redeem your bonus?
Max Crowdfund Requirements
The requirements to open an account and invest on Max Crowdfund are fairly standard and are as follows:
Be over 18 years old
Valid email address
Pass the KYC verification
Pass the bank account verification
The KYC verification requires users to submit personal information, photographic ID such as a passport, driver's license, or national ID card. EU users can verify their identity via bank account identification.
Although Max Crowdfund is an international platform, some countries have restrictions on certain investment products.
Currently, the platform only accepts euros.
Risk And Return
Before we go over the risk and return of Max Crowdfund, it's worth noting that investing on P2B lending platforms that offer independent evaluation reports as well as mortgage-backed loans is connected with lower risks than when investing in unsecured consumer loans or even unsecured business loans.
Max Crowdfund uses a risk rating model to inform users of which fundraises are lower risk, and which are high risk, to help users who are newer to P2B lending invest in the right opportunities for them. You can see the risk rating model below.

How Are The Loans Secured?
All of the loans on Max Crowdfund are backed by real estate assets. This means that if a loan should default, Max Crowdfund will cease the property and sell it to repay investors.
Does Max Crowdfund Provide Statistics?
Max Crowdfund provides valuation reports for every project, which can be downloaded by the user.
The platform provides a lot of information for users to evaluate the performance of previous loans in order to decide whether they should invest on the platform.
As you can see below, Max Crowdfund provides information on how much the fundraisers average, how long it takes to raise the funds, average annual interest, and average publication.

Is Max Crowdfund Regulated?
Max Crowdfund is regulated by the Dutch Financial Authorities and was the first platform of its kind to receive approval from the Authority for the Financial Markets (AFM).
There are new European Union Crowdfunding Regulations that came into effect in November 2021, which Max Crowdfund is compliant with.
While this is all great news, it is important to know that your investment is not covered by any government or other type of investment compensation scheme, which means you invest your money at your own risk.
Max Crowdfund's Due Diligence Process
All investment opportunities show users the full details of the company raising the funds, ultimate beneficial owners, the investment plan, collateral, an assessment of any involved risks, and the loan terms.
Of all loan applications received, Max Crowdfund approves around 80%.
The platform only allows companies to apply as a fundraiser, and in order to check the authenticity, Max Crowdfund requires a certificate of incorporation.
The borrower needs to submit the following in order to evaluate the property:
Business plan
Property valuation report
Purchase agreement
Rental agreement(s)
Renovation quotes
Building licenses, etc.
Once these documents are submitted, the investment committee assesses each project individually, and values the underlying asset, the viability of the project, the ability to make interest payments, and the exit strategy, otherwise known as the loan repayment.
How Is Max Crowdfund Secured?
Max Crowdfund has 2FA, as well as email/SMS verification in order to keep users safe.
Wallets are stored safely and not available publicly. They are also encrypted.
Max Crowdfund uses digital ledger technology which records all transactions made with a hash, which is a cryptographic signature that is used to validate the authenticity and integrity of a transaction.
The platform is also partnered with the Foundation for International Blockchain and Real Estate Expertise (FIBREE) to ensure that users' investments are represented on the blockchain protocol accurately.
Payment for investment opportunities must be made from a bank account in your own name.
How Much Do Investors Earn?
Investors earn, on average, 9.55% interest with Max Crowdfund.
The platform has a loyalty program for investors which, as you can see below, rewards investors for the amount of investment opportunities they invest in.
Through this loyalty scheme, investors don't earn higher returns, but instead receive a discount on their monthly admin fee. The biggest discount is reserved for those who reach the expert tier, who can enjoy 50% off fees.

Speaking of fees, platform fees eat into the interest investors earn, which is why it's important to consider how much you'll be charged versus how much money you'll be making.
Investors pay 0.1% of their outstanding investment amount as a monthly admin fee. There is also a subscription fee for bonds which fluctuates between 0-2% of the invested amount.
Fundraisers are charged an application fee, as well as fees for publication and contracting, success, monthly administration, loan restructuring, early payments, and late payments.
The frequency of interest payments is dependent on the fundraise a user invests in.
If you invest in a linear loan, your interest will usually be paid out every month, but it also could be paid every 3, 6, or even 12 months.
If you invest in a bullet loan, you will receive repayment only at the end of the loan term which can be up to 60 months, but. Interest is paid during the loan term.
If you invest in a full bullet loan, you will receive a lump sum of your full payment of your investment and interest at the end of the loan term, which can be up to 36 months.
Is Max Crowdfund Safe?
Although investing in mortgage-backed loans is safer than investing in unsecured loans, you should always do your own due diligence on a platform, to find out its background and who is behind it.
The platform ensures that users know about the risks associated with P2B lending, with its investor risk statement available on the website.
Who leads the team?
The team is led by the CEO, Felix Berkhout, who has only been in the role since November 2021.
Before that, Felix worked as the Managing Director for Easy Broker as well as the Managing Director and Owner of Buffel Beheer B.V. interim services.
Before Felix Berkhout took over as CEO, the role was filled by Mark Lloyd.
Max Crowdfund currently has 30 employees.
Where is Max Crowdfund based?
Max Crowdfund is based in the Netherlands and is regulated by the Dutch financial authorities.
Are there any suspicious terms and conditions?

Max Crowdfund can change the terms and conditions at any time. It does not state whether the user will be informed of these changes, or whether it is up to the user to regularly check the terms and conditions.
Potential Red Flags
Max Crowdfund can change the general terms at any time.
Our Opinion Of Max Crowdfund
Max Crowdfund provides accessibility within the P2B lending space by allowing users to invest from €100.
The platform is regulated and provides a lot of statistical data so users can ensure they are properly informed before investing.
Max Crowdfund also ensures users know that with P2B lending comes a risk, and that there's a chance of losing your money.
The projects themselves have 0% defaults which is reassuring, although, with only 18 projects listed so far this year, the investment opportunities are limited.
When speaking about the projects, we can't fail to mention the risk rating system that Max Crowdfund has put into place as an extra way of ensuring that users are well informed.
Withdrawals are fast and easy on the platform, although users should take the time to do their due diligence on a project before investing as the cooling off period is only 24 hours before users must stay invested until the end of the loan term.
Max Crowdfund has security features in place to mitigate users' risks, and is fully regulated by the Dutch Financial Authorities.
We found the customer support to be excellent, and the interest rates to be good, however, there are monthly fees to pay as an investor on the site, which although low, can add up, if you have a large amount of money invested on the platform.
Users investing €100 would pay a monthly admin fee of only €0.10, however, those investing the maximum amount of €160,000 would pay €160 per month.
Despite having no auto invest feature, the platform is easy to use, and as such Max Crowdfund is a legitimate and easy way to make a passive income by investing in real estate-backed loans.
Usability
Max Crowdfund does not offer an auto invest feature which means users have to invest manually on the platform.
Loans are usually funded within a 30-day period.
Occasionally, the investment committee will allow for an extended publication period on a fundraise, however, if the loan is still not fully funded after this, the loan is cancelled and funds are returned to investors.
The platform lists 3 types of loans; linear, bullet, and full bullet. There is also the option of profit share.
As of February 10th, 2022, Max Crowdfund has listed 18 investment opportunities on the platform for the year so far.
Max Property Group, the parent company of Max Crowdfund, also offers Max Property Group Share Certificates (MPGS).
Max Property Group is currently raising €4,250,000 for 14.6% of its shares.
The funds that are being raised will be used to develop the business as well as to create iOS and Android apps. Leftover funds will be used to obtain any required licenses within Europe.
How Fast Can You Withdraw Your Investments?
If you decide you wish to cancel your investment and withdraw your funds, by Dutch law you have 24 hours to change or cancel your investment.
During this time you won't be charged any fees. After this period, you are unable to change or cancel your investment and will be required to stay invested for the full loan term.
There are no withdrawal fees, and you can withdraw funds easily.
If a payment sits in your account for longer than 60 days, it will be automatically transferred to your chosen bank account. Once requested, a withdrawal is usually processed within 24 hours.
Max Crowdfund Support
Max Crowdfund does not have a live chat option, however, you can contact support via email at info@maxpropertygroup.com, or via phone on +31 10 307 0948.
Customer support is available Monday-Friday 9.30 am-5 pm CET. When we reached out to the platform, our queries were answered within 24 hours.
There is also an FAQ section to help answer less specific questions, although it is less comprehensive than other platforms.