InRento Review
InRento is one of the newest P2P lending platforms on the market. The platform allows you to invest in buy-to-let properties with an annual average interest of 6.81%.
InRento is a newly founded project by the co-founder of EvoEstate - Gustas Germanavicius. The platform is also regulated by the Bank of Lithuania, which makes it the only regulated P2P lending site that offers you the chance to invest in rental deals. Find out more about InRento in our in-depth review.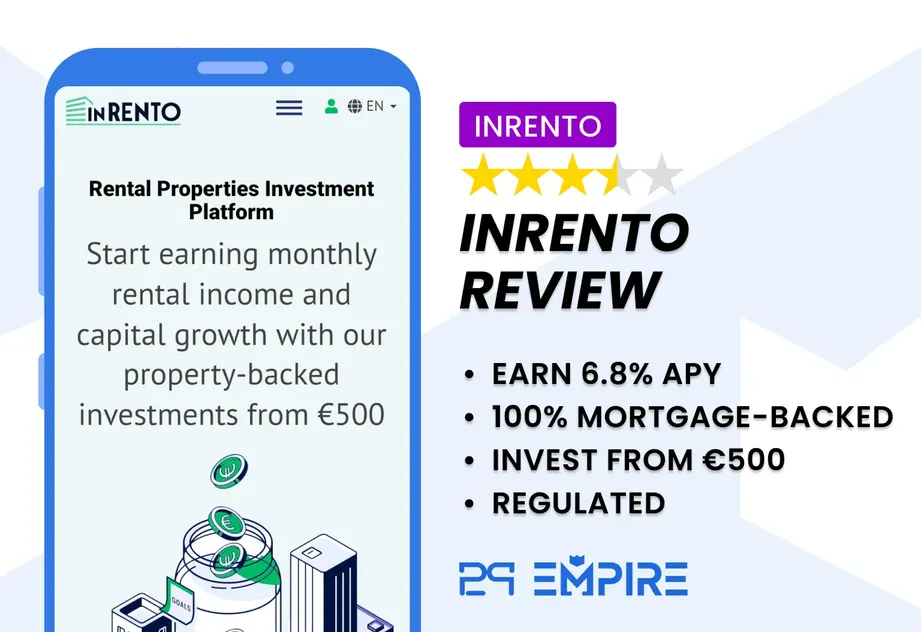 ⭐ Learn more about our rating criteria
📧 Stay up to date with our newsletter
InRento in Numbers
InRento has just launched its operation this year, so the platform doesn't have much of a track record.
What's worth mentioning is that InRento is funded through "Verslo Angelu Fondas II'' a Lithuanian venture capital fund. The same venture capital fund has also co-funded EvoEstate.
InRento Promo Code
InRento offers currently a €20 bonus for every new investor who joins InRento by using our partner link. Note that you need to invest to get your €20 bonus.
Ready to invest on InRento?
InRento New User Requirements
To sign up on InRento, you need to verify your identity with Ondato (third-party) and connect your Paysera account to InRento.
InRento follows a similar setup as Heavy Finance, with the only difference being that Heavy Finance uses Paysera as a tool to verify your identity. InRento adds one more verification process for new investors.
As with any European P2P lending platform, you need to fulfill the following requirements:
Be over 18 years old
Successfully verify your identity and pass the KYC requirements
If you want to deposit money on your investor account on InRento, you will need to have a dedicated Paysera account. InRento does not accept incoming payments via SEPA transfer.
In case you already have an account on EvoEstate, you can invest in InRento's project via the crowdfunding aggregator.
EvoEstate allows you to top up your account from any European bank account via SEPA transfer.
You should also be aware of the €500 minimum investment amount. InRento indeed targets investors who are ready to commit more capital.
Ready to invest on InRento?
Risk and Return
It's no secret that the return from rental deals is typically much lower than from loans or equity deals. If you are chasing the highest interest rates, InRento isn't a platform for you.
Every investor should certainly read InRento's risk disclaimer to be fully aware of the risks that can lead to the total loss of your investments.
If you are new to P2P lending, you will have difficulty grasping the investment opportunities offered by InRento.
Here's how it works:
Investors' invest in the acquisition of real estate properties that will be rented out
InRento is only the platform that facilitates the transaction between the investor and the borrower, which is a UAB Real Assets (a company that borrows money from InRento's investors) that will own and manage the property
The borrower pays out 82% of the rental yield to the investor
If the property is vacant (without a tenant), the borrower pays 1% annual interest rate for the first three months and 5% interest rate after three months from which the property is vacant. (these numbers change with every project)
If the property is sold out in the future at a higher price, the capital growth will be distributed in the following structure: 60% investors, 30% borrowers, 10% InRento
What you are investing in is a loan secured by a first-rank mortgage. UAB Real Assets will purchase the property and take care of the property management. In exchange for this service, UAB Real Assets will take 18% of the rental yield and 30% of the capital growth.
Keep in mind that the distribution of capital growth varies from project to project. For selected projects, you can get up to 70% of the capital growth if you invest €30.000 or more.
InRento has a solid business model, considering that the investors bear the default risk. Your return from capital gain is being decreased due to an enormous combined fee of 28% that goes to the UAB Real Assets and InRento. This business model differs from InRento's competition.
When investing in rental deals on Reinvest24, which is a similar platform, the capital gain will be distributed equally amongst all investors without additional fees.
Another essential aspect to mention is that there's currently just one SPV - UAB Real Assets which acts as the borrower and owner of all listed properties.
Reinvest24 creates an SPV for every rental deal, which increases the protection of your investments in comparison to the setup on InRento.
What's certainly worth mentioning is that every property comes with an independent real estate evaluation which you can download in the documents section under the project overview.
Unfortunately, there's no information about the LTV. It would be interesting to know whether the borrower has some skin in the game.
Project Overview
InRento's project overview is well structured and easy to digest. The information presented on the project overview page makes much more sense than the project description by EvoEstate.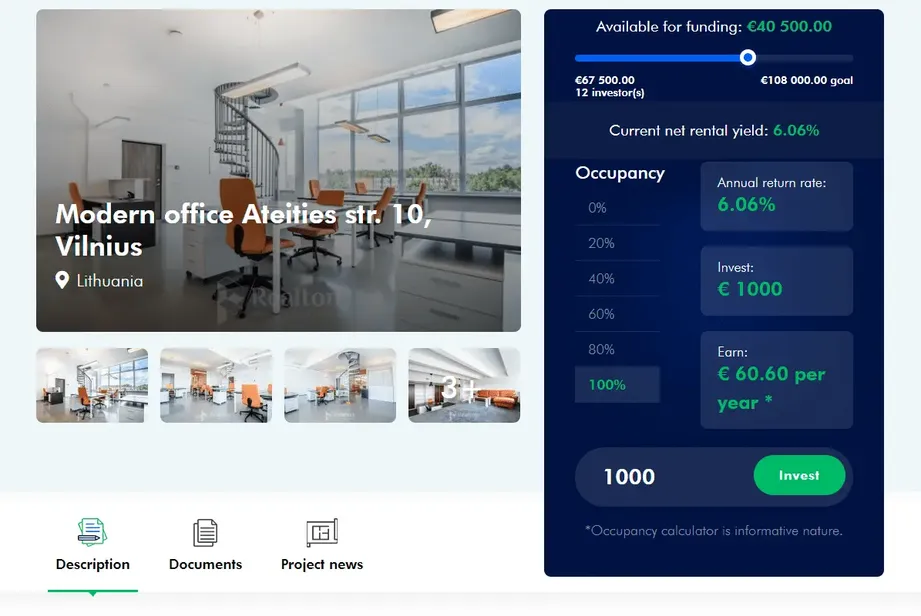 What's undoubtedly unique to InRento is the "occupancy calculator" which shows you how much yield you will earn by investing a certain amount and considering the property's occupancy.
The project overview gives you the exact details and terms of the deal, which you should certainly inspect before investing in rental properties.
Every project comes with an InRento Risk Score that should give you some additional information that more sophisticated real estate investors usually use.
Is InRento Safe?
InRento is a very fresh project with no track record. The platform was founded by an experienced entrepreneur and the co-founder of EvoEstate - Gustas Germanavicius.
EvoEstate is, as you might know already, Europes' only real estate platform aggregator.
Despite InRento being a newly launched platform, the P2P lending site follows the latest standards and regulations.
The identity verification process is conducted by Ondento, a known user-identification service provider in Lithuania.
Your funds are not stored on a separate bank account but on your Paysera account.
In addition to those protective measures, InRento is regulated by the Bank of Lithuania.
Who Runs the Company?
InRento is run by Gustas Germanavicius. Gustas' team consists of two more employees - Devidas Urbanovicius and Vytautas Urbanas.
Devidas is a certified investment advisor, and Vytautas is also a full-time employee at Ondato, which helps with user verification on InRento.
Members of our project can assess even more information about InRento, including an interview with InRento's founder directly from Vilnius here.
Are there any suspicious Terms and Conditions?
Storage of Funds
As already mentioned, you are only eligible to invest if you have a Paysera account. Should you choose to invest in particular projects, your funds will be deducted directly from your Paysera account. You are not transferring funds directly to InRento.
Clause 14 - Amendments
InRento reserves the right to amend the contract without prior notice unilaterally. If the company changes its fees, InRento needs to inform you 14 days before the effective date of the changes.

Clause 78 - Liability
As with any P2P platform, InRento is also not liable for any losses you might suffer. The platform is also not liable for the accuracy or correctness of the information in the project overview.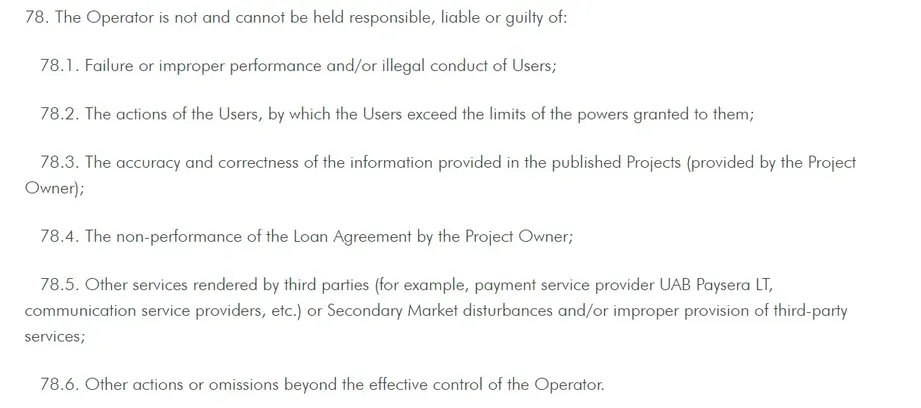 Curious about what else we look at when conducting our research?
With our ✅ workbook, you can spot red flags 🚩 and protect your investment.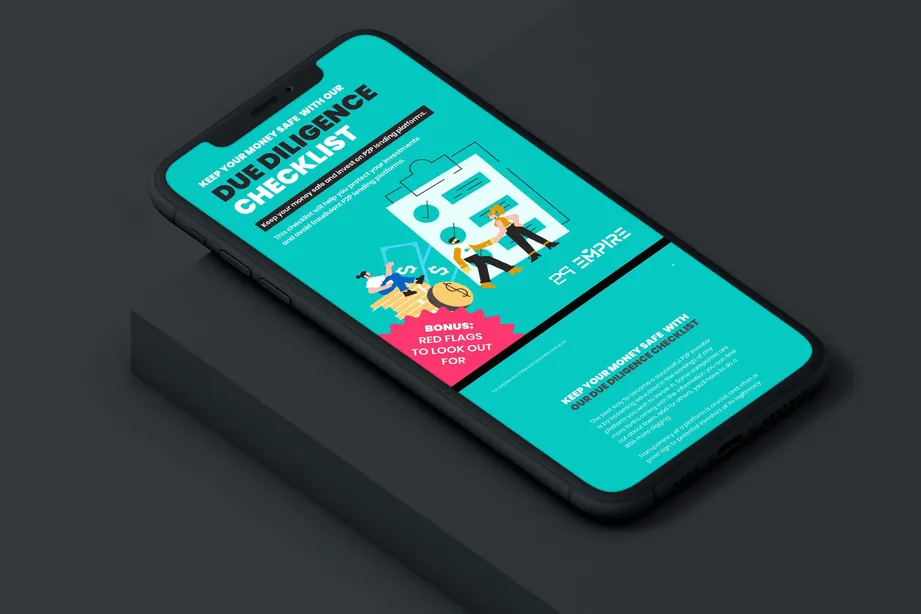 Protect Your Money!
Potential Red Flags
InRento may amend terms and conditions without prior notice
Learn more about possible red flags here.
Curious about other platforms? Head over to our ⚖️ P2P lending platform comparison for a quick overview of the currently available platforms.
What's Our Opinion About InRento?
InRento is a regulated and newly launched platform for investors who seek to invest higher amounts and don't mind the lower interest rates.
While there's a secondary market, you won't be benefiting from this feature as there aren't enough projects nor enough investors yet.
In terms of the returns, the platform and the borrower take a considerable commission, further decreasing your profits.
The terms and conditions are as good as on any other marketplace. One defaulted project can hurt your further investments as there's currently just one borrower.
Note that InRento is still in a very early stage. The availability of projects and the funding speed are still minimal.
Ready to earn money with InRento?
Usability
InRento is very easy to use, as you can only invest in projects manually. Every project comes with a well-structured project overview, which you should certainly read before you decide to invest.
The occupancy calculator is likely the best feature on InRento. This calculator enables you to calculate your return depending on the property's occupancy.
As there is no Auto Invest on InRento, you can invest into projects directly on the project page.
Note that the minimum investment amount on InRento is €500, which also equals the minimum investment amount on Rendity.
Apart from the project page, you can also access the Transaction page or Investments page.
The entire website looks very similar to the interface of EvoEstate.
🧾Does InRento deduct taxes?
As a regulated Lithuanian crowdfunding platform, InRento is legally obliged to deduct a 15% tax rate from your interest if you are a non-Lithuanian resident. Income earned from late payments and penalties is not taxed. You can deduct this tax rate to 0% if you reside in the United Arab Emirates, Cyprus, or Latvia.
The platform allows a deduction of 10% for many other countries if you can fill out and sign the DAS-1 form and send it with proof of tax residency to info@inrento.com with the subject "Withholding taxes."
After verifying your documents, InRento will reduce the tax rate being withheld. This is only valid for residents from countries with a double-tax treaty exemption agreement with Lithuania.
Living in one of those countries means you do not have to pay the income tax twice. The tax that you have already paid will be taken away from the income tax that you owe in your country.
Certain tax benefits might apply depending on your country. We recommend that you contact your local tax professional for further information.
How Fast Can You Withdraw Your Money?
If you are looking for a short-term capital commitment, you won't be happy with InRento. Most of the deals have an investment term of at least 18 months.
There is a secondary market on InRento; however, the number of listed offers on the secondary market is very limited due to the low number of investors at the moment.
If you want to have the option to resell your investments faster, we suggest investing on EvoEstate.
Customer Support
InRento offers a Live Chat and the option to reach support via email at info@inrento.com. We haven't tested this feature as we have direct contact to the CEO Gustas Germanavicius who answers our questions typically within a few minutes.
InRento Review Summary
InRento is the first regulated P2B platform that offers investments into rental deals. The platform is suitable for professional investors who are looking for a longer capital commitment as well as assets that are secured by a first-rank mortgage.
While InRento is still in the very early stage, it could become a solid alternative to other P2P players in the industry.
Key Takeaways from our InRento Review
One of few regulated P2B platforms
Short-track record
Low risk and low return
Backed by a mortgage
If you want to give InRento a try, we recommend to first test the performance on EvoEstate. If you are convinced of InRento's offer, click the link below to register on the platform and start making money by investing in rental properties.
Ready to become to make money from rental deals?
Or explore other real estate platforms.
FAQs
What's the minimum investment amount on InRento?
The minimum investment amount on InRento is €500, which is significantly higher than on other real estate platforms.
How is my investment secured?
Your investment on InRento is secured by a first-rank mortgage. In addition to this protection, InRento is one of Lithuania's few regulated crowdfunding platforms.
Does InRento offer a secondary market?
InRento does offer a secondary market; however, due to the relatively low amount number of investors, there are currently no offers to invest into.
Does InRento offer an Auto Invest?
InRento does currently not offer an Auto Invest. You can only invest in rental deals manually.