InRento Review Summary
InRento is the first regulated crowdfunding platform that offers investments in rental deals. The platform is suitable for professional investors who are looking for a longer capital commitment as well as assets that are secured by a first-rank mortgage.
Key Takeaways from our InRento Review
One of few regulated P2B platforms
Short-track record
Low risk
Backed by a first-rank mortgage
If you are convinced of InRento's offer, click the link below to register on the platform and start making money by investing in rental properties.
Ready to make money from rental deals?
Or explore other real estate platforms.
What Is InRento
InRento is one of the newest P2P lending platforms on the market. The platform allows you to invest in buy-to-let properties with an annual average rental yield of 6.27%. Additionally, you can expect an attractive average annual capital gain of 13%.
InRento is a newly founded project by the co-founder of EvoEstate - Gustas Germanavicius.
The platform is also regulated by the Bank of Lithuania, which makes it the only regulated P2P lending site that offers you the chance to invest in rental deals. Find out more about InRento in our in-depth review.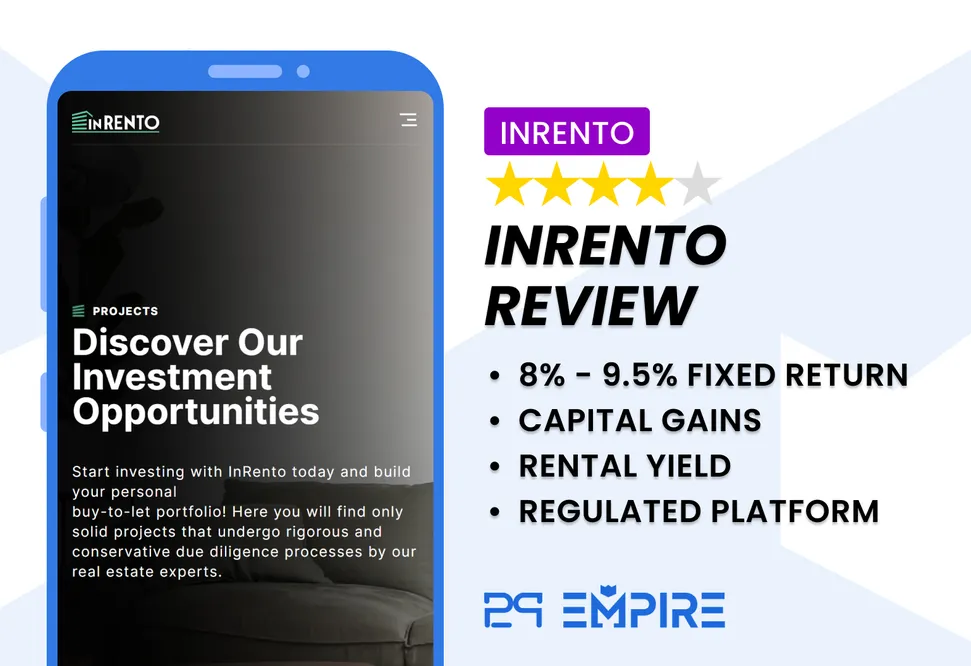 InRento in Numbers
InRento is one of Europe's most impressive crowdlending platforms. The platform currently manages a portfolio worth close to €7 M with a 0% default and delay rate, making it one of the best-performing crowdfunding platforms on the market.

InRento Promo Code
InRento currently offers a €20 bonus for every new investor who joins InRento by using our partner link. Note that you need to invest to get your €20 bonus.
Ready to invest on InRento?
InRento New User Requirements
To sign up on InRento, you must verify your identity with Ondato (third-party). If you decide to invest money on InRento, you must open a Paysera or Mangopay account, which will be linked to your InRento account.
InRento is one of the few platforms offering additional protection for uninvested funds. Instead of depositing funds on InRento, you deposit them on licensed payment institutions. This guarantees that uninvested funds are segregated from InRento's business accounts. InRento does not accept incoming payments via SEPA transfer.
As with any European P2P lending platform, you need to fulfill the following requirements:
Be over 18 years old
Successfully verify your identity and pass the KYC requirements
Open a Paysera or Mangopay account
Fill out and submit the DAS-1 form
You should also be aware of the €500 minimum investment amount. InRento indeed targets investors who are ready to commit more capital.
Ready to invest on InRento?
Risk and Return
The beauty of InRento is that you are essentially funding rental projects, which generate monthly rental income and capital growth. All your investments are backed by a first-rank mortgage signed by the founder of InRento and the project owner at the notary in Vilnius.
We witnessed this process during our visit to InRento's headquarters in 2022.
When investing your money on InRento, you should be ready to commit your capital for at least two to three years. The platform has already "completed" a few projects, meaning the property has been sold and investors received their capital gains.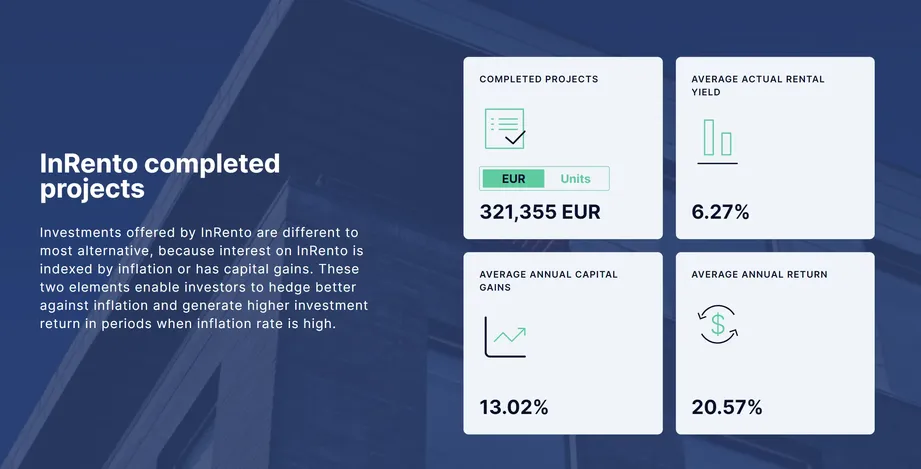 As you can see in the statistics above, the rental yield and the capital gain from the exited projects are far higher than what investors get when investing in P2P lending platforms like PeerBerry, Robocash or Esketit.
Be aware, however, that while InRento's performance has been excellent so far, there is still risk involved. Every investor should certainly read InRento's risk disclaimer to be fully aware of the risks that can lead to the total loss of your investments.
If you are new to P2P lending, you will have difficulty grasping the investment opportunities offered by InRento.
Here's how it works:
Investors invest in the acquisition of real estate properties that will be rented out
InRento is only the platform that facilitates the transaction between the investor and the borrower, that will own and manage the property
The borrower pays the majority of the rental yield to the investor
If the property is vacant (without a tenant), the borrower pays 1% annual interest rate for the first three months and 5% interest rate after three months from which the property is vacant. (these numbers change with every project)
If the property is sold out in the future at a higher price, the capital growth will be distributed in the following structure: 60% investors, 30% borrowers, 10% InRento
What you are investing in is a loan secured by a first-rank mortgage. The borrower will purchase the property and take care of the property management. In exchange for this service, the borrower will take 18% of the rental yield and 30% of the capital growth.
Keep in mind that the distribution of capital growth varies from project to project. For selected projects, you can get up to 70% of the capital growth if you invest €30.000 or more.
InRento has a solid business model, considering that the investors bear the default risk. At the same time, all your investments are backed by a first-rank mortgage.
Yield on InRento
Before deciding to invest, you should know that the interest rate you earn varies with every project. InRento often lists rental deals with an annual fixed-return rate and fixed capital gains.
This yield structure gives you a clear idea about the expected return, but you might potentially miss out on higher capital gains (if the market develops in your favor).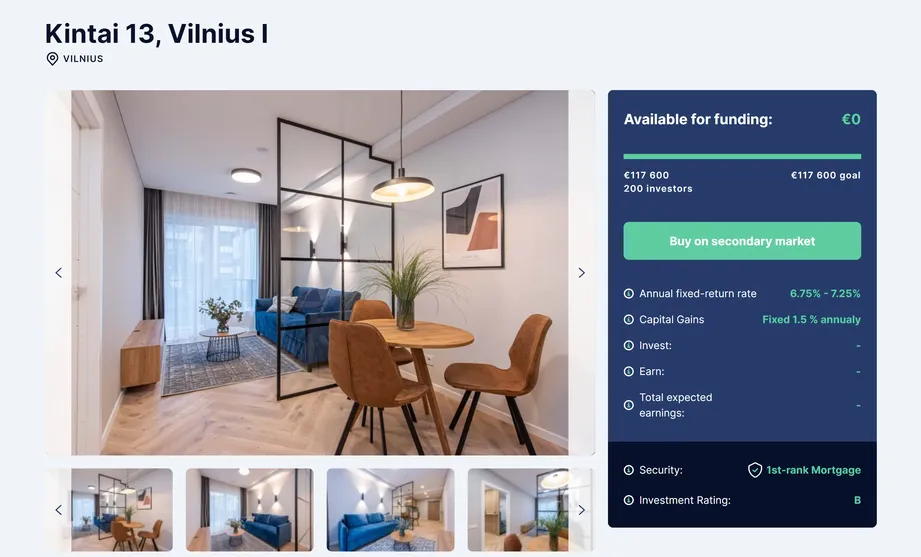 You can always review the rate for every project, allowing you to choose from investment opportunities with fixed or variable capital gains.
Project Overview
InRento's project overview is well-structured and easy to digest. The information presented on the project overview page makes much more sense than on other crowdfunding platforms.
Every listed project comes with additional information about the financial terms, loan terms,s and security. You can also gather additional information about the borrower, which is useful when conducting your own due diligence.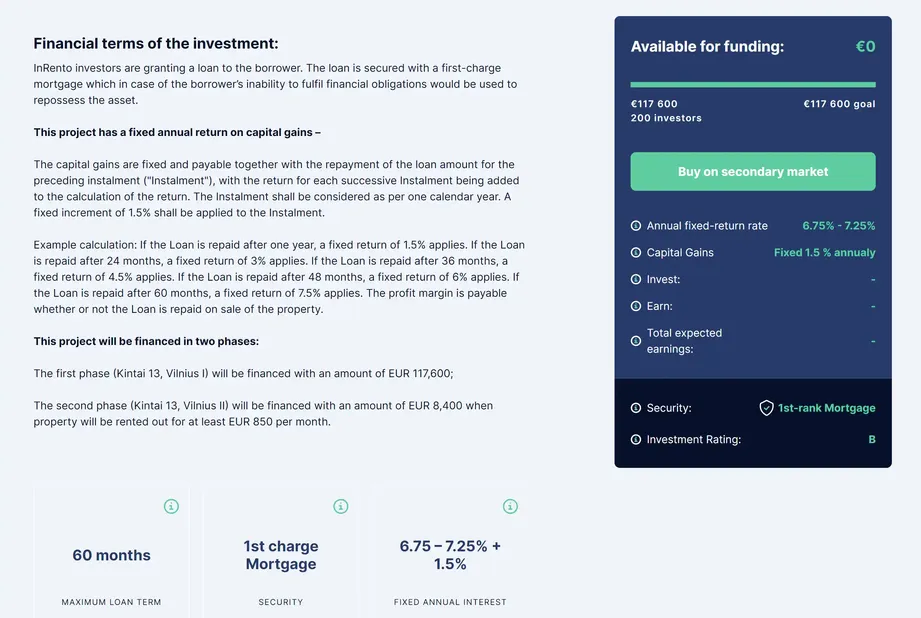 What's undoubtedly unique to InRento is the "occupancy calculator," which shows you how much yield you will earn by investing a certain amount and considering the property's occupancy.
This tool is only available before the project is fully funded.
Risk Ratings
Every project comes with an InRento Risk Score that should give you some additional information that more sophisticated real estate investors usually use. While the performance of the outstanding portfolio is outstanding and the yield on the exited projects impressive, you should still keep the risk in mind.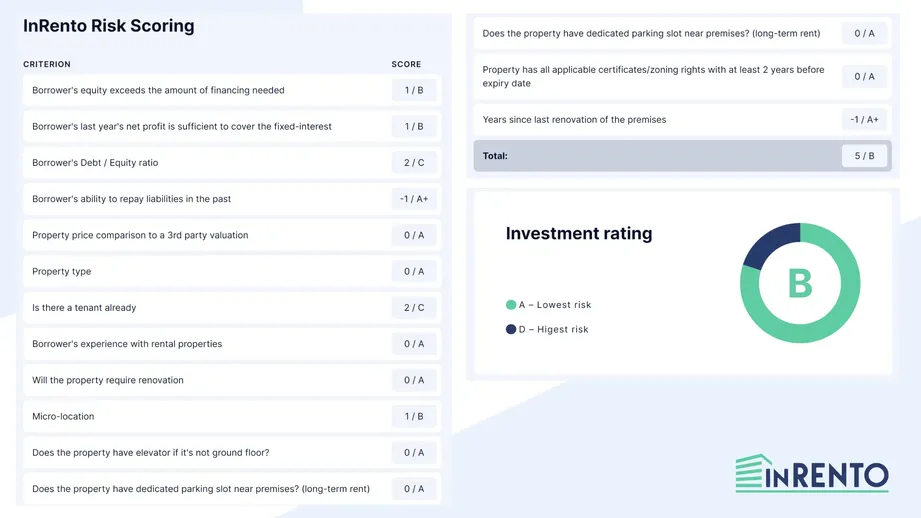 The above graphic shows what variables InRento evaluates when listing projects on the platform. In addition to the individual ratings, you will get a total investment rating represented by a letter (A - lowest risk, D - highest risk).
Is InRento Safe?
InRento is a relatively small platform with a little track record. The platform was founded by an experienced entrepreneur and the co-founder of EvoEstate - Gustas Germanavicius.
InRento later acquired EvoEstate.
Despite InRento being a newly launched platform, the P2P lending site follows the latest standards and regulations.
Ondento, a known user-identification service provider in Lithuania, conducts the identity verification process.
Your funds are not stored on InRento's bank account but on your Paysera or Mangopay account.
In addition to those protective measures, InRento is regulated by the Bank of Lithuania.
Who Runs the Company?
InRento is run by Gustas Germanavicius. Gustas' team consists of a relatively small number of experienced professionals.
Members of our project can assess even more information about InRento, including an interview with InRento's founder directly from Vilnius here.
Are there any suspicious Terms and Conditions?
Storage of Funds
As already mentioned, you are only eligible to invest if you have a Paysera account. Should you choose to invest in particular projects, your funds will be deducted directly from your Paysera account. You are not transferring funds directly to InRento.
Clause 14 - Amendments
InRento reserves the right to amend the contract without prior notice unilaterally. If the company changes its fees, InRento needs to inform you 14 days before the effective date of the changes.

Clause 78 - Liability
As with any P2P platform, InRento is also not liable for any losses you might suffer. The platform is also not liable for the accuracy or correctness of the information in the project overview.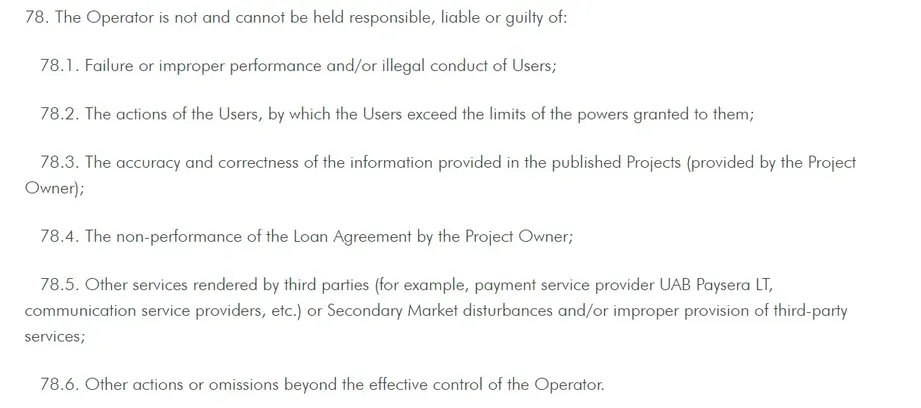 Curious about other platforms? Head over to our ⚖️ P2P lending platform comparison for a quick overview of the currently available platforms.
Our Opinion of InRento
InRento is a regulated and newly launched platform for investors seeking to invest rental properties without all the hassle. The platform offers a great tool to benefit from the current real estate trends and earn attractive passive income.
If you wish to buy a property as an investment but lack the required capital, InRento is one of the best alternatives. With as little as €500 you can become a "coowner" of a property that generates rental yield and capital gains.
As with any real estate, the liquidity isn't as high as personal loans on various P2P lending sites. While InRento offers a secondary market, you must find a buyer and pay a 2% fee from the initial investment amount. If you decide to invest on InRento, you should be ready to commit your capital for a few years.
The legal setup between you and the borrower is as safe as in the current market environment. The investments are backed by a mortgage signed between the borrower and the founder of InRento, who is also a licensed investment advisor. InRento is also regulated by the Lithuanian Central Bank, which increases the platform's legitimacy.
The downside of InRento is the lack of available investment options. The platform currently lists projects from its "home market" Lithuania, a relatively small market with limited investment opportunities. If you don't mind the exposure in vetted Lithuanian rental deals, InRento can be a good option.
Ready to earn money with InRento?
Usability
InRento is very easy to use, as you can only invest in projects manually. The number of newly listed projects is relatively low, meaning an Auto Invest isn't necessary.
Every project comes with a well-structured overview, which you should read before investing. After you have made your investment, you will receive a monthly return which is added to your account (bank account).
You can review all the important information in the portfolio section of your InRento account.
Apart from the project page, you can also access the Transaction page or Investments page with additional details.
🧾Does InRento deduct taxes?
As a regulated Lithuanian crowdfunding platform, InRento is legally obliged to deduct a 15% tax rate from your interest if you are a non-Lithuanian resident. Income earned from late payments and penalties is not taxed. You can deduct this tax rate to 0% if you reside in the United Arab Emirates, Cyprus, or Latvia.
The platform allows a deduction of 10% for many other countries if you can fill out and sign the DAS-1 form and send it with proof of tax residency to info@inrento.com with the subject "Withholding taxes."
After verifying your documents, InRento will reduce the tax rate being withheld. This is only valid for residents from countries with a double-tax treaty exemption agreement with Lithuania.
Living in one of those countries means you do not have to pay income tax twice. The tax that you have already paid will be taken away from the income tax that you owe in your country.
Certain tax benefits might apply depending on your country. We recommend that you contact your local tax professional for further information.
How Fast Can You Withdraw Your Money?
If you are looking for a short-term capital commitment, you won't be happy with InRento. Most of the deals have an investment term of at least 18 months.
There is a secondary market on InRento; however, the number of listed offers on the secondary market is minimal due to the low number of investors at the moment. Additionally, InRento charges a 2% secondary market fee for sellers.
If you are looking for a more liquid investment, we suggest educating yourself about investments in microloans.
Support
InRento offers a Live Chat and the option to reach support via email at info@inrento.com. You should expect an answer within 48 hours.
During our research, we had a few discussions with the CEO, Gustas Germanavicius, who was willing to address all questions.