PeerBerry Review Summary
PeerBerry is the most reliable P2P lending platform that pays up to 12% interest. PeerBerry offers an auto-invest as well as a 60-day buyback guarantee. We have been investing on PeerBerry since 2018, and our experience with the platform has been excellent.
Here are the main takeaways from our PeerBerry review:
High yield - you can yearn up to 12% p.a.
Responsive support that answers all of your questions
Lower availability of loans
High level of transparency - many financial reports are audited and translated into English.
Are you not convinced yet? Well, what about we tell you that you can get a 0.5% PeerBerry bonus?
Our readers will get a bonus calculated from the average investment amount during the first 90 days of registration. The PeerBerry referral code will be automatically added if you sign up with our exclusive partner link.
Ready to let your money work for you?
What is PeerBerry?
PeerBerry is one of Europe's most popular P2P lending sites. Since 2017 more than 72,000 users have earned over €20M in interest. Investors can invest in short-term loans, protected by a buyback guarantee, with interest of up to 12.5% per year. Is PeerBerry a good fit for you? Read our PeerBerry review to find out!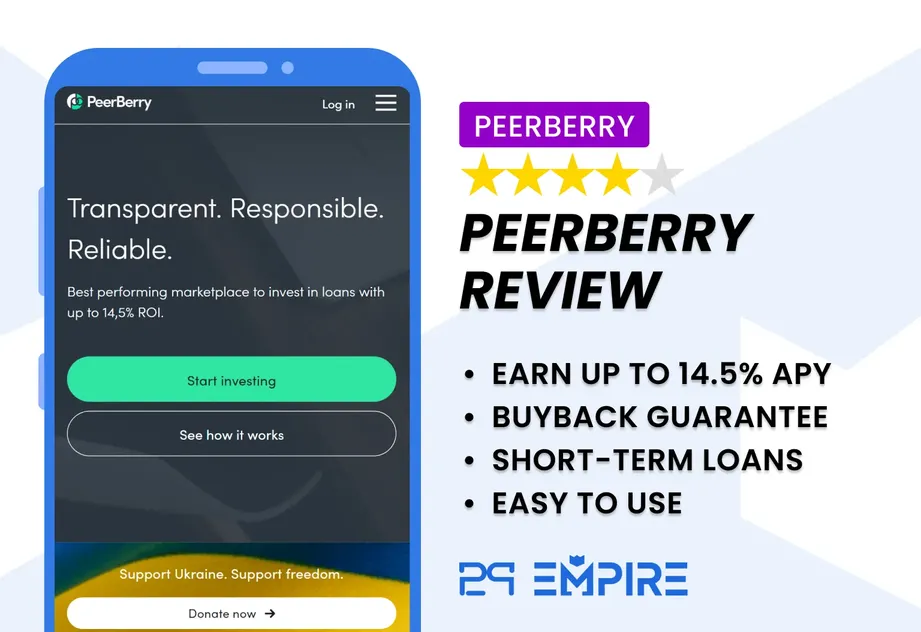 Pros
Reliable buyback and group guarantee
High interest rates
Well-developed P2P lending platform
One of the safest P2P lending sites in Europe
Cons
No secondary market
Limited diversification
Occasional cash drag
Are you wondering how PeerBerry works? Watch our PeerBerry review and learn about our experiences with PeerBerry.
PeerBerry Bonus
Before we get into the in-depth PeerBerry review, let's look at some of the bonuses you can benefit from as an investor.
Many P2P lending platforms offer you sign-up bonuses and referral codes. PeerBerry is also offering an exclusive reward for new and loyal investors.
PeerBerry Bonus for New Investors
Use our referral code for PeerBerry and get a 0.5% PeerBerry bonus for all your investments during the first three months after registration. Note that you need to invest money to receive your PeerBerry bonus. This offer is only valid if you sign up on PeerBerry with our referral link.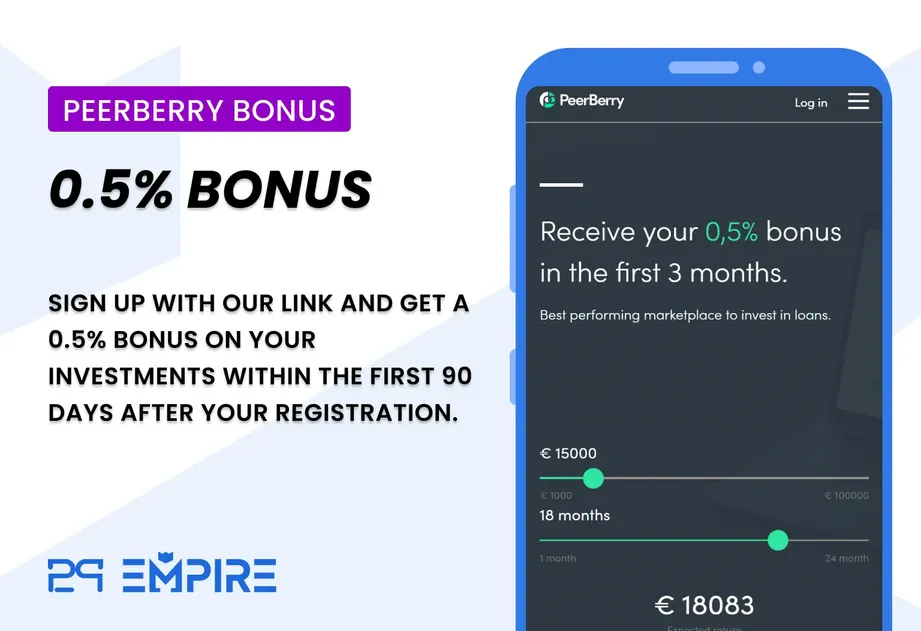 ⭐ PeerBerry Loyalty Bonus
There are three different levels of loyalty bonuses:
Silver: This is for portfolios over €10,000, and you'll receive a 0.5% bonus
Gold: This is for portfolios over €25,000, and you'll get a 0.75% bonus
Platinum: This is for portfolios over €40,000, and you'll get a 1% bonus
To obtain the above rewards, sign up for PeerBerry and start investing!
The platform will only add this PeerBerry bonus to your active investments if your portfolio size meets the bonus criteria.
In our latest interview with PeerBerry, we learned that there are currently over 2,800 investors that are part of the loyalty program.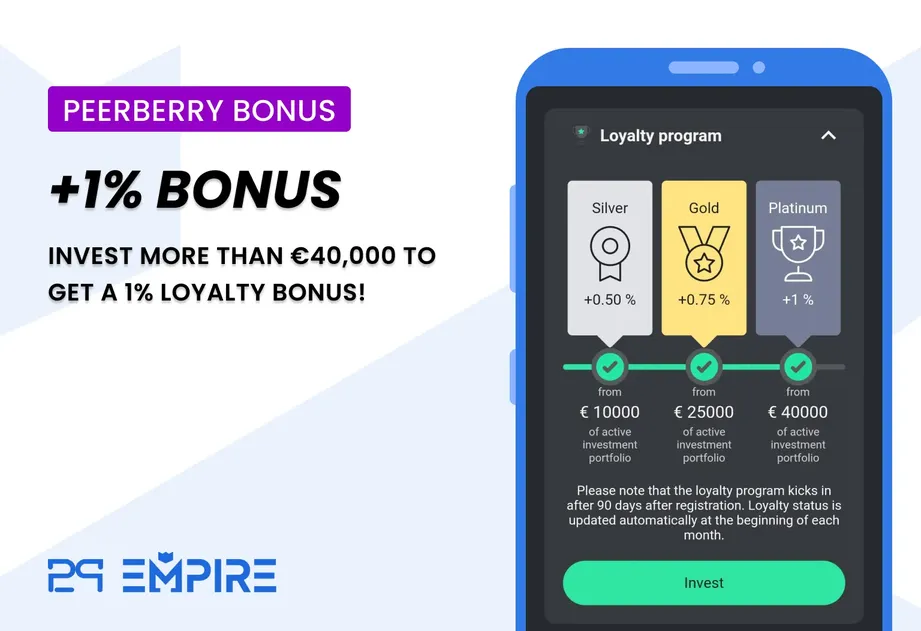 Ready to get your PeerBerry bonus?
PeerBerry Requirements
PeerBerry is one of our favorite P2P lending platforms primarily because you can sign up on PeerBerry from anywhere in the European Economic Area.
However, there are some requirements you must fit to invest on this platform.
Be over 18 years old
Have a European bank account in your name
Although you can deposit your money in any currency, we suggest transferring your funds in Euros to avoid potential currency exchange fees.
If you don't have a bank account, we suggest opening a free Wise account, which is further explained in our Wise card review. Alternatively, you can also read or N26 review to learn how to use the N26 bank to transfer funds to Robocash.
Transferring money to your PeerBerry takes less than three business days.
🧾Does PeerBerry deduct taxes?
PeerBerry doesn't withhold taxes from your earnings. In your dashboard, you can download tax statements, which you can submit to your tax authorities when you file your taxes in the country where you are a tax resident.
Risk and Return
As mentioned, PeerBerry is an excellent P2P lending platform for investors who prefer investing in high-yielding short-term loans.
As you might know, short-term investments are often perceived as riskier than long-term investments.
When investing on PeerBerry or any other P2P platform that lists short-term loans (for example, Mintos or Robocash), you're investing in unsecured consumer loans.
Those loans have already been issued, which means you fund pre-funded loans.
Most P2P lending platforms don't advertise this aspect of P2P lending since those loans offer a buyback guarantee, meaning you don't need to deal with defaulted loans as they get repurchased by the loan originator.
PeerBerry's Buyback Guarantee
PeerBerry is also one of the P2P lending platforms offering a buyback guarantee for loans delayed by more than 60 days.
In this scenario, the loan originator you've invested in would buy back the claim against the borrower. This dramatically lowers the risk of this P2P platform and means you don't have to deal with debt collection.
Watch our visit to PeerBerry's HQ in Vilnius to get exclusive insights into the platform's operations:
Late Payments
If the borrower is late with its payments, the lending company will return your investments so you don't lose anything.
The best part about PeerBerry's buyback guarantee is that the loan originator also pays back the interest on the delayed loan.
The buyback guarantee protects you from the borrower's default.
Keep in mind that the buyback guarantee is not the ultimate protection. Note, however, that during "black swan" events such as the war in Ukraine, loan originators cannot honor the buyback guarantee. In this scenario, PeerBerry deployed the group guarantee to cover the loan repayments. Keep reading our PeerBerry review to learn more about it.
Are you wondering how PeerBerry compares to Mintos? Check out our latest comparison PeerBerry vs Mintos.
In the history of PeerBerry, none of the investors ever lost any money. This is mainly because PeerBerry's loan originators have never funded more than 45% of their loan books via P2P lending. Therefore, the loan originators can cover any potential buyback guarantees.
PeerBerry's business partners always have 10% of the listed portfolio on PeerBerry in cash to facilitate buyback guarantees and settle with investors.
Additional Guarantee (Group Guarantee)
PeerBerry offers an additional guarantee by the parent companies of the loan originators. Most originators offer loans in different countries, although it's worth noting that two large investment groups own them.
Most loan originators on PeerBerry are operated by - Aventus Group and Gofingo.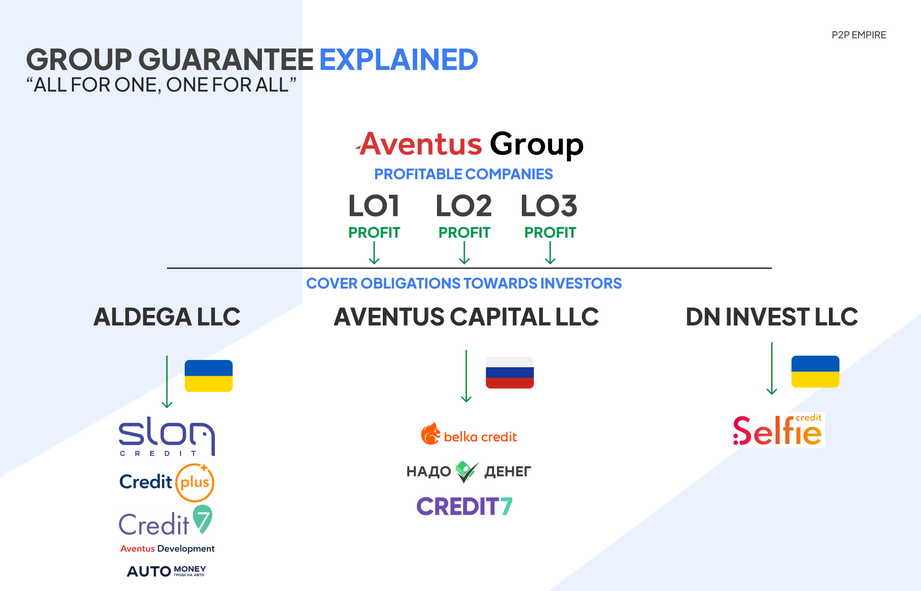 While the loan originators work as independent entities, the additional guarantee claims thathe parent company will step in and repurchase your claims t if the loan originator cannot cover the buyback guarantee.
In our latest P2P talk with the CEO of Aventus Group, Andrejus Trofimovas, we learned that the Aventus Group is operating very sustainably, allowing them to grow their market shares and fulfill any obligations towards investors.
War-Affected-Loans
The group guarantee has been deployed to cover lenders' obligations towards investors who invested in war-affected countries. Due to the war in Ukraine and Russia, companies cannot send money outside those countries.
Other companies that operate under the Gofingo or Aventus Group trademark now cover the obligations towards investors who invested in loans from war-affected countries.
PeerBerry announced that the repayment of the entire loan book from war-affected countries may take up to February 2024. During our visit to PeerBerry's office in Vilnius, we learned that the lending partners can repay much faster than anticipated if the conditions don't change.
As of July 2023, PeerBerry's lending partners have already repaid 85% of the war-affected loans to investors.
Repayment System
As the war started, PeerBerry's partners first repaid the loans according to the loan schedule (oldest loans). The repayment schedule changed later as the platform began repaying all the loans in equal shares. All investors are getting a fraction of their war-affected loans back. Therefore, it may happen that in your portfolio, you didn't see the exact percentage of repaid loans as PeerBerry is claiming on their website.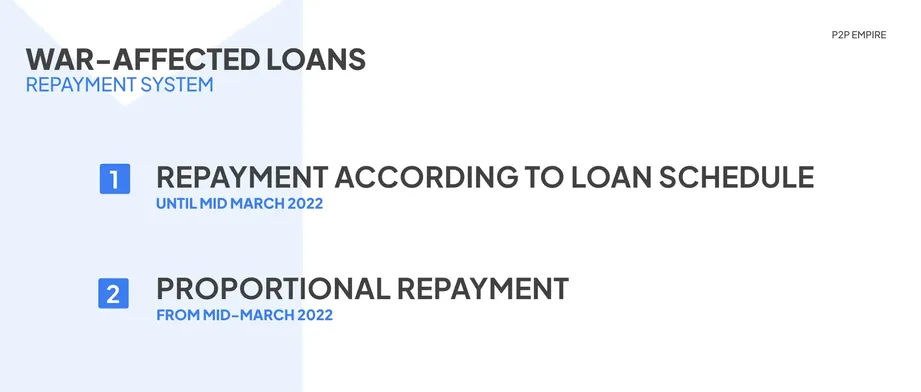 Please pay attention to the latest developments surrounding the funds in recovery from Ukraine and Russia due to the war in Ukraine in our news section.
Loan Originators
As mentioned above, PeerBerry collaborates with two large finance groups, Gofingo and Aventus Group, and two smaller lenders, Lithome and SIB Group. In total, you can invest in loans from 23 loan originators.
On PeerBerry's website, you will find more information about every loan originator. You can access the size of their loan portfolio, the total amount of funded loans, and information about the buyback guarantee and interest together with the financial report.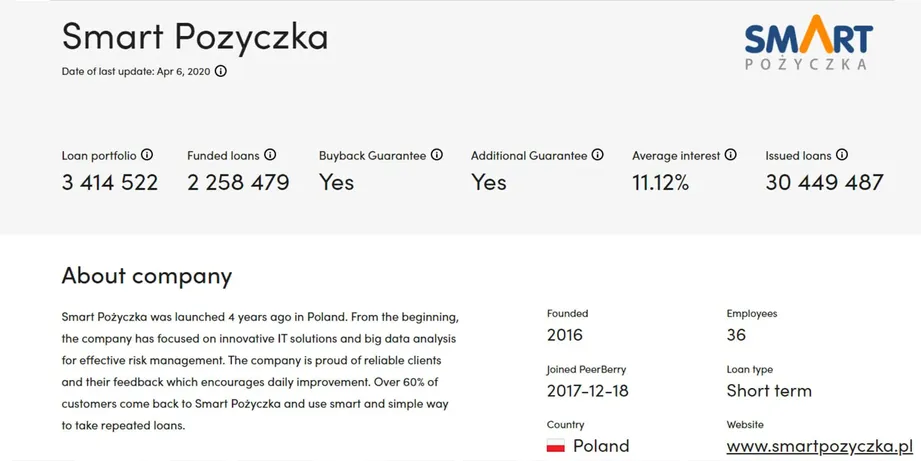 PeerBerry has also recently added information about delayed loans from individual lenders. You can now see which loan originator has the most delayed loans on PeerBerry. It's worth mentioning that the average percentage of delinquent loans is between 15% and 20%, which is considerably low compared to other market players.
Remember that black swan events like the war in Ukraine are not normal market conditions.

This is how the loan status typically looks like during normal market conditions. Keep in mind that any force majeure event might delay your loans.
Country Risk
When investing in lenders from various countries, you could prioritize those from regulated markets. PeerBerry is very transparent when sharing additional data about the regulatory environment in individual markets.
| Country | Regulation |
| --- | --- |
| Poland | Included in the National Register of Creditors and Institutions of Credit |
| Ukraine | Licensed by the National Bank of Ukraine |
| Kazakhstan | Listed in the National Register of Organizations Engaged in Microfinance Activities |
| Russia | Licensed and listed in the National Microfinance Market Entities Register |
| Romania | Licensed by the Central Bank of Romania |
| Vietnam | Operates under the Articles of Association (regulation is emerging) |
| Moldova | No information |
| Lithuania | Regulated by the Bank of Lithuania |
| Spain | Not regulated |
Remember that all lenders on PeerBerry have to follow local laws and regulations. The country's exposure to PeerBerry's loans can vary depending on market conditions.
We suggest setting up multiple auto-invest portfolios or investing manually to control your diversification settings fully. That's the only way to create an equally diversified portfolio if that's something you are aiming for.
The loan availability of specific lenders varies as PeerBerry decreases the exposure of loans issued by start-ups in developing countries. If you suffer from cash drag, we suggest reviewing our Crowdpear review to learn more about another crowdfunding platform that PeerBerry's team operates.
When investing in loans in emerging markets, it's essential to remember that PeerBerry uses an indirect investment structure to protect investors from force majeure events. This means that before the money is sent to the loan originator, it has to go through an intermediary company.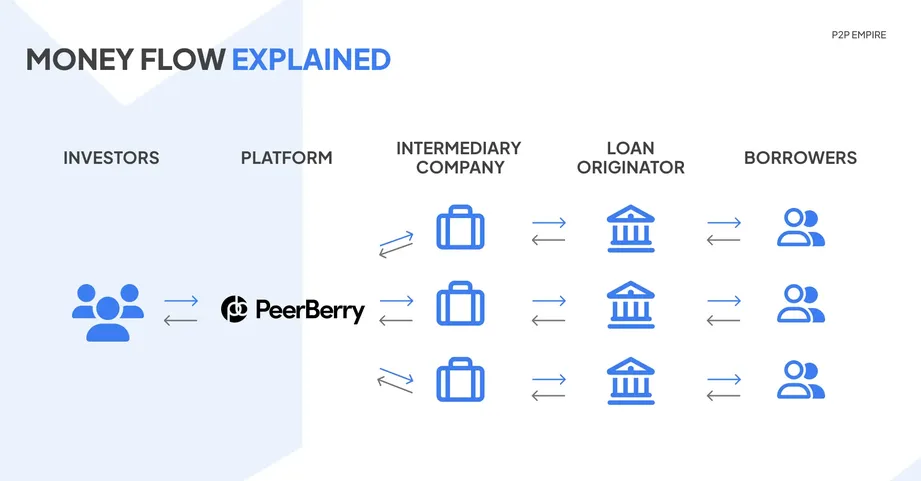 In this graph, you can see how the money is transferred to the borrowers. Remember that your investment's safety relies on the loan book's performance.
Investing in Russia and Ukraine - force majeure event
PeerBerry's loan book primarily consists of loans originating in Ukraine and Russia. The current political conflict between those countries may expose your portfolio to additional risks.
PeerBerry's lending partners have introduced a 24-month repayment plan of the debt towards investors from war-affected lenders. The remaining lending companies will cover the loan repayments from war-affected lenders from their profits every month. The current estimated date of refund is February 2024. Any resolution of the war in Ukraine will significantly increase the recovery.
Is PeerBerry Safe?
PeerBerry is as safe as any P2P lending platform run by experienced industry professionals. The platform follows all regulations and AML procedures.
Since PeerBerry was launched in 2017, none of the investors have lost any money. The safety of your investments is additionally supported by the sustainable lending practices of the lending companies you are investing in.
We have also looked into the management behind the platform and their financial reports and read all the terms and conditions.
Who Leads The Platform?
Arunas Lekavicius is the CEO of PeerBerry and is also responsible for PeerBerry's business decisions. Before Arunas joined PeerBerry, he was the Head of Leasing at the Lithuanian lender 4finance.
PeerBerry's team consists of 10 employees, while many tasks connected to IT and accounting are being outsourced.
Who Is The Owner Of The Platform?
PeerBerry is owned by three investors Andrejus Trofimovas (50%), Ivan Butov (25%), and Vytautas Olšauskas (25%)
Are There Any Suspicious Terms and Conditions?
Let's look at whether we can spot some unusual clauses.
Clause 2.3 - Currency Risk
PeerBerry doesn't offer a multi-currency solution. All of the investments are made in euros.

Even though the loan originator's loans often originate in other currencies, you, as an investor, are not exposed to any currency risk.
The loan originator earns enough interest to cover potential currency fluctuation. From our talks with the CEO of PeerBerry, we learned that their business partners don't hedge against currency risk (volatility). They do consider it and adjust their cash buffer accordingly.
Clause 4.6 - Security of Your Funds
All your funds are stored in a separate bank account of Peerberry d.o.o - the operator of PeerBerry.com.

The separation of funds is a standard procedure in the P2P lending industry. We would certainly appreciate it if PeerBerry would introduce individual IBAN accounts for investors to increase the safety of their funds.
Clause 7.7 - Liability
As with every P2P investment, the P2P lending platform isn't reliable for any losses if the borrower doesn't fulfill its obligations. PeerBerry's business partners are earnest about protecting your money.

Suppose the borrower is late with its payment for more than 60 days. In that case, the loan originator is responsible for repurchasing the claim from you and returning the outstanding interest and loan principal to your account.
Do Investors Have Access To Individual Assignment Agreements?
Investors can view individual assignment agreements with more details about their claims under "My Investments." Before investing in loans, you can manually review the assignment agreement.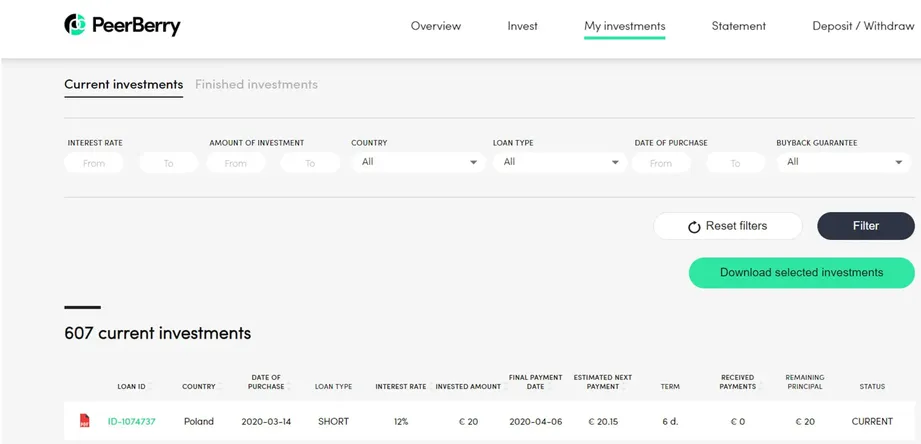 Click the PDF icon next to the LOAN ID to download the file.
Potential Red Flags

We have no knowledge about potential red flags.
What's Our Opinion About PeerBerry?
The result of our extensive due diligence is positive.
We haven't spotted any suspicions.
PeerBerry's communication is constantly improving.
We joined PeerBerry in 2018, so our experience backs this PeerBerry review over the past five years. You can learn more about our exposure to P2P loans on our P2P lending portfolio page.
Our stake in PeerBerry is also the highest among all the P2P lending platforms.
Investing and withdrawing funds has always worked without delays, so PeerBerry remains one of our favorite P2P lending platforms.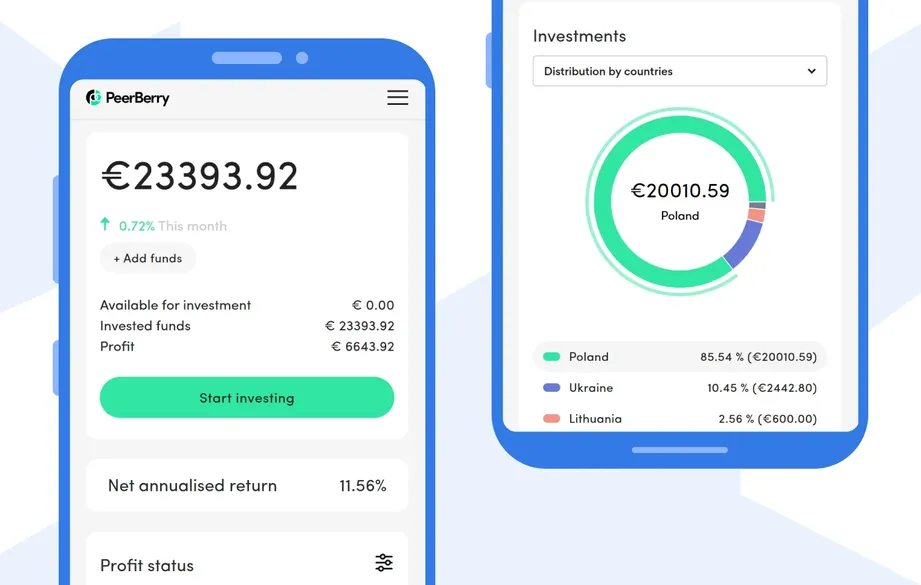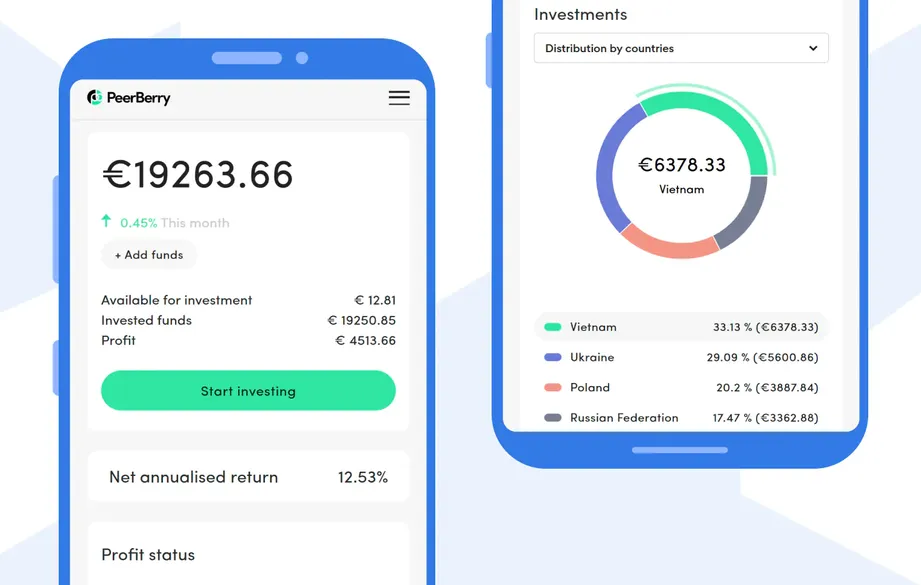 We joined PeerBerry five years ago, and our active portfolio is currently above €19,000. We remained invested even in 2022 & [year] when the conflict in Ukraine delayed the loan repayment plan.
PeerBerry offers the highest rates of up to 12% per year. Our portfolio is currently exposed to war-affected countries, Poland and Vietnam. Other lending companies are repaying all the loans from Ukraine and Russia under the Aventus or Gofingo Group.
During our visit to PeerBerry's office in Vilnius, we also had a chance to meet the team and look at the tools the platform uses to monitor the performance of the lender's loan book. PeerBerry has live access to the entire loan portfolio of Aventu's Group companies and all the KPIs.
None of the other P2P marketplaces have access to the entire loan portfolio of the lenders, which means that PeerBerry has access to much more accurate data that directly impact the performance of your investments.
Ready to earn interest on PeerBerry?
Usability
PeerBerry is made for many P2P investors, so whether you're just starting with P2P lending or looking for new platforms to help you lower the risk, we'd recommend you seriously consider PeerBerry.
PeerBerry's dashboard is very intuitive, and you can reach all the essential sections of the website within just a few clicks.
With their Auto Invest feature, you can view your investments, export transactions for your tax statements, and automate your investment strategy.
PeerBerry Auto Invest
The auto invest on PeerBerry allows you to set up essential variables such as the portfolio size, maximum investment per loan, interest rate, loan period, status, countries, and loan originators. There is also an option to reinvest all your returns.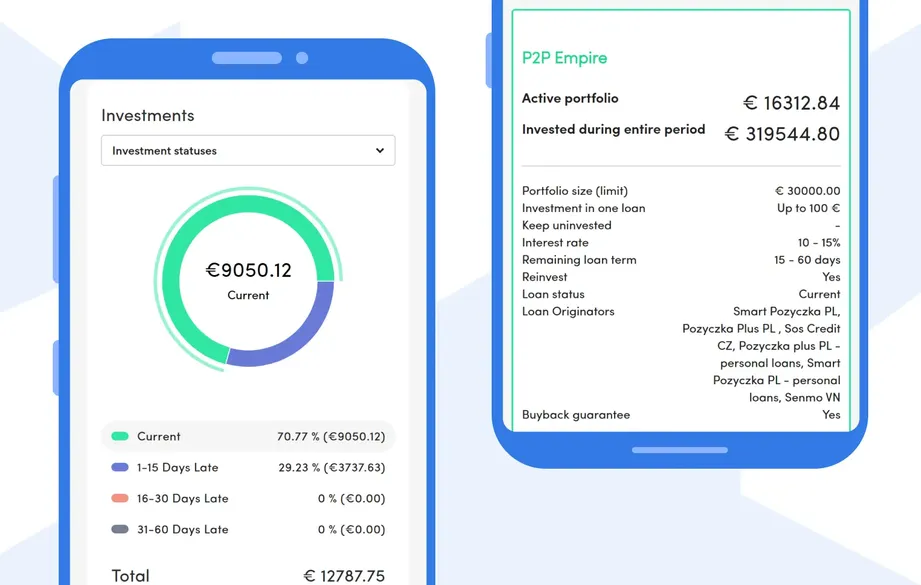 We suggest not excluding any loan originators as the loan availability changes constantly. Restricting your Auto Invest settings may lead to uninvested money in your account.
PeerBerry Auto Invest Is Not Working
If your PeerBerry Auto Invest isn't working, wait a few hours until you contact support. PeerBerry's Auto Invest runs six times per day.
If you cannot get your funds invested automatically, we recommend turning on the notifications in your PeerBerry App and invest manually when new loans are listed on the platform.
We have tested several auto invest strategies over the past few months. We can't confirm that any auto invest strategy on PeerBerry resulted in a significant change in the performance of our investments.
You can segment your auto invest based on interest or loan period. Any other setting won't make much difference in the final return.
Wondering how we set up our PeerBerry Auto Invest? Find out in this video:
PeerBerry Auto Invest Plan
PeerBerry also offers a feature that will help you diversify your portfolio with just one click.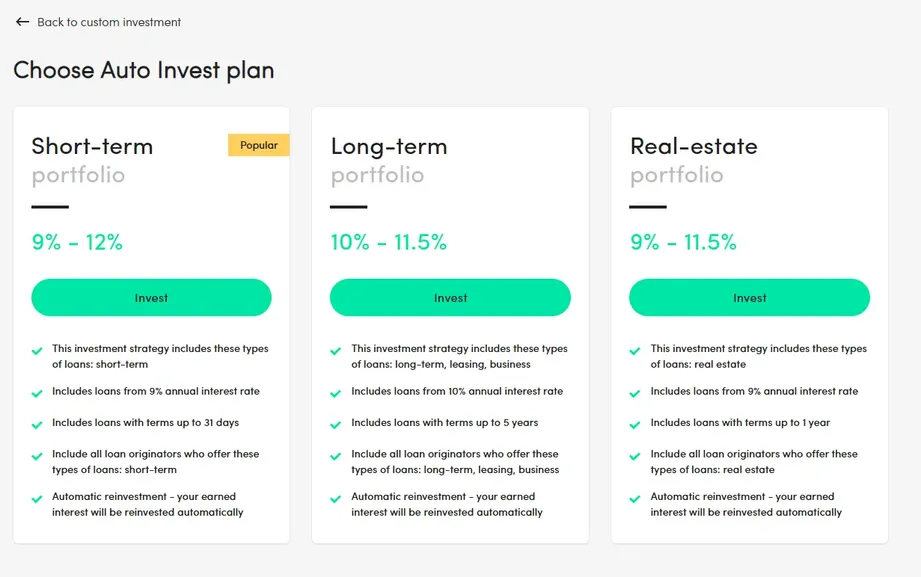 The main differences between individual strategies are the investment term and the loan type.
Remember that those strategies won't diversify your portfolio equally. We recommend setting up individual auto invest portfolios if you want to control the exposure in specific lenders or countries.
PeerBerry App
PeerBerry is also available as a mobile App.
The PeerBerry app will allow you to overview your portfolio quickly. You can view your available funds, invested funds, paid interest, and annualized net return.
An excellent app feature is a chart that shows you daily interest repayments.
Under the "Investments" section, you can also get an overview of your portfolio, which is now segmented into loan originators and loan types. The PeerBerry app also comes in dark mode. To be up to date about your portfolio performance we recommend turning on all notifications.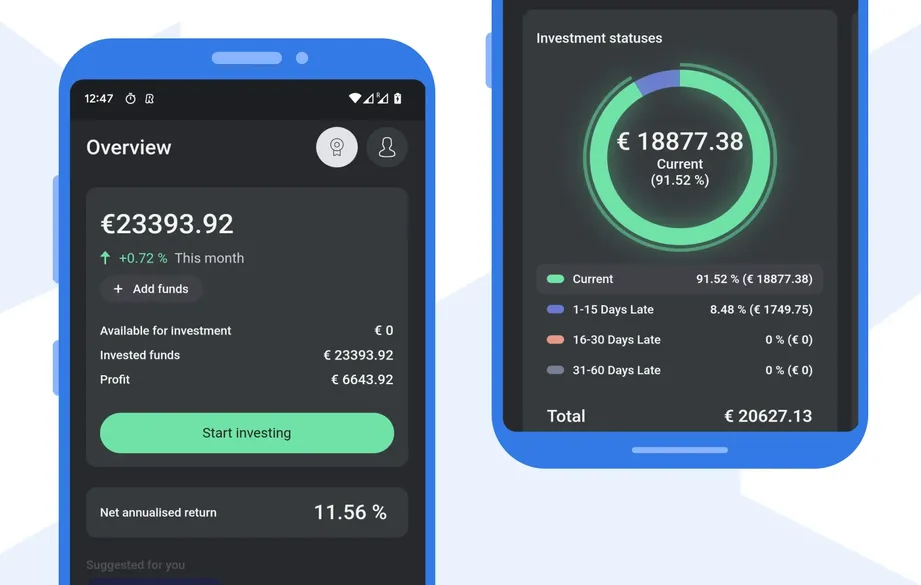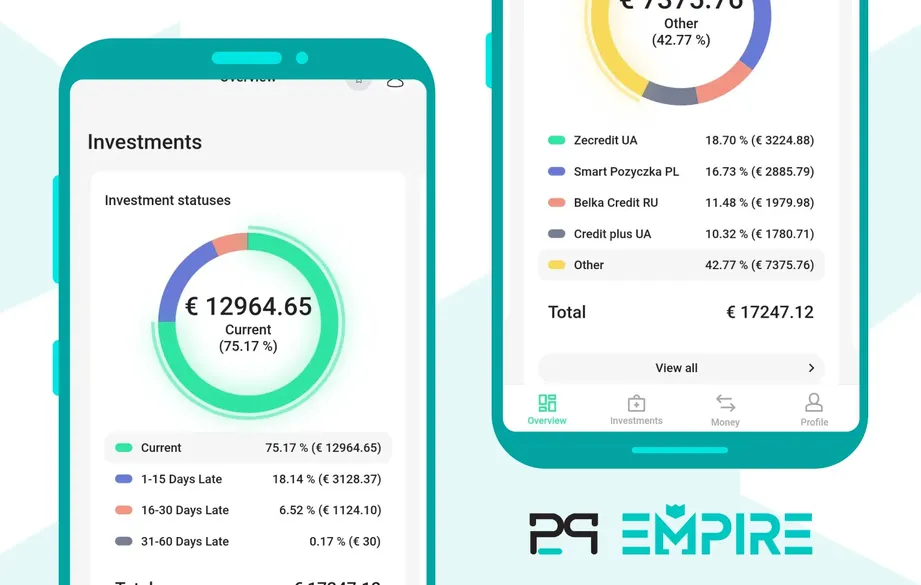 Do you enjoy this review? Invite us for a coffee ☕
How Fast Can You Withdraw Your Investments?
While PeerBerry is trying to offer more loan types to help diversify investors' P2P portfolios, it's mainly used for short-term loans. Investors benefit from the improved liquidity that comes alongside them when investing in short-term loans.
This proved valuable during March 2020, when many investors started withdrawing their funds due to the panic caused by the coronavirus.
There were no delayed loans on PeerBerry, and all the funds were returned to the investors after the loan term, typically within 30 days.
If you are looking for instant withdrawals, you won't find them on PeerBerry.
There is currently no secondary market on PeerBerry. Whether PeerBerry will ever launch a secondary market is unknown, as this may impact the taxation of investors from various countries.
Remember that the liquidity in [year] might not be up to your expectations due to the current military conflict in Ukraine, which affects a considerable part of loans listed on PeerBerry.
Are you wondering how PeerBerry compares to Esketit? Check out our guide Esketit vs PeerBerry.
Support
We believe having a dedicated support team to answer your questions regarding their P2P lending platform is very important.
The platform manages your money, and therefore, you need to be able to trust them to keep your funds protected.
We've always found PeerBerry's support to be very responsive. You can also read through the PeerBerry reviews on Trustpilot or Reddit, where hundreds of other investors share their positive experiences with the platform.
The best way to contact the support team is to email them to info@peerberry.com.
Most of our requests have been answered within one day, which is not something we can say about the customer support of some other platforms.
It's always good to contact customer support at any P2P lending platform and test it before signing up.
Before becoming an investor, you must ensure the platform can handle your requests.
Compared with even the biggest European P2P platforms like Bondora, PeerBerry's support is exceptional.
PeerBerry Alternatives
While PeerBerry is one of Europe's most reliable P2P lending platforms, the loan availability in [month] [year] is low. This means that it can be challenging to keep your money invested. Uninvested funds don't generate any interest, so you might want to consider some alternatives instead.
Esketit
Esketit is one of the best alternatives to PeerBerry. The platform has an excellent track record, no funds in recovery, and an instant exit option, which increases your liquidity. You can expect to earn between 12% and 13% interest on Esketit, slightly higher than on PeerBerry.
The platform is straightforward, making it suitable for beginners and more experienced investors. Learn more about how Esketit works in our Esketit review.
Income Marketplace
Income Marketplace offers investments that yield up to 15% annual interest. The platform isn't as well developed as PeerBerry, but the loan availability is higher, meaning you won't suffer much cash drag.
A buyback guarantee covers your investments on the Income Marketplace, and specific lenders even pledge their loan book as collateral. Learn more about how you can earn income in our Income Marketplace review.
Fintown
If you are looking for a suitable alternative platform that generates similar interest as PeerBerry, Fintown might be a good fit. The yield you earn is generated from rental properties from short-term rental units in the city center of Prague.
So instead of funding payday loans in Asia or Africa, your money is being used to finance rental properties in Europe. Learn more about this platform in our Fintown review.