Yield App Review
The YIELD App is a crypto lending platform with surprisingly high-interest rates, allowing you to earn up to 13% APY on your cryptocurrency with daily rewards. In this in-depth YIELD App review, you'll learn all of the features of the YIELD app platform, as well as the risks, so that you can make an informed decision as to whether you want to earn passive income on this crypto platform.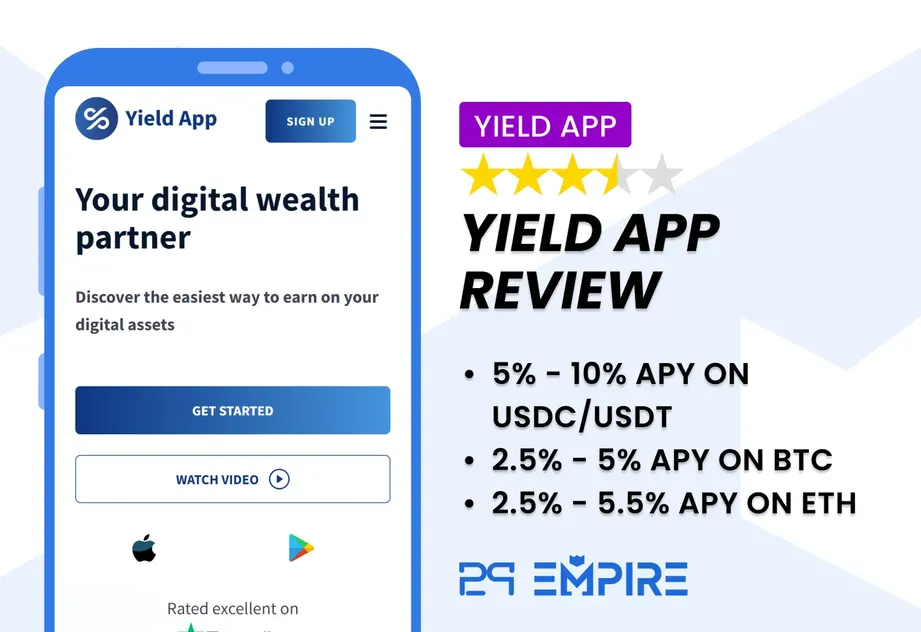 YIELD App In Numbers
When doing your due diligence on any platform, the first thing you should look at is the statistics.
The YIELD app has a statistics page updated bi-weekly to give you an updated view of how each asset is performing and the total number of investors, and more in-depth information about its YIELD token (YLD).
As with any other crypto lending platform, no financial report is available.
The platform employs 30 employees and currently has over $423 million in assets under management, with over 72,000 investors, or 'yielders.'
Yield App Bonus
With our unique Yield App referral code, you can get a random reward ranging from 100 YLD to 1,000 YLD (currently valued at $203).
The referral reward will be paid out to your Yield App wallet 31 days after you have deposited at least $1,000 worth of crypto and staked 1,000 YLD tokens to become a Silver Tier Member.
YIELD App Requirements
To open a YIELD App account and earn money on your cryptocurrency through the platform, you need to be able to fulfill the following requirements:
Be over 18 years old
Accept the terms and conditions
Pass the KYC verification process.
Deposit $100 in your wallet
Not be a resident of one of 43 countries (including the U.S.) unable to access YIELD App's services, including the United States.
The KYC verification process has two steps.
The first requires you to be able to provide a photo ID in the form of a passport, driver's license, or national ID card.
The second step requires you to provide a second form of identification to verify your address, such as a utility bill, bank statement, or income tax statement. You will also need to take a selfie to submit during the process.
Risk and Return
Firstly, when depositing your assets on any crypto lending platform, you must be aware of certain risks that may materialize. Any governmental deposit scheme does NOT insure your deposits, and holding a wallet on a crypto lending platform is not a savings account.
There are many scams within the crypto lending industry, and you should be cautious by doing your due diligence before depositing money on any platform.
What Does YIELD App's Insurance Cover?
Previously, the YIELD App partnered with BitGo, which provided cold storage wallets. BitGo carried $100 million in insurance protection for users, covering digital assets where BitGo held 100% of the private keys. This covered third-party hacks, insider theft by BitGo employees, and loss of keys.
Yield App moved on from the security system from BitGo and developed its security infrastructure that fits the needs of the company.
This change does mean that the YIELD App currently does not offer insurance cover.
How Does YIELD App Make Money?
We reached out to the YIELD App support team as we could not find any information regarding how the platform turns a profit.
They responded to let us know that the specifics of which protocols are used at any point are not public information. Still, they use a variety of DeFi and other protocols to ensure a diverse and secure earning schedule.
Is the YIELD App Regulated?
Yield App Limited operates the YIELD App platform and YieldApp OÜ, which the Estonian Financial Intelligence Unit has issued a Virtual Currency License.
The YIELD App is currently 'working to a licensing roadmap' and working with several regulators, which indicates more protection is coming for users in the form of regulations for its services.
You should take any claims about "regulated crypto lending platforms" with a grain of salt. It's not clear under which jurisdiction the company is operating. The token seemed to be issued by a shell company in Seychelles, and there is also a connection to a baking license from Mwali - a small island that belongs to Comoros, a country in East Africa.
How Is YIELD App Secured?
The YIELD App has different features to ensure the security of your funds. It uses 2FA to decrease the risk of fraudulent use of your account.
The platform is integrated into Amazon Web Services, covering many different security aspects. This includes identity management, connection security, and database security.
The YIELD App informs users that while it performs reasonable steps to minimize the risk of data leaks or fraudulent behavior, it is still possible for hacks to happen. It ensures that users know that investing in the platform is not without risks to their personal information.
Users' crypto-assets are not backed by collateral or other hard assets or credit.
The user remains the sole owner of the coins in their wallet. This changes when using the 'earn' feature, when the crypto is transferred to the YIELD App, which can then use your assets for its commercial purposes. This includes lending them to third parties.
Your Return On YIELD App
Your return on the YIELD App depends on which cryptocurrency you decide to earn interest on. The platform currently supports six different coins, which you can earn interest from. Here are the current rates for all six currencies:
| | |
| --- | --- |
| BTC | UP TO 7.5% |
| DAI | UP TO 13% |
| ETH | UP TO 7.5% |
| USDC | UP TO 13% |
| USDT | UP TO 13% |
| TUSD | UP TO 13% |
YIELD App does have a rewards scheme with bronze, silver, gold, and diamond tiers. At the bronze level (formerly tier 1 before the V2 update), users can earn between 9% and 11% depending on which coin they elect to be paid their returns in.
Once users have worked their way up to the diamond tier, they can earn between 7.5 and 13% per year.
See below the requirements for each tier and the returns users can earn.
| Tier YLD staked and locked | Reward in Bitcoin |
| --- | --- |
| 0 - 999 | 2.5% |
| 1,000 - 9,999 | 4% |
| 10,000 - 19,999 | 5.5% |
| 20,000+ | 7.5% |
Explore our guide to Bitcoin Lending to earn more interest on your bitcoin.
Is Yield App Safe?
The most significant risk in the crypto space is that a platform will initiate a 'rug pull,' and the people behind the platform will run away with all of its investors' funds.
To minimize the risk of this, you should find out as much information as you can about the company and who is behind it.
Who leads the team?
YIELD App was founded in 2020 by Tim Frost, who has previously been involved in many successful fintech and blockchain companies, including EQIBank, and Wirex.
The YIELD App is funded by 11 investors and has previously raised 4.2 million during its funding rounds.
Where is the YIELD App based?
The YIELD App is based in Seychelles under YIELD App LIMITED, but it has a crypto exchange license in Estonia within the European Union.
There is no official information about the company's headquarters on its website, which increases the risk significantly.
In some of the interviews and on LinkedIn, you will learn that the CEO is based in Thailand.
Are there any suspicious terms and conditions?
When investing in crypto lending platforms, it is important not to blindly agree to the terms and conditions, as often you might find some sneaky terms.
Lending Risk
If you lend your assets to YIELD through the "earn" feature, there is no guarantee you will get all of your investment back, and you may lose some of your digital assets.

Ownership of assets
You are the sole owner of all digital assets in your wallet until you lend them to the YIELD App using the "earn" function.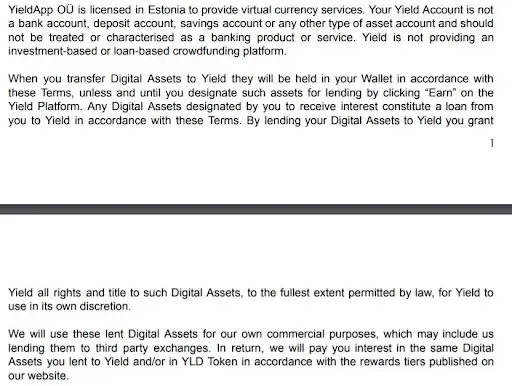 Potential Red Flags
Yield App may revise the terms and conditions without prior notice.
Our Opinion On YIELD App
The YIELD App boasts high yield rates for users. The platform has a crypto exchange license from Estonia, which slightly increases its trustworthiness.
On the other hand, there is no official headquarters, so users don't know under which jurisdiction the platform is operating. Not disclosing the HQ's address increases the risk significantly as the company can initiate a rug pull, and you won't be able to do anything against it.
The platform also has its digital asset, the YIELD token (YLD), which doesn't provide any value apart from locking users into the Yield platform and giving them the option to earn up to 20% in interest per year.
The YIELD App charges for withdrawals to external wallets, but aside from this, there are no other fees for using the platform.
The YIELD Apphase is an informative blog that addresses common concerns, such as how to spot a rug pull, and holds regular AMA sessions with the Founder and CEO and other lead employees such as the CMO and CIO.
Unfortunately, the platform is currently not suitable for U.S.-based investors or investors from 42 other countries.
This is positive, as the company doesn't expose itself to regulatory risks coming from U.S. regulators.
Overall, the platform simplifies DeFi for users and offers some of the highest rates in the industry, based on the asset you receive your interest in.
Some users praise the quality of Yield's telegram channel, which is certainly something that you can use to decide whether to use this platform or not.
While the platform doesn't sell any "misleading" information as some of the competitors, there is room for improvement in the communication of the corporate's legal structure as this increases your risk significantly.
Usability
YIELD App currently supports six digital assets, including its token. Here you can see the coins and cryptos supported by the platform.
Crypto Interest Account
Earn interest on BTC, DAI, ETH, USDC, USDT, and YLD.
The YLD token (YIELD token) allows the user to maximize profits by choosing to receive returns in the token.
Users on the bronze tier can stake YLD tokens for 12 months and receive 12% annual interest.
To boost returns, if users opt to receive all their rewards in YLD, they will earn an additional 2% per annum, which is available from the silver tier.
Depending on your tier level, you can earn up to 18% annually on your digital assets once you reach the diamond tier.
The benefit of this token is that you can instantly stake and unstake your YLD and lock all or only a portion of your tokens. You can also convert and transfer between YLD and the other supported assets within the YIELD App platform.
The YLD token is available on nine different crypto exchanges, including Bittrex and Quickswap.
From January 18th 2022 to March 1st 2022, users who lock their YLD for 12 months can earn a further 2% on their returns, earning up to 20% per year.
Exchange/Swaps
Users can buy and/or trade the YLD token on nine different platforms. These platforms are 1inch, AscendEX, Bithumb Global, Bittrex Global, Gate.io, KuCoin, SushiSwap, QuickSwap, and Uniswap.
How Fast Can You Withdraw Your Investments?
You can request a withdrawal at any time on the YIELD App. If a user wants to withdraw digital from your portfolio to your wallet, the platform aims to be able to perform this immediately.
However, if the user wants to withdraw funds to a third-party wallet, the platform aims to perform this within 72 hours. However, the terms and conditions state that this process can, in some cases, take up to 30 days.
Here are the fees charged by YIELD App to external wallets:
| ASSET | WITHDRAWAL FEE | MIN. AMOUNT |
| --- | --- | --- |
| BTC | 0.0007 BTC | 0.0008 BTC |
| ETH (ERC-20) | 0.010 ETH | 0.011 ETH |
| USDC/USDT/DAI (ERC-20) | $10 | $11 |
| YLD (ERC-20) | 20 YLD | 21 YLD |
Support
The YIELD App does not offer a live chat option.
There is a help center of FAQs; however, if you cannot find the answer to your question there, you will need to contact info@yield.app.
When we reached out to the support team, they responded within a few hours.
There is also a YIELD App YouTube channel with regular AMA sessions.
Yield App Review Summary
YIELD App is more transparent in some issues than some other crypto lending platforms. The platform offers higher yields than the competition, so it is gaining popularity.
While the Yield App has an ongoing sponsorship with West Ham FC in the UK, this doesn't decrease the risk of your deposits. The platform didn't explain the incorporation structure adequately, and it didn't disclose which DeFi protocols they are using and how they can generate such high yields.
The fact that you need to buy into the utility token also doesn't inspire more trust in the platform, as large token holders can easily manipulate the price of the utility tokens.
Key takeaways from our YIELD App review:
High returns
Simplifying DeFi
Good risk disclosures
YLD token required to earn a higher yield
Or compare the currently best crypto interest accounts.
FAQs
Is the YIELD App regulated?
YIELD App is regulated by the Estonian Financial Intelligence Unit and holds a Virtual Currency Licence for Yield APP OÜ. Remember that the Yield App doesn't explain which products are regulated.
How to withdraw on YIELD App?
Users can request a withdrawal to an external wallet at any time. The YIELD app aims to process all withdrawals within 72 hours; however, in some cases, it can take up to 30 days.
Is the YIELD App insured?
BitGo no longer insures YIELD App; instead, the platform opted for in-house alternative security measures.
Is the YIELD App available in the USA?
Currently, crypto lenders from the U.S. cannot use the YIELD App, which is not necessarily a bad sign, as many crypto lenders that operate in the U.S. are being targeted and fined by U.S. regulators.