Midas Investments Review
Midas Investments is known as the platform with the highest rates in the entire crypto-lending space. Many are wary of this custodial crypto-investment platform and avoid it because they fear the yield is "too good to be true." In this review, we'll look in-depth at Midas Investments to find out who's behind it, whether it's a legitimate platform, and if you can earn a safe and lucrative yield by investing your digital assets.
Midas Investments In Numbers
The crypto platform has over 10,000 active users on the platform. Since its launch in 2018, Midas Investments has scaled up to over $200,000,000 in assets under management.
Two crypto enthusiasts founded the company and have grown to a team of over 30 employees.
Although many team members are Russian, including the CEO, the company was quick to announce when the war broke out in Ukraine that Russian laws and sanctions do not impact the business as it does not and has never worked under Russian jurisdiction.
It cites itself as an international company with a complex yet transparent legal structure.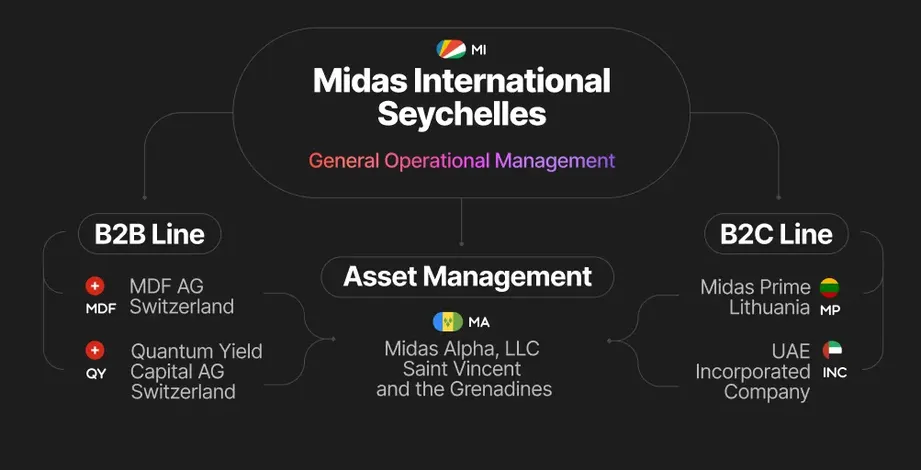 As with many other crypto platforms, the information available to the public is limited, but the platform has confirmed that no investors have lost any assets on the platform so far.
When speaking with Midas Investments, they informed us that they plan to be audited by the company Armanino, and once that has been completed, more data will be publicly available.
Midas Investments Referral Code
Midas doesn't offer any bonuses for newly registered users, but it promotes a "Boost Tier" system, allowing you to earn much higher interest rates when staking the MIDAS token.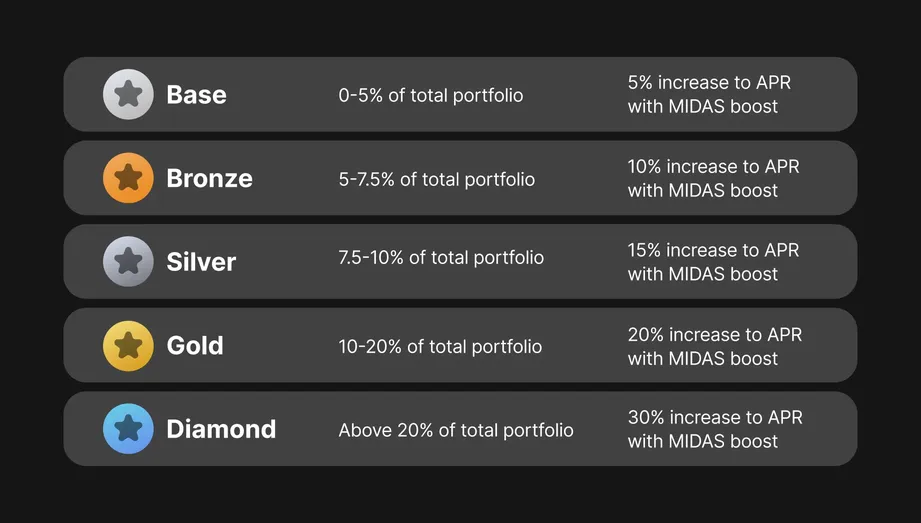 You can earn up to 30% higher APR on the available assets if you hold at least 20% of your portfolio value in MIDAS.
This coin is Midas' own utility token, allowing the platform to finance its development. While in many cases, the token's value is highly volatile, in MIDAS' case, the price has only been growing over the last 12 months, making it one of the best-performing utility tokens by crypto-earning platforms.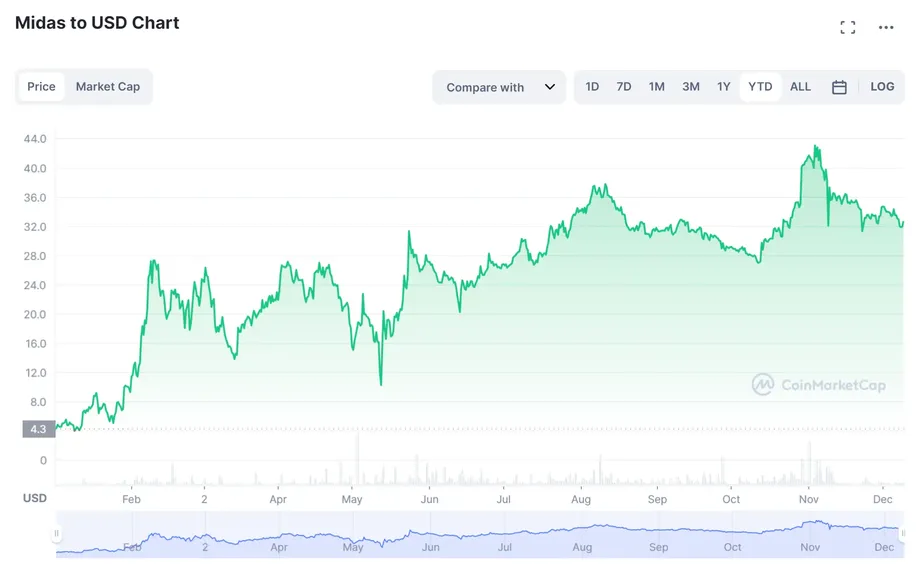 Midas Investments Requirements
To earn a yield on your crypto, you have to fulfill specific requirements:
Be over 18 years old
Have a valid email address
Complete the KYC verification process
Midas Investments has only recently introduced a KYC feature in March 2022. This increases trust in the platform, as the past's lack of a KYC process rings alarm bells.
The platform has been operating for four years without any KYC, which is alarming enough.
To pass the KYC procedure, you must submit personal information and supply a selfie, a government-issued ID such as a passport or ID card, and a document with proof of your address, such as a bank statement or utility bill.
KYC is used to prevent money laundering and combat fraud, and as the company has been operating since early 2018, we were surprised to learn that this policy has only just come into effect.
Our latest chat with MIDAS confirmed that the platform is open to all investors, including the U.S.
Risk and Return
MIDAS Investments is not a crypto lending platform but a crypto trading or earning platform. It's an unregulated hedge fund which means that deploying your crypto on the platform is risky, and you have to be aware of certain risks that may materialize.
Regardless of the platform, your investments aren't insured by any governmental deposit scheme.
It's also important to note that your crypto account is not a "savings account".
What Does Midas Investments Insurance Cover?
Midas Investments doesn't provide any insurance to help the user keep their funds protected; however, when we reached out to the platform, they let us know that once they have taken care of getting licenses, they will be looking at introducing insurance.
If the platform were to be hacked right now, you would potentially lose your invested coins.
Midas Investments has not been hacked to date, but that doesn't stop it from happening in the future.
How Does Midas Make Money?
The platform uses various strategies to generate yield for its users. The trading strategies tend to vary, and you can inform yourself about the latest yield-generating activities in Midas' monthly investment report.
At the end of November 2022, the platform held the following positions:
Stablecoin Yield Generation with LUSD
ETH Staking Derivates (stETH, rETH, cbETH)
Lending to Market Making Entities (Maven 11 Permissioned ETH pool)
CVX pool & BNB on Alpaca and many more
The platform generates yield through hedged strategies that uses investment instruments such as lending and borrowing, hedged token farming, DeFi yield vaults, and concentrated liquidity provider on Uniswap V3.
A benefit for MIDAS users is that you can review the latest monthly investments report to get an idea of where MIDAS is currently deploying your assets and what type of risk management the platform follows for various positions.
Some of the risk management strategies include:
Alerts on pool composition and manipulation of illiquid assets
Correlation tests between market performance and pool compositions
Delta-neutral allocation to GLP according to pool composition
24/7 monitoring of peg sustainability of underlying stablecoins
Real-time alerts on available liquidity to ensure Midas may quickly (10 minutes or less) close on any positions with minimal price impact, even under stressed network conditions
Monitoring lending positions' health factors
The platform does not use rehypothecation but focuses on high-yielding trading strategies.
Midas Investments Fees
You should be aware of the crypto trading platform's fee structure. Midas has static and dynamic withdrawal fees. As for the dynamic fees, those are costs that are updated automatically based on the current network conditions (gas fees) for ETH and ERC20 tokens.
The static fees are also updated according to the network conditions but manually. Currently, the static withdrawal fees are:
| Asset | Withdrawal Fee |
| --- | --- |
| AVAX | 0.015 |
| BNB | 0.00021 |
| BTC | 0.0002 |
| BUSD | 0.5 |
| FTM | 0.1 |
You should also be aware that the minimum fee amount is $5 for ETH and $10 for ERC20 tokens.
Note that there are some minimum withdrawal limits to pay attention to. For ETH and ERC20 tokens, the minimum amount available for withdrawal is two withdrawal fees. If the withdrawal fee for USDT is $10, the minimum withdrawal is $20. The minimum withdrawal amount can change based on factors such as network congestion.
Is Midas Investments Regulated?
Midas Investments complies with global crypto-lending regulations and the Swiss rules provided by FINMA.
This means that they follow particular suggestions but are by no means regulated or audited. The legal structure behind Midas is quite complex and can be reviewed here. As it's often the case, individual entities provide various services. The asset management is, however, conducted by Midas' entity in St. Vincent.
How Are Midas Investments Secured?
Around 97% of users' funds are held on the digital asset platform, Fireblocks, which is used by many businesses to secure funds and a host of other security features.
The rest of the funds are held on blockchains and withdrawal wallets that Fireblocks does not support.
All transactions require a multi-signature process. In addition to this, the platform supports the whitelisting of withdrawal addresses.
The platform has recently added 2FA as an additional step to keeping your account safe.
Midas Investments is a custodial crypto earning platform, it means that the platform owns your coins once you've deposited them, and you have to trust that they won't run away with your assets.
Remember that in the crypto space, you are only in control of your digital assets as long as you own the private keys on hardware wallets like Trezor. As soon as you transfer your crypto to a crypto-earning platform, you lose ownership over those assets. The platform can freeze your account and disappear with your coins anytime.
In terms of use, Midas Investments does make sure to inform the user that crypto earning is not risk-free.
The platform uses algorithms on top of DeFi protocols to minimize the risks and prevent losses for users.
Your Return On Midas Investments
Midas has had a history of providing the highest rates in the entire crypto earning space with returns as high as 22.2% on MIDAS token.
Even though the rates change regularly, the APY for most digital assets is still highly competitive. What makes Midas' returns stand out is the boost function, which in the case of some of the tokens, increases the returns by a significant amount.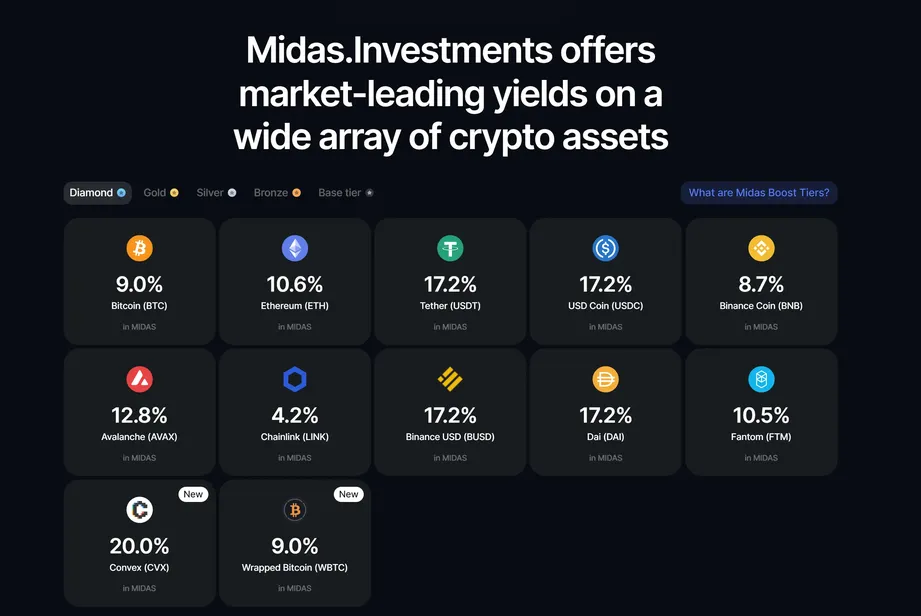 The boost function enables users to earn more returns by receiving their assets in the MIDAS token.
The boost rate is variable depending on the investment, and users' can cease using the feature at any time and continue receiving their returns in kind at the lower APY rate.
Here you can see the rates for the base tier, meaning you don't need to stake any tokens to generate this yield.
| Crypto | Base Rate |
| --- | --- |
| BTC | 7.2% APY |
| ETH | 8.5% APY |
| USDT | 13.7% APY |
| USDC | 13.7% APY |
Is Midas Investments Safe?
Checking out the team that leads a crypto lending platform and the location of the platform is an integral part of your due diligence and should not be skipped over.
Who leads the team?
The founders of Midas Investments are Iakov Levin, known as "Trevor", and Parker.
Parker has since left the company, and Trevor was involved in various projects unrelated to crypto and Midas before launching the platform in 2018.
We can only assume that he has left the company, although we would be interested to know why, as generally, founders in the crypto lending space stick with the companies they built.
Currently, there are 34 members of the Midas Investments team, most of whom work from Russia, but some are based in other parts of Europe, such as the UK and Germany.
The "About Us" page doesn't feature any team members working at Midas.
Where is Midas Investments based?
According to Midas, the official company address of Midas Investments is MDF AG, Felsenstrasse 62 8832, Wollerau, Switzerland.
We do not know whether this is just a virtual address or whether there is any team member located at this address.
From our understanding, the platform operates remotely. Some of their IT infrastructures are based in Russia.
Are there any suspicious terms and conditions?
Before thoroughly reading through the terms and conditions, you should never deposit your digital assets on a platform.
Transfer of custody
By accepting the terms of use, you are giving away the custody of your digital assets. This is against your best interests.
Changes to terms and conditions
Terms and conditions can be changed at any time without notifying the user. It is the user's job to stay informed about changes and ensure they regularly read the terms and conditions
Potential red flags
Not much information about the founders
Terms and conditions can be changed at any time without prior notice
Our Opinion Of Midas Investments
Midas Investments is a suitable choice for those who are very opportunistic investors.
The yield rates are very attractive, and if you are happy to receive your returns in the platform's MIDAS token, you will benefit from a high annual yield of up to 22%.
Regardless, if you want to earn your yield in kind, you can still receive the best rates in the space.
The DeFi protocols can be risky, so it certainly isn't a suitable investment for everyone.
Midas Investments currently supports 15 cryptocurrencies.
The team is active on both YouTube and Telegram, which is a good sign and gives you an insight into who you are lending your money.
We have been monitoring the development of the platform for the past year and we are pleased to see that Midas has invested additional resources to make their platform more transparent and safe. The website offers insights into its trading positions, liquidity reserves and legal structures. This hasn't always been the case.
Additionally, the newly introduced KYC and 2FA, as well as the performance of the Midas TOKEN in 2022, increase the legitimacy of the business.
In saying this, the platform has fulfilled its promises to its users, and no users have had issues withdrawing their funds so far.
Usability
Midas Investments supports 15 different assets, including its own Midas token. You can see the other assets that are supported below.
Midas Investments Crypto Account
Earn interest on: BTC, ETH, USDT, MIDAS, WBTC, CVX, BNB, USDC, AVAX, LINK, BUSD, DAI and FTM.
The MIDAS token was launched in 2021 and has been recently migrated from Fantom blockchain to the Ethereum network. There is a total supply of 5,000,0000 MIDAS tokens circulating. You can purchase the MIDAS token on Spiritswap or Bombswap. The token offers 22% APY.
Midas Investments offers Yield Automated Portfolios (YAPs), a selection of baskets, each holding a collection of select assets tailored for different investment strategies.
You can reduce risk on any of your assets by diversifying them into a basket of assets.
The YAP allows you to weather market volatility and attract higher yields and is available for the following digital assets:
ETH, MIDAS, LINK, FTM, AVAX, BNB, DAI, and CVX.

You can see below the current rates available for each of these assets.Exchange/Swaps
Midas Investments has an exchange pool where users can swap over 15 currencies, and the platform promises to exchange your assets in under a minute.
The exchange feature has a 0.3%-1% fee, and daily liquidity is added to the exchange pool.
The exchange has some limits, as seen in the screenshot below.

How Fast Can You Withdraw Your Money?
You can withdraw your assets from your Midas Investments account at any time. You'll need to verify your withdrawal through your registered email address.
There are two types of withdrawal fees - static and dynamic.
Dynamic fees apply to the ETH and ERTC-20 tokens, and the rate varies depending on the network fees. You'll also be charged a $5 withdrawal fee on top of the network fee.
Fixed withdrawal fees apply to all other assets, and the price for withdrawing BTC is 0.0002 BTC.
Support
Midas Investments is active on its YouTube channel with over 3,000 subscribers and uses Telegram to keep users in the loop.
There is also plenty of information about the platform on Wiki, which covers many FAQs.
There is a live chat option on the website, which we found to be poor in quality; however, there is no contact email or phone number available for customer support.
Midas Investments Review Summary
Midas Investments could be a crypto-earning platform on which you could consider investing your digital assets if you are a higher-risk investor. Despite many crypto-lenders filing for bankruptcy in 2022, Midas managed to weather the storm while offering beyond-average returns and many improvements.
DYOR
If you decide to invest your crypto on Midas, you are still exposed to a high level of platform risk. While it could be attractive to generate yield by letting Midas deploy your assets in algorithmic trading strategies, we strongly suggest testing the platform with an insignificant amount of funds instead of depositing your live savings. The platform doesn't provide any insights into its financial performance, nor is it audited. Always conduct your own research about the business model and the management running a platform before you deposit your hard-earned money.
Compare other crypto lending platforms.
Notice
As the crypto earning space is developing rapidly, some information might be outdated. We strongly encourage you to verify any information in this post and do extensive due diligence on any project you plan to invest in.