Scam Alert
This review might be outdated as there is no new information about Lenndy's performance of loans.
Lenndy Review
Lenndy is a less popular Latvian peer-to-peer (P2P) lending platform. The website offers users the option to invest in business or personal loans with interest ranging from 11%-15% per year. Most of the loans are secured by a buyback guarantee.
Keep reading this Lenndy review to find out why Lenndy is not a recommended platform.

Lenndy in Numbers
Before you sign up on any P2P lending platform, you should have a look at its statistics.

Lenndy was founded in September 2016. Despite having been around for over three years, the platform has not managed to attract as many investors as other P2P lending platforms that were founded at a later date.

During our conversations with the customer support team at Lenndy, we found out that €355,000 worth of loans defaulted (data from December 2020), and we're not sure how much of that money has been recovered.

According to Lenndy, the average portfolio size is around €7,000. If this statement is true, it would be much higher than the average portfolio size on more popular platforms like Mintos, Crowdestor and PeerBerry.

Lenndy's data about average portfolio size seems to be much higher as compared to more established platforms, which raises certain suspicion about the accuracy of this information.
Lenndy Referral Code
Looking for a Lenndy sign-up bonus? Lennd does offer a bonus for new investors, however, due to the poor performance of Lenndy's investments, we don't recommend using this platform.
Explore other cashback bonuses on our P2P lending cashback bonus page.
Lenndy Risk and Return
As with any P2P platform, you should be well informed about the types of loans you are funding. Lenndy lists loans from three loan originators:
According to the loan originators' financial reports, all of the non-banking loan providers were profitable in 2018. We could not get our hands on the financial reports from Lenndy, however, the customer support ensured us that the reports are in preparation.
Lenndy primarily lists business loans, however, as we write our Lenndy review, the majority of loans are personal loans from First Finance and Daily Credit.
While most of the loans are secured by the buyback guarantee provided by the loan originator, according to Lenndy, some of the loans are also secured by additional collateral (i.e car loans).
All loans listed on Lenndy are only funded a maximum amount of 95%, as the loan originators have at least 5% invested from their own capital. In the P2P world, we refer to this as 'Skin in the game' which is a very small portion.
Is Lenndy Safe?
Before you sign up to Lenndy, we suggest doing your own due diligence. Lenndy's website isn't up to date as they are currently rebuilding it for almost a year now. As we write our Lenndy review, we could not access Lenndy's terms and conditions, which is why we reached out to the website to ask for these documents. Find all the important documents in PDF format here.
Who Runs the Company?
Lenndy is led by CEO and Founder Donatas Satkauskas. According to his LinkedIn profile, Donatas is also a member of the Lithuanian Lending and Crowdfunding Association.
According to Lenndy, the platform is owned by four private Lithuanians. Unfortunately, Lenndy hasn't shared any names and we could not find them during our research.
Are There Any Suspicious Terms & Conditions?
Are you aware of the terms and conditions you accept when investing on P2P platforms? We know that many investors don't read the T&Cs before signing, and we don't blame them! We've done all the legwork and gone through Lenndy's terms with a fine-tooth comb to make sure you're aware of anything suspicious-looking.
Here's what we found:
To What Extent Does Lenndy Perform Due Diligence?

"The Operator" (Lenndy) does not perform any due diligence on the borrowers and it's not liable for any information provided by the "Primary Creditor" (loan originator). As you can see the extent of the company's due diligence in section 45 of the company's terms; due diligence includes checking whether the loan originator is an established company and whether it is being sued for bankruptcy.
If this is all Lenndy's doing, it certainly increases the risk of your investment. Every operator should monitor their loan originators' performance on a regular basis. We'd expect that P2P lending sites completed far greater due diligence than simply checking their loan originators are 'established' companies that are not being sued for bankruptcy.
Are Funds Stored in Segregated Bank Accounts?
Lenndy is very clear about the fact that the operator is not the owner of your money and that all your funds are stored in segregated bank accounts.
This is overall positive as if anything should happen to the platform, you should be able to access your funds as those are separated from the company's accounts.
Do Investors Have Access to Loan Agreements?

In section 60 of Lenndy's terms and conditions, you will find that every purchase of a claim comes with a separate agreement (certificate)
This gives you better legal control of your investments as you have a legally binding document directly with the borrower. It also means that you hold the claim against the borrower and not the platform, which is only the facilitator of the transaction.
What Happens if the Loan Originator Goes Out Of Business?

According to clause 73, if the primary operator goes out of business, Lenndy will step in and distribute the payments directly to the investors.
Can Investors Sell Their Claims?

Investors have the right to sell their current claims. Lenndy charges a 5% fee for early withdrawals. Additionally, it can take up to 30 days to sell your claim. Note that you cannot sell claim rights from loans that are delayed.
Although this limits your options to withdraw your money, overall this is a good strategy for Lenndy to avoid a potential bank run as well as liquidity problems. There are other platforms that you can use, which allow you to withdraw money instantly.
Is Lenndy Liable for Any Losses?

Investors should be aware that Lenndy does not provide any investment advice or legal services. If you invest your money on Lenndy, you are fully responsible for any potential loss.
This is a standard clause that you will find on any P2P lending platform. Never invest any money you're not willing to lose.
Are These Terms Set in Stone?
Lenndy is one of the only platforms that reserves the right to amend the terms and conditions at any time without the user's consent.

Lenndy claims that by logging into your Lenndy account, you accept all changes to the terms and conditions. This is risky as unless users check the T&Cs every time they log on to their account, they're essentially unknowingly signing possible changes that affect the safety of their money.
While Lenndy's terms and conditions follow a standard template, used by many other platforms, there are a few clauses that we are suspicious of. You should certainly keep these potentially worrying terms in mind before signing up and investing on Lenndy.
You can find the full terms and conditions as well as the auto invest agreement here.
Curious about what else we look at when conducting our research?
With our ✅ workbook, you will be able to spot red flags 🚩 and protect your investment.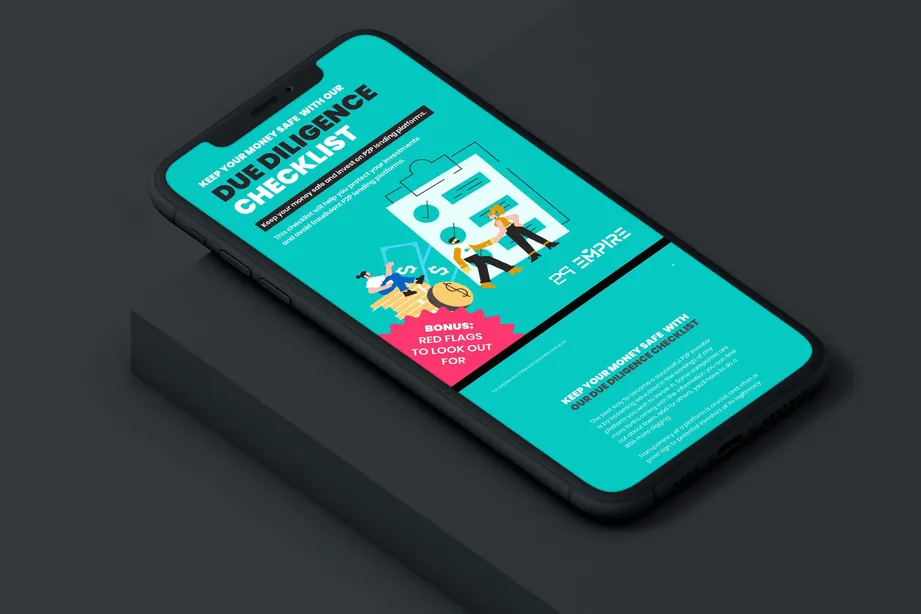 Protect Your Money!
Potential Red Flags
Lenndy reserves the right to amend terms and conditions without prior consent (users should review any changes prior login into the platform)
Lenndy is facing internal system errors which is why new registration of investors is temporarily suspended
Learn more about possible red flags here.
Curious about other platforms? Head over to our ⚖️ P2P lending platform comparison to get a quick overview of the currently available platforms.
Lenndy's Usability
Lenndy's website is very straightforward. You can invest in loans manually or use the auto invest tool.
Manual Investing
If you have already read our other P2P platform reviews, you'll know we're not big fans of investing in personal loans manually. Investing manually can, however, make sense if you're just starting out with P2P lending, as Lenndy gives users the option to view more details about individual loans.
New to P2P lending? Learn how to choose your first P2P lending platform.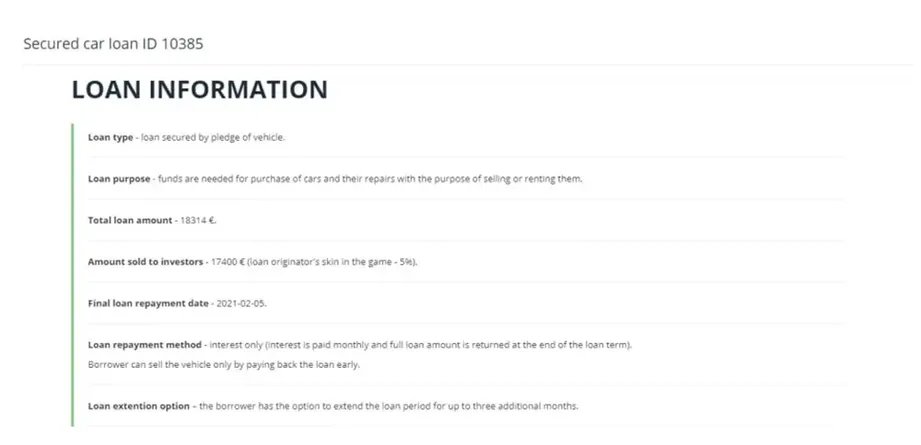 You should certainly have a look at the loan details as some of the loans are repaid at the end of the loan term, while, with others, you'll receive interest as well as loan repayments every month. For certain loans, the borrower might also extend the loan term, which might harm your liquidity.
Learn more about why we don't like the option of loan extensions, in the next section.
Auto Invest
Nowadays, every P2P platform that offers personal loans has an automated investment tool in place. Lenndy is no exception.
You can set up several criteria and Lenndy will take over the diversification of your funds.
As we write this Lenndy review, there are only loans with an interest of 12% and 13%, and loan terms of 11-47 months.
The interest rates match the rates of similar P2P lending platforms like Swaper or Viventor. The loan term, however, is something investors should keep in mind. When it comes to personal loans, we prefer to invest in short-term loans as this helps to keep the funds more liquid.
Lenndy's Liquidity
As you might have noticed already, Lenndy is not the best choice for investors who need quick access to their money.
Currently, Lenndy allows users to sell their claims (in cases where it's not delayed) back to the operator for a 5% fee. Simply initiate the sale by hitting the sell button on a particular loan. Note that it can take up to 30 days until your claim is sold back.
Also, if you invest in loans that can be extended by the borrower, you might need to wait even longer until you can withdraw your funds.
The only way to withdraw money without any losses is to wait until the end of the loan term. If you invest in loans that are repaid every month, you might be able to access some of your investments earlier.
Note, however, that there is no option to filter those loans within the auto invest tool. You can only choose them while investing manually.
If you want to have the option to exit your investments earlier than the end of the loan term, we suggest looking into platforms that offer a secondary market. You might also want to have a look at Mintos' Invest and Access or Bondora's Go and Grow, which allows you to sell the most of your investments instantly.
Lenndy's Customer Support
Customer support is important for those just starting out with P2P lending. Lenndy's customer support is not the fastest or most helpful. It can take a few days to receive a reply. When we had questions about the site, we reached out to Lenndy twice before we heard back from them, and even then their answers were no longer than one sentence.
While some P2P platforms' customer support teams can be disappointing, others have really impressed us. When we requested additional information from PeerBerry, we received an entire interview that you can read in our PeerBerry review.
If you're looking for good customer support, consider investing on EstateGuru or PeerBerry.
Lenndy Review Summary
Lenndy offers investment opportunities in personal loans with a loan period of 11-46 months and average interest of around 12% per year. Most of the loans are secured by a buyback guarantee.
While Lenndy offers the possibility to automate your investments, the overall user experience is not as good as the average P2P lending platform.
Lenndy might be suitable for investors who want to diversify across loan originators that can't be found on other P2P lending platforms. There is, however, a lot of room for improvement when it comes to the user experience and transparency of Lenndy's data.
Due to the lack of transparency and issues with Lenndy's internal systems, we don't recommend this P2P platform.
Prefer to explore other P2P platforms instead?
Compare Platforms
FAQs
What's the minimum investment amount on Lenndy?
You can start investing in Lenndy with as little as €10.
How is my investment secured?
Your investment on Lenndy is secured by a buyback guarantee. Some of the loans on Lenndy are also backed by additional collateral.
Is there a secondary market?
Currently, there is no secondary market on Lenndy, however, you can sell your claims back to the loan originator for a 5% fee. This is only valid for current loans and it can take up to 30 days.
Does Lenndy offer a referral bonus?
Investors that sign up with our exclusive referral link and invest at least €100 will receive a €10 cashback bonus.