Hodlnaut has halted withdrawals
The crypto lending platform Hodlnaut has informed its users that the company will be halting withdrawals, token swaps, and deposits immediately due to the current market conditions from 8/8/2022.
Hodlnaut Review
Hodlnaut is a Singapore-based crypto lending company offering the opportunity to earn interest on five different cryptocurrencies and stable coins weekly, trade coins, and get crypto loans. In this in-depth review, we'll be looking at the various features of Hodlnaut to see how it compares to other crypto lending platforms and whether it's a safe and lucrative space to earn passive income.
Hodlnaut in Numbers
After launching in 2019, the platform that started with just 100 users has multiplied its user base over ten times in the last year alone and currently has over 10,000 users.
Along with the growing user base, the assets under management are multiplying too, with over $500,000,000 total invested.
As with many other crypto lending platforms, there is not a lot of financial data publicly available, and Hodlnaut does not have a dedicated statistics page.
The company currently employs 38 employees from its Singapore office. Hodlnaut is available for users in most countries worldwide, including the U.S.
Hodlnaut Requirements
Here are some requirements you will need to fulfill to use Hodlnaut's crypto interest account.
Be over 18 years old
Have a valid email address
Complete KYC verification process
Although Hodlnaut is available in most countries worldwide, including the U.S., the platform is not available for residents from the following countries: Iran, North Korea, Sudan, South Sudan, Syria, Cuba, or any other countries that the Sanction Authority specifies.
Hodlnaut&rsquo's KYC process is rigorous and requires much personal information. While this can irritate a user, it's reassuring that the platform goes to such lengths to ensure users are genuine.
This process requires passport verification, a live photo or video, proof of address, and other personal information. Identity verification is done over the phone by the legitimate verification service, Jumio.
Risk and Return
Before we go over the individual risk and returns of Hodlnaut, you should be aware that depositing your assets on any crypto lending platform comes with the chance that risks may arise.
Any governmental deposit scheme does not insure deposits, and you should not treat any crypto lending platform account as a savings account.
What Does Hodlnaut Insurance Cover?
Hodlnaut does not have its insurance paid for by the platform. Instead, it allows users to purchase insurance for their assets at an additional cost through its partner, Nexus Mutual.
This custody cover allows users to claim in the event of Hodlnaut being hacked; however, users can only claim on this insurance if over 10% of their assets are lost or in the case that Hodlnaut suspends withdrawals for more than 90 days.
The cost of this insurance is individual for each user and depends on the number of assets a user has and the length of time they want protection from the cover. The cover is only payable by ETH or DAI.
How Does Hodlnaut Make Money?
Hodlnaut makes a profit by lending your crypto to institutions within the financial sector and charging them interest on it.
The interest rates are calculated based on the supply and demand of the tokens and consider the market rates.
Users' crypto assets are also lent to decentralized protocols. Hodlnaut keeps part of the interest charged in both cases to turn a profit and passes the rest on to the users.
You should be aware that Hodlnaut does engage in rehypothecation, which can be risky for users, as once your assets are under their management, the platform can use them for whichever purposes they choose.
Is Hodlnaut Regulated?
Being a Singapore-based lending platform, Hodlnaut operates under Singapore Law and currently has an exemption from holding a license under the Payment Service Act.
The platform has applied for a Major Payment Institution license which falls under the Payment Services Act from the MAS (Monetary Authority of Singapore) and is waiting for it to be approved.
Hodlnaut announced its withdrawal from the MAS regulation as the company suspended all withdrawals on 8/8/2022.
It's worth noting that the MAS has recently rejected over 100 crypto-related license requests.
Keep in mind that Hodlnaut has two legal entities, one in Hong Kong and the second one in Singapore.
How Is Hodlnaut Secured?
Several features are in place to ensure the security of users' funds. To prevent hacking, Hodlnaut uses 2FA.
For users' wallets, funds are stored in multi-signature wallets, which means transfers are not authorized without verification from at least two parties.
BitGo, a leading security company for digital assets, provides wallet protection, and Hodlnaut also allows address allowlisting, which lets users set a list of approved withdrawal addresses.
Once set up, you can only make withdrawals to the allowed addresses. The platform's primary custodian is Fireblocks which protects your assets by ensuring that your deposits are spread out over offline cold storage wallets and online hot wallets. That way, the total amount of assets belonging to you is never stored in the same place simultaneously.
The platform runs on secure Amazon Web Services cloud infrastructure. There are also algorithms in place to protect users' passwords.
Institutions applying for a loan from Hodlnaut need to pass a credit score check and the platforms' requirements to ensure defaults don't happen; however, strict contracts approved by Singapore regulations do allow Hodlnaut to recover lost funds 'by any means necessary.
To lower the risk of collateral, Hodlnaut ensures there would be enough collateral to repurchase lost funds in liquidation by offering a loan-to-value ratio of 25-70%.
However, if a default happens, you will be repaid from Hodlnaut's equity funds, and the platform will accept the loss.
Is Hodlnaut Safe?
The location and team behind a platform give a lot of insight into the trustworthiness of a company, so it is worth finding out as much as possible about the founder and other leading team members and the regulations of the country where the platform operates from.
Who leads the team?
Juntao Zhu and Simon Lee co-founded Hodlnaut in 2019.
Juntao is also the CEO of the platform, while Simon is the CTO. Hodlnaut isn't the first company that the two have co-founded together.
The pair also co-founded the tech consulting firm, Cypherol and were both involved in the capital firm Antler, as entrepreneurs in residence.
It is through Antler that they secured the funding to start Hodlnaut. The team has increased exponentially over the past 12 months as the platform goes from strength to strength, increasing from 10 to 38 employees.
The team is also expanding, as we've seen on their LinkedIn page that the company is currently recruiting.
Where is Hodlnaut based?
Hodlnaut operates from Singapore. Since China tightened its' restrictions on crypto-based activity, Singapore has become a popular place for fintech startups due to its' government support campaign, which is set to invest $225 million over five years into fintech development.
As well as this, the Monetary Authority of Singapore provides a regulatory sandbox for fintech companies to experiment with products and services within a well-defined period. Singapore is home to over 400 fintech startups.
Are there any suspicious terms and conditions?
Terms of use
Hodlnaut can update the terms of service without alerting users, which is not in your best interest.

Withdrawals
Suppose Hodlnaut were to be the victim of a cyber attack, experience extreme market conditions, or other operational or technical difficulties which halt deposits and withdrawals. In that case, Hodlnaut isn't responsible for any losses to the user because of this.

Taxes
Remember that earnings from crypto interest accounts are not exempt from paying tax. You must declare all of your profits to your appropriate tax enforcing body.

Use of users' assets
Once you have deposited your assets, Hodlnaut can distribute them however they choose. You can also lose your rights regarding your assets once Hodlnaut has them.

Potential red flags
Hodlnaut may change the terms and conditions without prior notice.
According to this case study, Hodlnaut isn't honest about its yield-generating activities, including the in-kind reward system as well as its exposure to Anchor protocol.
What's Our Opinion Of Hodlnaut?
Hodlnaut is impossible to ignore due to its growth.
While the lack of financial data is frustrating for users wanting to do their due diligence, it is a common trait of crypto lending platforms to be less transparent than P2P lending platforms.
Judging by Hodlnaut's decision to list UST in April, the platform is following rather opportunistic risk management, which increases your risk of losing your deposits on the platform.
Hodlnaut's management refused to join our P2P talks to discuss the platform's business model.
Usability
As of August 8th, 2022, Hodlnaut has suspended most of the platform's features.
There are six supported assets currently available on Hodlnaut, which you can see below.
Earn interest on BTC, DAI, ETH, USCD, USDT, WBTC
Hodlnaut also offers crypto loans, although these are only available for institutional investors rather than individuals.
These institutional investors can use the crypto loans for their business needs or to diversify their crypto portfolios.
For those financial institutions that qualify, the minimum borrowing amount is $50,000.
The user can choose whether they want an open term loan agreement or a 3+ month fixed term agreement.
The loan-to-value ratio varies significantly, starting at 25% and reaching as high as 100%. There are no hidden fees, and Hodlnaut offers the lowest market rates.
Exchange & Swaps
Hodlnaut has the option for users to swap tokens on the platform.
Hodlnaut has also recently introduced the "Market Order Execution" feature. The function of this feature is to increase the success rate of token swaps, especially in cases where the market is volatile.
It enables users to guarantee a swap but doesn't guarantee a price, so it is on the user to monitor the market and choose to trade when the price is just right.
When the user has decided the time is right to trade, the Market Order Execution feature will secure the market's best price available at that time.
This new function was introduced to reduce the amount of failed orders that users were experiencing on the platform when trying to swap tokens.
You can withdraw your funds at any time, and Hodlnaut claims to process withdrawals almost instantly; however, the team advises it can take longer (up to 7 days), depending on the size of your withdrawal.
You will need to enable 2FA to withdraw your funds. The maximum withdrawal limit is 100 BTC per day.
The below image shows the withdrawal fees for each supported asset.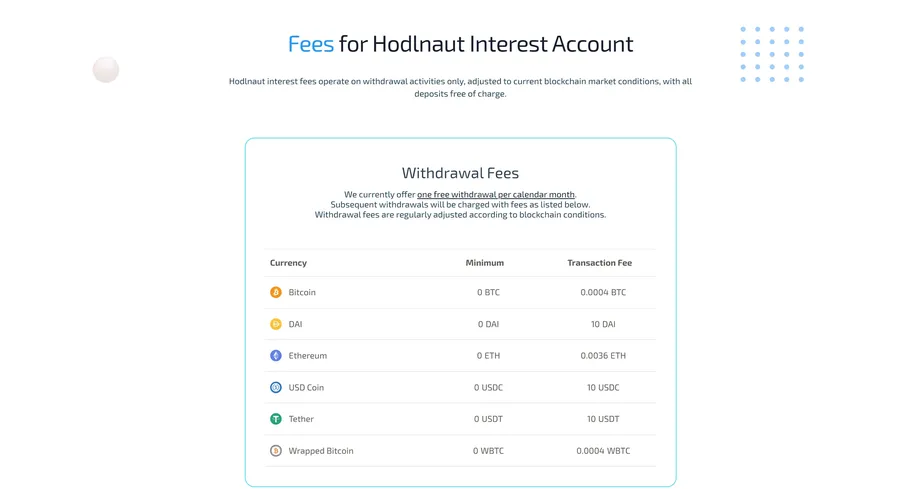 Support
Hodlnaut does have a live chat option available; however, it is not available round the clock.
Aside from this, users can raise a ticket from within their account, and Hodlnaut will solve it within 24 hours, or there is an email address available to contact, info@hodlnaut.com. Hodlnaut support operates from 10 am-7 pm Monday-Friday GMT +8.
Hodlnaut Review Summary
Hodlnaut is an up-and-coming player in the crypto lending space. The platform doesn't provide any insights into its business model, which increases the risks for investors to earn yield on their crypto deposits.
Key takeaways from our Hodlnaut review:
Questionable business model
Competitive interest rates
No useless utility token
If you are looking for an alternative crypto interest account from a platform that isn't following any known shady practices, we suggest trying out some other alternatives.
FAQs
How does Hodlnaut work?
Hodlnaut is a fintech company that allows users to earn interest on and swap cryptocurrencies. Institutional investors can also get crypto loans.
How safe is Hodlnaut?
All crypto platforms come with a risk; however, Hodlnaut employs several features to ensure the safety of your funds, including 2FA, multi-signature wallets, and address whitelisting.
Where is Hodlnaut located?
Hodlnaut is based in Hong Kong and Singapore.