Disclaimer
We have stopped monitoring Flender, some information in this review might be outdated.
Flender Review
Flender is an Irish peer-to-peer (P2P) lending platform. The lending site lists loans from small and medium-sized Irish businesses and investors can earn, on average, 9.9% per year in interest. The minimum investment amount starts at €50 per loan and loans have an average duration of 36 months. Read our Flender review below to find out why its currently not a recommended platform.
⭐ Learn more about our rating criteria
📧 Stay up to date with our newsletter
Flender in Numbers
Flender does not have a dedicated page for its statistics, which is why we reached out to the platform and requested any information we couldn't find on their site. Here is what we found out:
Flender was founded in 2017. Since then, the platform has attracted 5,000 investors, who have earned a combined value of over €2 million in interest.
In total, Flender, has helped finance loans worth more than €24 million. The current average portfolio size is precisely €3,119.
Flender does not provide a buyback guarantee for their loans. As a result, investors have lost 2.38% of the active portfolios with Flender. Investors should, therefore, take a default rate of at least 2% - 3.% into account when investing.
Flender Referral Code
Flender does offer dedicated referral codes and bonuses for new investors. Due to the poor performance of projects listed on Flender as well as the rather low transparency of the platform, you should avoid any cashback bonuses as this can cause a significant loss of your invested funds.
Navigate to our P2P lending cashback bonus page to redeem a bonus on more legitimate platforms.
Flender's New User Requirements
If you are over 18 years old and have a valid passport or ID, it's likely you'll be able to register on Flender and get great annual returns of 9.9%.
New User Requirements
You must have a valid bank account for which you can provide a bank statement so that Flender can proceed with your withdrawals. We suggest using N26 bank or Revolut. You can also get a Wise account, but when doing this, make sure you get an IBAN number and open the account in your name. For more info, read our Wise card review.
You can top up your account balance with a bank transfer. The process is very simple: just copy the bank details on Flender's website and add the deposit amount and reference ID. The transfer should take no longer than three business days.
Flender is one of the few P2P lending platforms that allows users to top up their accounts using a credit or debit card (specifically, Visa or Mastercard). Note, however, that Flender charges a small fee of €0.10 for use of this service.
Flender's bank accounts are registered in Estonia with the LHV Bank. Apparently, the LHV bank can provide much better technical support than many other banks, which is why Flender does not cooperate with a local bank.
Flender Risk and Return
Assessing Loan Types
When investing in P2P loans, you should be aware of the type of loan you're investing in, the risks involved and the securities you're entitled to as an investor. Flender investors invest in loans for small and medium-sized Irish enterprises and these loans are usually used to expand their operations.
Most of the time, you can find Flender loans with a loan term of 36 months. You can start investing in Flender loans from €50. Usually, loans are less than €60,000. In 2019, investors earned on average 9.9% in interest.
Generally speaking, lower loan volumes result in a lower risk, but, this lower risk doesn't come without its downsides: it can also cause additional cash drag as the loans are quickly funded by over 5,000 investors.
According to Flender, all business loans are secured with their director's personal guarantee and a security deposit.
Before Flender accepts and lists a project on their website, the platform completes thorough due diligence on the borrower.
Similar to traditional lending institutions, the credit team at Flender evaluates each borrower in detail, looking at its affordability and creditworthiness. Flender also analyses credit information obtained from Credit Safe and Stubbs Gazette, along with a detailed cash flow and VAT return analysis. That's at least the statement from Flender.
If a borrower fails to repay its debt, Flender has a debt recovery program with a third-party collection agency in place.
Flender takes the following into consideration when assessing new projects: affordability, liquidity, equity, business age, directors' experience, and credit history. Then the platform assesses all credit applications, grading them graded between A+ and V.

Flender has been previously regulated by the Financial Conduct Authority, as the platform also offered its services in the UK.
Flender, however, discontinued its plans to expand to the UK market due to Brexit which is the reason why Flender let its FCA license expire.
Additionally, all of the investor's money is stored in segregated bank accounts.
Is Flender Safe?
Thinking of signing up to Flender?
We strongly recommend looking beyond any information on the platform's website and instead conduct your own due diligence before signing up with any platforms, including Flender. The need to thoroughly understand a company is even greater since the negative events with Kuetzal and Envestio.
We have done our research about Flender and this is what we have found:
Who Runs the Company?
When completing due diligence, it's important you look at senior staff members. Flender was co-founded by the company's CEO Kristjan Koik. According to his LinkedIn profile, Kristjan has founded several companies (including Doclink and Instacouch) and has more than 11 years of experience when it comes to founding and leading digital platforms.
We cannot comment on Kristjan's previous projects as both company websites are no longer active.
One member of our investor community pointed out that Mr. Koik was taken down from the Flender "About Us" page which suggests that he is no longer with Flender.
When researching Kristjan, we found several encouraging interviews that date back to 2017, and we didn't find anything suspicious that potential and current investors should be concerned about.
Philip Grant, a former KPMG accountant, and Jeremy Davies-Betancourt who is Flender's co-founder and CFO, are also part of Kristjan's executive team.
We haven't found the exact information about the legal owners of Flender, however, according to this website, Nkk Finance Ltd is the largest company shareholder. The terms and conditions on Flender's website also support this information.
Are There Any Suspicious Terms & Conditions?
Do you ever bother reading a company's T&Cs word for word before ticking that little box?
No? Don't worry, you're not alone. In fact, most investors don't read a P2P platform's terms and conditions before accepting them and signing up. But, at risk of sounding like your mother, reading the terms is an important part of the due diligence process and something that every investor should do.
Why? Because sometimes the terms and conditions include suspicious clauses that weaken the protection of investors' money.
In order to provide the best value for our users, we've analyzed Flender's T&Cs. Flender's terms and conditions are quite brief, in comparison to other European P2P platforms. Here's what we found:
Flender distances themselves from any liability arising from new terms and conditions.

Flender reserves the right to use, edit, publish, republish, translate and distribute users' details as they wish. This rings alarm bells for us, as, according to GDPR regulations, use of information like this requires active consent from the user. Flender did not share with us how they might distribute such data.

Lender Agreement
Flender's terms and conditions often refer to the actual lender agreement, which users accept when signing up on the platform. We are certain that 99% of the investors don't read this agreement, so, again, we've done it for you...
Let's have a look at whether we found any suspicious clauses you should be aware of:
The most important part to understand about this contract is that Flender is simply a platform operator and that the company is not part of any loan agreement.

You should also know that Flender is not liable for any losses that might occur as a result of your investing on the platform. This is a standard clause that is being used by all the P2P lending platforms.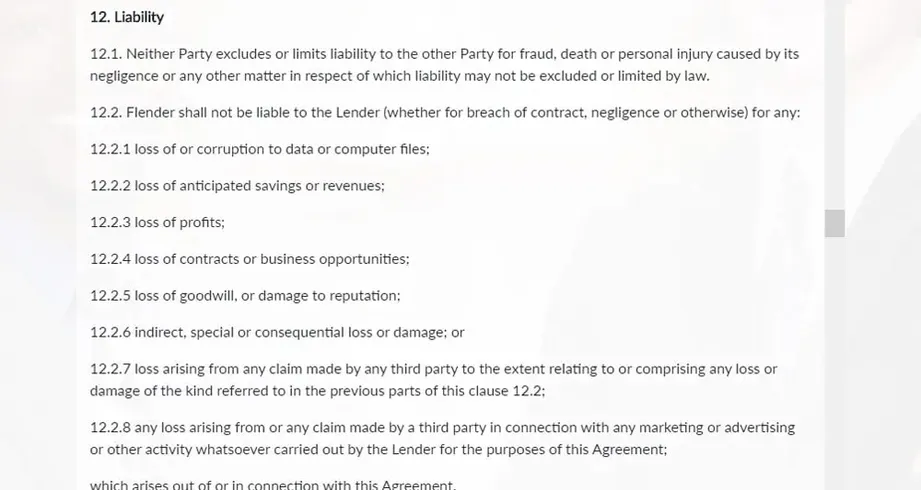 In section 5.1.3, Flender reserves the right to charge an interest margin. It's important to note that this margin will be deducted from the borrower and not the investor.

Apart from the clauses mentioned above, we have spotted one more irregularity in section 1.4.12 of the lender agreement, where Flender stated that lenders must be Irish residents.
We told Flender about this error and they acknowledged our comment and refreshed this section accordingly. It now states that investors from all over Europe are eligible to invest on Flender.
Other than the above-mentioned clauses, we haven't found anything that we think it's wholly necessary investors are aware of. As you know, the platform doesn't take responsibility for any losses resulting from investments, but this is a common thread with all P2P investments.
You can read the entire lender agreement here. Note that the file is only available for registered users.
Curious about what else we look at when conducting our research?
With our ✅ workbook, you will be able to spot red flags 🚩 and protect your investment.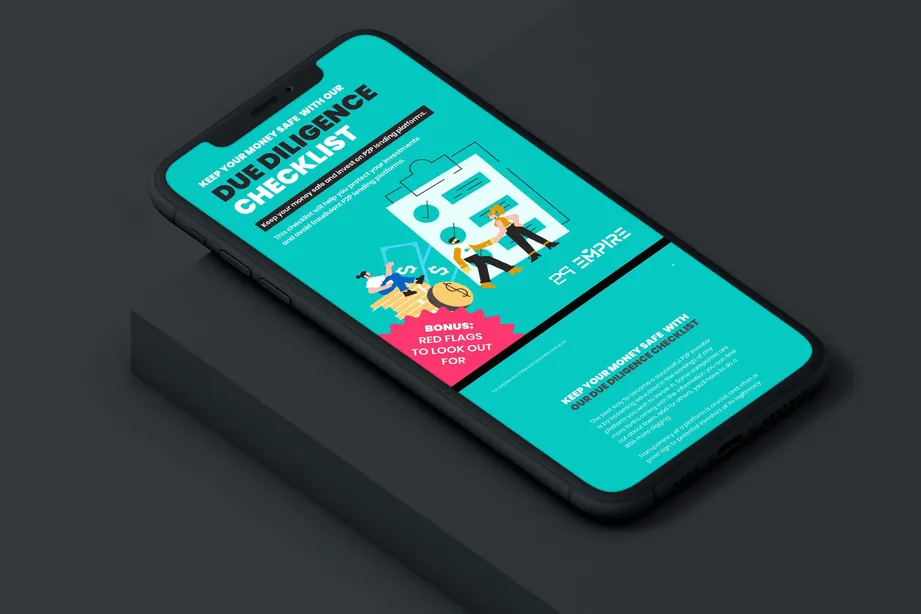 Protect Your Money!
Potential Red Flags
Flender can amend the terms and conditions without prior notice
Business accounts aren't in the country where the company is legally registered
Frequent changes in the management
Learn more about possible red flags here.
Curious about other platforms? Head over to our ⚖️ P2P lending platform comparison to get a quick overview of the currently available platforms.
Flender's Usability
Flender's platform is very easy to use, potentially because there aren't many features, which makes it easy to navigate.
The most important section of the site is their marketplace, where you can view the current investment offers.
As you can see, Flender usually funds projects worth no more than €60,000, which isn't the case on platforms like on the platform's website, and instead of that you conduct your own due diligence before signing up with any platforms, including Flender. The need to thoroughly understand a company is even greater since the recent negative events with Kuetzal and Crowdestor that typically fund projects worth over €100,000.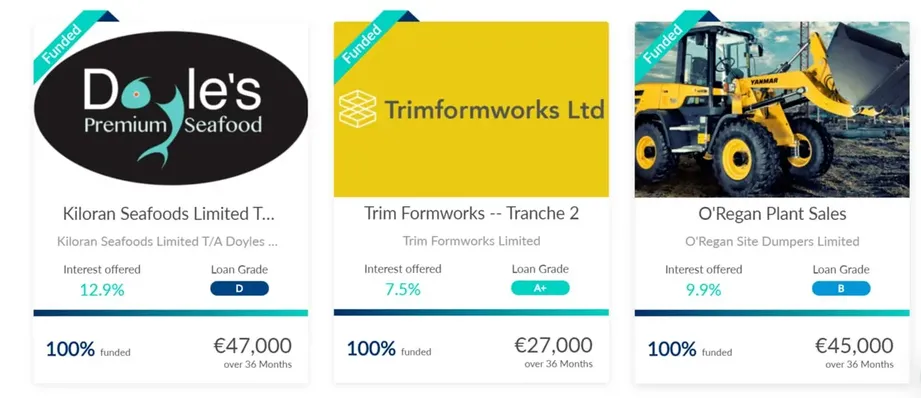 Within the marketplace, you can also see the interest as well as the loan grade. As described above, the loan grade represents Flender's credit rating. Most of the projects listed on Flender have a loan duration of 36 months.
Due to the lack of communication from Flender, their ability to access the risk of investments is questionable.
Flender AutoFlend
If you have ever used platforms such as PeerBerry, Debitum Network, or Mintos, you're probably aware of their auto invest tools. Flender also has its own auto invest feature called AutoFlend.
Investors use AutoFlend to automate and diversify their Flender investment portfolio. It also helps you to minimize cash drag.
There are three basic settings that you should pay attention to.
1. AutoFlend RiskGrading
Investors can use AutoFlend RishGrading settings to set up their loan grade, duration, and max. amount of funds you wish to invest. As Flender isn't known for the greatest availability of investment opportunities, we suggest diversifying as broadly as possible.

2. AutoFlend Cashback
The AutoFlend Cashback gives users the potential to adjust their automated investments so that it also invests in cashback offers. Sometimes, Flender offers a cashback bonus for certain projects. With this option, the AutoFlend invests a certain amount of funds into those offers, which helps to increase users' returns.

3. AutoFlend Option
If users want to make the most out of the compound interest effect, we suggest they re-invest their returns.
Apart from the above-mentioned features, Flender also supplies a transaction report, income statement, and a portfolio overview.
Considering users are investing in peer-to-business (P2B) loans, there isn't a need for more features, apart from the secondary market, which we will cover in the next section of our Flender review.

Flender's Liquidity
Looking for quick and easy access to your funds? Unfortunately, Flender's liquidity might disappoint you.
If you wish to invest in loans for small and medium businesses, you will need to wait until the end of the loan term to withdraw all your investments.
With Flender, you will receive monthly payments, consisting of the repayment of the loan amount and the interest. Once a month, you have the option to withdraw your uninvested funds or reinvest your returns.
If liquidity is a priority for you, we suggest investing in short-term loans on websites like PeerBerry, Swaper or Robocash. Currently, there are only two platforms that support instant withdrawals. You can read more about them in our Mintos and Bondora reviews.
Flender Customer Support
Flender's customer support is not the fastest we've come across during our research of P2P lending sites. The response time is typically several days.
Flender Review Summary
Flender is a suitable P2P platform for investors who want to invest in the Irish real estate industry. The average interest on Flender is, however, lower as on other similar P2B platforms. Your investments on Flender are also not backed by a mortgage which increases your risk of default.
Main takeaways from our Flender review:
Lack of communication
Not secured by a mortgage
Investments in the Irish real estate properties
Highest cashback bonus
Before signing up, we suggest having a look at Flender's marketplace to make sure that there are real estate projects available. At the end of the day, you want to invest your capital. Uninvested funds won't earn you any income.
Due to the lack of transparency and the change of management, we don't recommend readers to invest on Flender.
Prefer to explore other P2P platforms instead?
Compare Platforms
FAQs
What is the Minimum Investment Amount on Flender?
The minimum investment amount in a single business loan on Flender is currently €50.
How is My Investment Secured?
There is no provision fund or any buyback guarantee on Flender. Your investment is often protected by industry-leading underwritings or the personal guarantee of the borrower.
How Does Flender Compare to Similar P2P Lending Platforms?
When compared with Crowdestor, Flender offers lower interest rates and weaker protection over investments.
Can I Withdraw My Investments Anytime?
You have one opportunity per month to withdraw your uninvested funds, however, Flender does not offer a secondary market or any options to liquidate your investments before the end of the loan term.