Fellow Finance Review
Fellow Finance stopped offering investment opportunities in loans as the platform has merged with a bank.
📧 Stay up to date with our newsletter
Fellow Finance in Numbers
As an investor, your goal is to keep your money safe, and this means you should be doing your research before making investments.
The best way to start your research is by briefly looking at the company's numbers. Why? Because recently-founded P2P platforms might struggle with cash drag or customer support.
Fellow Finance managed to attract over 17,000 investors, mainly from Finland and Sweden. The platform's investor base in Germany is growing rapidly as well.
According to the latest audited annual report, Fellow Finance made a net profit of €94 359 in 2020. Keep in mind that the risk of your investment is primarily connected to the performance of the loan book.
Fellow Finance Promo Code
When investing in new P2P lending platforms, it's common for investors to be offered promo codes and special bonuses. Fellow Finance, unfortunately, does not offer any bonus, promo codes, or cashback for new or existing investors. If this is a make or break for you, check back in a couple of months to see if there has been any progress here.
In the meantime, make sure you use our EstateGuru referral code or PeerBerry referral code. Both companies offer a 0.5% cashback bonus for new investors.
Compare other offers
Fellow Finance's New User Requirements
In order to sign up and invest on Fellow Finance, you need to be over 18 years old and reside within Europe.
While these are the only user requirements, the sign-up process isn't as straightforward as it is on platforms like TWINO and PeerBerry.
Read our TWINO review and PeerBerry review to get familiar with those platforms.
Signing Up
On Fellow Finance, you need to provide your national tax identification number as well as a copy of your ID and a signed user contract.
In order to set up your account, you also need to verify your email and type in a security question. Last but not least, Fellow Finance will request a lot of information about your financial situation as the platform abides by the Know-Your-Customer rules.
Gathering the vast amount of data that Fellow Finance does ensures the signup process is pretty laborious. No other P2P lending platform collects this much information about its investors.
Depositing Funds
After completing the registration, you can deposit money via bank transfer (regular SEPA payments) or using money transfer services like Trusty. It's worth noting that SEPA transfers are free whereas you'll need to pay a fee when transferring money with Trustly. The benefit of using Trustly is that the funds will be added to your account immediately, while a SEPA transfer usually takes a few days.
Risk and Return
When searching for the P2P lending platform for you, it's crucial that you become familiar with the risks involved with each one.
Unsecured Personal Loans
When investing on Fellow Finance, you are investing in unsecured personal loans. While the platform claims that you can also invest in business loans, we have recently noticed that the availability of this type of loan is very poor.
No Protection Scheme
P2P lending marketplaces implement different protection schemes, and some don't have any at all. Unfortunately, Fellow Finance is in the latter category.
With no protection scheme in place, the only way to minimize the risk of your Fellow Finance portfolio is to diversify as much as possible and hope that there are enough borrowers who pay back the loan. Needless to say, this is risky.
In the inevitable case that one of your loan repayments is delayed by more than 90 days, you can sell it to a debt collector and expect returns of 30-50% of the outstanding balance.
Direct Contact with Borrower
Similar to its Estonian competitor Bondora, Fellow Finance is the originator of the loans listed on their platform. The company, therefore, has direct contact with its borrowers, which can benefit investors who are dealing with delayed payments.

Available Loans
Fellow Finance lists loans ranging from 14-55% interest per year. Of course, however, higher-yielding investment opportunities usually come with a higher risk, and most of the loans on Fellow Finance are from borrowers with a very low credit score. Investing in those loans will certainly increase the risk of your P2P portfolio.
Returns
Fellow Finance claims an average return of 7-10% per year. We've learned from experience, however, that these historical metrics shouldn't influence investors' decisions to sign up, as they're not necessarily representative of future rates.
Fellow Finance claims an average return of 7-10% per year. We've learned from experience, however, that these historical metrics shouldn't influence investors' decisions to sign up, as they're not necessarily representative of future rates.
Is Fellow Finance Safe?
The only way to protect your investment on Fellow Finance is to diversify your portfolio. The P2P lending platform allows you to invest in Denmark, Finland, Germany, Sweden and Poland. The platform's range of countries improves your diversification efforts but doesn't guarantee any expected returns.
Curious about how to conduct your own research?
With our ✅ workbook, you will be able to spot red flags 🚩 and protect your investment.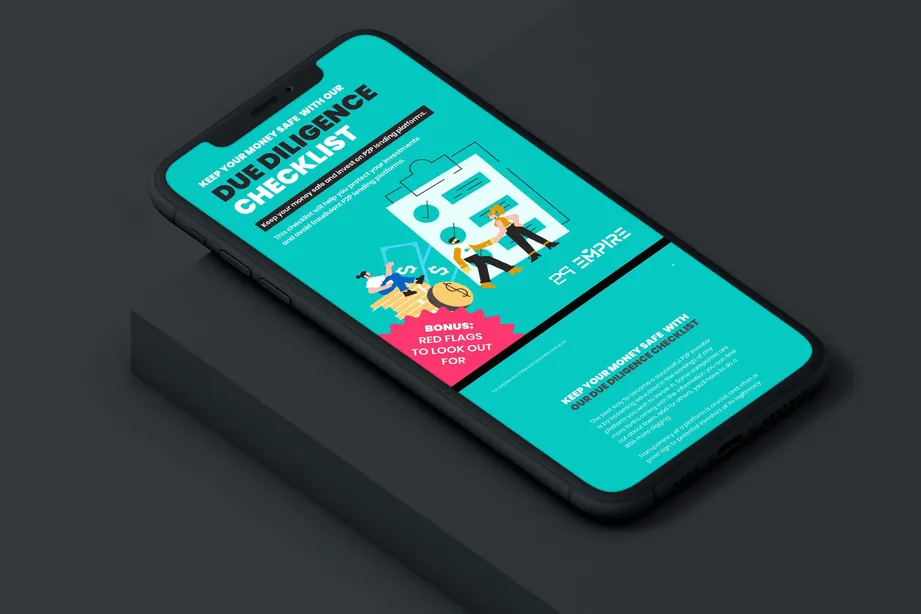 Protect Your Money!
Usability
As a P2P investor, you want to invest on a platform that's transparent, easy to use, and intuitive. You also want to be able to use features that will help automate and protect your investments.
Manual Investing
Fellow Finance gives you the opportunity to invest in loans manually, giving you greater control over your investments. Manual investing does come with disadvantages, however, as investors spend more time analyzing and hand-picking loans. Most platforms offer investors the opportunity to set up automated investment strategies, which invest automatically based on their preferences.
Automated Investing
Fellow Finance gives its investors the option to do this with their Loan Allocator tool. This tool allows investors to define key characteristics like credit rating, interest rate, country, duration, and loan amount. We were pretty impressed by the tool's functionalities!
While the sign-up process isn't the most user-friendly, Fellow Finance provides investors with basic features that help automate their investments.
Liquidity
Liquidity is becoming more and more important among P2P investors. While all investors should look into liquidity rates, this is particularly crucial for those using P2P lending as a form of short-term investment.
Secondary Market
Fellow Finance offers users the option to buy and sell their investments on the secondary market. This is the only way to withdraw your money before the end of the investment period.
This is often dangerous territory as selling your investments on the secondary market is only possible if other investors are willing to purchase them. Most investors that trade on the secondary market sell their investments for a discounted price, which fundamentally lowers the net returns.
If high liquidity is important to you, we suggest using tools such as Bondora's Go and Grow or Mintos' Invest and Access, which allow you to access most of your funds immediately.
Customer Support
You can reach out to Fellow Finance's customer support team during weekdays from 9:00 to 17:00 EET time. Email them at invstorservice@fellowfinance.com or give them a call on +358757568603
You can also get in touch with the team via social media networks like Facebook or Twitter.
Fellow Finance Review Summary
Fellow Finance might be a good alternative for many investors who aren't familiar with other P2P lending platforms and want to diversify their portfolios.
The P2P lending platform offers investors diversification options across five countries and helps users automate their investments and increase the liquidity of their portfolios.
The risk and returns ratio isn't, however, as good as it is on many other P2P lending platforms. For example, platforms like Mintos and PeerBerry, which list very similar loans with stable returns of over 10% per year. Additionally, most P2P lending platforms that list personal loans also offer a buyback guarantee, which isn't the case with Fellow Finance.
While this platform could be a possible alternative as a secondary platform, there are also other choices that you should look into before investing on Fellow Finance.
Compare Platforms
FAQs
What's the minimum investment amount on Fellow Finance?
The minimum investment amount on Fellow Finance is €10 per loan. Thanks to the low investment amount, you can achieve very good diversification without needing to invest much capital.
Does Fellow Finance suffer from cash drag?
We are yet to notice any cash drag issues, but for the most reliable and up-to-date answer to this question, check Fellow Finance's availability of loans.
How is my investment secured on Fellow Finance?
Fellow Finance does not offer any protection schemes. There is no buyback guarantee on Fellow Finance. The only strategy to minimize the risk of default is to diversify your P2P portfolio.
Does Fellow Finance have an Auto Invest tool?
Fellow Finance has an Auto Invest feature called Loan Allocator. This tool helps investors automate their investments based on their preferences. Find out more about this feature in the usability section of the Fellow Finance review above.