BlockFi Review
BlockFi is a U.S.-based crypto lending platform that allows you to earn up to 8.6% APY on your cryptocurrency as well as borrow money, for attractive rates. In this in-depth BlockFi review you will learn about all the features that BlockFi is offering and how to create a passive income by lending your crypto to others.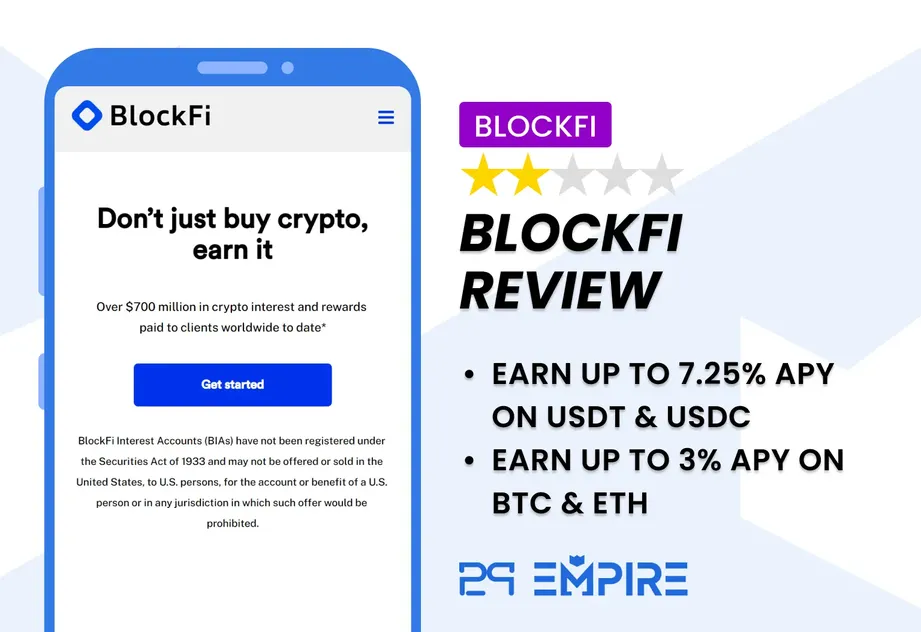 ⭐ Learn more about our rating criteria
📧 Stay up to date with our newsletter
Not available for U.S. clients
Following the $100 Million fine that BlockFi had to pay to the U.S. regulators, the platform has stopped offering its crypto interest account for newly registered users from the United States. Whether and when BlockFi will be offering its interest-bearing account for U.S. clients again is unclear. Users that are not located in the U.S. remain earning yield on their crypto holdings.
BlockFi in Numbers
When reviewing any crypto lending platform, you should always have a look at their statistics. It's the perfect place to learn more about their track record as well as the performance of the platform.
The bitcoin lending platform BlockFi doesn't have a dedicated statistics page which means that you won't be able to learn much about BlockFi's performance.
According to TechCrunch, the company employs 530 employees and is making $50M in monthly revenue.
BlockFi Referral Code
Like Celsius Network, BlockFi also offers a BlockFi referral code which will give you $10 in BTC. In order to get this BlockFi bonus, you will need to use our BlockFi link, create your account, and deposit at least $100 worth of coins to your BlockFi wallet. The referral bonus will be paid out to you on the second Friday of every month.
In order to claim your bitcoin bonus, you can either use our referral link or type in the BlockFi referral code 23dba237 during the signup process.
Ready to lend your crypto on BlockFi? Get 10$ worth of BTC for free by investing in BlockFi.
BlockFi Requirements
In order to sign up and deposit crypto on BlockFi, you will need to fulfill the following requirements:
Be over 18 years old
Accept the terms and conditions
Accept the SMS policy
Pass the KYC questionnaire
During the sign up you will be requested to verify your identity and submit additional documents, such as a photo of your ID as well as information about your residential address and phone number.
Ready to earn interest on your crypto?
Risk and Return
When lending your crypto on any crypto lending platform, you should always be aware of certain risks.
The crypto lending space is full of scams which is why you should always conduct your own research and inform yourself about the terms and conditions of any platform that you consider investing in.
What does BlockFi's insurance cover?
BlockFi's custodian, Gemini, offers insurance that covers even hot wallets of up to $100M. Note, however, that your funds on BlockFi aren't protected by any deposit protection scheme from the FDIC or SIPC.
When depositing your crypto on BlockFi, your coins will be deployed which means that BlockFi lends your money to borrowers in exchange for interest payments. These funds aren't insured but your investment is backed by cryptoassets.
How does BlockFi make money?
BlockFi makes money after every second withdrawal per month. The first withdrawal is free, however, afterward, you will need to pay a withdrawal fee. In addition to that, BlockFi also makes money with their exchange tool as there's a significant spread between the rates, when compared to rates on Coinbase.
BlockFi also makes money from the difference between the APR that is being paid by the borrower as well as the APY which is the yield paid to the lender (you).
The crypto lending platform is also planning to launch a bitcoin rewards credit card which will create another stream of income for BlockFi.
Is BlockFi regulated?
BlockFi is licensed and regulated in almost all U.S. states which makes it the most compliant crypto lending platform in the U.S. You can learn more about all their lending and money transmitter licenses on BlockFi's website.
Counterparty Risk - How is BlockFi secured?
The risk that a crypto lending platform won't fulfill the obligations towards its depositors is likely the biggest concern in the crypto lending space, so let's have a look at how BlockFi protects your crypto.
In order to protect your account against misuse, BlockFi offers a 2FA as well as Allowlisting. Allowlisting ensures that your cryptocurrency in your BlockFi account can only be sent to known withdrawal addresses which you can set up in your BlockFi account.
BlockFi does inform you that they use encryption and best practices in order to minimize any potential data leaks. Past events showed, however, that BlockFi was vulnerable as hackers were able to retrieve personal information as well as the account activity of close to half of BlockFi's users in May 2020.
Borrower Risk - How is your investment secured?
As with any crypto lending platform, your deposit is secured by cryptoassets of the borrowers. If the borrower doesn't repay the debt, BlockFi may liquidate the cryptoassets to repay the loan.
Every borrower that gets a loan from BlockFi needs to deposit cryptocurrency worth at least twice as much as the loan amount. Borrowers from the U.S. may borrow a minimum amount of $5,000 for at least 12 months for an APR of 9.75% and LTV of 50%.
Note that BlockFi also charges a 2% origination fee to the borrowers.
In the case where the collateral value drops to an LTV of 70%, BlockFi will initiate a margin call and request that the borrower adds additional collateral or repays the loan. The borrower will have 72 hours to react otherwise BlockFi may liquidate the collateral when it reaches an LTV of 80%.
As your deposits are protected by liquid collateral, the borrower risk on regulated crypto lending platforms like BlockFi is rather small.
Do you enjoy this review? Show your support and invite us for a coffee ☕
Your Return on BlockFi
Your return on BlockFi depends on the cryptocurrency or stablecoin which you deposit on your BlockFi wallet.
BlockFi currently offers 11 coins on which you can earn yields. For BTC and ETH, the interest varies based on the number of your coins deposited in your BlockFi account.
Note that BlockFi allows you to deposit one coin and earn interest in another coin. This is a nice feature if you want to earn interest in a stable currency such as the USDC or USDT stablecoins.
BlockFi doesn't change its rates weekly like Celsius Network does, however, the platform does adapt the APY on a regular basis, which is why you should pay close attention to the changes as this may have an impact on your yields.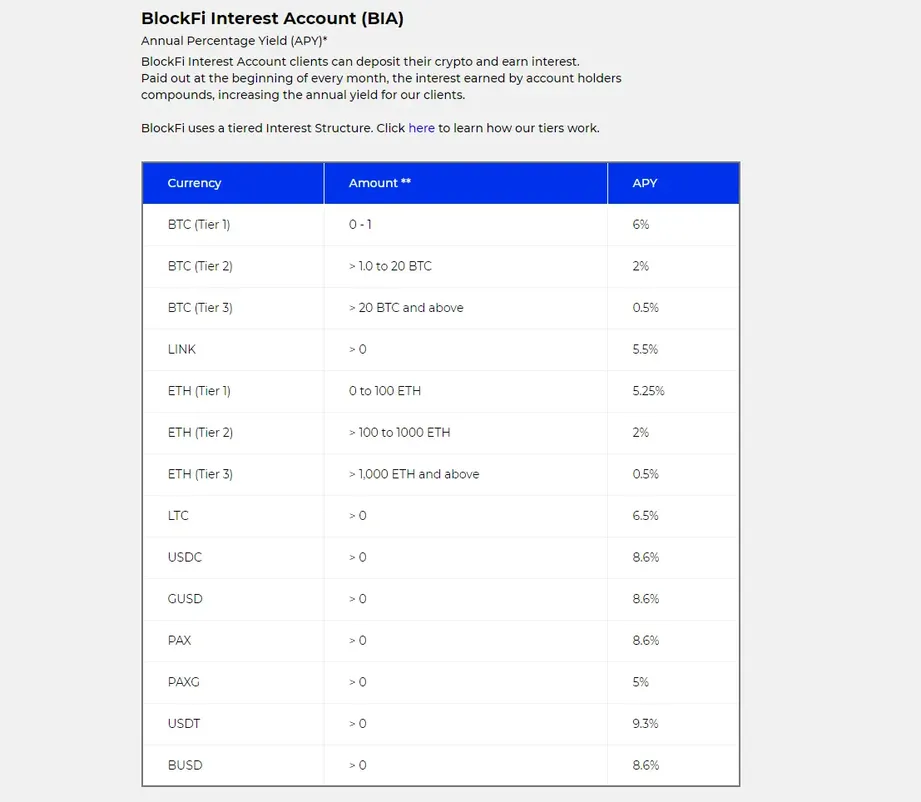 Please be aware that by transferring your crypto to BlockFi you will pay transaction fees for the blockchain which may be quite significant. It's possible that you may need to deposit a larger amount as otherwise, it will take several months to earn back the fees from the transaction.
Is BlockFi Safe?
When reviewing any bitcoin lending platform, you should always do your own research about the management and read the terms and conditions to fully understand your rights on a dedicated crypto lending platform.
Who leads the team?
BlockFi was founded in 2017 by Zac Prince and Flori Marquez. Zac has previously worked in business development and sales while Flori brings experience from asset management.
Where is BlockFi based?
BlockFi is a New Jersey-based startup based in Jersey City. The crypto lending platform has just recently raised $350M in the Series D at a $3B valuation to support the growth of the project.
Are there any suspicious terms and conditions?
Any responsible investor should always be fully aware of the terms and conditions of the services he or she is using. Let's review some of BlockFi's terms to inform you about your rights when lending crypto on BlockFi.
Not your keys, not your coins
The most important term you should be familiar with is that by depositing your cryptoassets, they will be replaced with an obligation to return the same amount of that crypto plus interest earned.
In short, you are no longer the owner of your cryptos as BlockFi holds your private keys. They will lend the money to borrowers in exchange for interest.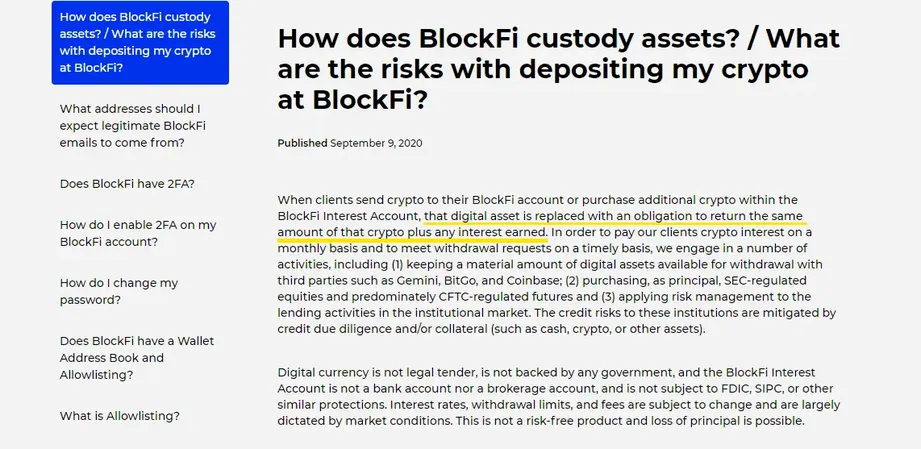 In the case, where you want to liquidate your crypto as you anticipate a drop in the value of your digital assets, you won't be able to as the withdrawal from BlockFi may take a couple of days.
If you are looking for a safe way to store your cryptocurrency, we can recommend 🔒 which is the hardware wallet we use to protect our crypto assets.
You should know that BlockFi may restrict access to your BlockFi account at any time without any notice.

BlockFi Amendments

BlockFi reserves the right to amend the terms and conditions at any time without notice which isn't in your best interest.
BlockFi Taxes

Any income from BlockFi or other crypto lending platforms is taxable, which means that you need to declare it in your declaration and report it to the IRS.
Disclosure

As with any P2P lending platform, none of the offered services shall be seen as investment advice. There is always the risk that you might lose your funds. You alone are responsible for your investments which means you bear the default risk.
If you want to safely store your crypto we recommend using 🔒 which is the best and most affordable way to keep your crypto safe.
Be smart & keep your cryptos safe with Trezor.
Curious about what else we look at when conducting our research?
With our ✅ workbook you will be able to spot red flags 🚩 and protect your investment.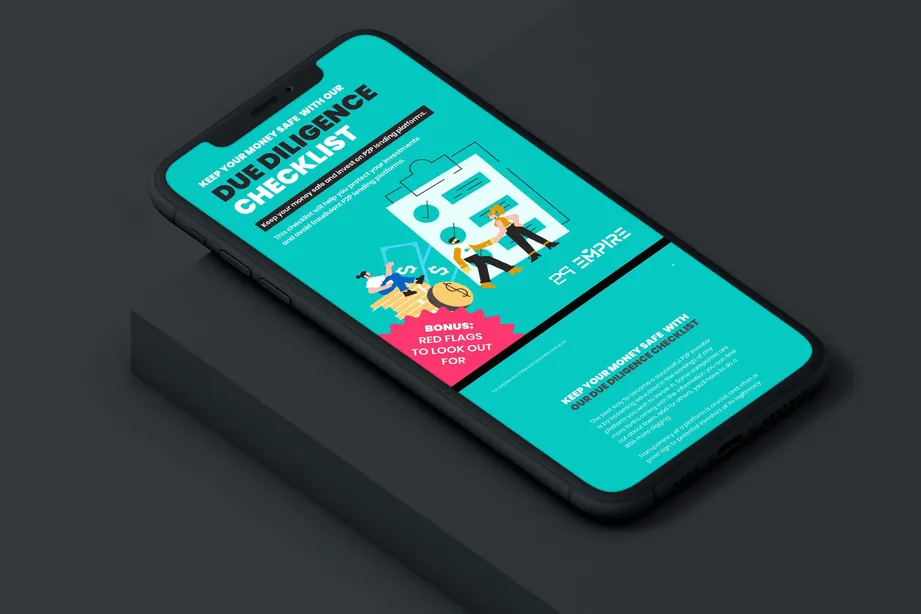 Protect Your Money!
Potential Red Flags
BlockFi may amend the terms and conditions without any notice
BlockFi may block your access to your account
Curious about other platforms? Head over to our ⚖️ P2P lending platform comparison to get a quick overview of the currently available platforms.
What's Our Opinion On BlockFi?
BlockFi is an interesting crypto lending platform, particularly for U.S. users as they are allowed to also borrow money for attractive rates.
The platform is compliant with many regulations in the U.S. which is unusual for a crypto lending platform. This significantly increases the trustworthiness of BlockFi.
On the other hand, the supported coins are rather limited and the offered yield is comparatively small to other players in the crypto lending market.
BlockFi charges a withdrawal fee after your one free withdrawal per month. In addition to that, the platform also charges a 2% origination fee if you want to borrow money, which is rather steep in our opinion.
If you are from the U.S. BlockFi is likely a good choice for you if you also plan to borrow money. If you are only interested in lending your crypto, Celsius Network might be a better option. Always compare the rates of the crypto lending platforms on your coins before you start lending your crypto assets to others.
Ready to earn interest with BlockFi?
Usability
Your experience with BlockFi relies heavily on the user-friendly features the platform has to offer.
Before you start depositing your coins, you should check whether your coins are even supported on BlockFi. Every crypto lending platform supports the most popular coins, however, if you are interested in earning interest on some of the more exotic stablecoins, BlockFi might not be the best fit for you.
Here are the supported cryptos and coins on BlockFi.
| Earn interest on | Borrow in |
| --- | --- |
| BTC, LINK, ETH, LTC, USDC, GUSD, PAX, PAXG, USDT, BUSD | USD |
As you can see, BlockFi doesn't support as many coins as other platforms. Also, you won't be happy with BlockFi if you plan to borrow coins instead of fiat.
What's worth noting is that the interest on your deposits is paid out monthly.
Exchange
BlockFi is one of the crypto lending platforms that allow you to trade your coins. The rates aren't amazing, but it could be a lifesaver in case you need to act quickly and liquidate your assets before the value of the cryptos drop.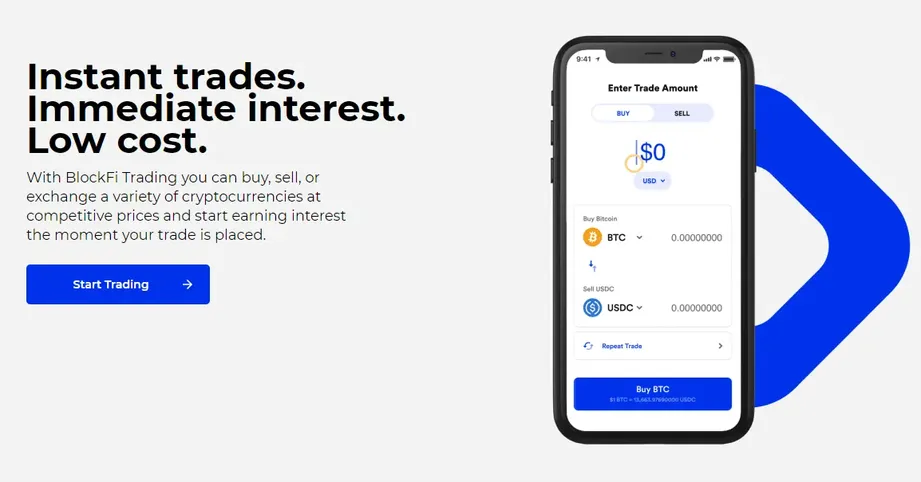 If you are not from the U.S. and prefer to invest in a more developed platform head over to our YouHodler review to learn about a suitable BlockFi alternative.
How Fast Can You Withdraw Your Money?
BlockFi allows you to request a withdrawal anytime. Like any other crypto interest account, BlockFi reserves the right to take a few days to process your request. Typically the withdrawals take up to three business days. Note, that BlockFi will charge you fees for your withdrawals if you have reached the free monthly withdrawal limits.
Support
BlockFi has a dedicated Help center that will solve most of the common problems you might encounter.
However, if you require a live chat session, you shouldn't get your hopes up. The platform doesn't offer a live chat function which means that you need to send them an email to support @blockfi.com.
BlockFi Review Summary
BlockFi is certainly an interesting crypto lending platform for U.S.-based investors. The terms are transparent and comprehensive which is rather rare within the crypto lending sector. If your goal is to borrow fiat and lend your coins, BlockFi is a suitable platform where you can earn yields of up to 8% APY.
Key Takeaways from our BlockFi Review:
Transparent terms and conditions
Higher fees
Regulated platform
Easy to use
If you decide to use BlockFi, you should transfer a higher deposit amount as the transaction fee for lower amounts is too high. New users that use our BlockFi referral link are eligible to receive $10 worth of BTC for free.
Ready to lend your crypto?
Or explore other crypto lending platforms.
FAQs
Is BlockFi a custodian?
BlockFi is not the custodian of your coins. Your cryptos are stored with Gemini which is the entity that stores the crypto.
Is BlockFi legitimate?
BlockFi is a regulated and licensed crypto lending platform in the U.S. which makes it one of the most legitimate platforms where you can earn interest on stablecoins and crypto.
Has BlockFi been hacked?
BlockFi was hacked in May 2020 and the hackers were able to access the personal information of half of BlockFi's users. None of the depositors lost funds during this attack.
Can you buy Bitcoin on BlockFi?
BlockFi allows you to buy USD stablecoins and exchange this digital asset into bitcoin with the help of BlockFi's exchange.