Robocash Bonus
Robocash offers a 1% cashback bonus for all newly registered investors that use the referral code: abUZ. This bonus will be calculated from your average investment amount during the first 30 days from your registration on Robocash. Note that this bonus is valid only for newly registered users.
It is not required to type in any special Robocash referral code, as long as you sign up on Robocash with our unique partner link.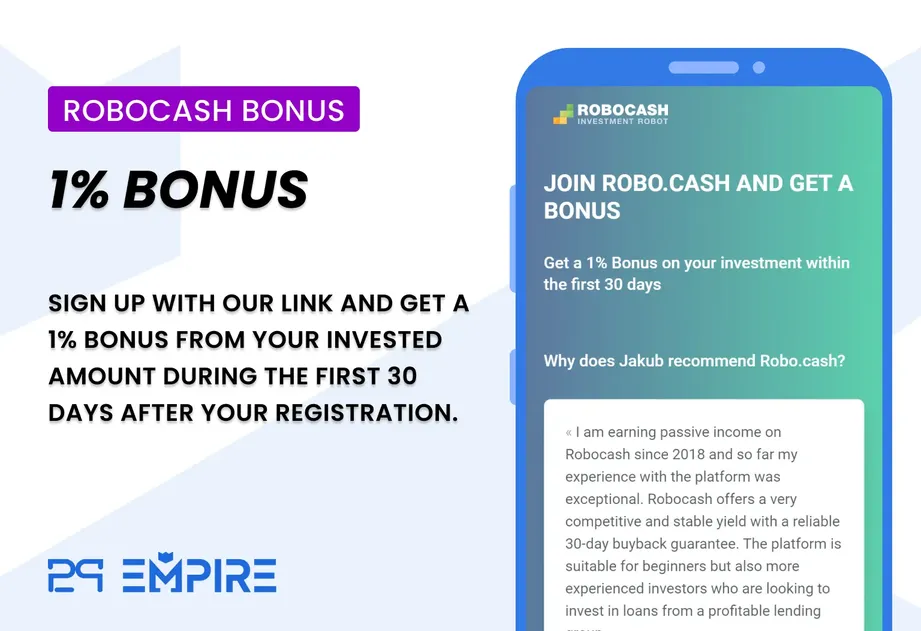 Ready to redeem your Robocash bonus?
| | |
| --- | --- |
| 🤑 Robocash Referral Code | Claim Bonus |
| 🎁 Bonus for new investors: | 1% (only with a referral code) |
| ⌛ Bonus period: | 30 days |
| 💰 Bonus for loyal investors: | 0.5% - 1% |
Robocash Bonus for New Investors
The Robocash bonus for new investors will be calculated from your investment amount after the first 30 days from your registration. The more money you invest, the higher the bonus amount.
How to redeem this bonus?
First, you need to sign up on Robocash and type in the referral code during your registration.
Next, verify your identity and confirm your email address.
After you have successfully passed the KYC (know-your-client) form and verified your email address, you can deposit money to your virtual Robocash account. Make sure that you use your dedicated "payment purpose" so Robocash can allocate your deposit.
The transfer of your funds takes typically between one and three business days.
After your funds appear in your investor account, set up your auto invest settings and start investing.
Robocash Bonus for Loyal Investors
Robocash offers four statuses within its loyalty program. Your member status depends on your investment amount.
Here is an overview of Robocash's loyalty program:
| Status | Portfolio size | Bonus |
| --- | --- | --- |
| Bronze | €5,000 - €9,999 | + 0.3% |
| Silver | €10,000 - €14,999 | + 0.5% |
| Gold | €15,000 - €24,999 | + 0.7% |
| Diamond | + €25,000 | + 1% |
| Platinum | + €50,000 | + 1.3% |
In addition to your 1.3% bonus, you will also get a personal assistant and personalized account statements.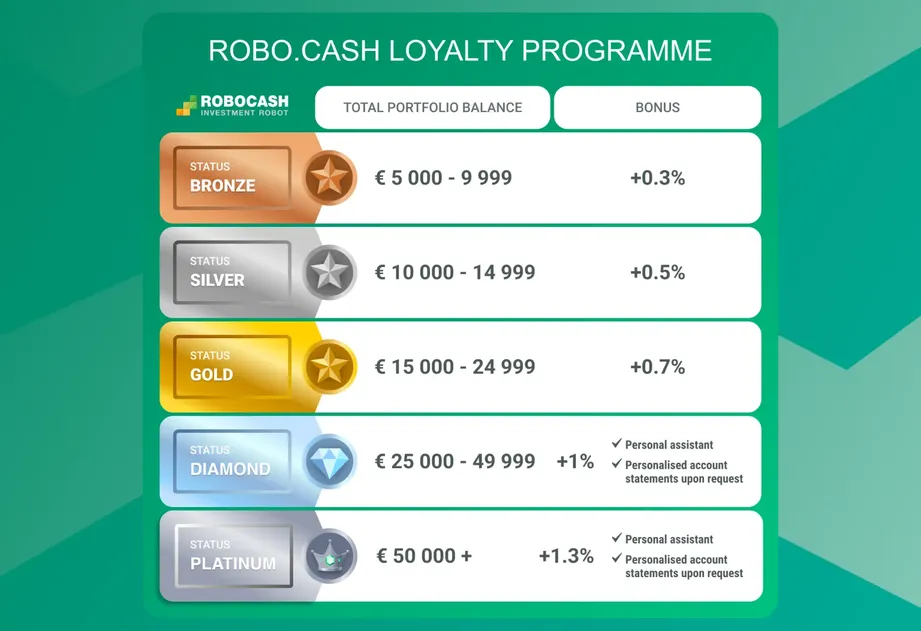 Ready to earn money on Robocash?
Robocash Quick Review
Robocash is one of the most underrated small P2P platforms. The P2P lending platform offers you investments in selected loan originators under the Robocash Group. The financial group applies sustainable lending practices which increase the safety of your investments. To date, none of the investors on Robocash have ever lost any capital. Find out more about Robocash in our Robocash review.
FAQs
Do I need to insert a referral code?
If you want to receive the 1% bonus, you must insert the Robocash referral code during your sign-up process.
I did not receive the bonus, what shall I do?
First, make sure that you have fulfilled all the requirements. The bonus is calculated from your investments and not your deposits. If you haven't received your bonus, please get in touch with Robocash and request additional information.
Do you guarantee that I will get the bonus?
We take our service extremely seriously, which is why P2P Empire is known for up-to-date information, including various bonus offers. We don't guarantee any bonuses, however, we do our best to keep all the information up to date.
What else should I be aware of?
Receiving a cashback bonus from P2P platforms is a great way to increase your returns, note, however, that P2P lending is a risky investment and investors have already lost money on many other P2P lending platforms. You should always conduct your own diligence and make your own research before you start investing in P2P loans.