Wisefund Review
2023OctoberWisefund is a newly founded P2P lending platform that offers investors the opportunity to invest in high-yielding business loans from all over Europe. On average, investors earn 18% interest per year. Wisefund was only launched in 2019; however, since then, it managed to attract more than 2,100 investors. Wisefund has lost the trust of investors as it failed to honor the buyback guarantee.
Wisefund in Numbers
Statistics should be one of the main factors you should evaluate when comparing and reviewing P2P lending platforms. Let's have a look at some of the numbers we have found about Wisefund.
Wisefund does not have a very long track record. It's one of the smallest P2B (peer-to-business) lending platforms in Europe, compared to another market player Crowdestor. Wisefund can be best compared with Monethera, which was also founded in 2019.
Wisefund shares some of the statistics on their website, however, we could not find any information about the average portfolio size, which gave us a good reason to reach out to Wisefund and test their customer support.
Wisefund's support at the beginning of 2020 was very responsive. We have received a reply within just a few hours. This cannot be said about Monethera or Crowdestor. The average portfolio size appears to be larger than on many other platforms such as NEO Finance or Debitum Network.
Since Wisefund was only founded in 2019, there is not much information about their financial situation. You can find some of the revenue-oriented numbers about Wisefund in the Estonian business registry, which we have linked to above.
Wisefund Referral Code
Wisefund does offer a cashback bonus of 0.5%, however, due to the extremely poor performance of the platform, it's recommended to stay away from investing on Wisefund.
Wisefund Requirements
To register and invest on Wisefund, you need to be over 18 years old, reside within the European Economic Area, and hold a European bank account. During the sign-up process, you will need to comply with the Anti-Money-Laundering laws. This means that Wisefund is going to request certain personal information such as phone number, copy of your ID document as well as your country of residence.
In order to successfully complete the registration, you will need to take a photo of your ID document (passport, ID card, residence permit) as well as a selfie with you holding this document.
If you want to invest as a company, we must disappoint you. As we write this Wisefund review, the platform does not offer investment opportunities for legal entities.
After Wisefund verifies your account, you may transfer funds to Wisefund and invest in business loans.
Risk and Return
We at P2P Empire believe that the risk and return ratio is the most important metric. You should evaluate for yourself before committing to a platform. Every platform offers different loan types that come with a variety of risks. Let's have a look at how Wisefund is protecting your investments.
Due Diligence
According to Wisefund, the platform looks at the following criteria when determining whether to list borrower's loans on the platform.
Credit History: Financial reports
Affordability: Enough cash flow to pay back the loan
Stability: Credit check of individual borrowers
Wisefund also evaluates the information of the borrower's financial accounts and bank statements. The platform checks annual accounts for the past 3 years and the operational balance sheets from the last 3, 6, and 9 months.
Wisefund also:
conducts due diligence about the key employees within the company
checks whether the borrower has a tax debt
collects information about the company's assets and liabilities
The platform claims to use the same information as other large financial institutions. Furthermore, Wisefunds business model and legal setup have been confirmed by the Estonian Financial Supervisory Authority.
After the borrower's project has been funded, the borrower reports regularly to the platform on the performance of the project and how the money is being used. You can read about the entire process directly on Wisefund's website.
Collateral
Experienced P2P investors know that a mortgage or any real collateral is much better protection than a buyback guarantee by third parties.
Wisefund aims to secure the investment with additional collateral such as:
mortgage
commercial pledge
stocks
disabling the chance of changing shareholders
personal guarantees
Wisefund funds a variety of projects, and every project has a different risk profile, which is also reflected in the interest that you will earn upon investing in one project.
You should know that not all projects are secured by certain collateral. That's also the reason why you should read the project description and educate yourself about the possible risks.

Note that every type of collateral has a different value. A mortgage is, in most cases, more valuable than stocks or personal guarantees.
Protection Fund by Wisefund
If you have ever invested on P2B platforms such as Grupeer or Crowdestor, you might be familiar with the buyback guarantees and protection funds. Every platform has its own "protection scheme", which is supposed to cover some of the potential losses.
Similar to Crowdestor, Wisefunds puts a certain percentage of their profit into a protection fund, which should be the final and guaranteed protection scheme. The protection fund should cover the legal costs, interest payouts, and other costs connected to loan defaults.
As we write this Wisefund review (January 2020), the protection fund's size is €35,000. We have received this information directly from Wisefund's CEO.
As you can tell, the protection fund should be considered as a tertiary protection layer. It's not meant to cover defaulted loans.
Although Wisefund initially offered a buyback guarantee as well as the option to exit your investments before the end of the investment period, those features have been disabled. According to the latest information from the Wisefund CEO, an early exit option won't be available in the future anymore.
Third-Party-Buyback-Guarantee for Previously Funded Projects
In case you invest in short-term loans on platforms such as PeerBerry, Mintos, or Swaper, you should be aware of the buyback guarantee, provided by the loan originators.
The buyback guarantee on Wisefund up to the end of January 2020 was provided by a third-party company called "Best Treasure Limited" from Hong Kong. We dig a bit deeper to find out more about this company.
We found out that the firm is registered at 2/F, Shui Yee Factory Building, 15 Ash Street, Tai Kok Tsui, Kowloon in Hong Kong. Twenty-four other companies use this address. After a quick Google search, we found out that there is no physical office of the company at this address.
Here is the source of information. Note that we aren't liable for the correctness of the information presented within the article.
We have got our hands on the letter of assurance signed by the Hong Kong company. You can find some information about the content of the agreement as well as the listed projects that are covered by the buyback guarantee.
You should know that the company should repurchase only loans that are delayed for more than 60 days. The buyback guarantee covers only the loan principal up to €250,000 and not the accrued interest.
Additionally, the Hong Kong company also offers an early repurchase guarantee. In this case, the third party will repurchase your investment at a discounted rate (usually 10%) if you request to exit your investment and withdraw your money from Wisefund. Note that the early repurchase guarantee does only apply to certain projects.
You can read the entire document here. Note, however, that this information isn't relevant for new investors anymore, as the buyback guarantee is currently disabled, and there are no plans to allow early exits in the future.
Is the Return Worth the Risk?
Average returns of 18% per year are the main reasons why investors choose to invest in P2B platforms such as Crowdestor, or Wisefund.
Higher returns are, however, always connected to higher risks.
Even though the platforms present a promising protection scheme, you should look at individual projects before investing your money. Many projects don't offer the highest level of protection.

It's your responsibility to conduct your own due diligence and decide for yourself whether to support a project or not.
Is Wisefund Safe?
We care about our readers, which is why we read the terms of conditions of every platform and include our findings in our reviews. Let's have a look at what we have found about Wisefund.
Who Leads the Team?
Wisefund was founded by Olga Bobrowa, who also was the owner of the Wisefund Capital company, which operates the platform. She had several years of experience as a financial analyst across multiple companies within the finance sector.
The CEO of Wisefund is Ingus Linkevics, who was previously active as a developer of the Andromo App Maker, which you can still find in the Google Play Store. As you will find out later in our review, Ingus recently acquired full ownership of the Wisefund platform.
Are There Any Suspicious Terms And Conditions?
We know that reading all the fine print is very time-consuming, which is why we did it for you. Here is what we found:
Clause 5.6
It's good to know that the borrower can pay back the loan principal before the end of the loan period. However, as soon as the project is funded, the borrower needs to pay at least three months of interest, before exiting the loan agreement.

This means that in case the borrower pays back the loan in advance, you as an investor will receive interest for at least the first three months.
Clause 5.9.
If you don't know yet, a project is only successfully funded if it meets its funding target.

This means that you start earning interest after the project is funded and not at the time when you invest your money. In case the loan does not reach the funding limit, investors receive the invested principal back to their investment accounts.
Clause 7.18
In this clause, the P2P platform reserves the right to close the portal.
We asked the CEO under which circumstances the operator can shut down the portal. Here is his reply:
This part means that this is a business venture, it can be stopped, the portal can be stopped, closed, but that clause does not tell that obligations can be stopped or postponed. Wisefund is a business, and as a business, it has its obligations, both, towards investors and borrowers, towards staff, towards partners - a lot of parties involved, obligations that have to be honored as a business.
Clause 8.14
As every P2P lending platform, Wisefund as well is not liable for any losses caused by you investing in various business projects.

At the end of the day, every investor is responsible for their actions. You should never put all of your eggs in one basket. Diversification across different asset classes will help you minimize your potential losses.
Wisefund Interview With CEO Ingus Linkevics
During our background check about Wisefund, we have come across various accusations and some controversial information. We at P2P Empire aim to be as transparent as possible with our readers, which is why we have sent our questions to Wisefund and ask them for a comment.
How long does it take to list the project on the platform?
This really depends on the project, its jurisdiction, how fast the required information is provided, what kind of specialists we have to include during the review, etc.
For different jurisdictions, we have different partners, with the main being in Tallinn (i.e, Glimstedt, Sum and Substance, Triniti, etc).
It really can range from 10 days up to 1 month for complete review and understanding of what follows what (i.e., how certain collateral can be set, how much of a force each of that has etc.).
What percent of the applications get approved and listed on Wisefund?
I cannot say, I don't hold these statistics.
Are there more owners of the platform outside of Olga?
No, there are not. Currently, I (Ingus Linkevics) am the only owner and UBO of Wisefund. See here. Recently, we closed a deal where I acquired full ownership of the business. I am all into it, I believe in its future and see great potential in expanding operations.
How is your debt collection process?
First of all, it's ongoing monitoring of cash flow opportunities and trying to spot the issue early on. Each loan has a strong crowd investor and portal protecting loan agreement (we spend a lot of time and effort developing that agreement), which includes options to request additional guarantees or collateral at any time or request return of the loan.
Anyway, first are demand requests, and if there's no success, the use of existing collateral will be done.
Either it is a commercial pledge on shares or pledge on stock, each process has its own procedures, but we have partners who are ready to act quickly on each case.
Personal guarantees (although they cannot guarantee real money) is the last effort, and usually, people care a lot about their personal fortune and/or future, and having those slightly increases the chance of not having "on purpose" or bad management related delayed payments.
Why do you use an unknown company (Best Treasure Limited) with a virtual address from Hong Kong to cover the buyback guarantee? Do you know who is behind the company and the source of funding?
Yes, I know who is behind it and what business is behind it, and the source of funds is also checked (a requirement by our financial partners as well). By what standards do you put them under the term "unknown company"? Let me know your preference for a buyback guarantee partner, and I will see what I can negotiate.
As of March 2020, there won't be any buyback option for future investments on Wisefund.
Do you do the due diligence process in-house, or do you outsource it to Nord Capital Markets - are there more companies involved?
I don't outsource it to Nord Capital Markets. We had cooperation, but currently, I've chosen other partners. Local attorney at law with 15 years experience in commercial law, Glimstedt from Estonia, for some cases I've used PwC services.
Some part is done in-house, but each jurisdiction has its own small details to be aware of, and I get outsourced reviews and analysis from each of the countries. Still, it depends on the scope of each project. There's not much logic in spending 10K on a review for a 50K project, is there?
How do you differentiate from similar platforms such as Crowdestor or Monethera?
Wisefund's main goal and target for the future is to be a supporter of European businesses, SMEs, and startups that create value, generate new working places, pay taxes, and increase the economy.
Growing value-added businesses are what's driving the economy and overall wealth of countries.
Wisefund is going to be a partner of them. For investors, it's just an opportunity to earn above the average interest rates, and hopefully, do it with the aim to support businesses as well, but let's be honest - higher interest earnings are the driving force for most.
What's the highest LTV of projects funded through Wisefund?
This is actually a very hard question as we haven't yet had any real estate development projects, and for the type of projects, Wisefund has had LTV has a risk to be a BIG subject to change.
Giving out the loan assets held and convertible are 5x over the loan amount, but if not controlled, it can be quickly overturned.
Why does Wisefund use stock photos to present business projects?
Why not? They are good-looking, and it's not uncommon to use those. Big multi-million businesses use those photos, most of the websites are built using stock photos, even news outlets are using stock video footages (just take a closer look at the Latvian reporter tv video) regarding Envestio and Kuetzal - they also used stock video parts in the video, and if you look at advertising videos of businesses - they are created using stock parts.
Multiple top European crowdfunding platforms use stock images and have reached 100M in funded projects despite that. I really don't understand why some don't like the stock photo use. I plan to keep it that way.
Do investors have access to individual loan agreements? If so, where can they find it? Can you provide a template?
Investors have access to individual loan agreements as soon as they verify their profile - in the account, under the documents section. Or use this link after having logged in.
And most importantly, the loan agreement template for each project is available before submitting the final order of investment. There's an open project right now, you can check it yourself.
Our Thoughts About Wisefund's Answers
Note that some of the answers we have implemented throughout more relevant sections of our Wisefund review.
Wisefund managed to address most of our questions.
Investors have access to individual loan agreements.
Using stock photos to present investment projects in comparison to big multi-million news businesses is not relevant as generic news articles cannot be compared with an investment product.
The company should have data about the % of applications that get accepted.
Listing a project within 10 days to 1 month is very fast compared to other real estate platforms (listing a project on EstateGuru usually takes a few months).
It is worrying that crowdfunding platforms can raise €100 M in funding by representing a project with stock photos
We suggest making up your own mind about Wisefund. While we appreciate the transparency, as investors, we are not content with all the answers we have received which is why we have not invested on Wisefund.
Curious about what else we look at when conducting our research?
With our ✅ workbook, you will be able to spot red flags 🚩 and protect your investment.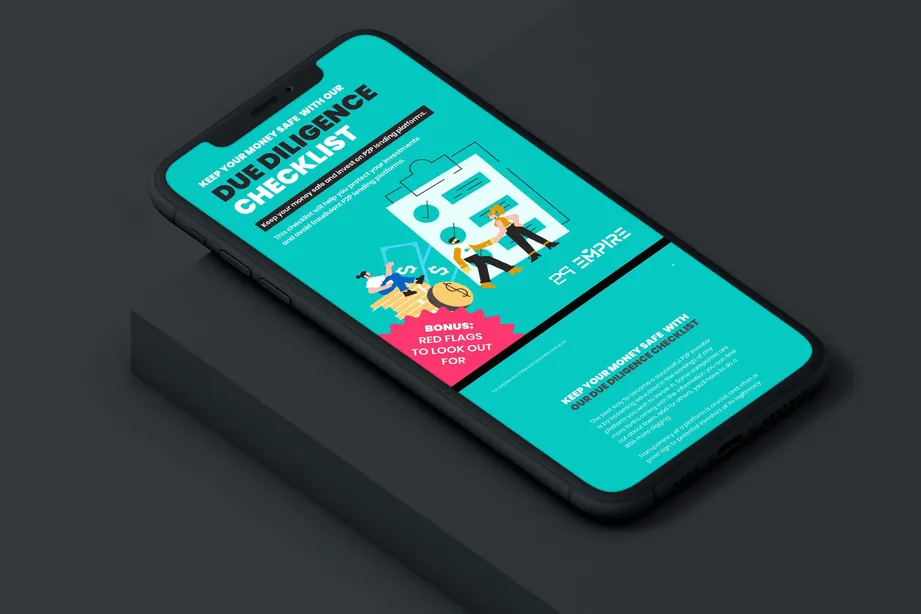 Protect Your Money!
Potential Red Flags
The buyback was offered by a third party from Hong Kong
Buyback and early exit options were suspended
The platform is using stock photos to represent its projects
There's was an active lawsuit against Wisefund
Learn more about possible red flags in our guide about how to avoid investing in P2P lending scams.
Usability
When it comes to the visual appearance of the platform, there isn't much you could complain about.
The platform is built for the sole purpose of manually investing in business projects while tracking your portfolio performance.
Other than that, you won't find any advanced tools or features that would help you to automate your investments.
It's not common for platforms that offer business loans to offer an auto-invest tool, due to the low availability of projects. As we write our Wisefund review, there are only two available projects on the platform.

As you can see, the offered interest is significantly higher on platforms such as Mintos, Bondster, or Profitus. Most of the loans on Wisefund have a maximum loan term of 12 months. As we write this Wisefund review, four of the projects on Wisefund have been successfully repaid.
Project Description
The project description of the business loans listed on Wisefund is similar to what you can find on a platform like Crowdestor. One section of the loan descriptions describes the risks connected to the particular projects. Some of the projects also have a dedicated section about the buyback guarantee. It's certainly worth looking into it before you start investing and evaluate for yourself whether the project is worth your funding.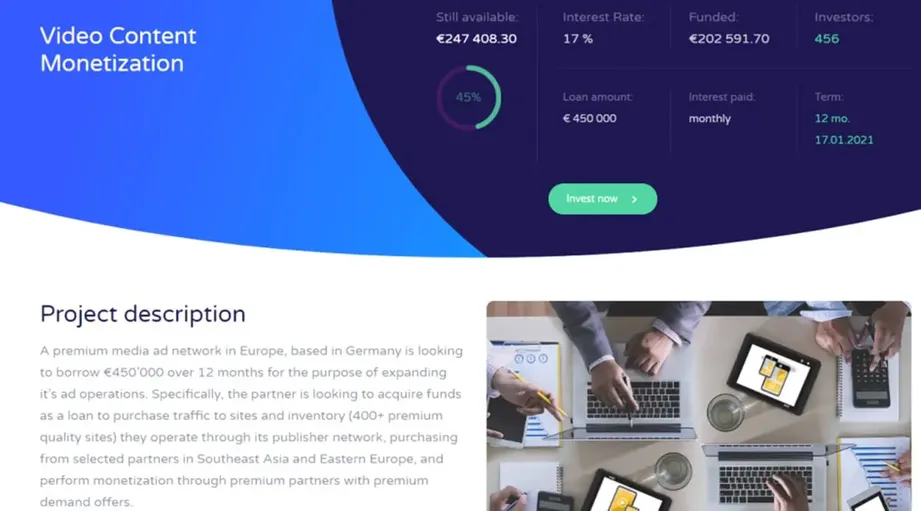 Liquidity
If liquidity is a priority to you, we suggest investing in short-term loans on marketplaces such as Bondster, Mintos, or PeerBerry.
Wisefund does not offer a mechanism for early exits as this was the case in the past. This function has been temporarily disabled to a higher number of investors requesting early withdrawals after the events with Envestio and Kuetzal.
Wisefund just launched its secondary market, where you can buy and sell your investments for a 1% commission fee. Note that in order to sell your investments before the end of the loan term, you need to find a buyer.
According to Wisefund, not all projects will be available for the secondary market. If you wish to sell your claim, you need to sell the entire investment within one project.
Customer Support
Wisefund has a dedicated customer support person. We received an answer to our questions within a few hours. More complex questions were answered within two business days.
If there is something we haven't covered in our Wisefund review, we suggest getting in touch directly with Wisefund. Send your questions to office@wisefund.eu
Wisefund Review Summary
Wisefund has often is a rather controversial P2B platform. We have done our best to address all the delinquent questions.
Investors should bear in mind that Wisefund is a very young platform that is offering a very niche product, which is riskier than investing on a platform with a longer track record and investment projects, backed by a mortgage.
Currently, Wisefund does not manage to attract enough funds which is why projects won't get funded and your money won't be earning any interest.
In addition to that, there is an ongoing lawsuit against this company which suggests that you should not transfer any money to Wisefund.
If you are just starting out with P2P lending, it's good practice to start with platforms that offer higher liquidity, higher protection, and lower returns.
Please note that not all information in this review is up to date or accurate as we don't have active collaboration with this platform.
Ready to compare other options?
Compare Platforms
FAQs
What's the minimum investment amount on Wisefund?
You can start investing in projects on Wisefund from only 10€.
How is my investment protected on Wisefund?
All projects on Wisefund are protected by a commercial pledge or another type of collateral. Find out more information in our Wisefund review.
Does Wisefund offer a promo code?
Wisefund does not offer any promo codes, however, investors that sign up with our referral link will receive a 0.5% cashback bonus.
Does Wisefund offer a secondary market?
Recently, Wisefund launched its secondary market, where you can sell and buy investments. It's a good way to increase the liquidity of your portfolio. Note that any purchase or sell-off on the secondary market comes with a 1% commission fee. Find out more in our Wisefund review.