Haru Invest Referral Code 2022
Use the Haru Invest referral code P2PEMPIRE to get an extra 0.2% Bonus on your interest rate for the Haru Wallet and Haru Earn Plus products. This promo code is only valid for new investors who type in the bonus code during the sign-up process.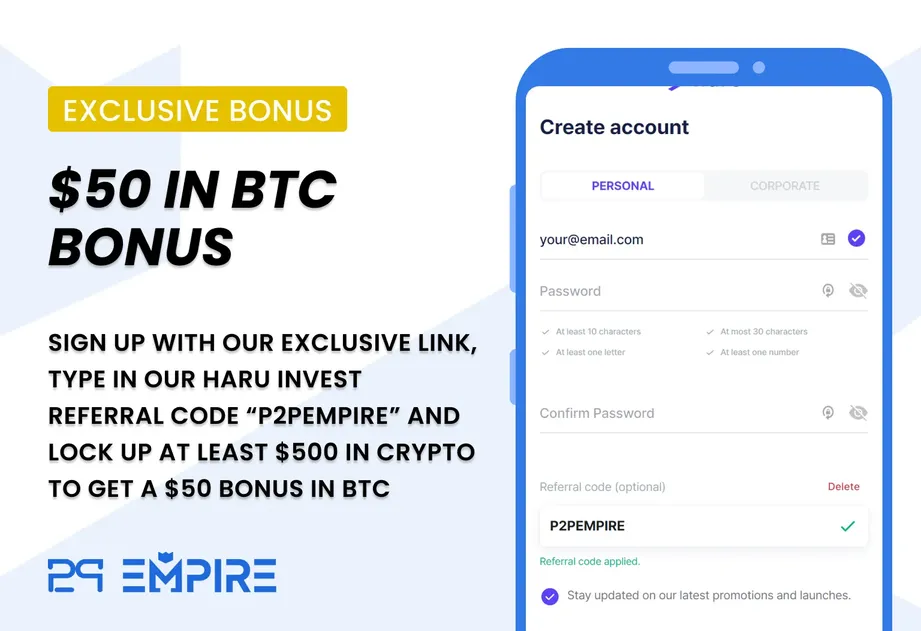 Ready to redeem your Haru bonus?
| | |
| --- | --- |
| 🏆 Haru Invest Referral Code | Claim Bonus |
| 🎁 Bonus for new investors: | 0.2% Bonus |
| ⌛ Bonus payment: | Immediately |
| 📱 Haru Invest Referral Code: | P2PEMPIRE |
| 💲 Deposit Requirements: | $10 USDT |
Haru Invest Bonus
The crypto wealth management app Haru offers new investors the chance to earn 0.2% extra on top of the offered interest rate for the Haru Wallet as well as Haru Earn Plus products. You can earn on average 7% with Haru's crypto wallet while always having access to your funds. If you prefer to lock up your crypto in exchange for a higher interest rate, you can earn between 6.8% and 17% with the Haru Earn Plus product. Haru pays out your rewards daily.
How to redeem the Haru Invest referral code?
First, sign up with our link and type in the optional referral code P2PEMPIRE
Complete the KYC (identity verification)
Deposit at least $10 worth of crypto to your Haru wallet
Haru will automatically add a 0.2% bonus on top of the offered interest rate
Note that the Haru Promo Code works in a different way than for example the Celsius Referral Code, where you need to lock up your assets in order to get the bonus.
The requirements to get your Haru bonus are not strict at all. Simply use the code and enjoy higher rewards. Keep in mind though, that the bonus isn't valid for the high-yielding Haru Earn Explore strategies which come with a significantly higher risk. Learn more about the crypto platform in our Haru Invest review.
Haru Invest Quick Review
Haru is a crypto management app that is owned by the South Korean crypto fund Block Crafters. Haru offers passive income on your Bitcoin, Ethereum, and Tether deposits. Haru Invest offers a wide range of products that differ in risk and reward. Some of the least risky products are the Haru Wallet (flexible crypto interest account) and Haru Earn Plus (fixed-term interest account). If you decide to lock up your crypto assets, you can expect a yield of up to 17% per year.
FAQs
Do I need to insert a referral code?
When registering on Haru Invest you can either use our referral link or type in the Haru promo code P2PEMPIRE which will added to your account.
I did not receive the bonus, what shall I do?
First, make sure that you have fulfilled all the requirements. The bonus will be added to your positive balance in your Haru Wallet or in your Haru Earn Plus view. In the unlikely event that you haven't received your bonus, please get in touch with Haru's support and request additional information.
Do you guarantee that I will get the bonus?
We take our service extremely seriously, which is why P2P Empire is known for up-to-date information, including various bonus offers. We don't guarantee any bonuses, however, we do our best to keep all the information up to date.
What else should I be aware of?
Receiving a bonus is a great way to increase your returns, note, however, that crypto lending or crypto trading is a risky investment and investors have already lost money on many other crypto platforms in the past. You should always conduct your own diligence and make your own research before you start earning interest on your crypto.