Esketit Promo Code
Esketit offers a 0.5% bonus to all new investors that sign up with our unique partner link. The bonus amount is calculated from your investment in the first 90 days after your registration. Note that this bonus is valid only for newly registered users, who sign up with our unique referral link.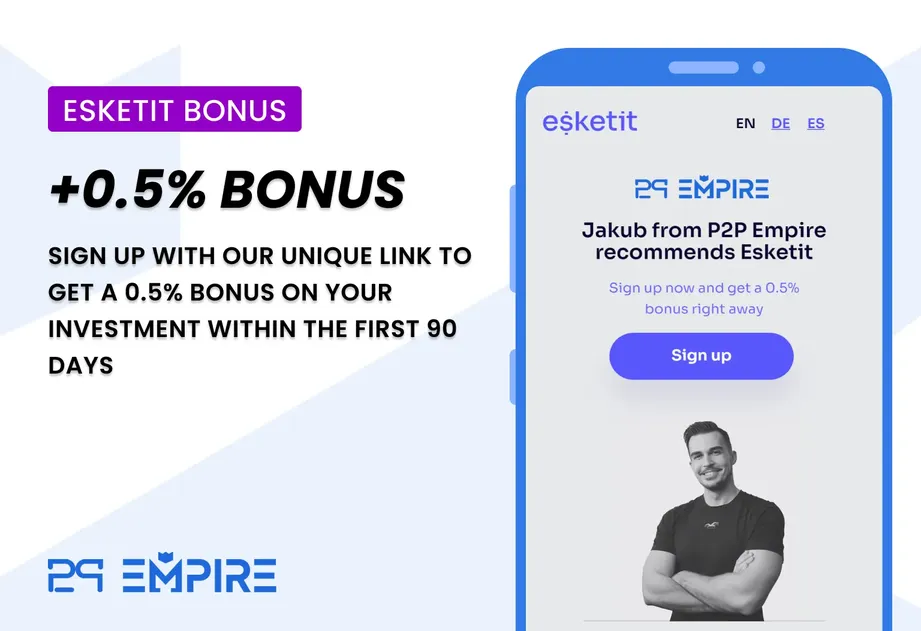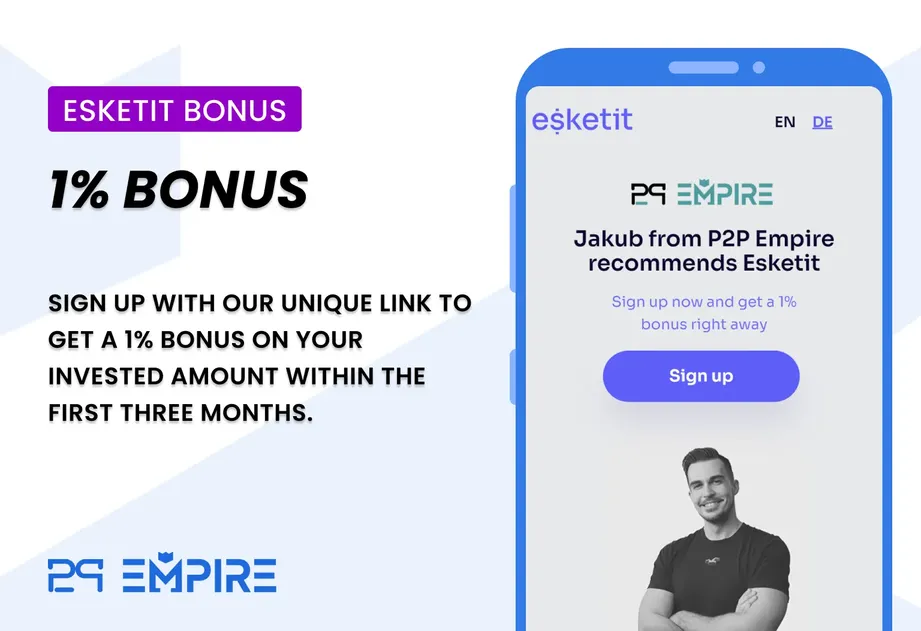 Ready to redeem your Esketit bonus?
Inserting a unique Esketit Promo Code is not required. Esketit will automatically allocate your registration to our referral link and pay out the bonus to your account.
| | |
| --- | --- |
| 🏆 Esketit Promo Code | Claim Bonus |
| 🎁 Bonus for new investors: | 0.5% |
| ⌛ Bonus period: | 90 days |
| 💰 Bonus for loyal investors: | 0.5% - 1% |
| 💲 Deposit Requirements: | €10 |
Esketit Bonus for New Investors
The Esketit bonus for new investors will be calculated from your investment amount after the first three months from your registration. The more money you invest, the higher the bonus amount.
The Esketit bonus will increase your interest by 0.5% during the first three months from the time you have registered on the platform.
How to redeem this bonus?
First, you need to register on Esketit and verify your identity. This process usually takes a couple of minutes.
After completing the KYC (know-your-client) form and verifying your email address, you can deposit money to your virtual Esketit account. Make sure you use your dedicated payment details so Esketit can allocate your deposit.
The transfer of your funds typically takes between one and three business days
After your funds appear in your investor account, set up your auto invest or invest in loans manually.
Here is a short video about how Esketit works.
Esketit Loyalty Bonus
As a loyal investor on Esketit, you are eligible to receive an additional loyalty bonus. This bonus is added to investors who invest more than €25,000 on Esketit.
How does the bonus work?
For every single investment that you make, after you have reached the loyalty program, you will receive between +0.5% and +1% bonus on top of the interest on your investments. If you have invested in one loan with an interest of 14%, you will receive a 14% annual interest + a 0.5% loyalty bonus. This means that your return will be 14.5% if you are a member of the silver program.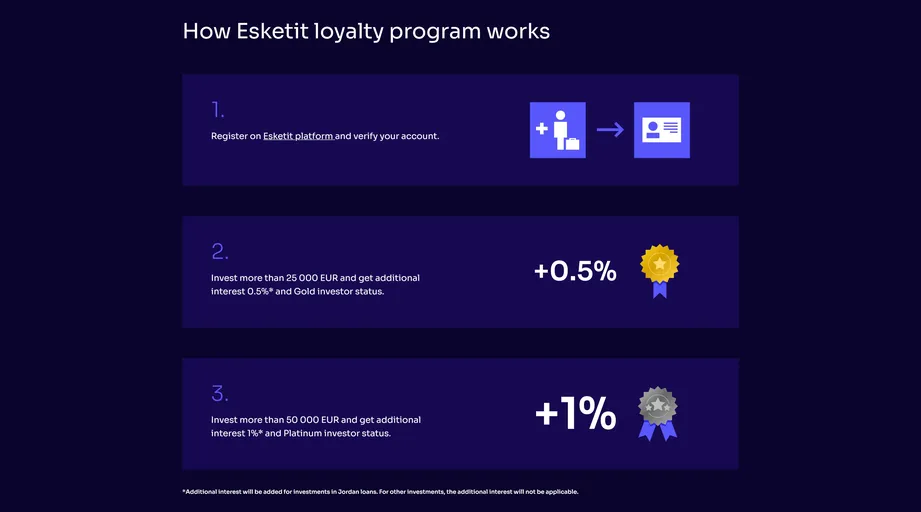 If your investment reached more than €50,000 you will get additional interest of 1% and the Platinum investor status.
Remember that the increased interest for loyal investors applies only to your investments in Jordan loans. Esketit doesn't offer increased rates for its loans from the Creamfinance Group in the Czech Republic or Spain.
Esketit Quick Review
Esketit is a modern P2P lending platform listing loans from the established Creamfinance group. You can earn between 10% and 14% per year by investing in loans from Czech Republic, Spain, or Jordan. The platform offers an instant exit option as well as automated investment strategies. You can start investing from just €10, which makes Esketit a very beginner-friendly platform. Find out more in our Esketit review.