EvoEstate Overview
EvoEstate is a P2B marketplace for real estate projects. You can invest in a variety of real estate projects from 16 platforms. More than 6,400 investors are earning 10.37% interest per year by investing in mortgage-backed projects. Learn more about how to earn money on EvoEstate in our comprehensive review.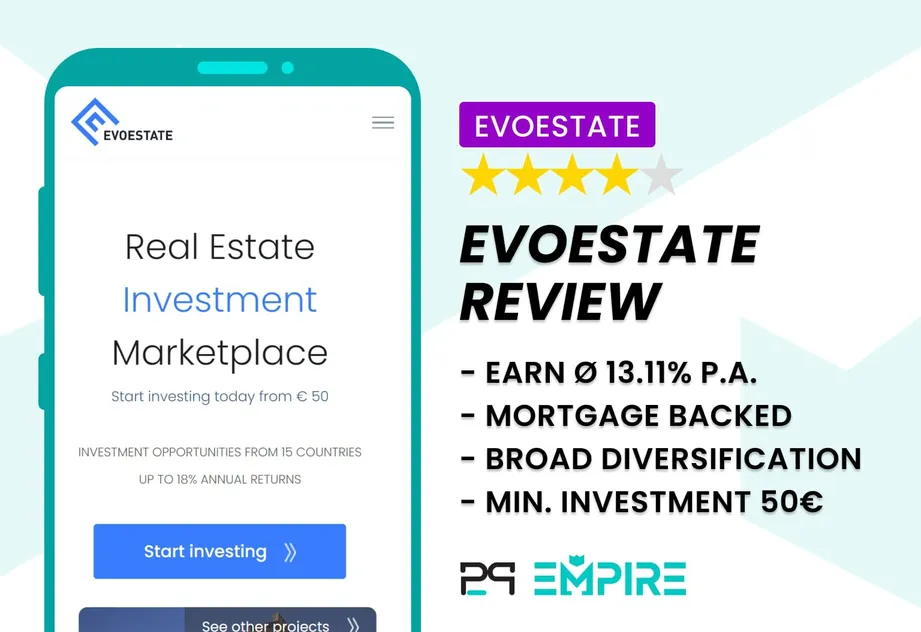 Watch our latest EvoEstate review here:
EvoEstate Promo Code
EvoEstate offers an attractive bonus if you're joining the marketplace and register with our link.
You'll receive a 0.5% cashback bonus calculated from their average investment amount from six months after registering.
Although sign-up bonuses should not be the main reason to invest in EvoEstate, this one is certainly a nice incentive, especially if your goal is to invest a larger amount of money.
Click on the button below to redeem your exclusive EvoEstate promo code.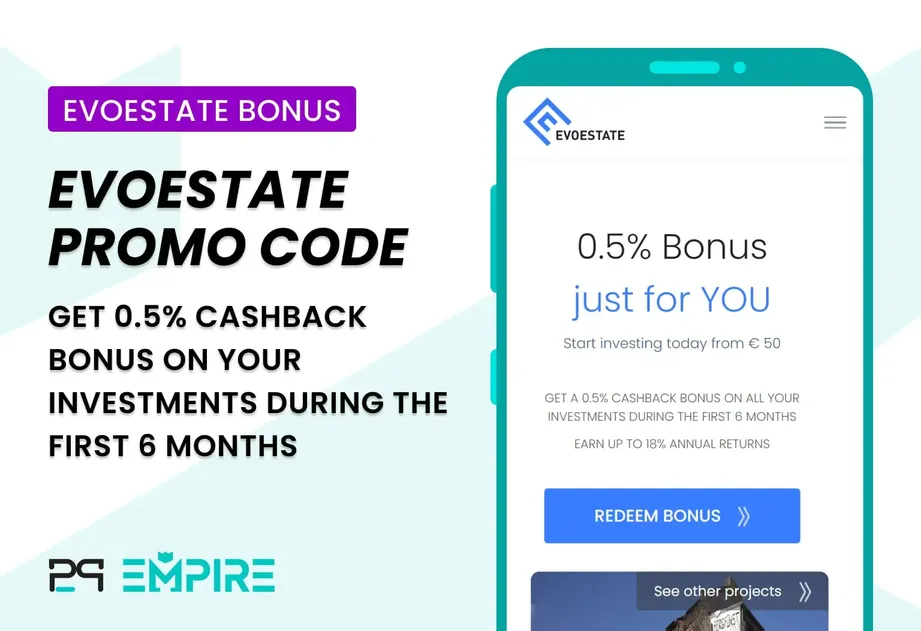 Grab your EvoEstate bonus!
EvoEstate's New User Requirements
You can register if you meet the following criteria:
Private investors and companies
18 years old
European bank account in your name
Passport from the EU
No EUR bank account? No problem
During the registration process, you'll need need to pass the Know Your Customer (KYC) requirements for all listed platforms on EvoEstate. As a result of this, EvoEstate collects more information than other platforms, which results in a pretty tedious and time-consuming sign-up process.
You might get asked to type in a special EvoEstate referral code. This isn't required if you have signed up with our link.
We suggest having your passport close by as you will need to take a picture with it as part of the process.
You can choose between manual and fast verification.
We chose fast verification, which we initially failed on mobile and desktop. In the end, we succeeded on mobile, with the Chrome browser. Note that you should have a decent camera to take a photo of the passport, otherwise it won't work.
Ready to become a real estate investor?
EvoEstate Risk and Return
Before we can determine the ratio between risk and return, let's have a look at how the platform works.
EvoEstate is different from other P2P lending sites and P2B platforms, like Crowdestor, EstateGuru, and Crowdestate.
EvoEstate allows you to invest in three different investment types at the same time:
1. Investing in Rental Properties
Investing in rental properties means that you buy a share of a real estate property, and generate monthly rental income. This is usually considered a lower-risk investment, as rental properties are very unlikely to default. You can expect to earn annual returns of 3% - 6% (as well as additional capital growth).
Find out more about this business model in our Reinvest24 review or read our dedicated section about REITs here.
2. Investing in Fixed Interest Loans
Investing in fixed interest loans is very common on platforms like EstateGuru and Crowdestate. Most of the time, your investments are backed by a mortgage or heavy machinery and the expected annual return is 8% - 13%. The risk is often calculated based on the LTV ratio, and the lower the LTV, the lower the risk of default.
You can learn more about peer-to-business (P2B) platforms that are backed by mortgage here.
Find out how EvoEstate compares to EstateGuru in our comparison - EstateGuru vs EvoEstate.
3. Investing in Equity
With this type of investment, you become business co-owners. It's no surprise, then, that this type of investment is considered riskier, as the collateral is often limited (i.e. second rank mortgage). The annual returns for equity investments are typically 14%-30%. Keep in mind, however, that those types of projects are rather rare on EvoEstate.
Now, you should have a better idea of where you're investing your money with EvoEstate. Thanks to the platform's unique setup, you can achieve very good diversification within the real estate P2P lending sector by simply using EvoEstate.
Investing on individual platforms gives you the opportunity to diversify across a multitude of available projects from that particular website. Furthermore, it is not uncommon to experience a cash drag on real estate platforms. EvoEstate solves those two issues.
16 Project Originators
As we write this EvoEstate review, the platform lists 16 project originators. Note that they aren't necessarily loan originators, as every platform has a different setup.
Here is the complete list of project originators on EvoEstate:
Reinvest24, Rendity, Urbanitae, Re-Lender, Inveslar, StockCrowd, Max Crowdfund, Nordstreet, Profitus, Property Bridges, Re-Lender, Raizers, Heavy Finance, and InRento.
As you can see, there are many platforms that offer you the possibility to sign up and invest directly instead of through EvoEstate.
You're probably thinking that investing your money via EvoEstate will result in lower returns than would be the case if you invested directly on the platforms themselves.
In fact, on EvoEstate you'll earn the exact same interest rates that you would earn if you would have invested directly on the platforms.
Thanks to the large amount of funding that EvoEstate is able to provide, the platform manages to negotiate a discount with the project originators at no further cost to you.
How's your money secured?
According to EvoEstate, there are a few ways they look after your money:
firstly, many loans listed on the project are secured by a mortgage or other types of collateral
secondly, all investment assignments are made between you and borrowers - EvoEstate is simply a financial agent
thirdly, your funds are stored in segregated bank accounts (according to EvoEstate)
Let's have a look at what happens should one of the stakeholders go out of business.
Borrower defaults:
If the borrower isn't able to pay back the loan, the loan originator will sell the collateral and pay back your money.
Loan originator defaults:
If the project originator defaults, every case is treated individually, most of the time the originator establishes Special Purpose Vehicle (SPV) which holds the funds and real estate collateral. If the originator goes out of business, this administrative entity should return the funds back to you.
EvoEstate defaults:
EvoEstate is an agent of real estate investments. The platform facilitates transactions and stores your funds in segregated bank accounts. If bankruptcy occurs, a contractual entity will be appointed to take over the role of EvoEstate and serve all the investments. There's a dedicated budget assigned for this, so it won't be deducted from your investments.
'Skin in the game projects'
EvoEstate's co-founders inform you that they invest at least €1,000 in every 'skin in the game project'. This should help you to decide which projects they should invest in, as the co-founders claim that those projects are the ones they believe in.
Note that the skin in the game projects get funded very fast.
Is EvoEstate Safe?
Before investing in real estate loans on EvoEstate, we recommend you have a look at the people managing the company as well as some legal aspects connected to the investment contracts.
We understand that reading all the terms and conditions, as well as doing a background check of the platform, isn't the most exciting task, which is why we've done the heavy lifting for you.
Here's what we found:
Who Runs the Company?
EvoEstate was led by co-founder Gustas Germanavicius, however, the second co-founder Audrius Visniauskas has recently been appointed as the new CEO of EvoEstate.
Watch our latest P2P talk with EvoEstate's former CEO Gustas Germanavicius:
Who Owns the Company?
According to the Estonian business registry, EvoEstate is owned by its co-founders. While the company's office is located in Giedraiciu 3, Vilnius, Lithuania, EvoEstate is registered in Estonia, rather than Lithuania for regulative reasons.
See the exact reasons why EvoEstate is registered in Estonia outlined below:
In Lithuania, EvoEstate would need to pay tax on undistributed earnings.
The e-residency makes the remote management of the company very easy.
In Lithuania, the company would require an asset management license in order to operate its auto invest feature.
Factris is that Lithuanian P2P platforms are much more regulated and the requirements to run a business model such as EvoEstate is doing are quite strict. A brokerage license would, however, certainly increase the trust towards EvoEstate.
EvoEstate is financially backed by Startup Wise Guys, which is a venture capital fund operating in the Baltics. The Startup Wise Guys also invested in EstateGuru and Investly.
Are EvoEstate's Terms & Conditions Legitimate?
We read the terms and conditions and didn't find any suspicious clauses. In fact, we think the terms and conditions are very transparent, and most of the time they're favorable to the investor.
But, what did we find in the T&Cs?
Clause 4.5 - Auto Invest
If the platform decides to remove one of the criteria within its auto invest tool, it will notify the users. If a new criterion is added, the user has to change it manually.

Clause 4.12 - Storage of Funds
EvoEstate stores your uninvested funds on separate bank accounts which are excluded from EvoEstate's assets.

This is standard practice within the P2P lending space. A more secured way would be, however, to offer dedicated IBAN accounts like it's the case on NEO Finance.
Clause 1.4 - Amendments to T&Cs
EvoEstate reserves the right to amend the terms and conditions without prior notice.

We aren't huge fans of this clause as we have seen other platforms exploiting it before they shut down their operations.
Can Investors Access Individual Loan Agreements?
While the loan agreements aren't available before you invest yourself, you can find your contracts within your portfolio section.

Curious about what else we look at when conducting our research?
With our ✅ workbook, you will be able to spot red flags 🚩 and protect your investment.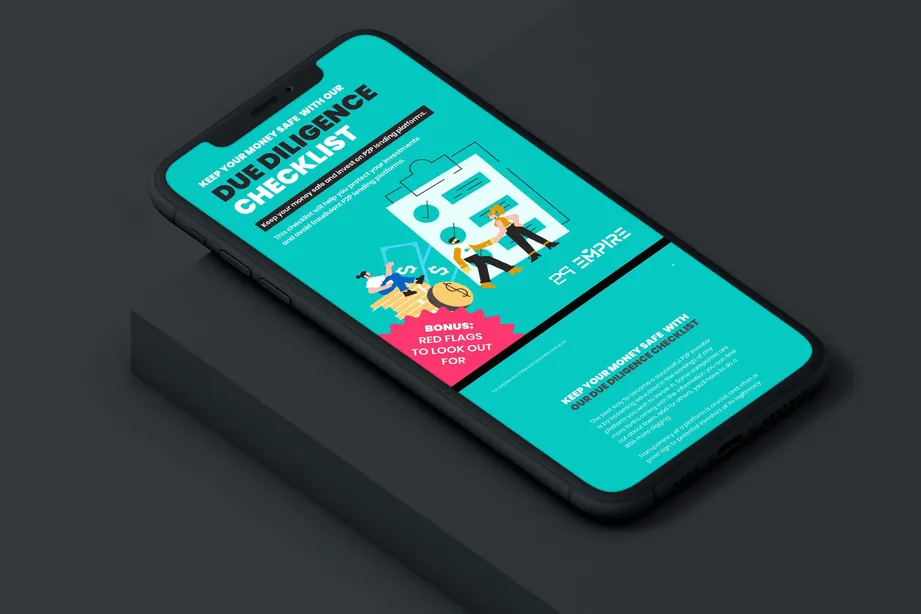 Protect Your Money!
Potential Red Flags
EvoEstate can amend the terms and conditions prior to the notice
Learn more about possible red flags here.
What's our opinion about EvoEstate?
During our due diligence, we haven't found any suspicious information about any team members or contract clauses that need further explanation.
Also, during our latest P2P talk with EvoEstate, we got a good impression from the former CEO Gustas Germanavicius. Unfortunately, Gustas has left the company to launch InRento.
We liked the fact that you can invest in mortgage-backed properties while building a well-diversified portfolio which is hard on most of the smaller real estate platforms. This benefit isn't as valuable in 2021 anymore.

Many of the smaller platforms are expanding into new markets which means that you can build a diversified portfolio also by directly investing on your favorite crowdfunding sites.
The recently listed projects on EvoEstate aren't as attractive as they used to be. The introduced 2% fee for sellers who trade on the secondary more than once a month isn't favorable either. We have a smaller amount invested on EvoEstate but we don't plan to continue increasing it as there are currently better alternatives that we want to test out.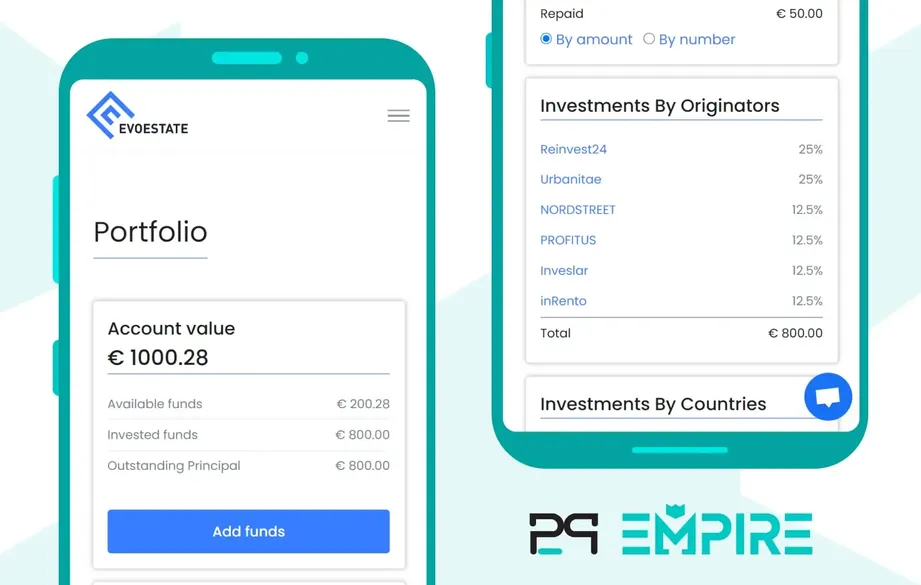 Keen to give it a go yourself?
Usability
EvoEstate's website is very simple to navigate. There aren't as many overwhelming features as there are on actual P2P lending sites, like Bondora or Mintos.
If you want to invest on EvoEstate, you simply view the available projects and choose the investment type that suits your strategy. You can choose between loans, equity, and rental contracts.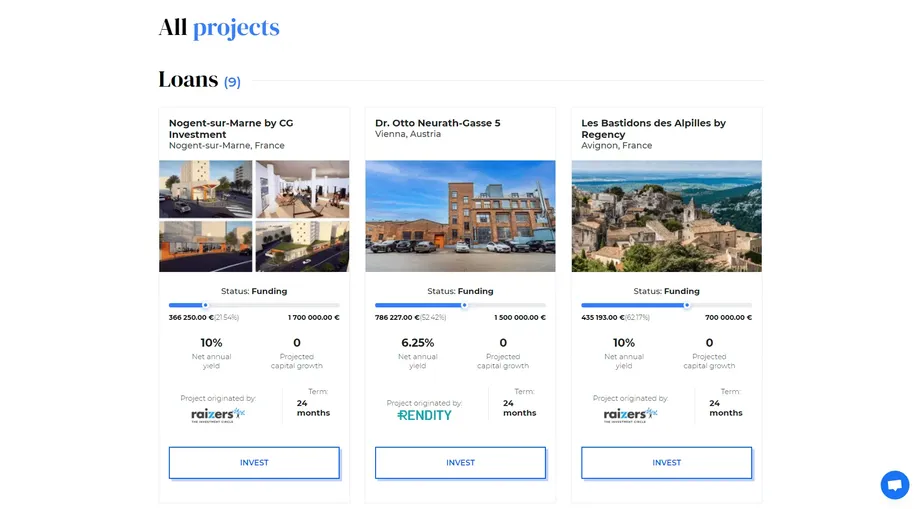 The first few projects that are listed on top of the project page are flagged as "skin in the game projects." This means that the co-founders have invested at least €1,000 of their own capital into these deals.
Auto Invest
EvoEstate's main benefit is the diversification within the real estate crowdfunding industry.
Their auto invest tool allows you to invest in projects from platforms that are often limited to non-residents. Most notably, in projects on Spanish platforms.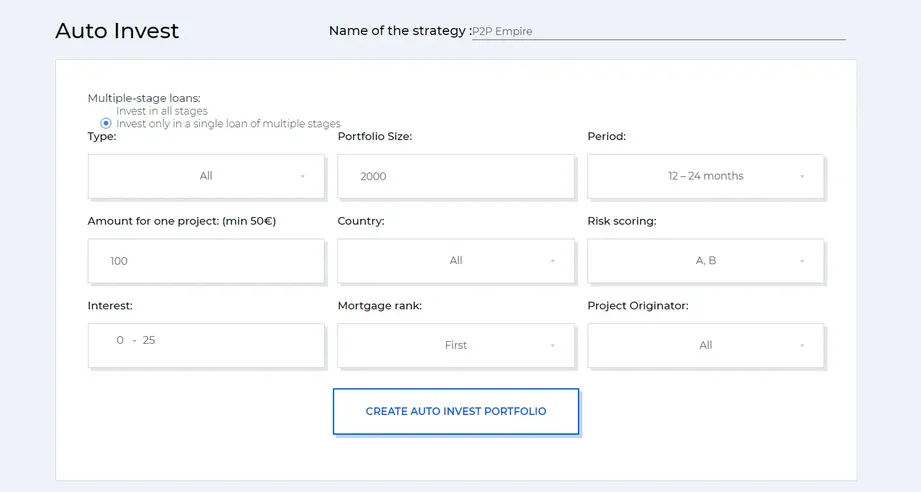 Here are all the options you can customize when setting up your automated investment.
Skin in the Game Project
Loan Types
Portfolio Size
Period
Min. Investment Amount
Countries
Interest
Mortgage Rank
Project Originator
Ideally, you should build a balanced portfolio, consisting of a variety of deals. To increase the security of your investment, you can also choose to invest purely in projects that are secured by a first-rank mortgage.
Note that if you choose to only invest in projects that the co-founders invested in, you might limit your diversification and it can take quite some time until your funds get invested.
We recommend investing manually and evaluate your real estate investments individually as there're a lot of factors to consider. Learn more about it in this guide about real estate crowdinvesting.
24-Hour Cancellation
Another unique EvoEstate feature is the ability to cancel any investments made with the auto invest tool within 24 hours.
With this feature, if your automated investment invested in a deal that you don't like, you can cancel the investment within 24 hours and receive your whole investment amount back in your account.
How Fast Can You Withdraw Your Money?
Liquidity has always been a concern within the real estate P2P lending sector.
Usually, there aren't very many options for those who want to withdraw their money before the end of the loan period.
Some platforms, such as EstateGuru and Crowdestate, offer a secondary market that allows you to sell their investments for a discounted or premium price, should there be a demand for it.
Both mentioned platforms do charge a secondary market fee. Read more about it in our Estateguru review.
EvoEstate's Secondary Market
EvoEstate allows you to buy and sell deals on the secondary market for a 2% fee.
You can place bids and offers on individual projects. In fact, 50% of the projects listed on EvoEstate's secondary market without premium prices are sold within 24 hours.
You might even use this secondary market to increase your returns.
You can also buy and sell investments from project originators like that don't primarily offer a secondary market option on their own platforms.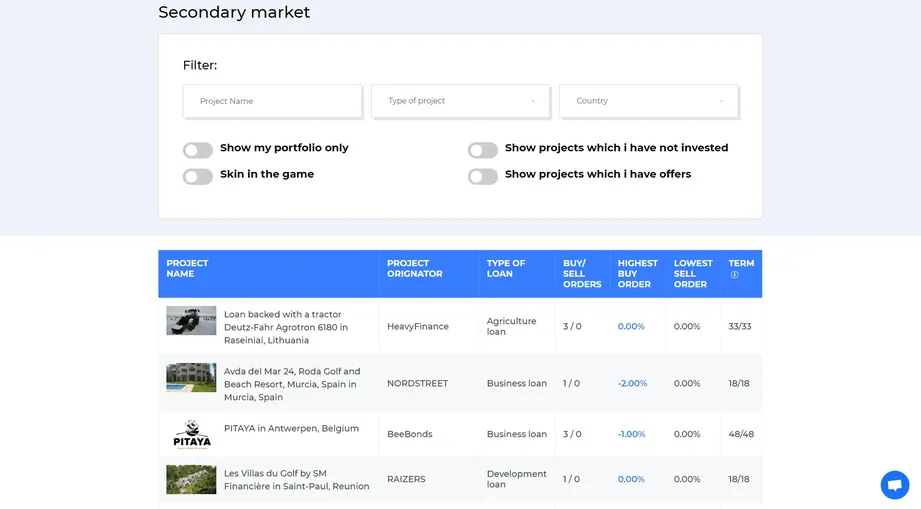 We haven't used the secondary market on EvoEstate yet, which is why we can't comment on how long it takes to sell your investments. Typically this depends on the availability of loans and demand for investments as well as the discount you're offering.
EvoEstate vs EstateGuru
Do you wonder how EvoEstate compares to other crowdfunding platforms like EstateGuru? Check out our ultimate comparison between EstateGuru vs EvoEstate.
EvoEstate's Customer Support
As you might have noticed, EvoEstate has a very small team. At the moment, customer support is handled by one person.
If you, however, have more in-depth questions, the chances are high, that Gustas, CEO of the company, will get back to you.
EvoEstate does not currently offer a live chat function. The best way to reach out to EvoEstate is by sending your request to their inbox at info@evoestate.com.
EvoEstate Review Summary
EvoEstate enables you to build a broadly diversified real estate loan portfolio. The real estate marketplace offers an annual average yield of 10.88% and a minimum investment amount of €50. EvoEstate also offers a secondary market that increases your liquidity. So far, our experience with EvoEstate has been positive.
Key Takeaways from our EvoEstate Review
Good availability of real estate investments
Good diversification option
Skin in the Game projects
Auto Invest refund within 24h
If you were looking for an easy way to diversify your P2P real estate investments, EvoEstate might just be the right solution for you.
Ready to become a real estate investor without all the hassle?
Or explore other real estate platforms.
FAQs
What's the minimum investment amount on EvoEstate?
The minimum investment per project on EvoEstate is only €100. Most of the real estate platforms offer a minimal investment amount of €50.
How is my investment secured?
Your investment is secured by a mortgage. Depending on the investment type, the investment might be secured by a first-rank or second-rank mortgage. We suggest that you always double-check the collateral of every project before investing.
Does EvoEstate offer a secondary market?
EvoEstate does offer a free-of-charge secondary market, should you want to sell your investment before the end of the investment period. It is up to you as to whether you sell it for a discounted, premium or the initial sale price.
Does EvoEstate offer an Auto Invest
EvoEstate allows you to define certain investment criteria and automate your investment strategy. If you aren't satisfied with the automated investment of your funds, you can cancel any investment within 24 hours.