Crowdestate Review
Crowdestate is an Estonian peer-to-peer (P2P) lending platform that lists real estate projects with an average interest rate of more than 16% per year. If your goal is to invest in property-backed loans, Crowdestate could be an option. Keep reading this Crowdestate review to learn more about this real estate crowdfunding platform.
⭐ Learn more about our rating criteria
📧 Stay up to date with our newsletter
Crowdestate in Numbers
We always recommend looking at the platform's statistics before signing up and transferring funds. Luckily, Crowdestate is one of the platforms that's willing to share its numbers with investors.
Note that Crowdestate has over 12,000 registered users, from which only a bit more than 3942 have an active investment on the platform.
The real estate crowdfunding market is booming and Crowdestate gives you a good opportunity to jump on the train and benefit from it.
Crowdestate Referral Code
If you're an experienced P2P investor, you might know that some of the companies offer a sign-up bonus for new investors.
Currently, Crowdestate doesn't offer new investors referral codes or cashback bonuses. In the meantime, you can use our EstateGuru referral code, to get yourself a 0.5% cashback bonus on your investments during the first three months. We'll update this Crowdestate review should there be any progress on this in the future, so save this URL and check back regularly.
Are bonuses vital to you? Sign up to EstateGuru to invest in real estate projects and receive a 0.5% bonus. Unfamiliar with the platform? Make sure to read our in-depth EstateGuru review first!
Crowdestate Requirements
Crowdestate offers investment opportunities for investors within continental Europe. The only user requirement is that investors are over 18 years old!
Crowdestate is one of the few European P2P lending platforms that doesn't require a European bank account. However, we would still recommend that you use an account in euros that supports SEPA payments.
No EUR bank account? No problem
Risk and Returns
Every investor should assess the risk of investment opportunities on every platform before investing on it.
But how do you go about doing this?
First and foremost, it's crucial to look at the collateral connected to the P2P investment. In most cases, the loans are secured by a mortgage or various commercial collateral, depending on the borrower.
It's good practice to check this in advance or set up your Auto Invest according to your preferences. We only invest in secured debt which helps us lower the risk.
You can, however, increase the risk and the potential yield by adding equity investments, mezzanine capital or unsecured debt to your portfolio mix.
Collateral
Crowdestate does a good job of informing you about the collateral of every investment. In the project description, you'll find a section about collateral or finances that informs you about the securities that come with your investment.
It's good practice to look for keywords like a 1-rank mortgage as well as loan-to-value (LTV).
Note that projects secured by a 1-rank mortgage represent a lower risk than those obtained by a 2nd-rank-mortgage.
Depending on your risk profile, we'd suggest that you invest in loans with an LTV lower than 65%.
Crowdestate Rating
Crowdestate takes the liberty to assess the risk for you and displays a table with various categories and risk ratings. The platform then puts the scores together and gives you a risk class that you can use to estimate how risky a particular investment opportunity is.
You can use this risk class to define your preferences in the Crowdestate Auto Invest.
If you've invested in Mintos before, you'll probably recognize this feature as being similar to Mintos's rating of loan originators.
Note that while your investments are backed by a mortgage. The loan can still default and you might lose your money. This year we have seen already two defaulted projects where investors lost some money.
How Safe Is Crowdestate?
Crowdestate has been around for about six years now. It has managed to establish itself as one of the leading real estate investment platforms in Europe. Recently, the trust in many P2P lending sites that promise high yields was damaged by P2P lending scams.
In this section of our Crowdestate review, we will look at the platform's management as well as their terms and conditions, and explore whether we can find any suspicious information that might negatively affect your investments.
Let's dive right into it.
Who Runs the Company?
Crowdestate is founded by Loit Linnupõld, who is also the currently the of the Chairman of the Supervisory Council. According to Loit's LinkedIn profile, he has more than 20 years of experience in the banking and lending industry. Previously he worked as the Head of Banking Products for the Baltic bank Nordea and as a CEO for Swedbank Investment Funds. He has been leading Crowdestate for the past six years, which makes him one of the more experienced leaders within the Baltic P2P lending space.
Crowdestate's licensing process has resulted in some changes in Crowdestate's governance structure. Mr. Kristjan Mauer, the country manager of Crowdestate Estonia, has taken the position of Group CEO.
It is not easy to find the legal owner of the company, which is why we reached out to Crowdestor for a comment, and this is what we have found:
Crowdestate AS is a fully owned subsidiary of Crowdestate Holding OÜ. The shareholders of Crowdestate Holding OÜ are Immaru Investments OÜ (97,88%, owned by Mr. Loit Linnupold, the founder of Crowdestate) and I.S.A. Capital OÜ (2,12%, passive financial investor).
This should give you a good idea about the ownership of the platform.
Are There Any Suspicious Terms and Conditions?
As part of our due diligence, we read through the terms and conditions to better understand our rights when investing on the platform, and here is what we have found out in Crowdestate's T&Cs.
Clause 2.1 - Amendments
In section 2.1, Crowdestate reserves the right to amend the T&Cs at any time without prior notice.

If you have been reading our guide about how to avoid being scammed, you probably know that reserving the right to change the conditions without prior notice is a potential red flag.
So far, Crowdestate has always informed its users about any changes, however, they aren't legally obliged to do so. It's certainly something to keep in mind when evaluating the safety of your P2P lending portfolio.
Clause 2.2 - Price List
In section 2.2, the platform is referring to a price list, which we could not find anywhere on the website.

Sometimes, platforms tend to add those clauses, which will allow them to introduce potential fees in the future. As of this moment, as we write our Crowdestate review, there are no fees charged to investors on Crowdestor (apart from withholding the tax on certain investments). It would certainly help to have a dedicated page on the website where investors could confirm this information.
Clause 4.14 - Storing Your Funds
It's always recommended to have a look at how a P2P lending site safeguards your funds. In section 4.14, you learn that your funds are separated from the portal's property, which increases the safety of your uninvested capital.

While this clause doesn't eliminate the risk completely, it gives a solid legal ground in case the platform should encounter any financial difficulties in the future.
Do Investors Have Access to Individual Loan Agreements?
Every time you invest in Crowdestate, you will get an overview of the individual loan agreement, which you need to sign with a code that will be sent to your mobile phone.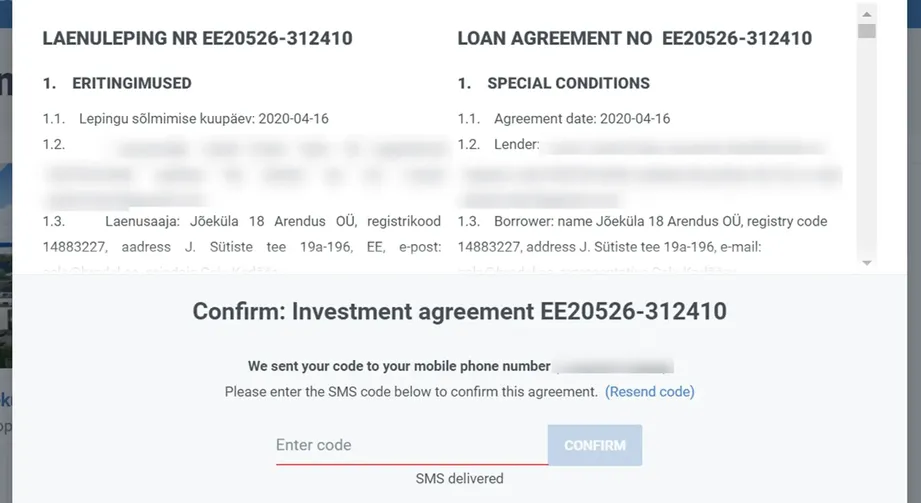 As soon as you sign the contract, you will find the loan agreement in your menu under Overview → Agreements. You can download the contract in PDF format at any time.
Overall our due diligence didn't raise any concerns about Crowdestate. The only fact we don't like is the right to amend the terms without prior notice.
We should not forget, however, that Crowdestate is already an established platform with a proven track record. This significantly lowers the risk of fraudulent behavior (but it doesn't eliminate it), which we have witnessed by rather young platforms with no track record.
Curious about what else we look at when conducting our research?
With our ✅ workbook, you will be able to spot red flags 🚩 and protect your investment.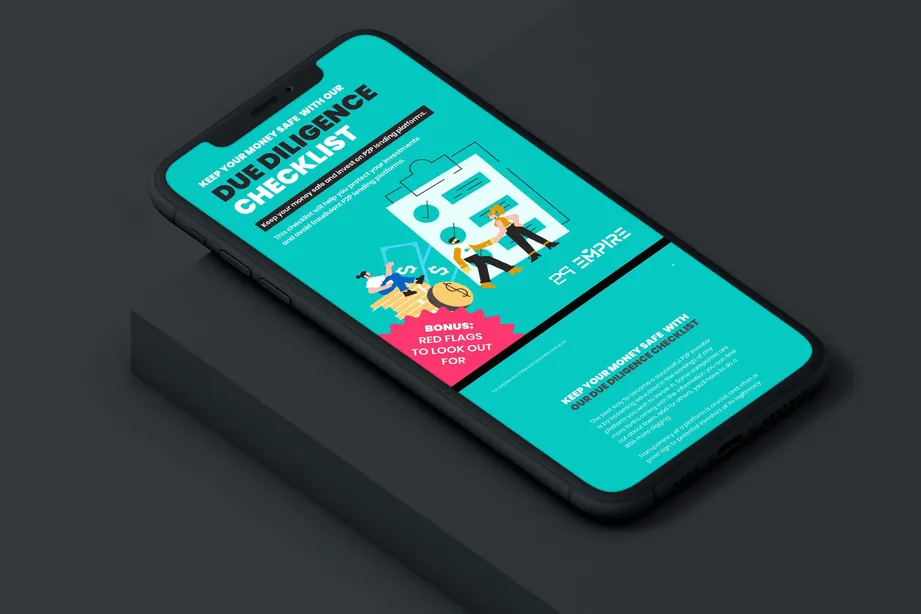 Protect Your Money!
Potential Red Flags
Crowdestate can amend the terms and conditions without prior notice.
Some investors report unexplained changes to the repayment schedule
Curious about other platforms? Head over to our ⚖️ P2P lending platform comparison to get a quick overview of the currently available platforms.
What's Our Opinion About Crowdestate?
We have been testing Crowdestate in the past. During our testing period, we didn't experience any problems with our portfolio.
Some investors report delayed payments and in certain cases even changes to the repayment schedule. A few investors also raised concerns about potentially fraudulent projects.
We haven't investigated every single case, but you should be cautious about investing on Crowdestate and conduct your own research about individual borrowers.
Based on many positive reviews, we have decided to invest ourselves to report about our experience with Crowedestate. Due to the above-mentioned concerns, we would not recommend Crowdestate as a primary platform.
As Crowdestate stopped the collaboration with P2P Empire, we have decided to liquidate our portfolio and leave the platform.
Usability
When investing in P2P lending, you want to be aware of the risks and securities.
As many investors use P2P lending to create a passive income stream, you want to have a user-friendly platform that allows you to find everything you need within a few clicks.
Sign-Up Process
Normally, signing up with P2P lending platforms takes no longer than five minutes. You'll usually just fill in some basic information and upload your ID to verify your details.
This, however, is not the case with Crowdestate. This platform collects significantly more information about its investors than its competitors, Mintos, PeerBerry, and Bondster.
During the sign-up process, we had to use the two-factor verification via SMS, as the Google Authentication didn't work. We also had to take a photo of ourselves as part of the process.
Disclaimer: use Google Chrome when completing your verification as most browsers don't allow you to take and upload photos.
In our opinion, it seems the sign-up and "security measures" on Crowdestate are a bit too much, and we can imagine that some investors might be intimidated by it. Patience is certainly required when creating your account on Crowdestate!
Auto Invest
OK, so you've completed the verification and transferred funds to your Crowdestate account, what next?
You can either invest manually in various real estate projects or use the Auto Invest tool.
The Crowdestate Auto Invest allows you to define your preferences and automate your investments. It's worth noting, however, that the minimum investment amount is €100 per project, which is more than the minimum investment amount on other platforms.
When we compare the Auto Invest feature to similar platforms like Bondster, Crowdestor, or EstateGuru, we've noticed that Crowdestate's gives you a lot of options, allowing you to take full control of your diversification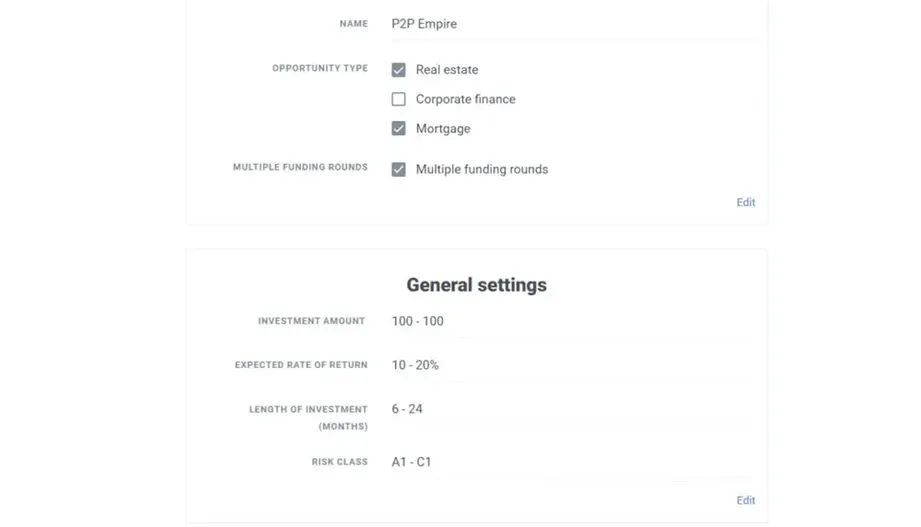 Overall, the Auto Invest on Crowdestate feature seems to offer better options than most Auto Invest tools within the real estate P2P lending area. Note, however, that this feature is only useful if there are enough available loans to invest in. If you are investing in P2P loans for a while, you might know, that the high availability of development projects is something every platform is struggling with.
Liquidity
Liquidity is an important factor that most investors don't consider when they start investing in P2P loans.
Sometimes you might want to withdraw your investment earlier as anticipated. Luckily Crowdestate offers you the possibility to sell your claims on the secondary market.
Secondary Market
Crowdestate's secondary market allows you to sell your active investments and withdraw your money from the platform or invest in different projects. Some investors also use the secondary market if there is a shortage of new loans on the platform. While it can help you diversify your portfolio, you should take into consideration the premium price you'll be paying for projects on the secondary market.
Note that from 4/5/2020 investors who will sell their investments on the secondary market will need to pay a 2% fee. This fee does not apply to the buyers who are buying investments on the secondary market.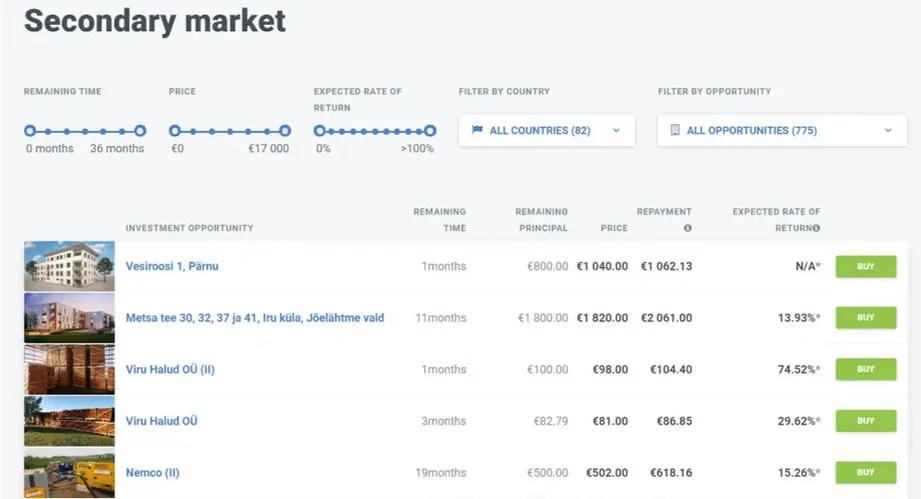 On top of the 2% fee, Crowedestate charges a VAT which will further reduce your return if you decide to liquidate your portfolio.
Overall, it is nice to have the option of early withdrawals. However, we aren't huge fans of trading on the secondary market on any platform. We prefer to diversify our portfolio on various platforms with various investment periods so we can avoid fees or premium prices for investments on the secondary market.
Customer Support
Crowdestate support is quite responsive. We received an answer to our request as to whether they also accept investors from the U.S. the next working day.
You can send all your questions to info@crowdestate.eu or give them a call on +372 6 599 111. If you wish, you can also leave them a message within the live chat on their homepage.
Are you interested in comparing Crowdestate and EstateGuru? Check out our latest comparison Crowdestate vs EstateGuru.
Watch our comparison between Crowdestate and EstateGuru here:
Crowdestate Review Summary
Crowdestate is P2B platform that offers investments into real-estate-backed loans. You can invest in loans from Latvia, Romania, Italy and Estonia. Our expected annual return is 10.9%. Some investors have reported a lack of transparency and delayed payments. During our testing period, we have not experienced any delays in our Crowedestate portfolio.
Main takeaways from our Crowdestate review:
A suitable alternative to EstateGuru
Real estate-backed loans
Broad diversification
Due diligence of individual projects is required
Crowdestate can be considered as an alternative to EstateGuru. We do suggest researching individual projects before you decide to invest.
Ready to compare more platforms?
Compare Platforms
FAQs
Does Crowdestate have an Auto Invest feature?
Crowdestate has an Auto Invest feature that will help you automate your investment strategy. The feature comes with a lot of diversification options that will give you more control over your portfolio. Read our full Crowdestate review above for everything you need to know.
Does this platform have a buyback guarantee?
Crowdestate does not offer a buyback guarantee. Most of the loans listed on Crowdestate are, however, protected by a personal guarantee, mortgage or commercial collateral. Learn more about it in the liquidity section of our Crowdestate review above.
Is Crowdestate legitimate?
Crowdestate appears to be a legitimate P2P lending platform that offers real-estate P2P lending opportunities with attractive yields. The platform provides good diversification options as well as features that will help track your portfolio performance and automate your investment strategy.
What's the minimum investment on Crowdestate?
The minimum investment amount on Crowdestate is €100. You can start investing on most other P2P lending platforms from only €10.