Fast Invest Review
Fast Invest is one of the most controversial P2P lending platforms in Europe where you can invest in consumer loans backed by a buyback guarantee. You can expect to earn around 12% interest per year. The platform has been facing heavy criticism about its transparency. Read our comprehensive review to find out whether Fast Invest is worth the risk.
⭐ Learn more about our rating criteria
Fast Invest in Numbers
If you have read our other P2P lending reviews, you'll know that we emphasize transparency when it comes to sharing statistics.
Fast Invest managed to attract more than 41,000 investors over a period of five years. So far, none of the investors lost (officially) any money and the average portfolio size is around €1,200 which is less than on most other platforms such as Mintos or Bondora.
Fast Invest doesn't have a dedicated statistics page and you shouldn't expect it anytime soon, as the platform promised this feature already years ago.
Financial reports of the platform aren't publicly available. But we were able to get our hands on the report from 2019.
We have linked the financial report in the statistics table.
As Fast Invest isn't processing withdrawal requests, it can take months to get your money back, which is why you should stay away from this platform.
Fast Invest Referral Bonus
You've probably found that many P2P lending sites will offer new users promo codes, cashback, and sign-up bonuses.
While Fast Invest does offer referral bonuses to those already using the platform, it doesn't currently offer any bonuses or cashback opportunities for new investors.
We've always got a close eye on P2P platforms and update our reviews regularly, so make sure you check back to see if Fast Invest offers a sign-up bonus for new investors in the future.
In the meantime, there are plenty of P2P lending platforms that offer new investors sign-up bonuses of 0.5% or more. Have a look at our dedicated cashback bonus page to view the latest offers.
Fast Invest's New User Requirements
New users on Fast Invest must be over 18 years old, have a valid email address and mobile phone number, and a European bank account (registered within the EEA).
No EUR bank account yet? No problem
Simply open a free bank account with one of the below mentioned providers.
In terms of residency, most European investors are accepted, except those from the UK.
This is rather confusing, as the platform is registered in the UK.
If you reside outside of Europe, there's a good chance that you can register as well. Currently, Fast Invest has investors from 55 countries. We suggest having a look at Fast Invest's FAQ section for further details.
Risk and Return
The majority of loans on Fast Invest are consumer loans, which have a loan period of up to 12 months. The interest per loan ranges from 9% - 16% per year.
All of the loans are secured by a buyback guarantee.
Transparency Issues
Fast Invest has often been criticized due to the platform's lack of transparency. It's one of the few P2P lending platforms that does not disclose the names of all loan originators that list their loans on the investment platform.
Why won't Fast Invest disclose this information?
According to an interview with Fast Invest's CEO (held in mid-2019), the platform has old contracts in place that were made on the premise that disclosure of this basic information was not necessary.
Although the P2P platform mentioned a renegotiation and amendment of the contracts back in December 2018, this is yet to be completed and the names of the loan originators are yet to be shared with potential investors.
Currently, Fast Invest disclosed three loan originators.
1. Kviku.ru from Russia (also listed on Mintos)
2. Kredia.dk from Denmark
3. Capital Service from Poland
Note that this information isn't publicly available either. We have obtained it from Fast Invest's support.
According to our latest dialogue with Fast Invest, the platform is preparing a lender section on its website to inform investors about the lending companies that collaborate with Fast Invest.
Five months later Fast Invest still hasn't published a dedicated list of loan originators.
Would you like to invest your money on a platform that fails to deliver basic information? We hope not. Fast Invest is known for not delivering on their promises. Keep that in mind!
Buyback Guarantee
If you have invested in P2P loans before, you might be familiar with buyback guarantees.
Fast Invest will buy back your claim within three, seven, or 15 days of delayed payments depending on the individual loan. That's much faster than any buyback guarantee offered by other P2P lending platforms.
How can Fast Invest offer such good liquidity? Would it still be the case when all the investors withdraw their investments?
No! They can't.
Our experience with Fast Invest's buyback guarantees been positive during normal market conditions when the demand from investors exceeded the supply of loans.
As soon as a higher amount of investors decide to cash out their investments, Fast Invest fails to deliver! This has been the case since mid-March 2020. Investors report withdrawal delays of up to four weeks.
Fast Invest even introduced a €1.5 withdrawal fee to limit the number of withdrawal requests.
Low Minimum Investment Amount
On Fast Invest, you can start investing from only €1 per loan which allows you to diversify your portfolio with ease.
Broad diversification is important, however, you should know where you invest your money into.
In the case of Fast Invest, you can't really tell which makes investing on this platform so risky.
Is Fast Invest Safe?
Due to recent negative events within the P2P lending industry, we suggest spending more time completing due diligence of any P2P lending platform that you're considering investing in.
At the end of the day, every investor is responsible for their own due diligence, and we, at P2P Empire, compile our reviews to help you make your research easier.
Since we don't have access to even the most basic data, we've done some investigating when compiling this Fast Invest review.
Without further ado, let's take a look at our findings:
Who is leading the company?
Fast Invest is led by CEO Simona Vaitkune. According to her LinkedIn profile, she has been with the company since 2015. Simona's profile includes no previous work entries. The platform's CEO is a very active contributor to several fin-tech-oriented topics on LinkedIn as well as other online magazines.
Management Background Check
Fast Invest ltd. was renamed in 2015. Before the company's rebranding, it was called Big Credit ltd. According to the filing history, Simona was appointed as a company director on 9th January 2013 - before the company actually became Fast Invest.
When digging deeper, we found that Simona, as well as her husband Zilvinas, were connected to the failure of the credit union Taupkase.
The union lured private investors into shareholder agreements in exchange for 4.5% of interest per year.
Board committee members should have received bonuses worth hundreds of thousands of euros, but instead, investors lost thousands.
Alongside Simona and Zilvinas, the list of accused people within the Taupkase case includes names such as Sergej Ščerbakov (former director of Fast Invest) and further members of the Vaitkunas family.
Want more on this case? Find the full fraud report here.
You can also find more information about the case on the site of the Ministry of Interior within the financial crime investigation section.
We suggest translating the text to English, as it's only available in Lithuanian.
Who Owns Fast Invest?
Unfortunately, we haven't found any publicly available information about the legal owner of Fast Invest Limited. The company's CEO and Co-Founder are Simona Vaitkune. Fast Invest confirmed that Simona is also the legal owner of the company.
Although the company is listed and registered in the UK, the team is based in Kaunas, Lithuania.
According to the long-established report here. You can also find more information about the case on the site of the Ministry of Interior within the Lithuanian business information portal and database Rekvizitai, the company's real address is V. Putvinskio g. 50, LT-44211 Kaunas.
This information was only recently added to Fast Invest's website.
Suspicious Terms & Conditions
One of the most prominent red flags we found when investigating this platform is the fact that investors do not have details regarding the whereabouts of their investments.
Could the CEO be repeating history?
Clause 6.9 - No Assignment Agreements

When investing money on Fast Invest you have no idea where your money is being invested. As you can see from the image above (a snapshot taken from the platform's terms), there is no loan agreement for investors to view, as Fast Invest does not disclose such information.
Clause 13.2 - Amendments to T&C

One of the shadiest practices we have seen with P2P lending sites is the right to amend the terms and conditions as it suits them. In the case of Fast Invest, you will be at least informed in your profile.
Note, however, that in case you disagree you are "not entitled" to use your investment account anymore.
Clause 15.4 - Loan Extensions

Fast Invest follows the same principle as Mintos. The loan company can extend its loans up to six times, meaning, unless you sell them on the secondary market, your loans can be extended up to 180 days.
How is Your Money Protected?
Fast Invest published an entire article about how the platform protects your investment. Here are the key takeaways:
Your uninvested funds are stored in separate bank accounts
All your investments are safe by loan agreement in the responsibility of the loan originator
In the scenario where Fast Invest goes out of business, the investors should receive all needed information from the database to retrieve its investments.
We encourage you to read the entire article here.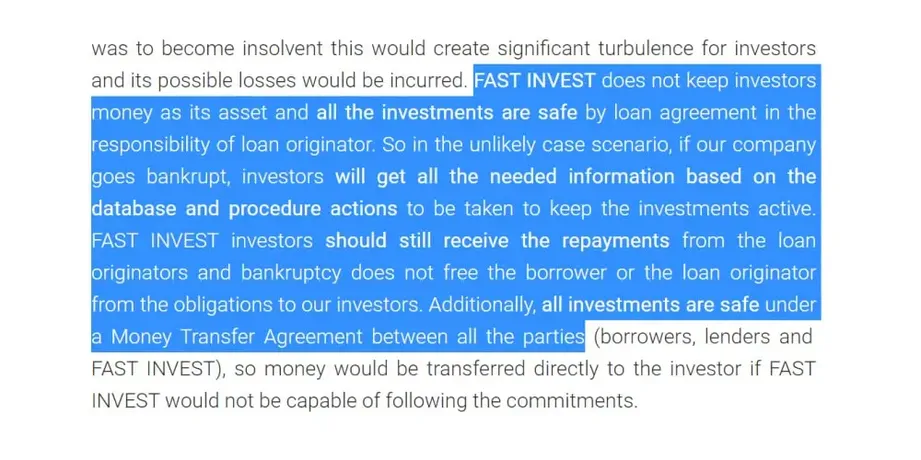 You can find the full terms and conditions here. Terms and Conditions may change in the future, which is why we encourage you to read them first, before investing any money.
Curious about what else we look at when conducting our research?
With our ✅ workbook, you will be able to spot red flags 🚩 and protect your investment.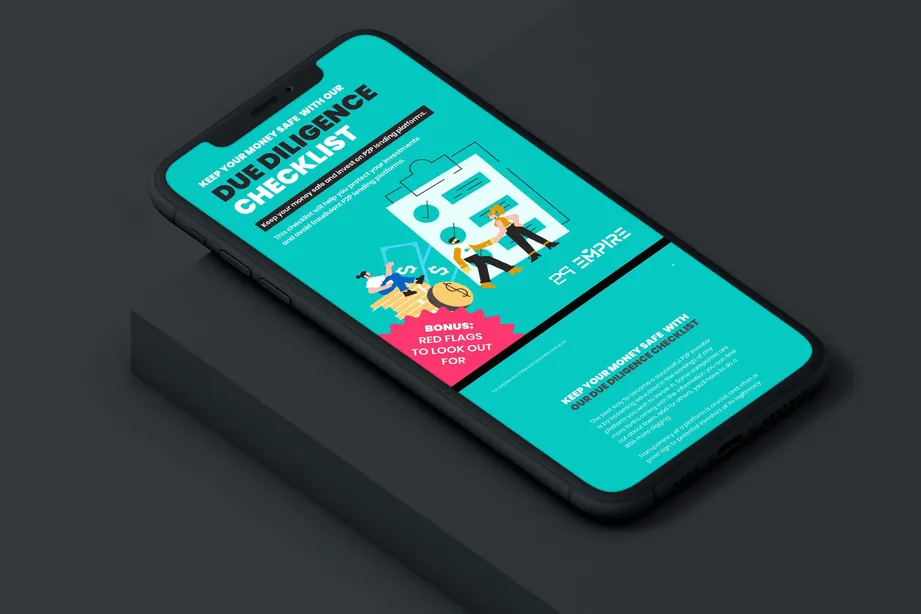 Protect Your Money!
Potential Red Flags
Fast Invest's CEO was connected to fraudulent behavior
Not all loan providers are disclosed on their website
Several investors reported recent delays in withdrawals
Terms and Conditions can be amended at any time without prior notice
Fast Invest is blocking withdrawal requests and luring investors to invest their uninvested funds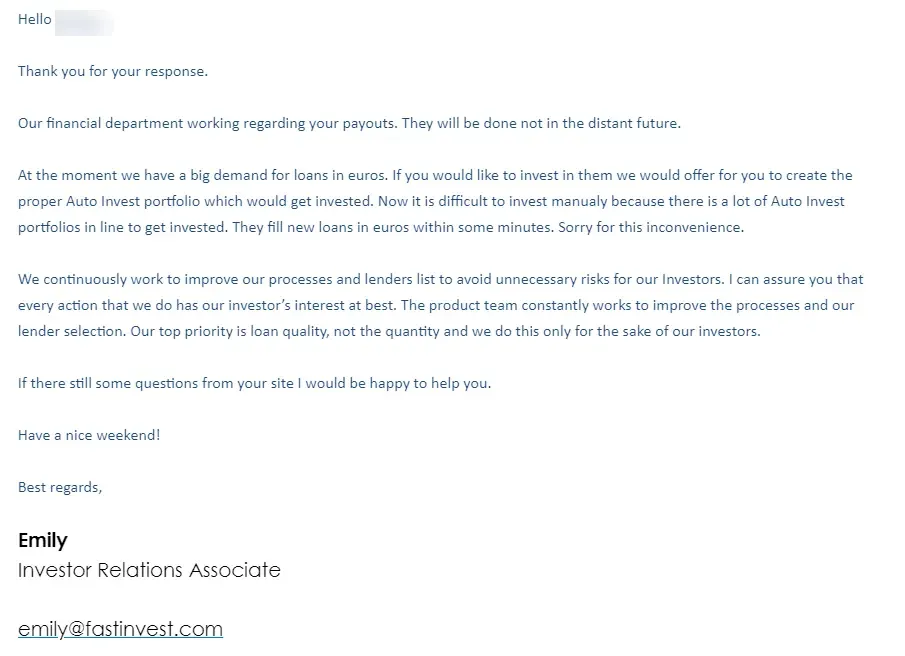 Learn more about possible red flags here.
What's Our Opinion About Fast Invest?
We have shortly tested Fast Invest at the beginning of 2020. However, after we have done our due diligence, we decided to cash out our funds and discontinue any further activity on this platform.
Although the platform promised to become more transparent about their loan originators as well as creating a dedicated statistics page, Fast Invest failed to deliver. The CEO's connection to a scam in the past is something we can't digest either.
We also don't like the sudden introduction of withdrawal fees as well as the delays that many investors encounter when attempting to withdraw money from Fast Invest.
Some investors also informed us that complaining about the platform's practices to the Financial Ombudsman in London is not yielding any results. The best course of action in order to retrieve your uninvested capital is to pursue legal actions. Fast Invest is not a regulated entity, which means that there is no oversight of the company's systems.
Curious about other platforms? Head over to our ⚖️ P2P lending platform comparison to get a quick overview of the currently available platforms.
Compare Platforms
Fast Invest's Usability
If you have read some of our previous reviews, you might have noticed that we emphasize design and usability as important factors when reviewing P2P platforms.
Although Fast Invest's visual appearance is very attractive, the investor's dashboard got very overcrowded in the last few months, which makes the experience rather poor.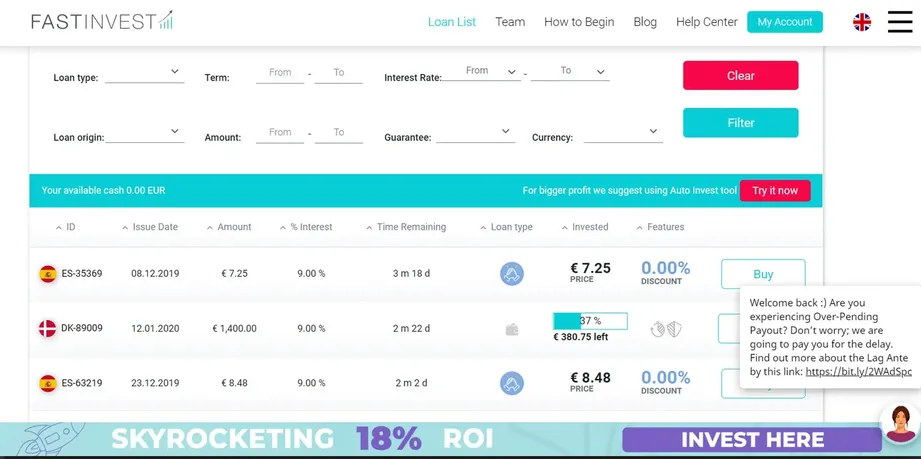 Also, in case you want to view the currently available loans, it's rather confusing as you can't sort by loan originator and it appears like loans from the primary market and secondary market are mixed up together.
It's certainly not clear enough and the ad on the bottom of the page with the support message is distracting.
Fast Invest's Auto Invest Tool
Fast Invest's Auto Invest is very minimalistic.
You can only define the investment amount, interest range, and the country you want to invest in.
There is no option to select loan originators, which is unseen on other P2P lending sites.

Liquidity
Fast Invest offered the possibility to sell your claims back to the platform prior to the end of the loan term. The issue with this feature was that you had to pay the entire accrued interest as a fee if you wished to cash out earlier as expected.
Recently Fast Invest introduced a secondary market where investors can sell their claims to other investors for a premium or discounted price.

Fast Invest constantly fails to repay investor's money, which means that you won't be able to withdraw money in a fast manner.
Fast Invest's Customer Support
While the company is registered in the UK, Fast Invest's main office is based in Lithuania, and this is where the team manages the operations.
The customer support has improved its responsiveness in recent months, however, you shouldn't have high expectations.
If you are just starting out with P2P lending, we suggest you invest in platforms that are more transparent and supportive. Read our Debitum Network review, PeerBerry review, or EstateGuru review to learn more about the best P2P lending sites.
Read our latest guide on how to choose your first P2P platform.
Fast Invest Review Summary
Fast Invest isn't our favorite platform, mainly due to the lack of transparency and the CEO's connection to fraud. None of the other platforms we reviewed so far, had any issues disclosing their loan originators.
Many investors reported withdrawal delays of up to four weeks. This is very suspicious as investor's funds should be stored on a separate account and accessible anytime.
Main takeaways from our Fast Invest review:
CEO is connected to a scam
You have no access to loan agreements
Withdrawal requests are delayed
With an abundance of legitimate P2P lending platforms that offer better investments that are secured by real liabilities, there's no need for you to partake in the kind of risk involved with Fast Invest.
Ready to research other investment opportunities? We're ready to show you!
Compare Platforms
FAQs
How is my investment protected on Fast Invest?
The only protection scheme that Fast Invest offers is the buyback guarantee. When delayed payments occur, Fast Invest will buy back your investment with the accrued interest within three, seven, or 15 days.
Does Fast Invest offer a secondary market?
Fast Invest has recently introduced a secondary market where you can sell your claims to other investors for a premium or discounted price.
Can I automate my investments on Fast Invest?
Yes, you can use the Auto Invest feature to automate your investment on Fast Invest, however, due to the lack of information, you won't be able to tell where you invest your money into.
Is Fast Invest legitimate?
Fast Invest is surrounded by much negative information, which we could confirm during our due diligence. We suggest you to read the relevant sections in our Fast Invest review to learn more about it.