CoinLoan Overview
Coinloan is an Estonian crypto lending platform where investors can invest in crypto-backed loans. By investing in Coinloan, you can earn up to 12.3% interest per year. Is CoinLoan safe? Learn more about the crypto interest account of this platform in our Coinloan review.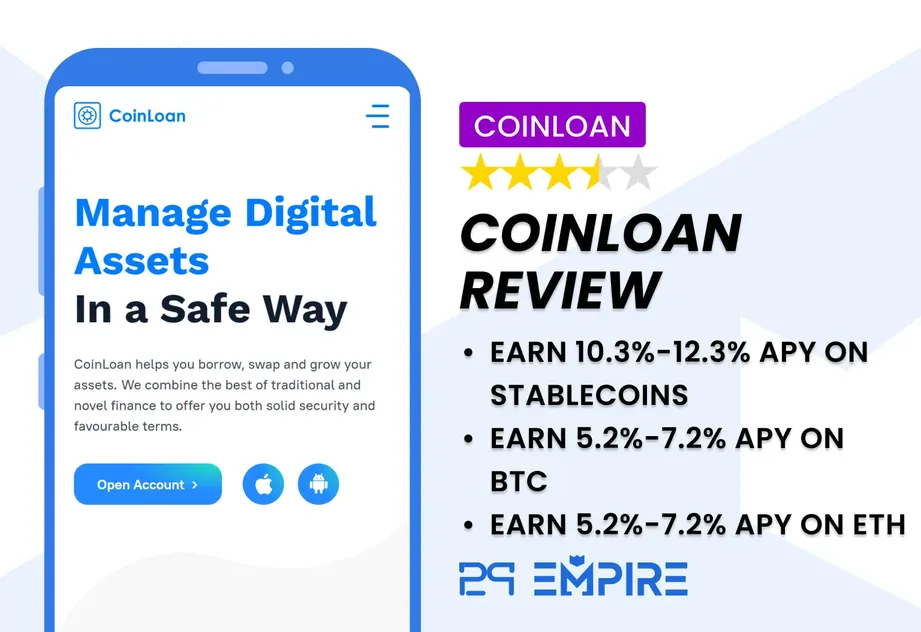 ⭐ Find the best bitcoin lending platform.
CoinLoan in Numbers
CoinLoan doesn't share the amount of funds under management nor additional information such as the number of registered users or the most popular coins. Like other crypto-lending platforms, CoinLoan also doesn't share any financial statements.
CoinLoan Requirements
In order to register and invest on CoinLoan, you need to fulfill the following criteria:
Be over 18 years old
Have a valid ID document
CoinLoan is also available for users from all over the world, including the U.S. or UK.
Deposits on CoinLoan
Depositing crypto or fiat to your CoinLoan account is very straightforward. Right after you verify your account, you will get access to all of your CoinLoan wallets. You can simply click on "DEPOSIT" and retrieve the information about your crypto wallet.
You can then transfer your crypto from your exchange wallet or hardware wallet directly to your CoinLoan wallet.
The crypto lending platform supports currently the following crypto assets.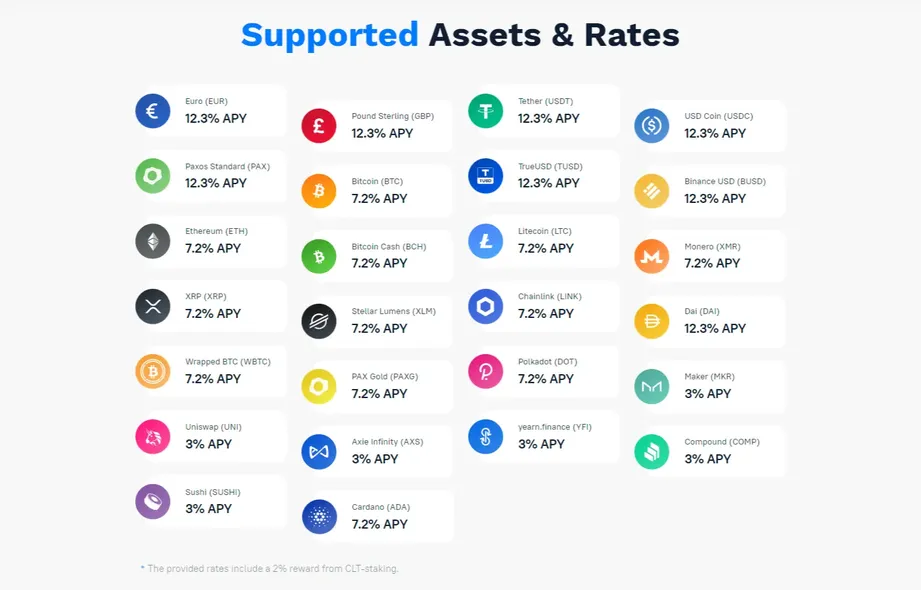 You can also make a deposit in FIAT currencies. CoinLoan offers free wire transfers in USD, EUR, GBP. You can retrieve the top-up information directly in your CoinLoan dashboard.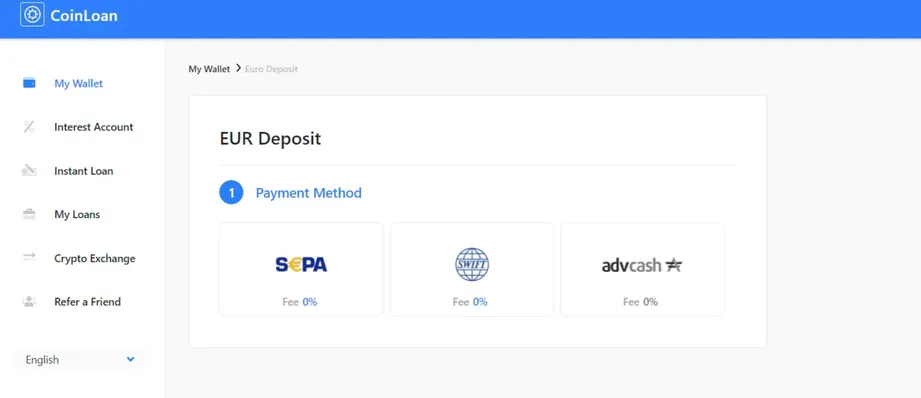 Keep in mind that FIAT transfers might take up to 3 business days, whereas crypto transfers take typically just a few minutes.
After you have topped up your account, you will automatically start earning interest on your deposits. The yield is being paid out daily.
Yield on FIAT deposits
While CoinLoan clearly promotes interest on FIAT deposits, it's not as transparent as you might think. No organization is allowed to offer interest on FIAT deposits unless the platform owns a banking license. That's not the case with CoinLoan.
We have actually talked about this with CoinLoan's support and the platform admitted that when one deposits FIAT assets, they are automatically converted to our internal stablecoin - cEUR, cGBP at the guaranteed 1-to-1 conversion rate. These are our internal off-chain stablecoin.
There is no additional information about the assets under management nor audits of the reserves that are being used to back CoinLoans stablecoin.
Risk and Return
When investing on CoinLoan, you are funding loans that are backed by crypto-assets. This means that the borrower deposits cryptocurrencies on their account as collateral.
The platform's max. loan-to-value (LTV) is 70%. If the value of the collateral decreases and the LTV increases up to 90%, CoinLoan will sell the cryptocurrency (collateral) and pay back your money.
Borrowers will get notified (margin call) as the LTV changes due to market fluctuation of their crypto-assets, however, during a fast downturn of Bitcoin (or other crypto-assets), the sell-off of the collateral can cause significant losses on the borrower's side.
Borrowers always have the option to repay the loan or deposit more cryptocurrency to keep the LTV at max. 70%.
Either way, you are well protected because the collateral will be sold as soon as the LTV reaches 90%.
This crypto lending platform offers (in theory) very solid protection of your money.
When it comes to returns, CoinLoan isn't the highest-yielding P2P platform out there. The annual yield for your BTC assets is currently at 5.2% (without staking the CoinLoan token).
Lower yields make sense as your investment is protected by collateral, which isn't the case with many other P2P lending sites that fund payday loans or unsecured consumer loans.
A very positive feature of CoinLoan is the fact that if the borrower repays the loan before half of the loan term, the borrower needs to pay at least 50% of the interest. That's not the case with most other P2P lending sites.
Rehypothecation
We have also asked CoinLoan whether they engage in rehypothecation (using borrower's collateral to issue new loans). The platform was very transparent about the answer. CoinLoan doesn't rehypothecate all the collateral but they have used this technique in minor cases with an LTV of 20%.
Passive Income
CoinLoan offers competitive yields on your crypto and fiat deposits. The platform pays out 10.3% on stablecoin holdings and FIAT as well as 5.2% on BTC and ETH.
You can increase your return by staking CoinLoans utility token CLT by 2%. Keep in mind the volatility of utility tokens when staking those on a dedicated platform.
CoinLoan offers free crypto and FIAT deposits as well as withdrawals. The platform makes money by lending your crypto to others in exchange for interest. CoinLoan also makes money from the spread they charge when using their Crypto Exchange feature.
What's worth noting is that CoinLoan doesn't use any other "yield-generating" practices outside the platform's ecosystem, which means that the platform doesn't invest in DeFi, nor speculates with your assets on the crypto market.
Is CoinLoan Safe?
Now, you are aware of the basics, but is CoinLoan a legit platform?
We have already mentioned that the site's lack of transparency is a big concern to us. But, let's have a look at what else we found out when completing our thorough due diligence.
Who Runs the Company?
CoinLoan was founded by Alex Faliushin and Max Sapelov. Alex is also the CEO of CoinLoan while Max is the acting CTO.
According to their LinkedIn profiles, both Alex and Max also own a company called IT Security Group.
We haven't found more information about the CoinLoan team and the management is also not introduced on the website.
We did, however, found an article that COINLOAN OÜ has employed only three employees in Q4 2020 with an estimated average gross salary of €1,240 per month.
Who owns the platform?
The CoinLoan crypto lending platform is owned and operated by CoinLoan OÜ (former ExFinance OÜ) , and the headquarters are located in Tallinn, Estonia. The company has a European Financial License (from Estonia). Alex Falishin is the sole management board member according to the Estonian business register.
Are There Any Suspicious Terms and Conditions?
As there's no information about the team behind CoinLoan, you should complete your due diligence by paying closer attention to the information we do have access to, like the platform's terms and conditions.
Clause 5.19: Storage of Funds
CoinLoan doesn't say how they store and manage investors' funds in their terms and conditions. This is a standard clause that all investors should expect to see in a platform's terms, so it's concerning that CoinLoan does not provide this information.

When sending money to CoinLoan, your funds are stored at a Bilderlings account. It's worth noting that Bilderings is not a bank, but an electronic money institution. CoinLoan uses BitGo as their primary custodian. BitGo offers qualified custody and a $100M insurance on hot wallets.
Clause 13.2: Liability
Although one of CoinLoan's products is called an 'interest account', your funds aren't covered by any insurance, and by investing on CoinLoan your investment is exposed to certain risks.

As CoinLoan clearly says in their Terms and Conditions, your investments aren't insured by any jurisdiction.
In the worst-case scenario, you can lose all of your investments, but that's the case with any P2P lending site.
Clause 12: Amendments
Possibly the most concerning clause: CoinLoan reserves the right to amend its terms anytime without prior notice.

This puts your investments at risk. If you've been reading our other P2P lending reviews, you know by now that this is a no-go for us.
Potential Red Flags
Coinloan is offering interest on fiat deposits without a banking license which is illegal
Learn more about possible red flags here.
What's Our Opinion of CoinLoan?
We have been monitoring CoinLoan for several years now and our attitude towards the platform was always rather critical due to the lack of transparency and poor support.
We have, however, revisited our CoinLoan review again in 2022 and retested all the functions, and reviewed some of the earlier criticized points.
In total, we have re-evaluated 42 different rating factors for crypto lending platforms, which are represented in this review.
There are a few main points to highlight. From a usability point of view, CoinLoan is one of the best crypto lending platforms on the market. Deposits and withdrawals are for free and you can easily swap between cryptocurrencies. The yield is straightforward and it doesn't change as much as on platforms like Celsius, Nexo or BlockFi.
We have also revised all the risks connected to crypto lending.
What's important to point out is that CoinLoan doesn't engage in "high-yielding revenue-generating strategies" outside of its ecosystem, meaning the platform doesn't invest your funds in Defi protocols nor uses it for speculative trading strategies (there are platforms out there that do that).
This lowers the risk, that the platform will lose your money thanks to external risks that have materialized.
When we talked with the support of CoinLoan, the specialist told us that users remain owners of their coins, which is an important detail to point out. This is something that makes the platform stand out from many other competitors.
Some points we don't like that much is that the team and the CEO aren't properly introduced on the platform, nor does he have a dedicated picture on his LinkedIn profile.
Another less attractive point to highlight is that the platform is promoting interest on FIAT currencies, while those funds are exchanged in a non-transparent inhouse stablecoin.
Apart from that, it looks like a solid crypto lending platform that is able to compete amongst the top players in the industry, including YouHodler or Hodlnaut.
We would, however, not suggest transferring all your crypto to a crypto-lending platform. Instead, you should keep them on your dedicated hardware wallet such as the one from Trezor.
Do you appreciate this review? Invite us for a coffee ☕
Usability
CoinLoan is really easy to use. You just register, verify your account and transfer your deposit.
After you have deposited your funds, they will appear in your CoinLoan wallet. To start earning interest, you have to move them to the Interest Account.
Just navigate to the Interest Account section in your dashboard, choose the cryptocurrency on which you want to earn interest, and select the amount that you want to deposit to your Interest Account.
Click on Continue to confirm your action.
That's it. You don't have to do anything else in order to earn passive income as the platform will deploy your deposits to lend them to borrowers.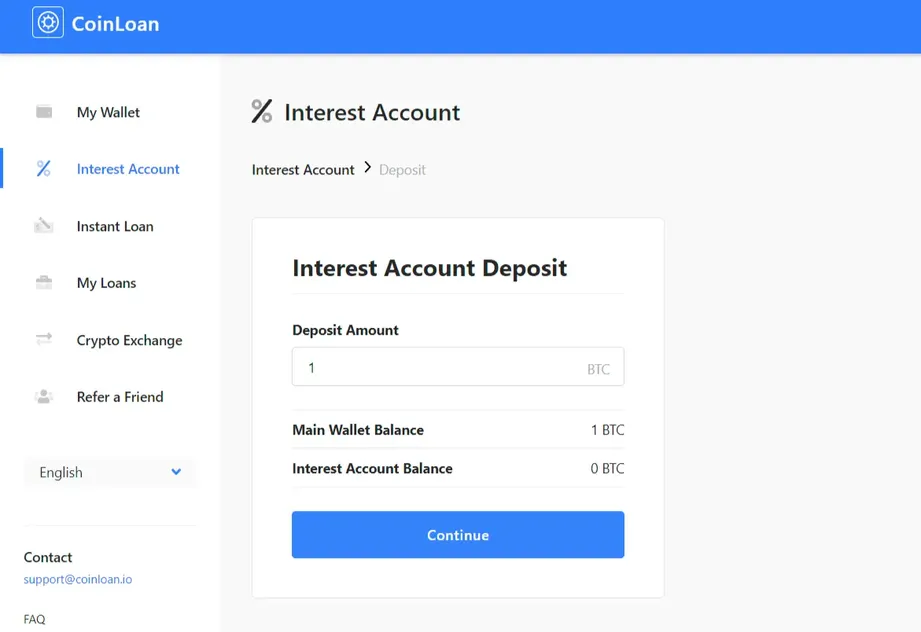 Apart from the Wallet and Interest Account, you also have the option to swap/exchange your cryptocurrencies between each other or into FIAT.
CoinLoan does add a significant spread for swaps, so you should always verify the amount before you agree to swap your currencies.
Apart from the mentioned features, the platform also offers users to take a loan in exchange for crypto as collateral.
Liquidity
Are you wondering how long it takes to withdraw your investments?
While CoinLoan reserves up to 7 days to process your withdrawal requests, the support told us that typically all requests are processed within 24 hours after you have requested to exit your Interest Account and transfer funds back to your hardware wallet.
Currently, we have no information about other users reporting any discrepancies when it comes to withdrawing assets from CoinLoan.
Support
The support of CoinLoan has significantly improved in recent months. The platform was able to share with us all of the information that we were after without any hesitation.
Our experience with the support of CoinLoan was very refreshing and likely one of the best within the crypto-lending space.
When it comes to answering our due diligence questions, CoinLoan never responded to our emails, which left us feeling wary of their services.
We were able to chat with the support through the LIVE Chat on their website even outside of business hours (Sunday evening). None of the other platforms offer this type of quick response time.
CoinLoan Review Summary
While there are still a few points that CoinLoan could improve, the platform has significantly improved the transparency and the quality of the platform. If you are looking for solid returns of up to 10.3% on your crypto holdings, CoinLoan could be a good fit for you.
Key Takeaways From Our CoinLoan Review
Very responsive support
Competitive yields
Based in Europe
Free fiat transfers
CoinLoan was able to pass our due diligence process in 2022 with a much better result than ever before. In fact, it could be one of the best crypto-lending platforms to consider.
Ready to earn passive income on your crypto?