Our team has been reporting about Celsius' questionable business model for several months prior to the company halting withdrawals. Some of the information below might be updated. Please refer to our news section to be up to date about the Celsius legal case.
Celsius Scam Overview
Celsius Network is a U.S.-based crypto lending platform that lets you earn interest in your cryptocurrencies. The crypto lending platform was launched in 2017 by Alex Mashinsky, and currently, Celsius is managing more than $29 billion of investors' assets. This Celsius review will dive deeper into the latest events on Celsius and evaluate the platform's safety. Are you wondering whether Celsius is safe? Continue reading.
Here is a quick recap of the recent events that might impact your risk when depositing cryptos on Celsius 👇
We have reached out multiple times to Celsius for feedback and clarification about the events concerning the platform's management; however, the platform and the CEO refused to comment.
Celsius disabled all withdrawals
On June 13th, 2022, the crypto lending platform disabled all withdrawals, transfers between accounts, and swaps. According to the statement from Celsius, the reason behind this decision is the extreme market conditions. The fact is, however, that Celsius' non-transparent business model is not sustainable which puts depositors' funds at risk. Celsius has locked $11,822,322,201 worth of community assets.
Not available for U.S. clients
Due to regulatory requirements, Celsius Network stopped offering its crypto interest account for newly registered clients from the U.S. Clients outside the United States keep earning yield on their crypto deposits. It is unclear whether and when Celsius will be offering its interest-bearing account for U.S. clients again.
Celsius in Numbers
Regardless of whether it's a crypto lending site or just a typical peer-to-peer lending platform, we always recommend reviewing a platform's statistics to get a quick overview of how its services are performing.
Considering that Celsius was founded in 2017, the platform attracted close to half a million users who deposited assets worth more than $29 billion.
The assets under management make it one of the fastest-growing peer-to-peer crypto lending platforms globally.
Celsius Network has undergone several funding rounds. The crypto-lending platform received $10 million from Tether and another $18 million from investors who participated in Celsius equity fundraising, which BnkToTheFuture organized.
The platform's rapid growth is expensive, so the company made a loss of $34 M in 2020.
You can evaluate the report yourself in our statistics section. Unfortunately, we could not get our hands on the latest financials from 2021. The platform doesn't disclose those publicly.
Risk and Return
When lending fiat or crypto to others for interest, you should always bear the risk.
While many exchanges and crypto lending platforms brag about their insurance policy, you should know that this isn't important if you want to earn interest in your cryptocurrency.
If you use your crypto-lending account, your cryptos will be deployed (lent to others) for an interest payment. No insurance covers the default risk.
Your Celsius wallet is not a checking or savings account which means that your funds are not covered by any insurance that would absorb potential losses.
What does Celsius insurance cover?
According to the FAQ section on Celsius, the insurance provided by the custodian Fireblocks covers digital assets held by Celsius up to $30M.
In June 2021, Prime Trust (a former custodian of Celsius) terminated its partnership with this platform due to "endlessly re-hypothecating assets". Source: Coindesk
By depositing money on Celsius, you agree with the temporary transfer of the ownership of your coins to the platform for interest.
How does Celsius make money?
Celsius network takes 20% of its revenue to reinvest into the platform. 80% of the revenue is being returned to the depositors (you) as rewards.
While Celsius is a crypto lending platform, lending to retail borrowers is only one of five income sources for Celsius.
Other streams of income:
Retail Lending
Lending to Institutional Investors
Lending to Exchanges
Bitcoin Mining
Lending to DeFi
On the 3. December 2021, Celsius has confirmed that it has lost money in the BadgerDAO hack. The company didn't confirm the lost amount, but some sources suggest that it could have been up to $50M.
We could not find out how Celsius managed to cover the loss.
Is Celsius regulated?
Celsius Network has filed for an exempt offering of securities with the SEC in the U.S. We are not aware of any regulations or restrictions that apply to Celsius Network.

While Celsius has applied to be registered as a crypto asset business by the Financial Conduct Authority in the U.K. (FCA), the platform decided to withdraw its application and terminate its business in the U.K. due to "uncertain regulatory requirements". Source: Decrypt
UPDATE: On the 17th of September 2021, the Texas State Securities Board has filed for a hearing with the potential to impose a cease and desist order against crypto lending firm Celsius Network for not offering securities licensed at the state or federal level, while the New Jersey Bureau of Securities has ordered the platform to stop offering and selling interest-earning cryptocurrency products. Source
☝️ This may harm the operation of Celsius Network. If you are a European resident and are interested in earning yield on crypto, YouHodler might be a better choice until the issues with the regulators in the U.S. are resolved. Read the comparison between YouHodler vs Celsius.
Counterparty Risk - How is Celsius Network secured?
The crypto lending space is full of scams, so you should pay good attention to how Celsius is safeguarding your crypto assets.
Apart from the chance that Celsius may misuse your funds, the platform can also be hacked.
Celsius Network uses technologies such as MPC (Multi-Party Computation) to increase the security of your assets.
To avoid any misuse of your data from your phone, the platform offers a 2FA, biometric scan, or HODL mode. This security feature gives you the ability to temporarily disable outgoing transactions from your Celsius wallet. We strongly encourage you to activate all the security features in your account.
Celsius Network also allows you to whitelist specific withdrawal addresses only to increase the protection of your account.
Borrower Risk - How is my investment secured?
Borrower risk represents the risk that the borrower won't repay the loan. On most European P2P lending platforms, you have a legal contract with every borrower (or loan originator), which isn't the case on bitcoin lending platforms.
On Celsius, you deposit your cryptos, and the platform will distribute your coins to many different borrowers in exchange for interest.
Crypto assets secure every loan. This means that to borrow $1,000 worth of fiat or coins, the borrower will need to deposit at least $2,000 in crypto to get the loan.
Crypto loans are a great way to use your coins as collateral and lend money without liquidating your assets (hopefully increasing value over time).
The more crypto the borrower deposits, the lower the APR (annual interest rate for the borrower). The collateral value concerning the loan amount is measured as Loan To Value (LTV).
In the earlier mentioned example, we represented an LTV of 50%.
Now, if you are borrowing money from Celsius, you always agree on specific terms that consist of the APR and the LTV.
As the value of your cryptocurrency fluctuates, it may happen that your crypto will be worthless during a market crash, which will increase the LTV.
As soon as the LTV reaches 65%, you will receive a margin call, which means that you will need to deposit more collateral to match the initially agreed-upon loan terms.
You may also repay the loan if you do not wish to add more collateral.
As a borrower, it's in your best interest to react quickly and resolve the margin call since Celsius reserves the right to liquidate your collateral when the LTV reaches 80%.
Since crypto loans are overcollateralized, the risk of losing money as a depositor due to the borrower risk is extremely low. However, be aware that your deposits are not only used to fund crypto-backed loans. It's unclear to which extent the other revenue streams are overcollateralized.
Potential Risks
Keep in mind that Celsius (like most other platforms) doesn't make money just by lending to other borrowers. The platform also invests your assets into DeFi and other "revenue-generating ventures". These ventures might expose your funds to additional risks, which aren't disclosed on Celsius its website.
Do you enjoy this review? Show your support and invite us for a coffee ☕
Celsius Rewards
Celsius created their currency which is the CEL token. Holders of this digital currency will earn higher interest rates on their deposits or get better terms when borrowing money.
You can also choose to receive interest in the CEL currency, which is a sneaky strategy for the company to raise more funds and inflate their somewhat volatile token.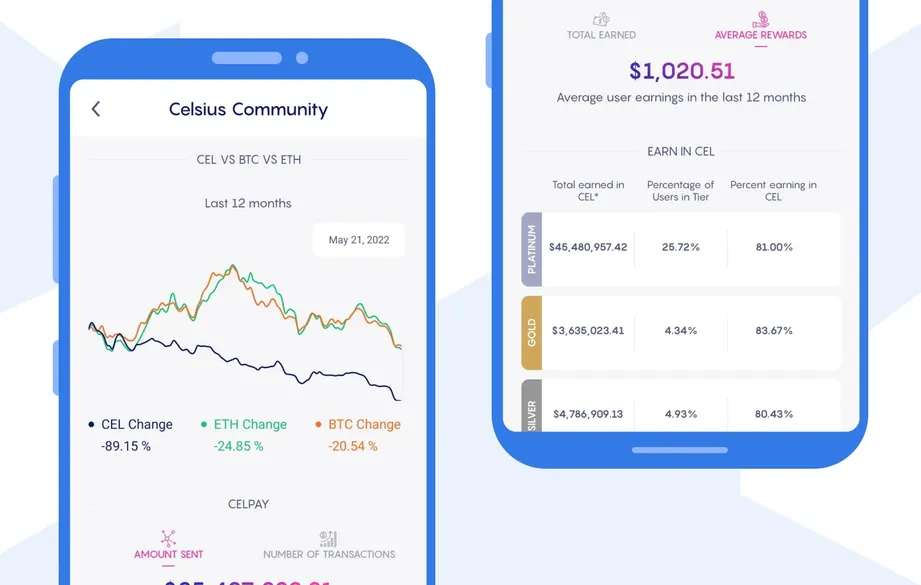 As you can tell, the volatility of the CEL token is much higher than the volatility of other crypto assets, which significantly decreases the value of your cryptocurrency portfolio when holding those types of utility tokens.
To earn higher rewards on Celsius, you have to hold a certain percentage of your portfolio in CEL tokens. When you keep 25% or more of your portfolio in the CEL token, you will receive 25% higher interest rates on your deposits.
This is a very sneaky way to use the utility token, which is something many other crypto lending platforms are copying from Celsius.


Utility tokens are of no use outside the platform. By holding the token, you expose yourself to higher volatility, negatively impacting your portfolio performance.
Is Celsius Safe?
There are many scams in the crypto space, so we highly recommend researching the platform's management where you deposit your hard-earned money.
The same is valid for Celsius Network.
Who runs the company?
Celsius was founded in 2017 by Alexander Mashinsky and S. Daniel Leon.
Alex is a known figure in the technology space. He has founded eight startups and raised more than $1B with over + $3B in exits.
S. Daniel Leon is the managing director of Governing Dynamics, a venture capital firm. Daniel is also the COO of Celsius Network.
Where is Celsius Network based?
Celsius moved its operations in 2021 to Celsius LLC, incorporated in Delaware.
Are there any suspicious terms and conditions?
We always advise you to read the terms and conditions of every platform to understand your legal rights better when depositing your crypto assets.
Even on Celsius Network, there are many terms and conditions to which you should pay close attention to.
10. Risk Disclosure

It is important to mention that your Celsius wallet isn't a savings account and is not backed by any deposit protection scheme. You might lose all your money when lending your cryptos to others.
12. Withdrawals

Celsius reserves the right to delay your withdrawals for up to 3 days. This is a standard term that is being used by most crypto lending platforms.
Not Your Keys Not Your Coin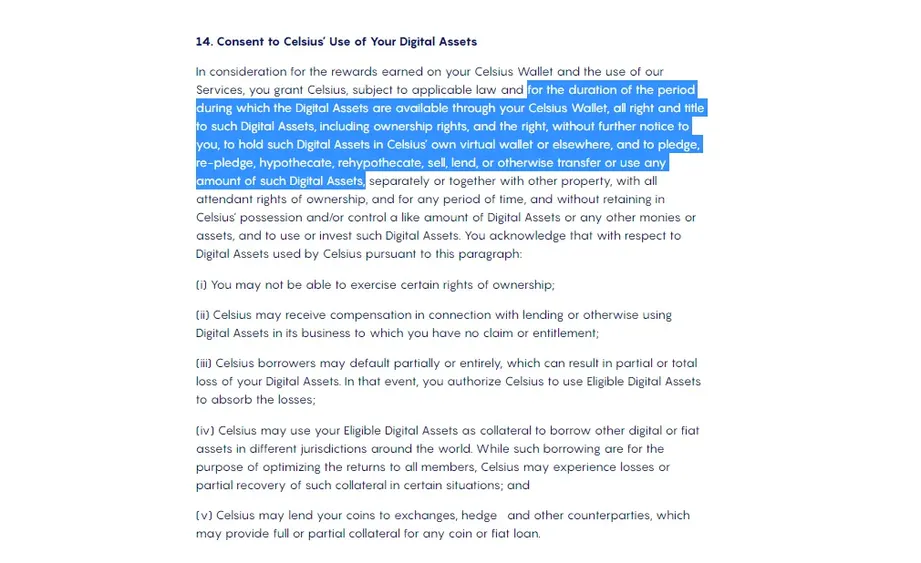 When transferring cryptos to Celsius (or any other centralized crypto lending platform), you are no longer the owner of the private keys, which means that Celsius is the legal owner of your coins.
You, as a depositor, will receive interest in exchange for temporarily transferring the ownership of your coins to Celsius.
YouHodler is the only platform that legally isn't taking over the ownership of your coins when using their savings account.
Celsius Network will lend your money to others or participate in the rehypothecation of collateral.
If you want to store your crypto safely, we recommend using 🔒 which is the best and most affordable way to keep your crypto safe.
Be savvy & keep your cryptos safe with Trezor.
19. Conversion Rates

You should certainly pay close attention to the conversion rates on Celsius. Celsius reserves the right to use its own rates and change them without prior notice.
23. Disclosure of Celsius Wallet Information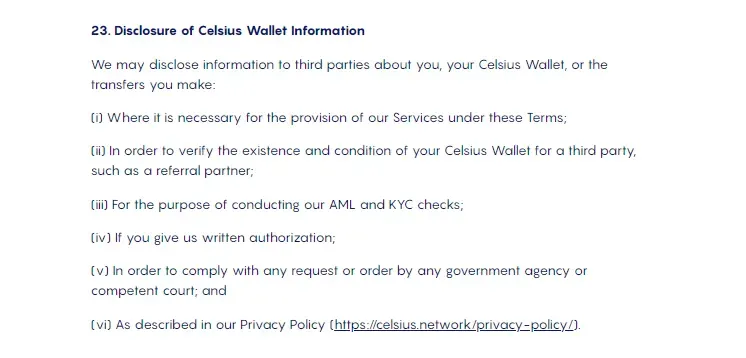 Celsius also reserves the right to disclose any information about your Celsius wallet to third parties to comply with the law.
Potential Red Flags
The former custodian Prime Trust has terminated the collaboration with Celsius Network for "endlessly re-hypothecating assets."
In October 2021, Celsius confirmed that the company took a loan of $1B from Tether (a questionable stablecoin issuer from the Virgin Islands) in exchange for bitcoin as collateral (clients assets) Source: Coindesk
The Department of Financial Institutions in Kentucky issued a Cease and Desist order against Celsius Network Source: Commonwealth of Kentucky
The CFO of Celsius got arrested in Israel at the end of November 2021. Celsius suspended the CFO after the information about the arrest had made the news.
The CRO of Celsius has been found to run a business with a convicted money launderer. Source: Times Of Israel
What's Our Opinion On Celsius Network?
Based on our extensive research about Celsius and close monitoring of the platform, we believe that depositing crypto on Celsius might not be as safe as the company suggests.
The CEO makes regular appearances on YouTube and explains all there is to know about Celsius, making many people trust the company. Celsius declined our request to talk to the CEO about the company's business practices. The company also didn't comment on our request for further information about the stablecoin regulations and their impact on Celsius Network.
Be aware that the crypto lending space is not regulated, which may sooner or later impact your deposits on Celsius Network. Like many other competitors, Celsius is also promoting its token which may be interpreted as a "security" by the regulators in the U.S.
If you are someone, who is interested in lending crypto in exchange for interest, Celsius is one of the biggest centralized platforms to do so.
We have extensively tested the crypto lending platform with our funds in the past and never had a negative experience. Unfortunately, the latest events surrounding Celsius Network don't inspire any trust in the company's claims. As a result of our investigation of the platform's latest events, we exited our stake on Celsius at the end of November 2021.
Usability
As mentioned earlier, Celsius is a mobile app that gives you the option to earn interest on your crypto deposits or borrow money for attractive terms.
Supported Assets
If you want to deposit cryptos and earn interest on them, you should first check whether your cryptocurrencies or stablecoins are supported on a dedicated crypto lending platform.
Celsius Network supports the following 49 coins currently:
| Earn interest on | Borrow in |
| --- | --- |
| ETH, CEL, BTC, MATIC, SNX, TAUD, TUSD, DAI, USDC, THKD, PAX, GUSD, TGBP, TCAD, USDT, BUSD, DOT, AAVE, BNT, XAUT, WDGLD, DASH, PAXG, COMP, BCH, UMA, LINK, EOS, LTC, BAT, ZRX, XLM, ETC, KNC, XRP, UNI, Zec, MANA, BSV, OMG, ADA and nine more | USD and stablecoins |
The rates for depositors change every week. You can earn up to 9% interest on stablecoins. The borrowers can lend for as low as 1% APR, given the fact that they have sufficient collateral to back the loan.
Celsius is also one of the first platforms that offer you yield on tokenized gold (PAXG) 👑. Learn more about how you can make 5.5% APY by holding gold here.
If you plan to borrow money on Celsius, the minimum loan amount is just $500 with a minimum of 6 months which is truly exceptional in the crypto lending space.
Depositing or Buying Crypto
After creating your Celsius account, you need to add coins to your Celsius wallets. Note that every wallet is meant only for the selected cryptocurrency. If you choose the wrong wallet to transfer your coins, you might lose all your assets.
You can copy the wallet's address from your Celsius app (or use the Q.R. code) to add it to your crypto exchange withdrawal address (or hardware wallet).
Celsius also offers you the feature to buy coins directly from your mobile phone. You can purchase crypto with a credit card or bank transfer.
While Celsius doesn't charge any fees for purchasing coins, its partners do. Simplex charges a 3.5% or $10 minimum fee with a special rate of 2.99% for European residents. Wyre charges a 0.1% fee, and Conify charges a 0.5% fee. The partner fees are included in the price you see on the screen when calculating the exchange rate.
So by buying crypto through Celsius, you will pay a steep fee to their cooperation partners. If you prefer to send your crypto from your wallet to Celsius, the platform will cover all gas and transaction fees.
How Fast Can You Withdraw Your Money?
According to Celsius' terms and conditions, it may take up to three days to withdraw your digital assets. Note that your deposits are deployed and not stored in cold storage. Celsius will verify your withdrawal request immediately; however, it may take a few days until your transaction is processed.
If you decide to add a new whitelisted address, Celsius will block any outgoing withdrawal for 24h.
The speed of your transactions depends on the traffic and type of blockchain that your coin is running on. Transferring stablecoins or Litecoins usually takes no more than a few minutes. Be aware that there is currently no exchange on Celsius, so you can only withdraw crypto.
Support
If you have previously invested in peer-to-peer lending platforms in Europe, you might be used to relatively good customer support.
You shouldn't expect this on Celsius, as customer support is relatively poor. The platform didn't get back to us with any plausible answers to our questions.
If you plan to use Celsius Network, you will need to rely on the FAQ section of the platform to solve all of your questions. The platform also collects questions from the users, which the CEO Alex Mashinsky is answering in their regular AMA sessions. However, consider that more critical questions are often flagged as FUD and ignored.
Celsius Review Summary
Celsius Network was a Ponzi scheme, built and operated by Alex Mashinsky, who is now facing jail time. The platform froze millions of users' funds and engaged in fraud and market manipulation.