doFinance Review
doFinance is a subsidiary company of the Latvian Alfa Finance Group. The peer-to-peer (P2P) platform provides financing for loan originators from Indonesia that are operated by Alfa Finance Group.
Keep reading this doFinance review to learn everything you need to know about this P2P platform.
Please note, that we have conducted our doFinance review during normal market conditions. The performance of the platform might differ during an economic downturn.

doFinance in Numbers
Before signing up to any P2P lending platforms, you should always have a look at their statistics.
We always hope that lending platforms will be transparent with their numbers. When looking for doFinance stats, we mostly found data connected to the Alfa Finance Group, and these numbers weren't as transparent as we'd hoped.
After being unable to find the information online, we reached out to doFinance's support team. Luckily the team was very responsive - providing us with all the requested information.
You only need to briefly look at the data to see that the platform cannot be compared with giants such as Bondora or Mintos.
But, you also only need to glance at the table to see that, to this date, no investors have lost any money while investing in loans listed on doFinance. This impressive stat is a result of the platform's protection scheme: an efficient buyback guarantee.
The P2P lending site is also very transparent with their financial results; not every platform shares this data publicly.
doFinance Referral Code and Bonus
doFinance doesn't offer sign-up bonuses, however, the platform does reward loyal investors with the so-called VIP- doFinance Bonus.
Due to the poor performance of this platform, we don't recommend using any of its promo offers.
Compare Platforms
doFinance New User Requirements
In order to sign up on the doFinance platform, you need to be over 18 years old and reside in any country within the European Economic Area.
During registration, you will need to provide a national identification card (scanned or photographed both sides) or passport (scanned or photographed) and a selfie where you are holding your submitted document. We can ask to fill the AML/ KYC questionnaire if the investor's portfolio exceeds 10k euros.
Unfortunately, there is no way to take this photo straight from the browser. Instead, you'll need to take it on your mobile/computer and upload it from there.
At the moment, you can only transfer funds from a private bank account that's registered in your name. The transaction can take up to two days, however, in our case, it took three days with the N26 bank.
doFinance also supports receiving funds via TransferWise, however, you'll need to transfer money from your own account first. Revolut is also one of our preferred methods when depositing money to our doFinance account.
Risk and Returns Involved with doFinance
In order to evaluate the risks and returns involved with investing in P2P loans, you should first look at the type of loans listed on the platform.
While some platforms (like Mintos or Bondora) list a broad variety of loans, other platforms (like EstateGuru or Crowdestate) focus on a certain type of loan, for example, real estate ones.
Similar to PeerBerry, Twino, Robocash, and many other P2P lending platforms, doFinance lists unsecured short-term loans.
doFinance's Instant Buyback Guarantee
Important Update: Due to the economic impact of the COVID-19 on doFinance as well as its parent company Alfa Finance Group, the buyback guarantee has been suspended until further notice.
Is doFinance Safe?
Transparency within the P2P lending industry is becoming increasingly more important. That's why we encourage every reader to complete their own due diligence before signing up with any P2P lending platforms.
We at P2P Empire, we aim to provide the best value. That's why we spend hours testing and researching every single platform. Here are a few hints that might help you to decide whether doFinance is the right fit for you.
Who Leads the Team?
Janis Kulkovskis is the Founder of the Alfa Finance group, which owns doFinance. Co-founded by Janis and Viesturs Kulikovskis in 2015, Ingar Zagorskis joined the doFinance family as the CEO in 2017.
Janis was active in the manufacturing and trading business for over 16 years. According to his LinkedIn profile, Janis is the partner of L.J.Linen Ltd which lists their invoices on doFinance.
Viestrus was previously active within the hotel investment sector for over 17 years.
Ingars worked several years for the European payday loan company 4Finance.

We have not found any suspicious information about the founders or influential people involved with doFinance.
Who Owns the Company?
doFinance is operated by Alfa Finance Group, which helps fund the self-originated loans that are listed on doFinance.
Alfa Finance operates one loan originator that lends money online to borrowers from Indonesia (Indonesian Kredit Cepat).
This lending company offers loans for a duration of 15 days and interest between 600% and 2000% per year, which is common practice within the payday loan industry.
Investors earn on average 10.58% per year.
Where is doFinance Based?
The company's office can be found under this address: Riga, Antonijas Street 5, LV-1010. The address corresponds with the information on doFinance's website as well as the data on the Latvian business registry. If you ever walk by the office, you can see the Alfa Finance logo on the right sight of the entrance.
Are There any Recent Changes to the Management?
We have not found any information about recent changes in the leadership of the company. The co-founders are still very active in the company's daily operations.
Do Investors have Access to Individual Loan Agreements?
Investors are able to see the Assignment Agreement, Financing Agreement (between Alfa Finance and Loan Originator) – this information is available by clicking on particular investment (in one file both agreements are included)
Investors can also see the Agreements between borrowers and Loan Originators. Go to the FAQ section and navigate to Investments -->Where Can I See Agreements Between Loan Originators And Borrowers?
To What Extent can doFinance Cover the Early Buyback?
We're not sure that the platform could cover all the withdrawal requests. However, because the platform's listed loans are mostly short-term, we don't expect it will face much of a liquidity problem.
Are the Loans Secured by any Collateral?
When investing in doFinance, you are funding unsecured personal loans.
doFinance is a promising P2P lending platform that lists unsecured personal loans. Until now, the investors on this platform haven't lost any money as the loan originators are always able to buy back the claims in cases where payment is delayed. Past performance is, however, no guarantee for future outcomes. The only way you can lower your risk is to diversify your P2P lending portfolio.
Potential Red Flags
doFinance disabled the buyback guarantee which was one of the main functions of the platform.
Learn more about possible red flags here.
doFinance's Usability
The doFinance platform was made for investors that don't mind giving away the control of the portfolio's diversification, and as a result, it does not offer many distinctive features. There is, however, an Auto Invest feature that will help you define your strategy and automate your investments.
Auto Invest
doFinance's Auto Invest tool gives you three different predefined strategies to choose from. All the loans are secured by the buyback guarantee.
7% interest with a loan period from 6 - 60 months (secured by DoFinance)
9% interest with a loan period from 4 - 60 months
11% interest with a loan period from 6 - 60 months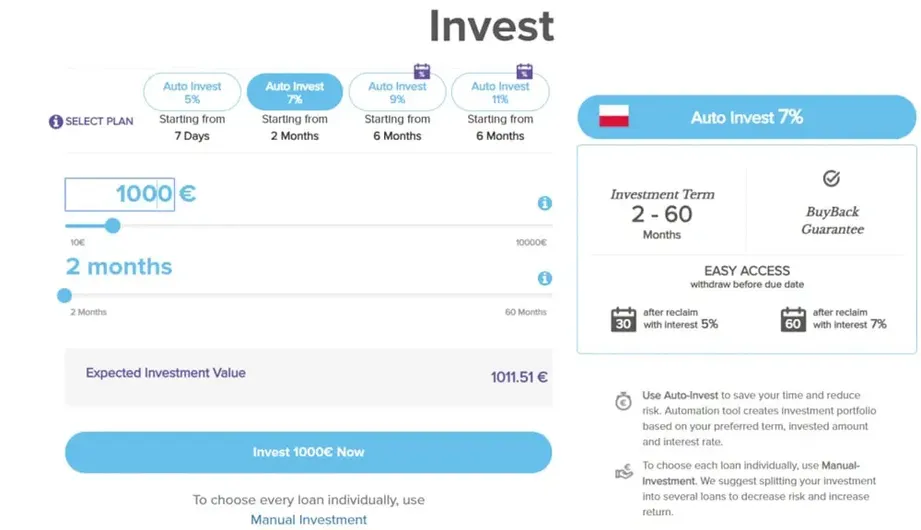 So, how does it work?
After choosing one of the strategies above you can define the portfolio amount as well as the duration of the Auto Invest strategy. During this time, Auto Invest will reinvest your accrued interest. From our point of view, there is no logical reason to invest in any of the first three predefined Auto Invest strategies unless the priority is to keep your portfolio as liquid as possible. Meaning you can withdraw money within seven days after your request.
After choosing one of the strategies above you can define the portfolio amount as well as the duration of the Auto Invest strategy. During this time, the Auto Invest will reinvest your principal as well as the interest you are receiving every month. From our point of view, there is no logical reason to invest in any of the first three predefined Auto Invest strategies unless the priority is to keep your portfolio as liquid as possible. Meaning you can withdraw money within seven days after your request.
When compared with similar features on other platforms, doFinance's Auto Invest tool is not our favorite. Most P2P lending sites let you define your preferred investment amount per loan, while doFinance splits your portfolio automatically in €10 to €20 investments.
Manual Investing on doFinance
doFinance also gives you the option to invest in loans manually, however, we don't see the need for this as there is no real benefit to investors spending their time hand-picking payday loans.

As a result of the lack of information about borrowers and no collateral, it doesn't make sense to invest manually. Unless, of course, you want to avoid investing in loans from a certain loan originator. If this is the case, we suggest investing elsewhere as all loan originators on doFinance belong to the same Alfa Finance Group.
Liquidity of Your Investments
If liquidity is a priority for you, we suggest sticking with the Auto Invest tool because, when investing manually, you cannot withdraw your money before the end of the loan period.
DoFinance is currently working on the process so investors can sell their investments on the secondary market.
If liquidity is a huge factor for you, we suggest using Bondora's Go and Grow as this allows you to instantly withdraw all of your investments. Alternatively, Mintos's Invest and Access feature have up to 75% instant withdrawals.
As you might have noticed, there is no secondary market on doFinance as there isn't really a need for it with the instant buyback guarantee.
doFinance's Customer Support
doFinance offers a live chat function where you can submit your requests. The response time of the support team might vary. DoInvest was very fast when answering simple questions. The platform, however, did not provide any information we have requested about their financial reports, during our due diligence research. There is certainly room for improvement when it comes to the transparency of their operations.
You can also use the contact details of DoFinance at the end of our review.
doFinance Review Summary
DoFinance has faced many difficulties last year. Currently, it looks like the Alfa Finance group is restructuring their business model. There is no more buyback guarantee and the lender is only listing loans from Indonesia.
At the moment, the lender is aiming to recollect the debt from the borrowers to repay investor's investments and continue developing the P2P platform.
Prefer to compare other options?
Compare Platforms
FAQs
Is doFinance safe to use?
doFinance is as safe as any other P2P lending platforms that offer short-term loans with high-interest rates and a buyback guarantee. The Alfa Finance Group takes responsibility for the risk assessment of borrowers which isn't always the case as some P2P lending platforms outsource their risk assessment.
Why invest on doFinance?
Returns up to 11% per year and an instant buyback guarantee are two reasons why you should consider investing on doFinance. doFinance is a suitable alternatives to Mintos, Bondora, or any other P2P lending platforms that list short-term investment opportunities.
Does doFinance offer a buyback?
doFinance offers a unique instant buyback that most other P2P lending platforms cannot beat. Your loans never get delayed because the buyback activates right after the end of the loan period.
What are doFinance's VIP Investors?
doFinance VIP Investors are those who signed up to the platform with our referral link. These users are eligible to receive 1% additional interest on their 11% automated portfolio strategy after 90 days of registration.