Mintos Bonus
Mintos offered a 0.5% cashback bonus to all new investors that sign up with a unique partner link. The bonus amount was calculated from your investment amount during the first 90 days after your registration. Note that Mintos has paused the bonus for new investors in March 2020.
If you are looking to get an additional cashback on top of your interest, you can also use our PeerBerry referral code, which will get you a 0.5% cashback bonus for your investments within the first 90 days from your registration.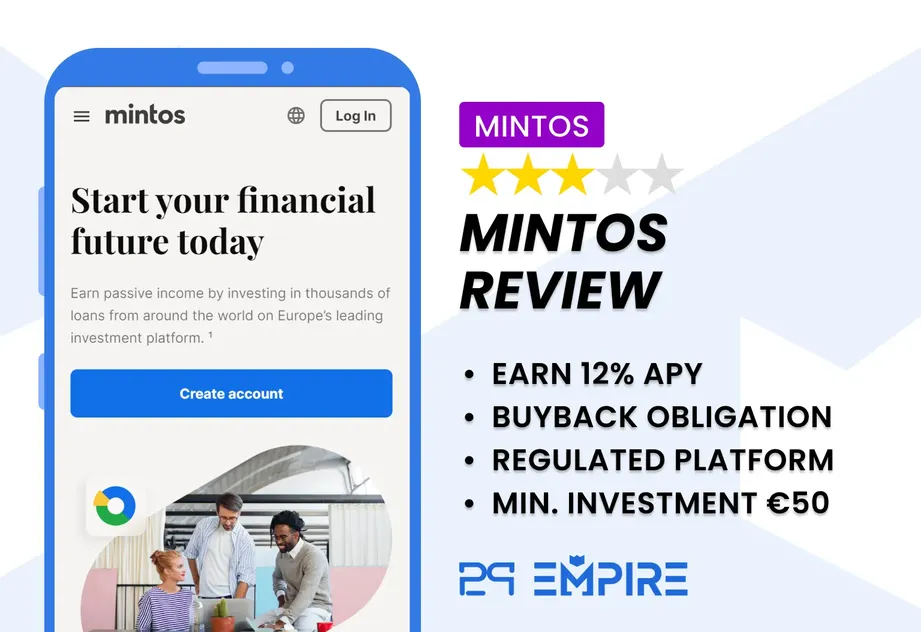 | | |
| --- | --- |
| 🏆 Mintos Invitation Code | Claim Bonus |
| 🎁 Bonus for new investors: | 0.5% |
| ⌛ Bonus period: | 90 days |
| 💰 Bonus for loyal investors: | 0.5% - 2% |
| 💲 Deposit Requirements: | €10 |
Mintos Bonus for New Investors
Mintos used to pay out a 0.5% bonus to all new investors that signed up with a special link or used a dedicated Mintos invitation code. Note that all promo campaigns from Mintos had been paused back in March 2020 and none of the publishers or investors is able to provide you an invitation code that would give you an additional bonus.
If Mintos will reactive the bonus campaign, we will inform you about the change in our Mintos review. In the meantime, you can use the TWINO promo code to get yourself a €15 bonus if you sign up with our partner link.
How to redeem this bonus? (currently not active)
First, you need to register on Mintos and verify your identity. This process takes usually a couple of minutes.
After you have successfully passed the KYC (know-your-client) form and verified your email address, you can deposit money to your virtual Mintos account. Make sure that you use your dedicated payment details so Mintos can allocate your deposit.
The transfer of your funds takes typically between one and two business days
After your funds appear in your investor account, set up your auto invest or invest in loans manually.
Here is a short video about how to set up your Mintos Auto Invest settings.
Keen to invest in Mintos?
Mintos Quick Review
Mintos is without a doubt the largest P2P marketplace in Europe. The platform has just recently raised more than €7 M in crowdfunding. The investor base on Mintos is growing, however, due to the poor performance of Mintos' lending companies in 2020, many investors have left the platform for other Mintos alternatives. If you are keen to invest on Mintos, you should conduct in-depth research about the lending companies and their lending practices.
FAQs
Do I need to insert a referral code?
When registering on Mintos, the platform might ask you for a referral code. You don't need to type in any referral code to obtain your bonuses as all of the bonuses have been currently disabled.
I did not receive the bonus, what shall I do?
Currently, Mintos doesn't provide any investment bonuses for new investors.
Do you guarantee that I will get the bonus?
We take our service extremely seriously, which is why P2P Empire is known for up-to-date information, including various bonus offers. We don't guarantee any bonuses, however, we do our best to keep all the information up to date.
What else should I be aware of?
Receiving a cashback bonus from P2P platforms is a great way to increase your returns, note, however, that P2P lending is a risky investment and investors have already lost money on Mintos. You should always conduct your own diligence and make your own research before you start investing in P2P loans.