YouHodler Review
Are you thinking about depositing your crypto assets on YouHodler to earn interest on your coins? The crypto lending platform promises an annual interest rate of 12% on stablecoins or 4.8% on your bitcoin. Is the offer from YouHodler too good to be true, or is YouHolder a legitimate platform? Find out in our YouHodler review.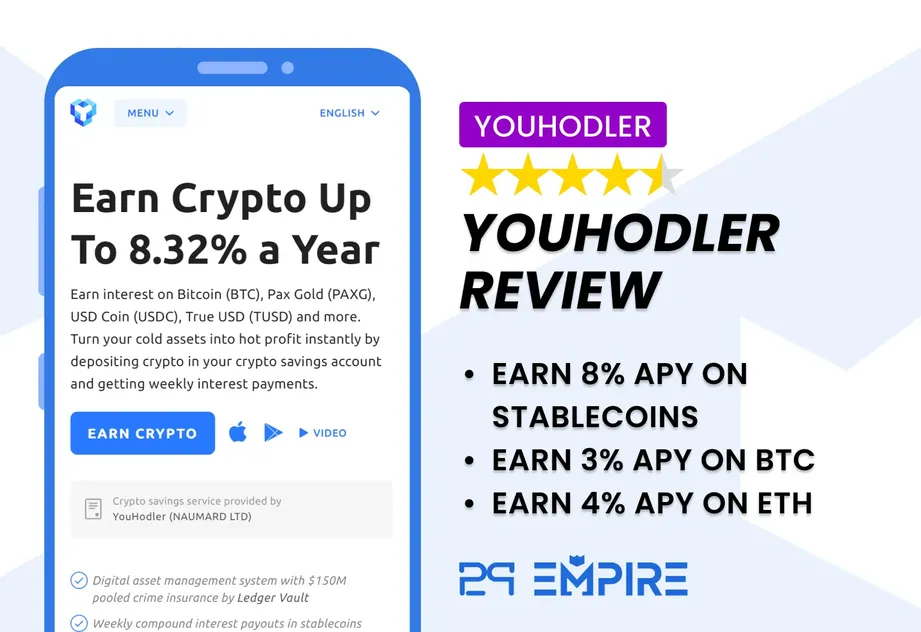 ⭐ Find the best bitcoin lending platform.
Watch our in-depth YouHodler review here 👇👇👇
While we produced this video in late 2021, the platform improved in 2022 with more available coins and a dedicated statistics page.
YouHodler in Numbers
When reviewing any crypto lending platform, it is essential to look at its track record to better understand the risk and opportunities of depositing crypto in exchange for interest.
While the platform's development started in 2017, the launch happened in November 2018.
Since then, YouHodler has attracted more than 163.000 active users. Crypto holders hold on average $11,528 on YouHodler.
14.23% of users on YouHodler hold BTC in their crypto wallets. On average, users earn 8.05% interest per year, and if you deposit stablecoins, you earn 12% interest, which is a very competitive yield.
YouHodler Promo
Currently, YouHodler doesn't run any promo deals, nor does the platform offer a YouHodler referral code at the moment. The platform focuses on providing the best crypto lending product in the industry rather than pushing out promo codes and referral bonuses.
Ready to earn passive income on YouHodler?
YouHodler Requirements
Registering on YouHodler is very easy. You need your email address to access your account. To use it, you will need to verify your identity with your ID and pass the KYC requirements, including submitting your personal information together with a selfie.
The KYC requirements for crypto transactions are minimal. However, if you want to transact FIAT, you will have to provide more information about yourself.
Be over 18 years old.
NOT reside in the following countries: USA, Afghanistan, Bangladesh, China, Cuba, Germany, Iran, Iraq, North Korea, Pakistan, Sudan, Syria, Crimea
What's worth mentioning is that the savings feature on YouHodler isn't available for Swiss users.
When we chatted with the YouHodler support team, they informed us that currently, YouHodler doesn't have a proper license to run the business in the USA.
While some platforms like Coinloan or Nexo don't care so much about the legal restrictions, it is good to hear that YouHodler is aiming to expand into different markets only with a dedicated license.
Ready to earn interest on your crypto?
Risk and Return
When depositing your money to your wallet at YouHodler you will be exposing yourself to certain risks. The risk will depend on the products that you will be using.
To better understand YouHodler's services, please refer to our "Usability" section, where we explain how they work.
Regardless of which product you choose, you will be exposing yourself to the counterparty risk. As soon as you deposit your crypto on YouHodler, you will lose your utility of the coin in exchange for additional perks such as a loan or interest on your crypto deposits.
You can never eliminate the counterparty risk, but let's go over some of the points that will help you decrease it.
YouHodler stores your crypto on hot and cold wallets. Ledger Vault is offered cold wallets, which is the custodian of YouHodler. Ledger provides a crime insurance program that ensures your crypto assets for up to $150 M. The insurer is Arch UK Lloyds of London syndicate.
Storing your crypto assets on a cold wallet is industry-standard nowadays, as this reduces the risk that you might lose your crypto during a hacking attack on YouHodler.
In 2019, hackers exposed specific datasets from YouHodler's databank Source. According to our discussion with CEO Ilya Volkov, none of the sensitive data, such as credit card information, was exposed as mentioned in the article.
While YouHodler is a member of the Blockchain Association, which acts as a self-regulatory entity within the crypto community, it doesn't mean that your data is 100% protected at all times.
What are YouHodler's rates?
When depositing your valuable crypto assets, you want to ensure that you also get the highest interest rates, right? YouHodler offers some of the best rates in the industry. The platform supports 54 digital assets at the moment.
Here is a quick overview of the rates for the most popular cryptos:
| Coin | Interest Rate |
| --- | --- |
| BTC | 4.8% |
| ETH | 5.5% |
| XRP | 4.5% |
| LTC | 5.5% |
| DAI | 12% |
| USDT | 12.3% |
| USDC | 12% |
| EURS | 12% |
What's likely the best feature of YouHodler is that you don't need any utility coins like with the Crypto.com Earn or Celsius Network platforms to unlock higher rates. The reward scheme on YouHodler is quite straightforward, and the list of supported assets is also comprehensive.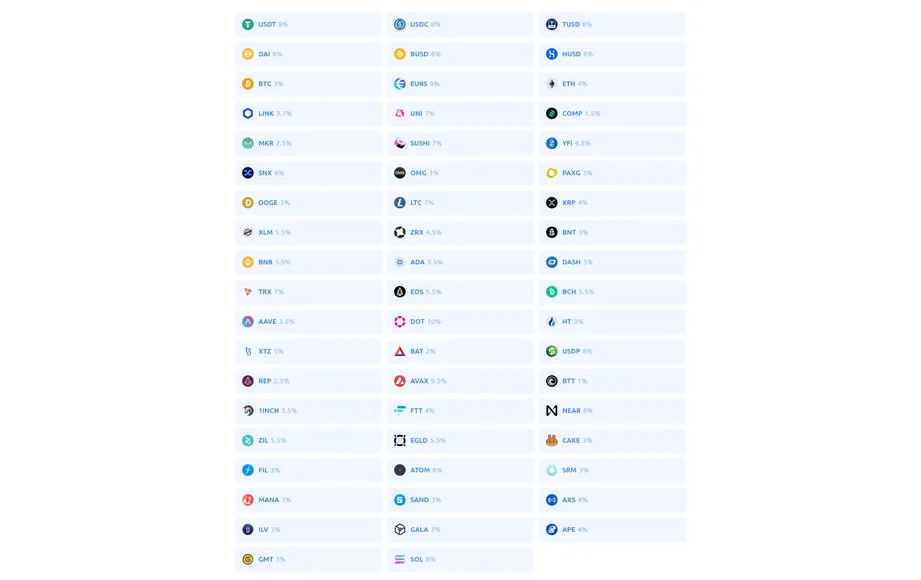 YouHodler doesn't share much about how they use your deposits; however, by contacting YouHodler, they have confirmed that they use it as "part of their liquidity pool to provide collateralized loans."
How does YouHodler make money?
We have investigated the business model of YouHodler and concluded that it's likely one of the most transparent models in the industry.
The platform uses your deposits ONLY to support their lending products within YouHodler. This business model is much more transparent as all loans are backed by collateral, which eliminates the borrower.
Unlike on many other crypto-lending platforms, YouHodler doesn't risk your deposits in DeFi protocols or speculate with them, which is the case with Nexo (one of the shadiest companies we have ever come across).
Do you enjoy this review? Show your support and invite us for a coffee ☕
YouHodler Fees
YouHodler makes money by charging fees to users who decide to use some of the crypto lending products apart from the savings account.
Deposit Fees: Bank Wire = No FEES (except SWIFT 25USD / 25EUR), Credit Card = 4.7%, Crypto = NO FEES, Stablecoins = NO FEES
Withdrawal Fees: USD SWIFT = 1.5% (min. 70 USD), EUR SEPA = 5€, EUR SWIFT = 55€, GBP,CHF = 0.15%, Crypto = NETWORK FEES ONLY
Turbocharged: 0.5% - 2.1% for every loan up to 15 loans
Multi HODL: 0.01% rollover fee, 0.3% - 0.4% profit share fee
Loans: 1% - 8% fee
Conversion fee: 0.2% - 2%
You can use YouHodler for FREE by transferring your crypto from your hardware wallet to YouHodler and earning interest on your deposits.
Unlike on many other crypto lending platforms, the withdrawals on YouHodler are processed within a few minutes.
Is YouHodler Safe?
Reading the terms and conditions and checking the management's background are key factors that influence the safety of your assets on a dedicated platform.
Are you wondering whether YouHodler is safe? Find out in this video.
Who runs the company?
YouHodler's CEO and co-founder is Ilya Volkov. According to his LinkedIn profile, he has previous experience in the currency trading business under the Libertex Group in Moscow. In the past, Ilya was also working for Eurokommerz, a factoring company from Russia.
What regulatory requirements should you consider?
YouHodler is self-regulated, following industry standards and opinions from various lawyers in Cyprus (C.Samir & Co. LLC).
The platform's CEO is also a member of the Crypto Valley Association, which promotes crypto adoption in Switzerland.
In our chat with YouHodler's support, we learned that the company believes in intelligent regulation, so they also collaborate with regulators in Switzerland.
The services, however, still run under the NAUMARD Limited company, which is incorporated in Limassol, Cyprus. This company is the legal owner of the YouHodler trademark.
It's worth mentioning, however, that most of the team is operating from the headquarters in Lausanne, Switzerland.
Are there any suspicious terms and conditions?
When reviewing the terms and conditions, you should read the website's terms and the terms for individual services like loans or savings features.
The terms and conditions of individual products are the most confusing documents we got our hands on when reviewing various P2P platforms; if you are not a lawyer, you will have a hard time understanding what you are signing.
The Service Level Agreement is a bit more precise and gives you a better understanding of the responsibilities of the platform. We recommend that you read those, especially if you plan to use the exchange feature on YouHodler.
Potential Red Flags
Currently, we are not aware of any potential red flags
Learn more about possible red flags here.
What's Our Opinion On YouHodler?
YouHodler is an exciting option to earn interest in your cryptos. The platform is headquartered in Switzerland while legally operating its crypto interest account from Cyprus.
While the crypto lending space isn't regulated in Europe, the platform does spend a lot of resources on operating legally and offers certain protections for its users.
We have exchanged several messages with YouHodler's support to learn more about their operations. Their answers were more insightful than those we received from their competitors, such as Nexo.
YouHodler offers a variety of services. And while the crypto savings account option is likely one of the most user-friendly ways to earn interest on your Bitcoin, YouHodler's remaining services should be used with caution.
The Multi HODL, Loans, and Turbocharge features come with additional risks and fees, which aren't always as straightforward. While the potential upside of leveraging your crypto deposits for other returns is very tempting, it may easily backfire.
If you decide to use some of the additional features, we highly recommend studying the terms and fully understanding what you are doing before it's too late.
We appreciate the most about YouHodler is this small detail in their terms and conditions.

While many platforms become the legal owner of your coins as soon as you deposit your crypto, this isn't the case with YouHodler. As long as you only use the savings feature, the coins will remain under your ownership.
During our talk with YouHodler, we learned that the platform uses deposits to fund loans. So it would help if you took "ownership" of your coins with a grain of salt. Legally, it gives you, however, a slightly better position when depositing your coins vs. on other platforms or exchanges.
Suppose you want to be 100% sure about the safety of your coins, and you don't need the 5% interest on your bitcoin. In that case, it's more reliable to store your cryptos on a dedicated hardware wallet like Trezor, which is our favorite choice to keep our digital assets safe.
Ready to protect your crypto?
Our Experience
We have been testing YouHodler's features since the beginning of 2021, and our current stake on the platform is more than €8,500 (depending on the volatility on a specific day 😏).

We believe that YouHodler's crypto interest account is currently one of the best ways to earn passive income on your crypto deposits. The platform offers 12% interest on fiat-backed stablecoins, including USDC or EURS, making it a great alternative to even some of the other P2P lending platforms that we review here on P2P Empire.
Keep in mind that your crypto-assets on YouHodler are backed by overcollateralized loans that YouHodler only issues.
Ready to earn passive income on your crypto?
Additional Information
YouHodler is one of the more suitable places to earn a yield on your crypto. The platform is paying out the interest on your crypto deposits every Friday. However, be aware that the platform is also offering high-risk trading features such as the Multi HODL or Turbocharged feature, which can lead to the total loss of your committed funds.
Our rating of YouHodler is focused on its "savings account" feature, which we compare to other crypto lending platforms.
We have tested all platform features and fully understand how the platform makes money, which is also why we can recommend YouHodler as one of the most trusted crypto lending platforms on the market.
Some crypto fans argue that they haven't heard of YouHodler, which makes them question their services. Keep in mind that the amount of money that a company spends to promote its products doesn't represent the quality or legitimacy of its services.
Usability
YouHodler isn't just a crypto savings account, as the platform offers a variety of additional products and services. Here's a breakdown of features that you can use on YouHodler.
Exchange
Exchange is an essential part of YouHodler as the platform doesn't offer any interest in your fiat currency.
To earn interest on your coin, you will need to either deposit your crypto (the cheapest option) or stablecoins to YouHodler, or transfer fiat to the platform and exchange it for crypto.
As we conduct our YouHodler review, the platform supports the following coins:
| Supported Cryptos | Supported Stablecoins | Supported Fiat Currencies |
| --- | --- | --- |
| BTC, ETH, LINK, UNI, COMP, MKR, LTC, XRP, XLM, BNB, PAXG, DASH, EOS, BCH, HT, REP, BAT, ADA, DOT | USDT, USDC, PAX, TUSD, DAI, HUSD, EURS, and more. | EUR, USD, GBP, CHF |
Note that you will only earn interest on your stablecoins or cryptocurrencies.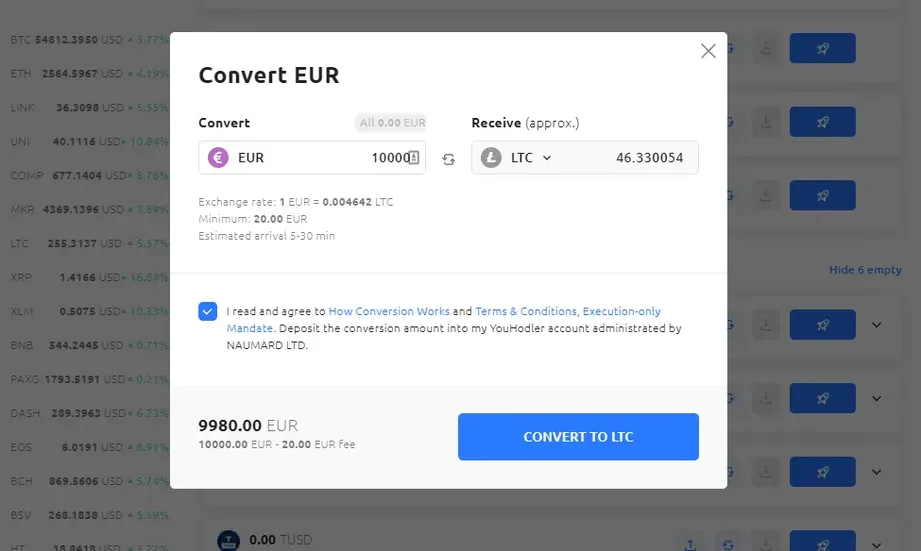 When exchanging currencies, you will need to respect the minimum exchange amount and pay the exchange fee, typically between 1% and 2%.
Crypto Savings Account
To earn interest on your crypto, you only need to deposit your coins to YouHodler's wallet. You will automatically make interest on your deposits if you don't use them for other features like the Multi HODL, Turbocharge, or Loans.
The interest will be added weekly (every Friday) in the currency you have deposited.
It's important to mention that all savings funds are protected by Ledger Vault and insured for up to $150M. YouHodler is currently one of the best crypto lending platforms to earn a yield on your crypto.
Dynamic Yield Limit
YouHodler has recently introduced a limitation on the amount of crypto which will generate yield in your account - "the dynamic yield limit."
The default limit for most users is set at €24,000 (or USD). If you deposit more crypto into your YouHodler wallet, you won't earn any yield on it, unless you increase this yield limit.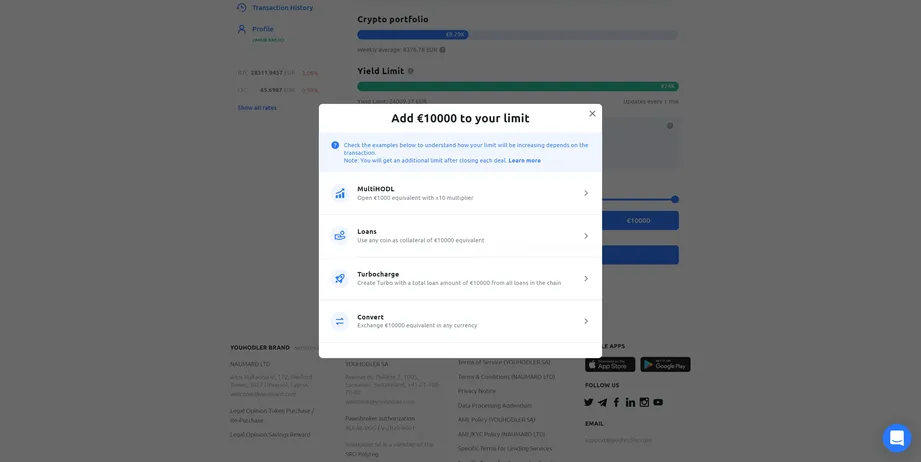 To increase your limit, you have to become more active on the platform and start using other services such as MultiHODL, Turbocharge, or the in-house exchange.
In short, you have to take higher risks or use the exchange to increase your limit. Remember that the MultiHODL is a highly risky short-term trading feature with leverage. This strategy can easily reduce your total portfolio amount.
Is the Yield Limit Good or Bad?
YouHodler is interested in increasing its revenues to pay out the competitive rates to crypto hodlers, which is why the yield limit has been introduced.
Keep in mind that the platform is not engaged in any highly speculative yield-generating activities outside of YouHodler's ecosystem, which significantly reduces the risk in comparison to other platforms that rely on DeFi protocols and other speculative investments.
Multi HODL
Multi HODL is a unique feature from YouHodler that lets you leverage a part of your deposited funds to potentially increase your profits by making a bet on the increase or decrease of the currency value.
Using Multi HODL will initiate a chain of loans, meaning you take a loan with your crypto as collateral, buy crypto, and repeat this process up to 25 times.
You leverage your crypto holdings to increase your profit potentially.
How does it work?
You choose the currency pair.
You choose whether you expect the price to go up or down
You choose the source of your deposits and the amount which you would like to allocate to Multi HODL
You choose the "Multiplier" (the higher the multiplier the tighter the margin call)
You define when you want to take profit
You define the maximum potential loss you are willing to take
You accept the terms and start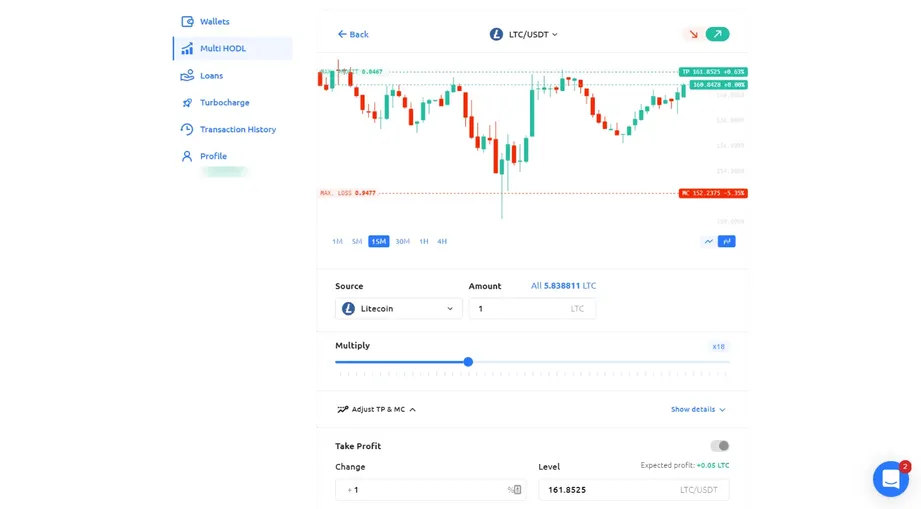 What's the catch?
Leveraging your crypto can be tempting; however, the chances that you make a profit are very slim. We have tested the YouHodler Multi HODL and we can't recommend it. The odds are always against you, and you can't predict the price movement on such a short time period.
IMPORTANT INFORMATION
We test various platforms and features to get familiar with the offers and report them here on P2P Empire. We put our funds at risk to be able to produce high-quality reports. Please be aware that not every feature is worth your investment. The Multi HODL tool is a high-risk trading feature that can lead to the total loss of your committed funds.
Crypto Loans
If you have read our crypto lending platform comparison, you already know the benefits of crypto-backed loans.
YouHolder offers you to deposit your crypto in exchange for a loan in USD or EUR. The platform provides, by default, three different deals.
LTV 90% for 30 days
LTV 70% for 60 days
LTV 50% for 180 days
The higher the LTV, the less crypto you will need to deposit. With an LTV of 50%, you will need to deposit twice the amount of crypto assets from the loan amount that you are planning to borrow.
By selecting one of the deals, you can learn more about the loan terms. The "loan fee" varies between 2% and 8%.
In the scenario below, you will get a secured loan of $27,306, and you will need to return $29,490 after 180 days. The loan fee in this scenario is $2,184 for just six months.
YouHodler also allows you to request special conditions or even set a close price which will automatically sell a part of your collateral when the price increases to cover your loan.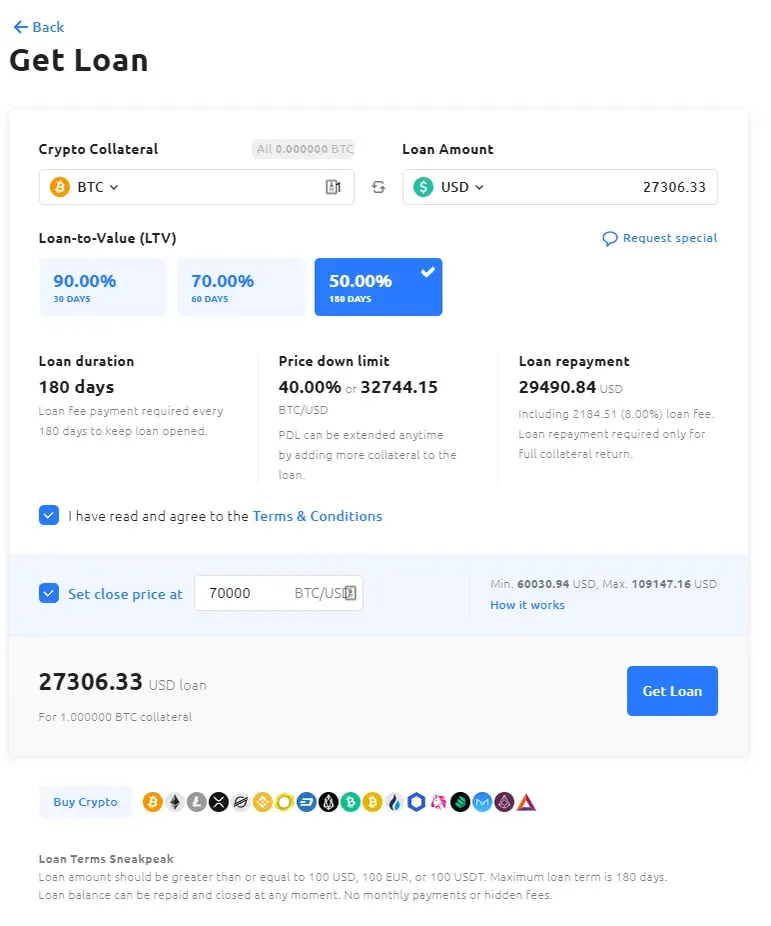 Turbocharge
Turbocharge is a feature that allows you to take a loan and deposit it as collateral to take a second loan. This process can be repeated up to 15 times.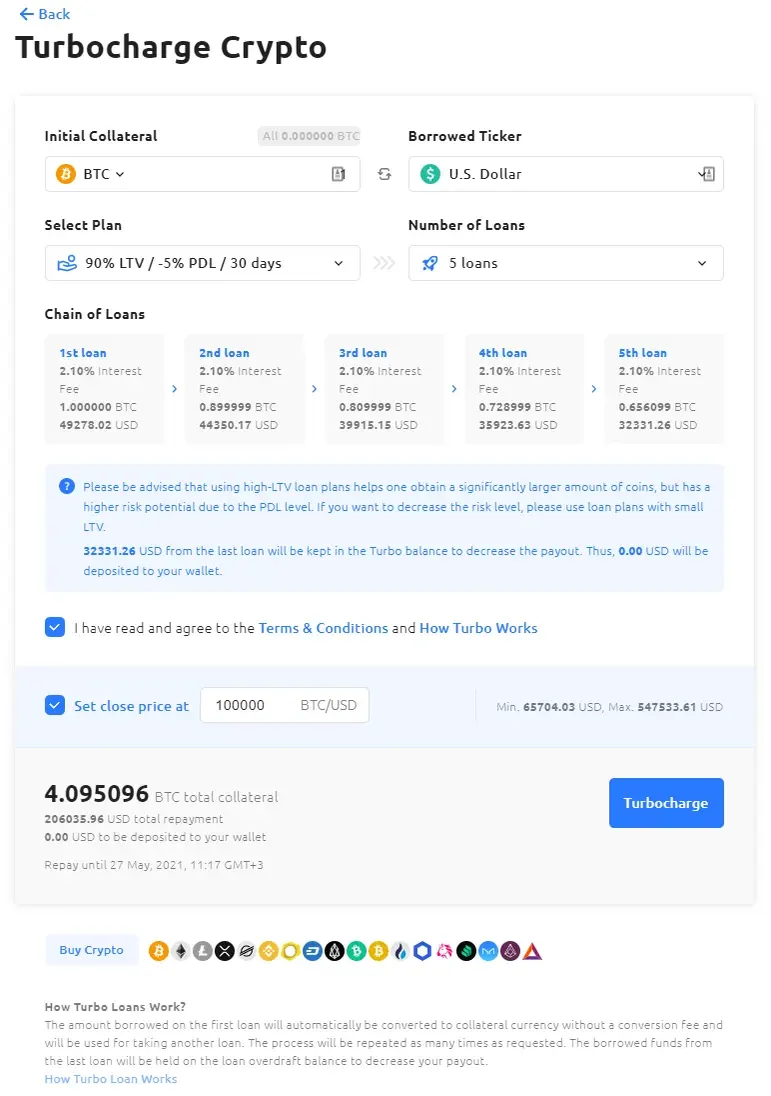 You can also set a closing price, where YouHodler will sell your collateral to repay the loan. By clicking on the "Turbocharge" button, you will see the exact payment schedule of your crypto loan.
Note that when leveraging your crypto assets, you increase the risk that the platform will liquidate your assets when the value of your crypto plummets. Any borrower needs to pay good attention to the Price Down Limits (PDL). If the price of your coin drops, all turbo loans will be sold, which means that YouHodler liquidates your collateral.
The minimum loan amount on YouHodler equals 100 USD, 100 EUR, or 100 USDT. The turbo loans won't be paid out to you like is the case with regular loans. The turbocharged loans will be added to your account, and if the value of the currency increases, you might exit your position, repay the loan, cover the fees, and make a profit in the best case scenario.
YouHodler doesn't support forked currencies
If a fork of your cryptocurrency is conducted, we recommend withdrawing your assets as it's likely YouHodler won't support the forked currency, which means that you won't get any rewards.
Liquidity
If you want to withdraw your fiat or coins, you must pay a small withdrawal fee. You will pay €5, SWIFT (USD) 5% or min for withdrawals by SEPA transfer. 70 USD, SWIFT (EUR) €55.
The minimum withdrawal amounts by wire transfer are $500 / €500. The minimum withdrawal amounts in crypto are between $10 and $50 (in crypto equivalent). For stablecoins, the minimum withdrawal amount is €5.
Withdrawals of your cryptos should not take more than a few minutes or hours, depending on the cryptocurrency that you are withdrawing. Be aware, however, that you need to be a verified user to make to withdraw your assets. If you wish to participate in any type of fiat transaction, YouHodler will request proof of address from you.
Support
YouHodler's support is far better than most of the support options from other crypto lending platforms. The platform also has a dedicated help section where you can learn more about the terms and conditions and how certain products work. We recommend checking out the help section to learn more about individual products such as the Multi HODL or Turbocharged loans.
You can contact the support team either through their live chat function or send them an email to support@youhodler.com
YouHolder Review Summary
YouHodler is an exciting option for users looking to earn interest on their coins and earn 12% interest per year. The main benefit of YouHodler is that your coins remain yours according to YouHodler's terms and conditions. The platform offers competitive rates, which is one of the main reasons you should consider YouHolder when earning interest on your coins.
Key Takeaways from our YouHodler Review
Solid legal setup
Competitive rates
Helpful support
Easy to use platform
If you are looking for a reliable platform to earn interest in your cryptocurrency YouHodler is one of the best options on the market.
Ready to earn passive income on your crypto?
Or explore other crypto lending platforms.
FAQs
How safe is YouHodler?
YouHodler is as safer than many other crypto lending platforms. YouHodler follows strict AML guidelines and offers security features like the 2FA. Your deposits are also insured for up to $150 M by the Leger Vault technology.
Where is YouHodler based?
YouHodler is operated by Naumard LTD, which is based in Cyprus. The company also has a branch in Switzerland to collaborate with the government on a meaningful platform regulation. The company in Cyprus offers crypto services while the company in Switzerland takes care of the collateral used when using crypto-backed products like Loans, Turbocharge, or Multi HODL.
How do you use YouHodler?
You deposit your fiat or crypto on YouHodler and earn interest on your cryptocurrency. The interest rate is paid out weekly. YouHodler also offers additional features for more advanced crypto holders.