Mintos Review
With over 477,000 registered investors, Mintos is the largest P2P lending marketplace in Europe. Since 2015, Mintos paid out more than €170 M in interest to investors like you. Your investments are protected by the 60-day buyback obligation. Wondering whether Mintos is for you? Learn more about our opinion in this Mintos review.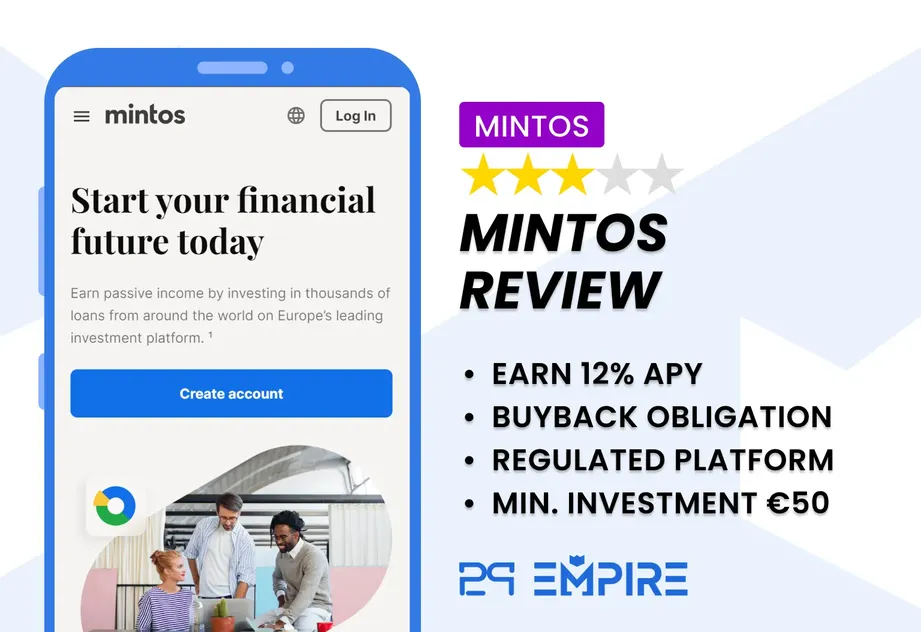 Wondering whether Mintos is worth it in 2022? Let's have a look at our latest Mintos review.
Mintos in Numbers
Before you start investing on any P2P lending platform, have a look at the statistics.
Over the last four years, Mintos has seen exponential growth, with their investor base growing over 477,000 from over 90 countries during this time.
In 2020, many risks materialized, which had a negative effect on investors' portfolios. Mintos has made changes to the terms and conditions and introduced pending payments, loan extensions, and funds in recovery.
Due to the problems that Mintos' lending partners have faced in 2020 but also in 2022, the P2P marketplace suspended multiple loan originators and locked at peak time €120 M of the investors' money.

Over the last 24 months, Mintos managed to recover some of the funds, and the number of funds in recovery has decreased to €83 M.
Mintos is also one of the platforms that regularly publish audited financial reports. In 2020, the financial report was audited by KPMG and the platform made a loss of €1.96 M.
Note that investing on a profitable platform lowers the platform risk. Keep in mind, however, that the performance of your portfolio on Mintos is directly linked to the quality of the lenders' loan book. Monitoring the financial situation of the lender is, therefore, more important than the financial performance of Mintos.
Mintos Invitation Code
If you are looking for a Mintos invitation code, you just found it.
Mintos is offering a limited-time bonus for investors who register through our affiliate link and invest €1,000 or more before 31 July. You will get a €50 instant bonus for investing 1,000 or more, plus a 1% bonus on the average investment in the first 90 days.
Mintos' User Requirements
In order to invest on Mintos, you'll need to fit with a couple of their requirements such as:
Be over 18 years old
Have a European bank account in your name
Don't reside in the UK
Pass the KYC requirements
Pass the suitability and appropriateness test
Keep in mind that if you don't pass the suitability test, which is testing your knowledge in the P2P lending space, you won't be able to use some of the key functions of Mintos like the Mintos strategies or the Auto Invest.
No EUR bank account? No problem
You can transfer your money in nine different currencies but we suggest you transfer your funds in EUR to avoid any conversion fees.
Mintos allows you to invest in different currencies. Note, however, that this increases the foreign exchange exposure.
The cheapest way to transfer funds to your Mintos account is by SEPA transfer.
If you're from the UK and want to invest in European P2P lending platforms, have a look at our EstateGuru review and PeerBerry review as Mintos doesn't accept investors from the UK at the moment.
Risk and Return
Your goal is to earn money right? Our goal is to help you understand the risks!
Let's have a look at some factors that you should keep in mind.
Loan Types
While Mintos promotes various loan types, the majority of loans on Mintos are short-term, personal or car loans.
In fact, almost two-thirds of loans on Mintos are short-term loans, otherwise known as micro or payday loans.
Those loans usually have a short-term max. 90 days.
Note that short-term loans are riskier than mortgage-backed loans as the default rates can be up to 40%, depending on the country and the lending company.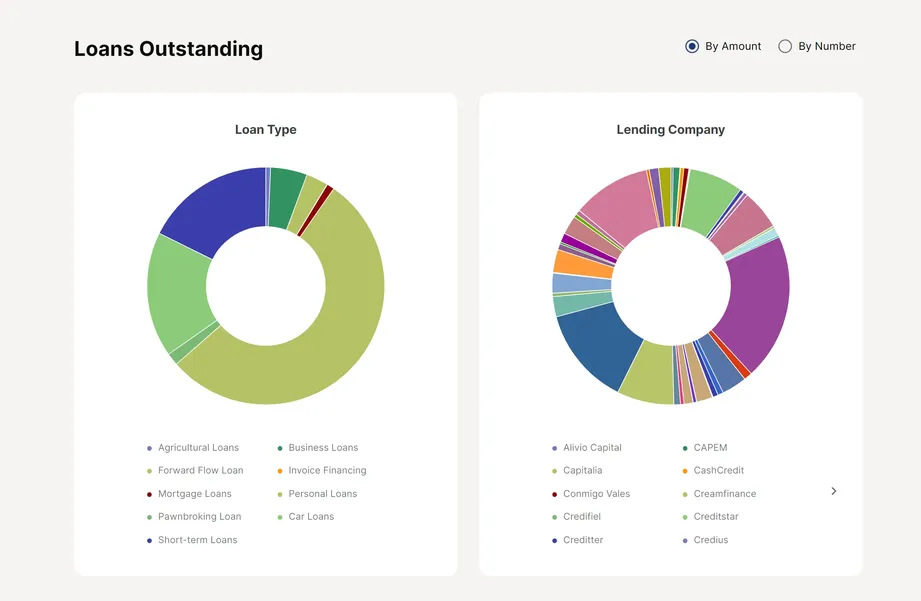 Mintos also lists mortgage, business, and agricultural loans as well as invoice financing. Those loan types are, however, barely available. You can invest in secured real estate loans on EstateGuru or in business loans on Debitum Network. Keen to invest in secured agricultural loans? Head over to our Heavy Finance review.
Mintos' Broad Diversification Options
Mintos' popularity stems from the variety of loan originators it offers.
In theory, you can invest in 70 loan originators from 34 countries.
In reality, the supply of loans from different loan originators varies constantly. There are currently just a few established loan originators that you should consider investing into.
Note that on Mintos it's the number of loans rather than the quality that helps you minimize your risks. Many bigger financial groups operate multiple lending companies in various developing countries.
Keep in mind, that there is a direct correlation between the lending companies and that if one lender with a group defaults, it significantly increases the risks for other lending companies within the same group.
Many financial groups on Mintos offer the "group guarantee" which should cover the obligation from a defaulting lender. This is, however, not really the case as we have seen last year with the suspension of Varks in Armenia and the fall of the Finko Group.
As an educated investor, you should keep in mind that several lending partners have the same shareholders as Mintos. The P2P marketplace is therefore providing funding for many payday loan providers owned by the same shareholders. This conflict of interest may have a negative effect on your investments on Mintos. Currently, more than 50% of "funds in recovery" are funds from lenders that are connected to Mintos' shareholders.
Mintos' Buyback Obligation
Another feature worth mentioning is their buyback obligation. If you invest in loans with a buyback guarantee, your investments will be repurchased by the lending company after it's delayed for more than 60 days.
This seems to be just a promise as lending companies don't honor this buyback obligation (previously called buyback guarantee).
Note, however, that lending companies might exploit this in their favor. Instead of activating the buyback obligation, the lending company can simply extend the loan term up to 6 months.
This isn't the rule but we have seen this before.

One detail you should know is that not all Mintos lending companies pay interest for delayed loans. That's not the case with other P2P lending platforms.
Mintos Loan Originators
One of our favorite features on Mintos is the loan originator section.
Very few P2P lending platforms give you as many details about their loan originators as Mintos does. You can learn about:
Skin in the Game (how much of its own money the lending company is investing in its loans)
Mintos' Risk Score (how well-rated is the lending company)
Company's financial reports
🤔 Should You Trust Mintos Lender Ratings?
You can analyze every single loan originator or simply exclude countries, which will automatically eliminate loan originators that operate in high-risk locations. Head over to our Mintos Auto Invest guide to learn more about our strategy.
In terms of returns, you can expect to earn around 9.94% interest per year during normal market conditions. The net return for 2020 was at 0.95% for "well-diversified" portfolios as many risks materialized.
The return of your portfolio is highly dependent on the current interest for the available loans.
Note that Mintos is a huge platform with more than 450,000 investors.
The availability of high-interest loans is changing constantly.
We manage to earn higher net annual returns from microloans on PeerBerry (10.48%) and Robocash (11%).
Risk of Losing Your Money
Are you afraid of losing your money?
When investing on Mintos, you have a contract with the borrower instead of the lending company. That's your legal document that, in theory, protects your investments.
Mintos is already planning to issue "Mintos Notes" which will replace the assignment agreements within the next year. Mintos "Notes" are simply a group of 6 to 12 loans with similar characteristics bundled together and promoted as a financial instrument. Keep in mind that the default risk of "Notes" is no different as with the "old" loan assignments.
How does this document protect your rights?
It doesn't.
If a lending company goes bust, you should write off your investments as the chance of retrieving anything is very slim, unless Mintos manages to recover some of the funds.
Mintos provides you with user agreements that you should read to fully understand your rights and the protection of your investment.
We've outlined these rights briefly below:
If the borrower stops paying back the loan, the loan originator will take over the debt collection.
If the loan originator goes out of business, such as in the case of Eurocent or Aforti Finance, Mintos will take over the legal work and help investors get their money back.
If Mintos goes bankrupt, a third-party law firm will take over the management of outstanding payments from the loan originators to the investors.
You can withdraw your uninvested money anytime.
That's at least how it should work.
Mintos Recoveries
Mintos does regularly share updates of the current developments of their recoveries. While there are currently still over €67 M in recovery, Mintos seems to be lowering this amount every month, which is something many investors will appreciate.
4 Stages of the Debt Recovery Process
Monitoring - Mintos evaluates triggers such as breach of the law, equity to asset ratio, financial performance, unfavorable development in the market or negative changes in the management
Limitation - Mintos limits the exposure of loans from the loan originator (placement of new loans is paused or suspended)
Restructuring - Mintos negotiates a restructuring plan where the loan originator agrees to cover obligations towards investors
Liquidation - Mintos takes legal action against the lender
Is Mintos Safe?
That's what we're going to address in this section.
Let's have a look at the safety of your investments on Mintos.
Who Runs the Company?
Mintos is run by its Co-founder and CEO Martins Sulte. Martins has been leading the company since its inception back in 2015. He also worked for six years at the SEB investment bank as a financial analyst.
The platform was co-founded by Martins Valters, who is currently the COO and CFO of Mintos.
Both gentlemen gathered valuable experiences at Ernst & Young before launching their platform.
Watch our P2P talk with the CEO and co-founder of Mintos to get insights about the current developments of the platform and lessons learned from 2020.
Who is the Company's Legal Owner?
Mintos is funded by four angel investors, which are also shareholders of the company.
Here is the list of the main shareholders of Mintos:
Maris Keiss (co-founder of 4finance and Mogo)
Aigars Kesenfelds (co-founder of 4finance and Eleving Group [former Mogo] and owner of several loan originators)
Kristaps Ozos (co-founder of 4finance and Eleving Group [former Mogo]
Alberts Pole (co-founder of 4finance and Eleving Group [former Mogo]
Martins Sulte - CEO Mintos (decision maker)
Martins Valters - CFO / COO
Employees through stock options
Note that Mogo has been renamed to "Eleving Group" in mid-2021.
👉 Conduct Your Own Due Diligence
Are There Any Suspicious Terms and Conditions?
We have read through Mintos's 13 page long terms and conditions, and we have not spotted any suspicious or unclear clauses.
If you aren't entirely familiar with how Mintos works, there are a few clauses that we have pointed out for you:
Clause 4.4 - Safety of Your Funds
Your funds on Mintos are stored in Mintos's accounts, which are segregated from the platform's operational accounts.

The main point here is that Mintos does not use your funds to pay for its own expenses.
Clause 4.10 - Withdrawals in Two Days
If you request to withdraw funds, Mintos needs to transfer your money within two business days.

Most platforms reserve up to five business days. Mintos is one of the fastest-paying P2P lending sites.
We regularly test this feature and our money is on our bank account within a few hours.
Clause 6.2 - Read the T&C Before Using Mintos' Tools
You should know that if you decide to use any of Mintos' investment tools such as Auto Invest or Invest & Access (Investment Strategies), you accept all the terms and responsibilities that come with it.

Both mentioned tools invest in loans with certain characteristics.
We suggest getting familiar with the tools before using them. You will find more info about those tools in our next section about the platform's usability.

If you automate your investments on Mintos you are accepting all the terms and conditions of the lending companies.
Have a look at individual lending companies before you invest your money on Mintos.
Clause 6.8 - Amendments
Mintos can amend the terms and conditions of an assignment agreement without your approval.
Those amendments shall not affect already concluded agreements and they should not put the user in a disadvantageous position compared to the earlier version of the agreement.

According to our understanding of the terms, Mintos does not honor this clause as the P2P marketplace introduced loan extensions for already concluded agreements that put the users in a disadvantageous position.
It's hard to imagine that any regulator would allow those practices in a regulated market.
Clause 6.11 - Risk of Default
P2P lending is risky, and even though Mintos is one of the most popular platforms out there, there is no guarantee that you won't lose any of your money.
In section 6.11, Mintos particularly mentions that the platform isn't liable for any losses caused by your automated investment strategies.

Clause 7.4 - Pending Payments
In section 7.4, Mintos describes the flow of money between the borrower, loan originator, Mintos, and the investor.

Mintos only adds money to your account when the platform has received the repayments from the lending company.
The repayments are transferred in bulk twice a week.
If you happen to see pending payments in your investor account, it means that the loan originator will send the money within the next few days. Afterward, the money will be added to your account.

Clause 7.6 - Liability of Loan Originators
You should know that the loan originator isn't obliged to repay the defaulted loan.

This is one of the risk factors that you should be aware of before investing in loans.
Most of the loans aren't backed by any collateral, and the buyback guarantee will only kick in if the loan originator has enough money to cover it.
In certain cases, the loan originator doesn't respect its obligations towards the investors and refuses to repay the money while still operating in the lending market.
Clause 12.4 - Mintos' Due Diligence
Mintos is monitoring the performance of its loan originators. However, there is no guarantee that the information Mintos has access to is reliable and accurate.

Mintos is listing loan originators in 33 different countries.
The reporting standards in those countries vary, which means that Mintos won't be able to track every loan originator with the same quality.
You should be aware of this risk, as most of the issues with Mintos are caused by lending companies losing their license or going out of business.
Clause 12.7 - Risk & Suspensions
In section 12.7, Mintos states that neither the platform nor the loan originator has to compensate you for the claim.

You carry the default risk, not the loan originator or the platform.
Mintos is certainly not the best P2P marketplace when it comes to monitoring the performance of their loan originators.
Clause 12.5 - Liability
Mintos is also informing its users that they aren't liable for any loss that occurs from your investment activities on the platform.
This is a standard clause, used by all P2P lending sites.

Mintos's primary business isn't providing loans; it's simply connecting investors with loan companies.
This means that in case the loan originator goes out of business, it might have reputational damage on Mintos. However, it won't directly put the platform at risk.
Curious about what else we look at when conducting our research?
With our ✅ workbook, you will be able to spot red flags 🚩 and protect your investment.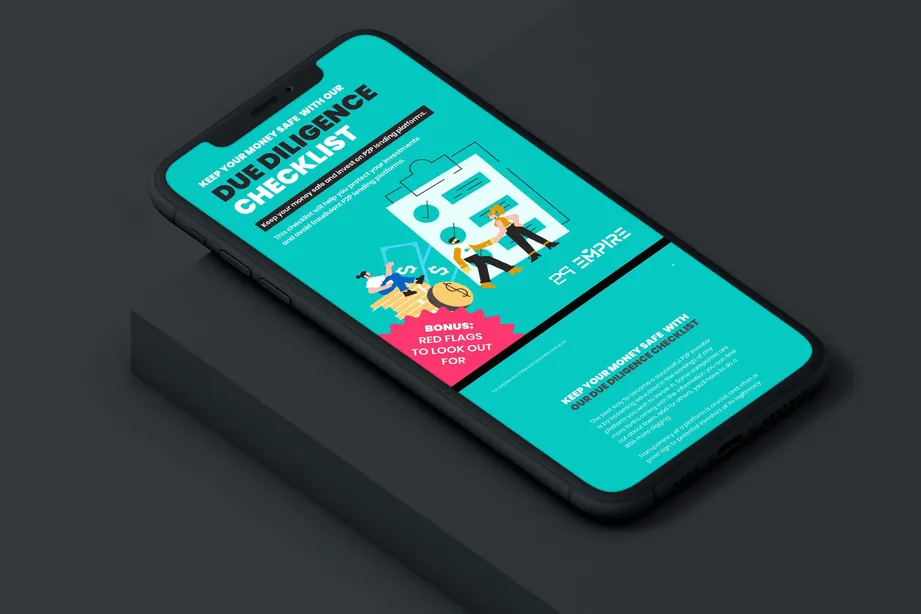 Protect Your Money!
Potential Red Flags
Mintos expanded the number of possible loan extensions to six. The changes also apply to already concluded agreements. This update has been rolled out without prior notice to the investors. This puts the investors in a disadvantageous position. According to our understanding, Mintos has breached clause 6.8. (old T&Cs) of Mintos' Terms and Conditions.
Learn more about possible red flags here.
Curious about other platforms? Head over to our ⚖️ P2P lending platform comparison to get a quick overview of the currently available platforms.
What's Our Opinion About Mintos?
Mintos's terms and conditions are clear, however, Mintos was not always following them. The introduced loan extensions are the perfect example of this.
In practical terms, it means that any P2P lending site can impose new terms without any direct legal consequences.
While Mintos' amendments weren't as tremendous, they certainly didn't increase our trust in the platform.
Any experienced investor knows that the buyback obligation, the group guarantee, or any risk score won't make your investments safer.
Mintos is clearly the largest P2P marketplace in Europe. It was also the first platform that we have joined back in 2017.
While Mintos has improved the transparency as well as the communication in 2020 there are still more than €84 M of "funds in recovery". Investors on Mintos have lost more than €1M so far.
When it comes to P2P lending platforms, size doesn't always matter.
While Mintos is advertising the fact that investors are able to create broadly diversified portfolios, you should keep in mind that the net average annual return in 2020 was only 0.95%, which means that most investors lost some money. The average net return in 2022 will be also low for investors who have invested in Turkish lending companies.
This has not been the case on platforms like EstateGuru, PeerBerry, TWINO or Robocash, where investors earned a stable return of around 10%.
The problem here is that by investing on Mintos, you are largely funding short-term unsecured loans from many developing countries. It's no secret that several lending companies on Mintos are applying aggressive lending practices which increase the risk of your investments.
That's also what happened in 2020 when over 20 lending companies got suspended on Mintos.
We have anticipated the development of Mintos' lending partners in early 2020 which is why we started decreasing our stake on Mintos as we were also testing other Mintos alternatives that act in the interest of the investors rather than their partners.
In June 2020 we have sold most of our investments on Mintos as the potential reward was not worth the risk. We liquidated three portfolios within 14 days. The cost ranged from 1% to 1.5%.
So what about now? Is Mintos better in 2022?
The quality of Mintos' loan book has not improved that much since 2020.
While we would not recommend Mintos for beginners if you are an experienced investor and know how to set up your custom strategy so you invest in the best lending companies, Mintos could be an option.
If you are interested in investing in some of the lenders on Mintos, we suggest having also a look into their bonds. Bigger loan originators issue bonds on European stock exchanges. Investing in bonds increases the safety of your investments as bonds are placed higher in the capital structure of a company. This means that in case the lender cannot meet its financial obligation, you will be the first to get paid, which is not the case if you invest in the loans through Mintos.
Do you appreciate this review? Invite us for a coffee ☕
Usability of Mintos
P2P lending sites tend to get very complex as new features are being developed and you want to invest in an easy-to-use platform right?
Mintos has plenty of features that will help you to automate your investments such as the Mintos Auto Invest, Invest, and Access or Mintos Investment Strategies.
Let's have a look at some of Mintos' features.
Mintos Strategies (former Invest & Access)
The new Mintos Strategies comes with three different options. The diversified strategy, conservative strategy, and high-yield strategy.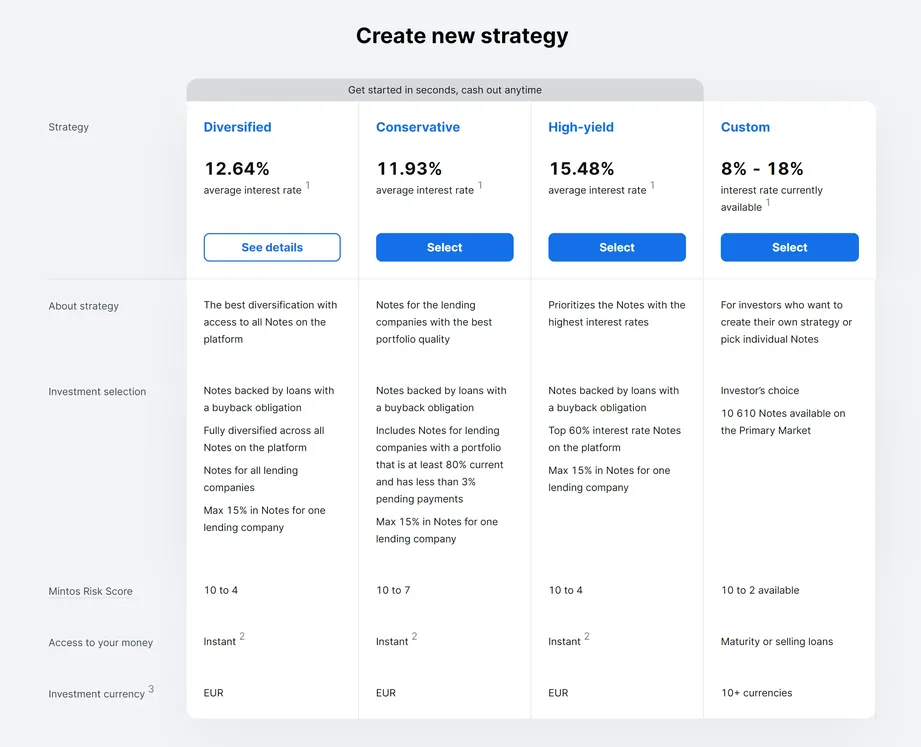 If we would have to "recommend" a strategy, the "conservative strategy" would make the most sense, as Mintos is considering the portfolio quality of the lending company, which is by far the most important factor that has a direct impact on the performance of your portfolio.
The Mintos Strategies are made for investors who are looking for a quick way to invest. Most of the strategies come with a tradeoff - you are not able to fully control the diversification of your portfolio. This disadvantage can be solved with a custom strategy - which is something most experienced investors are using on Mintos.
Mintos Auto Invest - Custom Strategy
This feature is really great. If you know how to use it.
The functionality of the Mintos Auto Invest is relying on the current market conditions, which is why you shouldn't just set up once, but monitor the supply and demands for investment opportunities and adjust your settings regularly.
Setting up your Mintos Auto Invest is a more advanced topic, which is why we have created a dedicated guide where you will learn all there is to know to create your own Mintos Auto Invest strategy.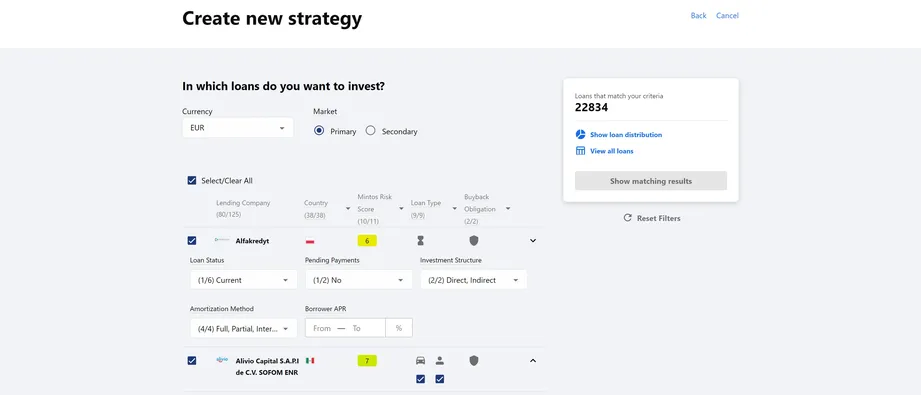 The automated custom strategy on Mintos allows you to take full control over the diversification of your portfolio which is beneficial if you are investing large sums of money.
Mintos allows you to define the following criteria:
Currency
Market
Lending Company
Country
Risk Score
Loan Type
Buyback Obligation
Loan Status
Pending Payments
Investment Structure
Amortization Method
Borrower APR
Interest Rate
Remaining Loan Term
Maximum Portfolio Size
Investment amount in one loan
Diversification settings
As you can tell, the Custom Automated Strategy comes with a lot of options.
After you have "fine-tuned" your settings, don't forget to click on "show matching results" to see how many loans match your criteria. If you are happy with the selection then accept the terms and save your settings.
Keep in mind that the loan availability on Mintos is fluctuating and that if your settings are too strict, you can suffer from cash drag (uninvested funds) as your settings won't match any available loans.
Are you wondering how Mintos compares to Bondora? Check out our latest comparison Mintos vs Bondora.
Mintos Loan Extensions
Mintos increased the number of possible loan extensions to six back in 2020. This means that the loan originator can keep increasing the loan term up to 6 months.
That's NO good!
As you might need to sell your investments on the secondary market in case they get extended and you want to withdraw your cash earlier than in six months.
Mintos Buybacks
Every loan originator on Mintos can buy back your loans at any time and re-list them on the platform for a lower interest.
This is how it works:
Loan originator lists loans for a higher interest when the demand from you is low
As soon as your demand for investments increases, the loan originator buys back your claims and re-lists them on Mintos for a lower interest rate
A rather shady practice right? We don't like this either as it lowers our returns.
How Fast Can You Withdraw Your Money?
It depends on the market conditions and the tools you use.
Selling on The Secondary Market
If you invest on Mintos manually or have invested in long-term loans via Mintos Auto Invest, you can sell your investments on the secondary market.
This is recommended if you want to withdraw your funds before the end of the loan period.
Note that Mintos has reintroduced a 0.85% fee for investors who wants to sell their investments on the secondary market.
Although we don't typically trade on the secondary market, it's certainly a benefit that will help with your liquidity on Mintos, if you manage to find buyers.
We have liquidated most of our Mintos portfolio in June 2020 within 14 days. The total price for the secondary market fee and the discount was between 1% and 1.5%.
This means that the liquidity of your portfolio on Mintos is rather high (if the lender in which you have invested is not suspended). Mintos is also processing all the withdrawal requests within two business days.
Cash Out with the Mintos Strategies
If you use one of the three automated strategies, you withdraw your money anytime, as long as there are enough investors using the same strategy. Note that this is highly dependent on the market situation.
If none of the investors have this strategy enabled, you won't be able to cash out as no one will buy your investments. Note that you can still sell them on the secondary market.
Keep in mind that if a lending company is suspended, you won't be able to sell your stake if you have invested in its loan book.
Are you wondering how Mintos compares to PeerBerry? Check out our latest comparison Mintos vs PeerBerry.
Support
If you're new to P2P lending, you should start off with a P2P platform that will answer all of your questions and educate you about P2P investments.
Some Mintos' functionalities might need further explanation, and this platform has a customer support center that will help you every step of the way.
If you send an email to Mintos' customer support center, you can expect an answer within 48 hours.
From our personal experience, we recommend using the Live Chat function as this is much faster.
Mintos Review Summary
Mintos is the market leader when it comes to P2P investing in Europe. Nevertheless, the P2P lending site isn't always able to protect investors' interests. If you decide to invest on Mintos, you should have prior experience with P2P lending and pick the best loan originators.
Key takeaways from our Mintos review:
Lower return as on other platforms
Broad diversification options
Many new lenders from emerging markets
Only suitable for experienced P2P investors
If you are thinking about joining Mintos, you should do in-depth due diligence about their lending companies before you invest your money.
One consideration would be to invest in loans from IUTE, Delfin Group or Eleving Group if you are happy with the expected returns.
Not convinced by Mintos? Check out these Mintos alternatives.
FAQ
Is Mintos safe?
While Mintos offers a buyback obligation (former: "guarantee"), this isn't security that you should rely on. Learn more about the protection of your investment on Mintos in our Mintos review.
What are "pending payments"?
The pending payments period is the time it takes for the loan originator to transfer funds for already repaid loans back to Mintos, so Mintos can distribute it to the borrowers. There is no interest being paid out for "pending payments".
Is my money on Mintos safe?
Your uninvested funds are always at your disposal. Your investments are exposed to various risks that you cannot completely eliminate. Learn more about it here.
Is Mintos a scam?
Our research indicates that Mintos is not a scam. The marketplace does openly communicate the latest developments to investors. Several loan originators that got suspended are owned by Aigars Kesenfelds, who is also the shareholder at Mintos. This indicates a conflict of interest between Mintos and some of the listed loan originators.